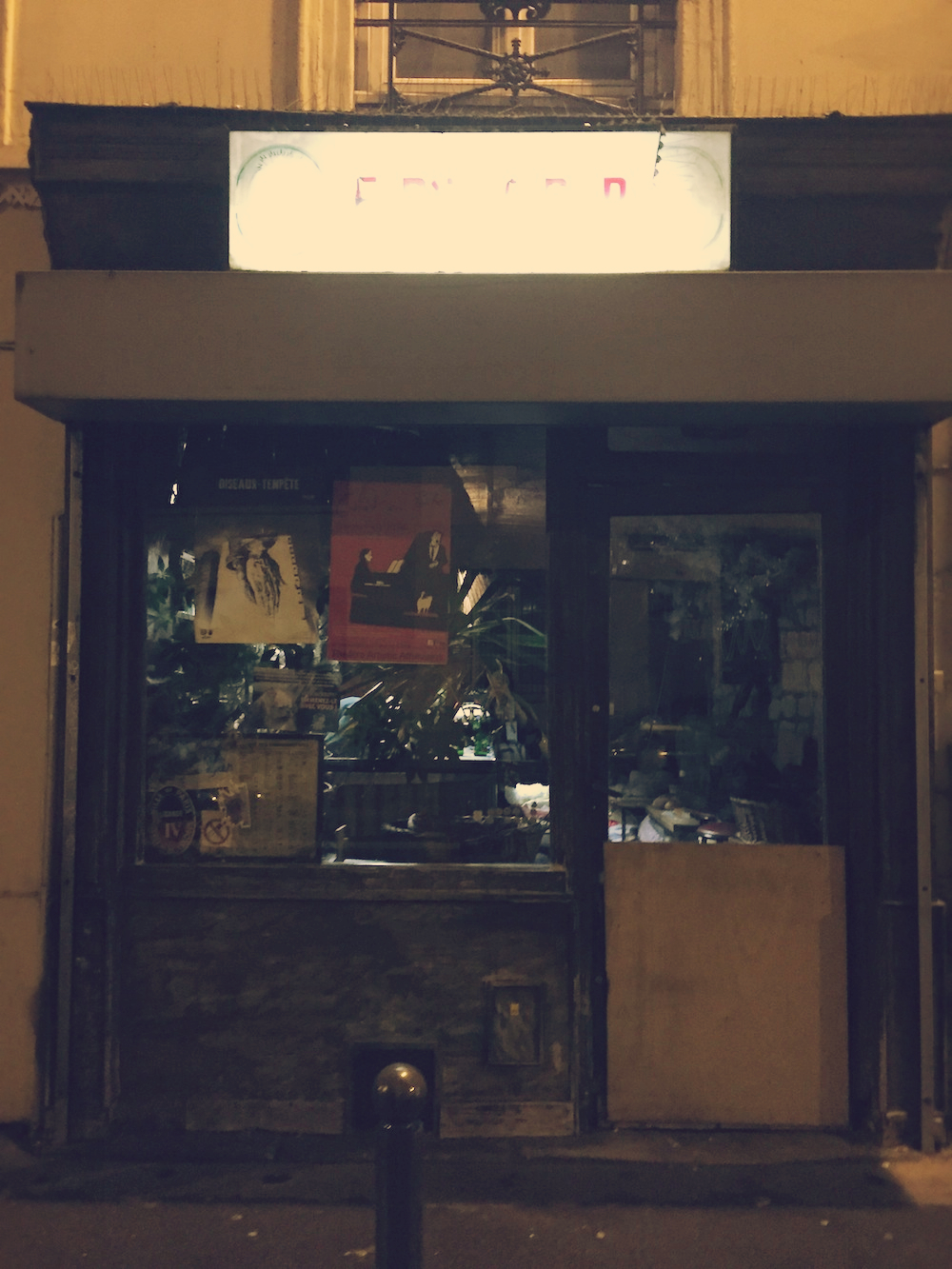 At 9 meters squared, "Le P'tit Bar" is literally the most petit bar in Paris. On any evening upon first glance, it looks as if it's closing up for the night, but do not be deterred– push open the stiff door, because if you've ever wanted to experience a real-life time capsule, this is the place…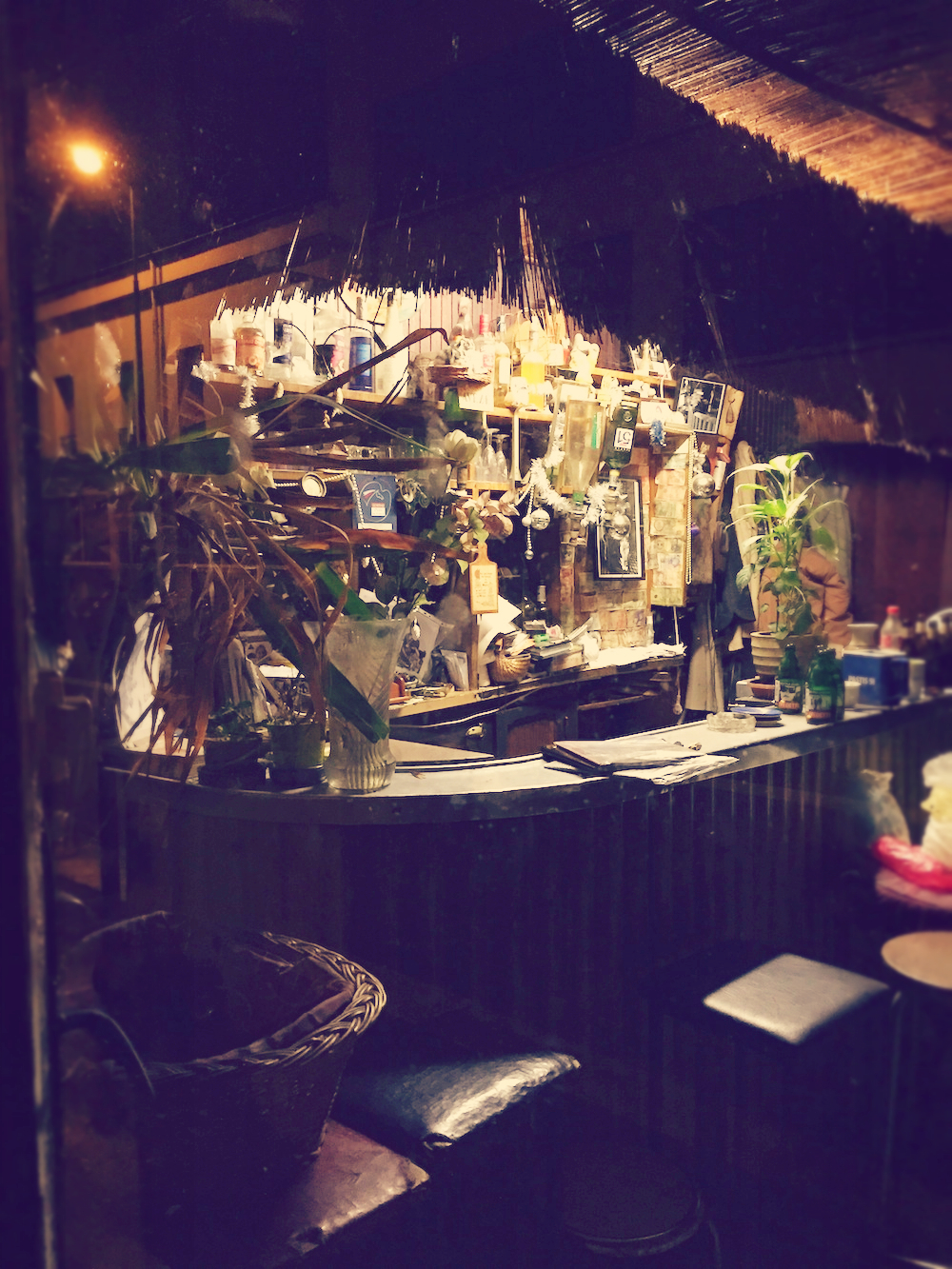 Inside awaits a surreal post-war era time machine in the form of what could have once been a cheerful Tiki Bar decades ago. Le P'tit Bar has no phone, certainly no website and seems to have slipped through the cracks in an age of excessive health and safety regulations. Old books are piled up on any available surface, posters of animals cover the walls and trinkets of the past from around the world hang from hooks and shelves.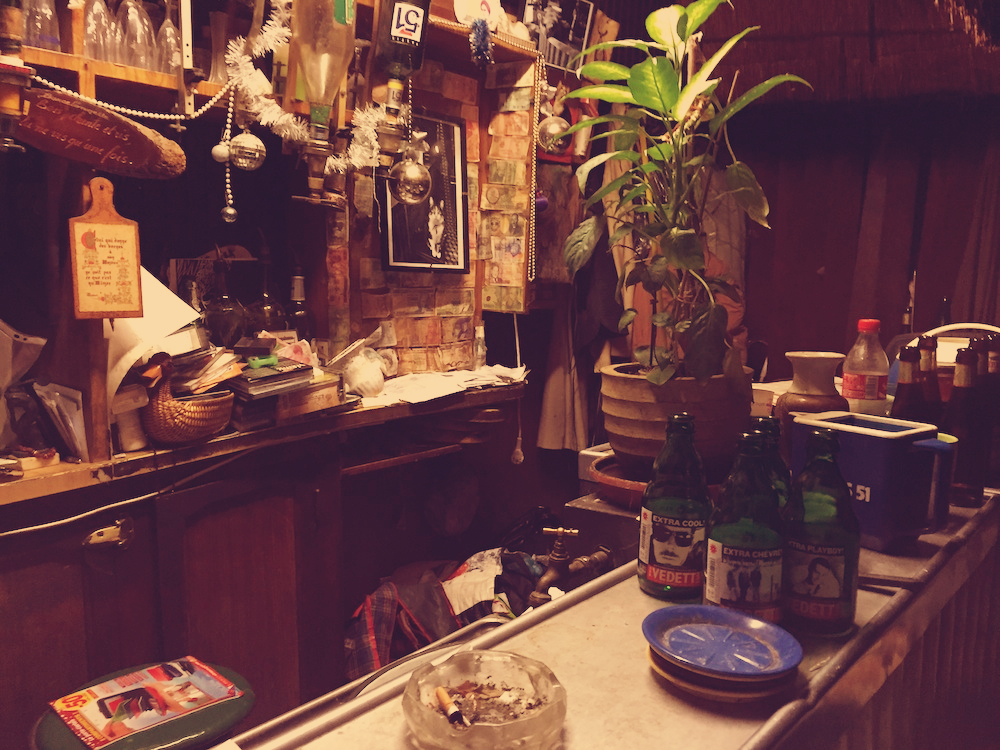 A ninety-something year-old bartender, known as Madame Polo, her slightly over-fed grey cat and a cage of canaries are our hosts for tonight. She hollers something about making ourselves comfortable as she fumbles around in the dark room at the back to fetch our beers. We wait patiently, absorbing our surroundings. Old bottles and half-washed glasses have sat unmoved for years on the bar, the shelves and in the sink, indicating Madame Polo isn't too keen on doing the washing up. A bar has been in existence here since 1908 and the stale air tells of a place unchanged since she and her husband took it over in 1965.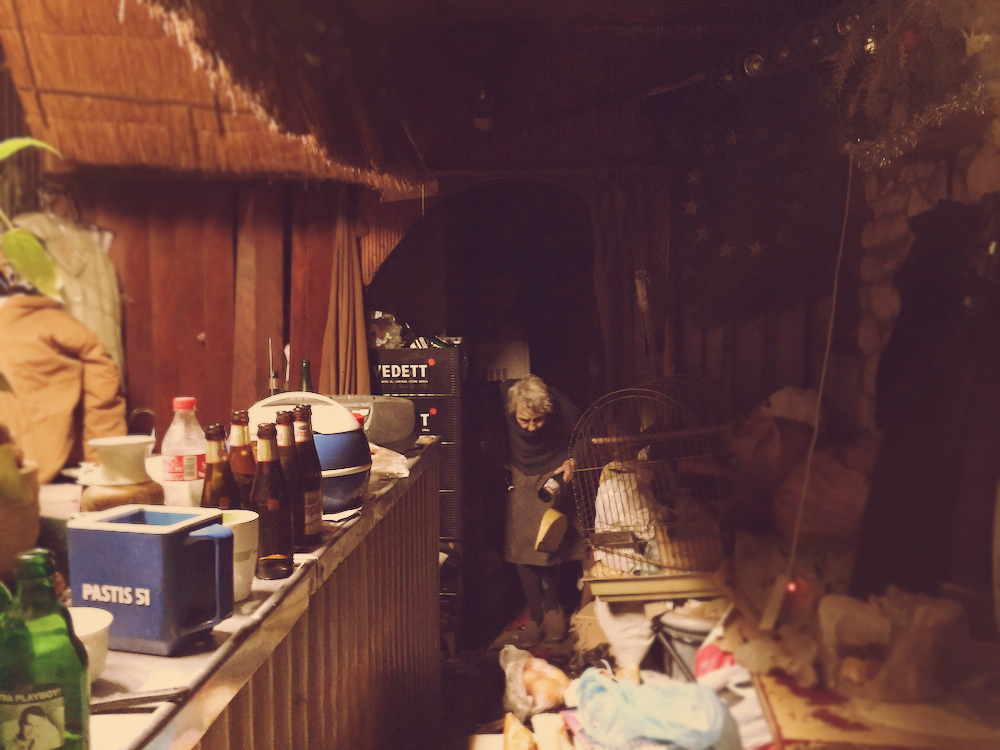 Ah, here she comes, Madame Polo. She finds her way back to her barstool to our amazement, without losing her footing in the maze of clutter piled up high as far as the eye can see. When you can see a glimpse of the old floor tiling, you'll notice it's quite beautiful.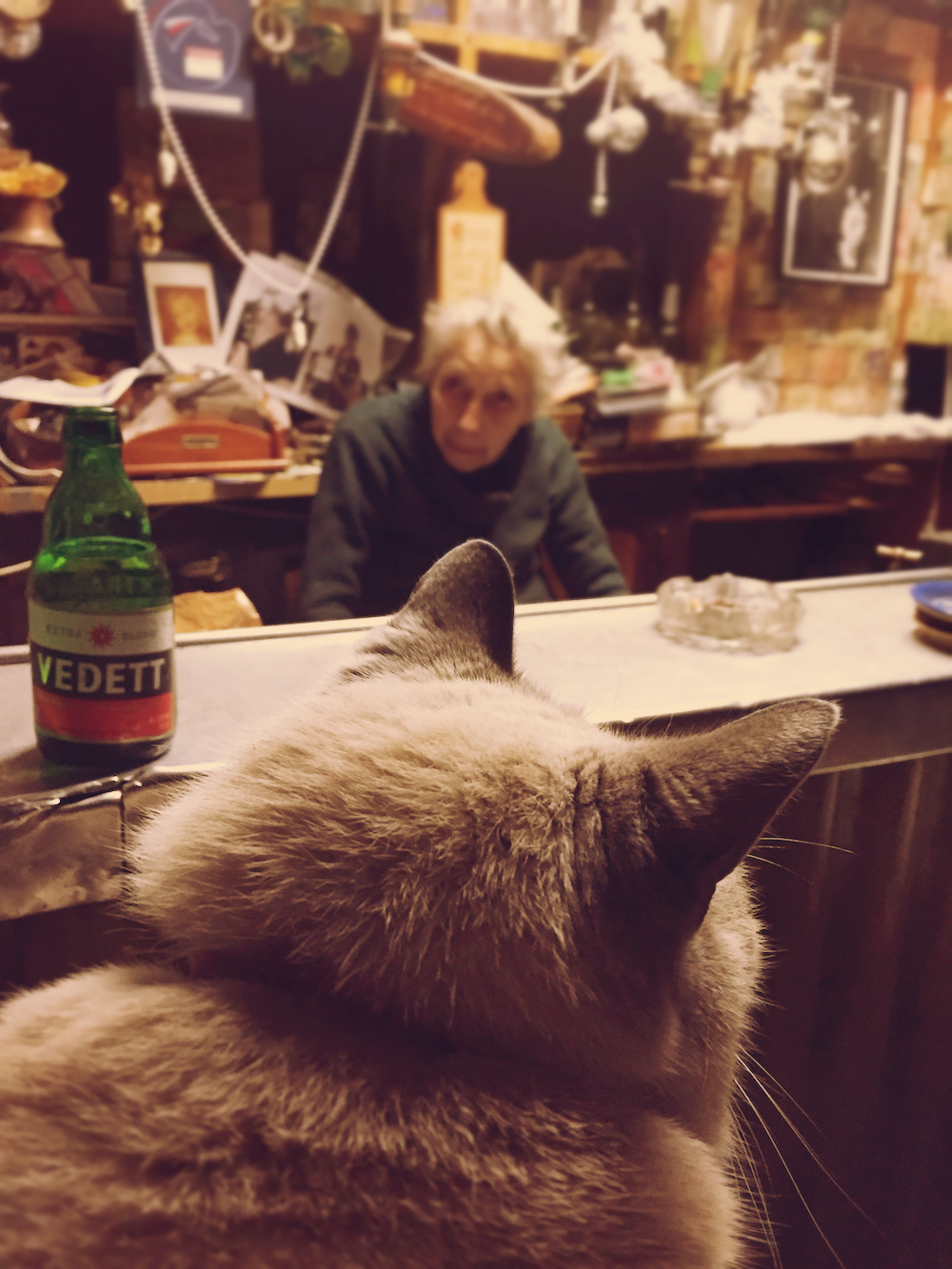 Madame Polo's very cuddly cat named "Wahou" has joined us at the bar (on my lap) and we've ordered two beers of Vedett. It was either that or another brand of Belgian beer, neither of which any bar in Paris has stocked for several decades. Wine is not on offer tonight, and I get the feeling it might just be permanently off the menu. While there are some … let's say, "well-aged" spirits on the shelves, you're better off just ordering one of Madame Polo's signature bottled Belgian beers for a safe choice.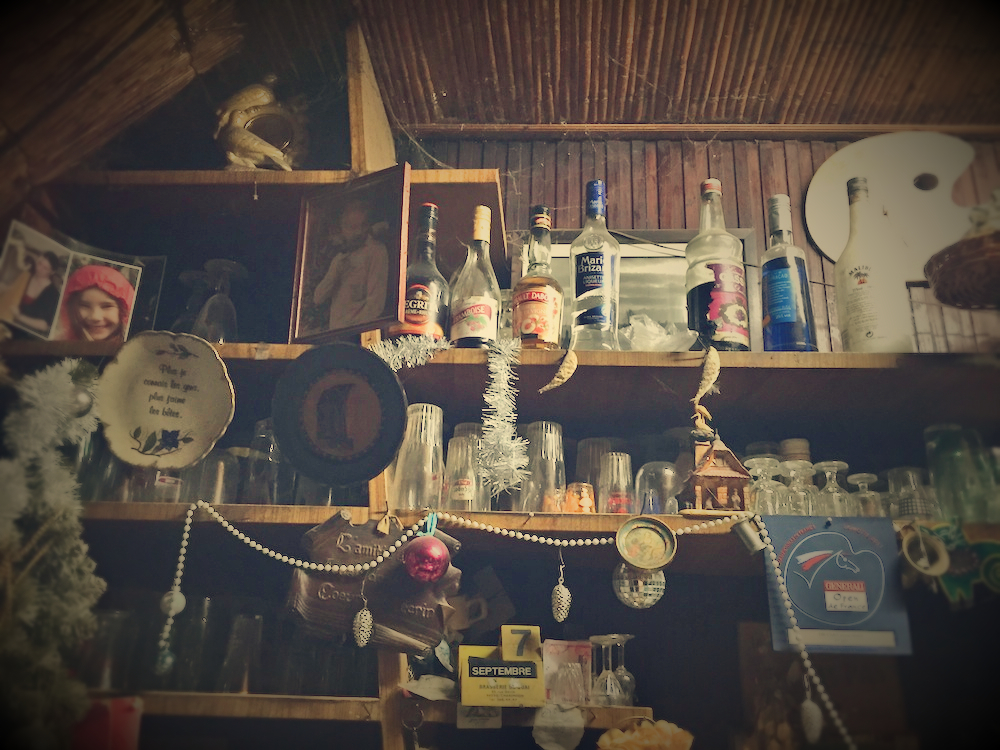 On a very good night, Madame Polo squeezes in a handful of diverse and loyal clientele that includes longtime locals of the 11th arrondissement, young Parisian bobo, ex-pats and war veterans alike.
But how does a ninety-something grandmother manage to keep this little bar going all on her own, seven days a week until 2AM? "I don't need much sleep", confesses Madame Polo, who may just be the oldest bartender in Paris and even refers to herself and her bar as the neighborhood's last remaining antique.
"I thought to close the bar many times, especially after my husband's death, but you know, here I have my bar, and I see people. Some clients have come for more than 25 years, they feel good here and me too, as long as I have my head and I'm able to stand."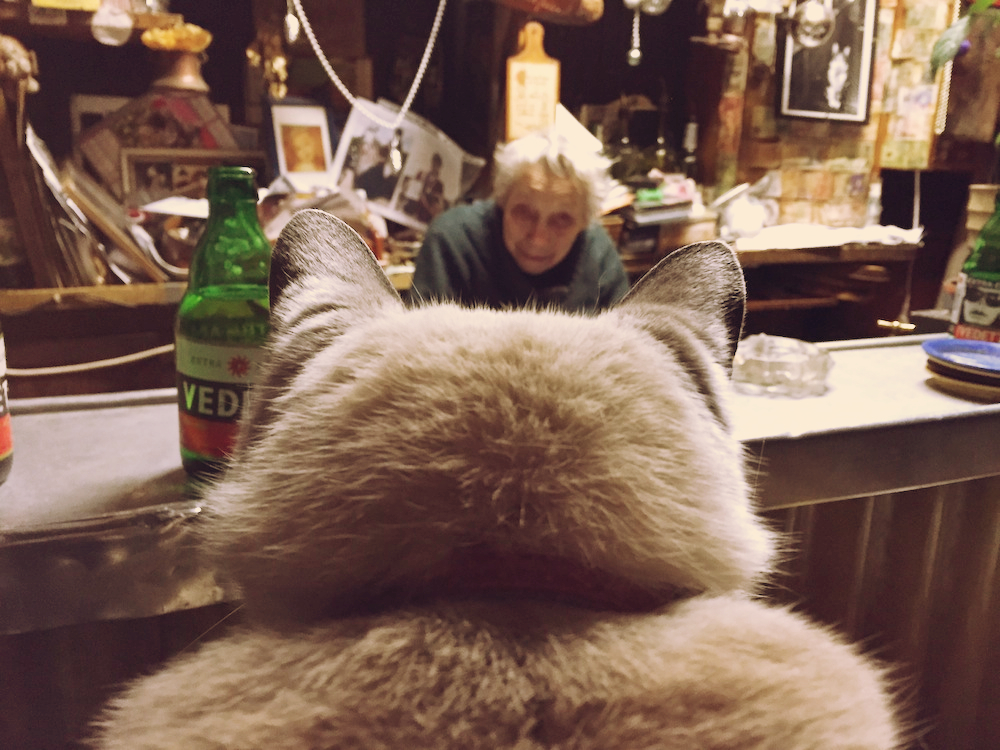 And as frail as she might look, this lady certainly still has her wits about her. Madame Polo is astonishingly sharp and a pleasure to talk with if you speak some French. We listened intently as she told us about her two pigeonniers, or dovecotes, that she tends to outside of Paris, taking the commuter train twice a week to feed and care for her pigeons near Versailles. Madame Polo clearly has a soft spot for animals and also tells us the story of how she adopted her orphan cat Wahou, and the two injured canaries she found that now sit happily chirping in their cage behind us.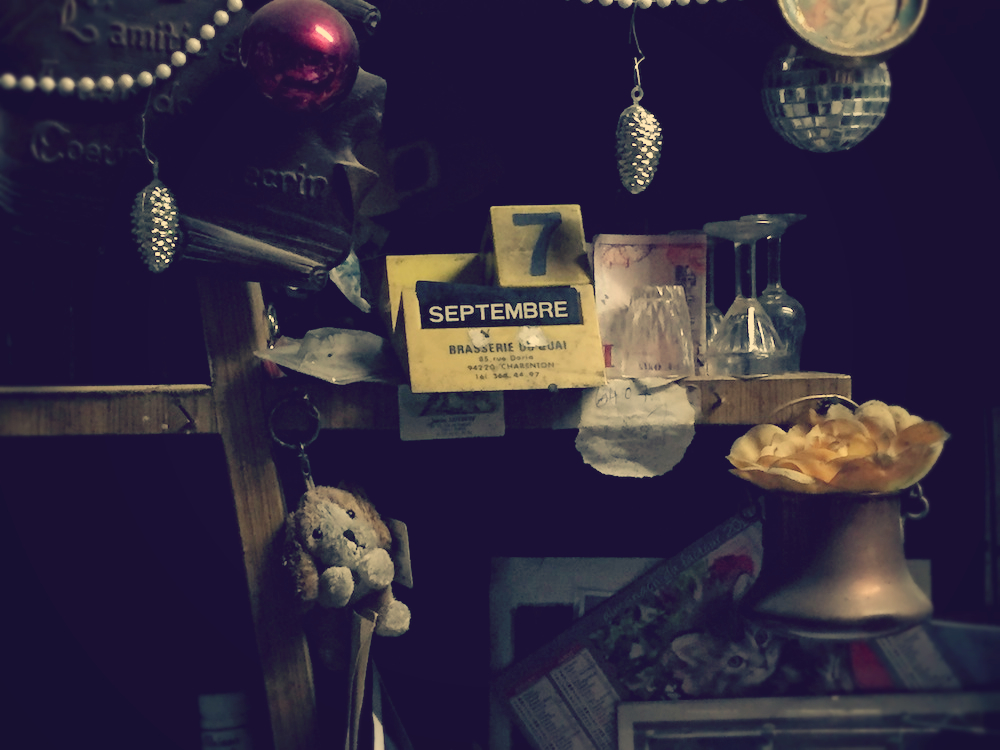 Just as our host remains forever young in spirit, time really has frozen here. It is forever Christmas in Madame Polo's bar; the shiny garlands and tree ornaments have been hanging there in perpetual readiness for a festive celebration that never comes …
"I had a boy helping me once," remembers Madame P, "He installed these old Christmas lights for me and then he left and I couldn't take them down myself. They are antique lights now, so I've just unplugged them because if I need to replace a bulb, no one makes them anymore."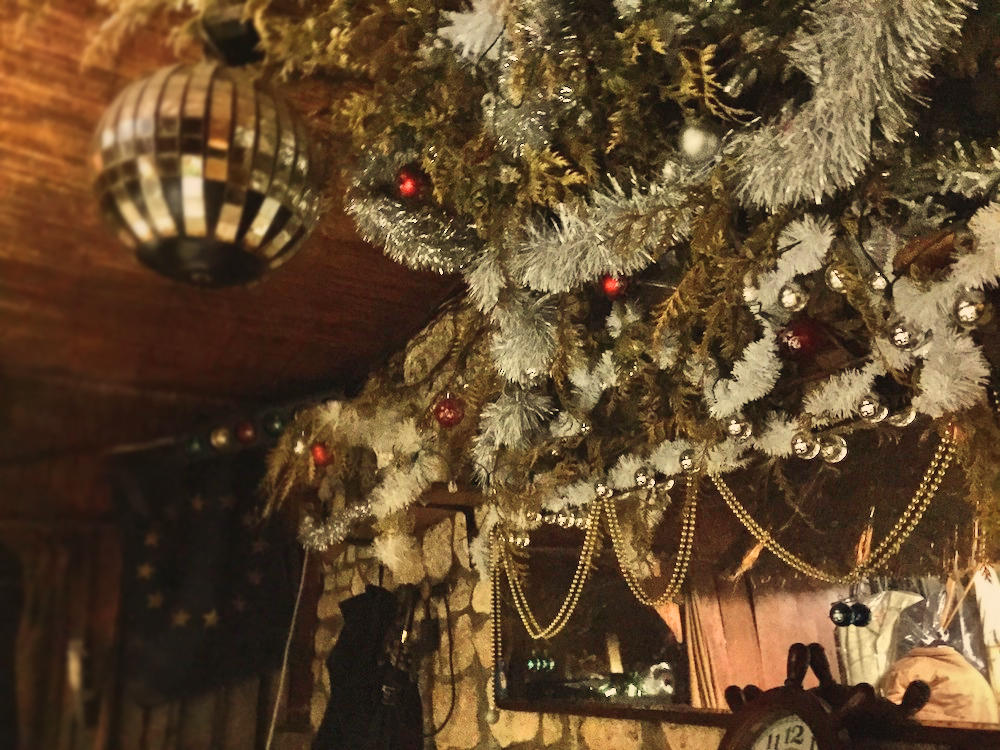 Some might find a place like this sad and depressing, but I find it far too fascinating to be sad.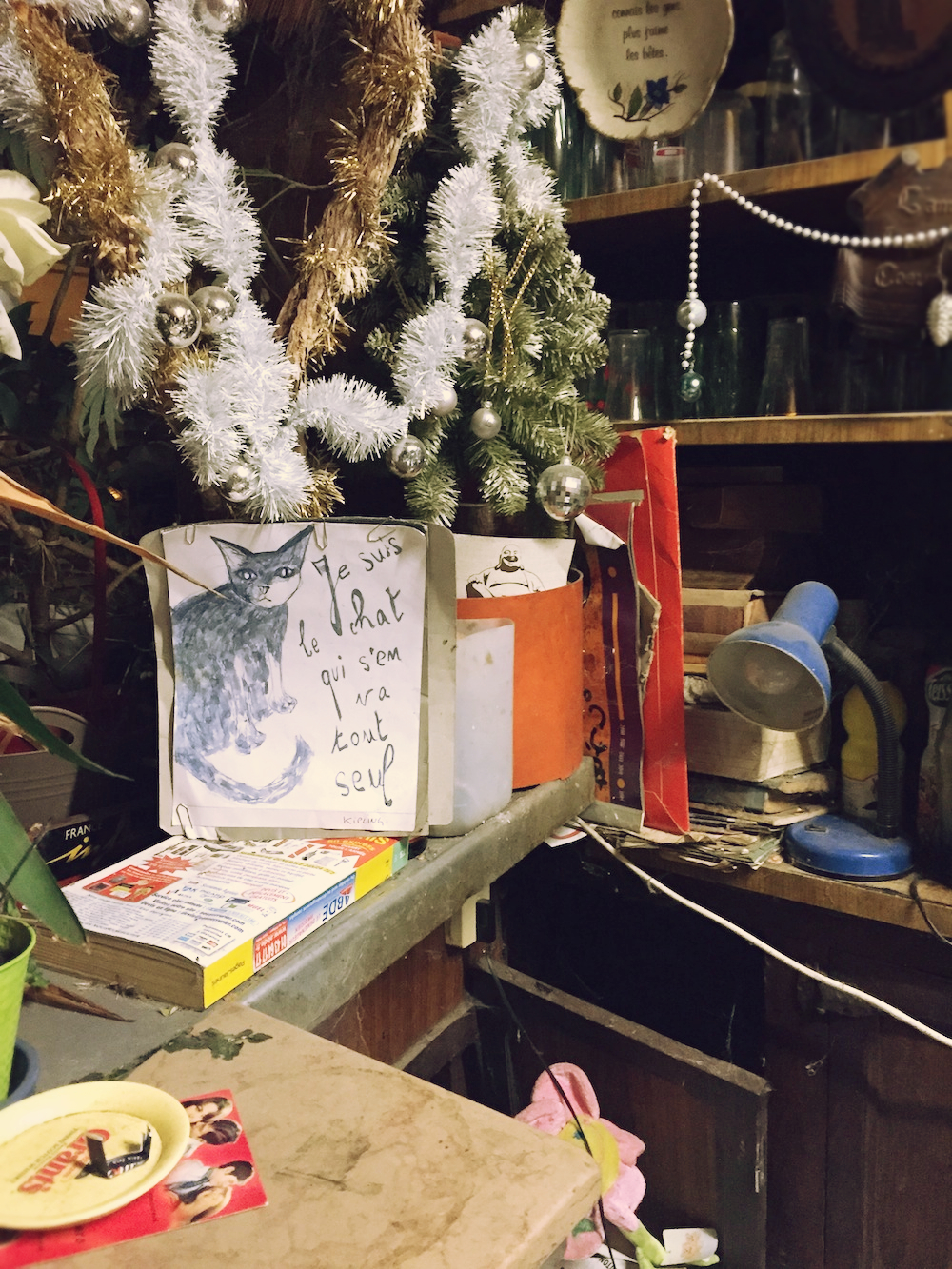 Yes, Madame Polo certainly could use some help and clearly has a problem with letting go of her clutter, which is likely the reason why Le P'tit Bar has been unable to let go of the past, but she still manages to welcome customers through the door, stay open until the wee hours and serve one last bottle of Vedett to keep her going for the week.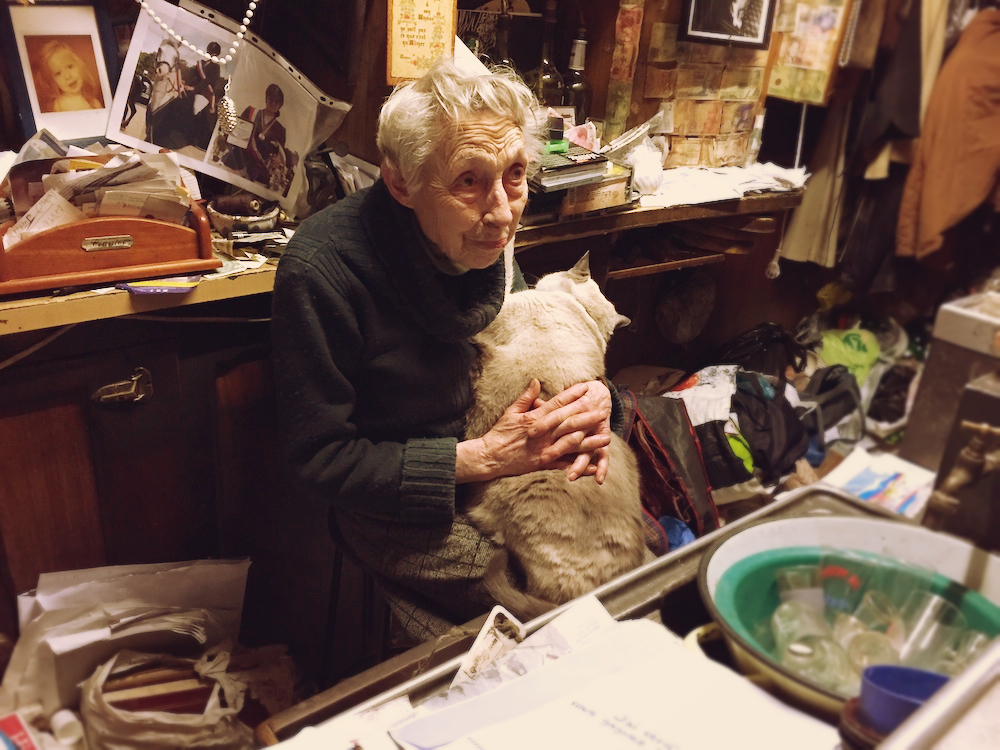 You couldn't invent this place if you tried, nor Madame Polo's stories of running one of the oldest bars in Paris for almost half a century. Without question, this honourable lady deserves a legion of honour from her country (I'm going to see what I can do)!
Order one of her legendary bottles of Belgian beer at €3, leave more if you can, but for the time travel of course, there is no price. A surreal drinking experience in a true Parisian time capsule…
Update: It is with great regret that I must share with you the news of Madame Polo's passing. With the heart and soul behind Le P'tit Bar no longer with us, this establishment is now sadly no longer open.
Feeling Inspired by Madame Polo's Legacy, Why not try…
For something a little more lively to awake you from your time travelling spell, head to the neighbouring bar Le Fanfaron.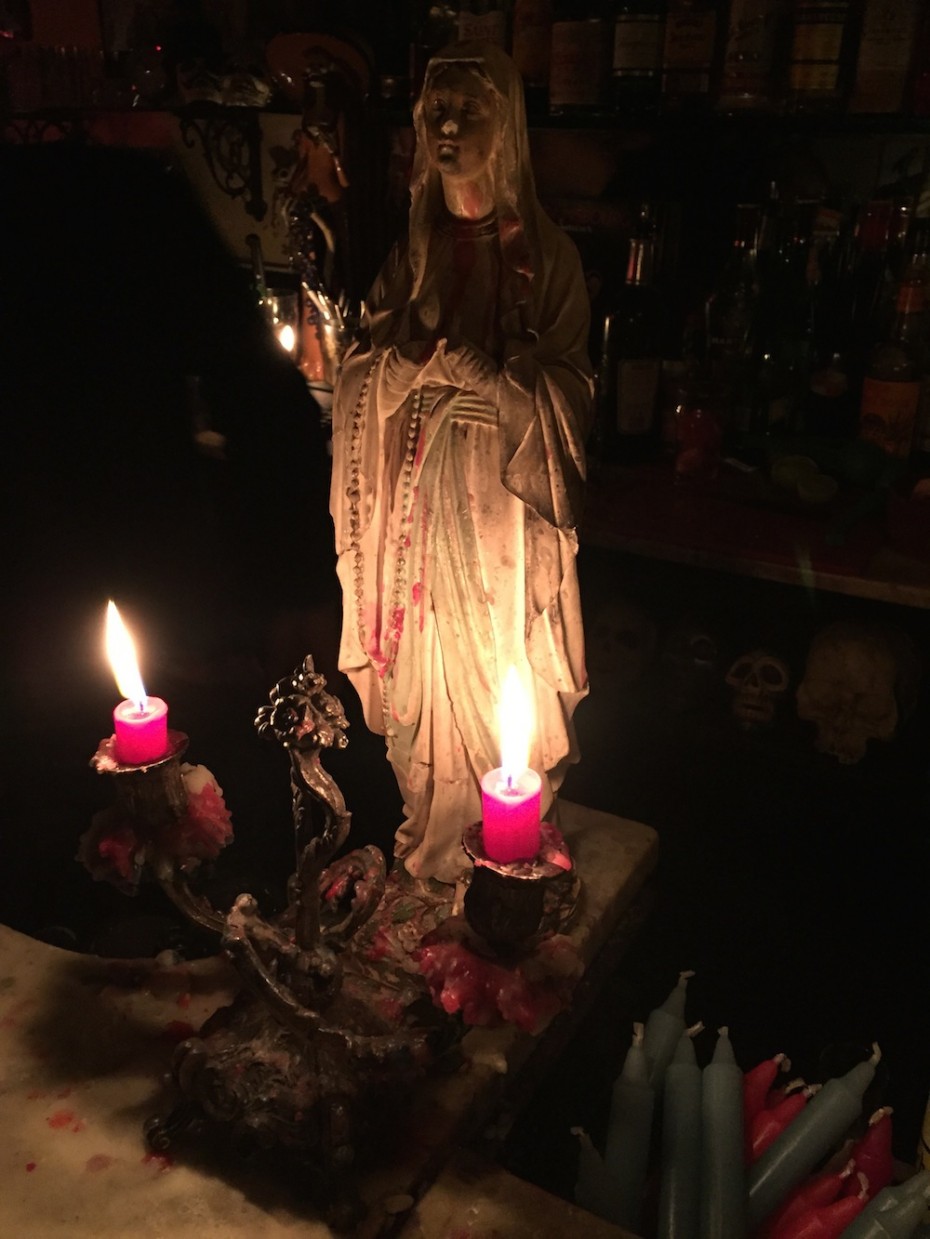 Well on the way to earning its own title as a "time capsule", Le Fanfaron is the kind of bar that you could only find by word of mouth. With an authentic 60s vibe, owned by a fiery co-owning Parisian couple that play out their lover's tiffs at the bar, knock back tequila shots with the customers and play Jimmy Hendrix vinyls all night if they want to. The clientele is a mix of local artists, musicians, writers, travelers young and old.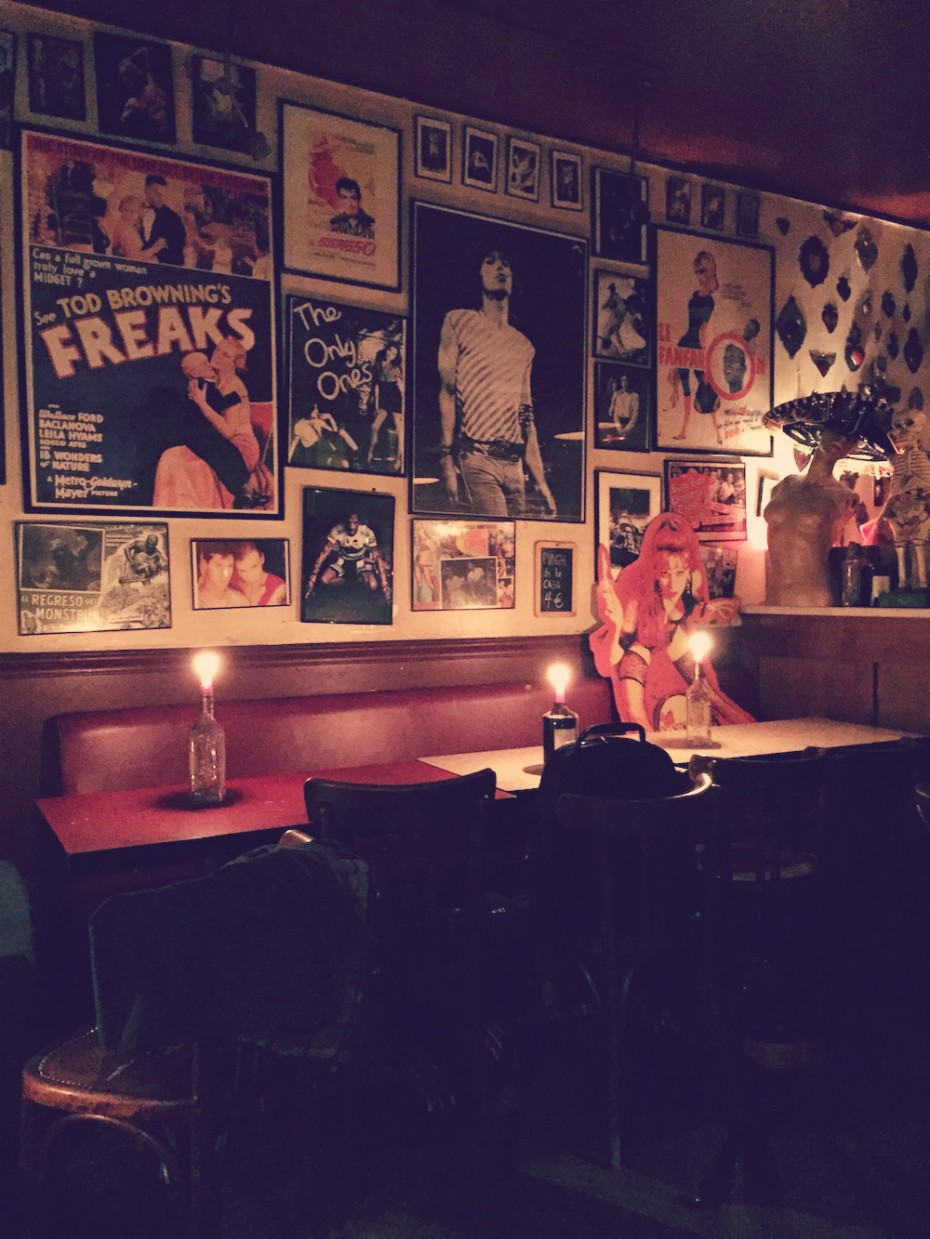 It's highly unusual to go to Le Fanfaron without meeting someone new, without witnessing one of the bartenders' sensational alcohol- infused tantrums and generally having a pretty rock'n'roll time.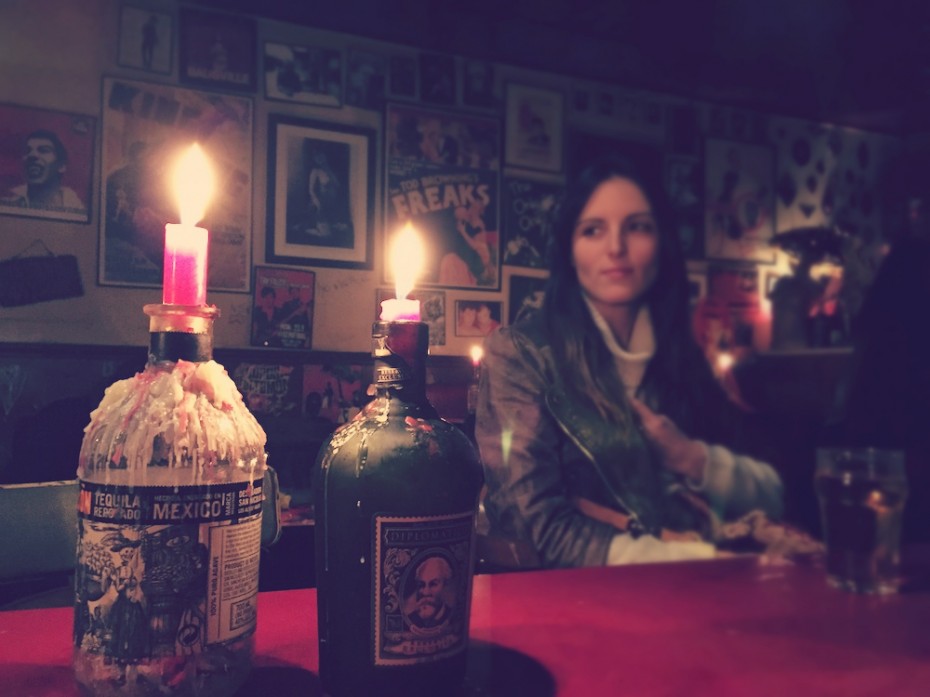 And it reminds me of what Le P'tit bar might have been like in its heydey…
6 Rue de la Main d'Or, 75011 Paris
[This article has been updated/ revisited from an original post written in Sept 2012]
Hungry for more Paris?
The updated edition of Don't Be a Tourist in Paris
is now available. Or become a MessyNessy Keyholder to gain access to our
Travel eBook library
and a direct line to our
Keyholder Travel Concierge
to plan your perfect trip. Need help planning a weekend in France? Need some restaurant recommendations for a remote village in the North Pole? We're here to help.