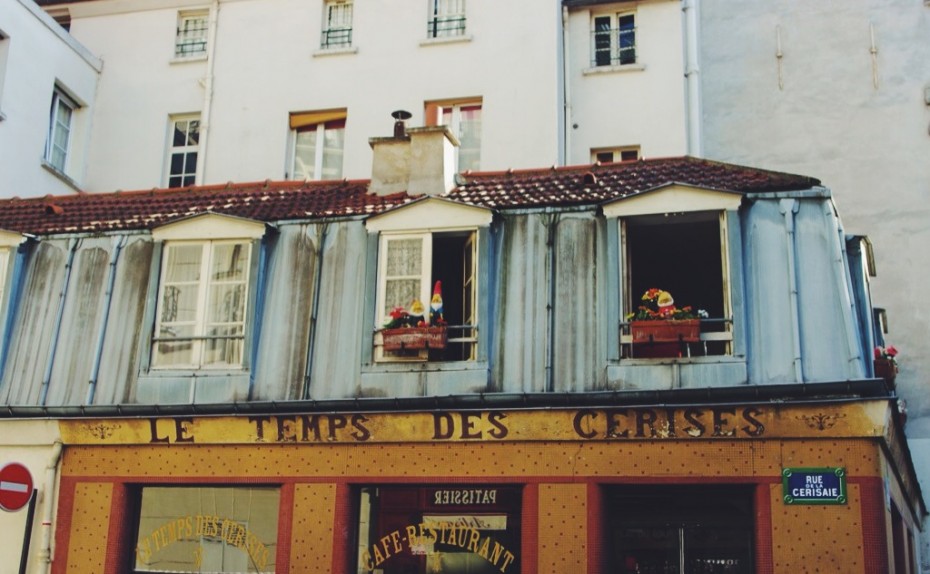 A true Parisian would probably never admit they're celebrating Valentine's Day (pfff, it's for zee capitalists). But if they are, they'll most likely do it somewhere very discreet and as authentic as it gets…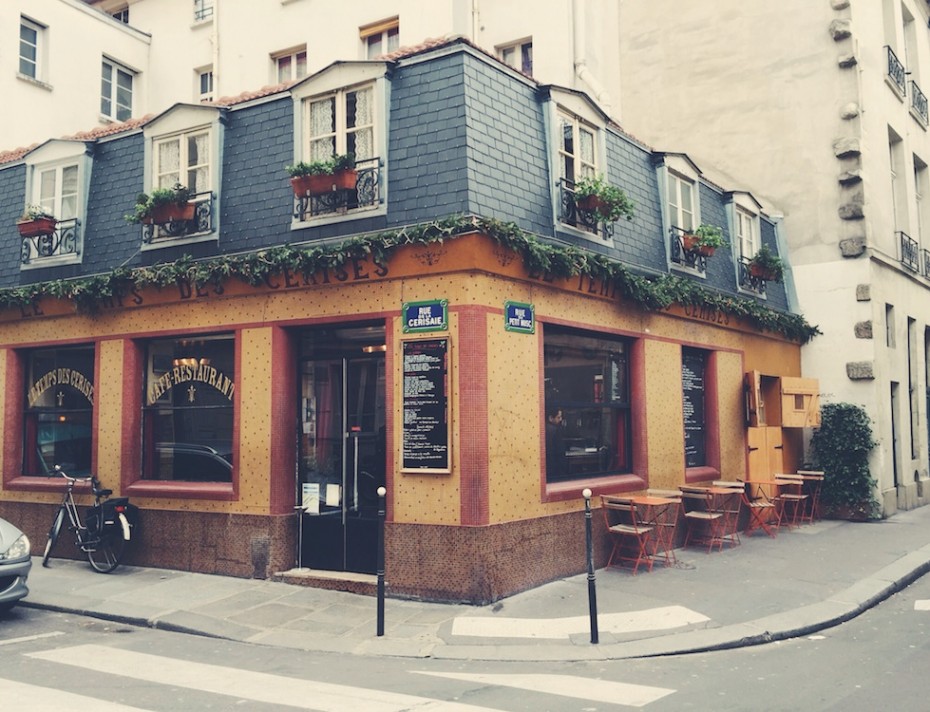 Nestled in a quiet backstreet of the 4th arrondissement, Le Temps de Cerises is one of the few enduring little gems of "la vie quotidienne" from a bygone Paris. I often take a little detour on the way home just to make sure it's still there, never resisting to snap another picture of its unchanging mosaic facade.
It's not a big important museum or the former watering hole of some celebrated French artist (at least, not that I'm aware of), but this little 18th century house has earned itself the title of a historical monument all the same– and it's the neighbourhood's best kept secret.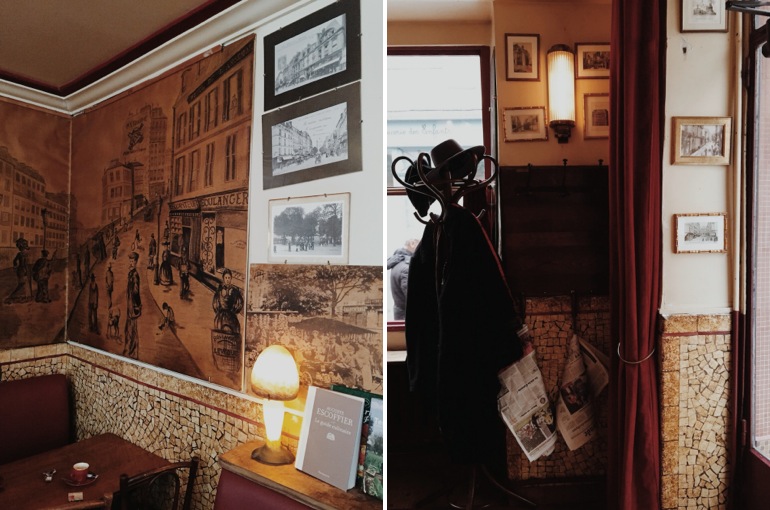 Inside, we could be stepping back 50 years in time to 1955, when the same photographs on the wall, the newspapers hung from the same hooks in the corner and the same old clock chimed on the hour as if any of the regulars were ever in a rush to leave this timeless place.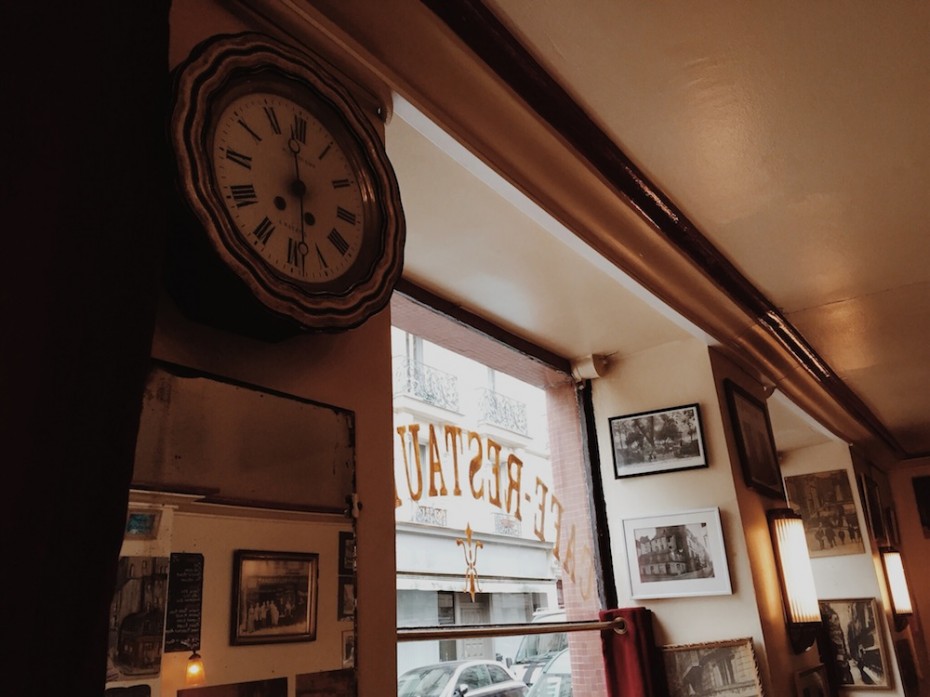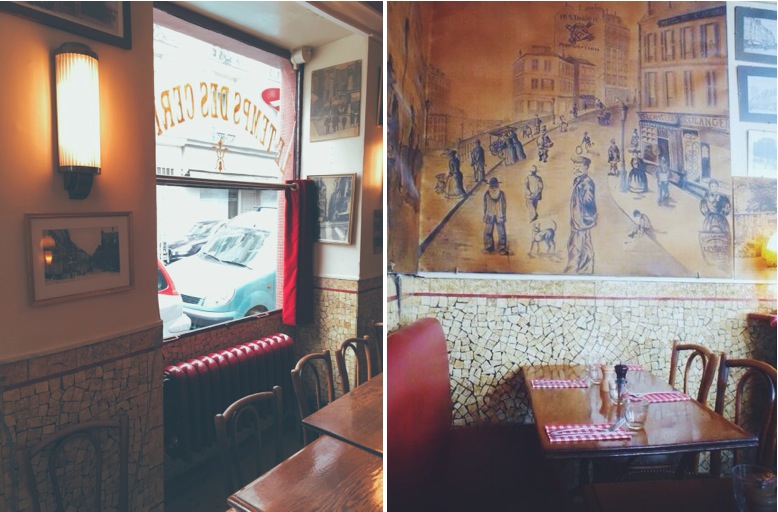 So yes, as far as Parisian bistrots, go, Le Temps de Cerises is as authentic and as local as it gets. And if in theory, just in case, let's say maybe you wanted to celebrate Valentine's Day discretely with your other half in Paris without blowing the budget at a stuffy guide book-recommended institution, I thought I'd give this hidden gem a pre-Valentine's Day test run for you with my beau…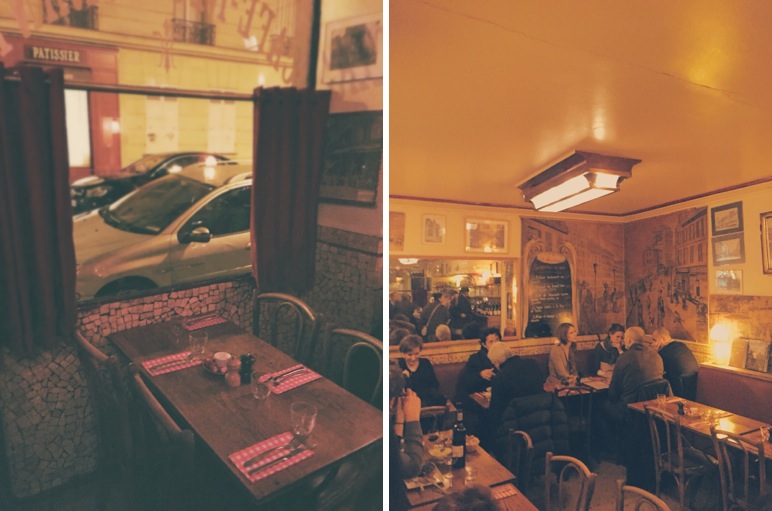 Between the cozily curtained window nooks, rickety old café chairs and and the red-chequered napkins, Le Temps de Cerises is just effortlessly and organically charming unlike so many of the tourist traps that try to clone Parisian charm like they're in Disneyland.
I do recommend calling ahead to make a booking for your table because you'll be competing in a small space with the local residents coming in for their after-work glass of terroir wine and side of goats cheese.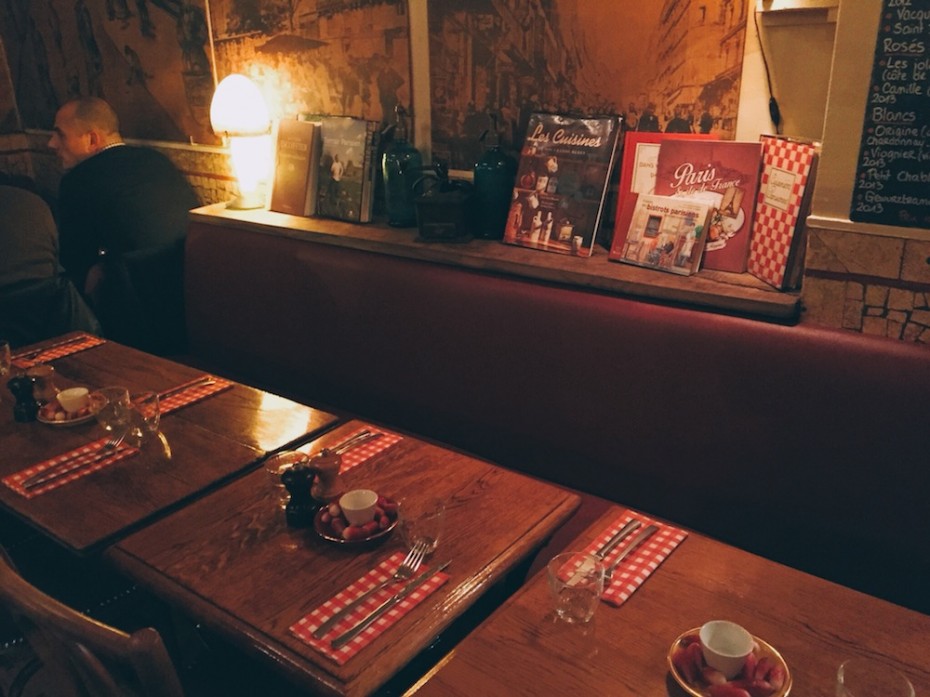 And now that we've established this picture-perfect little venue is not a deceiving tourist trap cliché, we can peruse the menu with a little more optimism. In fact, you'll be pleasantly surprised that this seemingly traditional French kitchen really just wants to appeal to your hungry tummy rather than your fear of frogs legs or any other often-intimidating French dishes.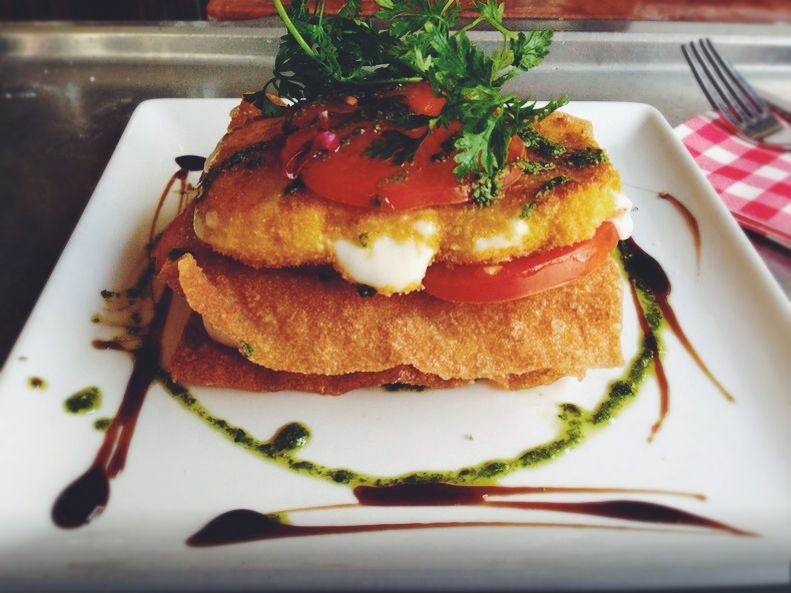 To start, he had the layers of oozy mozzarella ↑ and I went for the more lady-like version with layers of sesame tuna tataki ↓ (one of my favourite things), which I certainly wasn't expecting to find on the menu.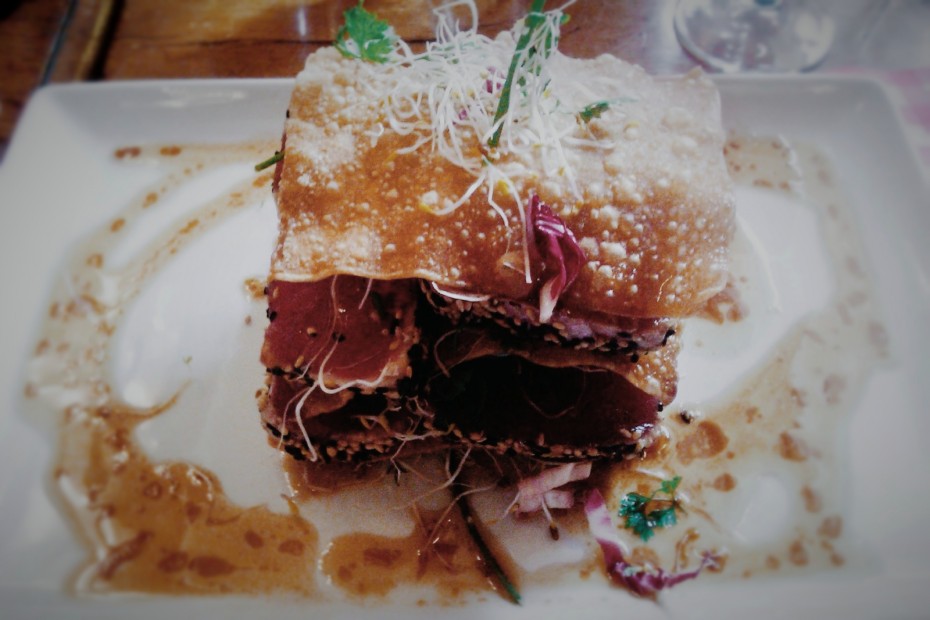 Next, we made a mutual decision to go for something a little more adventurous and French with an order of snails, more or less deliciously drowning in butter and garlic.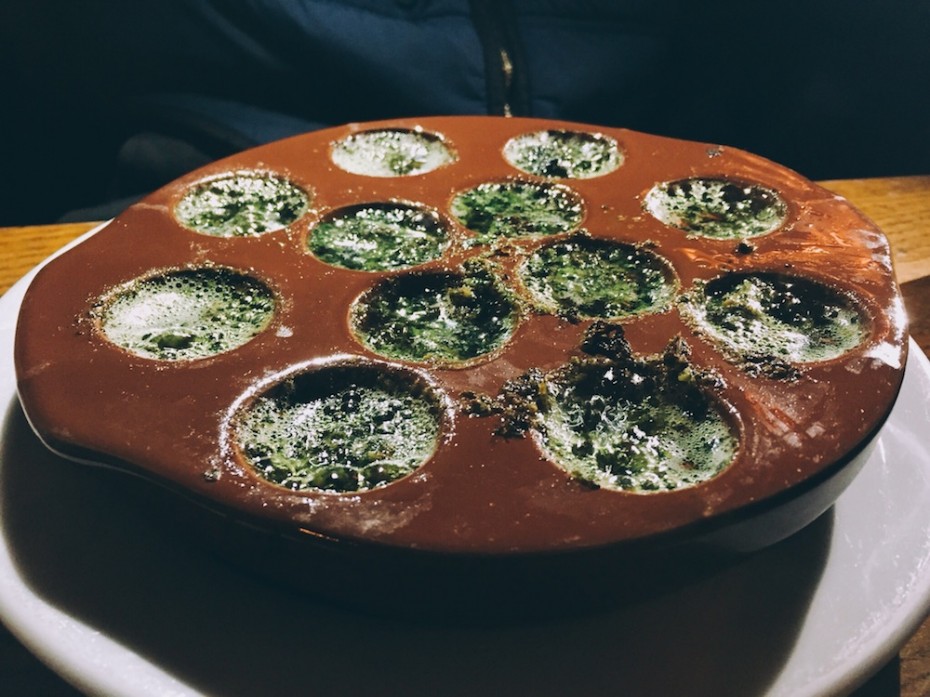 Garlic on Valentine's Day?! Well the way I see it is, if you both make a pact to try it, you'll both be blissfully unaware of each other's 'flavourful' breath!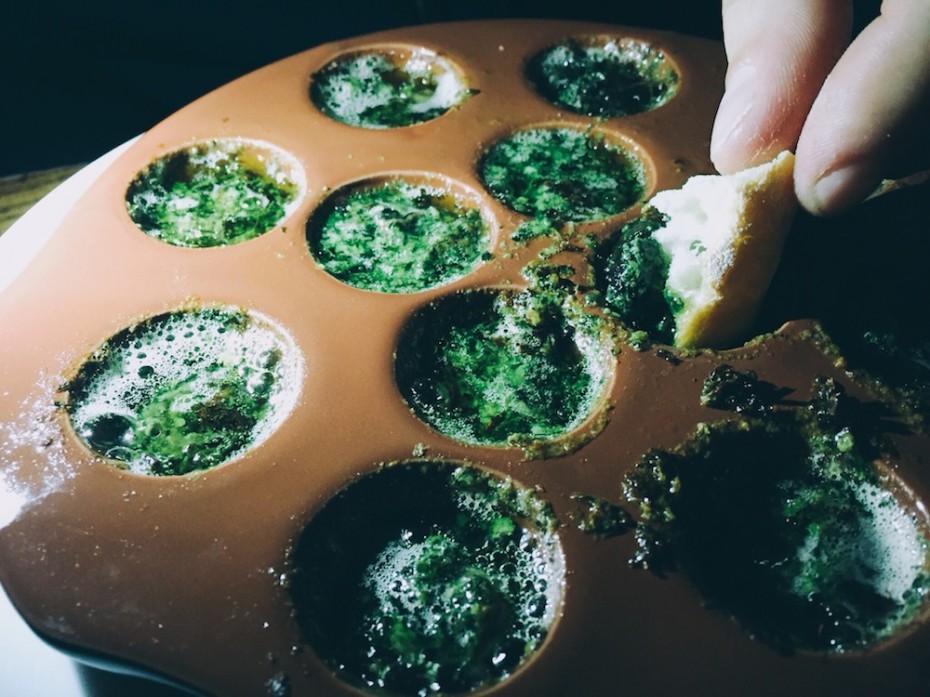 And if you come to an agreement, you might as well both make the best of it, lose the cutlery and get dipping and twisting with the baguette.
Too messy for a date? Just remember Kim Basinger and Mickey Rourke's midnight snacks.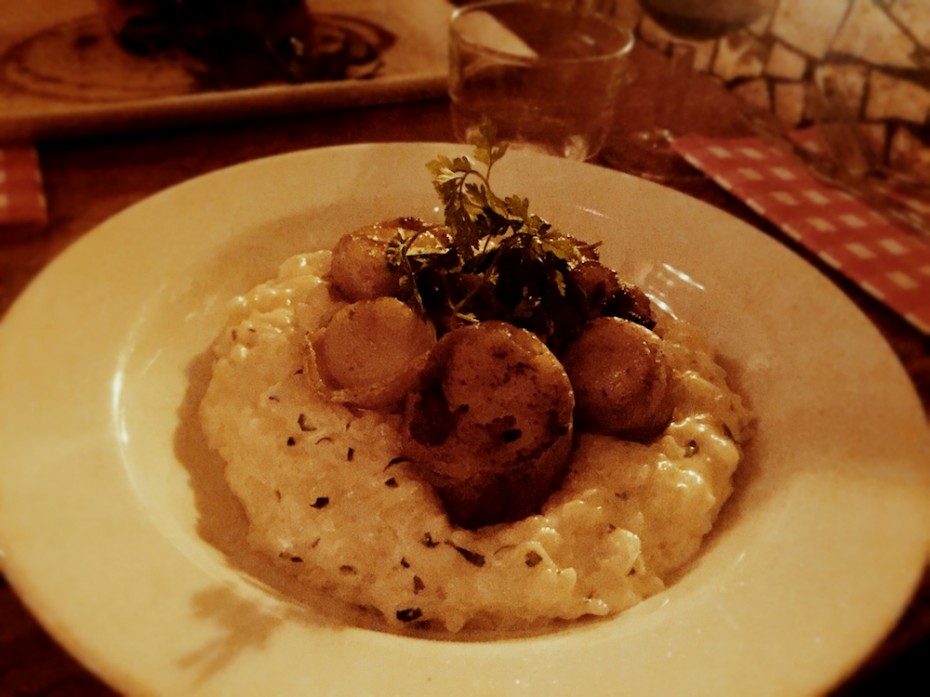 To finish us off we shared the bacon-wrapped scallops on a bed of creamy mushroom and parmesan risotto. Perhaps not the "Lady & the Tramp" spaghetti dish, but just as romantic in my book.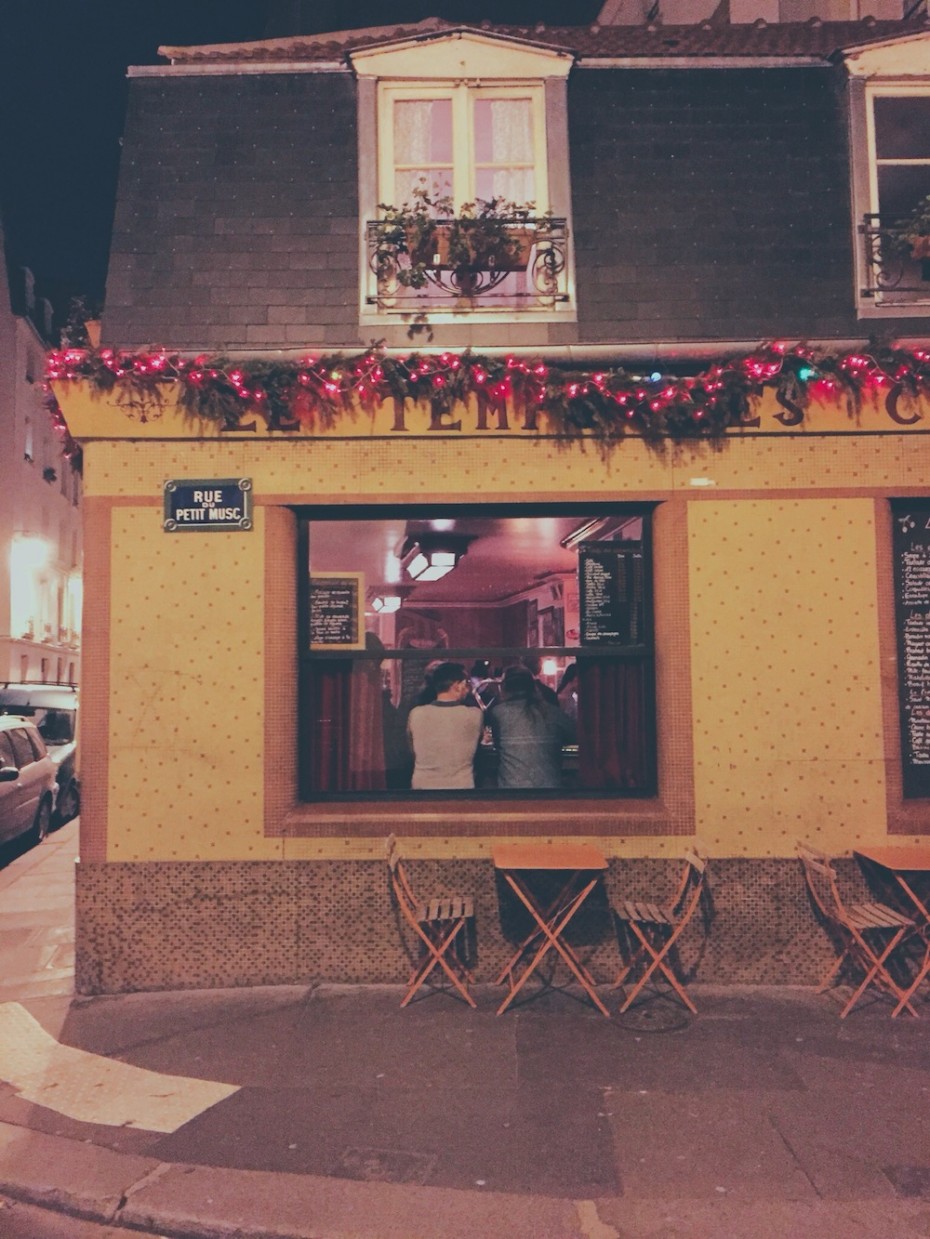 All in all with a good bottle of red wine, our bill came in at just over 30 euros a head, which left us feeling rather proud that we hadn't fallen into the trap of zee capitialiste holiday cliché.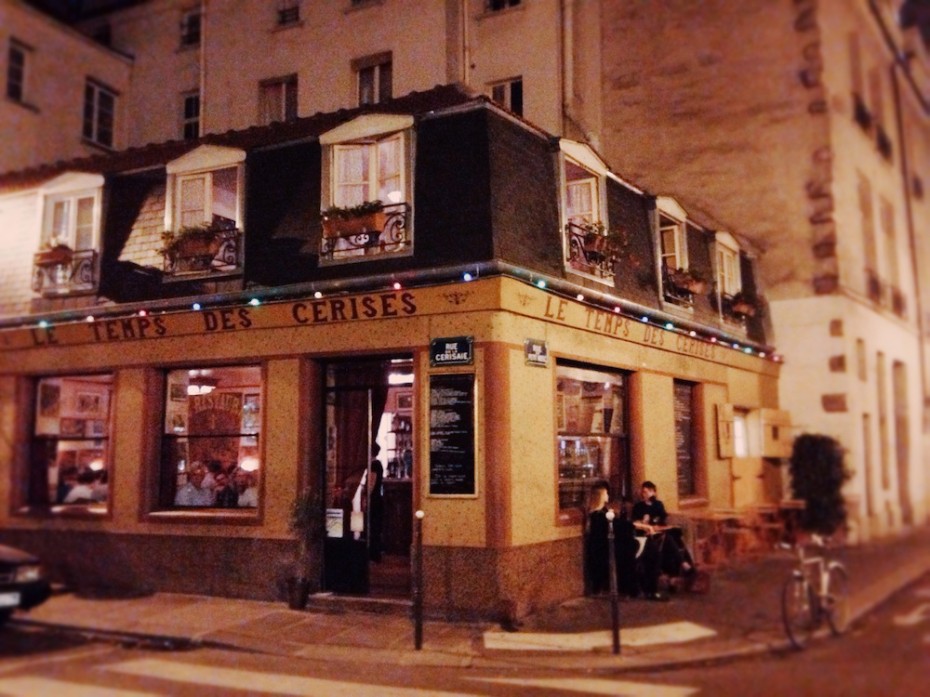 But you've got to admit, this place is pretty damn cute– maybe even a romantic Parisian cliché in the best possible way….
Le Temps de Cerises, 31 rue de la Cerisaie, 01 42 72 08 63.
Hungry for more Paris? 
The updated edition of Don't Be a Tourist in Paris
 is now available.
Or become a MessyNessy Keyholder to gain access to our 
Travel eBook library
 and a direct line to our 
Keyholder Travel Concierge
 to plan your perfect trip. Need help planning a weekend in France? Need some restaurant recommendations for a remote village in the North Pole? We're here to help.