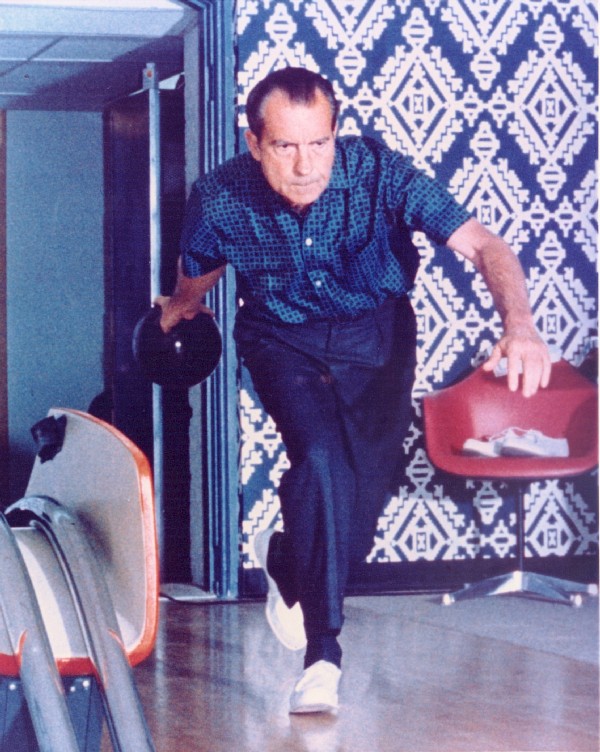 If you've ever seen The Big Lebowski, you'll recognise this photograph of President Richard Nixon bowling, which infamously loomed over the Dudes tiki bar in the cult Coen brothers film. It is in fact a real photograph of Nixon and as I recently discovered, in 1969 the former President added his own secret one-lane bowling alley in the basement of the White House just a few years before the Watergate scandal broke– and it's still there today.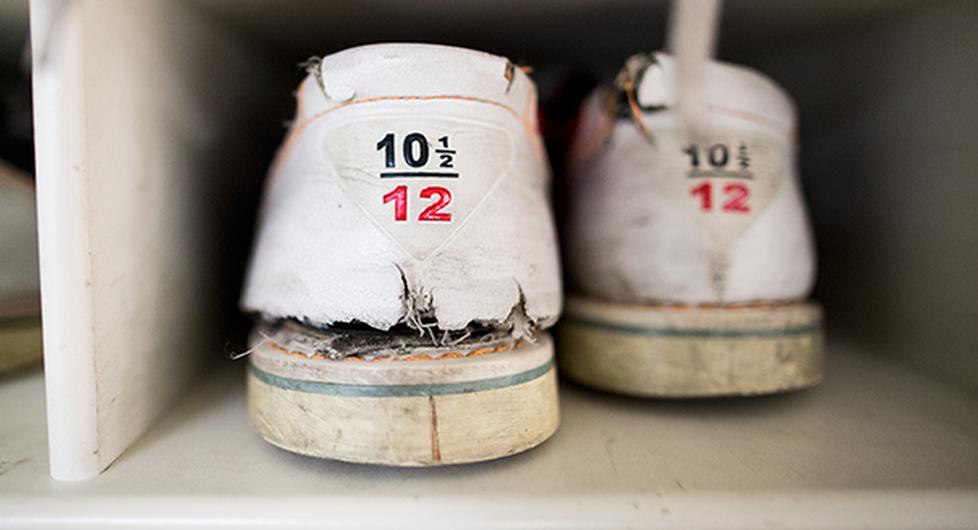 My curiosity to see more evidence of this allusive Presidential bowling alley led me to an unofficial online White House Museum which had the pictures to prove it…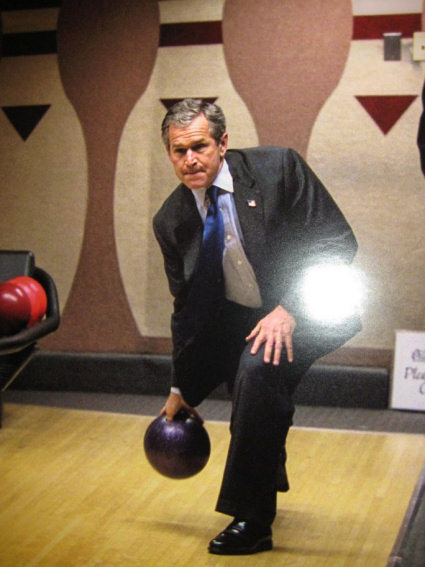 It turns out that there are not one but two White House bowling alleys. The first White House bowling alley was originally built on the ground floor of the West Wing as a birthday gift to President Truman in 1947. Truman wasn't much of a bowler himself, but the staff were permitted to start a league that competed in tournaments across the country, much to the surprise of their opponents.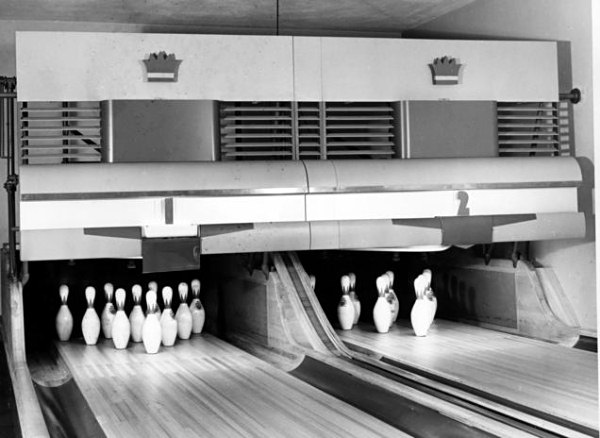 In the 1950s, Truman's in-house alley (photographed above) was scrapped in favour of a printing press room and moved to the Old Executive Office Building across the street.
But then came the Nixons…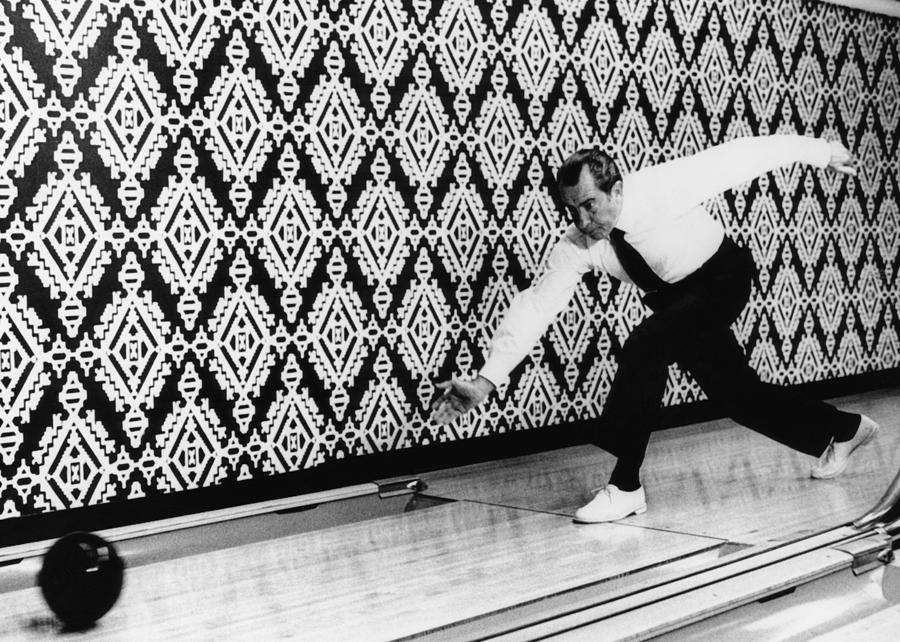 Both Richard and his wife were passionate bowlers, preferring the sport to golf unlike most presidents, because it could be done quickly in the gaps of his schedule. In 1969, he had his own private one-lane alley built in-house, supposedly paid for by friends and partly out of his own pocket, in an underground workspace area below the White House driveway leading to the North Portico.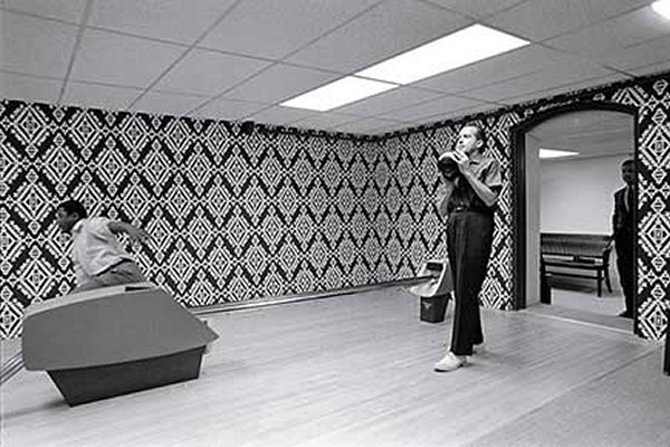 These particular shots taken of Mr. Nixon bowling with that groovy wallpaper in the background, were actually taken in Truman's relocated alley in the Old Executive Office Building, primarily used by White House staff. Despite Richard's own secret one-lane alley at his disposal, the photographs published in the 1970s were likely used to make the President look more like an average citizen.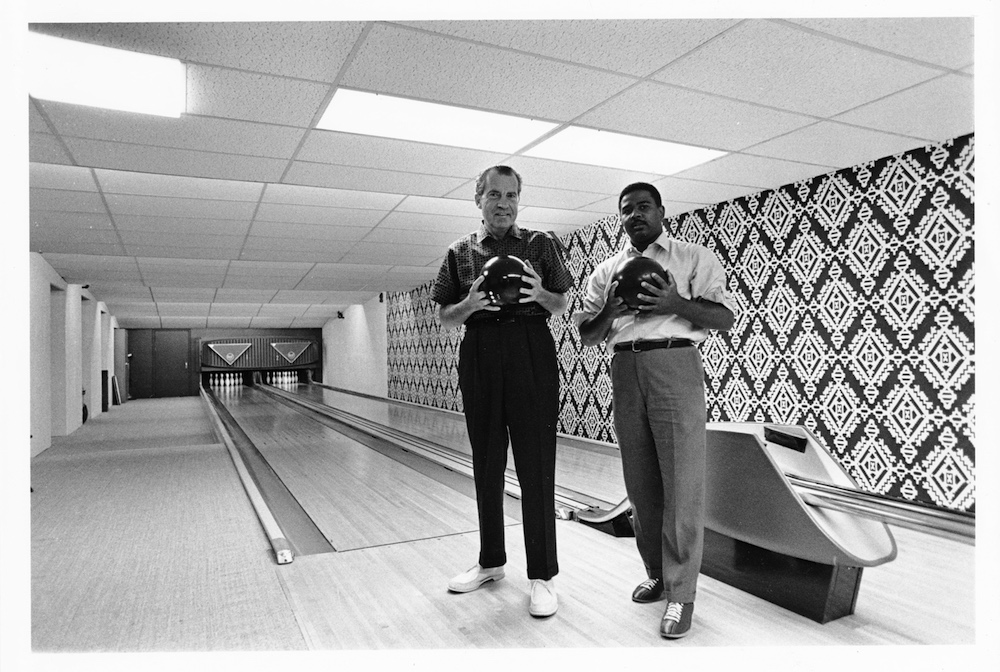 Nixon allegedly once played 300 games back to back and although his average is said to have been a closely guarded state secret, the press reported his high score to be an impressive 232.
While Nixon's lane is less known about, both official White House alleys still exist, but they're seriously outdated and in great need of some TLC…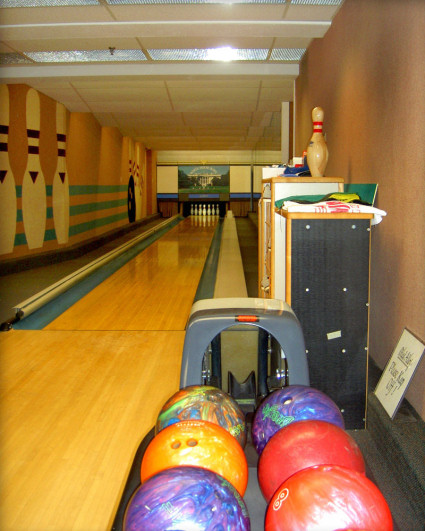 During Obama's campaign, he said he planned to replace the bowling alley in the White House proper, installed by Nixon in 1969, with an indoor basketball court. Unlike Truman's alley, Nixon's single-lane facility was presumably intended for Presidential use only, and Obama, clearly not such a fan of bowling, would have no use for it. When he was elected, in an effort to change the President's mind, top bowling associations offered to refurbish the lane with a state-of-the-art scoring system, high-tech bowling balls designed to grip the lane and a digital surround-sound system.
The Bowler's Propietors Association of America submitted this rendering ↑ of the proposed refurbishing of the White House lane, suggesting that removing the alley "could have a long-term impact on his political prospects." Obama later said in an interview with Barbara Walters that he might leave the bowling alley alone after all.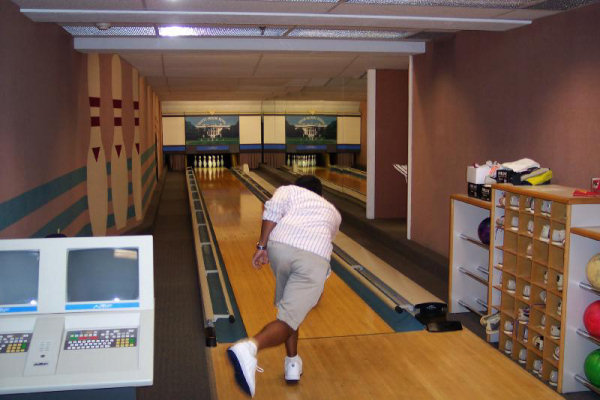 No plans for it to be replaced by a basketball court have been brought up since, but it could sure do with that new lick of paint, reportedly having fallen into serious disrepair after 9/11.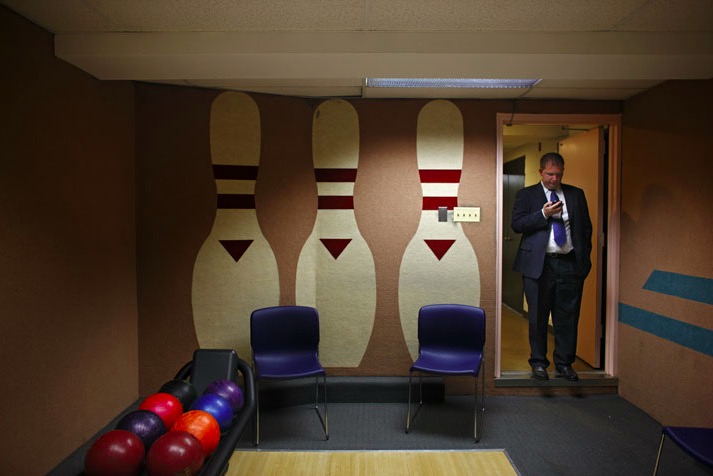 George W. Bush and his children were apparently the last ones to enjoy the facility and at his 2008 White House Correspondents' Dinner, an invited guest got a peek at the alley and said it looked like a "crappy suburban bowling alley".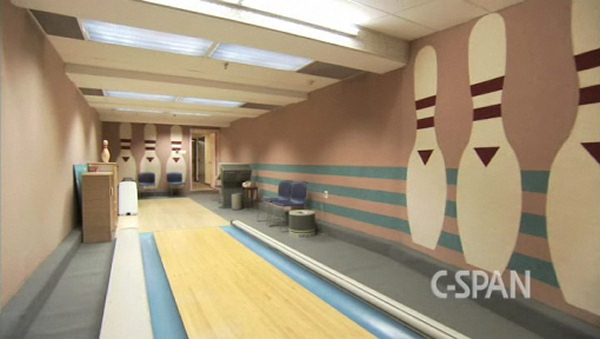 Let's bring in that fabulous sixties wallpaper at least. Neglected and officially closed to the public, presumably it's in even worse shape these days.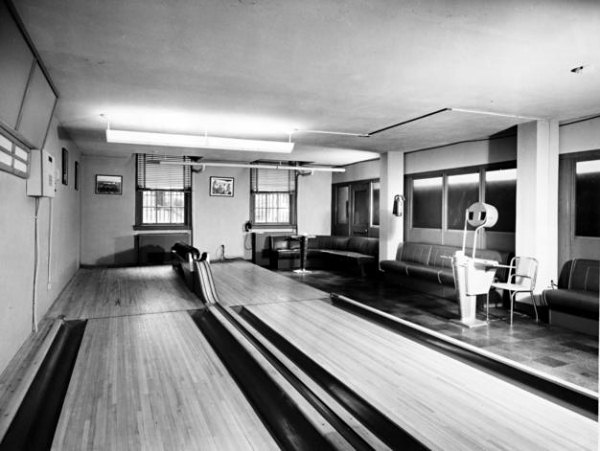 As for President Truman's alleys, the original 1940s installation (pictured above), where secret service agents and secretaries alike would have once unwound with a few strikes and beers at the end of a stressful day in the West Wing, is now ironically used as the Situation Room, where a long conference table has replaced the bowling lane for the President and his advisors to deal with crises or monitor missions unfolding such as the infamous 2011 operation to execute Osama Bin Laden.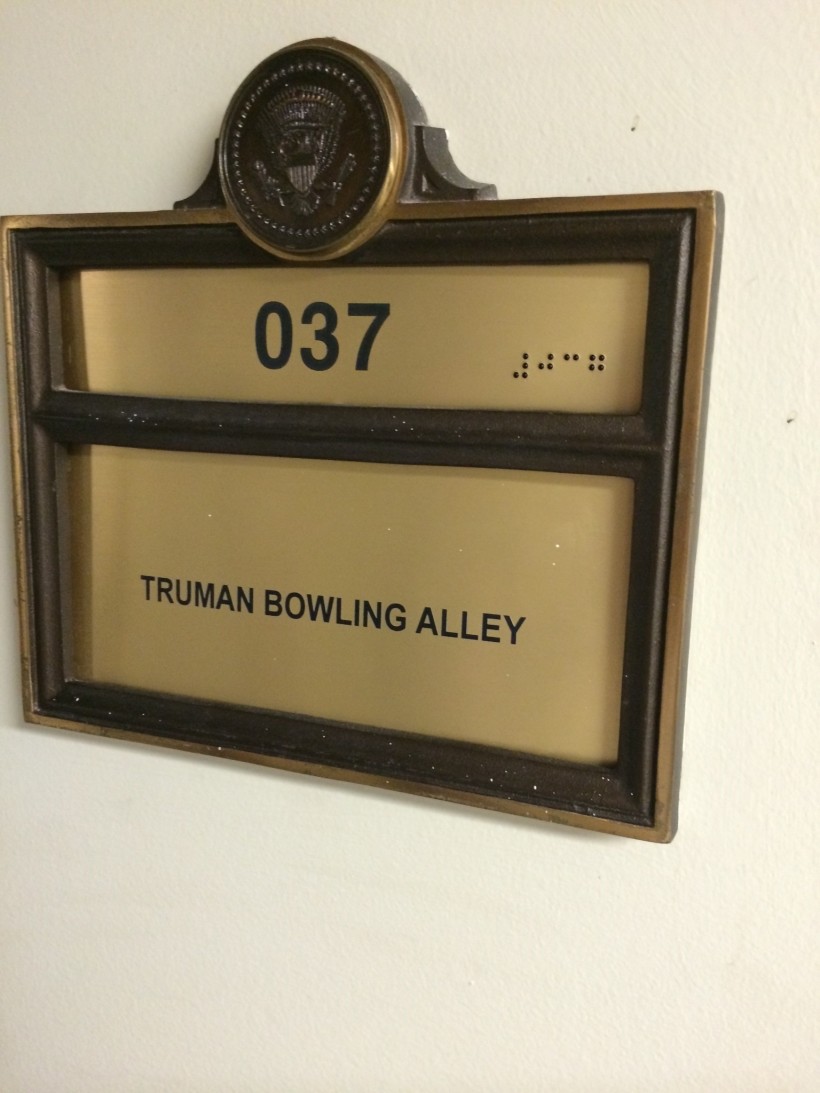 The 1955 two-lane alley in the Executive Office Building however, is slightly more promising for bowling enthusiasts, although sadly that kitsch 60s wallpaper is long gone.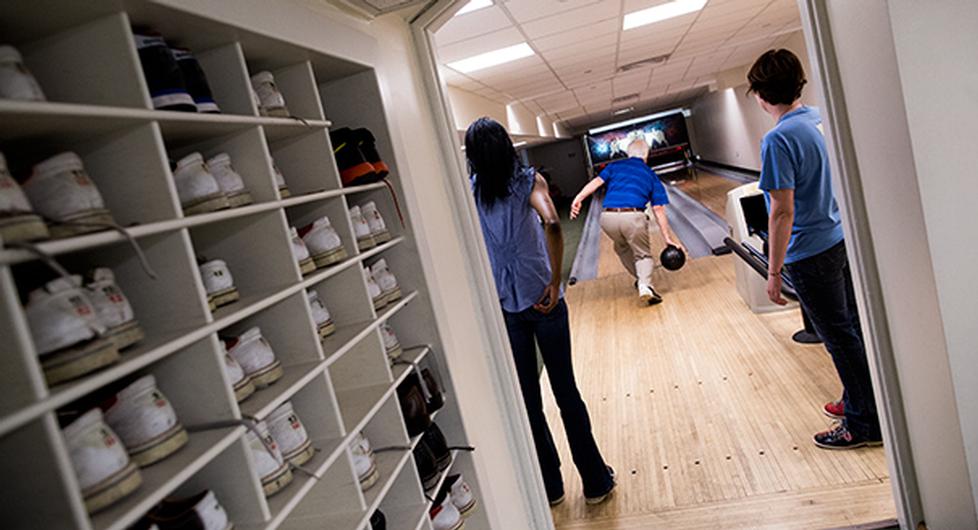 More than 4000 bowlers were cleared by the Secret Service to try their hands at strikes and spares since Obama took office. You have to be invited by a White House staffer which involves a background check done weeks in advance and getting past two security checkpoints and metal detectors. But it's apparently all worth it according to several lucky reviewers on Yelp who visited the Harry Truman Bowling Alley, which boasts an average rating of four-and-a-half stars out of five on the site.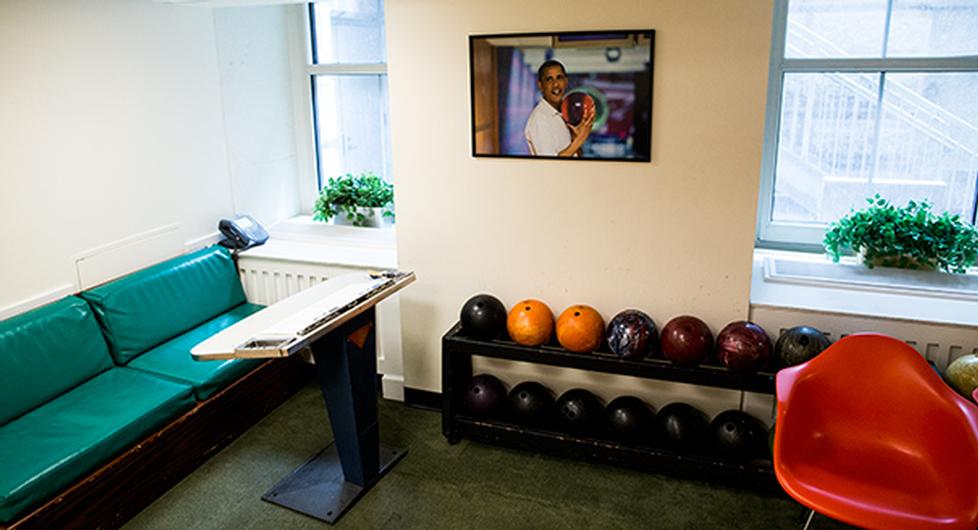 Fitted with "retro everything from the 60s" and "cheesy Obama and Nixon bowling photos on the wall", although the alley is not technically in the White House proper, you still have to enter through the secured underground lanes of the White House and walk down halls with mysterious black doors until you'll finally be led to one labeled the "Truman Bowling Alley."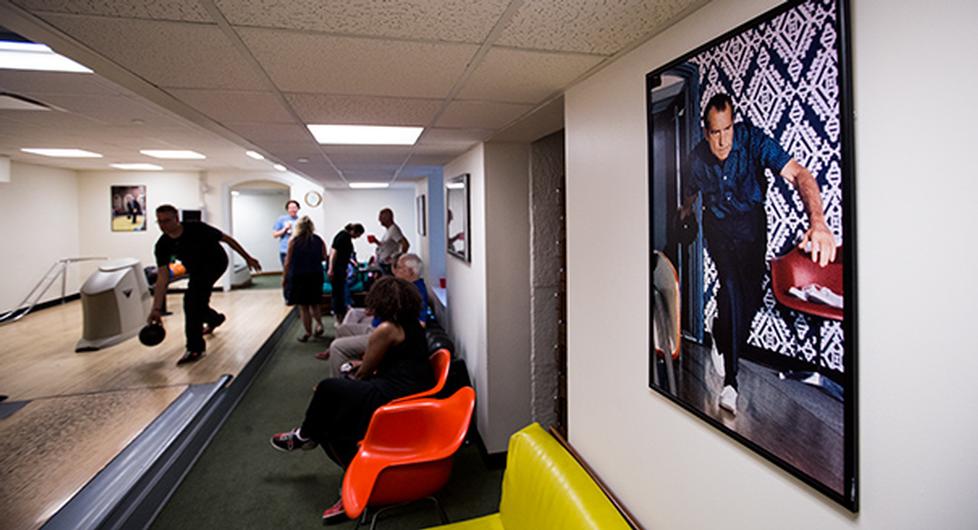 If like me, you don't know any White House staffers to get you into the most exclusive bowling alley in America, why not go for the next best thing and get a Big Lebowski-style poster of Richard Nixon bowling to hang above your tiki bar.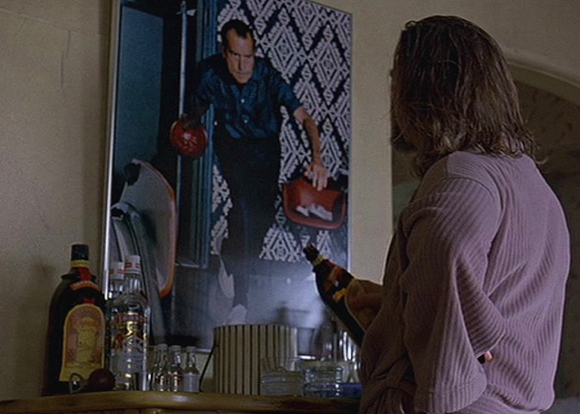 You can get your own at LebowskiFest.com.