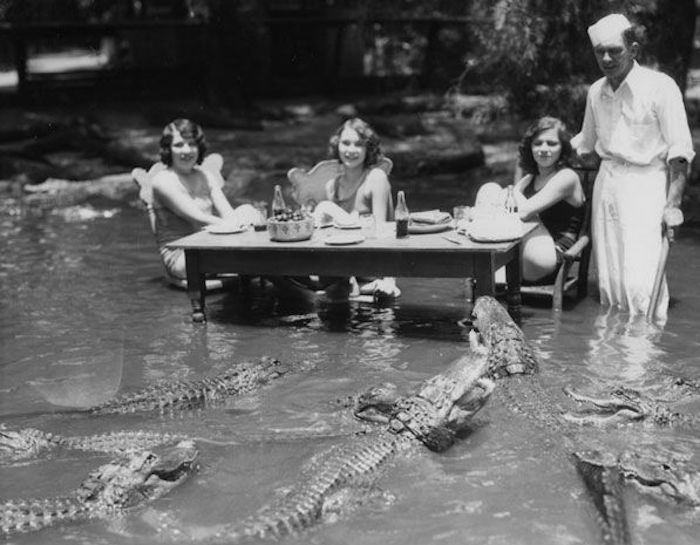 The strangest thing about this terrible tourist attraction, is that I couldn't find a single newspaper clipping or record of an incident involving a visitor being bitten by an alligator.
For almost half a century, more than 1,000 exotic gators were the snap-happy neighbours of a tight-knit community in Lincoln Heights, Los Angeles. A major tourist attraction from 1907 to 1953, Alligator Farm amassed a small fortune for its owners, Francis Earnest, a one-time mining camp cook, and his partner "Alligator" Joe Campbell.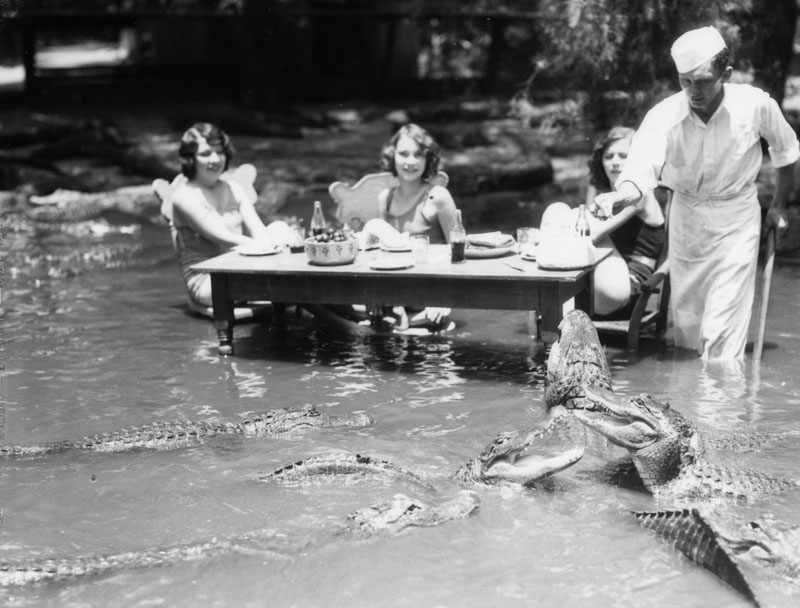 This is a real photograph of some young ladies dining in a pond of swarming alligators at feeding time.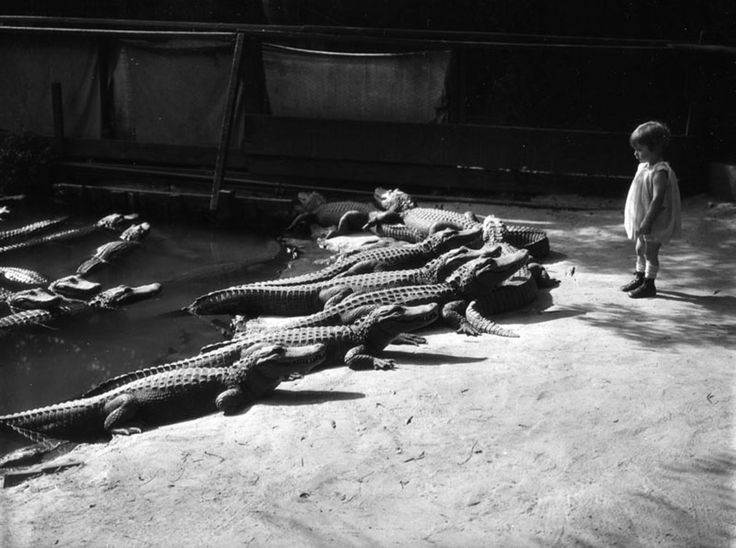 And here's a small toddler, being allowed to approach a pack of gators eyeing her up for lunch.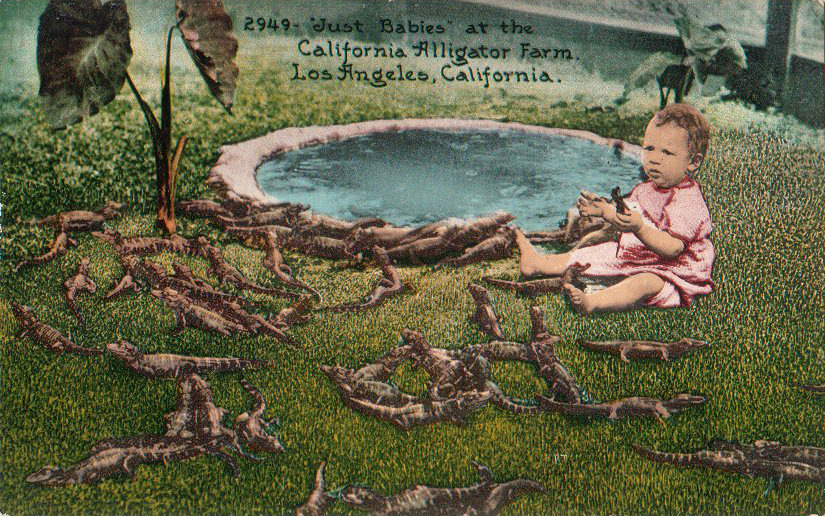 These are some earlier postcards from the park…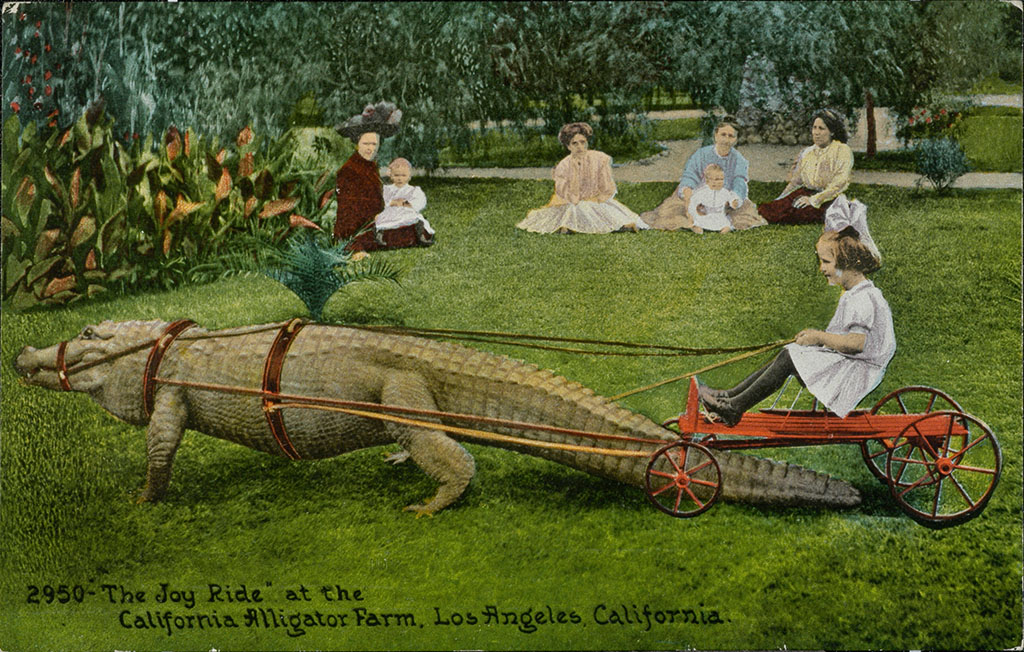 The farm offered such attractions as watching the alligators being fed with live chickens, perform tricks and wrestle with humans. And as you can see, you could ride a saddled alligator around the park. The gift shop hawked a wide selection of products made with alligator skin, including shoes, luggage and wallets.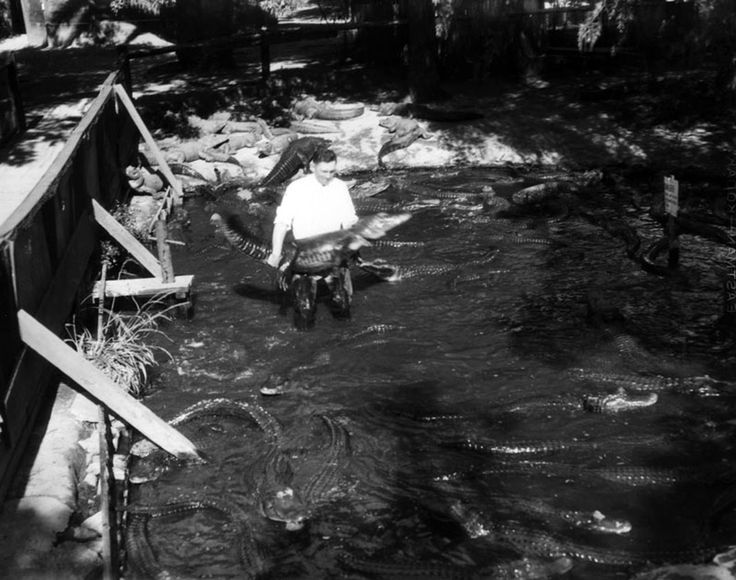 For the residents of Lincoln Park during the alligator farm's heyday, it wasn't just the nocturnal bellowing of the reptiles that became a nuisance. When rain flooded the nearby reservoir, which it frequently did, the water overflowed into the farm giving the alligators the chance to make repeated forays into neighbourhood canals, backyards and occasionally swimming pools.
And yet, the only mention of an accident I could find was of a female handler, severely bitten by an enraged 6ft long reptile when she stepped on his tail on the night of Nov 20 1915 at Alligator Farm. "It fastened its teeth on her right thigh".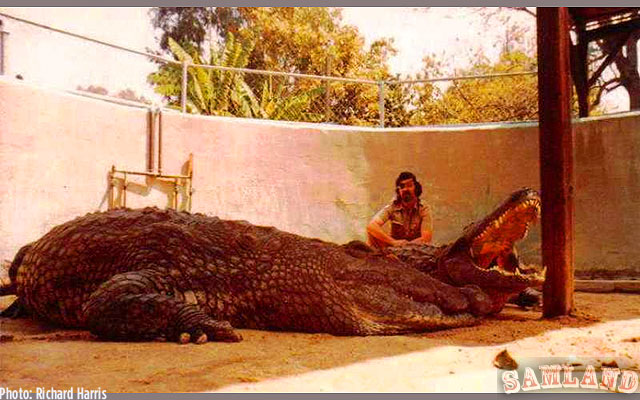 In 1954, the farm moved further away from family communities to Buena Park, California, where it was renamed the California Alligator Farm. The attraction was shut down in 1984 after attendance dropped below 50,000 persons annually. Today, the very same gators that dined with those girls or gave little kids joy rides around Lincoln Park are likely still alive (and snapping) on a private estate in Florida where they were relocated after the farm's closure in the 1980s. 
And just before you go, here's a photo I found in my photo research of a "Lobster Tea Party" ↓
That is all.