I doubt these ladies felt at all ready for their close-up, but this is what it looked like to be camera-ready in the early years of black & white commercial television. Technology for the new medium in those days lacked a significant amount of contrast and wasn't capable of showing certain colours. Make-up artist to the stars, Max Factor, already well-known for his contributions to the movie industry in Hollywood, was called upon to invent a make-up technique that could bring out the physical traits of the first television presenters in show business.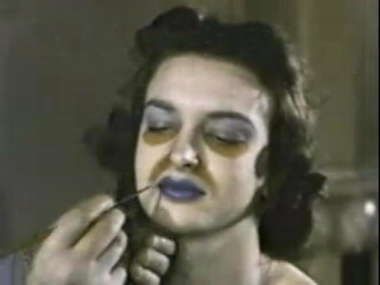 There's an interesting article on this website that goes into all the details, but here's the reasoning behind it in a nutshell:
Make-up that looked good in real life or worked well in film looked terrible on black-and-white television shot with the Image Iconoscope camera tubes. Used for broadcasting in the United States until 1946, these cameras had a much lower line standard than those used after the war and had produced a picture with low definition. Along with the low definition the way these camera tubes registered colour in shades of gray was also a problem and using make-up to compensate for these problems resulted in some rather bizarre looking faces.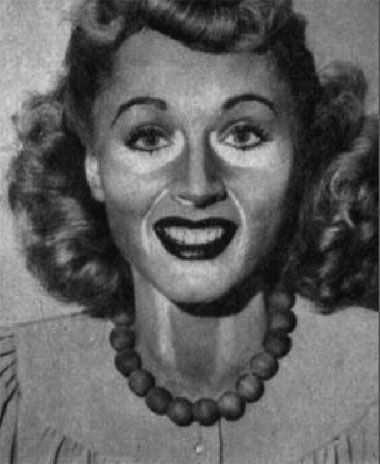 Hollywood film actress Elaine Shephard in 1939 with white high-lighting around the nostrils, eyes and hollows of the throat. Her lips, eyebrows and eyelashes are blue-black.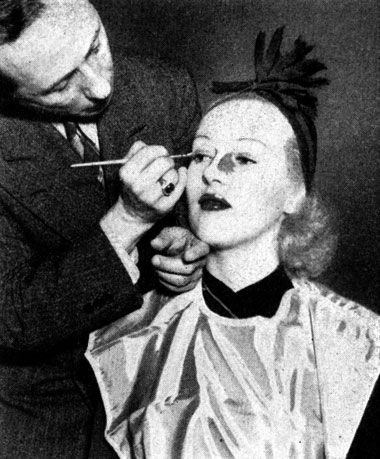 Film star Betty Grable, being made up for television in 1938
An old article from Modern Mechanics explains which colours replaced others for television broadcast:
Green lipstick and rouge replace the customary red in make-up designed for actresses appearing in television broadcasts. The television camera, it is explained, does not record the red coloring in the human complexion, leaving the transmitted image flat and unnatural. When green is substituted, however, the lips and cheeks of a performer appear in accurate relation of tones with other facial features as the image is projected on the screen of the receiver.
It's ironic to that think that the make-up Max Factor developed for television and movies often ended up being marketed for the general public.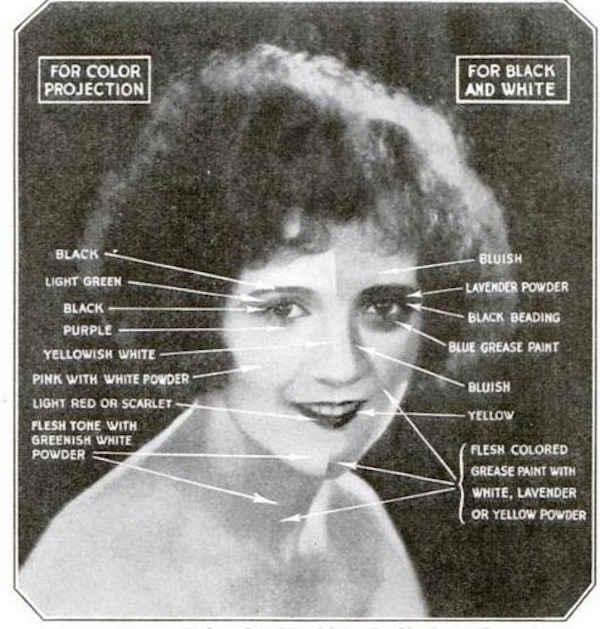 To bring it home, a fashion and beauty blogger tried this early make-up tutorial and the results are colourful to say the least…