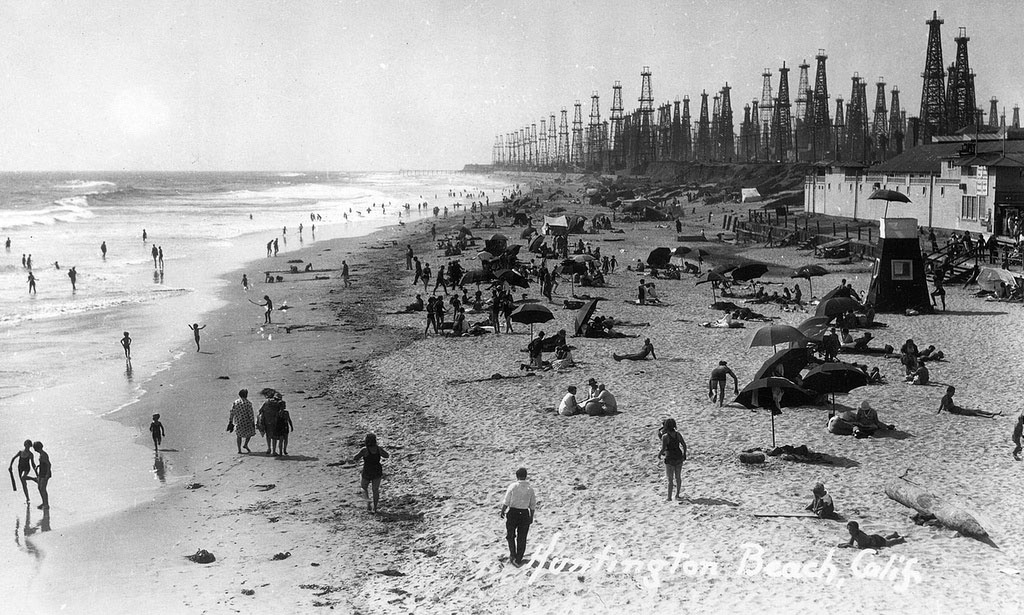 It looks like a scene out of a dystopian horror movie foreshadowing our planet's bleak future. But not very long ago, this was California, the (black) golden state.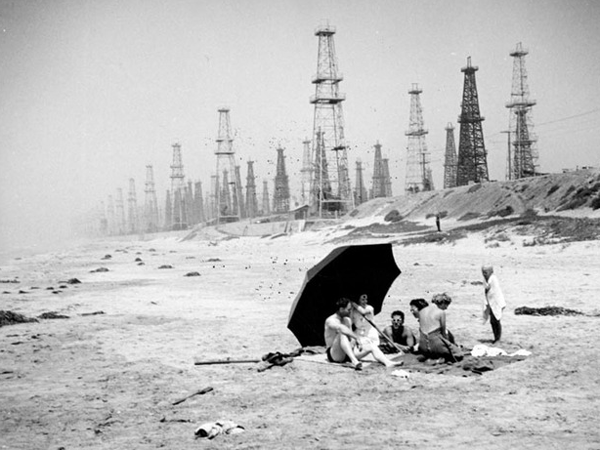 I guess I never really understood exactly what it meant when they said Los Angeles and much of Southern California was "built on oil". I think I was imagining some oil fields out in the desert, far from cities, away from the white sandy beaches and picturesque coastline. But then I started really looking at all the haunting photographs of Huntington Beach, Venice Beach, Long Beach and other areas of the Los Angeles Basin, infested with oil towers, and I finally understood that when they said "built on oil", they meant it both figuratively and literally.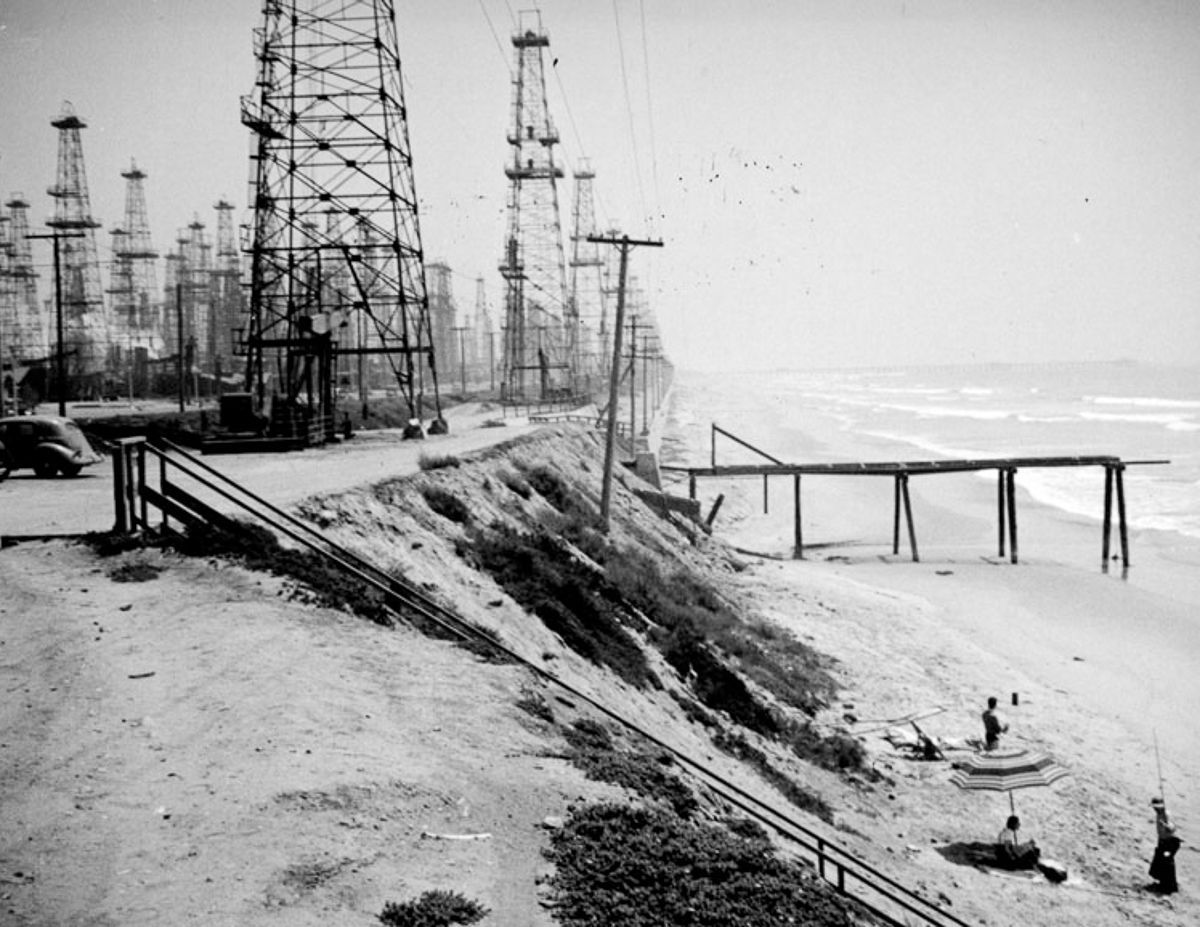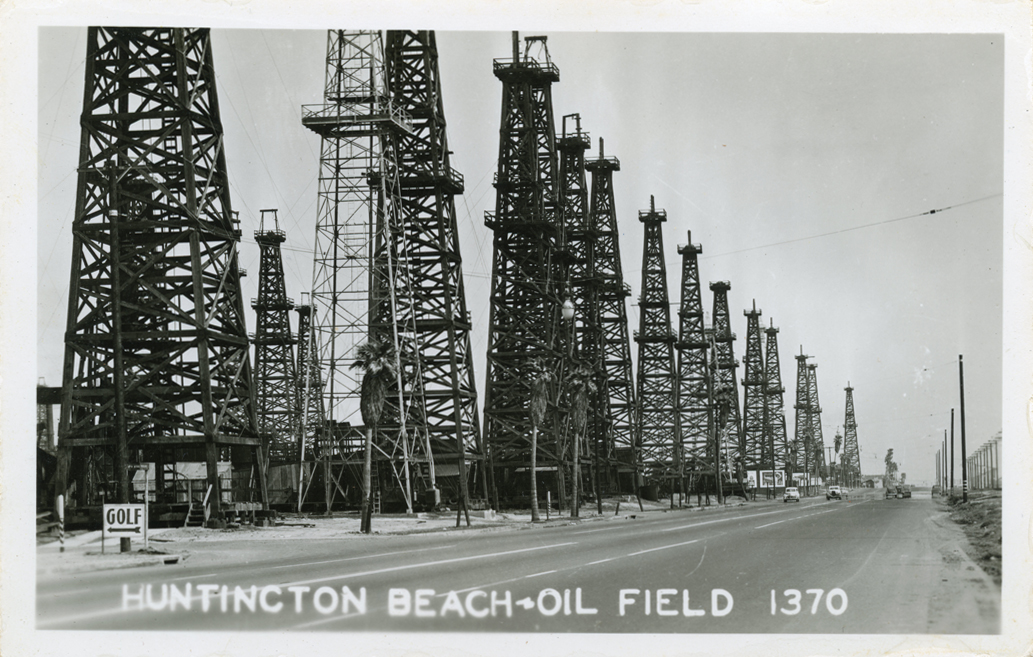 I went digging for more evidence and found endless photos and postcards of an unrecognisable California, its landscape invaded by these black towers like some nightmarish twilight zone. Even if you know all about the golden state's history with oil, I don't think its ever possible to be unfazed by these surreal images that manifest modern man's disturbing addiction to black gold.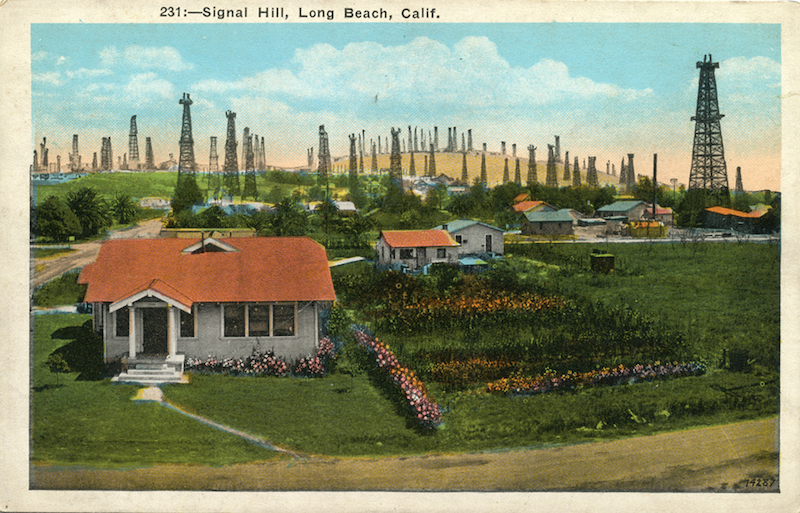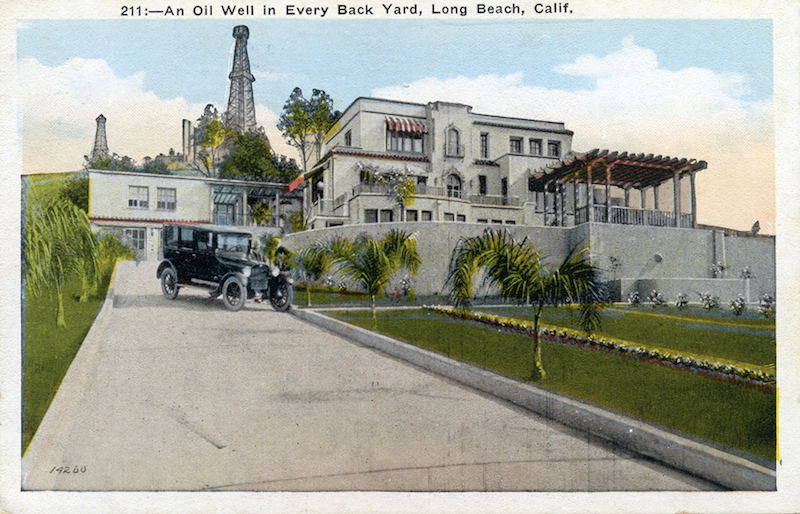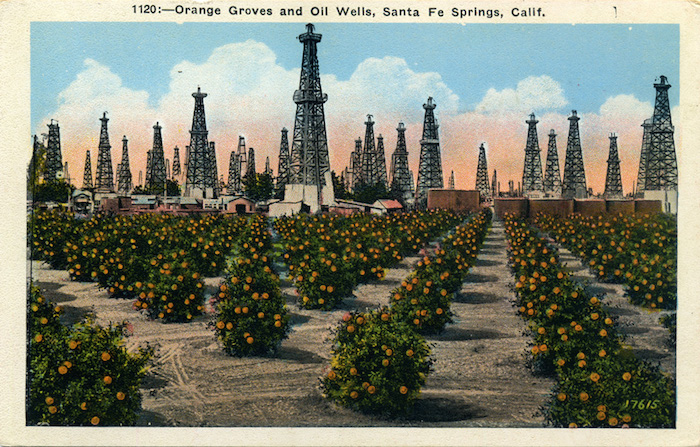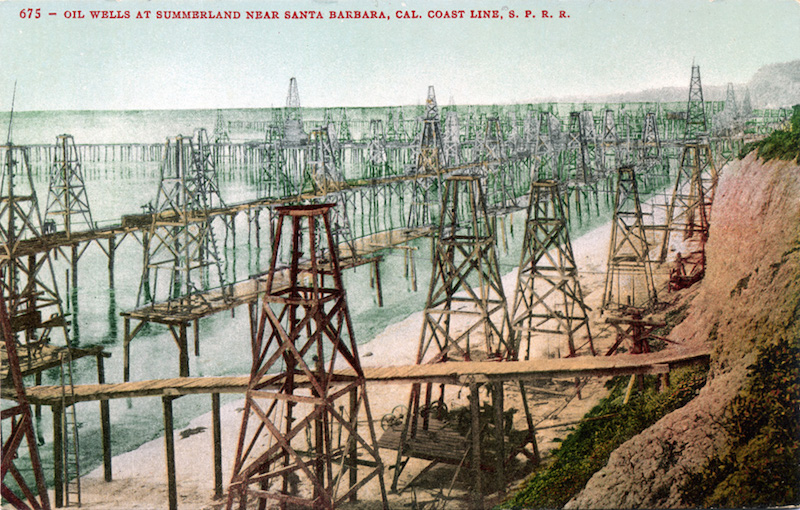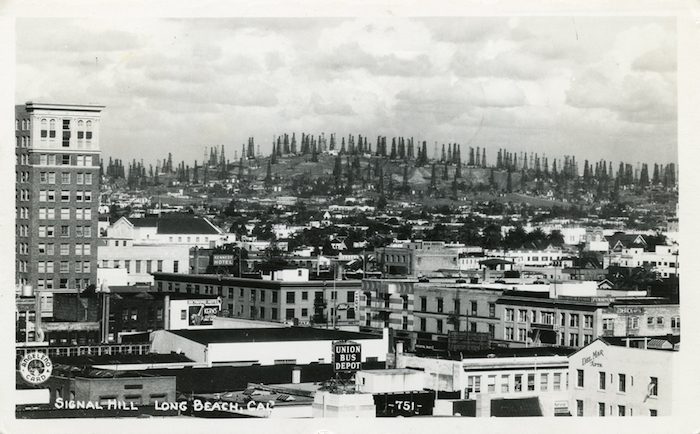 Everyone knows Hollywood makes big bucks, but one of Southern California's chief exports over the last 100 years has also been oil. In the 1860s, the first oil fields were drilled in California's Central Valley, enough to provide for San Francisco, the largest population center in California at the time, but under the sleepy beachside village of Los Angeles, far larger oil fields remained undiscovered. A couple of down and out gold miners struck oil in what is now Downtown Los Angeles in 1892, and within a few years, they had drilled 500 wells. Los Angeles was (and still is) sitting on top of the nation's third largest oil field.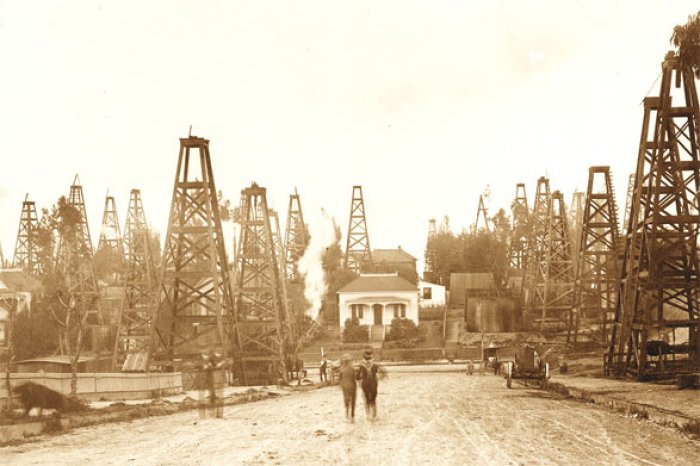 Everyone wanted a piece of the pie. In the first years of the initial oil boom, the population of Los Angeles doubled between 1890 and 1900, attracting a colourful crowd of gamblers, conmen and prostitutes. One of the earliest investors managed to play her cards right was a local music teacher, Emma Summers. By 1900, when the state of California was producing 4 million barrels of oil, Summers controlled half the production in the original Los Angeles field, and became known as the "Oil Queen".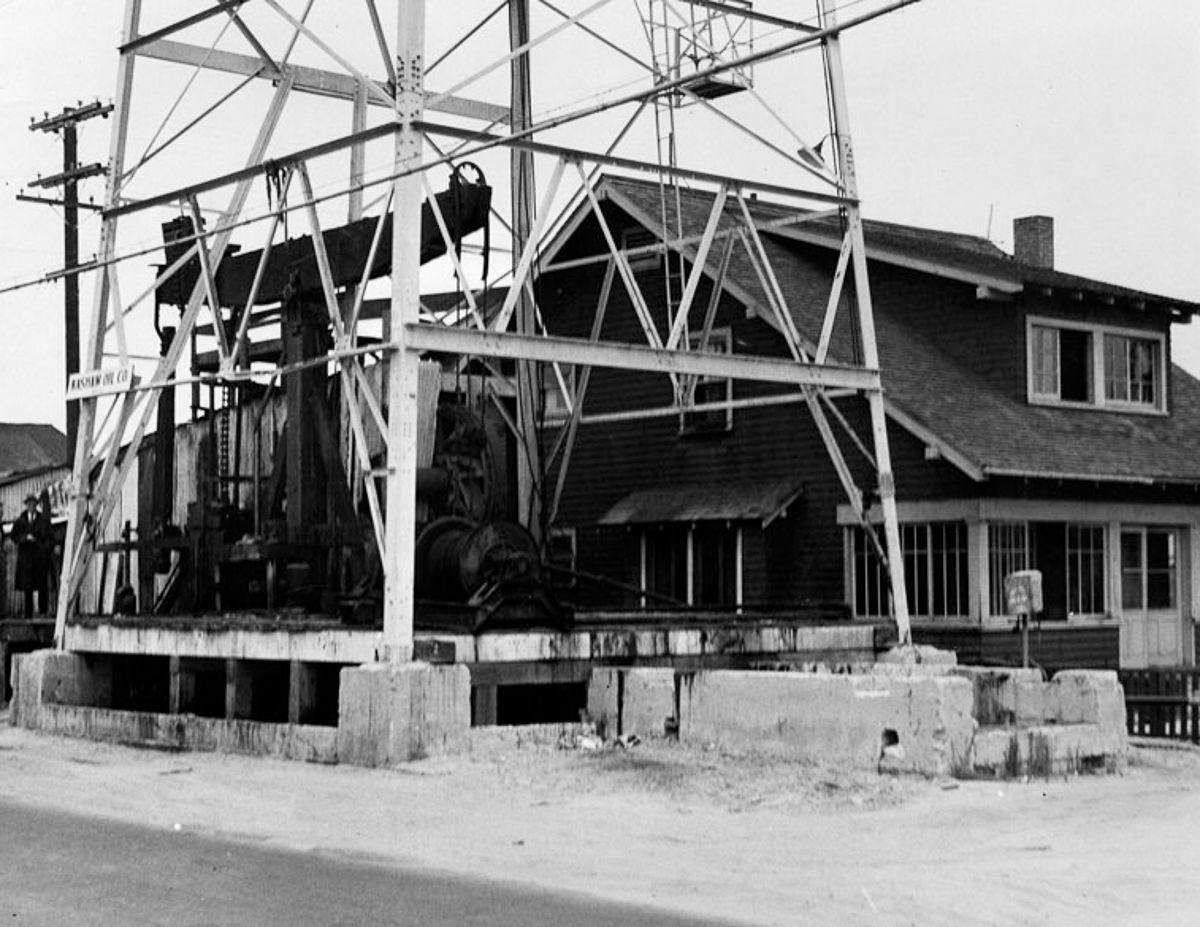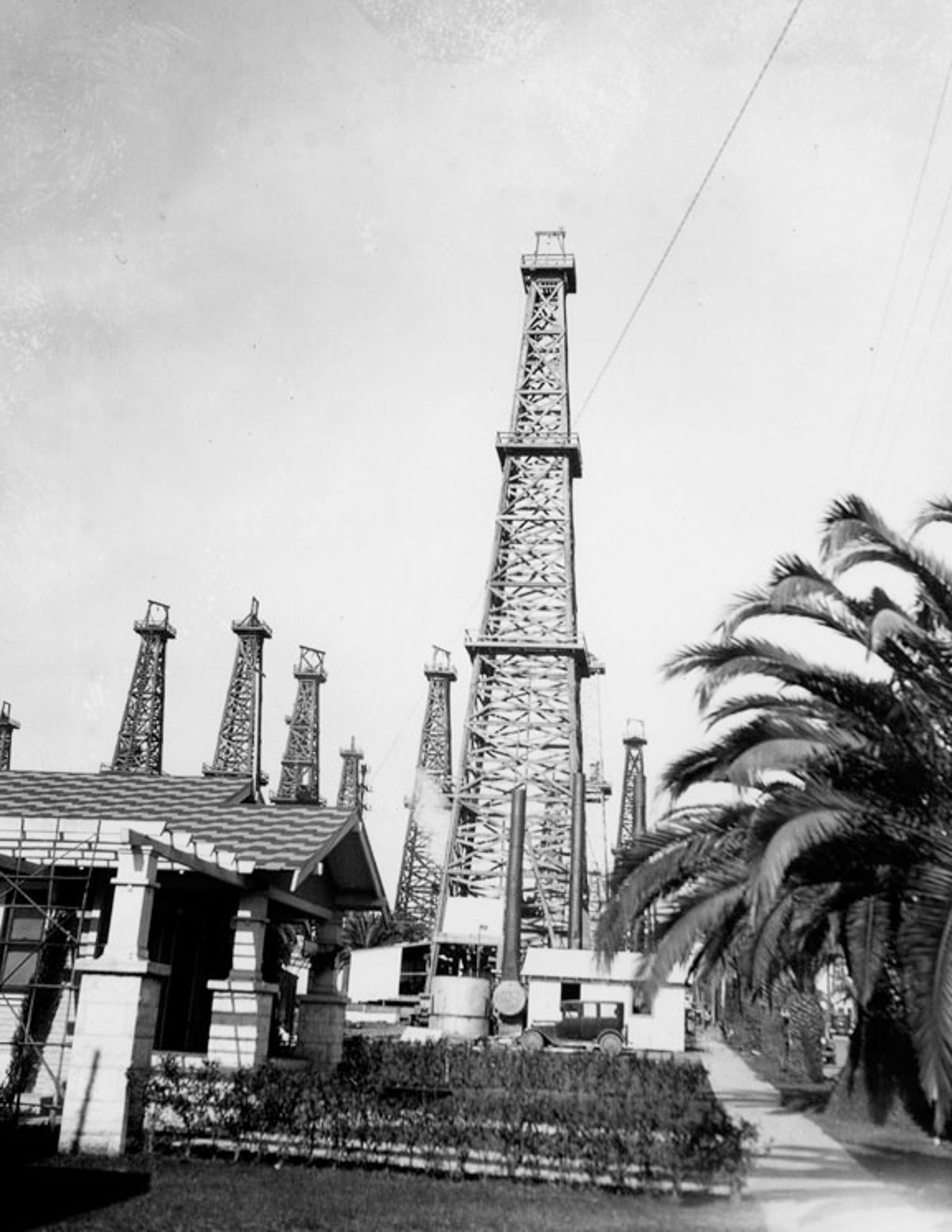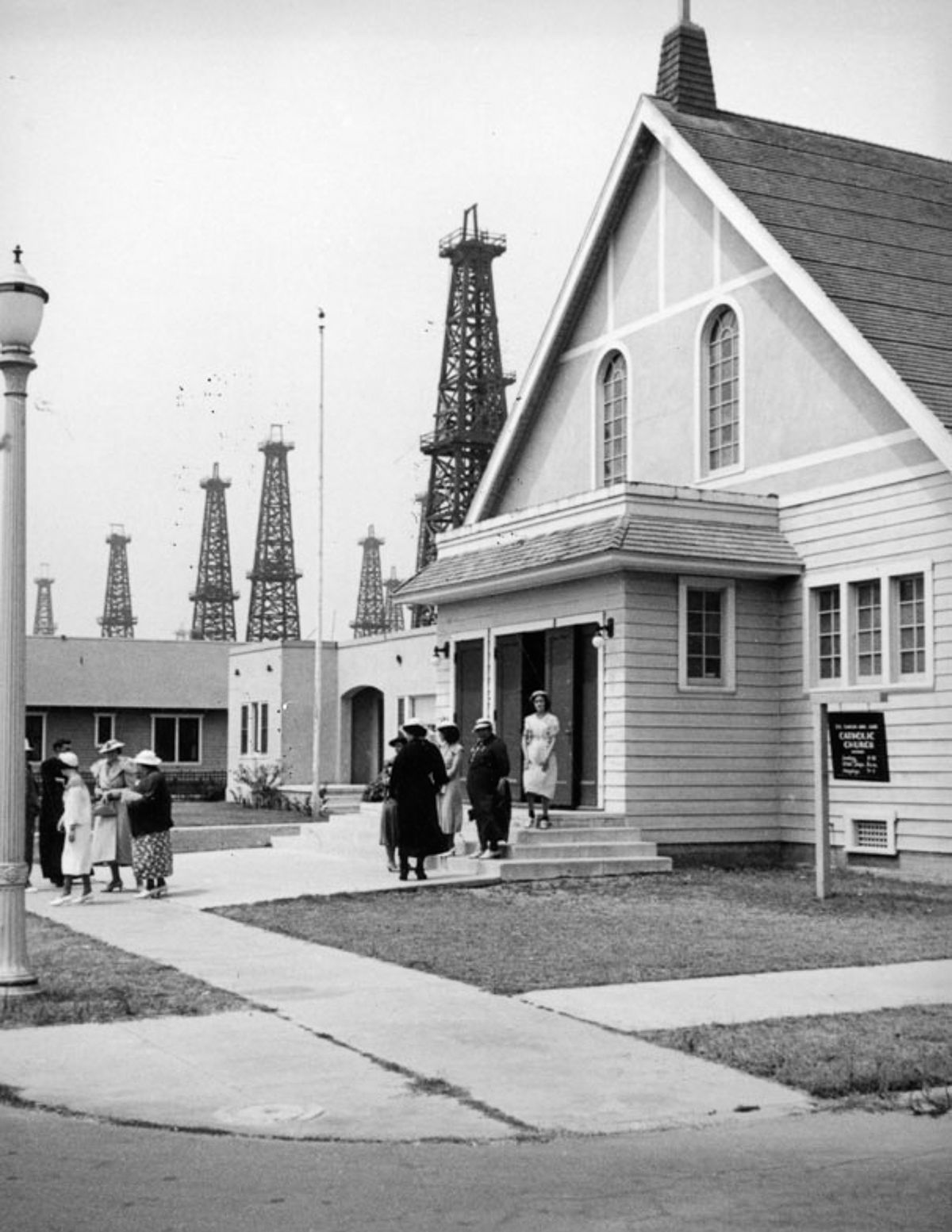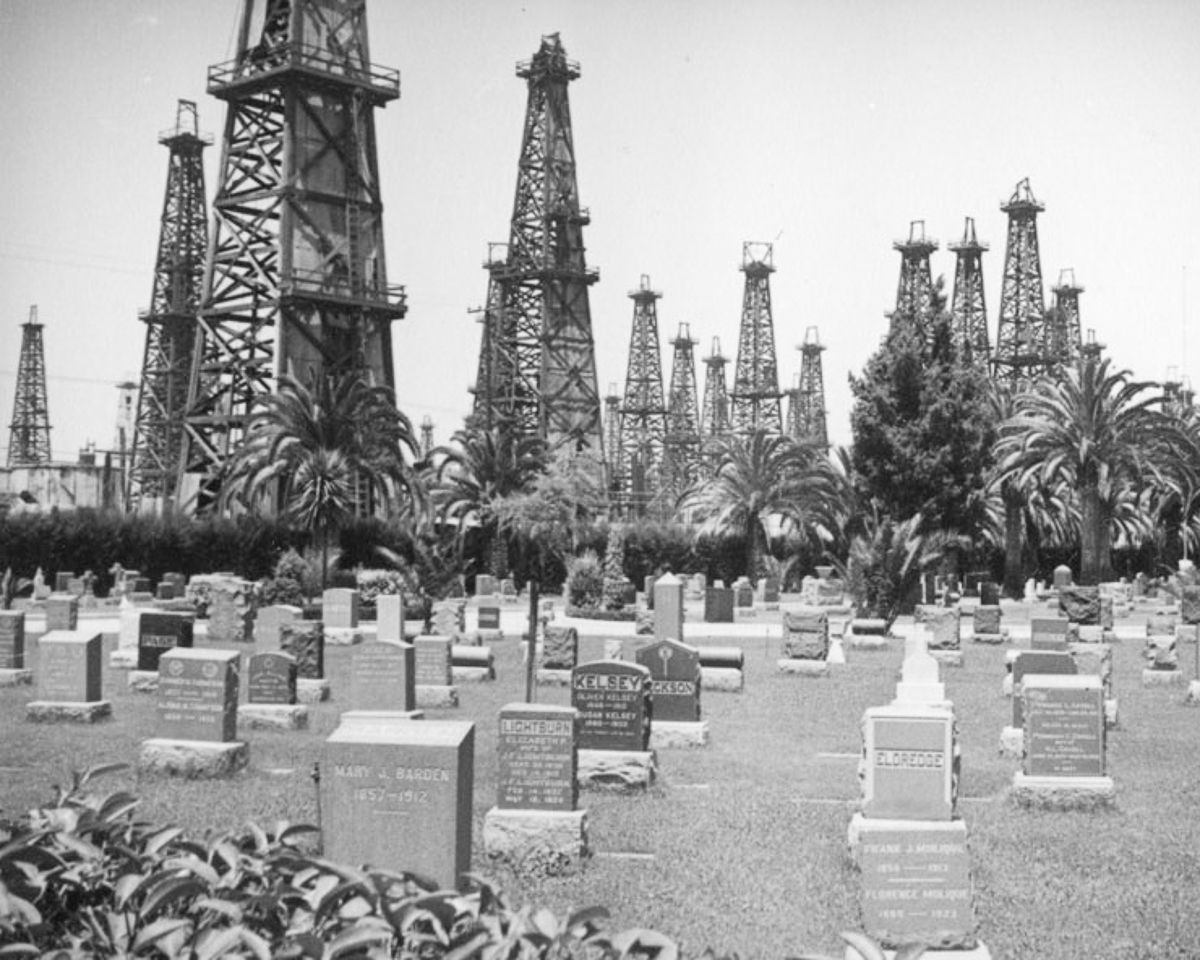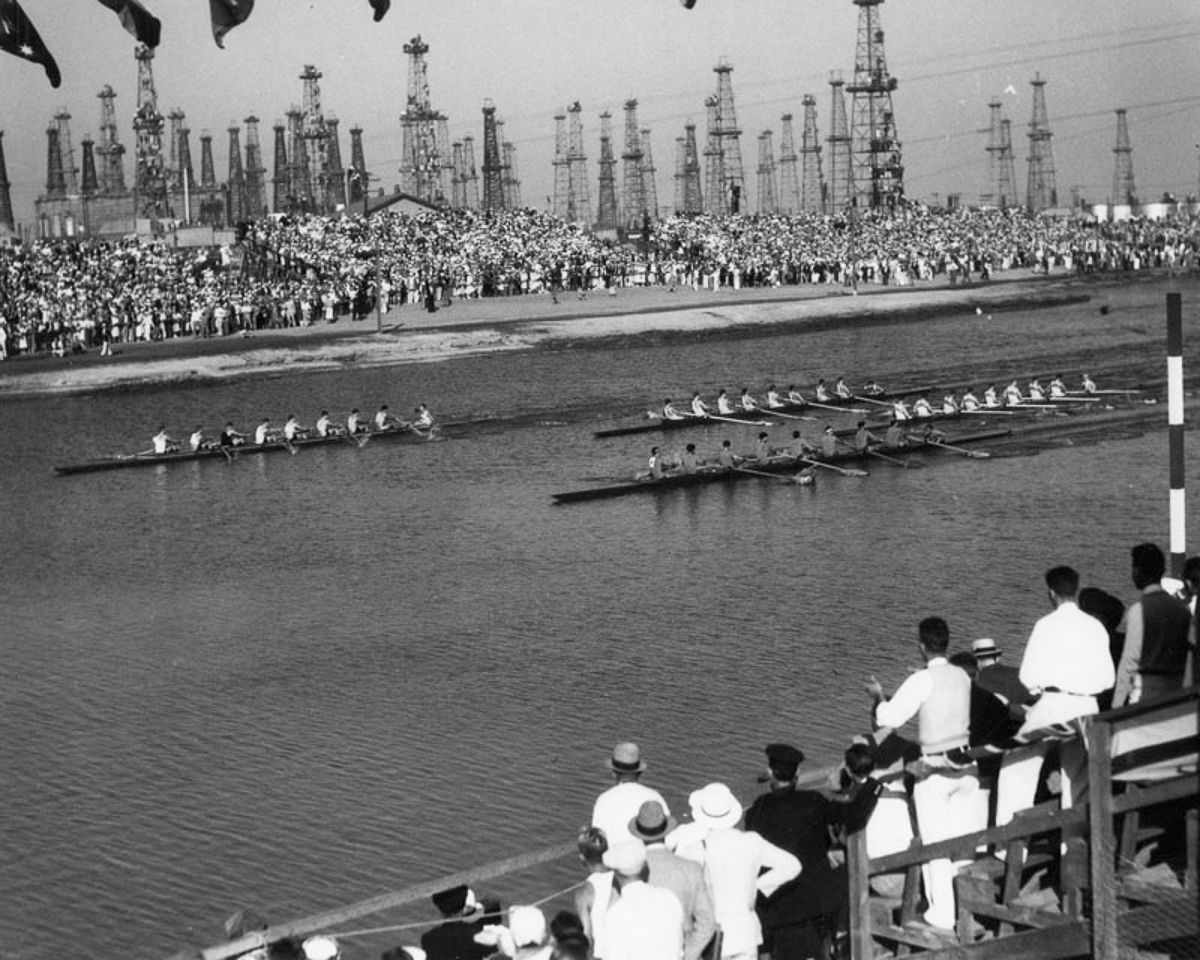 By 1910, the population of Los Angeles had tripled, California was producing 77 million barrels and just as they thought the wells were about to run dry at the dawn of the roaring twenties, 3 more major fields were discovered in Huntington Beach, Sante Fe Springs and Signal Hill, Long Beach.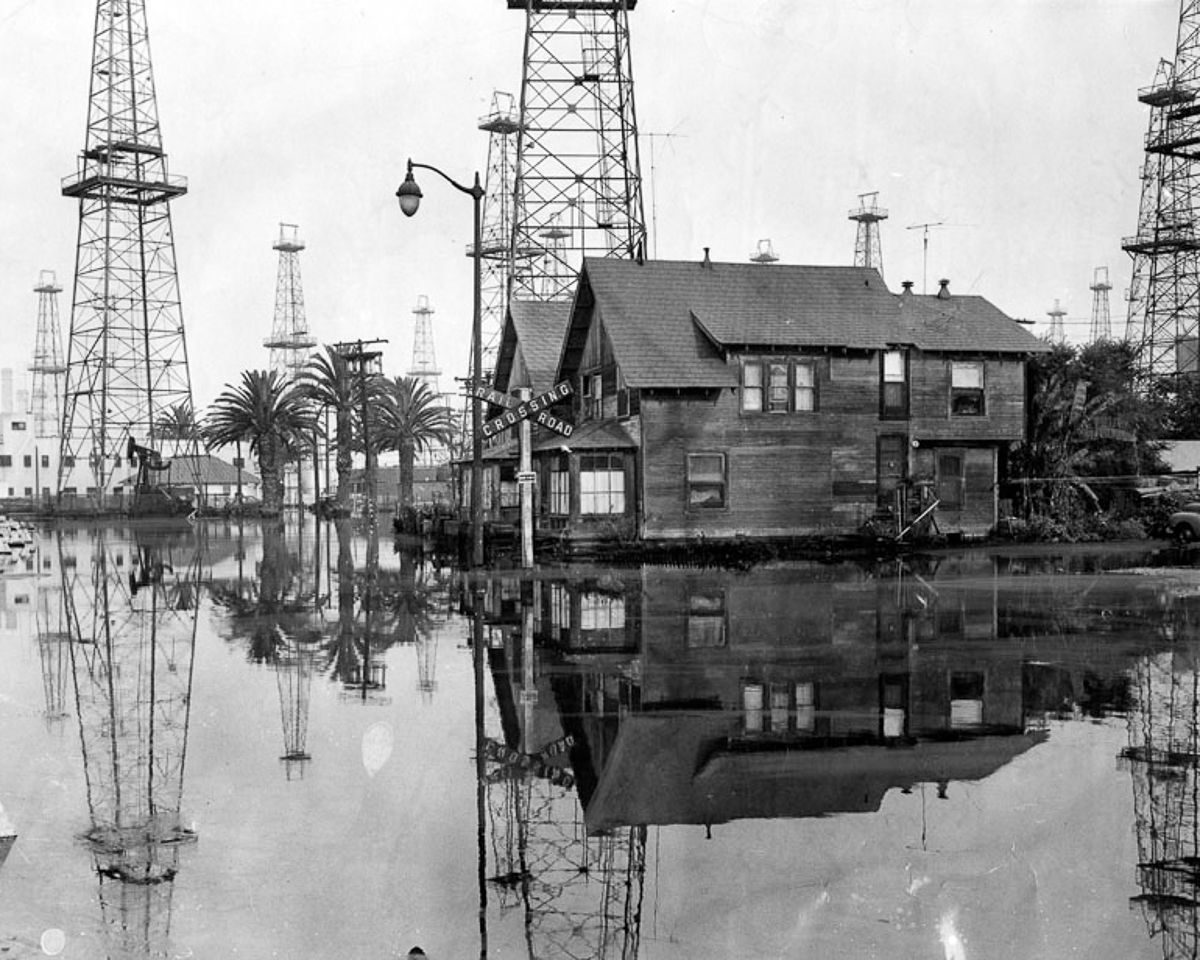 Would you recognise this as Venice Beach? Oil derricks towered over homes, schools, golf courses, and even orange groves across the Los Angeles Basin. And people just lived with it! At least for a good part of the century…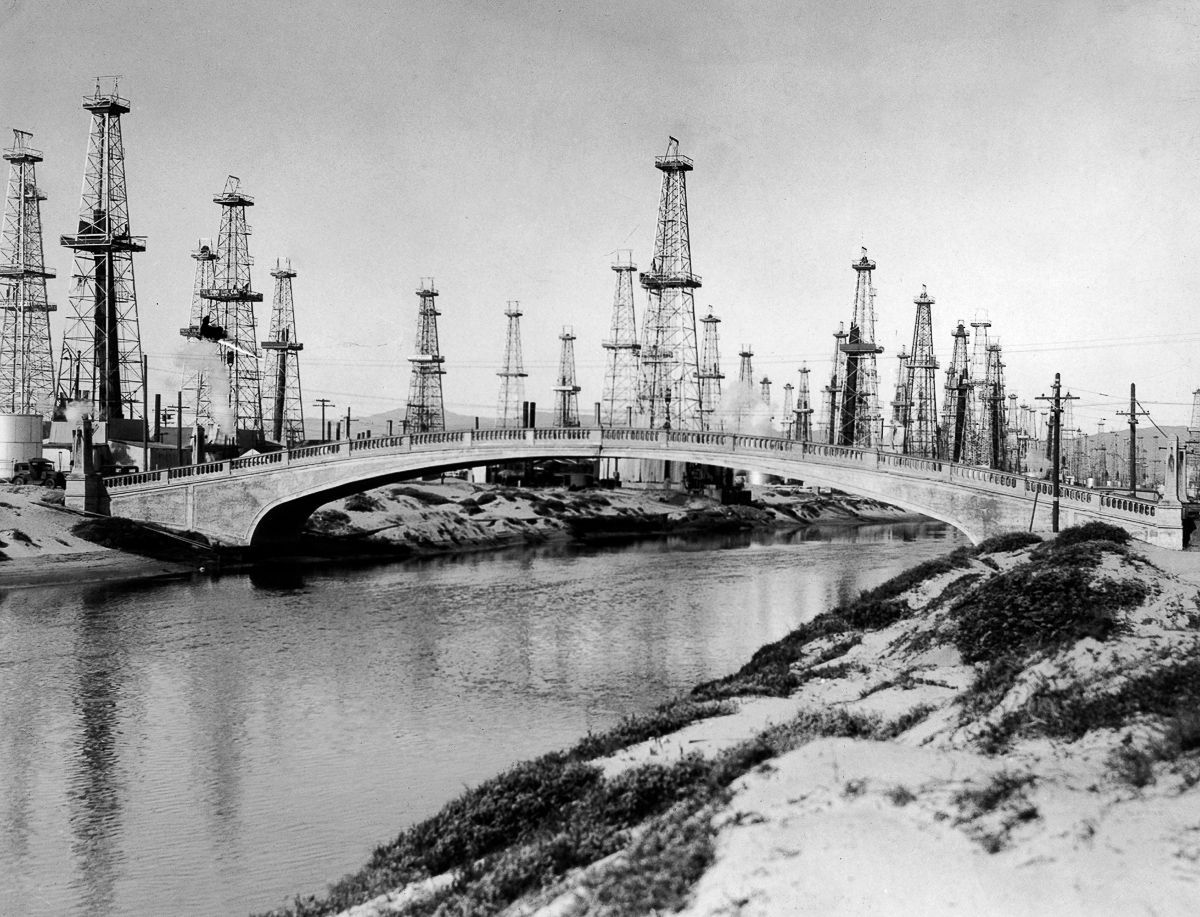 In the 1930's and 40's, when California was producing nearly one quarter of the world's oil output, and its population had grown to 1.2 million, they began making efforts to soundproof the derricks and vinyl-coat them in glass cloth with one-inch sheet fiberglass filling to decrease the noise.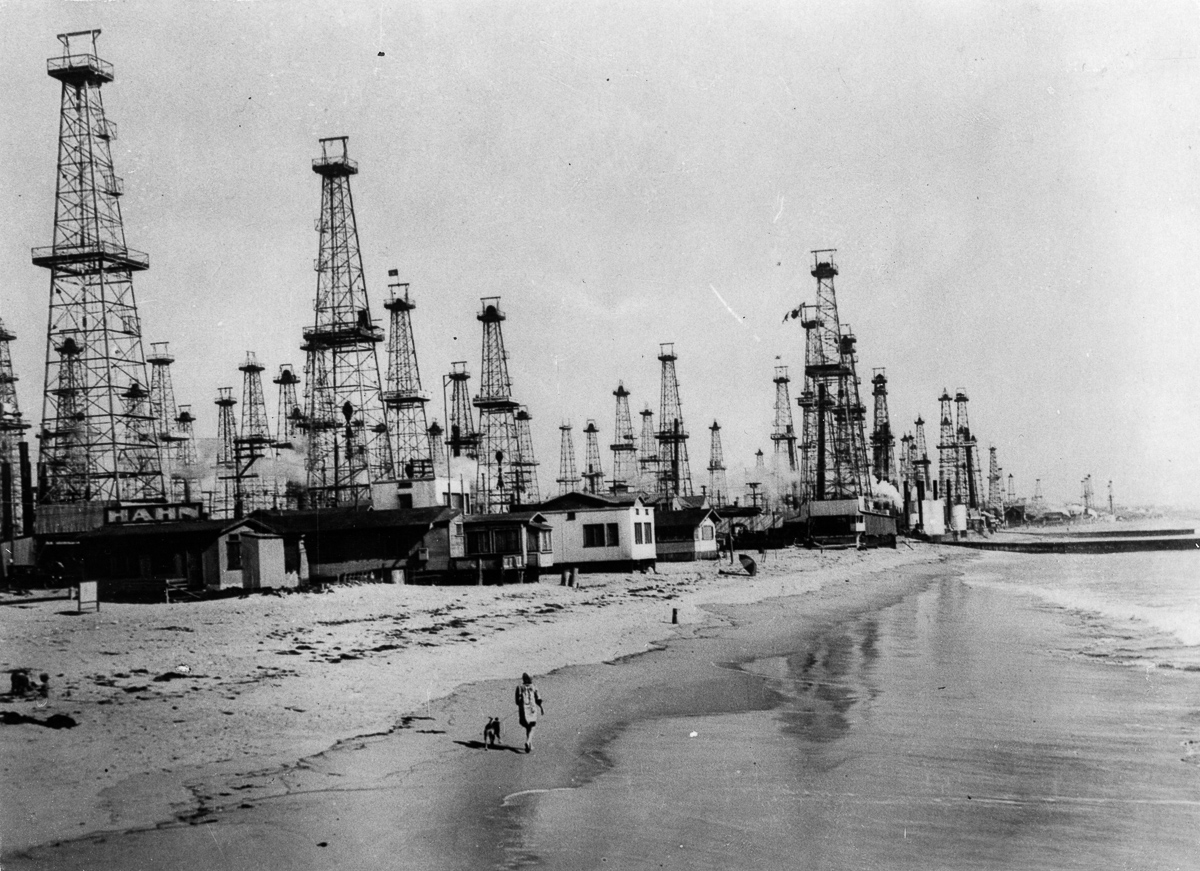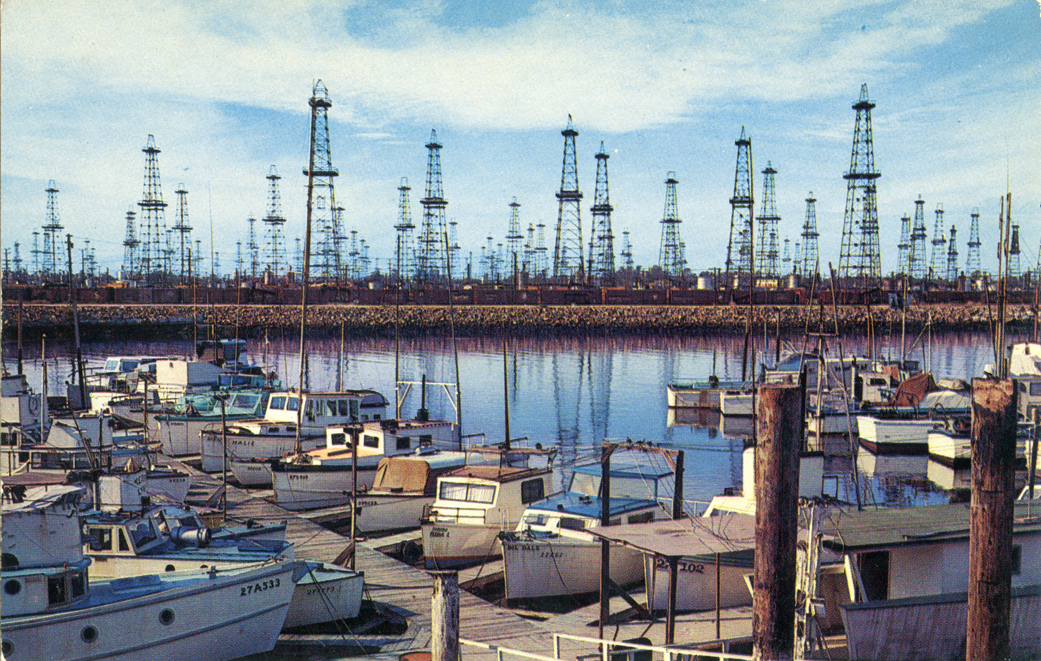 Right up until the 1980s, you could still see dozens of mini oil-sipping Eiffel Towers, blocking a perfectly good photo opportunity on your California road trip.
But even today, secret camouflaged oil rigs are still pumping away in Southern California, hidden in plain sight. In Los Angeles, there's an oil tower camouflaged in a flower mural that towers over a school's basketball court. Most employees at the Beverley Centre mall have no idea their sharing their workplace with an active oil rig.
I recommend discovering the secret world of Los Angeles oil rigs in this video short from Palladium Boots: