There's nothing more LA than trying to be a million things at once. In one afternoon, Angelinos can go from a kitsch "Casablanca" to Canter's Deli; grab a Cuban cocktail at "Versailles" and end up at a dentist's office that would be much better as a discotheque. It's a wonderful, borderline perverse eclecticism that has become one of the only consistencies in a city that has always struggled to preserve its historical buildings. That's where Ashley Noelle comes in. For the past few years, the photographer has been quietly snapping the best storefronts out there in a project that has become an open, ever-evolving love letter to LA…
"To be honest, I started the series out of a need to do the art of photography without a massive team," she tells us," When I looked for what I truly loved ­— it was Los Angeles. [It] wasn't until 2016 that the obsession began. I think that's also around when this massive rebuild of the city started so I've been literally chasing the change and trying to photograph as much as I possibly can. This series is important to me because the uniqueness of Los Angeles is worth saving — even if only in photographs."
From the famous to the near dilapidated, nothing is off-limits for Noelle. "It's hard to say what makes me want to photograph a building," she says, "The first impression when I'm driving by is kind of like when you see something or someone you are attracted to. Something makes me look. Then I stand there and catch a little vibe, maybe I wonder about the history or I see the decades of people walking through the doors. Some buildings are [subtler] and other just scream."
The photographs are shot through an honest but loving lens, and every taqueria, car dealership, and burger joint looks ready for its Wes Anderson close-up. "It's frustrating to see places that were built with great care and attention to detail come down," she says, "[and] for what I call fast living."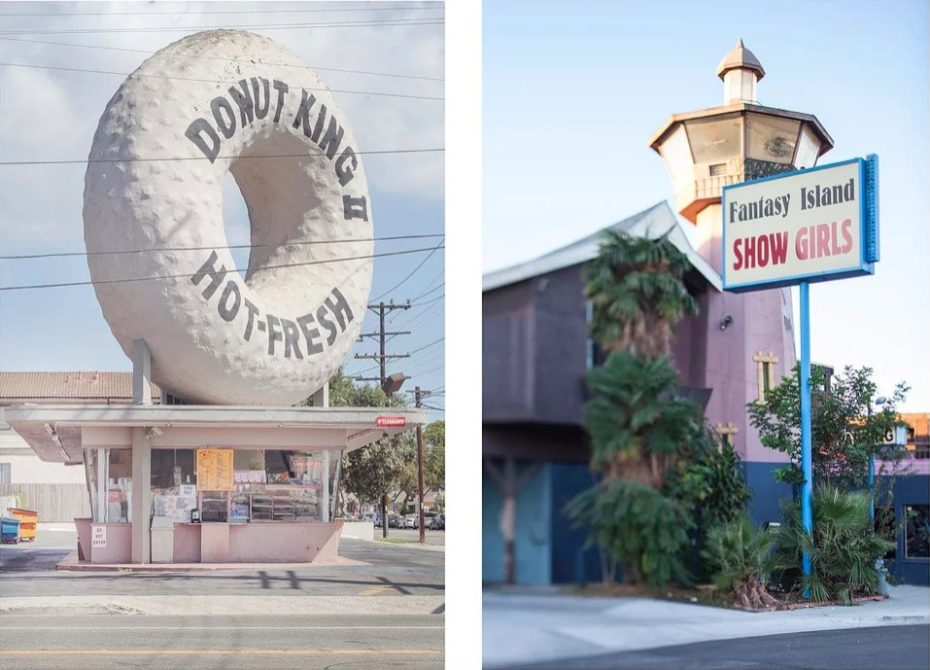 It all raises a pretty scary question: what is worth saving in LA? Excepting its indigenous history, California's past is no where near as old as that of the East Coast, which isn't to say its history isn't just as valuable, but that it can feel harder to spot, perhaps a little more premature and, tragically, easy to overlook.
"It's turning blocks that once had so much to say into massive wastelands of metal and parking structures," she says, "You can be anywhere and show someone a photograph of Sunset Blvd. and they know it. Or Mel's Diner from American Graffiti. There is a history here that spans decades of both design and cultural experiences. As Angelenos, we get so used to driving by places; we hardly see them until it's too late. I hope with this series people will really start seeing, and speak up for, what could get lost in this rush for something new."
Discover Noelle's full collection of gems, "The Los Angeles Series," here and follow her on Instagram.