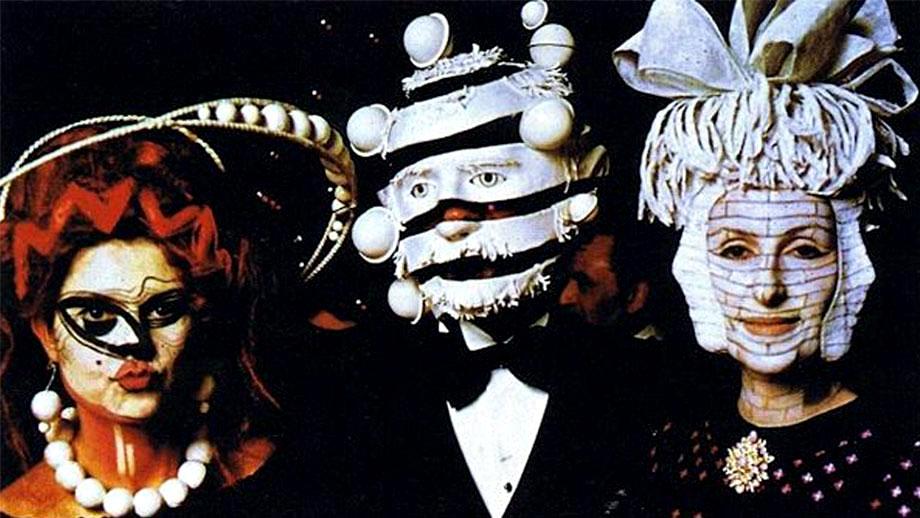 In 1972, Marie-Helene de Rothschild threw a surrealist dinner party at the family's mansion in the suburbs of Paris. Dali was there of course, and Audrey Hepburn showed up with her head trapped inside a Magritte birdcage. It's a night people still talk about more than 40 years later; up there with Studio 54's legendary New Year parties and the wild Hollywood shindigs at the Hearst Castle. Can parties like that even exist in this day and age? As a matter of fact, I think I crashed one the other day…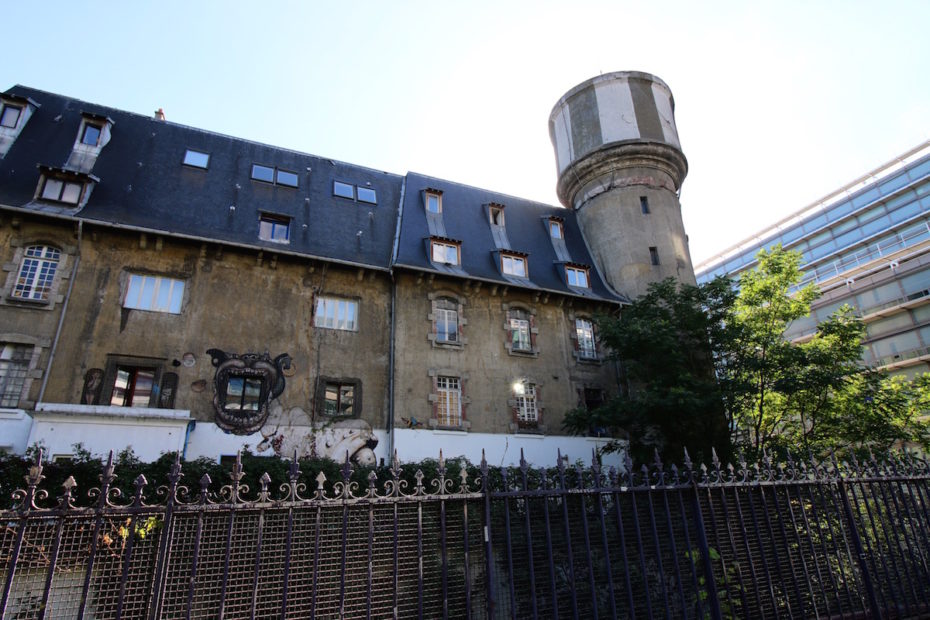 I was told to meet at the old graffiti-covered warehouse in Paris' 13th arrondissement known as Les Frigos. It used to be a hangar for refrigerated railway wagons before artists moved in and began squatting the abandoned building in the 1980s. Now surrounded by a neighbourhood of shiny modern office buildings, the building held up rather stubbornly since the 1920s, but it could be mistaken for some kind of ancient gothic fortress.
In a few days, this great big hulking pile of graffiti-covered bricks was going to be the location of an epic surrealist dinner party– version 2.0.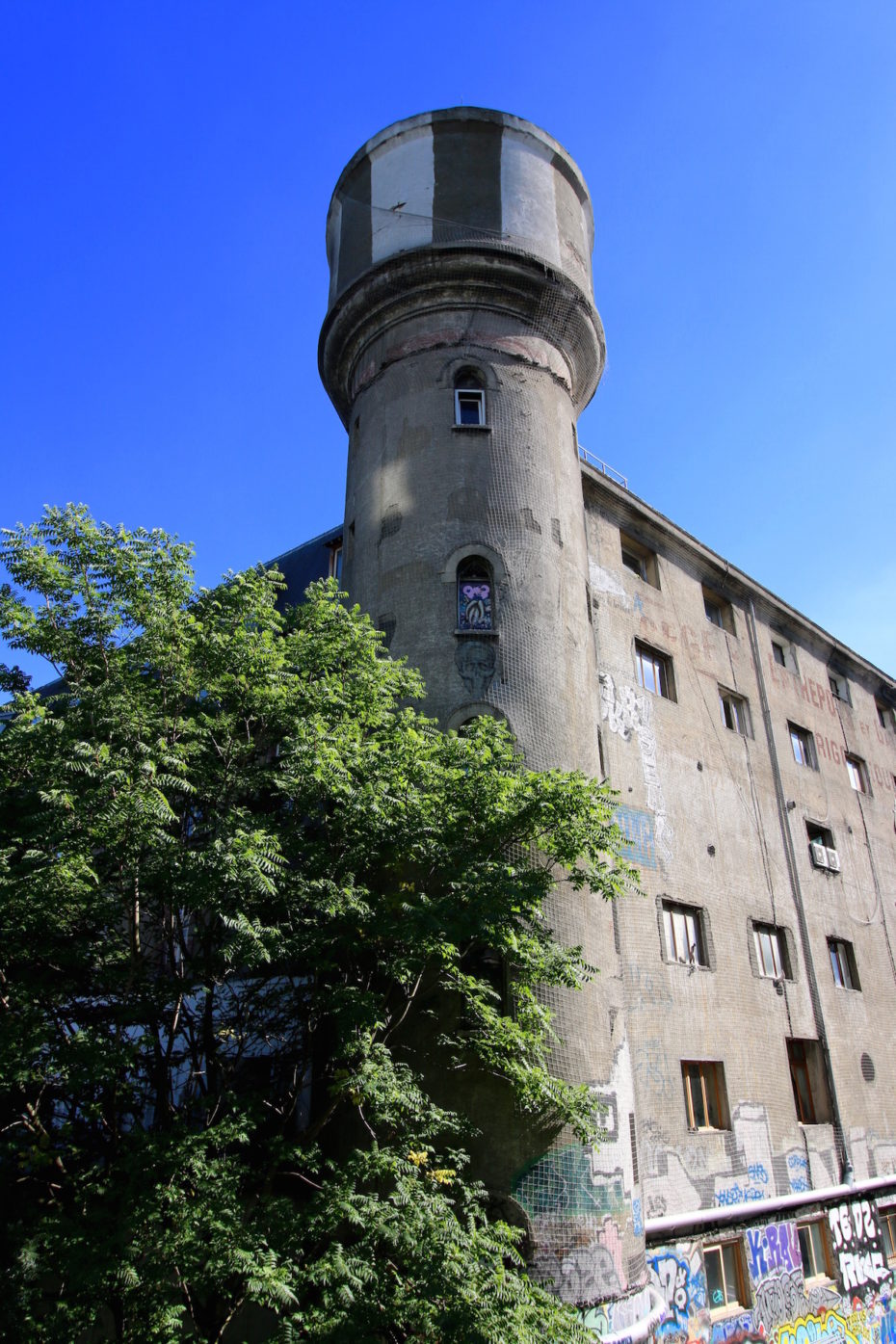 I had heard about some wacky residential artist studios hiding inside Les Frigos, but I'd never thought of it as a place to throw a party. "I've discovered its best-kept secret," promised Foulques, rubbing his hands together. You might remember him as the founder of We Are the Oracle, who rather fittingly, once hosted a candlelit costume ball inside the abandoned Rothschild Chateau in the East of Paris.
"It's going to be my craziest party yet," he gleamed.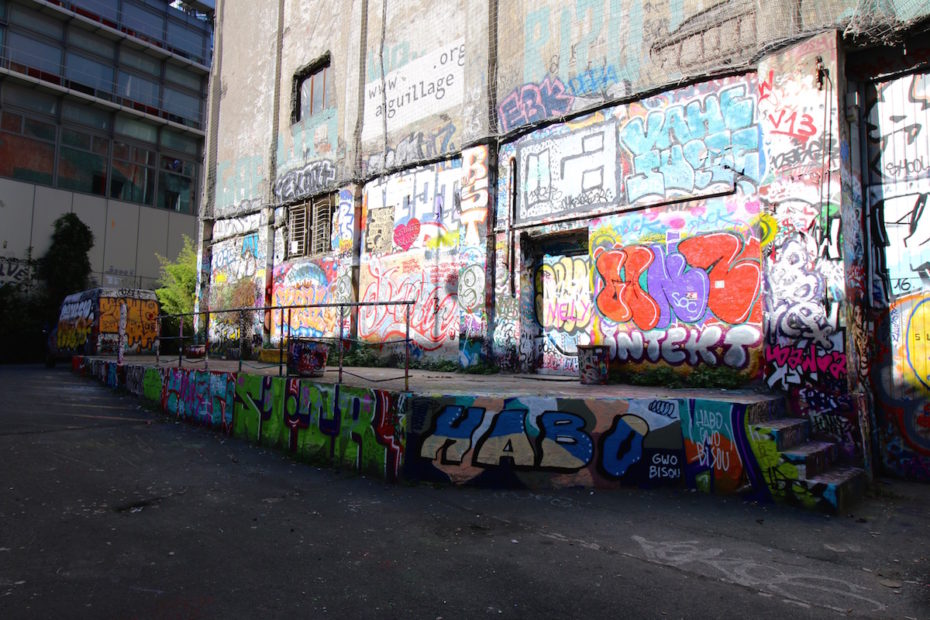 We we there to meet his latest client, who had just flown in all the way from India to give approval of the location for his lavish 30th birthday party. Dressed in a chic Italian blazer, holding an expensive leather briefcase, he looked a little unsure as we started walking through the parking lot amidst the derelict surroundings of Les Frigos.
Admittedly, it required just a little imagination …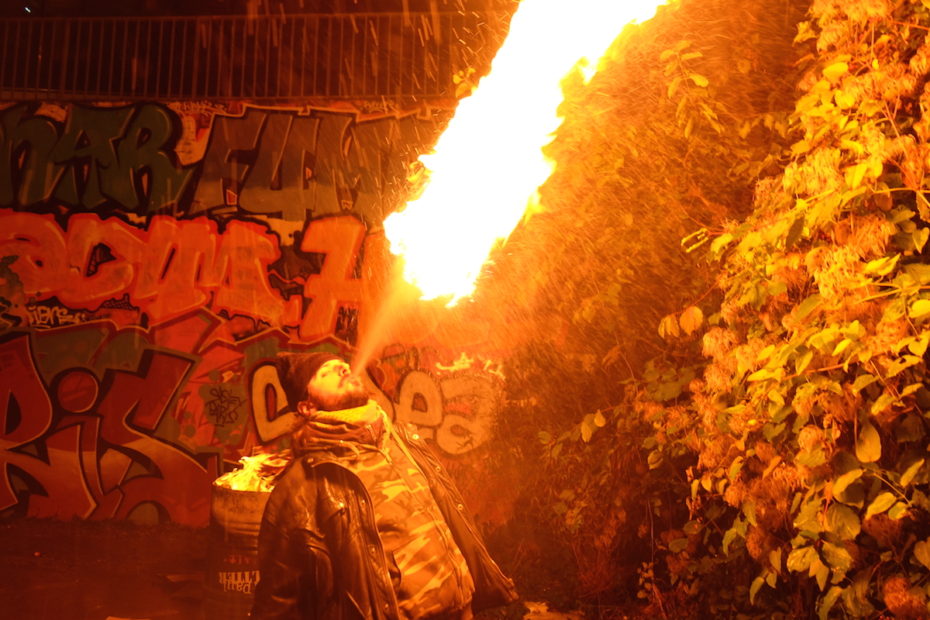 (That's better).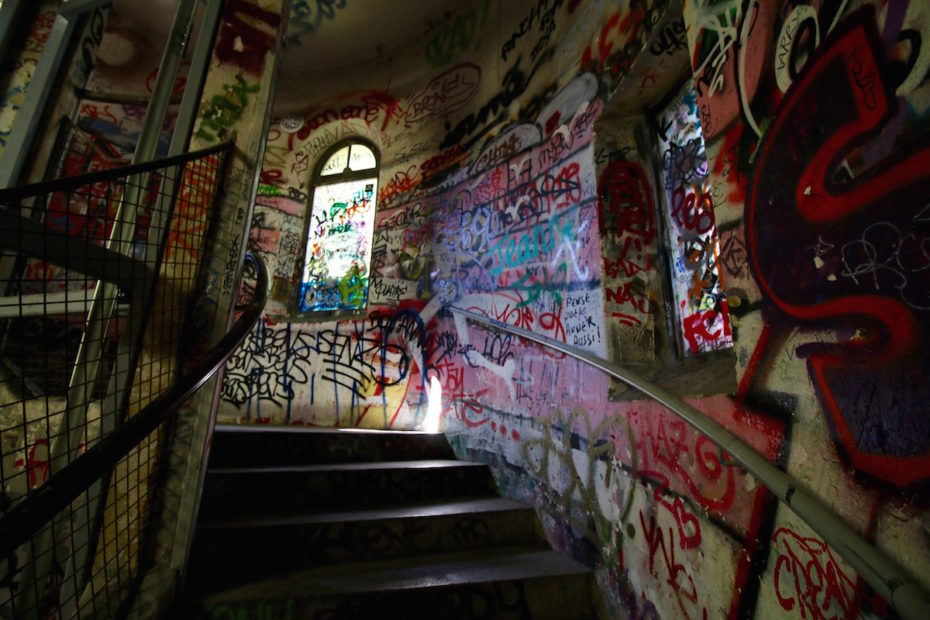 As we climb the tagged and scruffy staircase, ideas are being pitched for a theatrical entrance sequence to welcome the guests. One might even take a few ideas from the diary of Baron Alexis de Redé, who attended the Rothschild surrealist ball in 1972 wearing a mask custom-made by Dali. He recalls the night:
The staircase inside was lined by footmen dressed as cats that appeared to have fallen asleep in a variety of staged poses. Guests had to pass through a kind of labyrinth of hell, made of black ribbons to look like cobwebs. The occasional cat appeared to rescue the guests & lead them to the tapestry salon. Here they were greeted by guy with a hat to resemble a still-life on a platter, & by Marie-Hélène wearing the head of a giant stag weeping tears made of diamonds.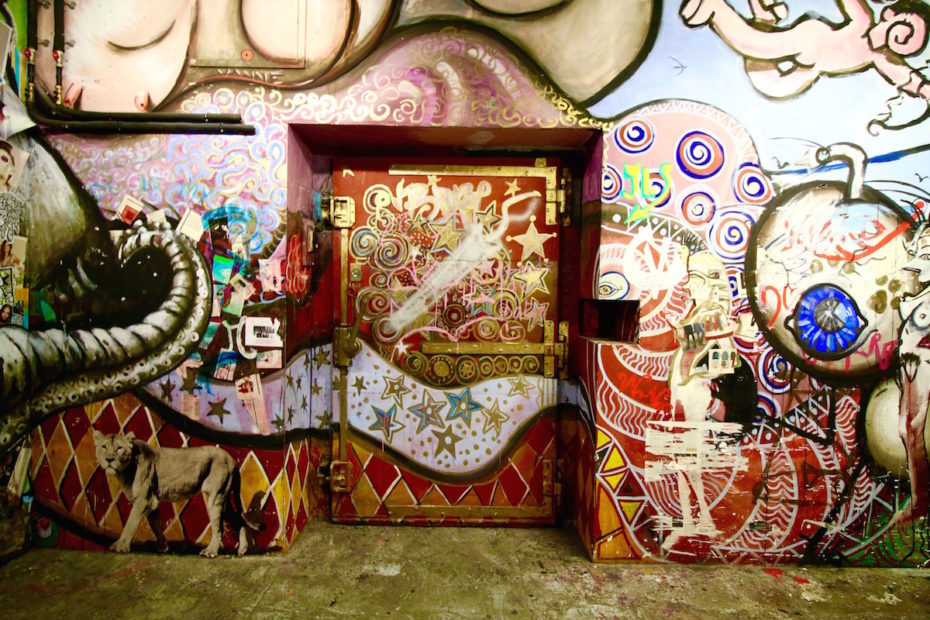 We reach a mysterious doorway at the end of a corridor covered in floor to ceiling graffiti.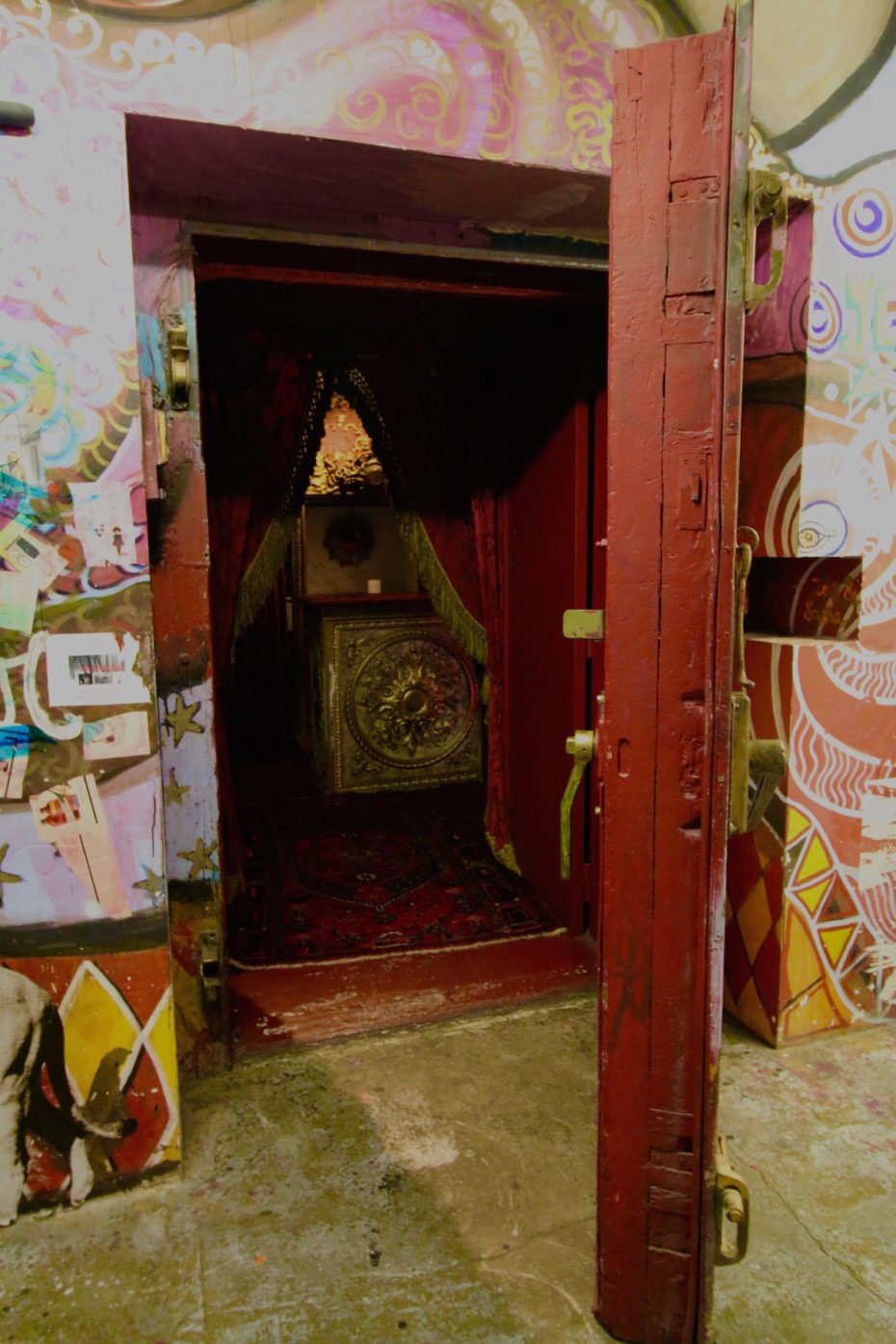 Get ready, we're about to enter another world entirely …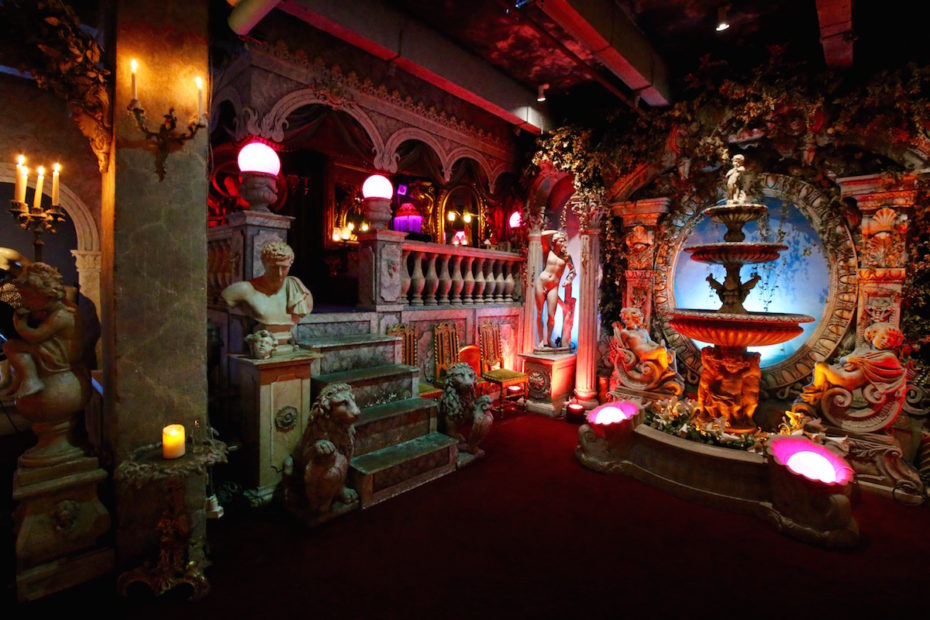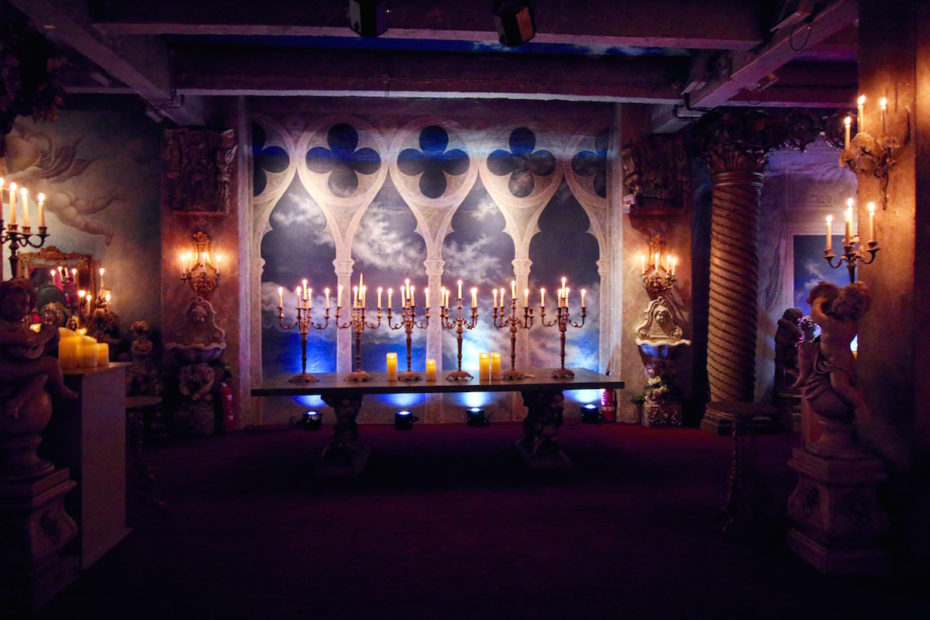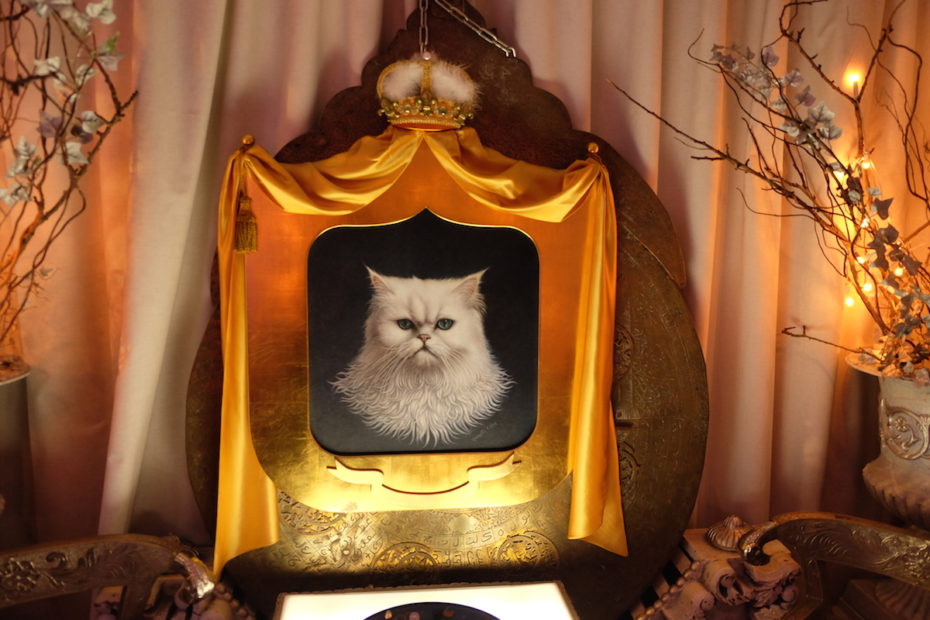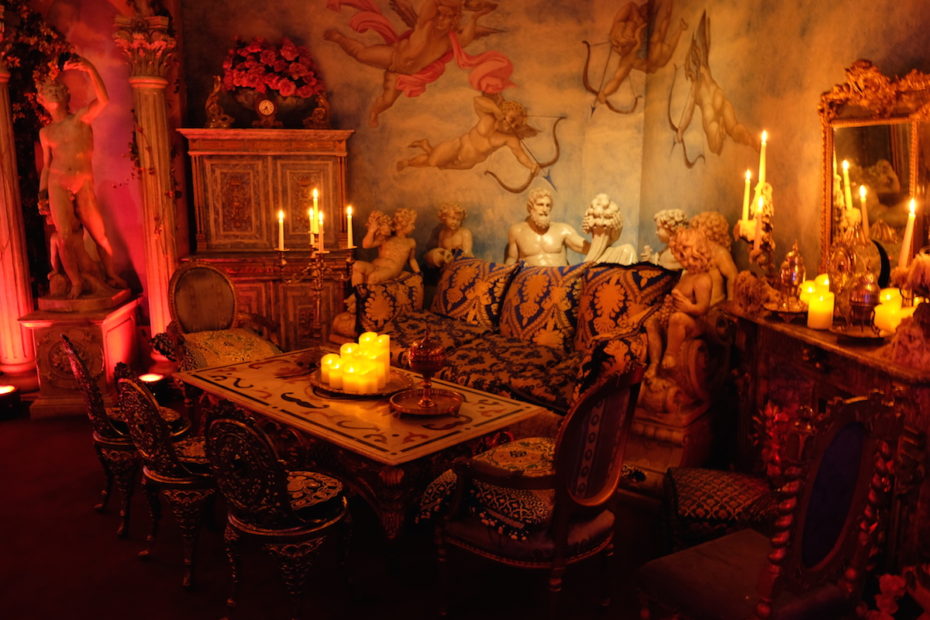 Welcome to Liberace's Parisian palace of kitsch. You've found it, hiding in an abandoned refrigerated warehouse.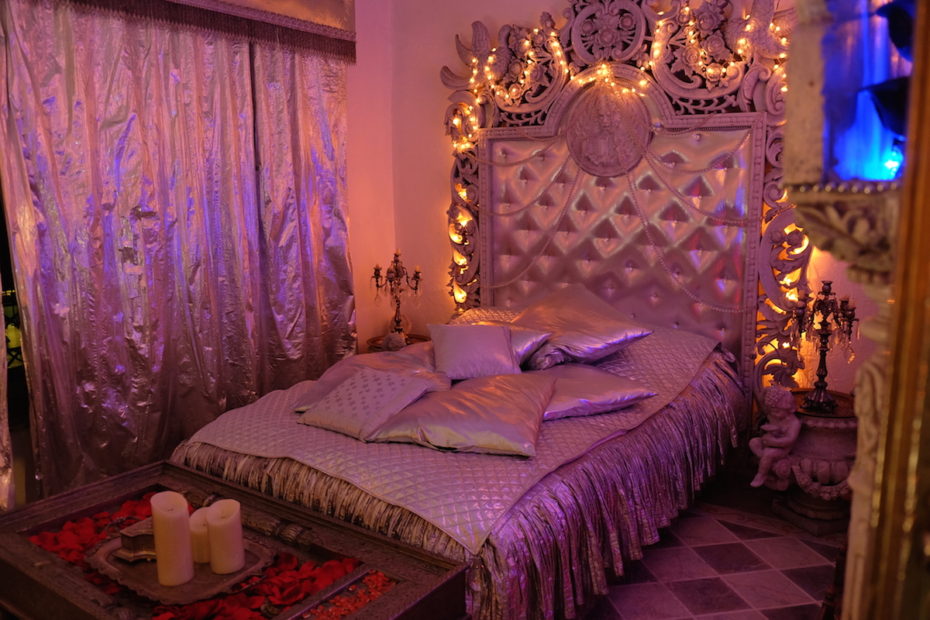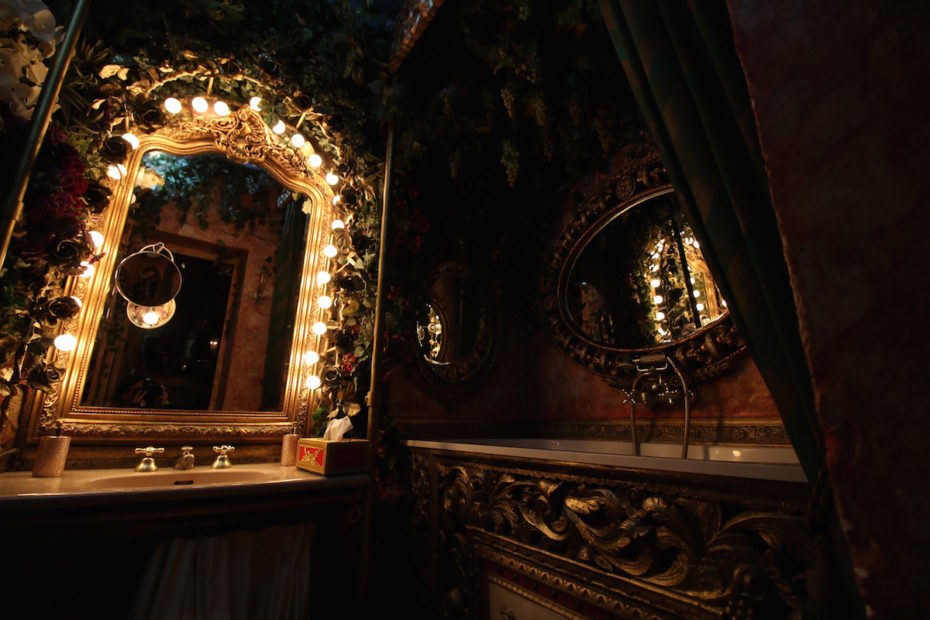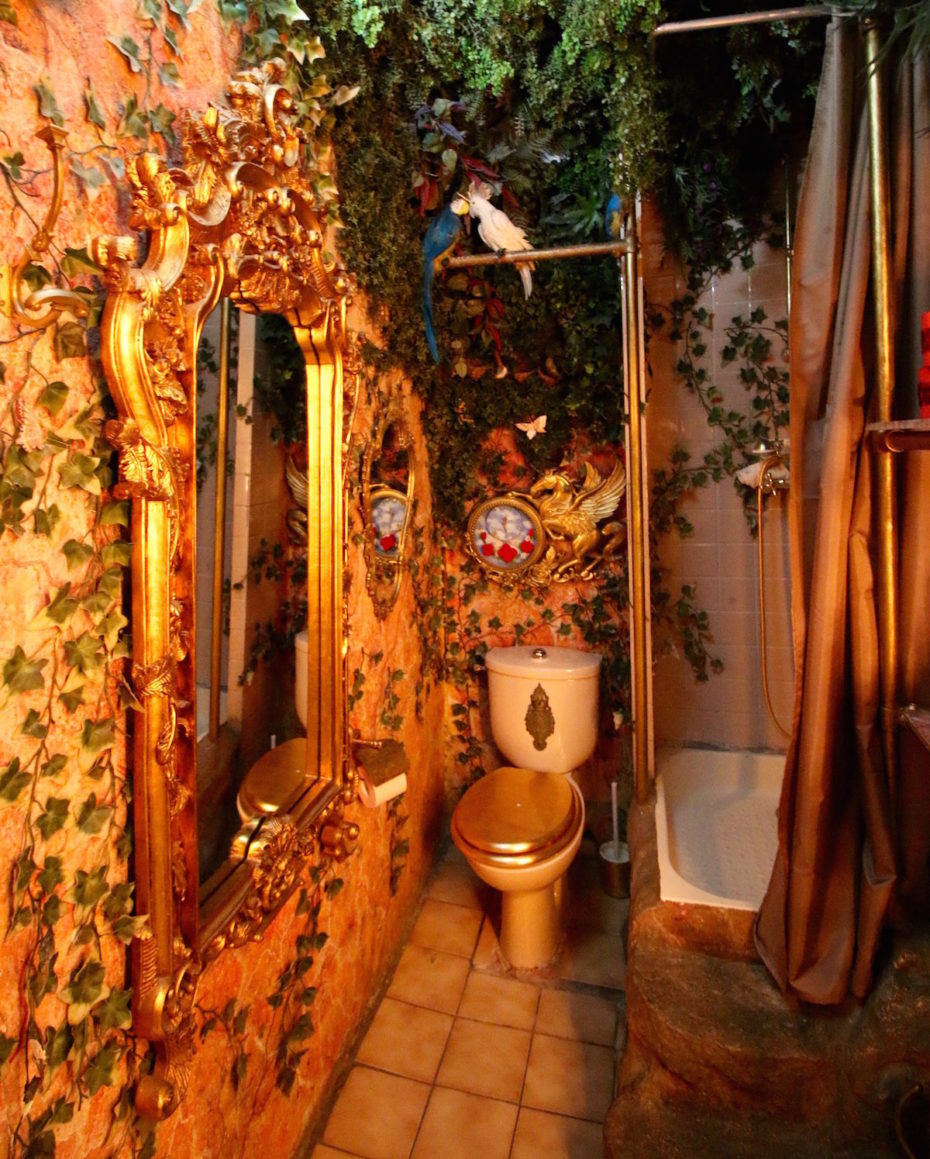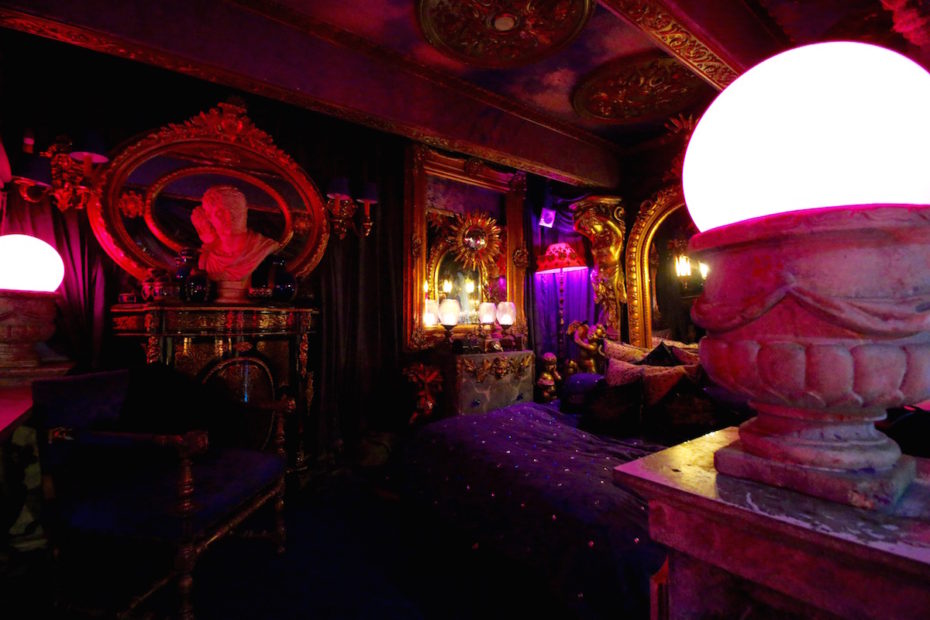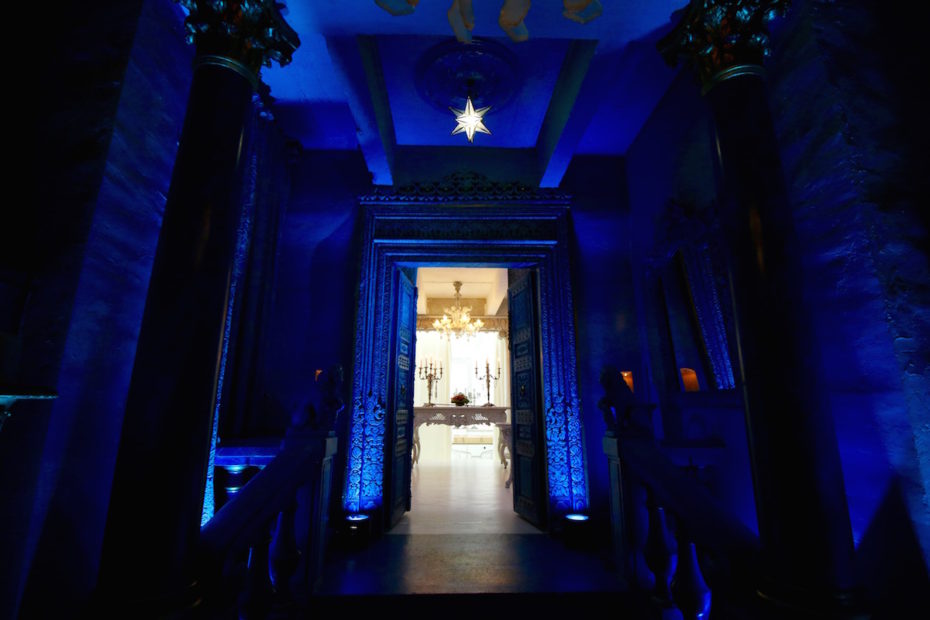 Okay so it's obviously not Liberace's pad, but someone does actually live here. This incredible space is the home and creation of an artist, decorator and former student of Frederico Fellini (director of La Dolce Vita). He prefers to remain anonymous, but if I tell you that he designed some of the most iconic nightclubs in Paris over the years, including the legendary Le Palace, it shouldn't come as too much of a surprise that he occasionally hires out his digs to strangers in the name of a good party.
And it might go a little something like this…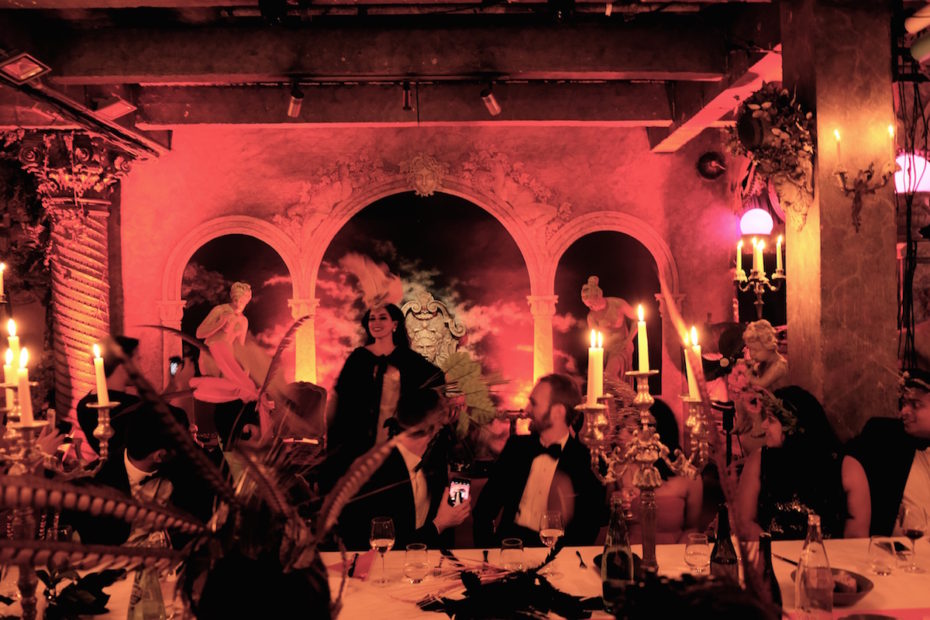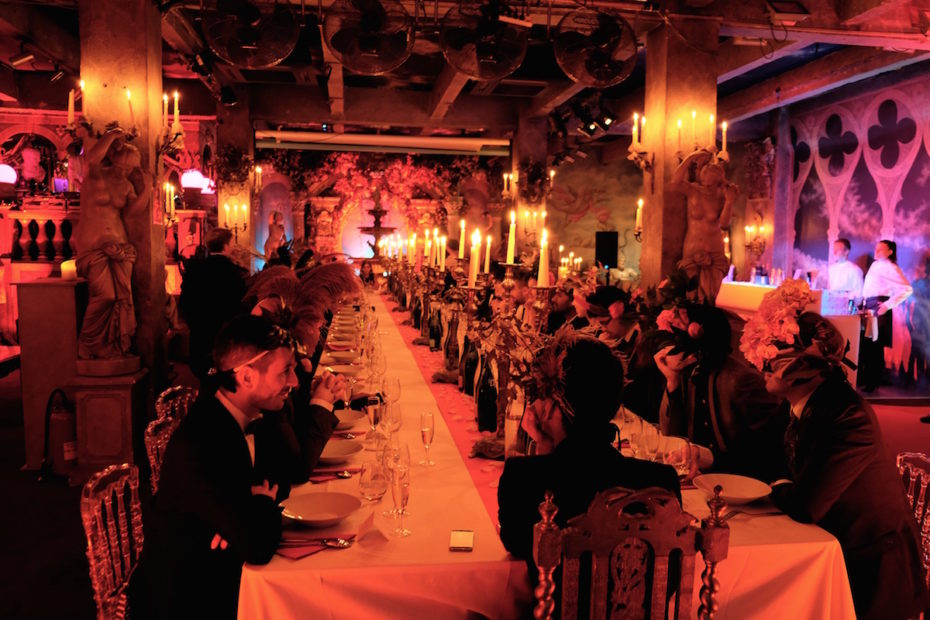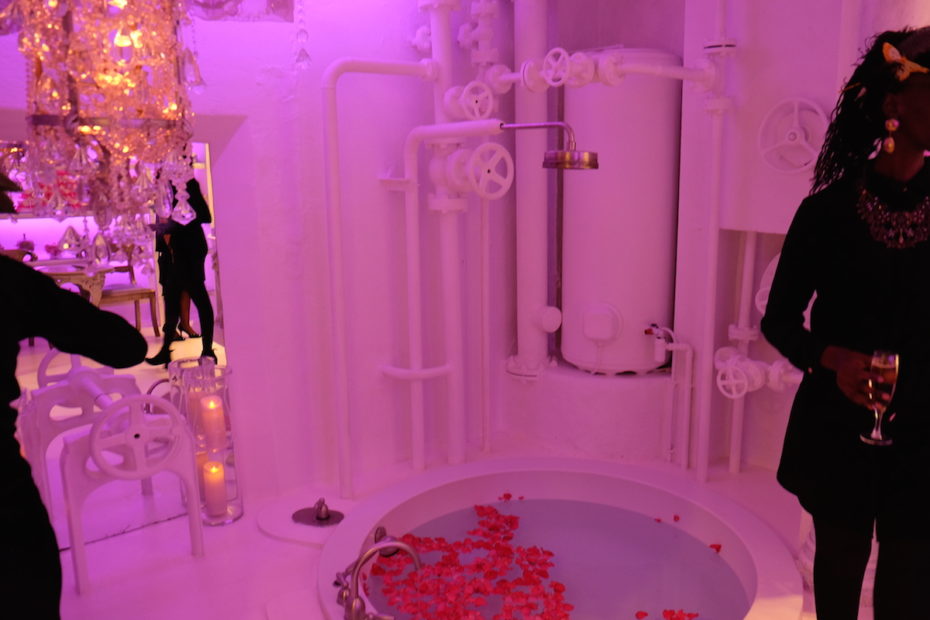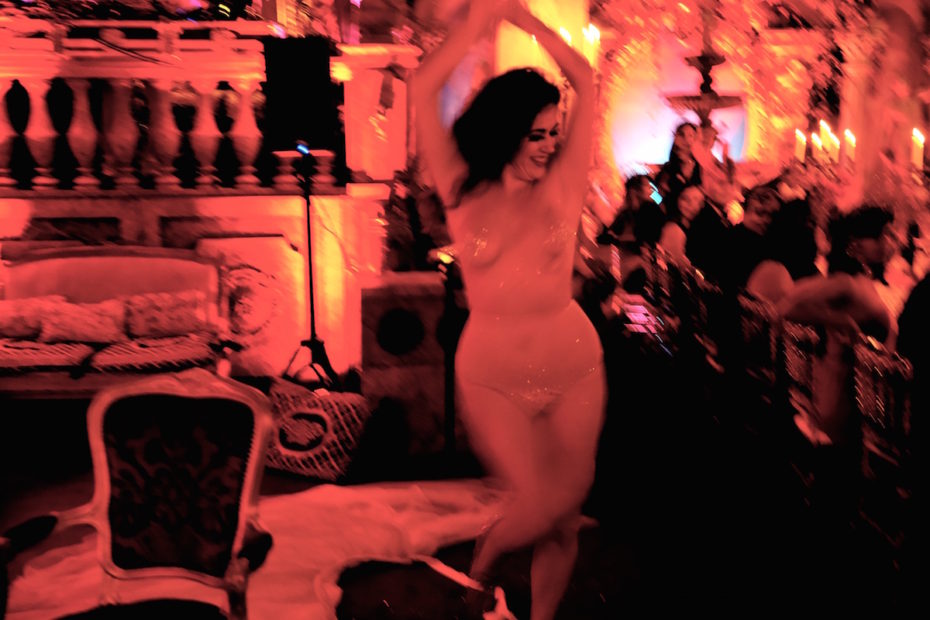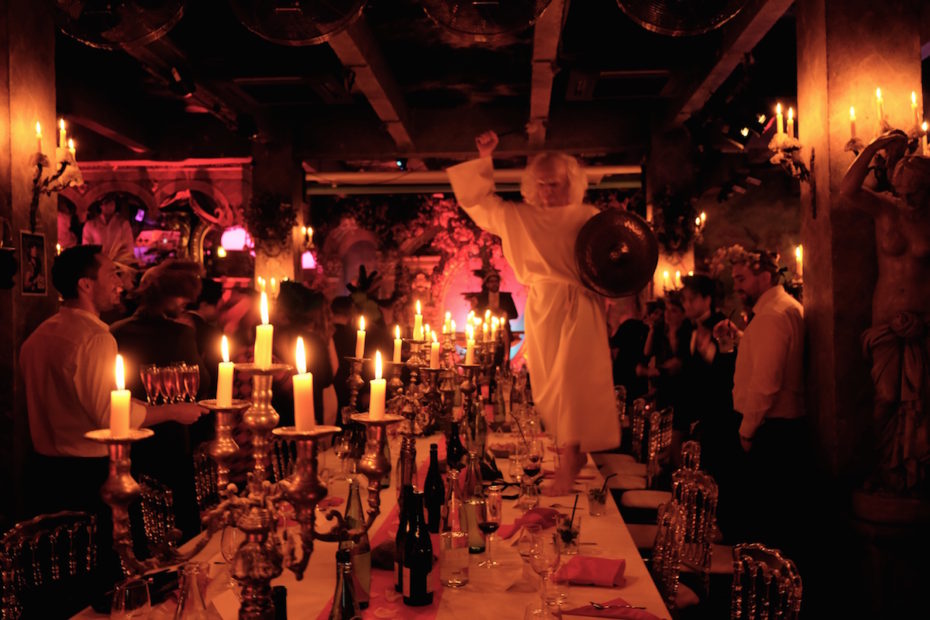 So you know, just an idea. In case you might be planning the party of the decade…
Photography assisted by Addison Nugent.