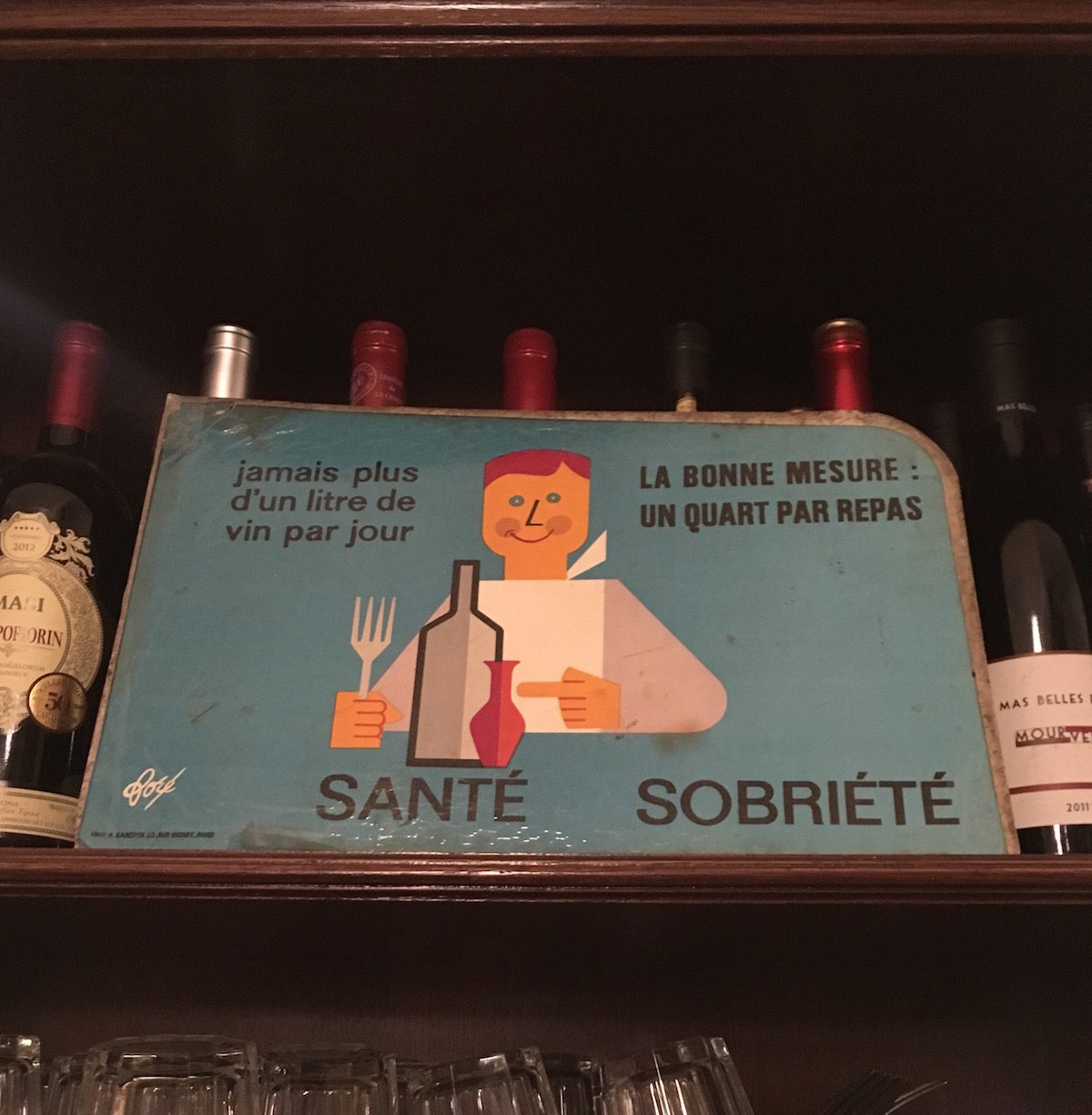 Last night I was standing at the counter of our local café on Boulevard Saint Germain, finishing off a last glass of wine after work before heading home for the evening, when I noticed something behind the bar. I thought I must have been reading it wrong (I was on my third glass) because it said in French: "Never more than one litre of wine per day… the correct serving: one quarter of a bottle per meal," and then beneath in large capital letters, "HEALTH, SOBRIETY".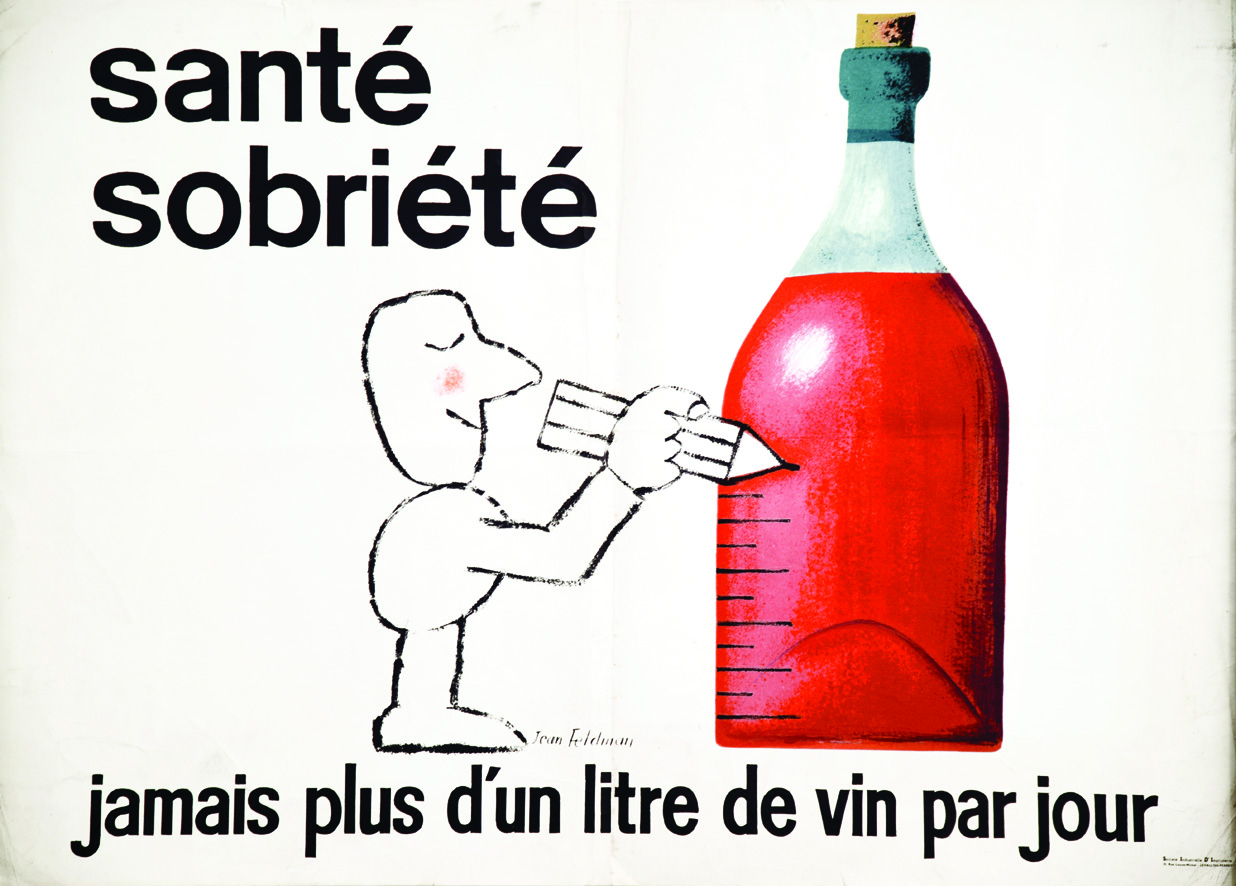 What kind of alcoholism prevention poster sets the recommended limit at one litre of wine per day? And are they suggesting we drink wine at breakfast? I suppose this is France…
"It's from the 1950s", explained Pierre, the owner of the Café Maubert. "I think it's from a campaign when they were trying to stop everyone from drinking too much wine everyday. I bought it on eBay for 70 euros".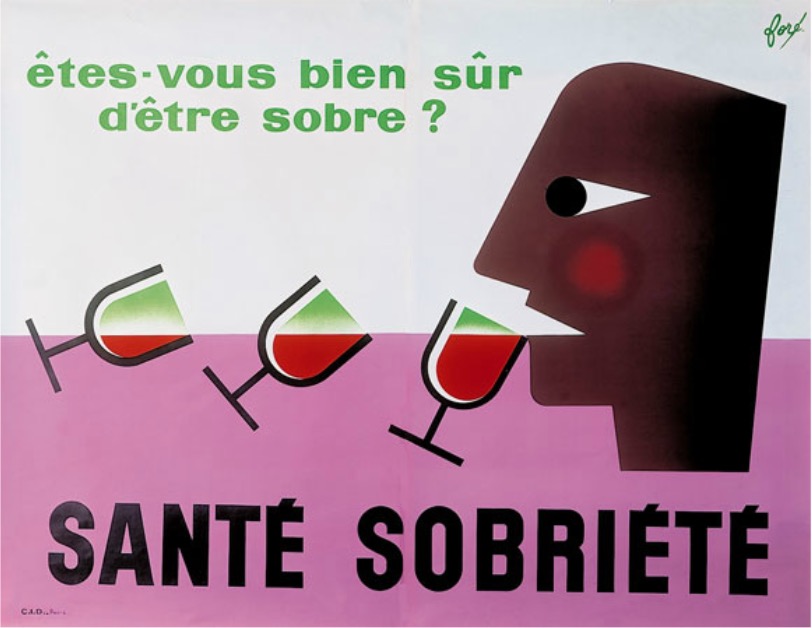 "Are you sure you're sober? Health, sobriety".
It was signed in the corner, Foré, which I would later learn upon arriving home and googling the name, implied Phillippe Foré, one of the greatest French graphic designers of the 20th century.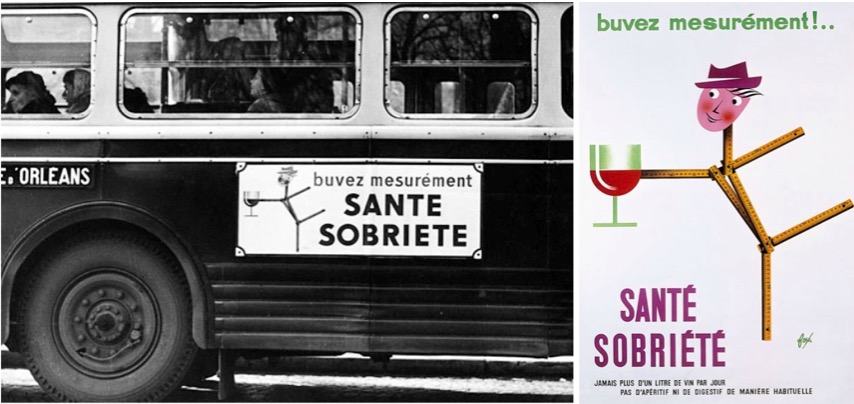 In 1954, Foré, among other designers, was selected to create a series of posters for an anti-alcoholism campaign, most of which I've been able to find examples of online.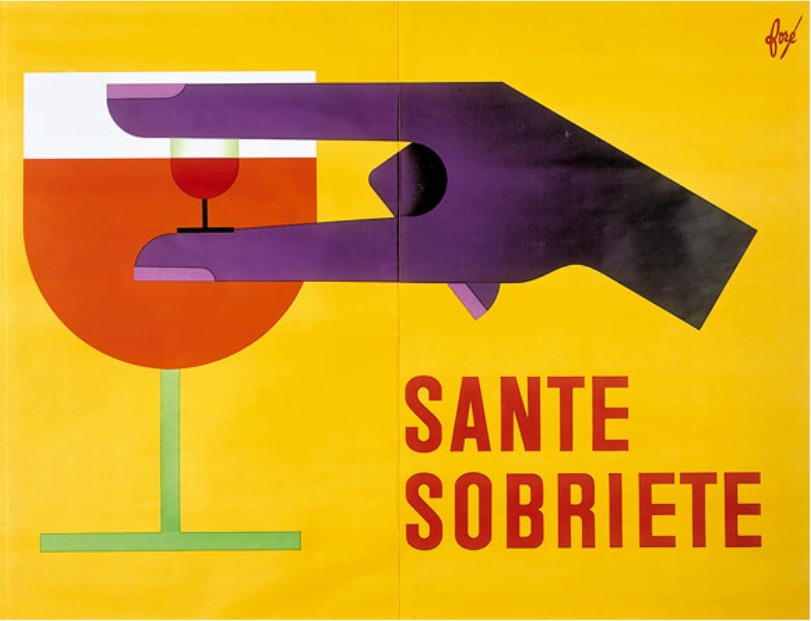 For such a sobering subject (excuse the pun), the posters are really quite a delight to the eye, reminiscent of the work of famous American graphic designer, Saul Bass, who was coming up around the same time across the Atlantic.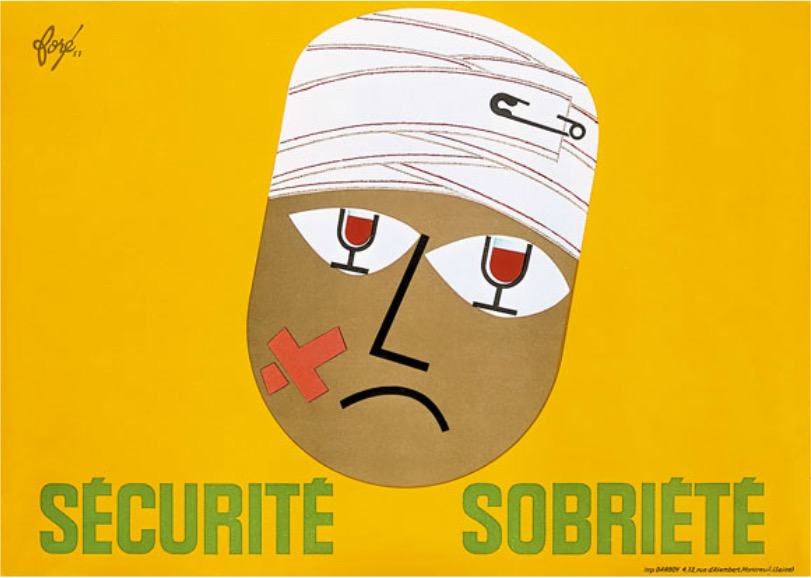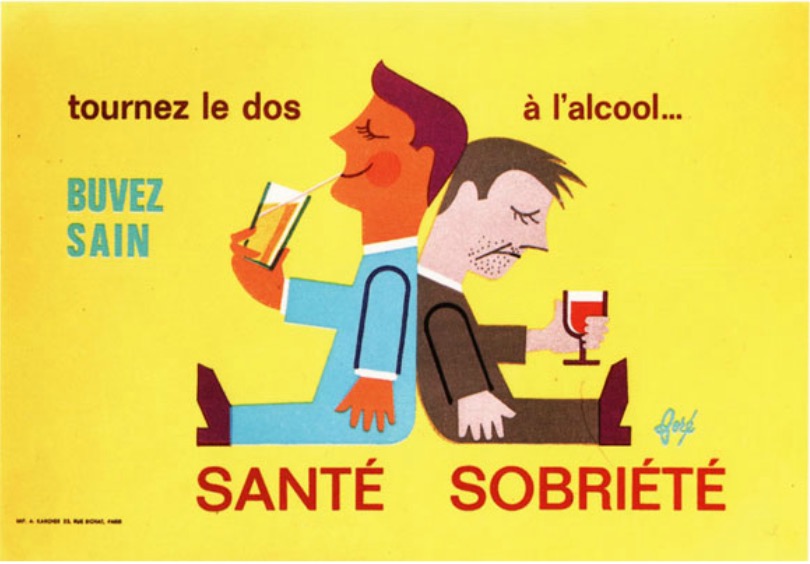 "Turn your back on alcohol. Drink healthy. Health, Sobriety"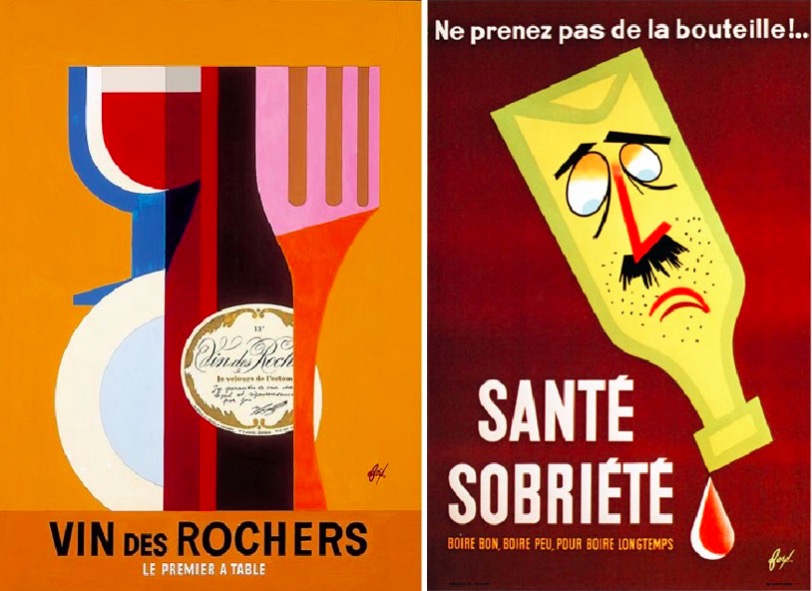 Interesting side note: While creating the artwork for the prevention of alcoholism, Foré was also designing advertisements for the wine industry. Above left, one of his ads for a brand of wine, and right, one of his health & sobriety posters.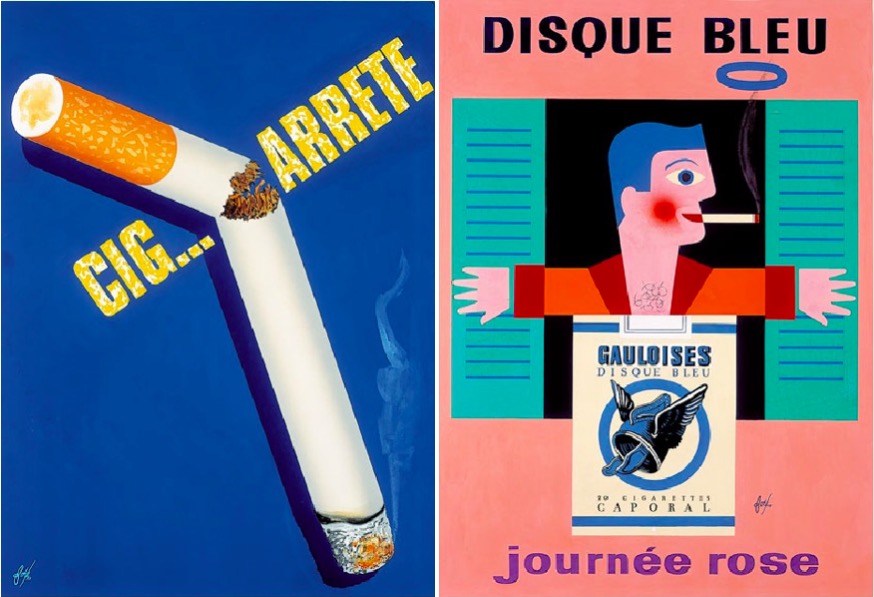 Again here, Foré contradicts himself with an anti-smoking poster and right, one of his beautiful posters for the Gauloises cigarette brand.
"The pleasure of drinking only lasts for a moment"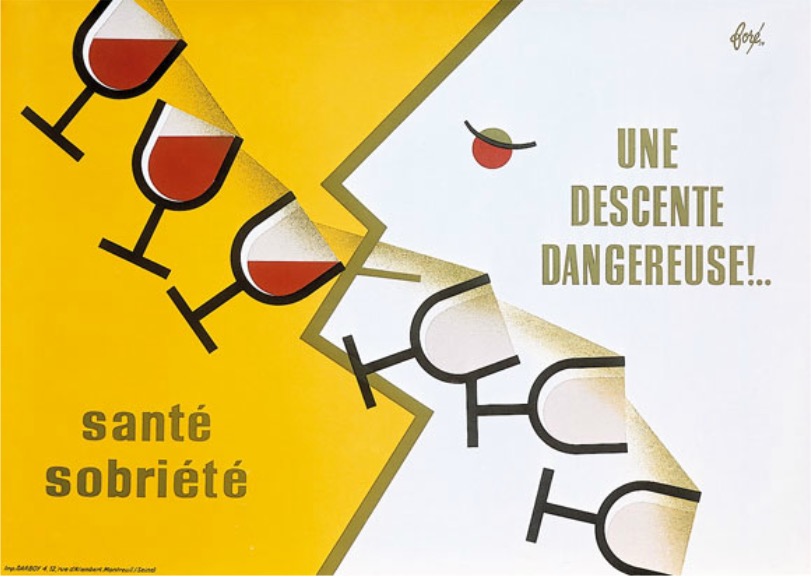 "A dangerous descent"
"Health, sobriety, youth"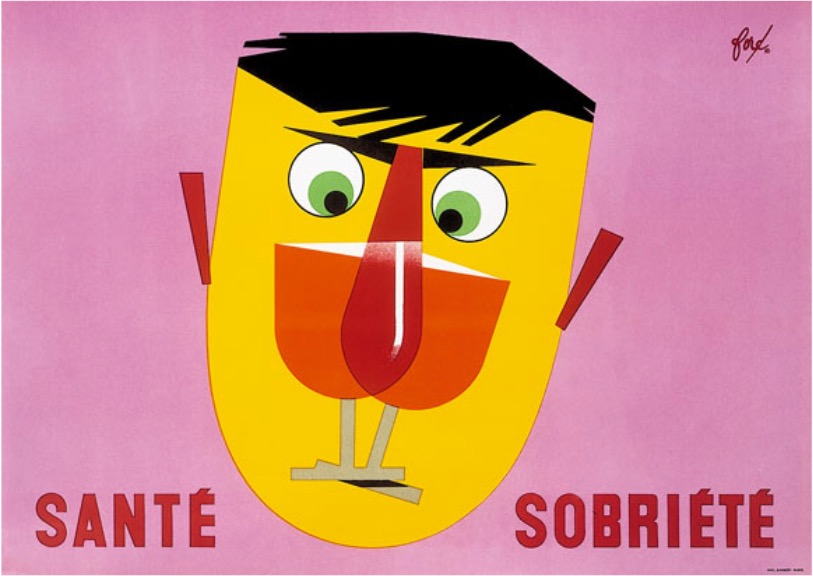 The posters are playful, colourful and cartoonish, almost pleasing to a childlike sensibility…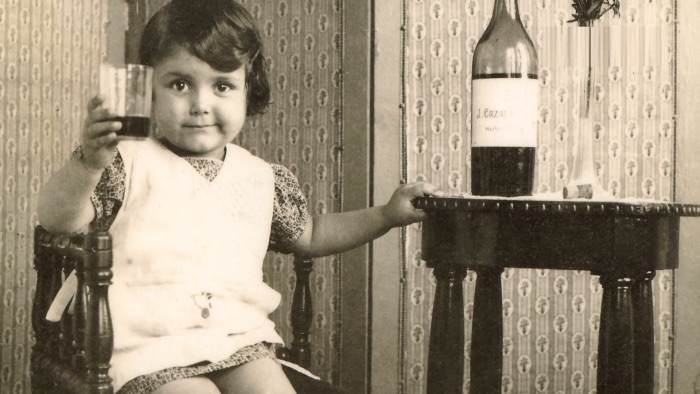 It would be worth mentioning here that it wasn't until 1956, two years after the start of this campaign, that the consumption of alcohol was outlawed in French schools for children under 14.
Mothers were known to send their small children to the local schoolhouse with lunch baskets containing a bit of cheese, some saucisson … and a half bottle of wine or cider to drink.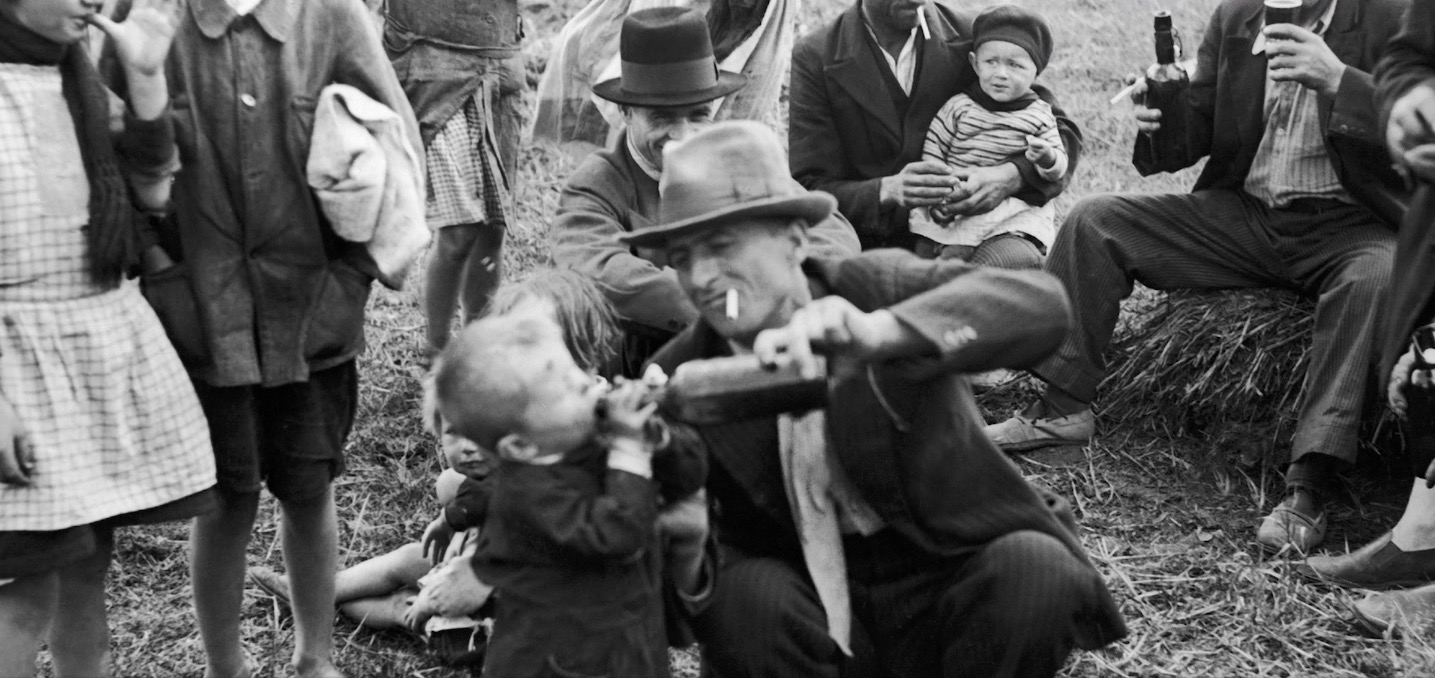 It would be another 25 years until alcohol was no longer allowed to be consumed by high school students in the lycée canteen when the law was finally passed in 1981.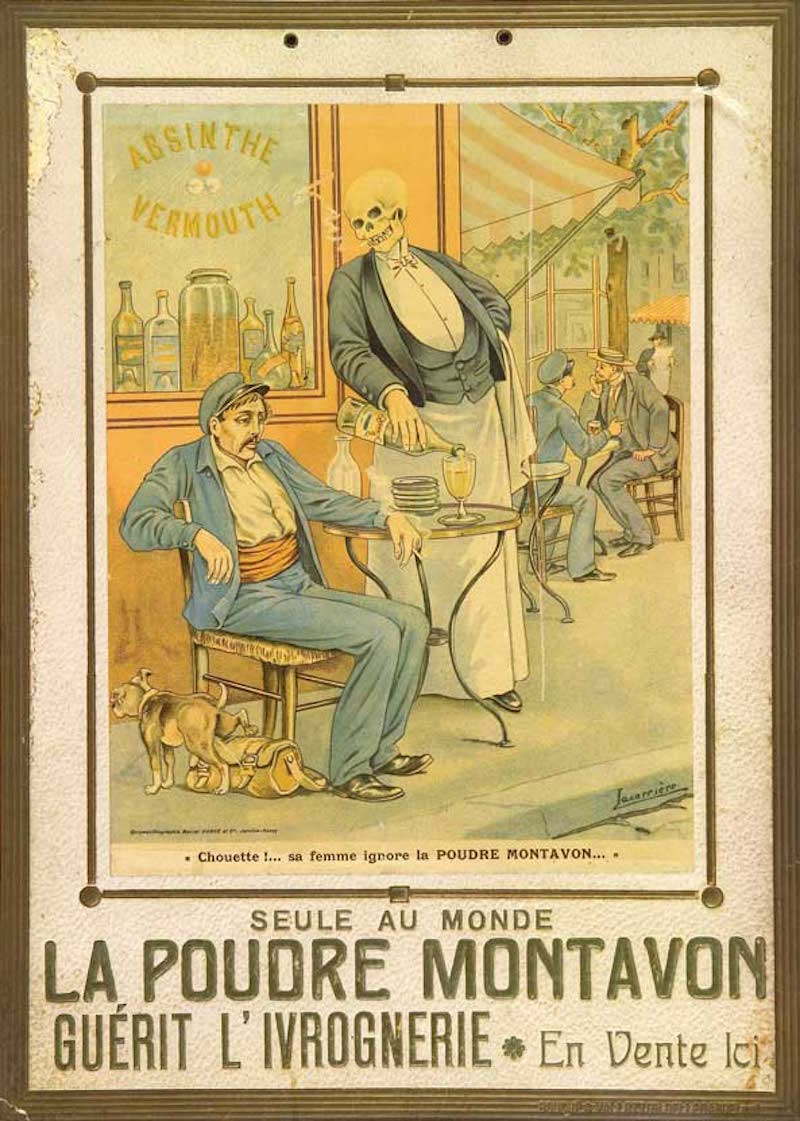 This wasn't the first time the government tried to crack down on alcohol consumption. In 1910, the French were drinking 36 million litres of absinthe per year.
Spurred by the temperance movement and funnily enough, allied by the winemakers' associations, absinthe began to be publicly associated with violent crimes and social disorder. Haunting posters depicted alcohol and even bartenders as the enemy. France banned absinthe altogether in 1915.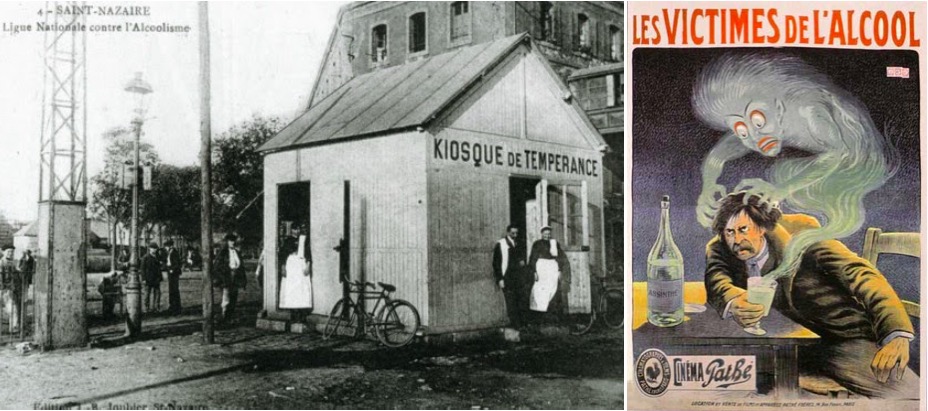 The rise of wine mirrored the rise of the working class, but it wasn't until World War I that it truly became the French national drink as it is so commonly stereotyped today.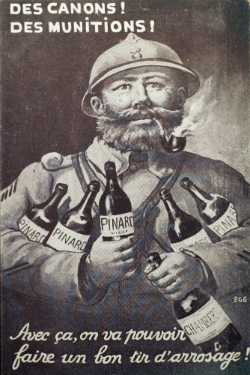 "Basically the soldiers went over the top pickled on pinard, the strong, low-quality wine which was supplied in bulk. Up until then the Normans, the Bretons, the people of Picardy and the north, they had never touched wine. But they learned in the trenches," explains Denis Saverot, an editor of a wine review magazine speaking to the BBC in 2013 for an article ironically titled, Why are the French drinking less wine?
"After that in France we generalised the consumption of cheap wine so that by the 1950s there were drinking outlets, cafes and bars, everywhere. Tiny villages would have five or six. But that was the high point."
In the 20th century, wine was stronger than ever before. We have this image in our heads that everyone in the Middle Ages was constantly drunk off wine all the time, excessively drinking from their medieval goblets. Sure, wine was commonly drunk in the wine-growing regions of Medieval France, but certainly not because they enjoyed it. Contrary to popular belief, medieval wine was a weak and rancid concoction and people only drank it because it was safer than drinking water. Serious Eats describes a typical medieval wine as being sticky and thick having "a nose redolent of tree sap … that could only charitably be compared to floor tile in a public restroom." Without the modern bottles of the 20th century, winemakers tried to preserve them with resin, lead, marble dust and random assortments of herbs.
So fast-forward back to the 1950s, when the working class was working less outdoors in the fields, and more in offices where employees were required to stay awake and not drink themselves to oblivion at lunchtime. More people also owned cars than ever before.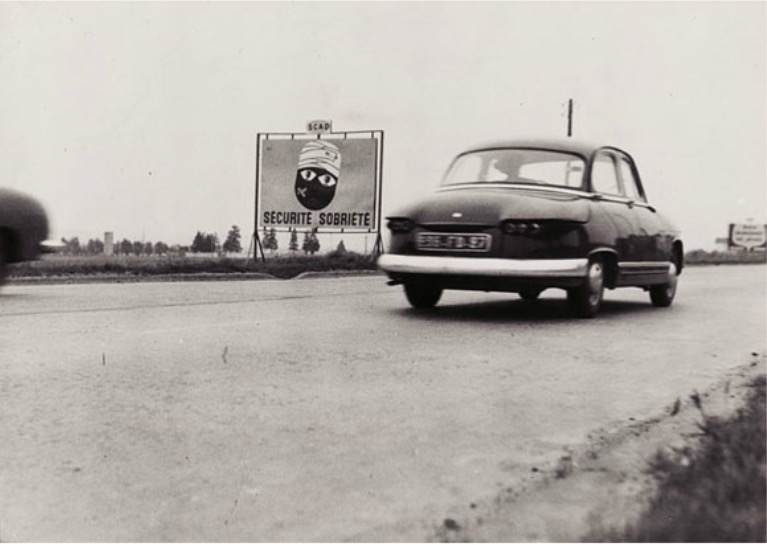 Whether or not it was thanks to campaign posters like the vintage one I noticed at behind the car of my local bar last night, today, according to figures, the French are drinking less wine, (although according to this 2013 article in Le Figaro, The French are still drinking too much).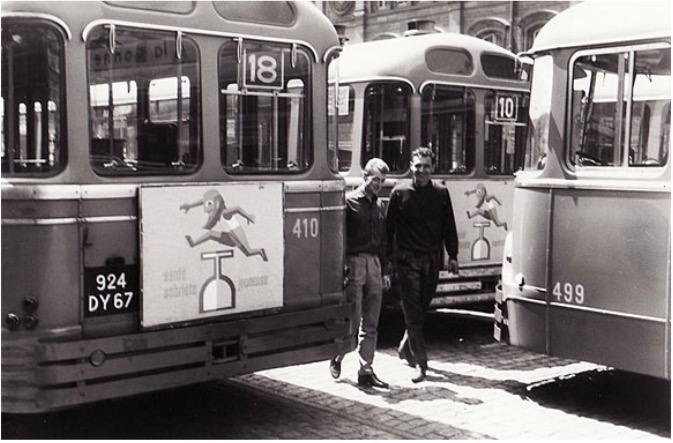 In the same 2013 BBC article about why the French are drinking less wine, the wine editor Denis Saverot blaims the bourgeois technocratic elite with their campaigns … lumping wine in with every other type of alcohol".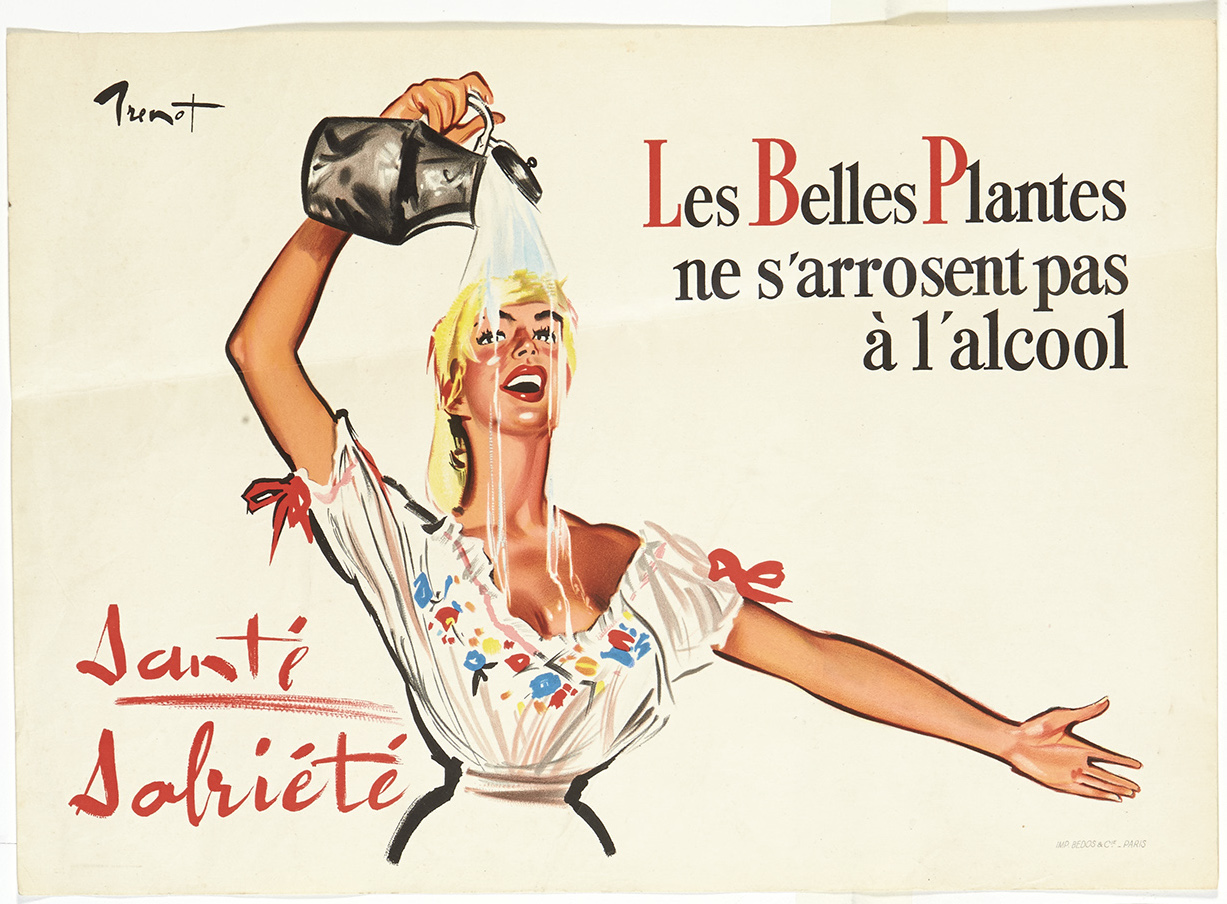 "Beautiful plants to not water themselves with alcohol"
He goes on to argue that we were perhaps better off drinking more wine. "In the 1960s, we were drinking 160 litres each a year and weren't taking any pills. Today we consume 80 million packets of anti-depressants, and wine sales are collapsing. Wine is the subtlest, most civilised, most noble of anti-depressants. But look at our villages. The village bar has gone, replaced by a pharmacy."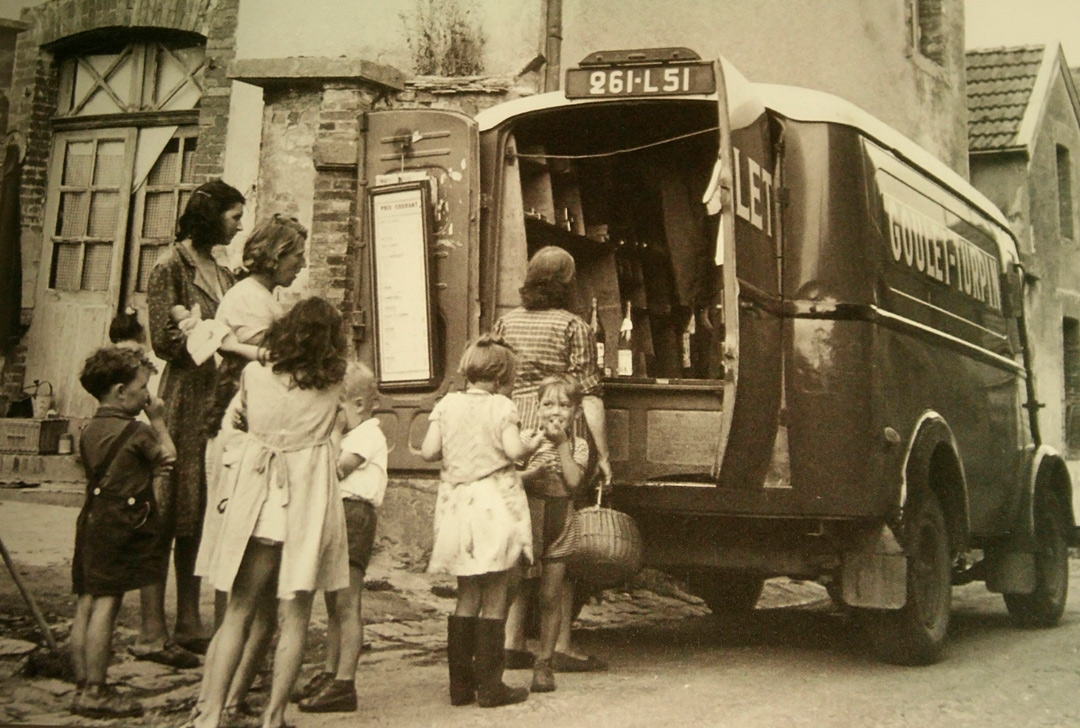 Housewives pick up wine from a local delivery van in post-war France
I have to agree with him on the pharmacy part. I've never seen a country with so many pharmacies at ones disposal. Even in small countryside villages, if the local bar went bust years ago, you'll no doubt find a pharmacy, flashing its bright green neon lights at you, primely positioned at the village centre. Although judging by the weekly wine hangovers I've had since moving to Paris six years ago, I can't say I'm fully convinced that it's the subtlest, most civilised and most noble of anti-depressants.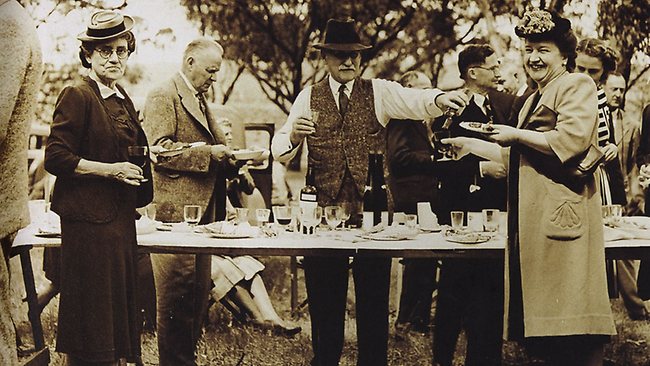 I'm still learning to take my time with wine as perhaps my ancestors knew how, when we weren't always in such a rush all the time, working late and desperate for an after work drink. When living in France, we have a duty to savour, converse and entertain. One must not forget the art of living and the joie de vivre that has been lost elsewhere.
On that note, drink (responsibly) and be merry. Happy Holidays!