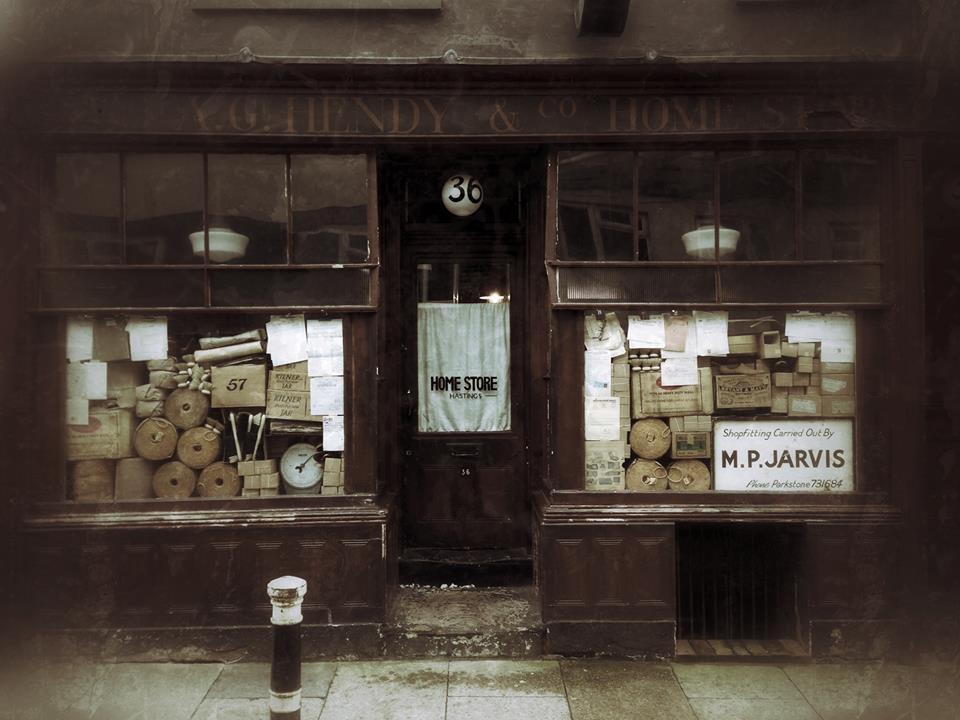 Number 36 High Street in Hastings, England, started out its very long life as a soda-bottling shop. During the restoration of this 18th century grade II listed Georgian town house, they unearthed bullet-shaped soda bottles under the floorboards. According to records, it was later a saddlers in the 19th century, then a tailor, a sweet shop, a bistro and even a soda dispensary once again, until it became the A G Hendy & Co Home Store as it is now known…
When Alastair Hendy bought the property in 2008, he clung on to every morsel of its historic fabric, working for over three years with the best local craftsmen and builders to restore the premises. Everything is authentic to the time it was built from the light fittings to the hand-made glass for the window panes. Wherever the flooring or walls had to be replaced or added, a hand-mixed utilitarian Georgian colour-palette was used. The A G Hendy & Co Home Store finally opened in 2011; a truly unique shop and kitchen on the south-east coast of England.
Selling new and vintage equipment, oddities and collections for the home, all carefully curated by Alastair Hendy, at the front of house, A G Hendy & Co offers a unique three-storey shopping experience with old-fashioned customer service.
But the Georgian time capsule experience doesn't have to end there, for A G Hendy & Co also has its very own weekend seafood restaurant.
Tucked away at the back of the store, open for lunch or to privatise for special occasions, everything is served family-style, set down on the table in pans for sharing with friends. All fish served is landed from their local beach-launched fishing fleet.
The menu changes everyday, prepared by a single chef who has hand-picked all the ingredients. "Wonderful, eccentric, charming and delicious", are just a few words often used to describe the dining experience.
And the experience still doesn't end there. Around the block, Mr. Hendy has also restored a 16th century merchant's house, "reinventing the dust of history" in the town's most complete Tudor house. It is literally like "stepping into the pages of a Grimm's fairytale", humbly but imaginatively furnished to reflect the narrative of the house.
Interesting history: The house also has some secrets of its own for, up until the 1950s, the rear wing was used as an undertaker's workshop, cadavers being stored in the adjoining cellar room.
Number 135 All Saints Street is not only available to visit on open days, but it's also available to sleep in (room for 4), throw a special event in or hire for filming/ shooting something.
And if you'd like a bit of Mr. Hendy's magic touch (that's him picture above) to rub off on you, there are even courses & workshops inclusing fish cookery, food writing, food styling and photography, set in the heart of the historic fishing quarter of Hastings Old Town.
If only every town could have its very own Mr. Hendy to create time capsules and secret restaurants and curate curiosities.
PS. If you have access to English television, a little birdy told me Mr. Hendy's lair is soon to be featured on a new Channel 4 series "Hidden Restaurants with Michel Roux Jr" which airs Wednesdays at 8pm.
Discover the A G Hendy & Co Home Store website here.