Dedicating a museum to yourself is typically a bold move, but not so much for the self-proclaimed "Greatest Living Spear Hunter in the World." America's first and only Spear Hunting Museum, located in Summerdale, Alabama, houses a unique collection of taxidermy and weaponry from the exploits of retired US Air Force Colonel Gene Morris.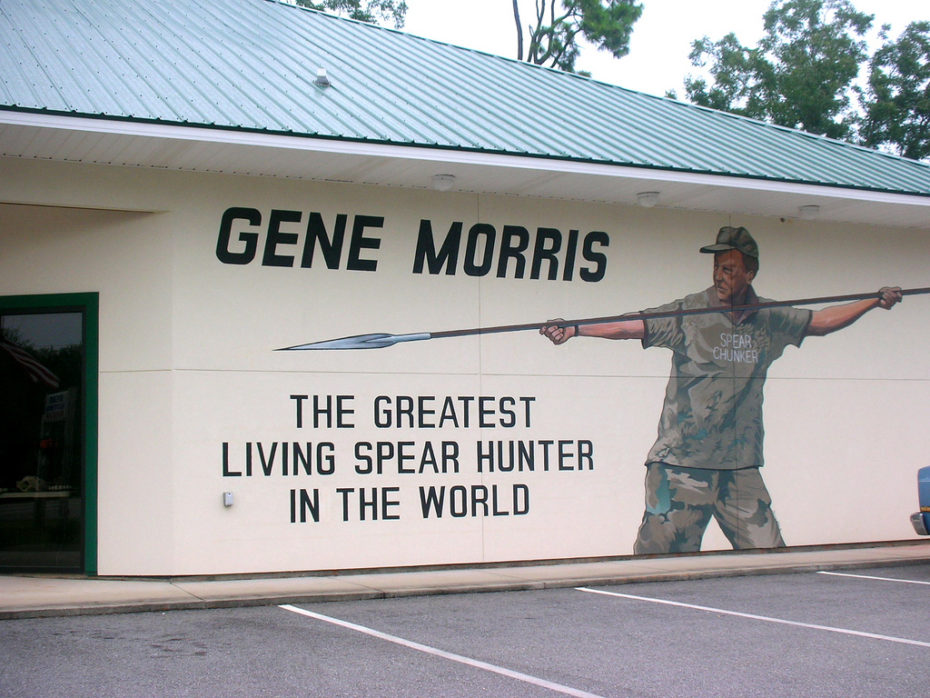 Gene Morris, known to many as the 'Spear Chunker', founded the establishment in 2006 to share his tactics with the world and to ensure his legacy (aka. all of the animals he's ever killed) would be around long after his passing. Looking for something insane in Alabama? The hunt is over.
Housed in a modestly sized building off of a state highway, Morris' comprehensive trophy room is free and open to the public.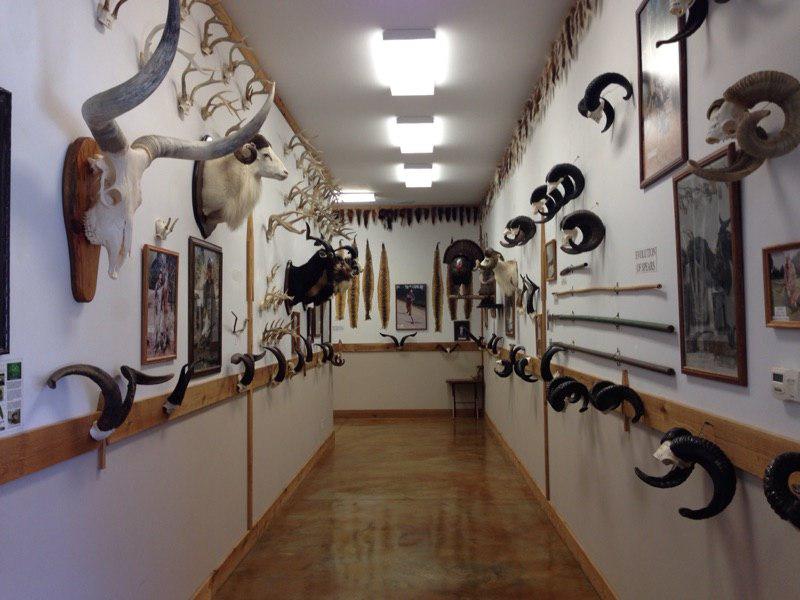 While the Spear Hunting Museum is not pulling any tricks with its name, it's also not exactly what one would expect. It is as much about its crazed, compelling founder and his love for skewering animals, if not more, than it is about the sport.
How unhinged must you be to create this place? And how do you spear hunt anyway? Natural questions one might raise while navigating the winding hallways of the museum. Walls are packed floor to ceiling with mounted animals, horns, trophies, pelts, fossils, weapons, military mementos and amusing write-ups, revealing the stories and practices of a most unusual man.
In this vast collection, each item has careful notes with details of when and where it came from. Hallways are themed and appear to have been added to regularly until 2011.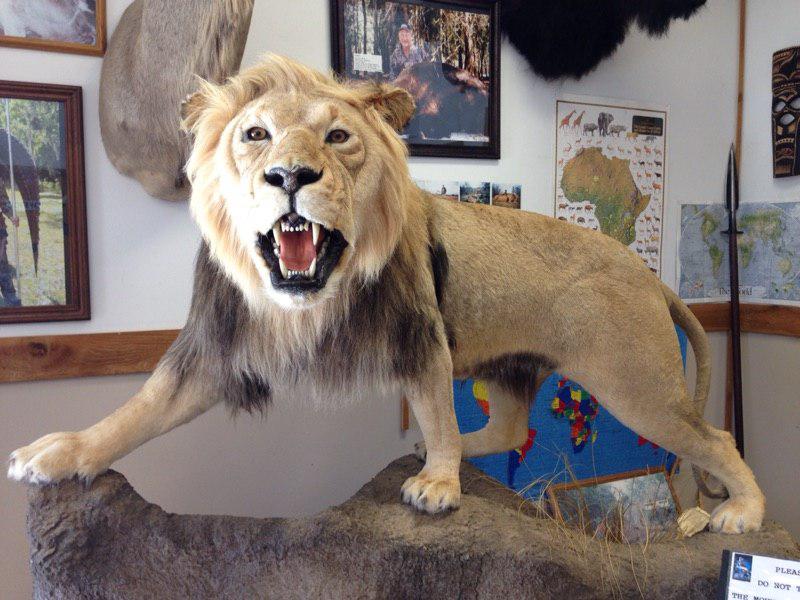 Animals from around the world are on display in the museum, including lions, ostriches, wildebeest, gemsbok, zebras, bison, cape buffalo kudu, wolves, cougars, bears, boars, goats, snakes, turkeys, rams, sheep, deer, alligators, eland, gemsbok, elk, turtles (large and small), and more. All conquered by Morris himself.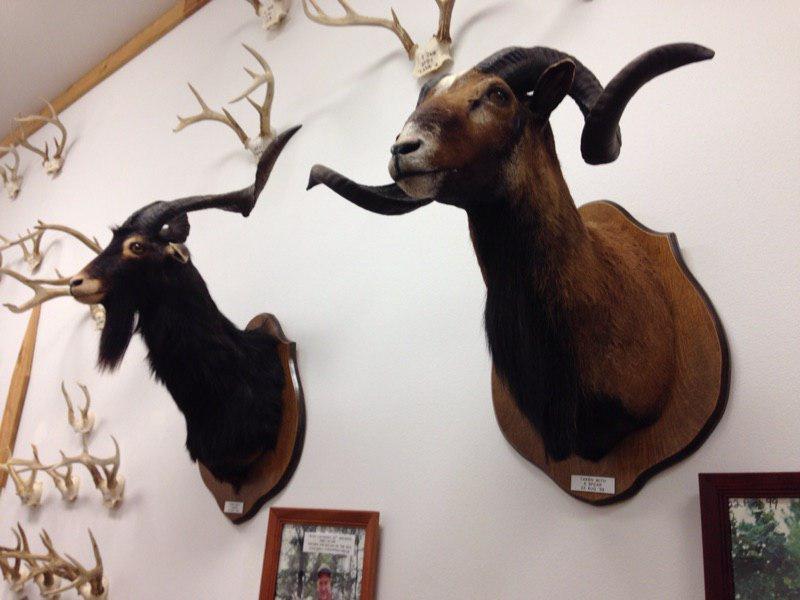 Aaaand of course – the spear collection.
It's difficult not to notice the array of weapons on every wall and around every corner – gigantic spears, machetes and bows. Spears come in all shapes and sizes, ranging from modern to Ancient African designs to Morris' own creation – "a special, extra deadly" spear.
Some have names like the "Big Green Killing Machine" or "Black Death," causing the imagination to run wild with nightmarish scenarios.
It is a strangely fascinating experience, with opportunities along the way to read an incredibly proud man's insights into his excursions and seeing him take a selfie with just about every animal he's ever hunted.
In addition to taxidermy and weapons, visitors are treated to his anecdotes, absurd tips in the form of drawings for things like 'throwing two spears at once from a tree stand', and his own personal code of ethics aka the Gene Morris' Creed.
(*note safety belt* Apparently, Morris successfully carried out this method over a dozen times. Photos (L) by Kari Elgin, (R) from Spear Hunting Museum website)
At the gift shop, visitors can purchase items to find their inner spear hunter – camouflage 'Spear Chunker' merchandise, spears designed by Morris, and instructional books and DVDs.
Morris' obsession with the controversial sport began in the late 1960s when he found hunting with guns or a bow to be too dull, or in his words "…it had just gotten too easy."  Through tireless lobbying efforts, he single-handedly made the sport legal in Alabama in 1992.
After honing his craft, Morris spear-hunted in Southern Alabama and across the world, racking up a shocking 592 big name kills with spears by the time of his death. Throughout his career, he went from guns, to bow hunting, to spear hunting, to hunting with two spears – one in each hand – killing two animals at the same time. Legend has it that before his death (he died in 2011 while on a hunting trip) he was working on a way to be able to throw THREE spears at once. His body was found in a spear-hunting tree-stand a day after suffering from a heart attack.
When asked if he, Gene Morris, was truly the greatest spear hunter in the world, His response…"If you're the only one who does something, you're the world's greatest."
Interested in more? Watch SPEARHUNTER. Explore the museum and the bizarre subculture around it in this short film on the subject –featuring lovely cinematography and an offbeat cast of character's from Morris' life.
Find the Spear Hunting Museum on Highway 59 in Summerdale, AL 36580
By Kari Elgin