I've just recently discovered the world of vintage Pachinko machines and my new interest is dangerously close to turning into something "I absolutely have to start collecting right now". For those that, like me just a few days ago, had never heard of "pachinko" before, prepare to be dazzled by a far more fabulous, Japanese version of the old American pinball machine– with a Las Vegas, pool-hall twist.
Looking like something between a slot machine and a vertical pinball machine, the pachinko actually differs in several ways from their western counterparts. First of all, they're absolutely gorgeous objects– just check out that artwork, those colours and the vintage streamline design. And they have a pretty interesting story too…
On any given street in downtown Tokyo, you'll find at least one, if not a dozen "pachinko parlours", where hundreds of machines are packed into glitter-filled arcades.
Each machine is a little different, but the play is pretty much the same for all of them. There are signs in various languages stating that pachinko is not gambling and that no money is awarded to winners. And while gambling for cash is illegal in Japan, when it comes to pachinko– things aren't so black and white.
It's important to remember that the house advantage of pachinko parlours is astronomically high and more than 99 percent of players lose money. At the counter, you purchase a stash of small, steel balls, like pellets and pick a machine– which operates mostly on gravity, which means you pretty much watch your metal pellets fall from the top of a weird maze, through a series of pegs, and down toward the bottom of the machine and lose them forever– until you buy more. If luck is on your side however, your pellets might land in the winning pockets along their downward descent, which will win you … more pellets!
Now, at any time, you can "cash-out" on your pellets, but of course, as the parlour signs state, pachinko is not a gambling game. So instead of cash, you can claim some cheap and useless merchandise from the front of the hall like key chains, poorly made electronics or "special prizes", typically small silver or gold novelty items encased in plastic. Sounds like a pretty sour deal, unless you know about the small establishments located nearby, where players can "sell" their prizes for cold, hard cash. These establishments operate as "separate" units to the parlours, although often in the same building.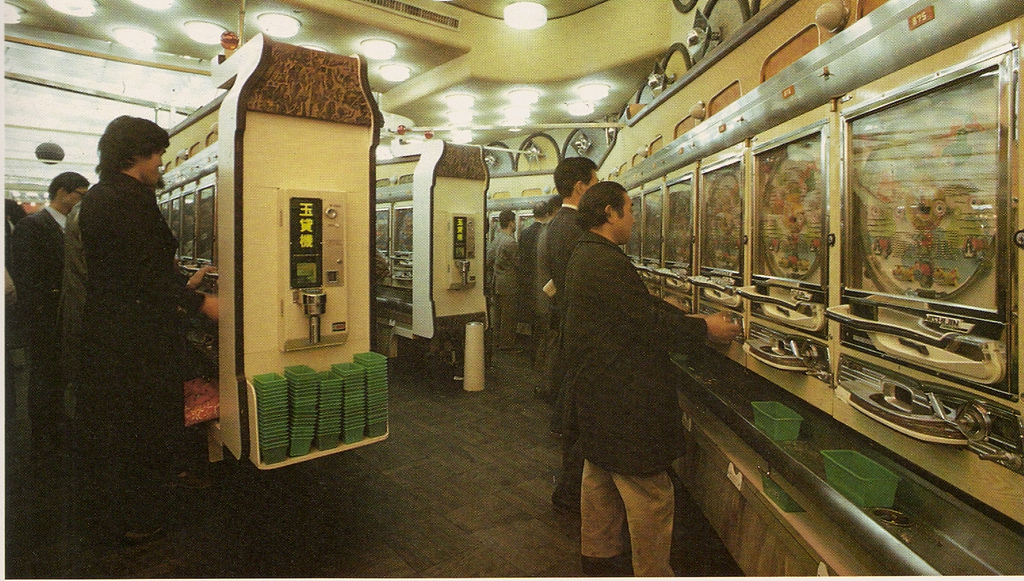 Pachinko regardless of what the signs say, or in what language they say it, amounts to gambling. The Japanese mafia, known as the yakuza, used to run the pachinko prize exchanges until the police stamped out their involvement in the 1990s around the same time that Japan's blanket anti-gambling law was passed in the 1990s.
And while pachinko parlours are still getting around Japan's gambling laws with their prize exchange schemes, the police tolerate it and are even active in regulating it. In fact, retired officers often move onto the pachinko parlour industry, keeping out organised crime, but also giving pachinko parlours a strong position to influence the police. Despite the industry's questionable backdoor policies, Pachinko parlours are very much a part of Japan's urban landscape.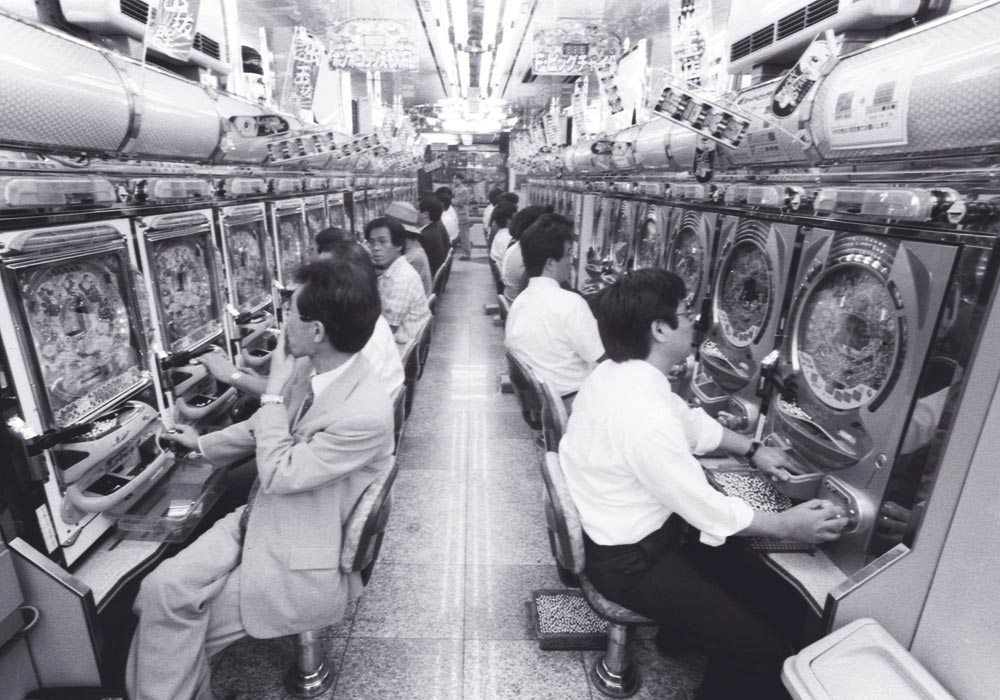 Pachinko machines first appeared in the 1920s, likely based on a western billiards-derived indoor table game from the 18th century. It quickly became a highly popular adult past time in the 1930s, an overnight sensation, and pachinko parlours began spreading across Japan. They were all closed down during World War II, but re-emerged in post-war and have remained a staple of Japanese culture ever since.

Up until the 1980s, all pachinko machines were mechanical devices with minimal electric features except maybe for a light to indicate the player had run out of pellets. One of my favourite features about the vintage machines is that they come complete with an ash-tray– not that I smoke– but it's an amusing reminder of the days when ash-trays were everywhere from your cinema seats to your airplane seats.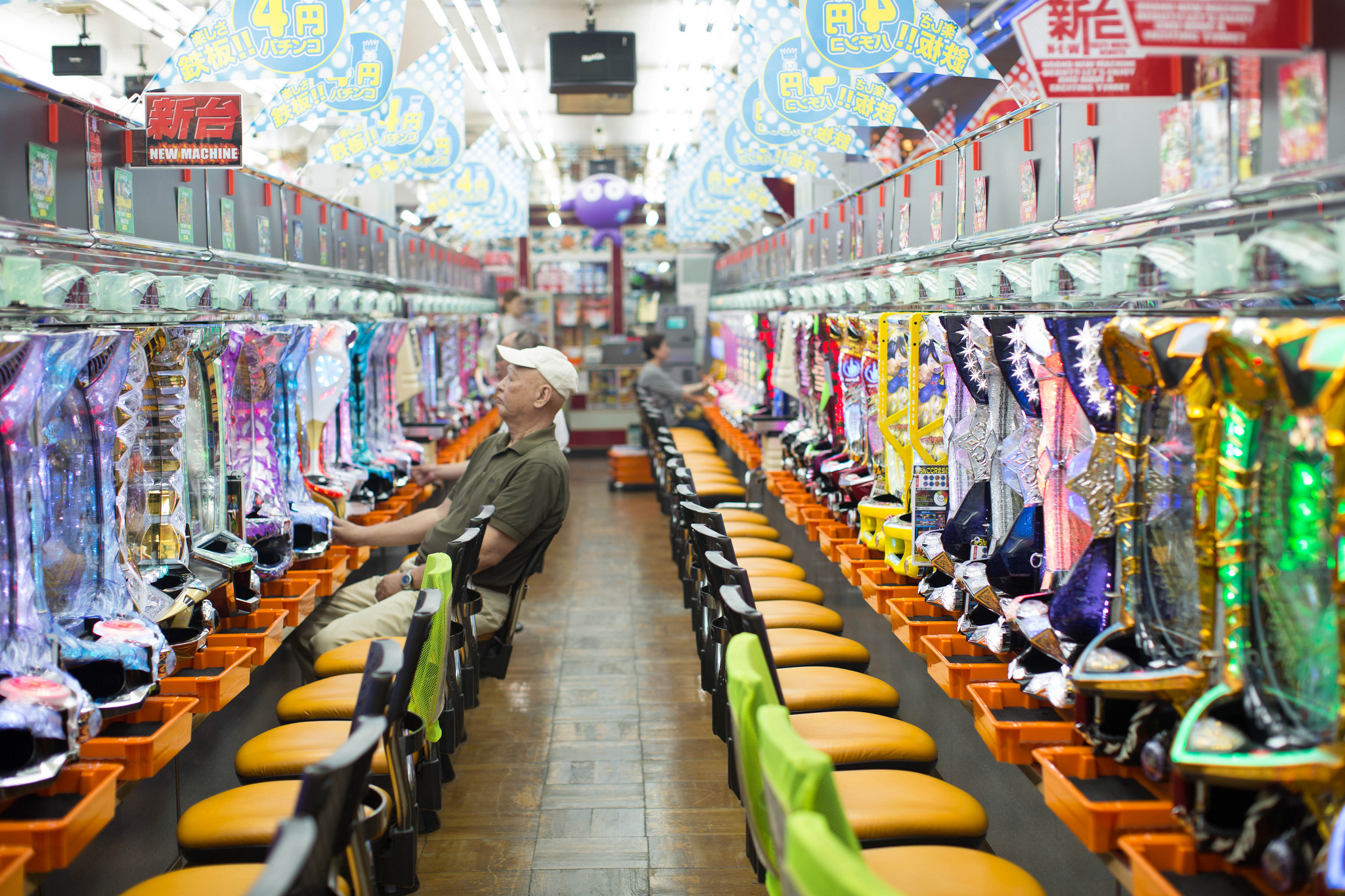 Today's pachinko machines are essentially noisy, machine-made LCD video screens. The machines of yesteryear (aka before the 1980s) are nostalgic reminders of the past; custom built into a solid mahogany cabinets with no electricity. They're becoming highly collectible– and the rarer the better.
In the mid seventies, as newer machines were replacing the old, millions of pachinko machines were imported to the United States sold in retail outlets such as Sears, Kmart, and Woolworths for as little as $15- $20. Returning GI's also brought them home as interesting souvenirs.
The most valuable machines today are from the early 1960s and there are very few pachinko machines in the United States older than 1960. The rarest machines are pre-1950s, which could sell for thousands of dollars and hardly ever come on the market. Pachinko's from the 1970s are still extremely beautiful and unique objects, and can sell at $100 – $200 and restored working machines can easily go for over $500.
If you fancy searching for a pachinko machine on the internet, I would suggest you do your research, this is a good place to start. You can find them for sale on eBay and sites such as Pachinko Planet (where they accept bitcoin).