Sears was once the largest and most powerful retailer in the United States of America before Walmart stole the title in 1989. It first began as a mail ordering catalog company in 1892, when they started peddling watches, then expanding into hardware, furniture and nearly anything else the American household could desire, focusing business in small farming towns. Known as "the Consumer's Bible" in the early 1900s, the catalogue even began offering mail order houses known as 'kit houses', where you could select your home straight out of a catalogue, have it shipped to you in a RailRoad boxcar and assemble it yourself based on a 75-page instruction book. From 1908 to 1940, Sears reported that more than 70,000 of these homes were sold in North America.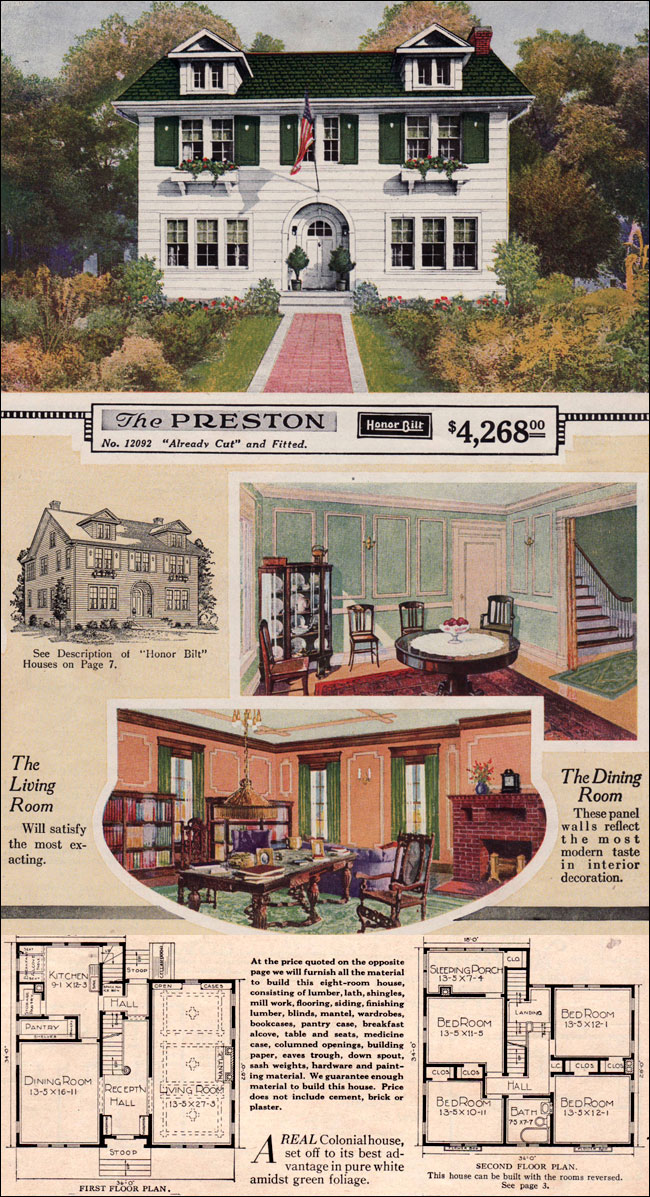 So here's how it worked: Sears had more than 370 different home designs in a wide range of architectural styles and sizes. Each design was assigned a special name, like the "Winona"; a classic American bungalow, or the "Alhambra"; inspired by Spanish colonial architecture (pictured below).
The average kits included approximately 25 tons of materials, with over 30,000 parts including pre-cut and fitted lumber and up to 750 pounds of nails. Plumbing, electrical fixtures and central heating, all new developments in house design in the early 20th century, were included in the kit at an additional cost. No detail was overlooked.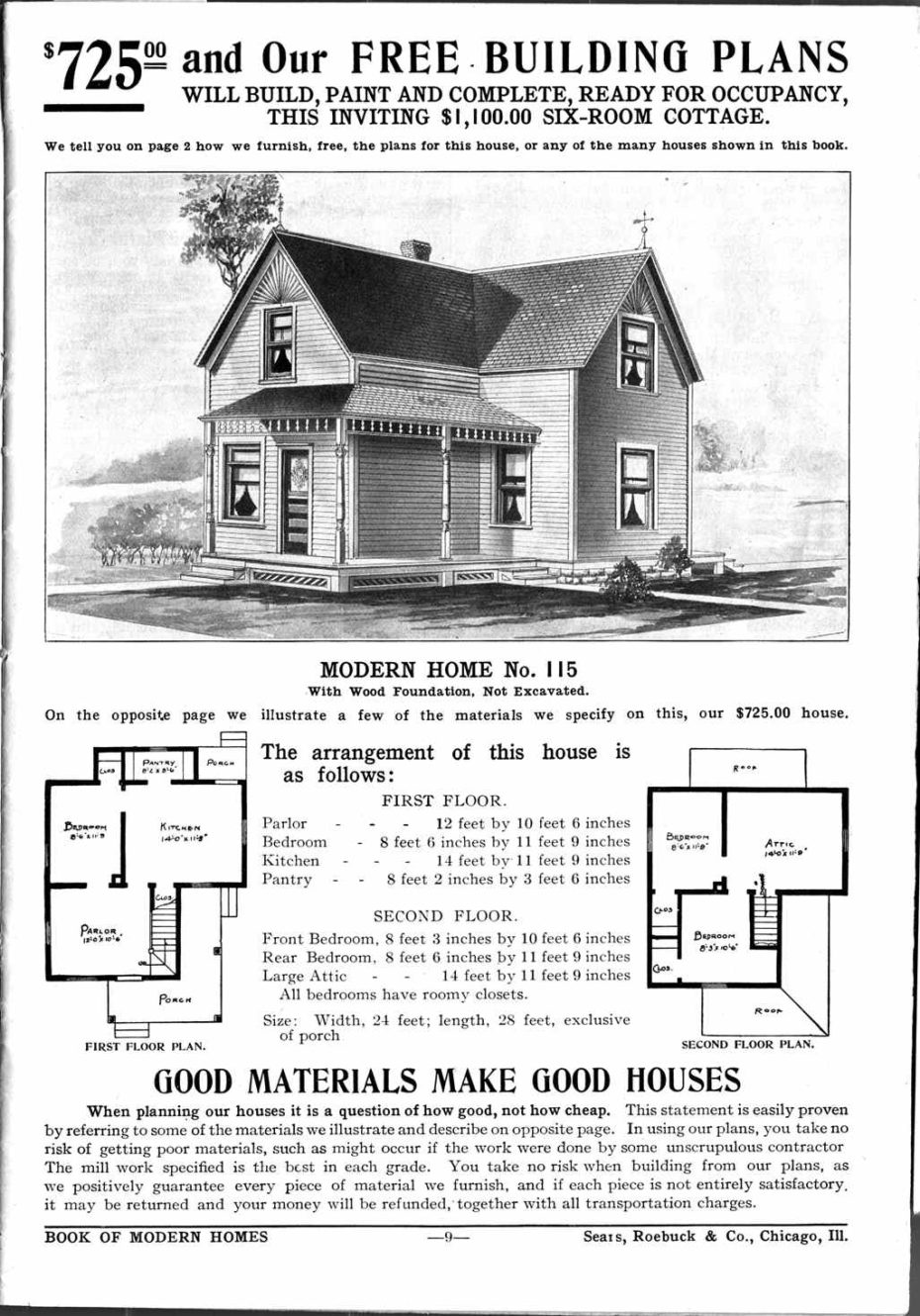 The Sears catalogue homes were truly "modern homes", although some of the earliest kits like model No. 115 (pictured above) and The Natoma (below) didn't have bathrooms because such indoor conveniences weren't yet 'standard' in American home life. Expanded floor plans and extra finished living spaces could also be included in the kit at an additional price.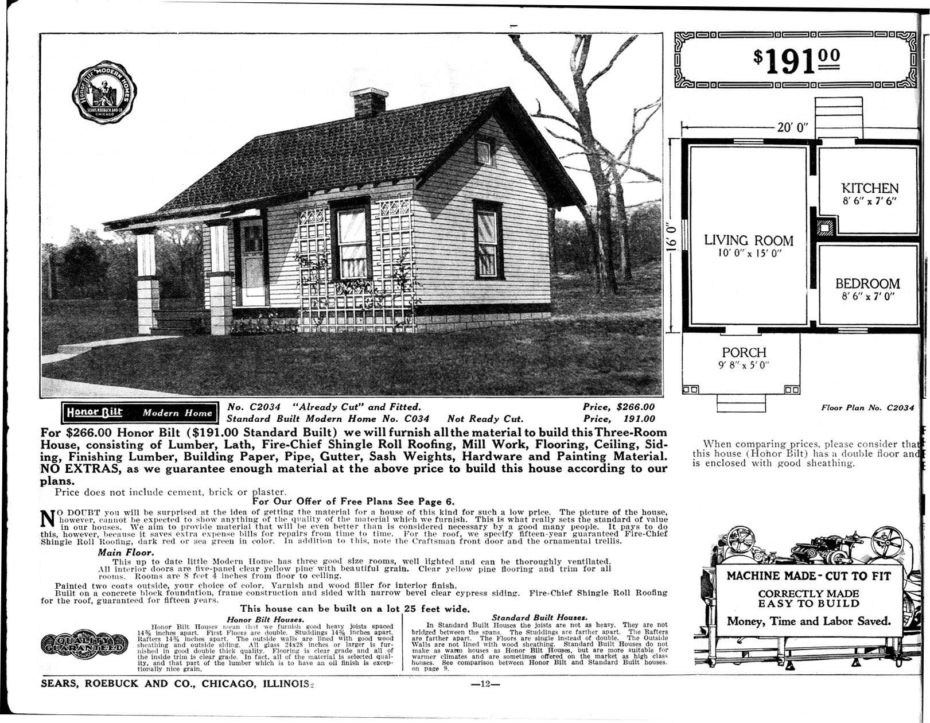 Once delivered, houses were assembled by the new homeowner, but it was traditional to get help from relatives, friends and neighbours, just as rural communities had pitched into help with barn-raisings on farms. Sears Roebuck promised that "a man of average abilities could assemble a Sears kit home in about 90 days."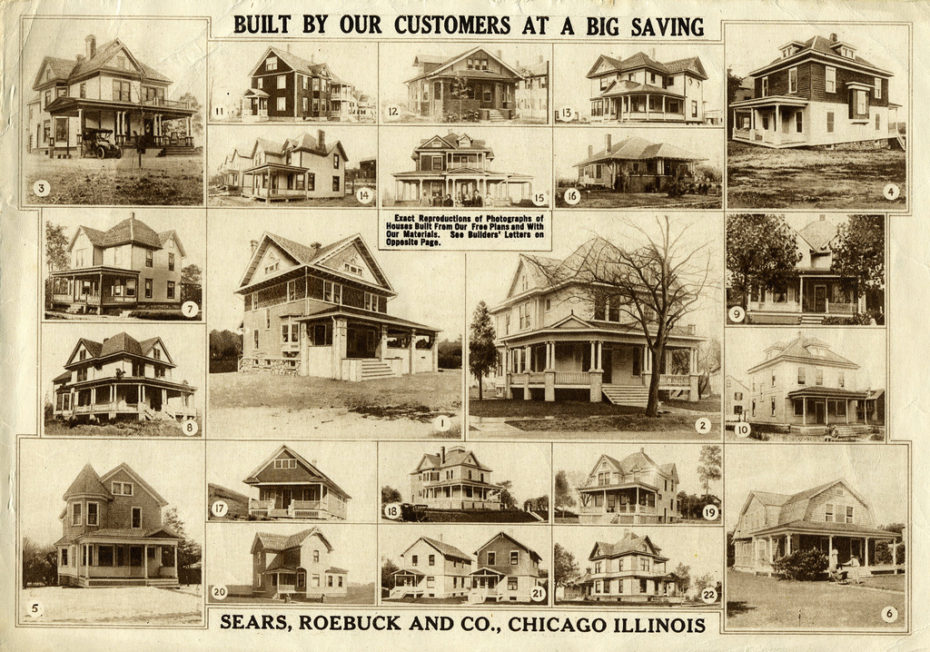 In some cases, Sears provided construction services to assemble the homes and often, local builders and carpentry companies purchased homes from Sears to build as model homes and market their services to potential customers. (About 50% of the kit homes that were built during the program's 33 year history were built by the homeowners and the other half professionally built).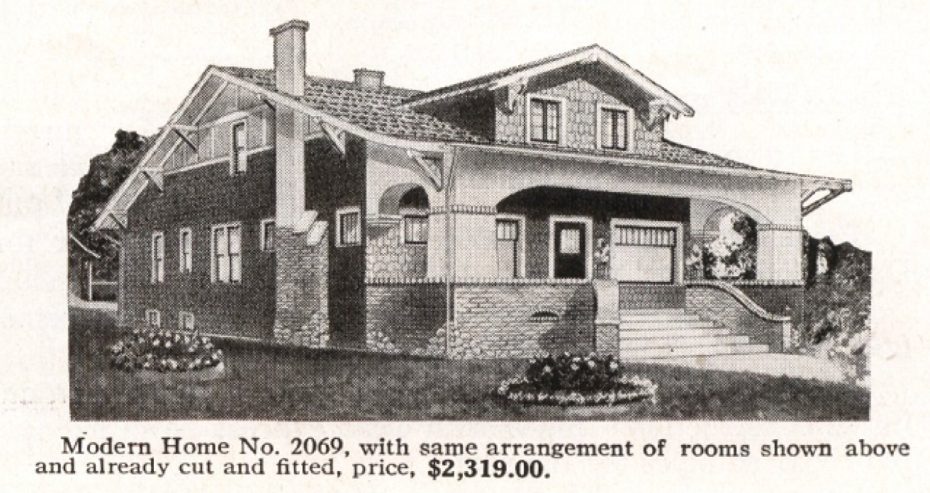 It had all started in 1906 when a Sears manager was assigned to boosting sales in the "building materials" section of the catalogue. It was an unpopular and unprofitable department for company until he suggested to Richard Sears that they start assembling kits of all the parts needed and sell entire houses through mail order.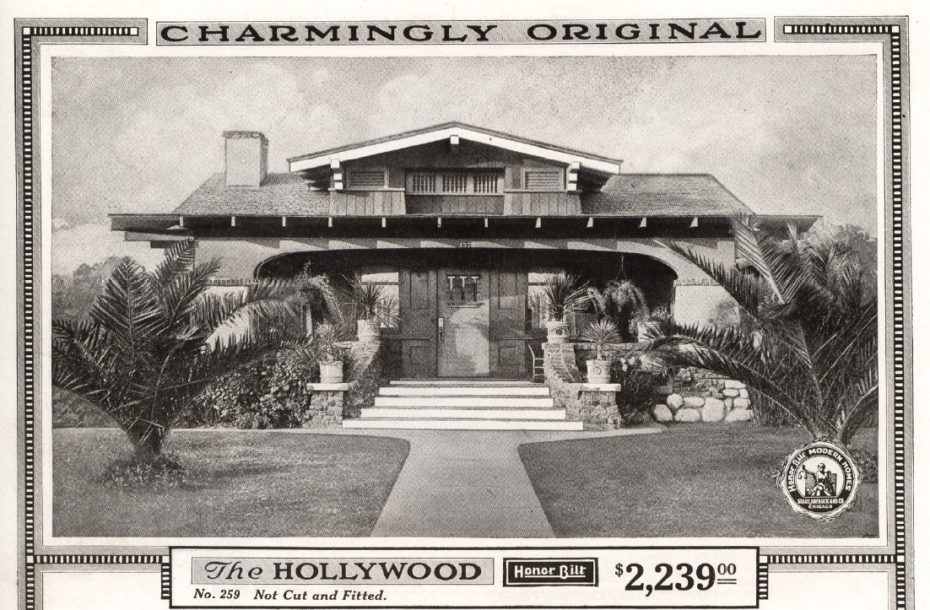 At least, this is the version of the story that Sears preferred to retell. Because the very same year, a company called The Aladdin Company based in Michigan were the first to offer kit homes through mail order (two years before Sears launched their first catalogue Book of Modern Homes and Building Plans, featuring 44 house styles ranging from $360–$2,890).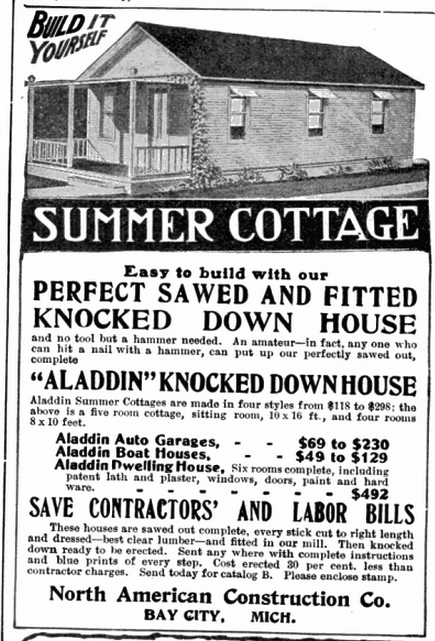 Aladdin also pioneered the idea of offering pre-cut and fitted lumber (see image above), an innovation that Sears didn't offer until 10 years after they began marketing kit homes.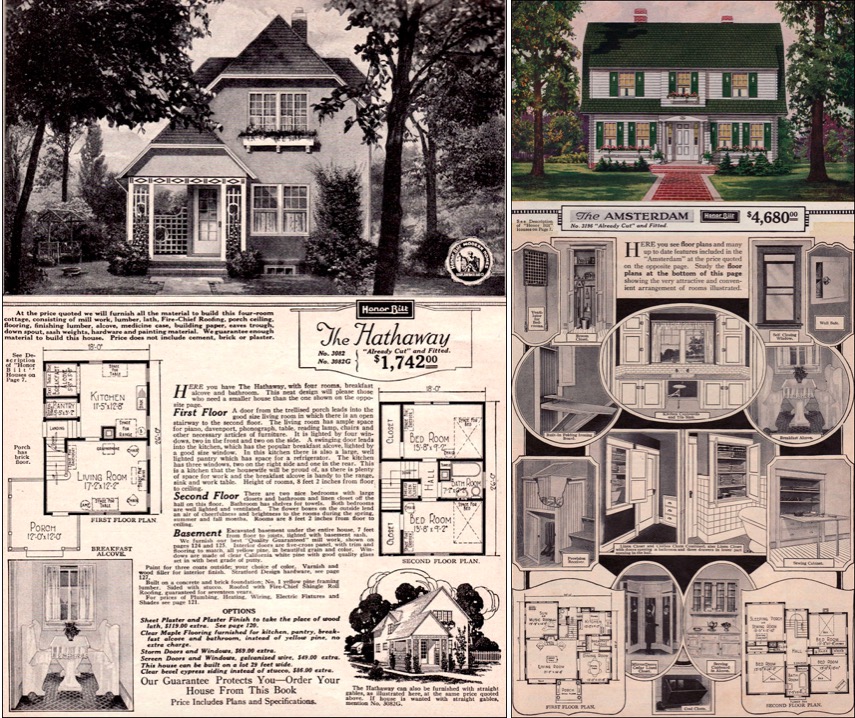 When Sears customers no longer had to cut their Sears-supplied lumber to appropriate lengths on their own, construction time of a house was reduced by up to 40%. Compared to conventional construction, homeowners saved about 30% by building their own home from a kit as opposed to conventional construction. The company also began offering financing plans in 1912.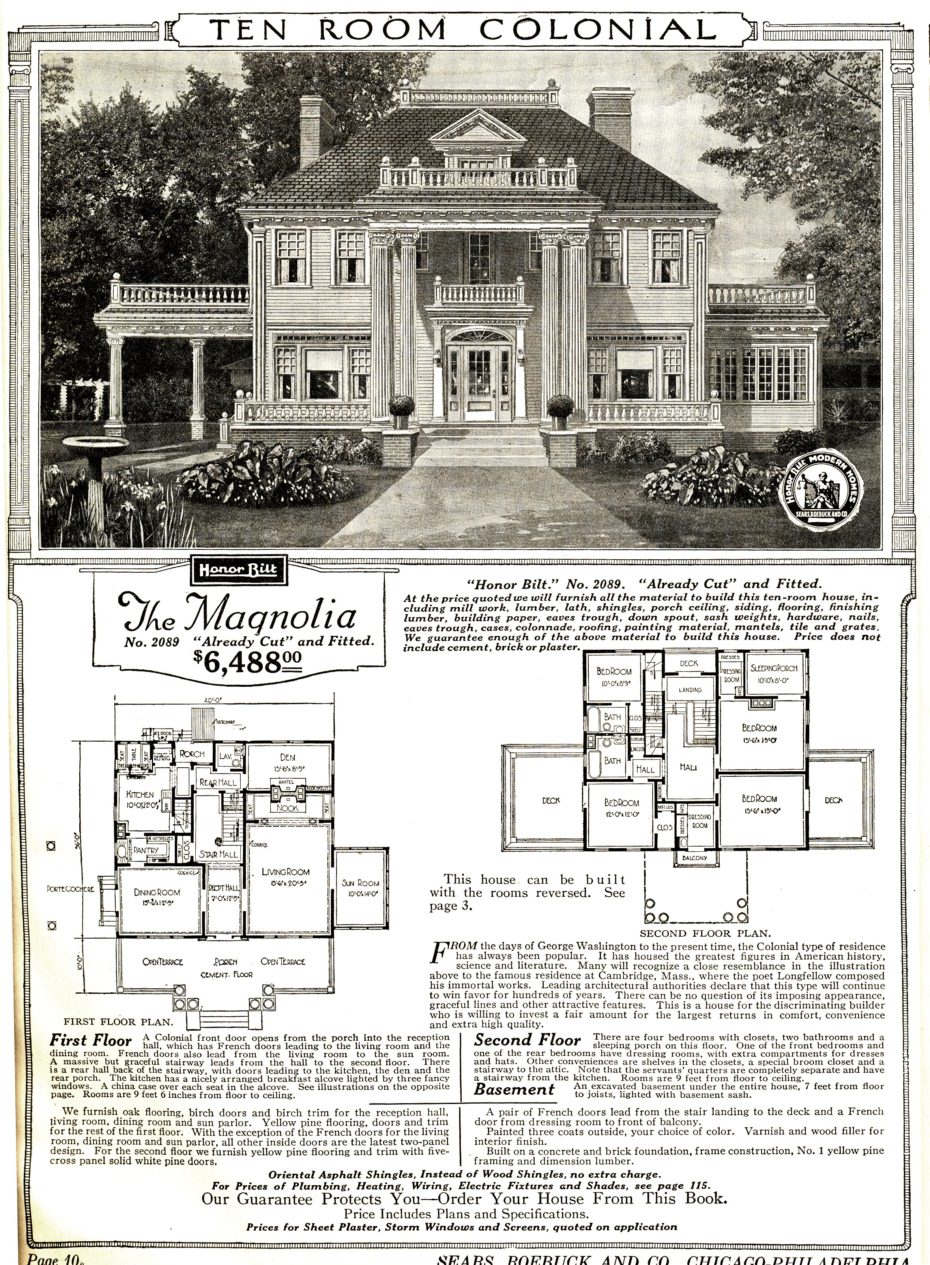 The largest and most expensive Sears model was the Magnolia, at 10-room colonial house for $6,488, equivalent to $88,000 today. Offered from 1918-1922, it was a three-story, eight-room neo-Georgian with a two-story columned portico, porte-cochere, and sleeping porches. 
Only seven Magnolias are known to be still standing, including the one pictured above in North Carolina. It has been in constant use as a funeral home since the early 1940s. The interior has been pretty well gutted and rebuilt, but at least it's still standing. Below is a photograph of an abandoned Magnolia in 1985, which was destroyed the same year….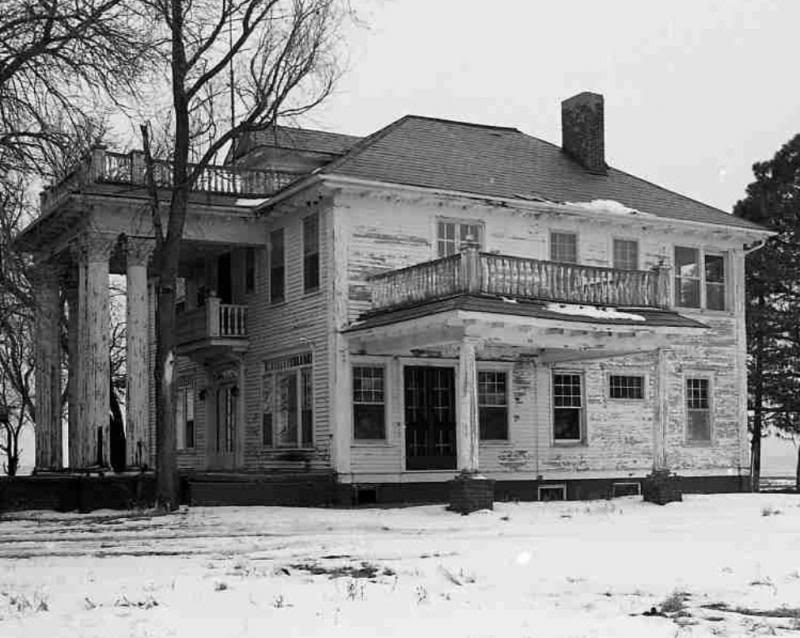 Novelists and story writers often portrayed the importance of the Sears catalog in the emotional lives of rural folk. The Sear mail-order catalogues were sitting on kitchen countertops inside millions of American homes, allowing potential homeowners to both visualise their new home and purchase it as easily as they might have bought a new toaster.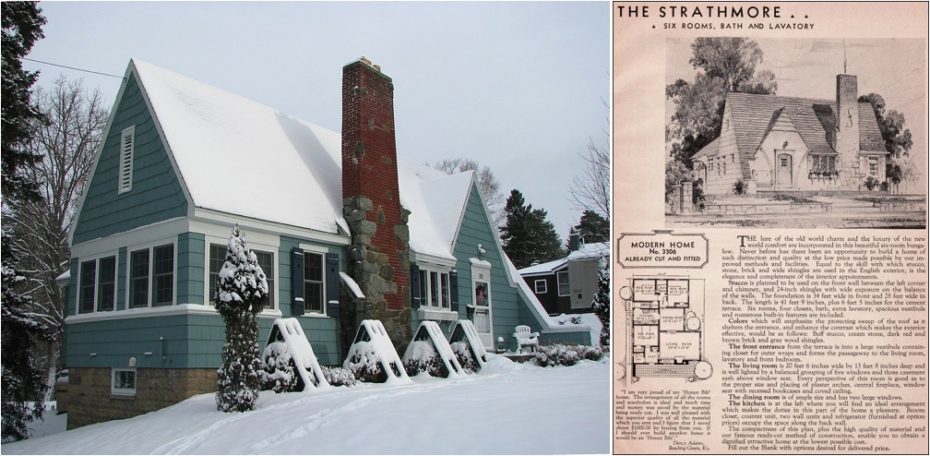 Today, Sears's kit houses can still be found across the continental United States and several are listed on the National Register of Historic Places. They were sold primarily to East Coast and Midwest states, but have been found as far south as Florida, as far west as California and examples have even been found in Alaska and Canada.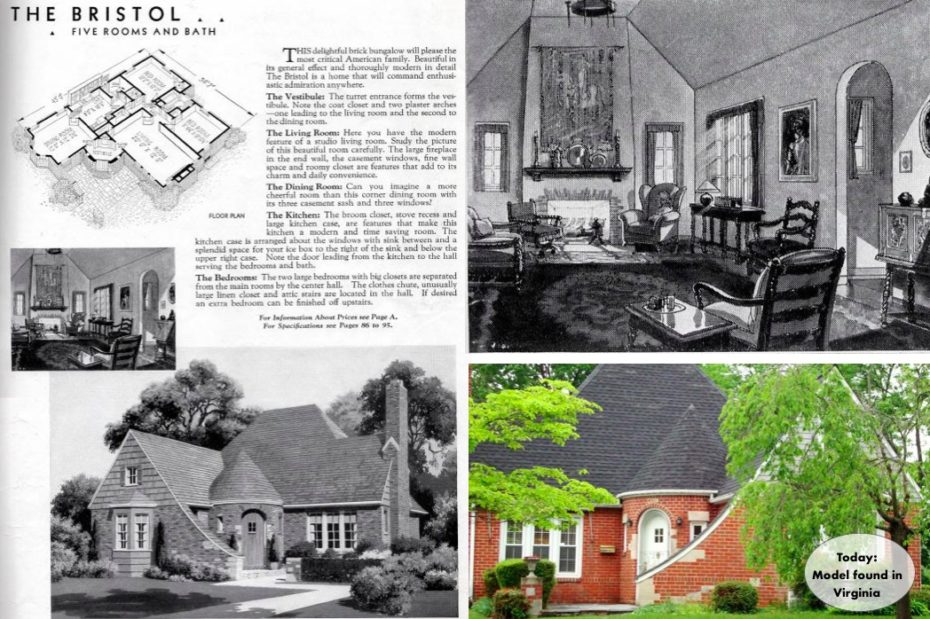 Sales peaked in 1929, just before the Great Depression, but the company's program soon started to suffer with rising payment defaults and slumping sales. The house kit catalogue took a hiatus in 1934, returning briefly a few years towards the end of the depression before closing the Sears Modern Homes division entirely in 1940.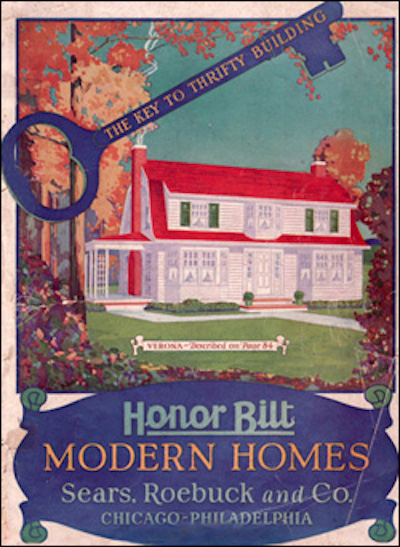 During a corporate house cleaning a few years later, all sales records for the program were inexplicably destroyed, making it very difficult to identify and authenticate a Sears kit home. Dozens of copycat companies replicated the Sears designs, making it even harder to authenticate the originals. Identifying a true historic 'kit house' by Sears over a 'fake' one requires some investigating.
Do You Have a Sears Kit Home?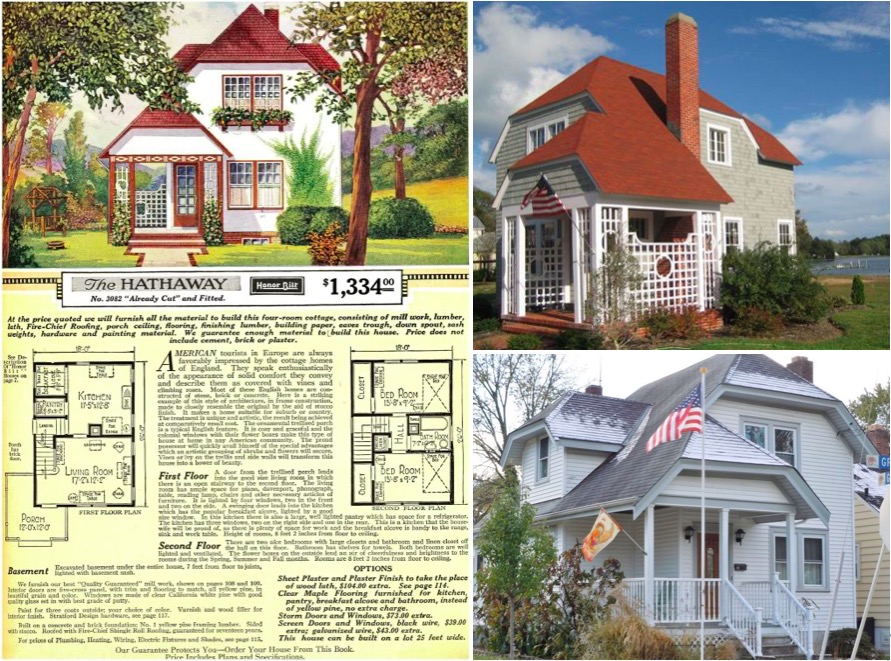 Rosemary Thornton (of Searshomes.org) has been researching and writing about Sears Roebuck Kit Homes for years, considered the foremost authority on them. She has compiled some tips on things to look for if you suspect your home is a Sears kit home.
Look for stamped lumber in the basement, crawl space or attic. Sears Modern Homes were kit homes and the framing members were stamped with a letter and a number to help facilitate construction. Today, those marks can help prove that you have a kit home.

Look for shipping labels. You might see an address, such as "925 Homan Avenue, Chicago, Illinois." This was Sears headquarters in the early 1900s.

Check your home's floor plan against original catalog images using "Finding The Houses That Sears Built" (2004, Gentle Beam Publications).

Courthouse records. From 1911 to 1933, Sears offered home mortgages. Using grantor records, you may find a few Sears mortgages and thus, a few Sears homes.

Inspect plumbing fixtures for marks, such as "R" or "SR".

Look for unique column arrangement on front porch,  five-piece eave brackets, square block on moldings at staircase landings, where moldings meet at odd angles.

Verify your home's construction date. If your home was not built between 1908 – 1940, it can not be a Sears Home.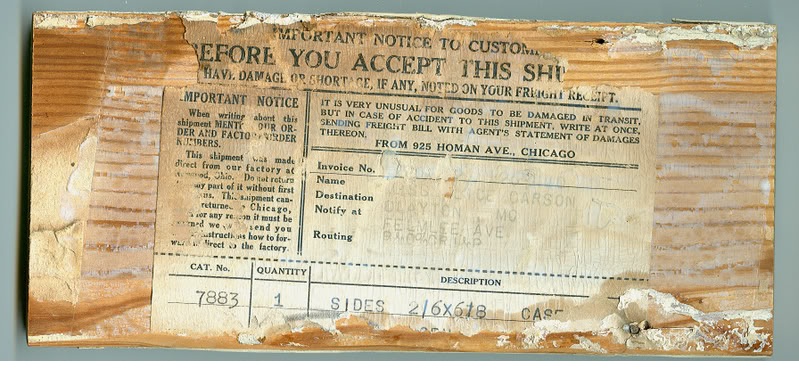 According to the New York times, kit houses from Sears hold their value and more. One family who bought a Sears home for $60,000 in 1969, sold it in the early 90s for ten times its value at $600,000. So if any of these catalogue homes seem strangely familiar, it might be worth investigating.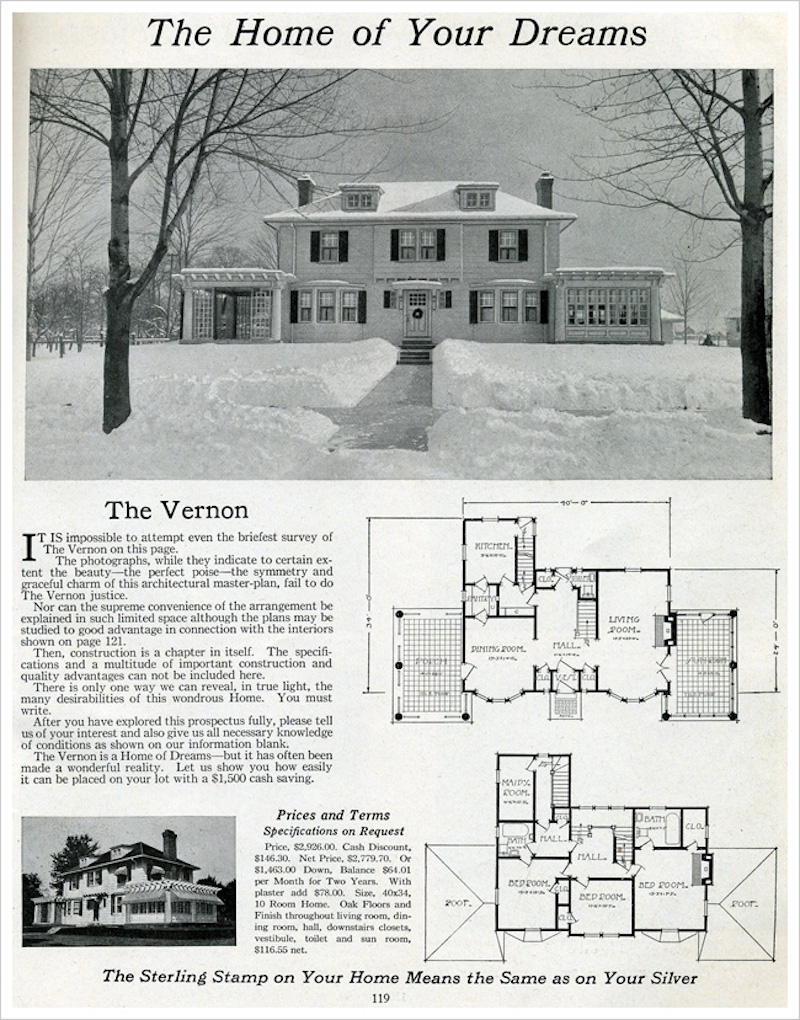 As for Sears today, the company appears to be in trouble. In January 2018, the company announced they would be closing 39 Sears stores and 64 Kmart stores (one of its brands) by April 2018, leaving Sears Holdings with 555 stores. At this rate, it has been predicted that the company has an extremely high chance of disappearing and going defunct in 2018.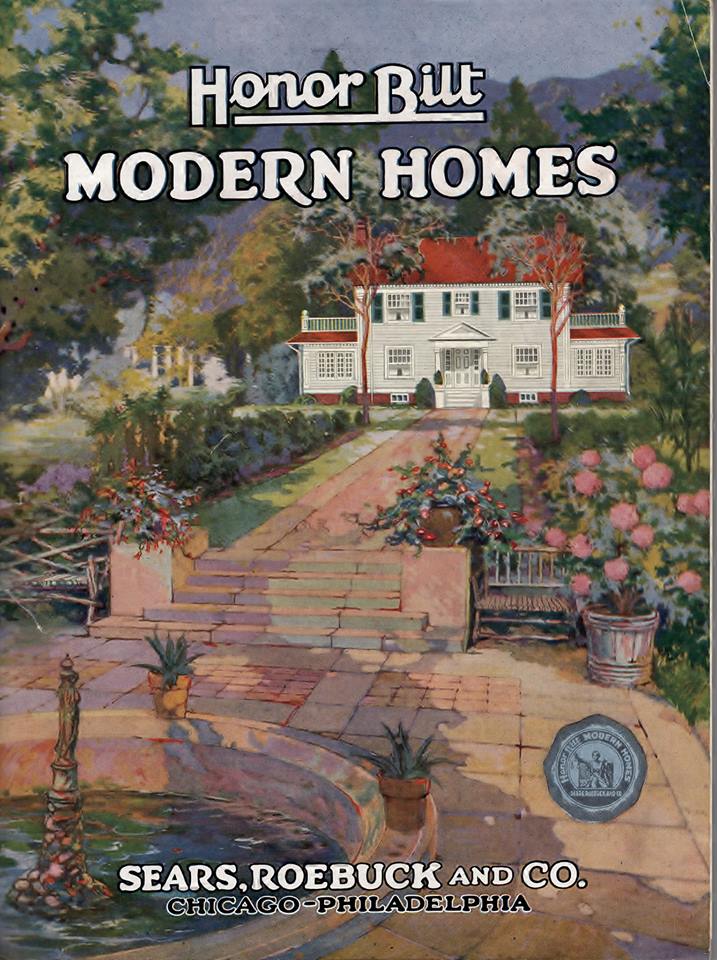 I wouldn't usually spend much time mourning a giant corporate brand, but in my research on the dissolution of the company's kit homes division, I learned that Sears liquidated eleven million dollars in mortgages and absorbed most of the losses. According to one historical association, the company made this decision and decided not to foreclose because "Sears did not want to be known as a heartless corporation that took people's homes from them." The way I see it, if they still held the same ethics today, we sure could use a business like that to stick around.