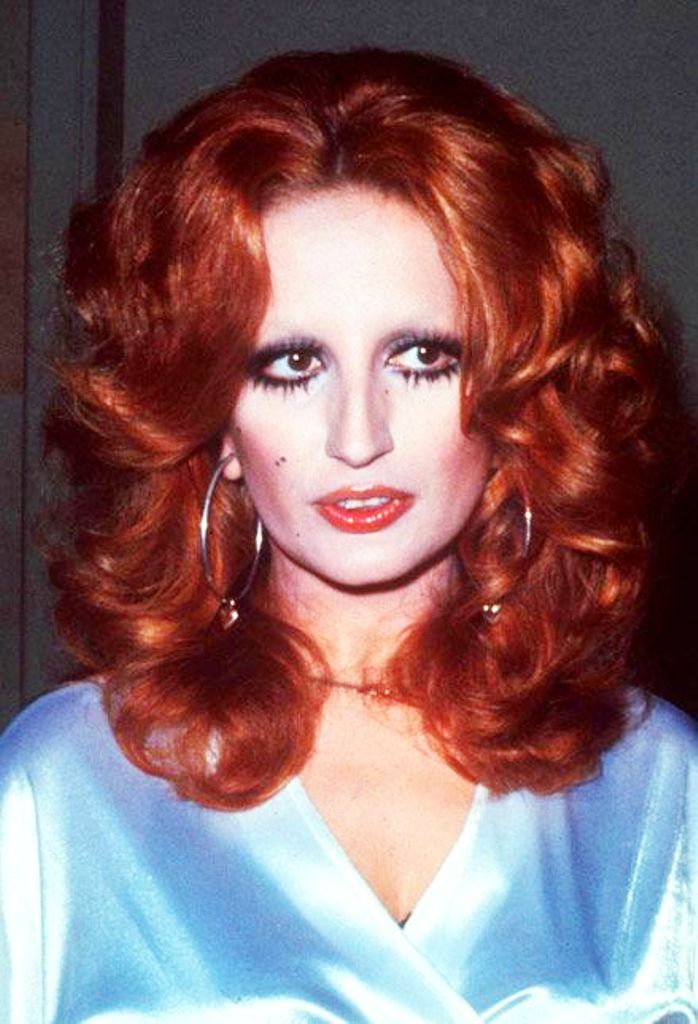 What happens when you put two tons of glitter, a killer voice, and a dash of Surrealism into a blender? You get "the Queen of Screamers", Italian songstress Mina Mazzini. She was the reigning bad girl of Italy's airwaves in the 1960s and '70s, raising everyone's eyebrows but her own–which she shaved off, naturally– and she's our Vintage Muse du Jour…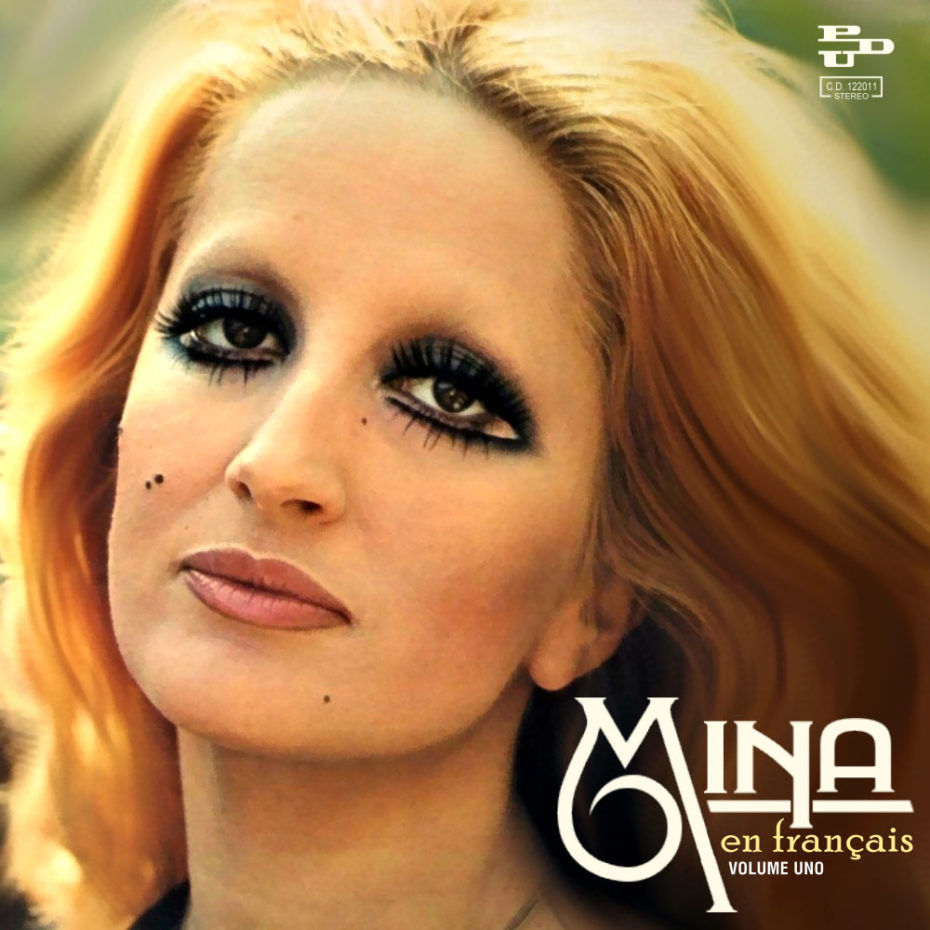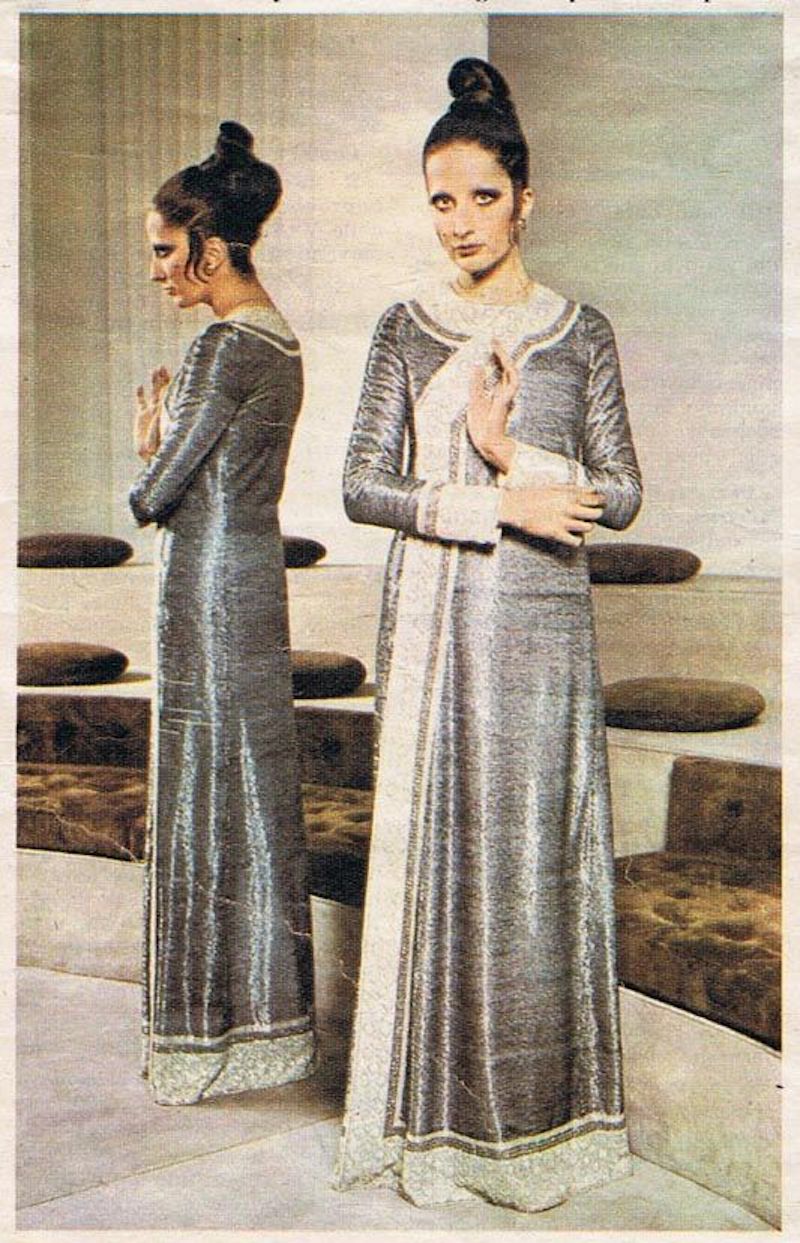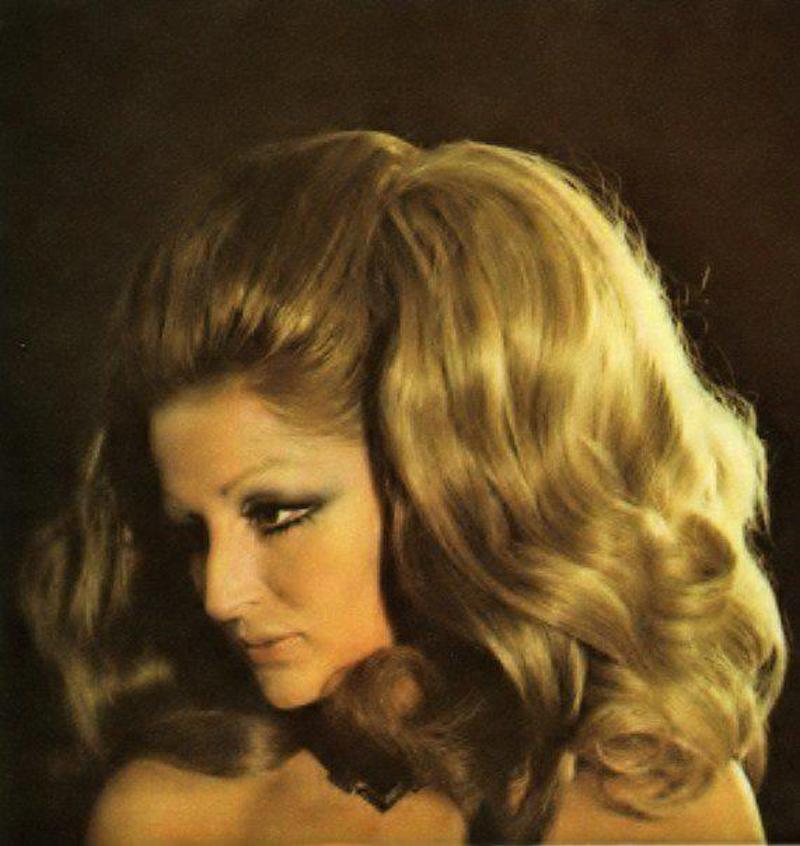 Frank Sinatra beckoned her to perform in the States — but she declined. Leonor Fellini wanted to make her a star, but she refused to be seen on film. Mina became Italy's answer to the Rock 'n Roll revolution sweeping the USA; a style chameleon with a wild-child persona in her native (and very Catholic) country that both charmed and enraged Italians.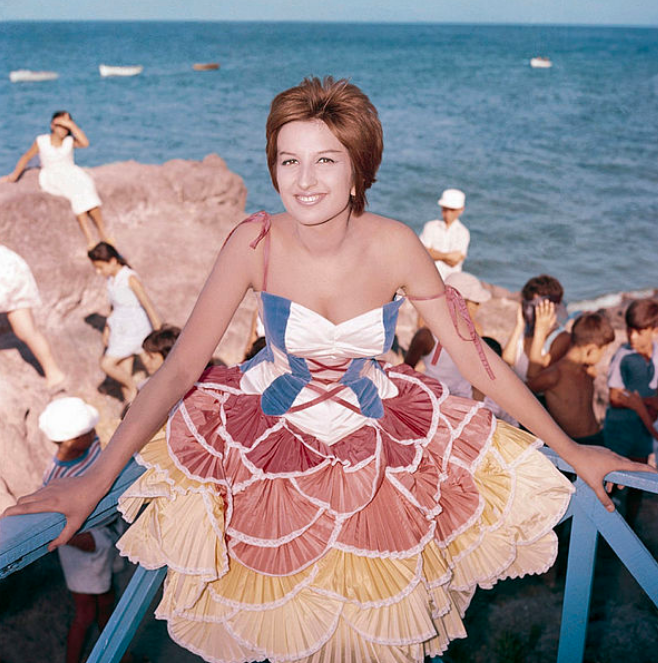 In 1963, she was sensationally band from  even banned from Italian radio and television after becoming pregnant with the child of an (already-married) actor, Corrado Pani, when divorce was still illegal. The media considered her hit, "Le Mille Bolle Blu" (A Thousand Blue Bubbles) to be a catchy, albeit scandalous anthem for their 'sacrilegious' love:
With her signature shaved eyebrows, heavy eye make-up, dye blonde hair and a cigarette as a permanent accessory, she was Italy's favourite bad girl. Her record sales were unaffected by the ban and due to public demand, she was invited back on Italian television by 1964. It was a check-mate moment against the conservative network, and it sent the message that Mina was not only here to stay, but to do whatever she liked.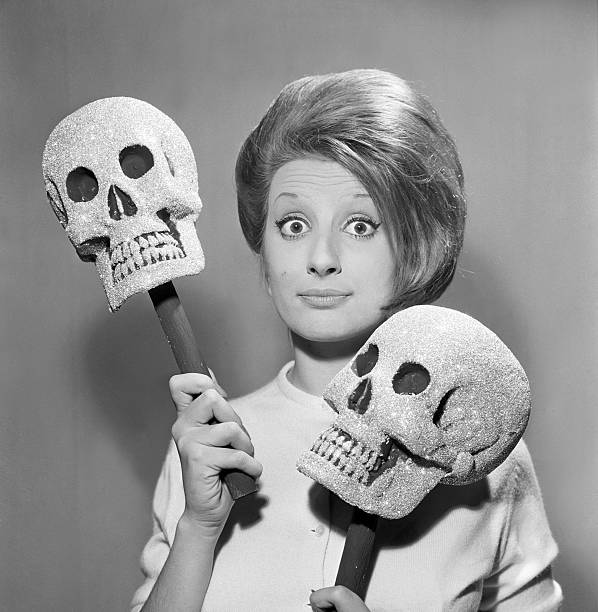 It also helped that talent was undeniably on her side, and her 3-octave vocal chops proved that she wasn't just another TV singer to be dismissed. Liza Minelli said in an interview once that Mina was one of the greatest singers she had ever heard.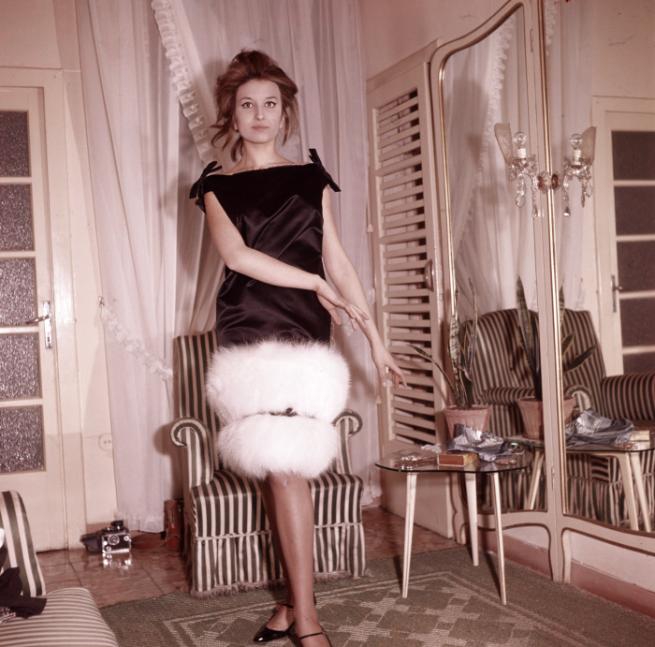 It's thanks to her gift and "capacity for "self-irony"  that Mina has always laughed about, played and gambled with her image, " explains the bio on her official site, "[She's varied] it in a thousand ways in the media."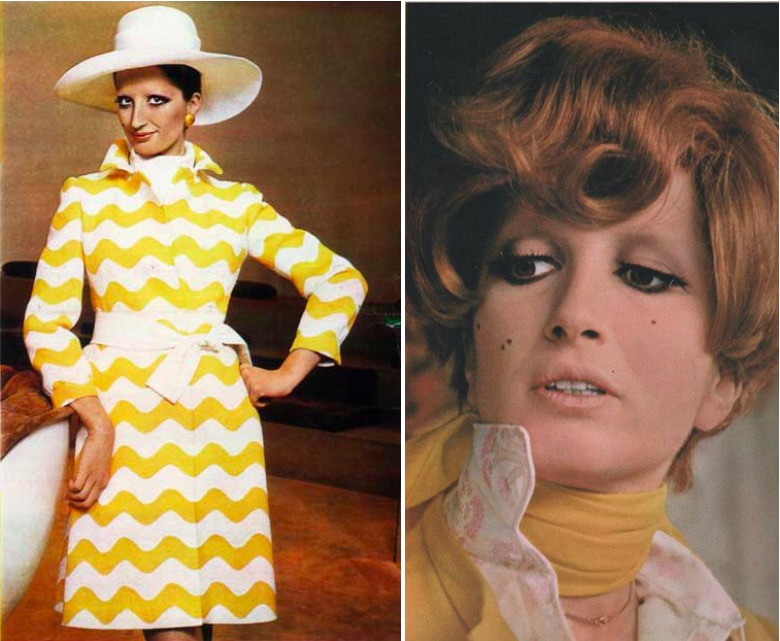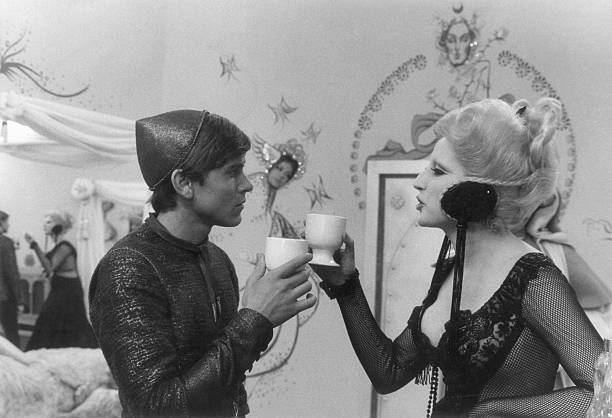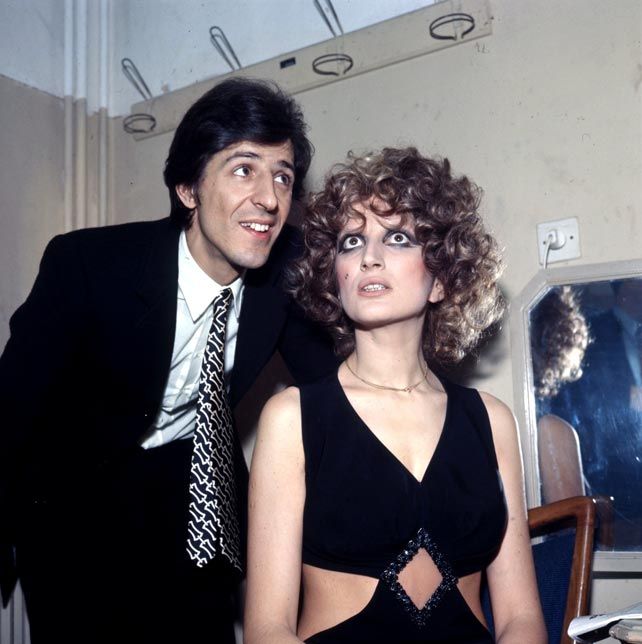 She sang in eight languages (initially under the stage name of "Baby Gate") and her specialty became belting heart-wrenching ballads like her contemporaries Barbara Streisand, or the Francophone performer, Dalida. But even in her earliest promo-shots, it's clear that she was greasing her wheels for a weirder career than the other divas of the day…
But it's the eyebrow-less, cigarette-clad Mina who's gone down in history as a living legend (yup, she turned 78 this March). She showed her fans that you could be fabulous without ascribing to a given beauty standard — the most important thing was being interesting. Just have a listen to her hit, "tintorella di luna", in which she talks about the joys of bathing naked under the moonlight instead of the sun.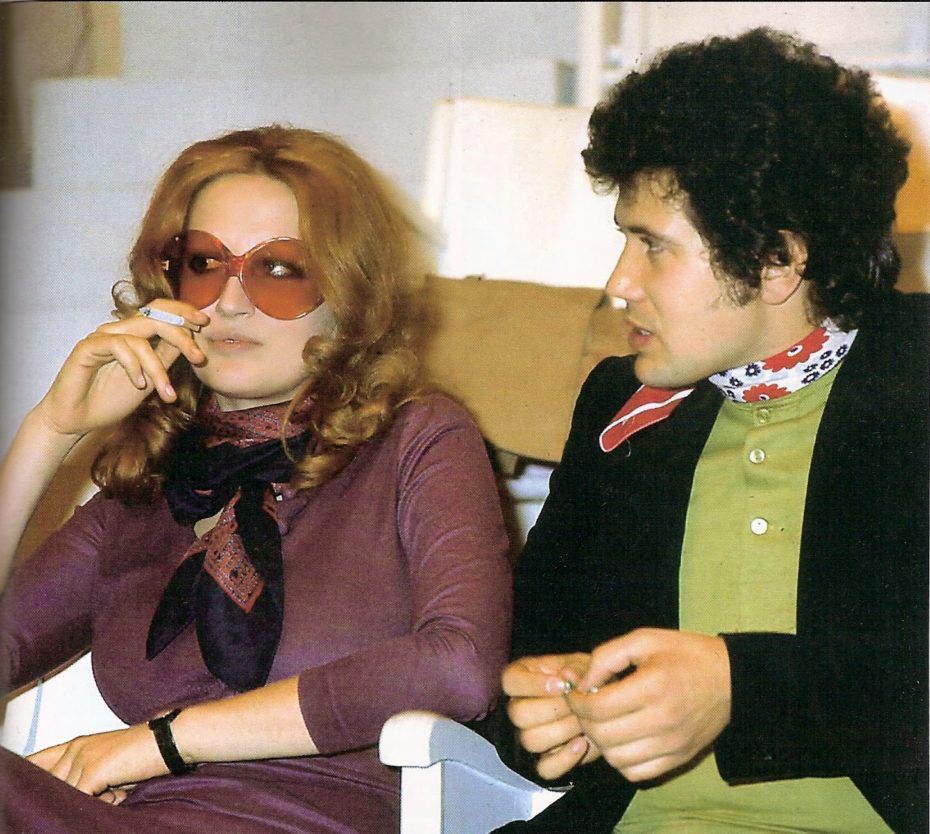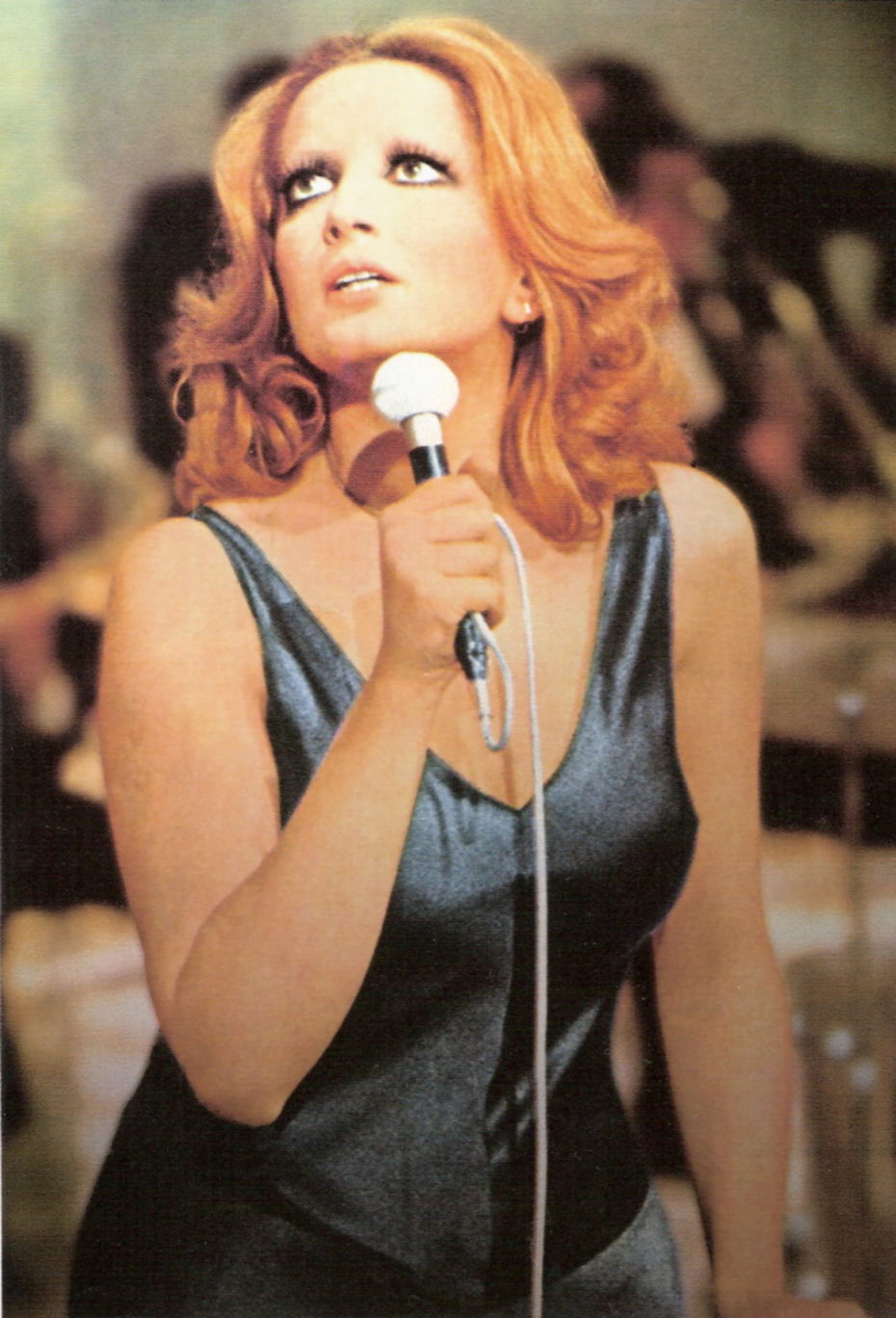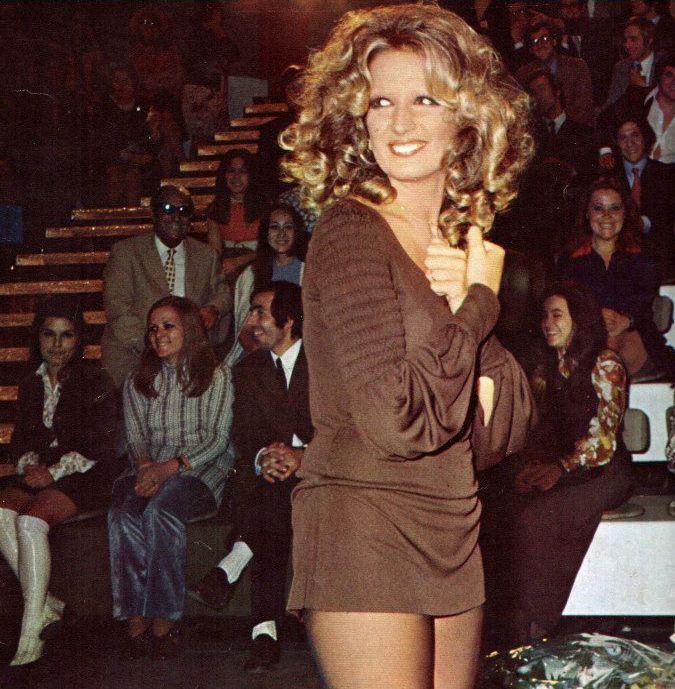 And just when you think you've pinpointed Mina's aesthetic, she'll surprise you with something else totally bonkers. Nowhere is that clearer than in her album art, which has made her into everything a bearded lady, a biscuit, a well-sculpted man, and more…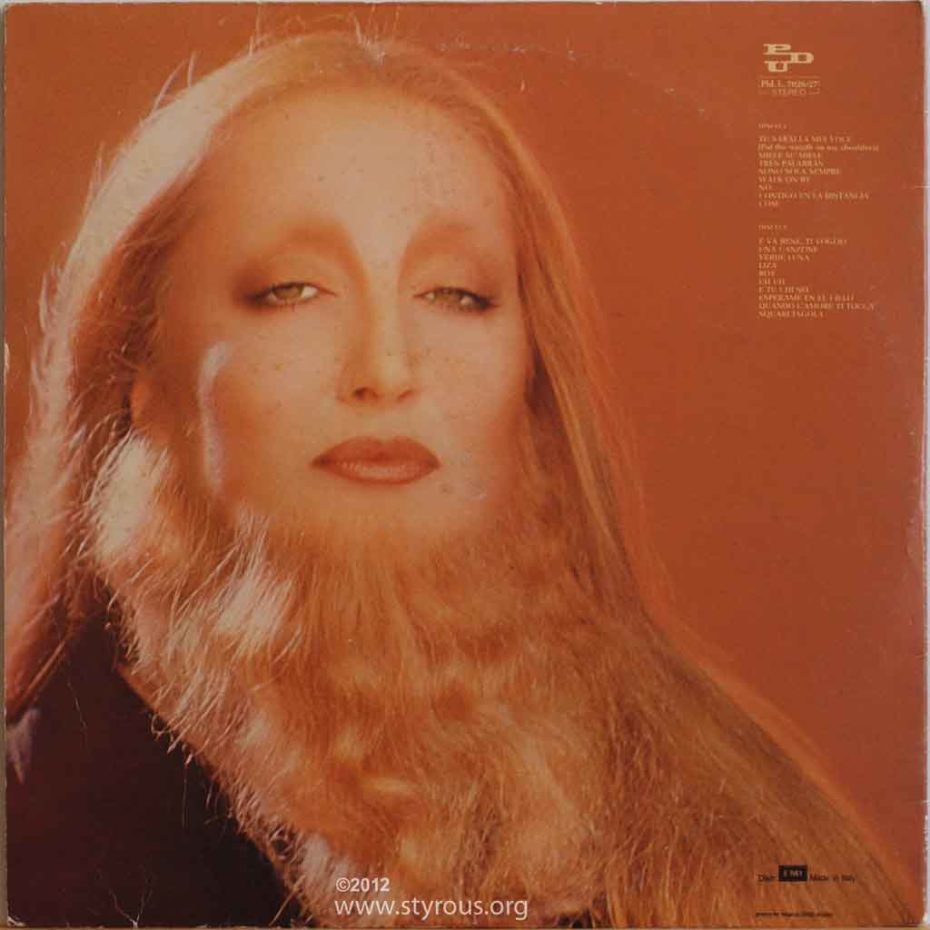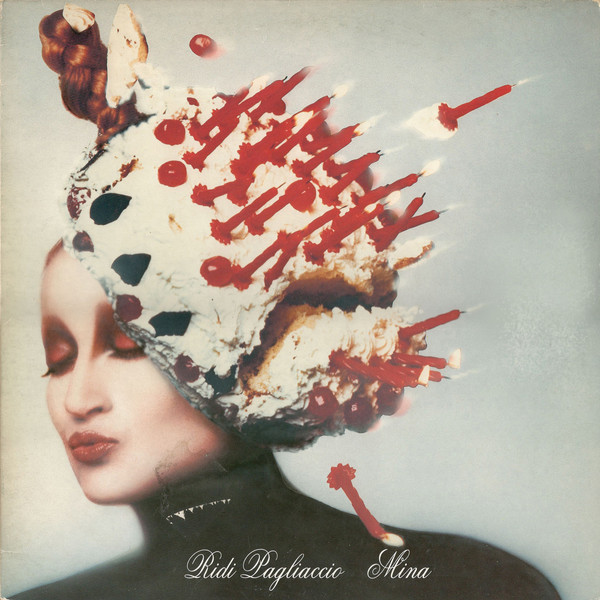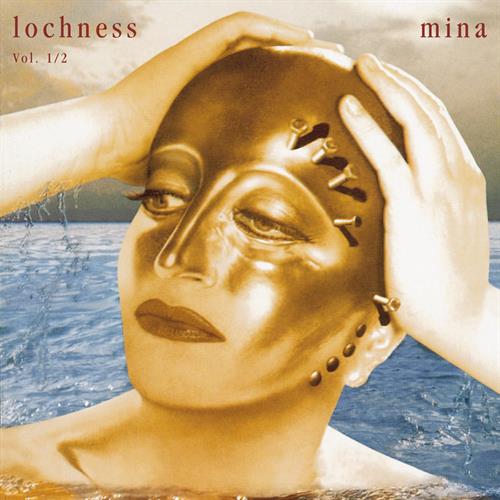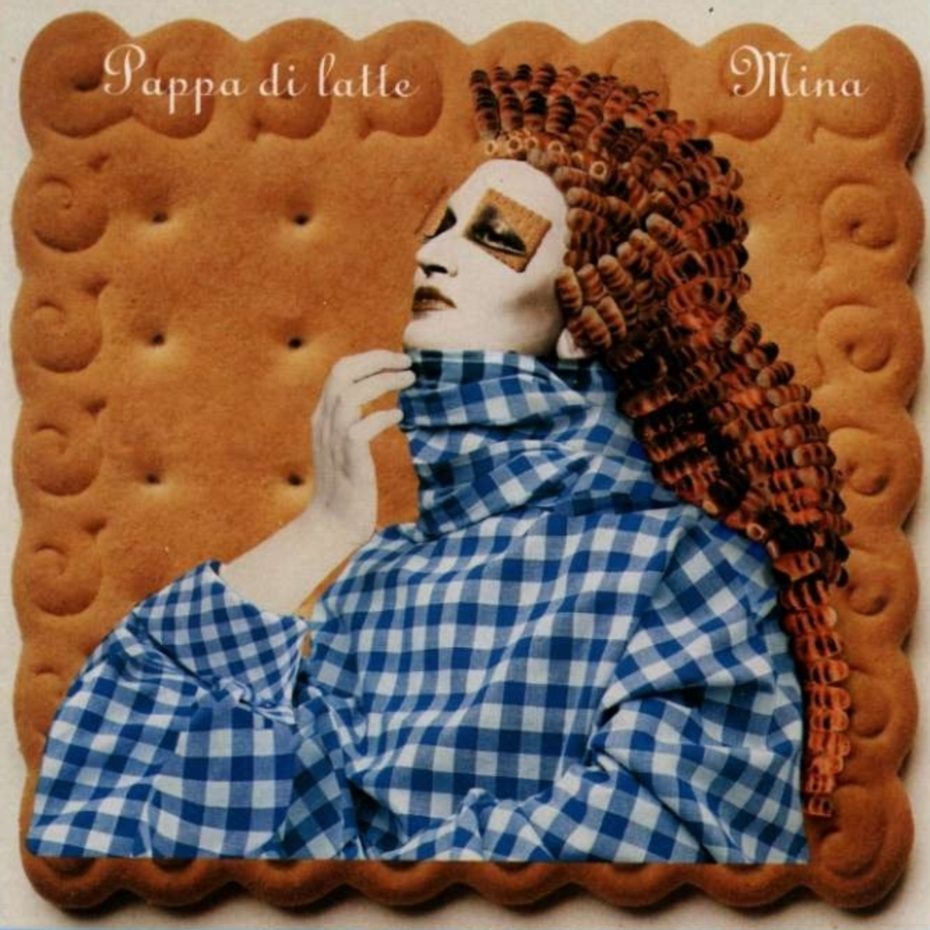 But the strangest thing about Mina Mazzini is how abruptly she tried to fall off the world's radar. She was at the peak of her career when she stopped performing the late 1970s, despite the fact that she was (and still is!) turning out albums on a regular basis. In fact, she dropped a new album, Maeba, two months ago. If it was a publicity stunt, it's one that has been running for almost half a century.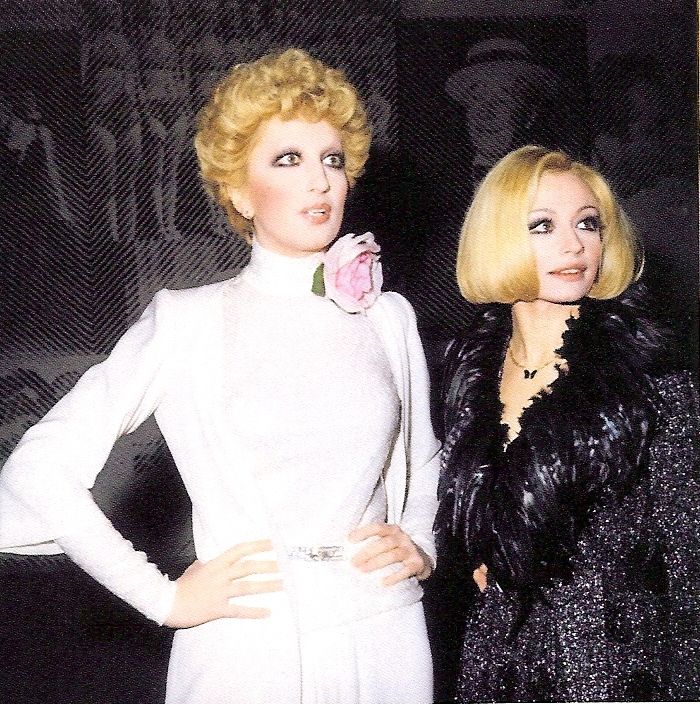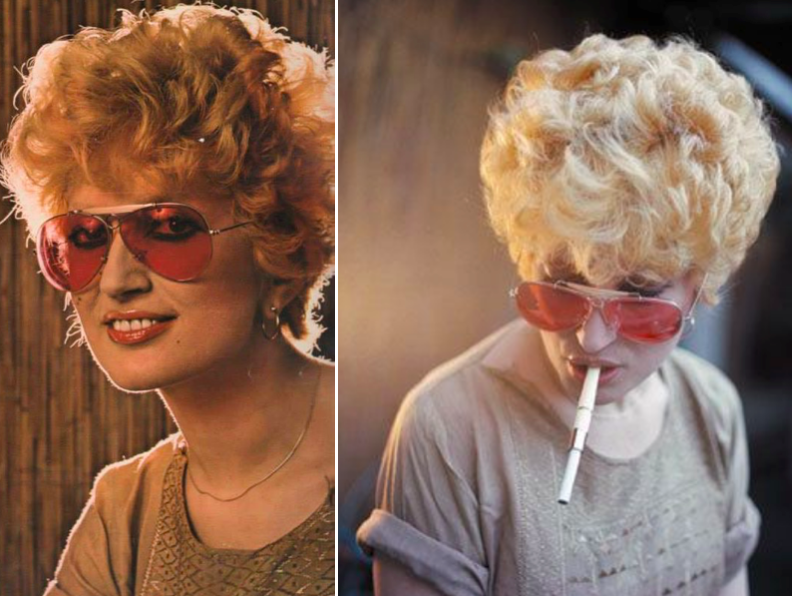 It was perhaps the Oscar-winning Italian comedian Roberto Benigni (Life is Beautiful) who said it best when he joked, "Now only Mina and Bin Laden send pre-recorded video messages when they want to say something." 
In later years, Mina started writing as a freelance journalist for publications like Vanity Fair and La Stampa. It's in the latter that she addressed her ever-curious fans in 2010, writing, "Have you ever tried to recover from your own autopsy?" in regards to her public absence, and warning about "the culture of getting into the affairs of others and condemning their choices." Wise words from a woman who can step out of sight, but never out of Italians' minds. Or hearts.