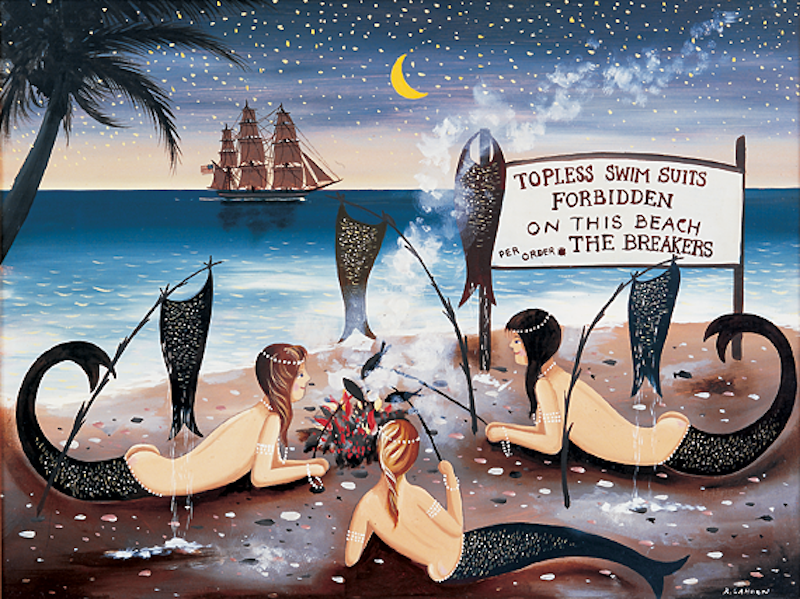 Ever heard of mer-culture? The mythical creature of duality; the mermaid; has spawned a very real subculture, whose devoted members abide by daily social media hashtags such as #MermaidMonday or #MermaidLife and when things get tough, don fabric or silicone tails to swim around in a cathartic practice known as "mermaiding". It's nothing new– Mesopotamian explorers and ancient Chinese fisherman tell tales of sightings while at sea and even Christopher Columbus swore he spotted mermaids while making his way to the New World. And then there's Ralph Cahoon; a man with a mermaid obsession who painted them compulsively from the 1950s, and has just become our favourite new artist of the month. (#MermaidLife)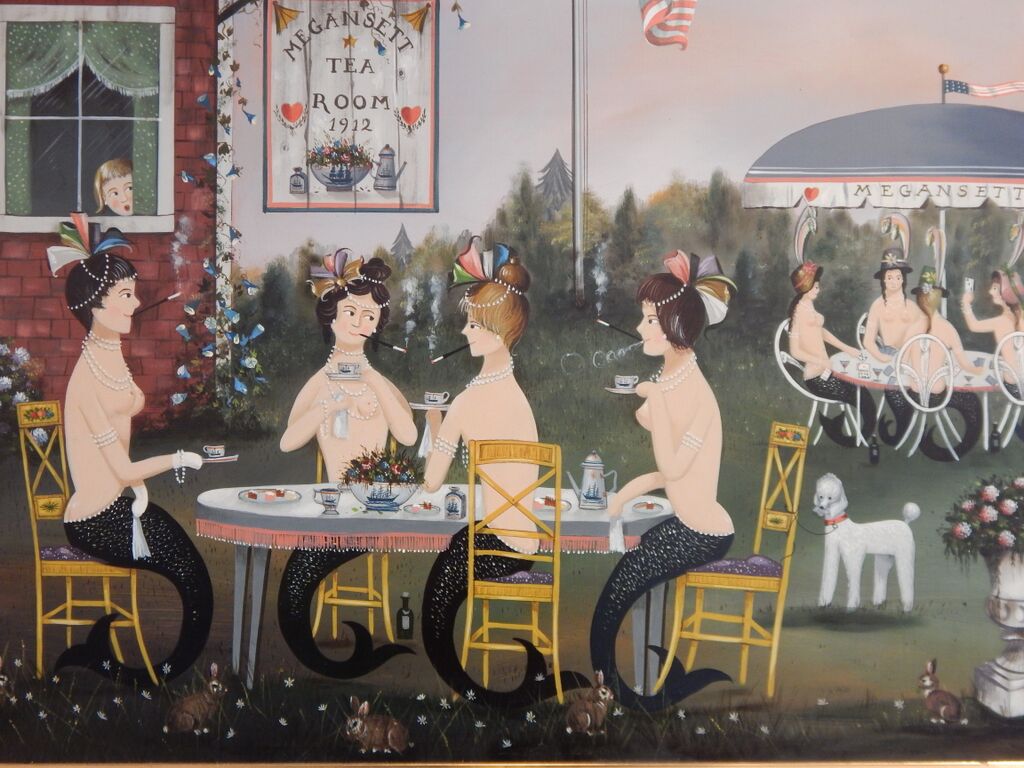 Ralph Cahoon lived through the Great Depression, both World Wars and alcohol addiction. He found peace living in the scenic coastal setting of Cape Cod painting an alternate and playful world where mermaids drink martinis, play cards, tattoo sailor's bodies and sunbathe on the backs of whales.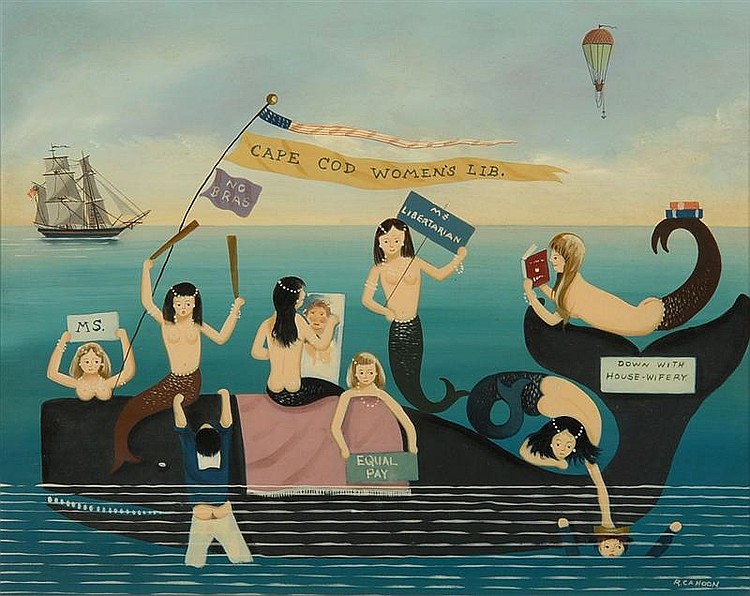 His clientele mostly consisted of wealthy Cape Codders, including Jackie Kennedy who had a special relationship with the Cape. Ralph was known to include little tidbits from his patrons lives, and he once painted Julia Childs cooking as a mermaid. The folk artist's work became so sought-after that today his works sell for more than $100, 000, and are regularly included in auctions.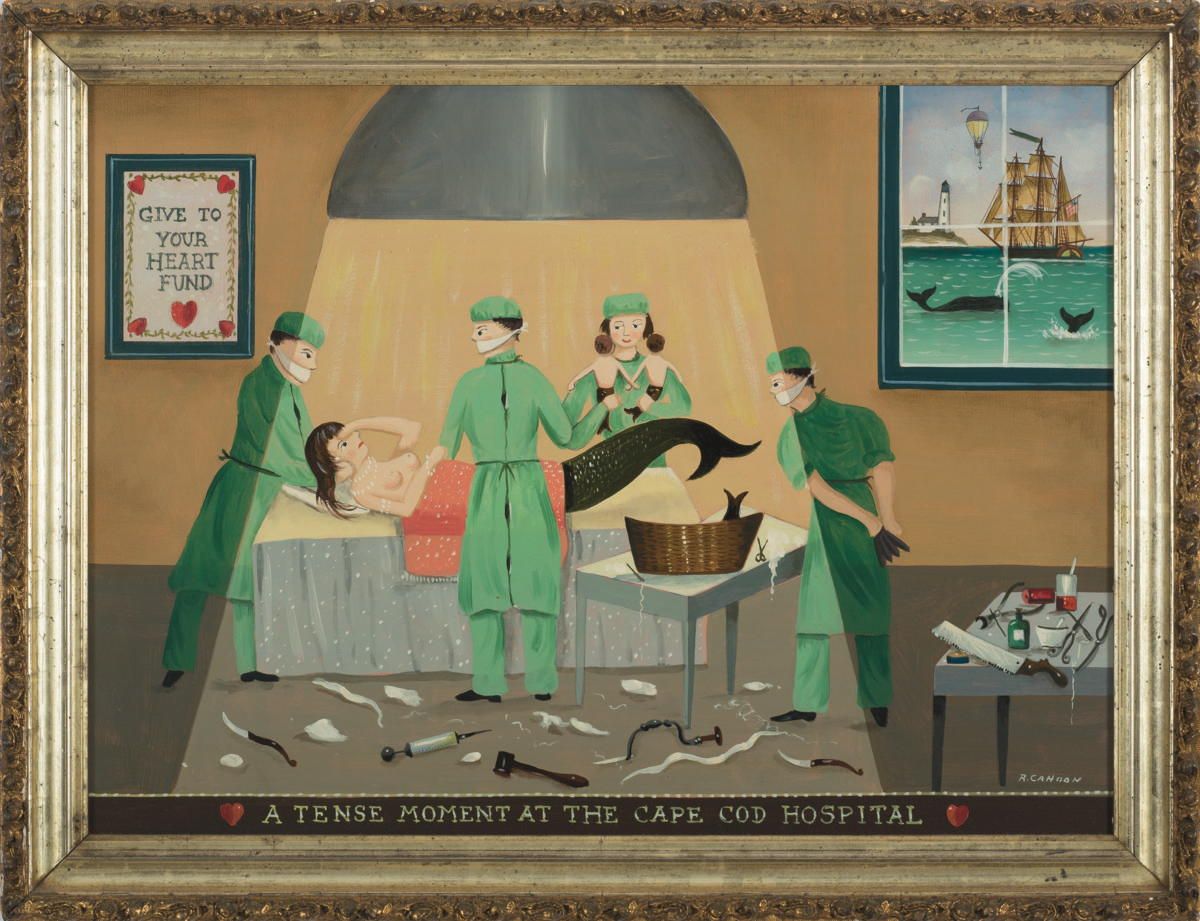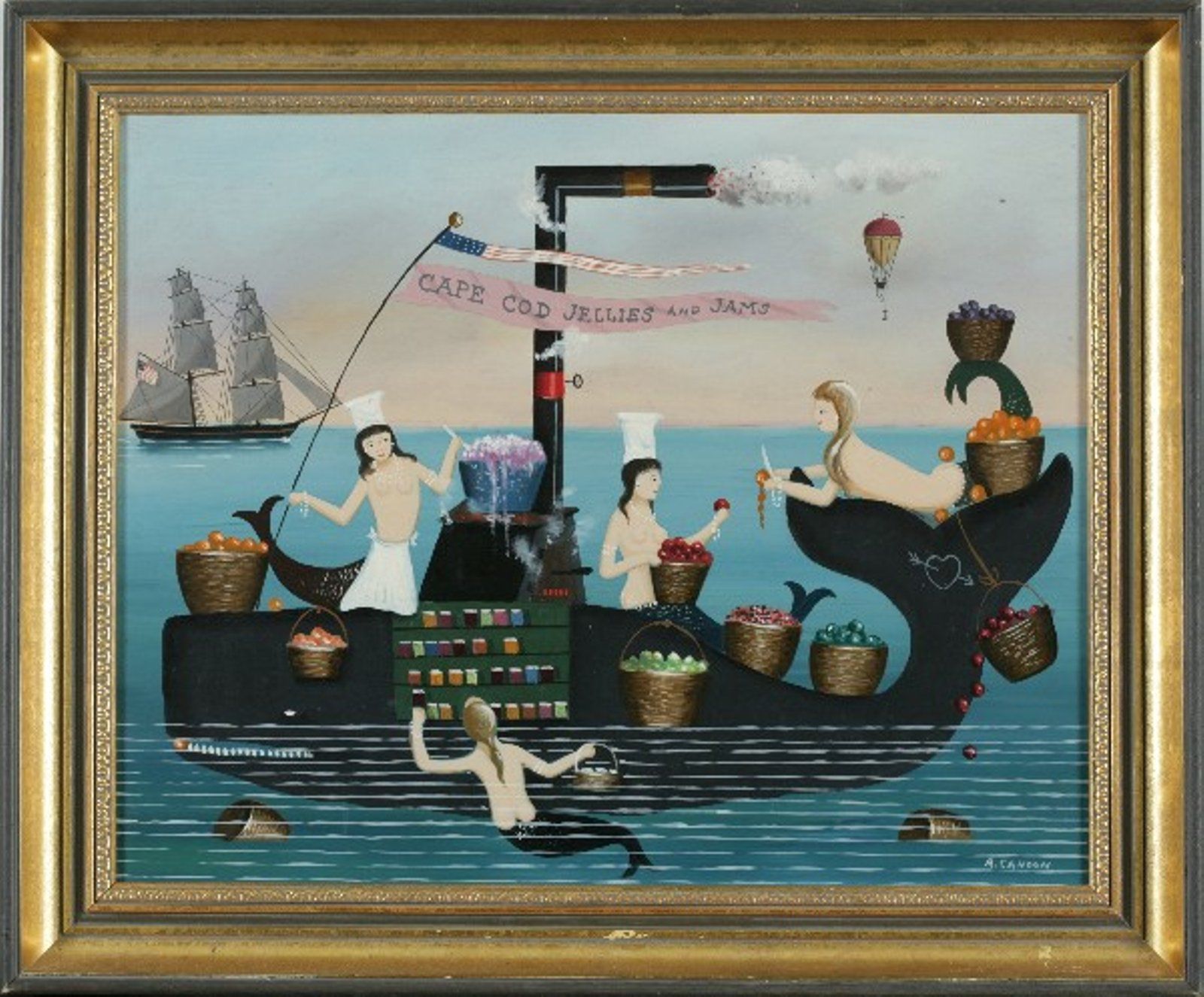 His initial interest in the mystical underwater world most certainly came from his family heritage. Cahoon's family settled in Cape Cod in the seventeenth century and many of his ancestors were whalers, fishermen and oystermen. Ralph went to art school in Boston, but wasn't happy with urban life and returned home to sail, fish and draw by the sea.
Together with his wife Martha, a seasoned craftswoman, they made a living as a arts & crafts dream team, making and selling hand decorated furniture with his art and her handiwork. Martha contributed to the mermaid paintings at first, but went on to develop her own style.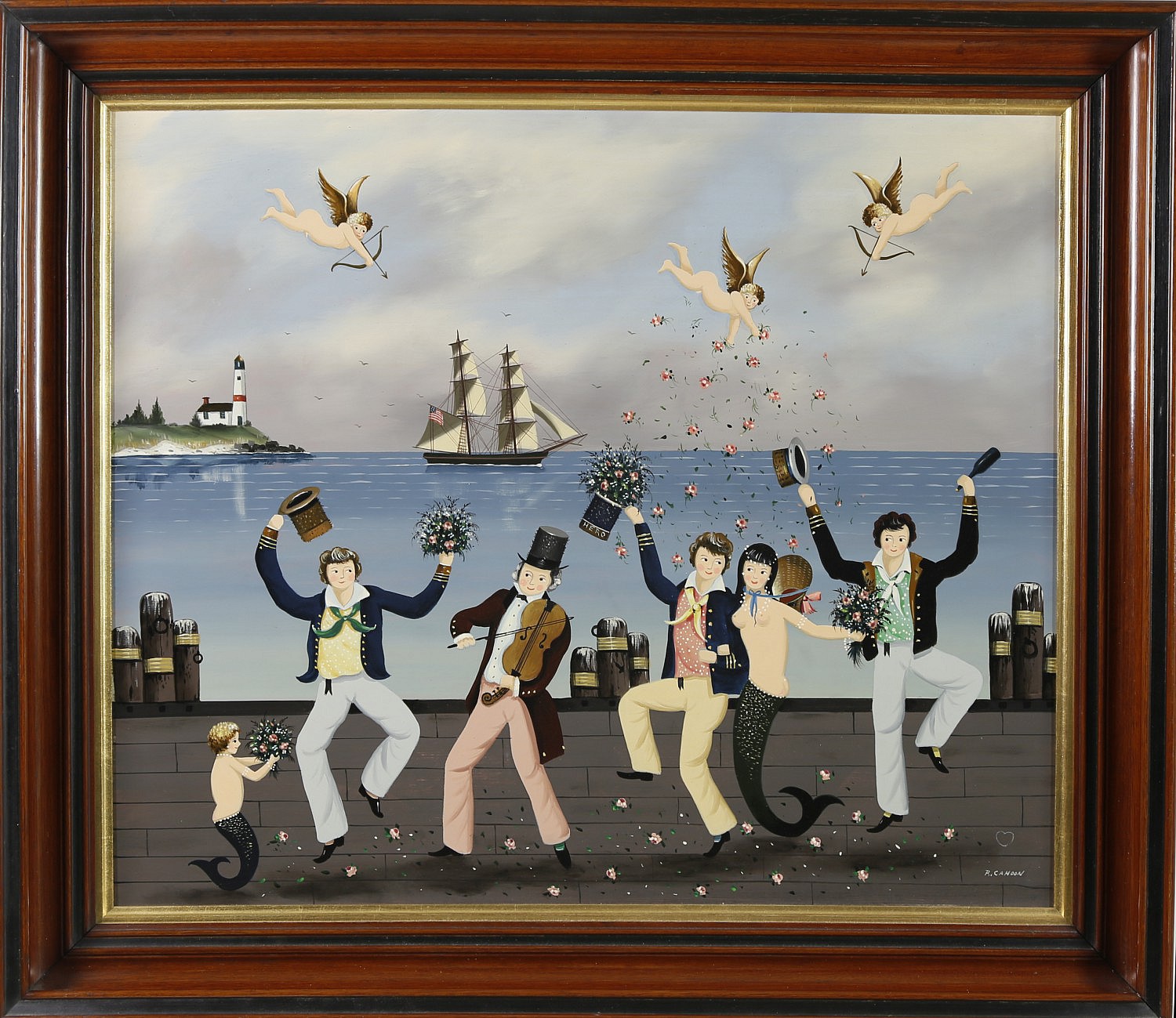 While Cahoon's mermaids are often seen living in a seemingly idealistic world, harmoniously existing with man, some works depict the crueler side of human nature. In one painting, mermaids are being dragged out of the sea by fishermen, and in another, we'll see the sea creatures have become burlesque dancers at the theatre for an audience of wealthy city men.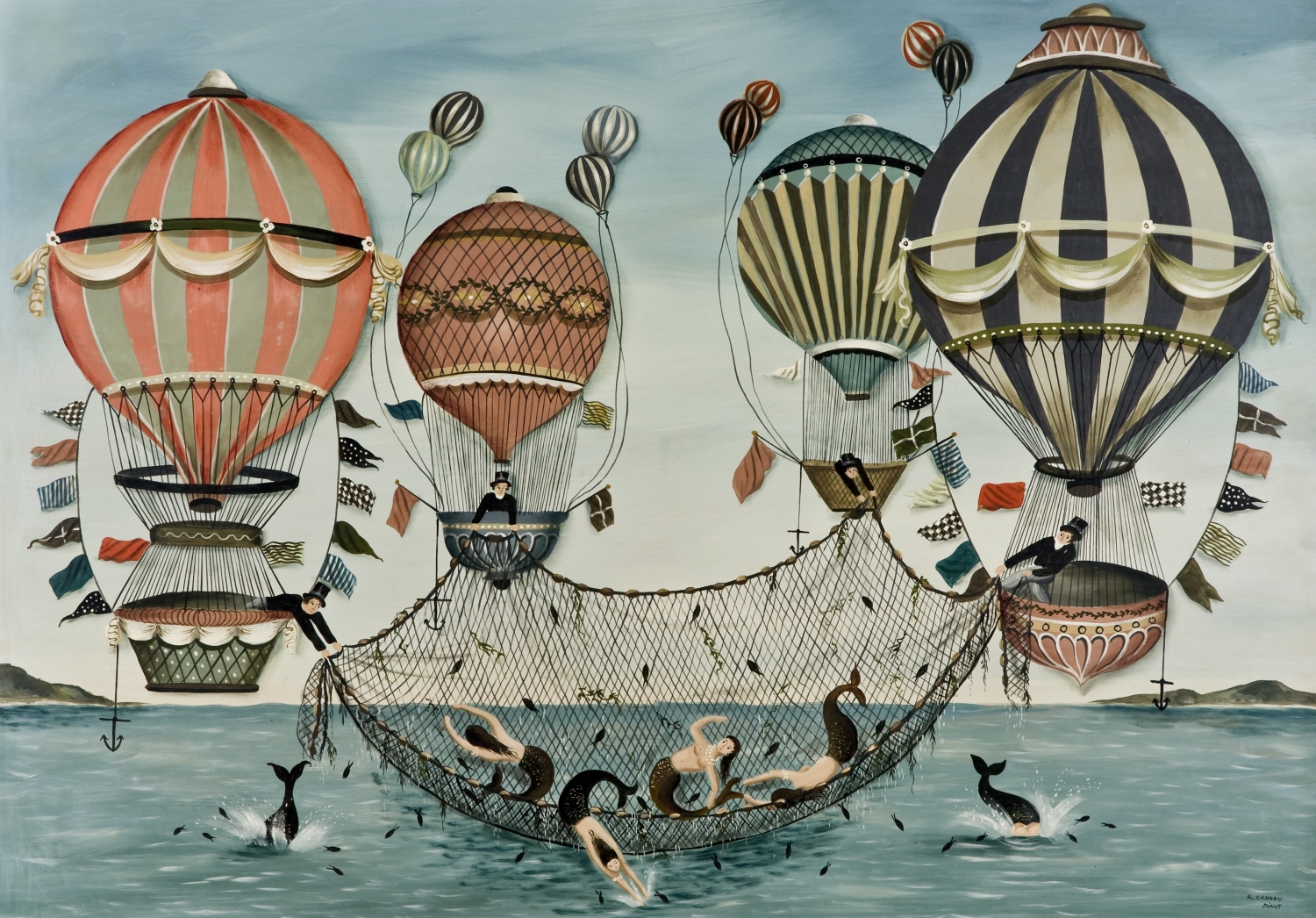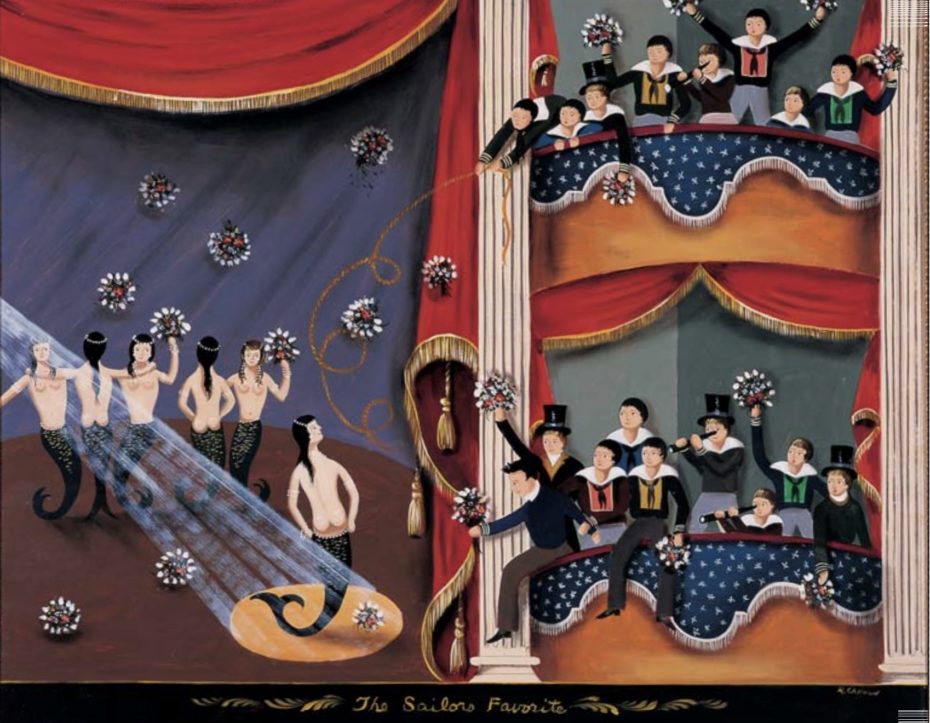 The mermaids are almost reminiscent of Botticelli's Venus, depicted with peachy bottoms, smooth skin and pert bosoms. They also often wear pearls like the classical nudes, who wear jewellery to expose their nakedness. He also painted mermaids eating fish, surely this is some kind of cannibalism? But most of all, Cahoon's world is a pretty whimsical place for escape, where mermaids surf, redecorate homes, and moon sailors.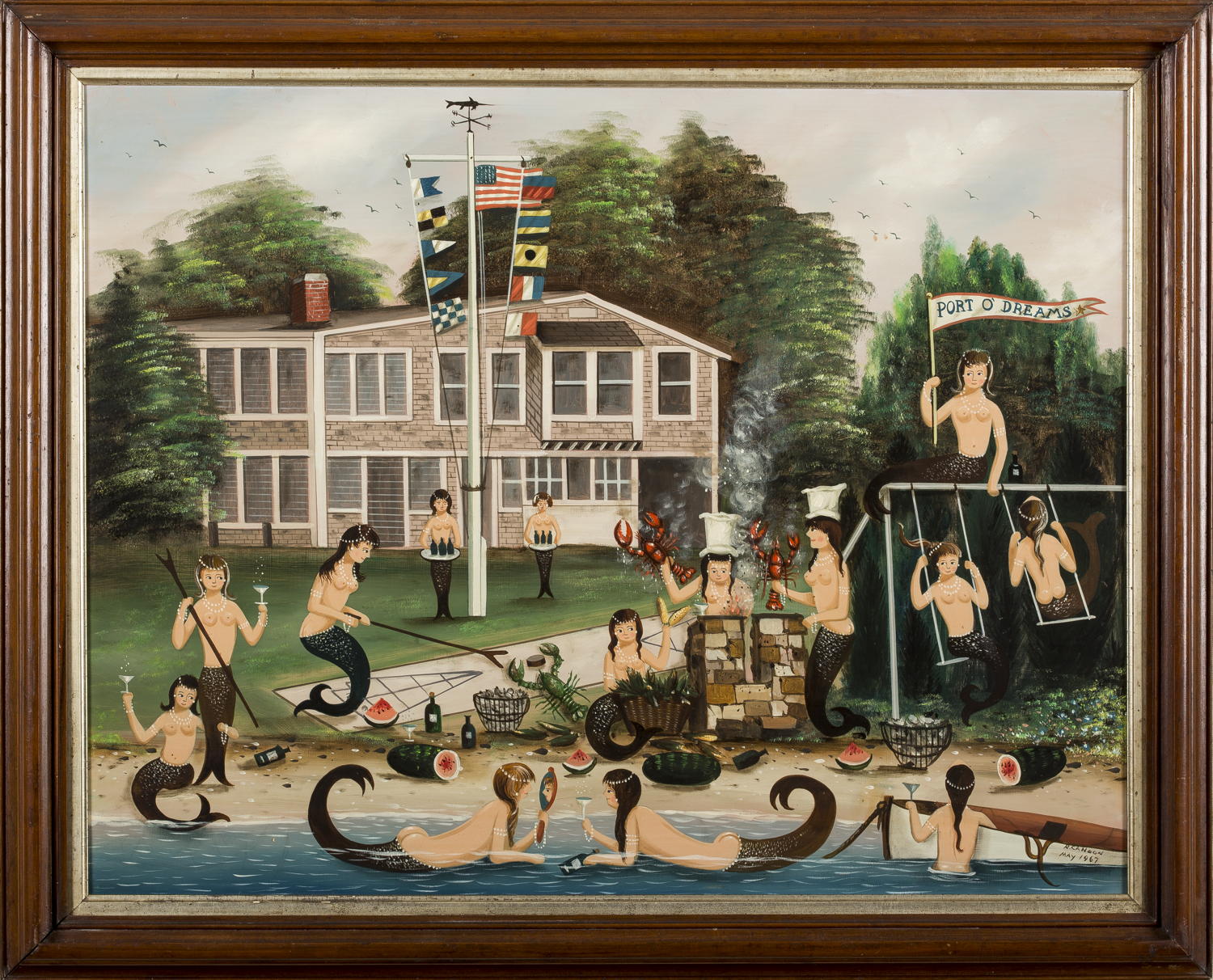 And if it wasn't for Cahoon, we wouldn't have stumbled upon something equally as intriguing. Together with his talented wife Martha, the pair also dabbled in the art of Sailor's Valentines.
A popular practice in the 1800s, these exquisite works were traditionally brought home by sailors after long expeditions for their lovers, similar to the souvenir jackets and lingerie gifts of World War II. The wooden boxes covered with intricate shell patterns originated from the island of Barbados, made by the local women. The Cahoon  Sailor's Valentines were made in partnership with Bernard Woodman, who Ralph had met at his local Alcoholics Anonymous group.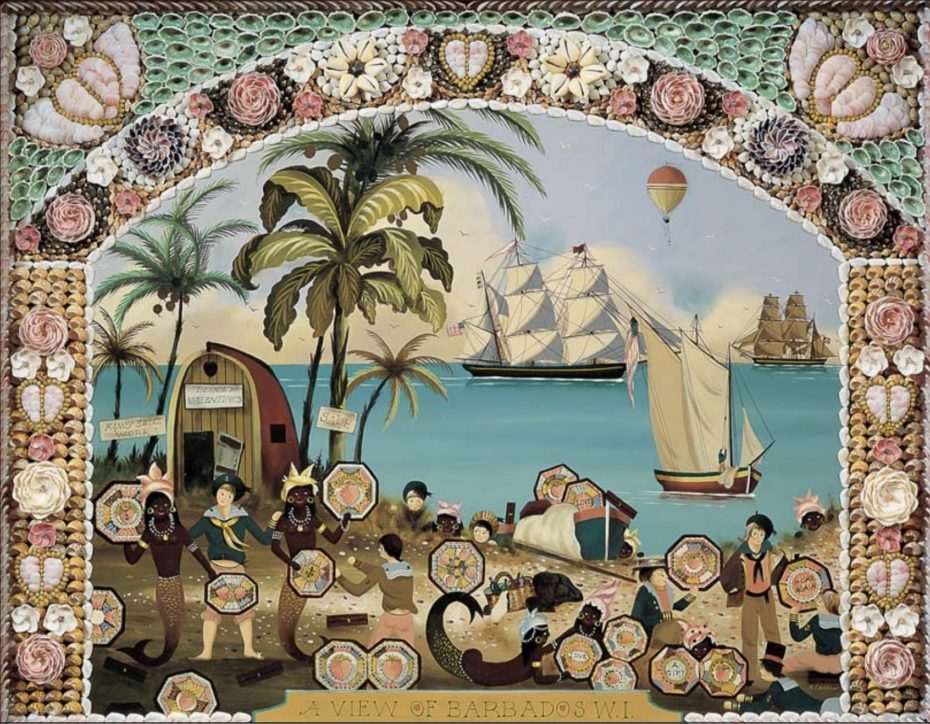 The Cahoons' and Woodman collaborated on several pieces, which have been known to fetch thousands of dollars at auction. Today, such antique hand-crafted souvenirs have largely been replaced by something rather more mass-produced, making sailor's valentines a collector's item. Sailor's Valentines are worth looking up if you have some time to fall down another rabbit hole. 
The legacy of Martha and Ralph Cahoon lives on, as their work is still displayed in the Cahoon Museum of American Art, which used to be their home in Cape Cod.