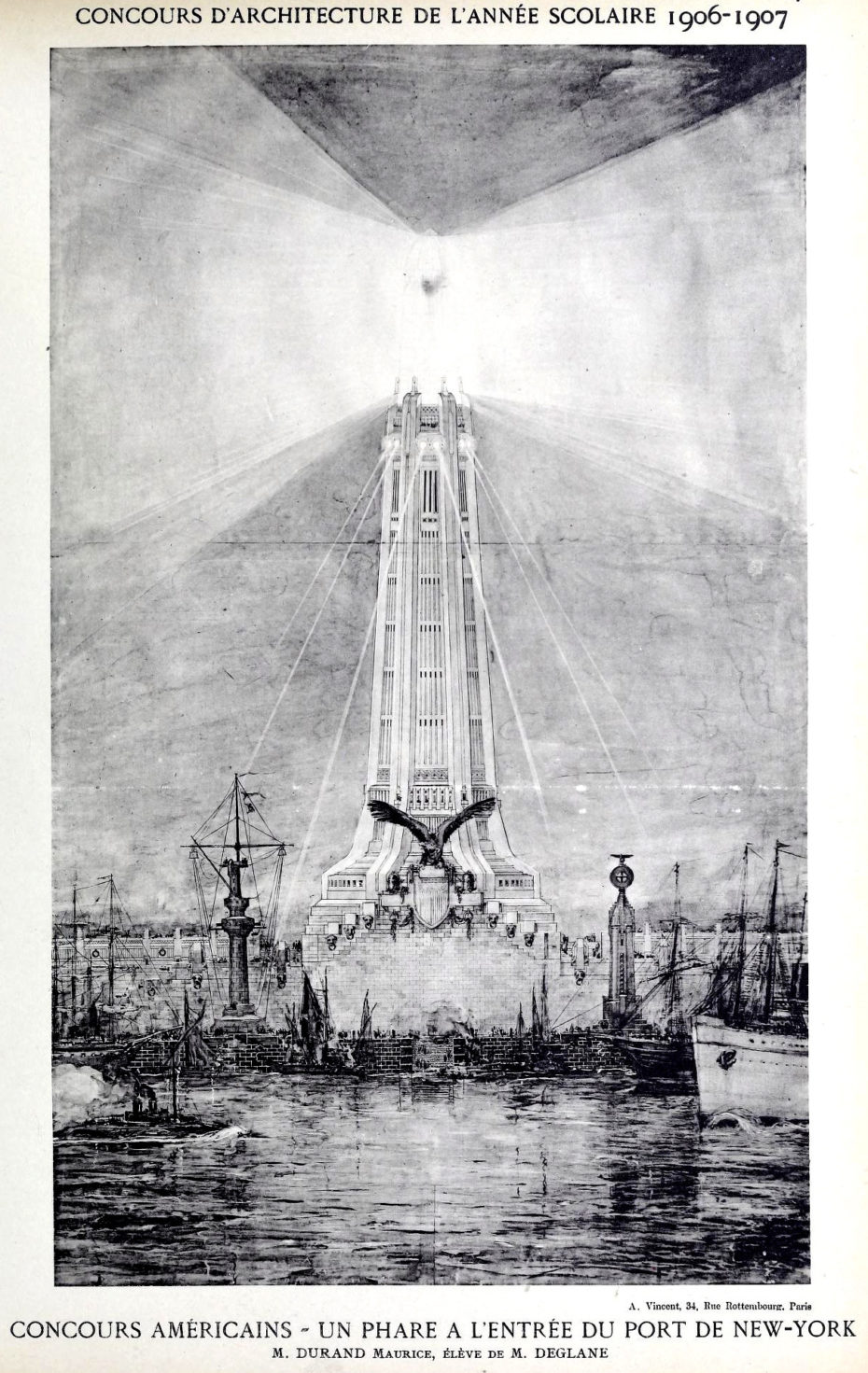 You might have noticed that for the cover of our second book, Don't be a Tourist in New York, I chose to feature uptown's Little Red Lighthouse. It's the only one left on the island of Manhattan, but serves as a reminder that New York was first a port before anything else. "A city of hurried and sparkling waters, city of spires and masts", wrote Walt Whitman. And as fate would have it, on the very same day we launched the book, I stumbled upon these wonderful illustrations of New York lighthouses never built…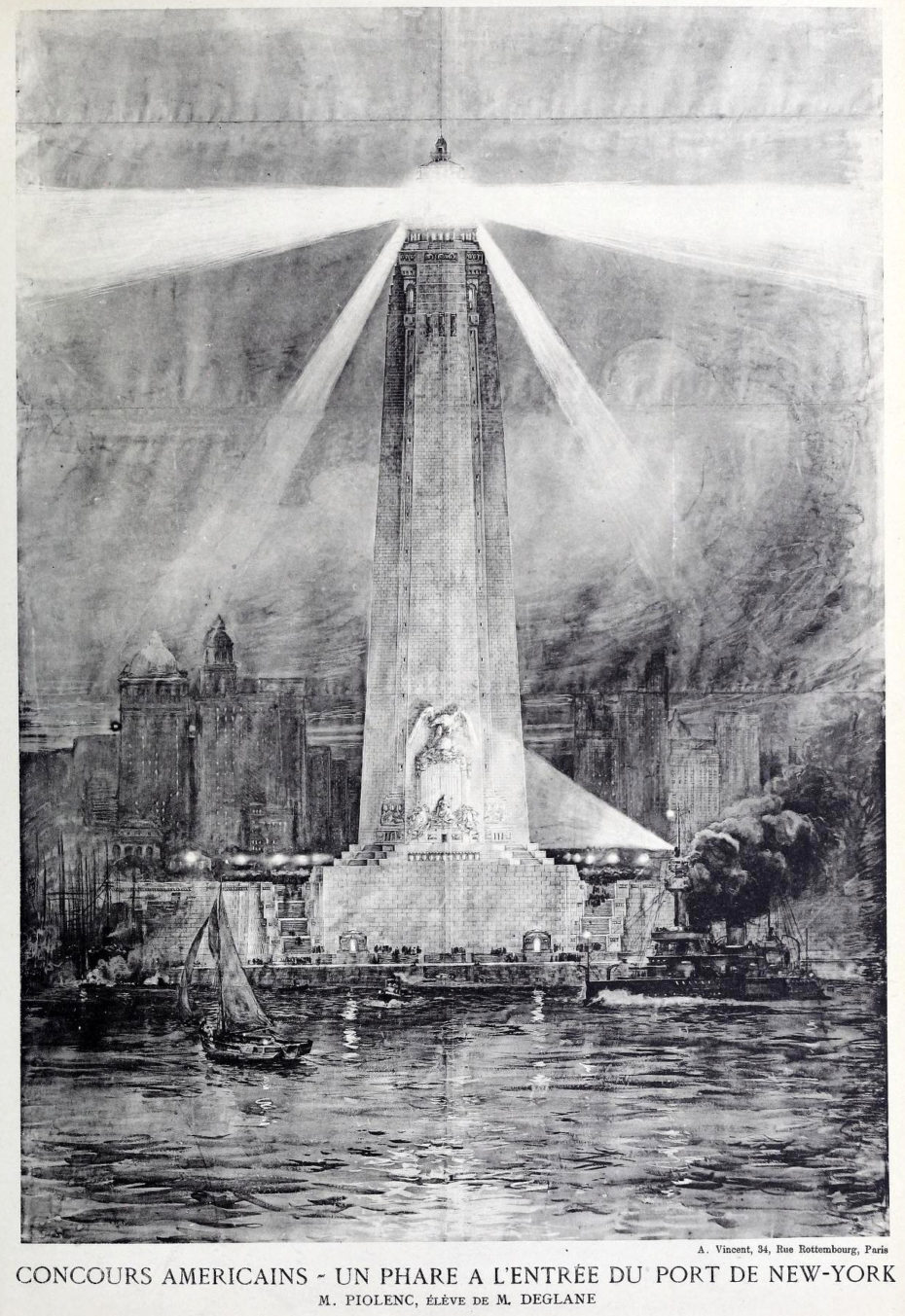 The series of proposals by students of the École des Beaux-arts in Paris were created in 1906 for an "American competition" to design a lighthouse at the entrance to the port of New York City. Aren't they fabulous?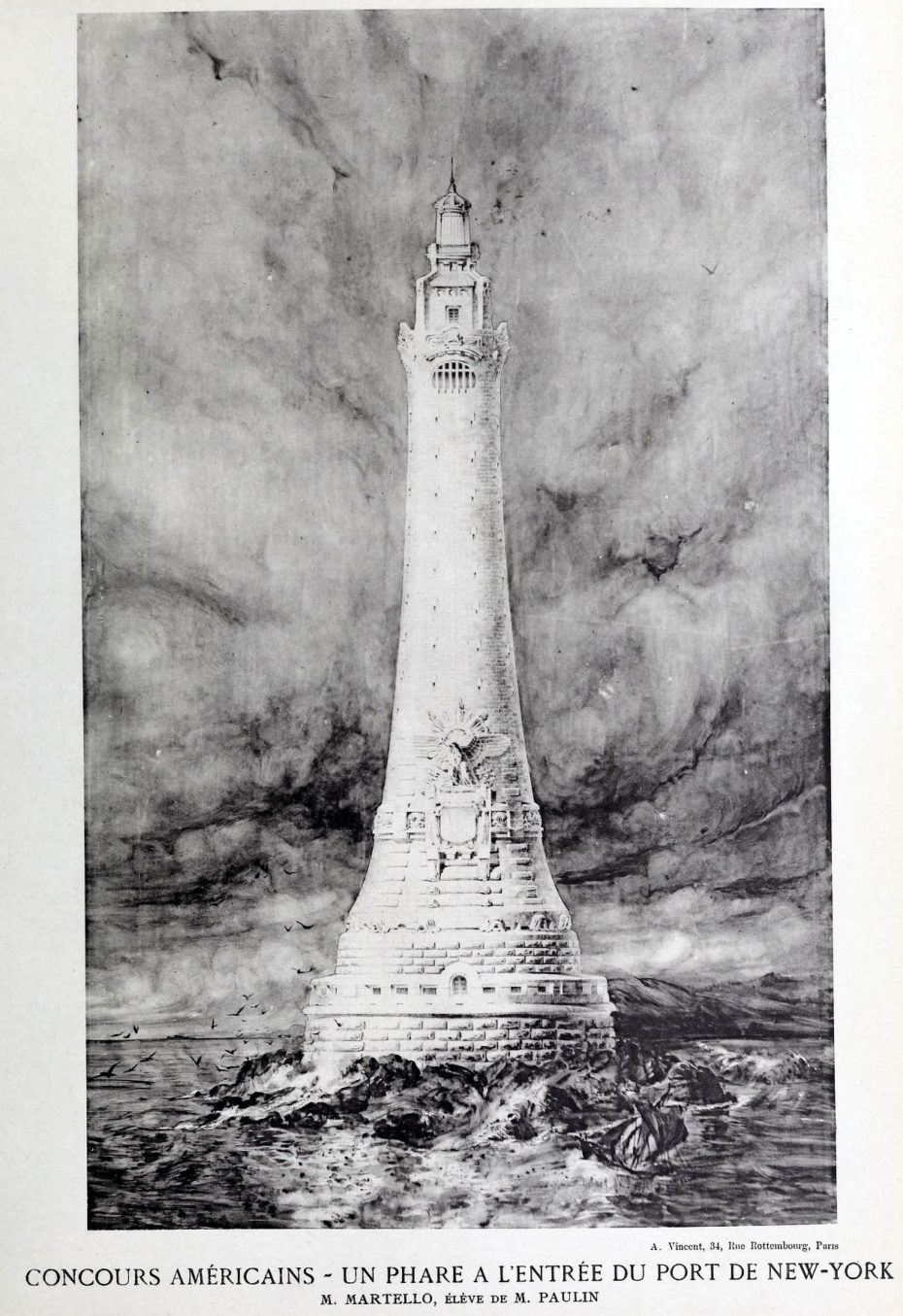 Unbuilt architecture is one of my favourite subjects, so of course, this sent me down the rabbit hole once again in search of NYC's lesser-known abandoned architectural proposals. This should be fun.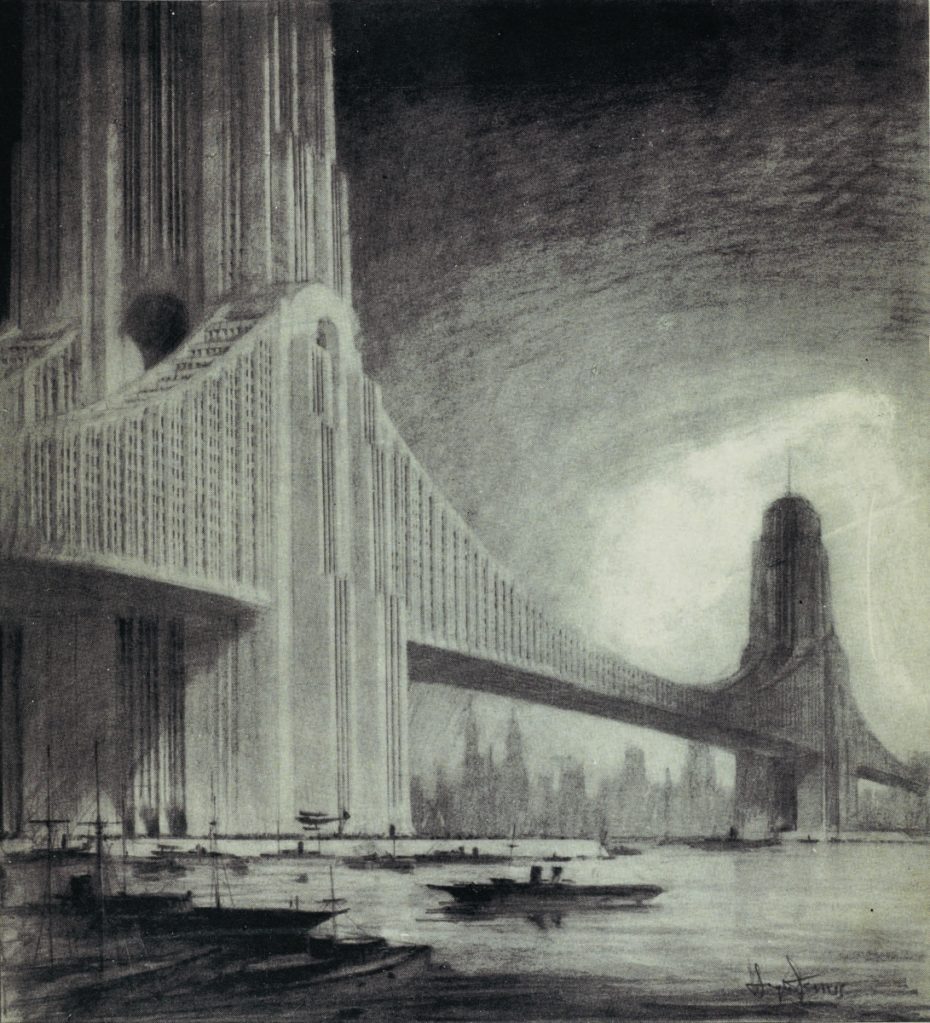 Staring off with a bang, we have the magnificent "Skyscraper Bridge", the dark and moody vision of American architect, illustrator, and poet, Hugh Ferriss, whose work helped influence Batman's Gotham City. The 1929 design from his book 'The Metropolis of Tomorrow' was a rendering based on what famed architect Raymond Hood outlined in his "Bridge Homes"…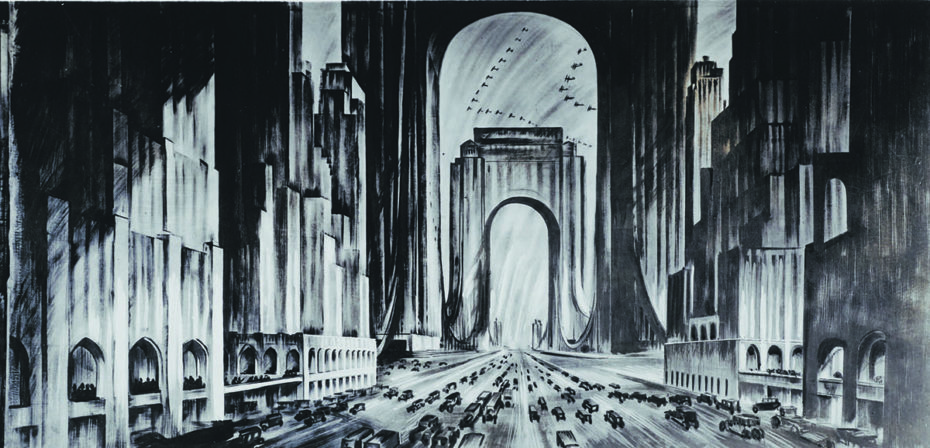 Best-known for designing the Rockefeller Center (as well as our personal favourite NYC skyscraper, the American Radiator Building), Raymond Hood proposed building a series of apartments that could house up to 50,000 people, as well as shops, theatres and walkways on top of bridges around Manhattan to help relieve congestion in the city.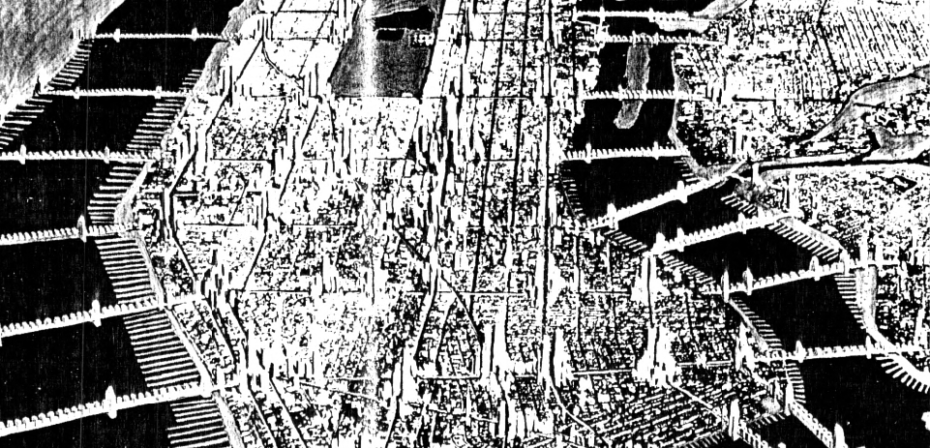 To most architects today, this might sounds like an engineering nightmare. Here's another great birds eye map of proposed bridges of New York City in 1911: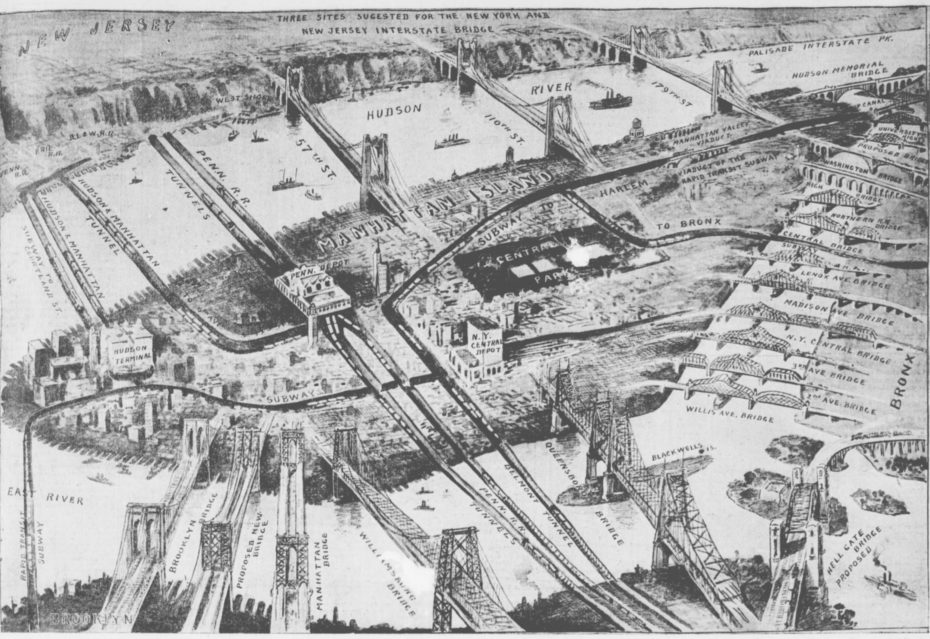 Next up, Brooklyn, looking a lot more like Paris…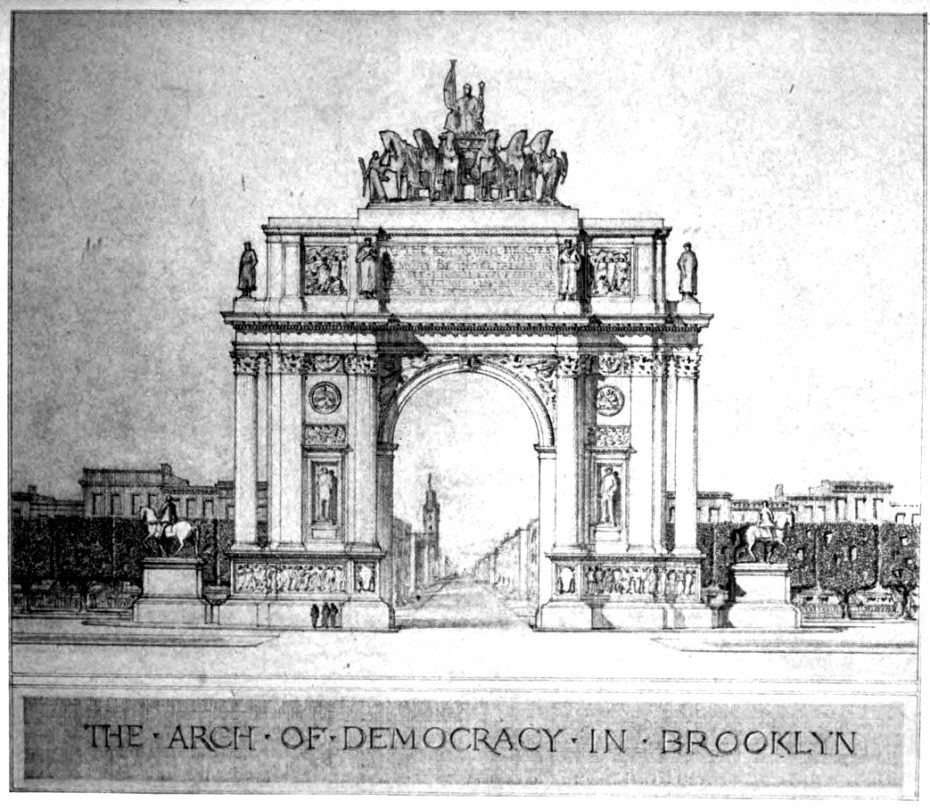 It seems that if some architects of yore had their way, there would be Napoleonic arches all over America. Even Madison Square Park had an arch (albeit made of wood and plaster) that lasted only a year. Above is a proposal for an 'Arch of Demorcacy' that never was by architects Helme & Corbett.
Also of note, the proposed and partially built (then apparently demolished) library in Brooklyn by Beaux-Arts architect Raymond F Admirall…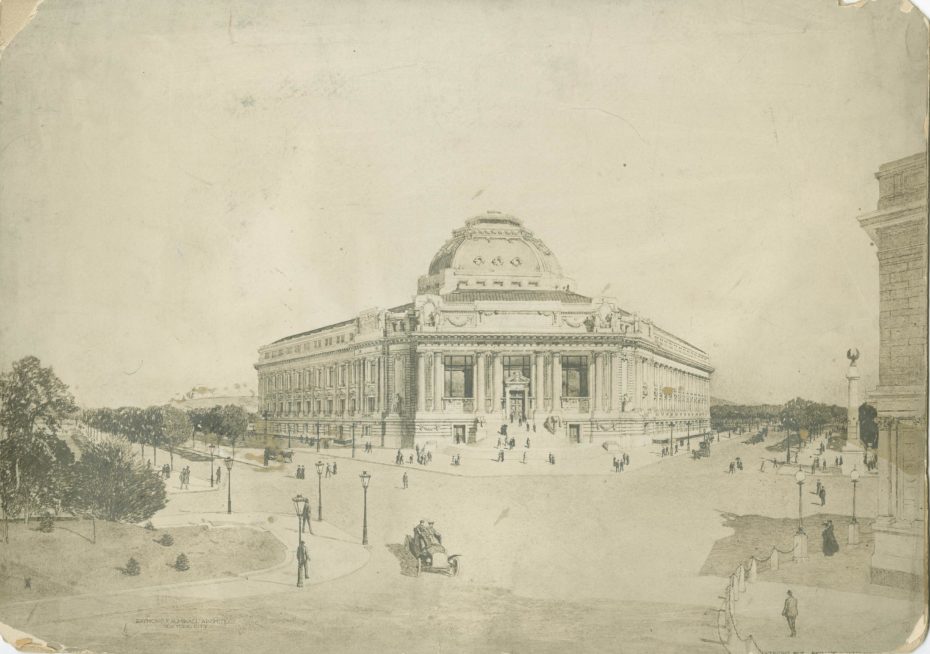 Can you tell he was a graduate of the Ecole des Beaux Arts de Paris? This looks almost identical to one of the museums of the Champs Elysées.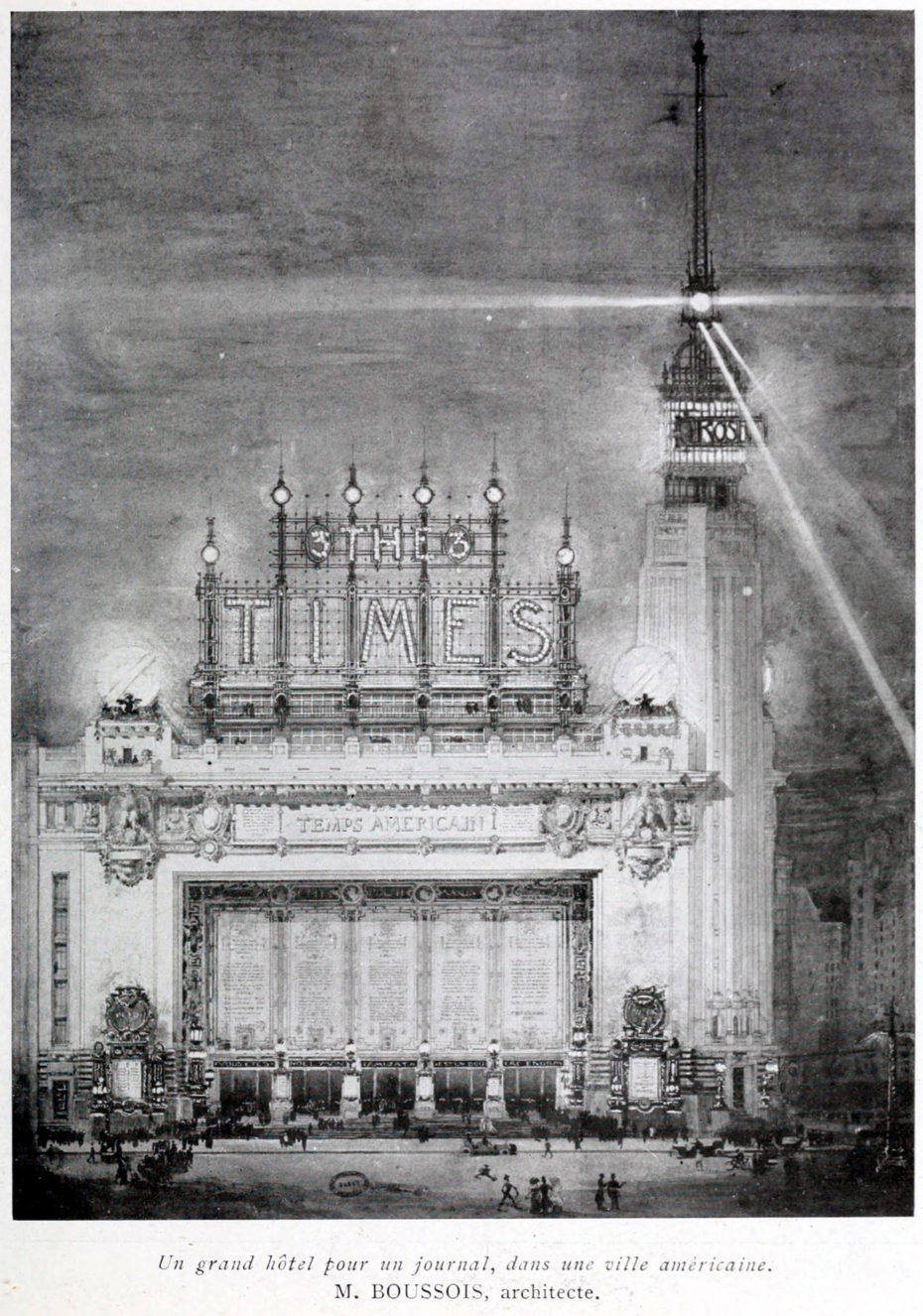 An unknown French architect, Monsieur Boussois had some pretty glitzy plans for the New York Times building by the looks of it.
And let's not forget the unbuilt architecture of NYC underground…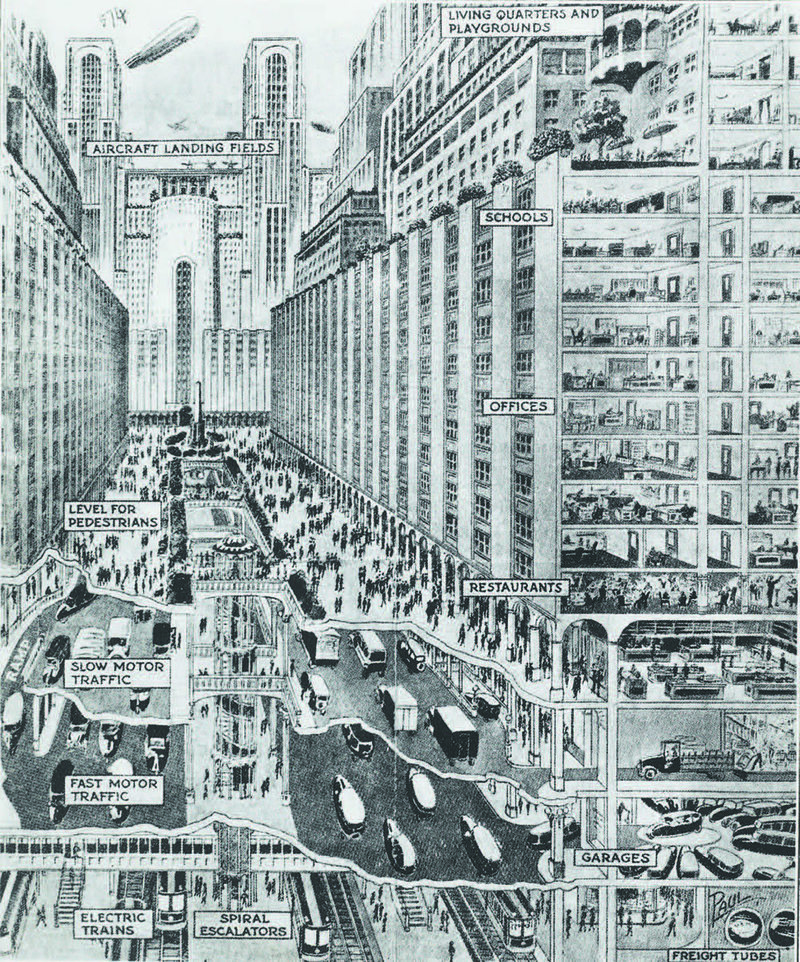 In 1925, the monthly magazine Popular Science, published this wonderful cutaway, predicting how New Yorkers would live in 1950. Architect Harvey Wiley Corbett told the magazine:
"Future city streets will be in four levels: The tope level for pedestrians, the next lower level for slow motor traffic; the next for fast motor traffic; and the lowest for electric trains. Great blocks of terraces skyscrapers half a mile high will house offices schools, homes and playgrounds in successive levels, while the roofs will be aircraft landing fields, according to the architect's plans.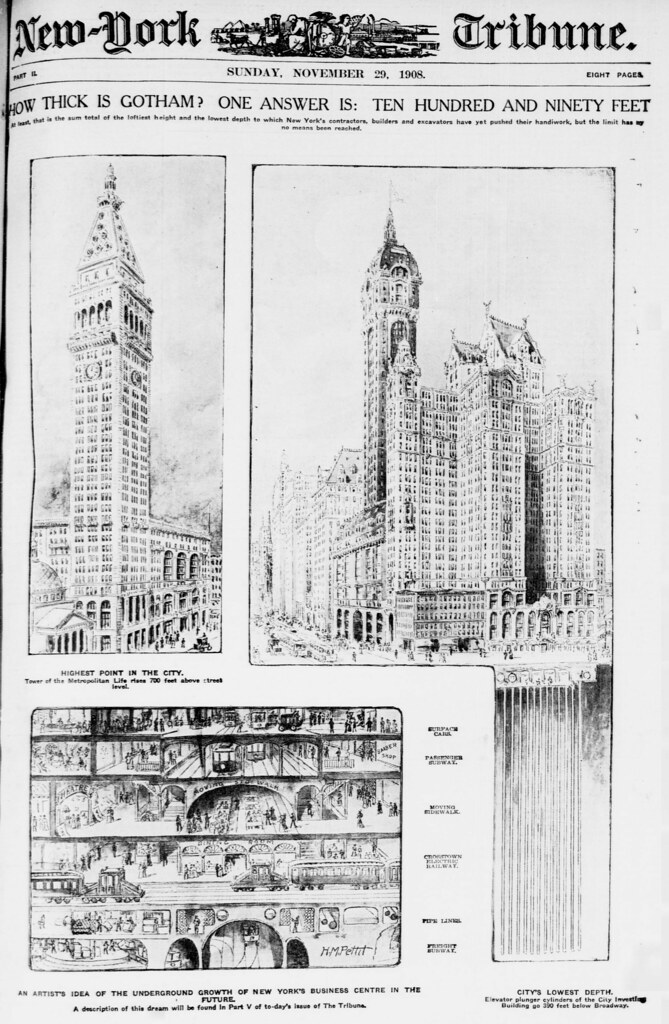 By the way, the building on the left is the Met Life Tower at One Madison Ave., 23rd St. , which was once Renaissance Revival and then became kind of Art Deco. In 1964, a renovation erased the Renaissance details from the base and façade of the old structure. The building on the right was the City Investment Tower, an early New York City skyscraper, erected in 1908 as one of the largest buildings of its era. It was razed in 1968, along with the nearby Singer Building, to make room for One Liberty Plaza. They were some of the tallest buildings in history to have been destroyed.
And how about unbuilt overground…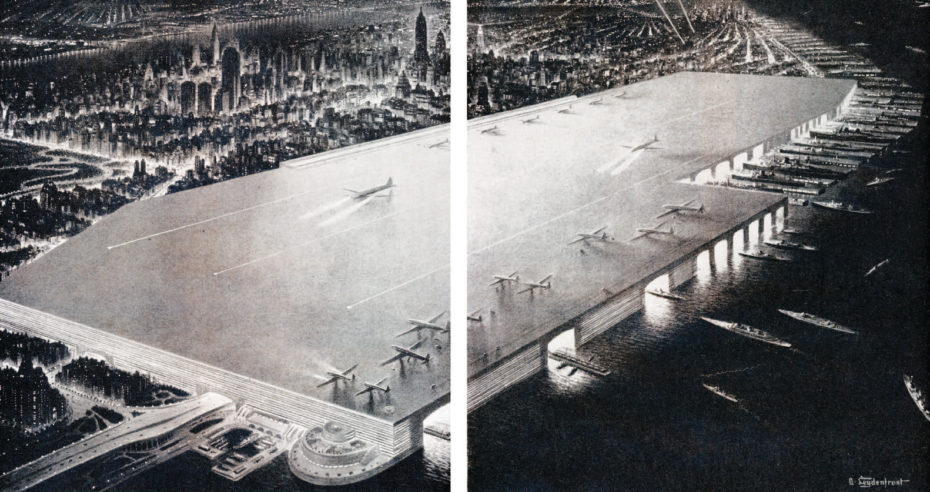 This rooftop Manhattan airport would have been a complete disaster, but on paper, she sure is dreamy.
The concept was presented by William Zeckendorf, who owned the Chrysler Building and Astor Hotel. His vision for tomorrow allowed for 68 planes an hour to take to the skies from the elevated runway, located along the shore of the Hudson river.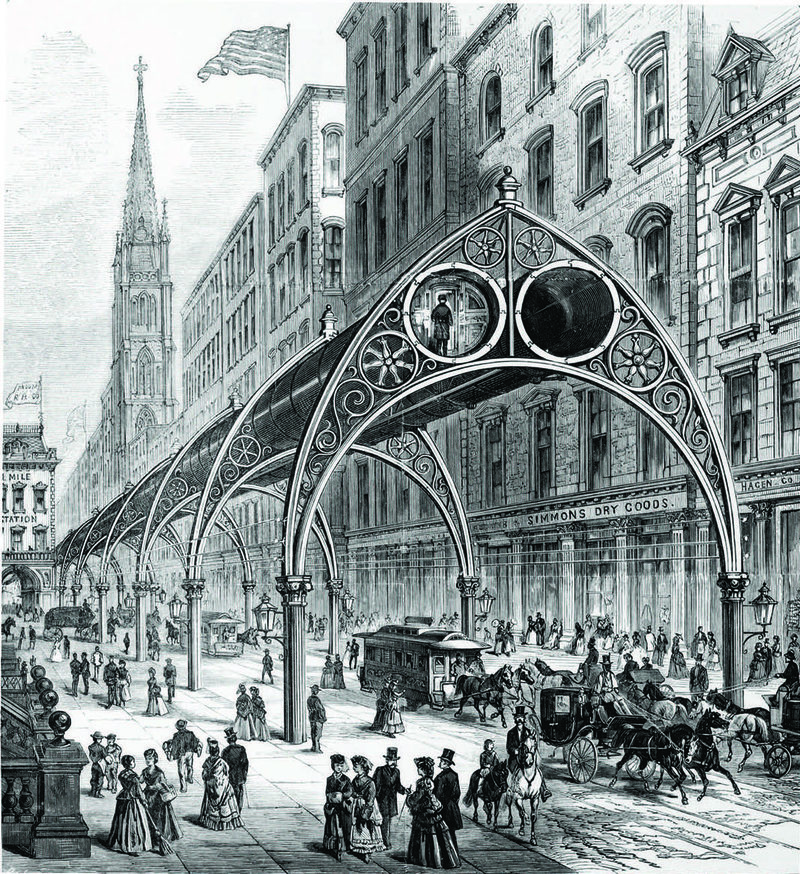 And what about this idea for an elevated subway? Rufus Henry Gilbert was an American surgeon who also dabbled as an inventor, working on rapid transit. He patented the above design in 1870 and even incorporated a company called the Gilbert Elevated Railway Company but it never found enough investment to get off the ground. He was pushed out of the company which cruelly ended his career, but not before he constructed the Gilbert Elevated Railroad. Here it is passing in front of what is the Village's Jefferson Library (which was then a police court):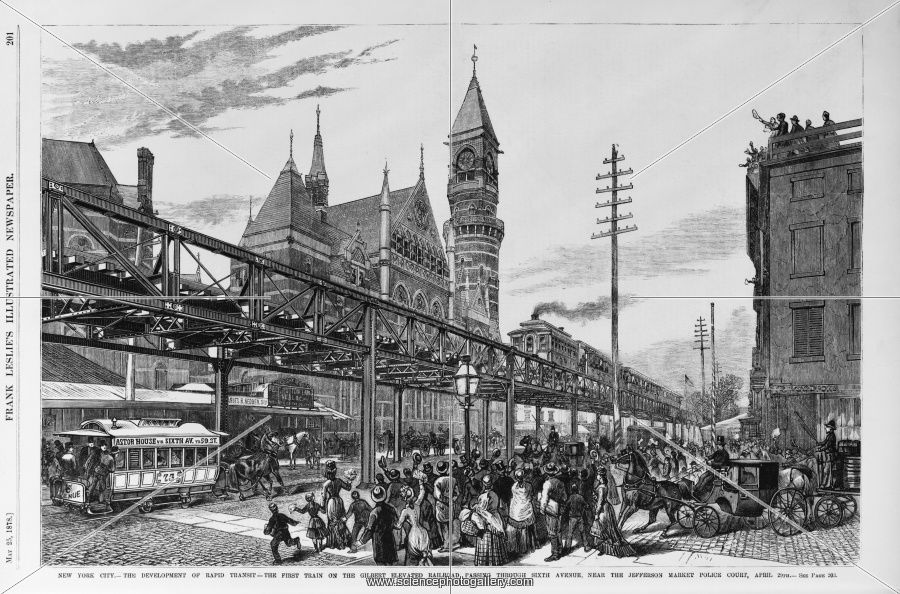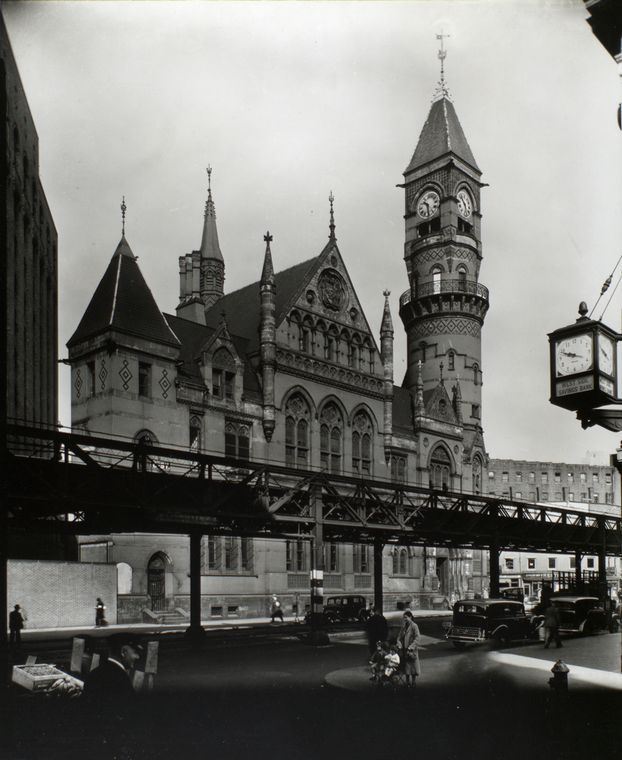 It also had these neat little elevated stations: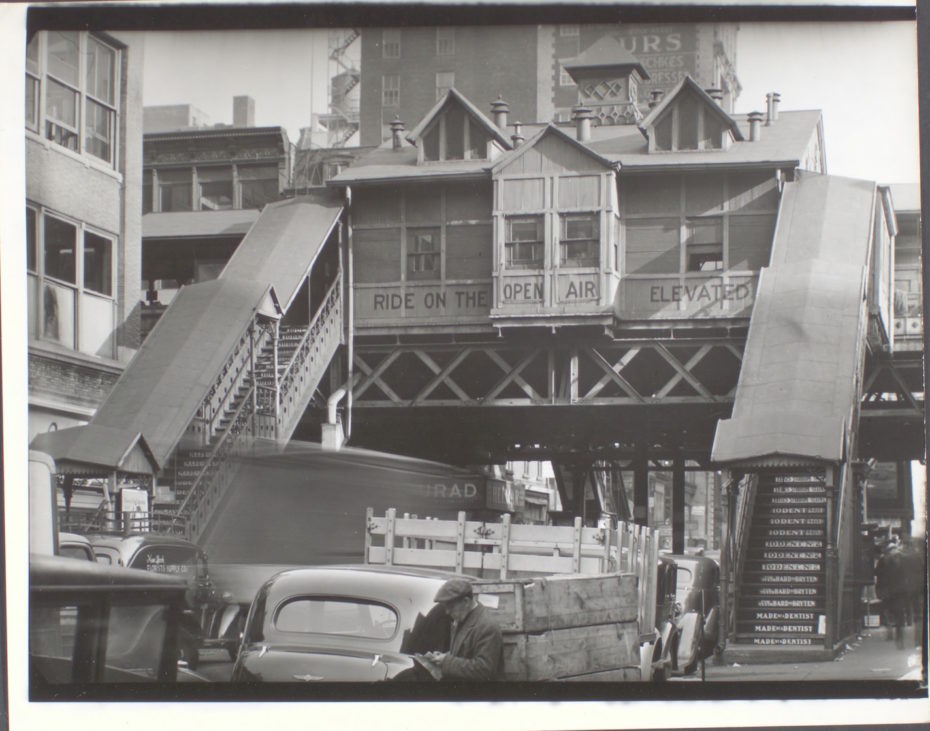 And while we're on the topic of railyways, check out how luxurious NYC's first subway cars were. But I completely digress! Back to the unbuilt…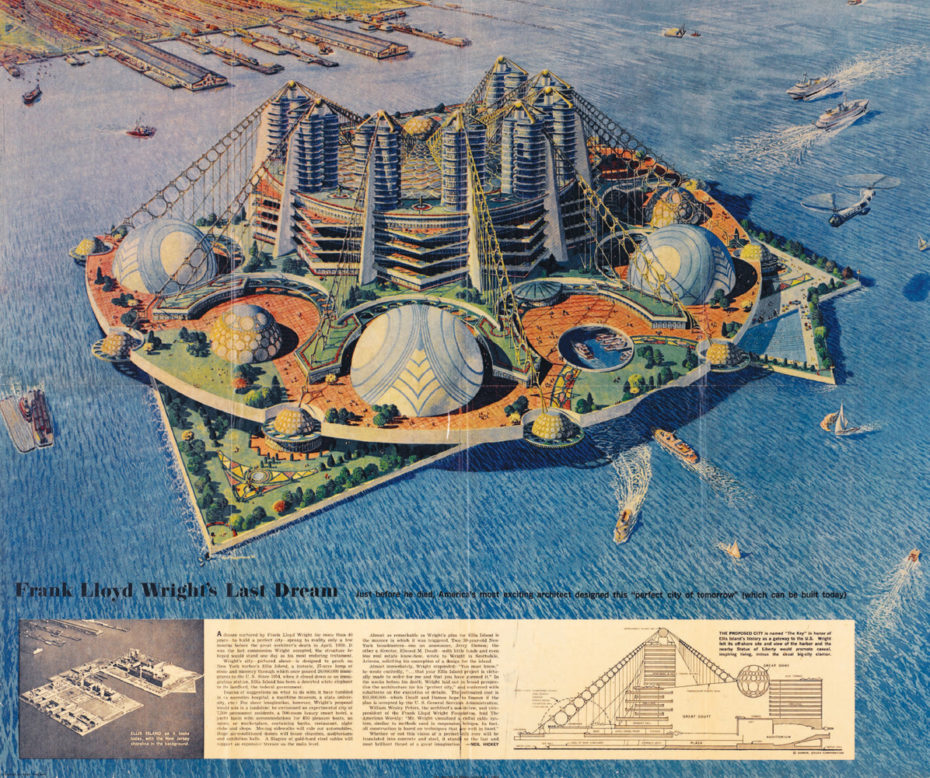 Take a load of Frank Lloyd Wright's 1959 'city of the future' on Ellis Island that never was. The iconic architect's $93 million design would house 7,500 residents, boasting seven candlestick-shaped towers, all orbiting around a giant globe in the center. He described it as "casual, inspired living, minus the usual big-city glamour."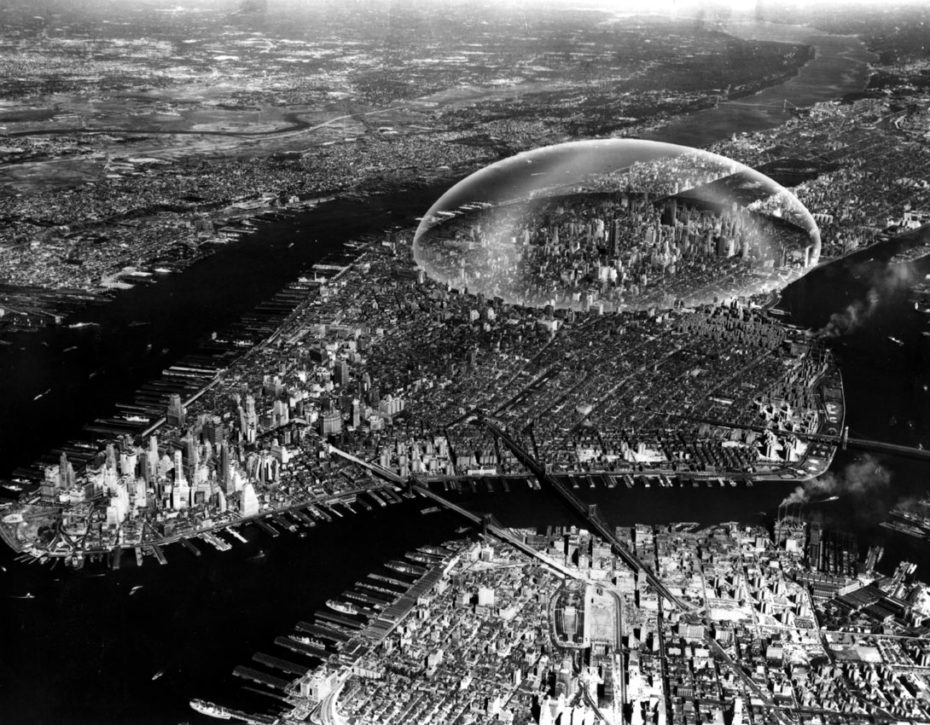 Even more ambitious – the idea to build a giant dome over Manhattan to regulate climactic conditions and curtail energy use, proposed in 1960 by
Richard Buckminster, who in his own words was "the world's most successful failure".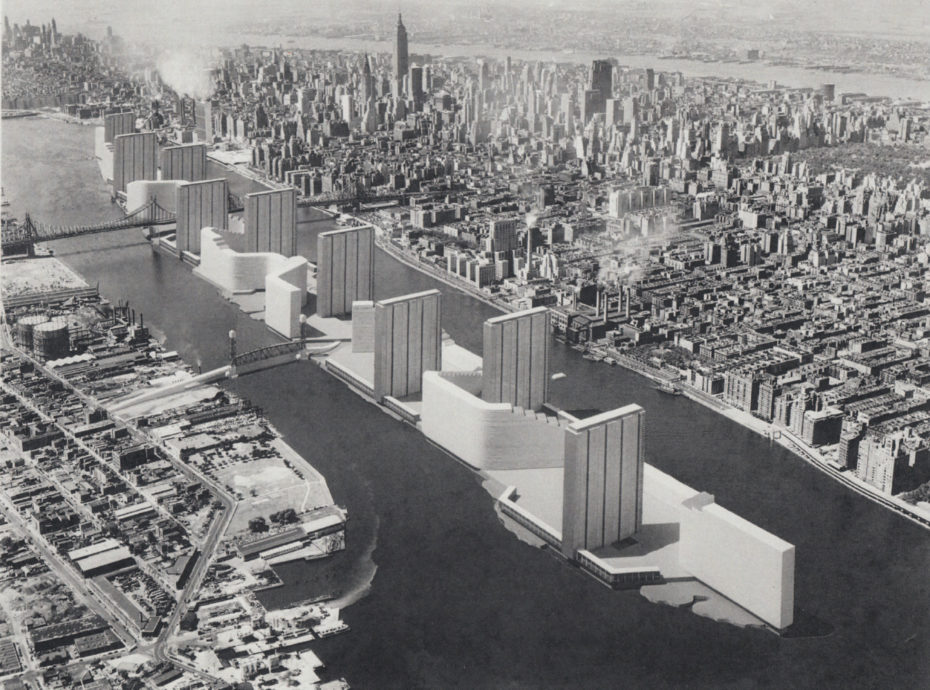 Situated on the East River between Midtown Manhattan and Queens, Roosevelt island was at different times home to a prison, an asylum, a distinctive Octagon shaped building at the opposite end, recently converted into apartments, and has been the site of numerous important unbuilt architectural competitions and proposals. In 1961 shopping mall pioneer Victor Gruen proposed constructing a platform 22-feet above the island for a residential community of 70,000 people with schools, stores, public facilities and housing, all connected by air-conditioned malls. Gruen was unable to beat out competing proposals to turn the island into a park and the city was weary of giving such a large tract of land to one developer so his plan was never realised. It it one of many that was never built. With several other architecturally significant buildings to check out, it's well worth the novelty cable car ride to Roosevelt Island. That's right! The most fun you can have with your Metrocard is to escape the subway and soar over New York in a bright red gondola with the Roosevelt Island Tramway, the first commuter tramway in America.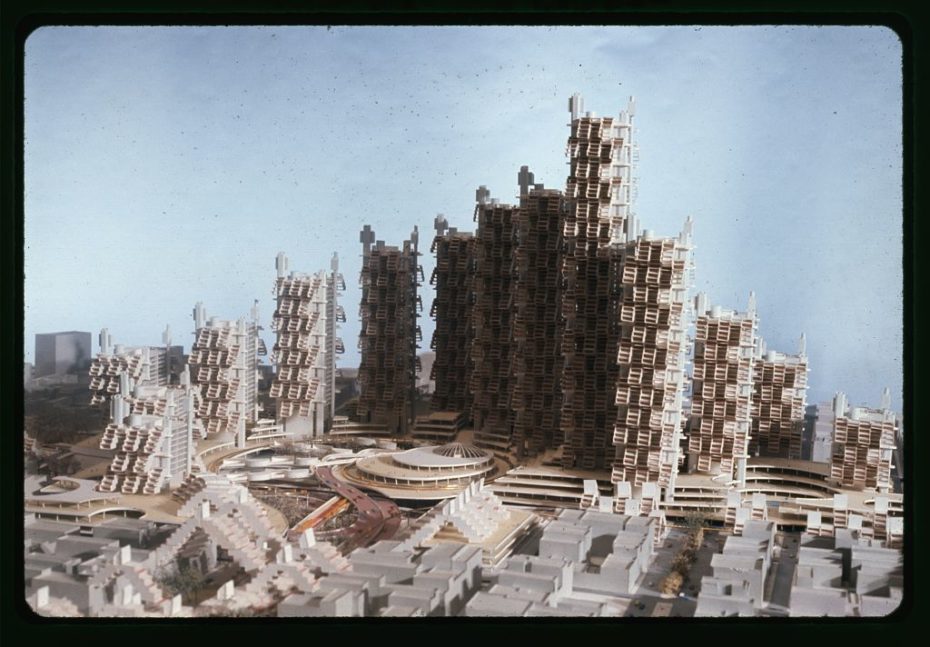 And what if these curious structures had been added to the Manhattan skyline? In the 1960s, the city was toying with the idea of an expressway running across lower Manhattan, linking New Jersey to Brooklyn, Queens, and Long Island via the Holland Tunnel and the Manhattan and Williamsburg bridges. Brutalist architect Paul Rudolph proposed a Y-shaped corridor under the pretext that transportation networks should bind rather than divide communities. The concept involved multilevel, stacking pedestrian plazas, people movers, and parking—all above and below existing bridge and rail systems.
Next up, one of our favourites – mostly because it looks and sounds like a sassier version of the Emerald City come to life on Fifth Avenue – the Fashion Building.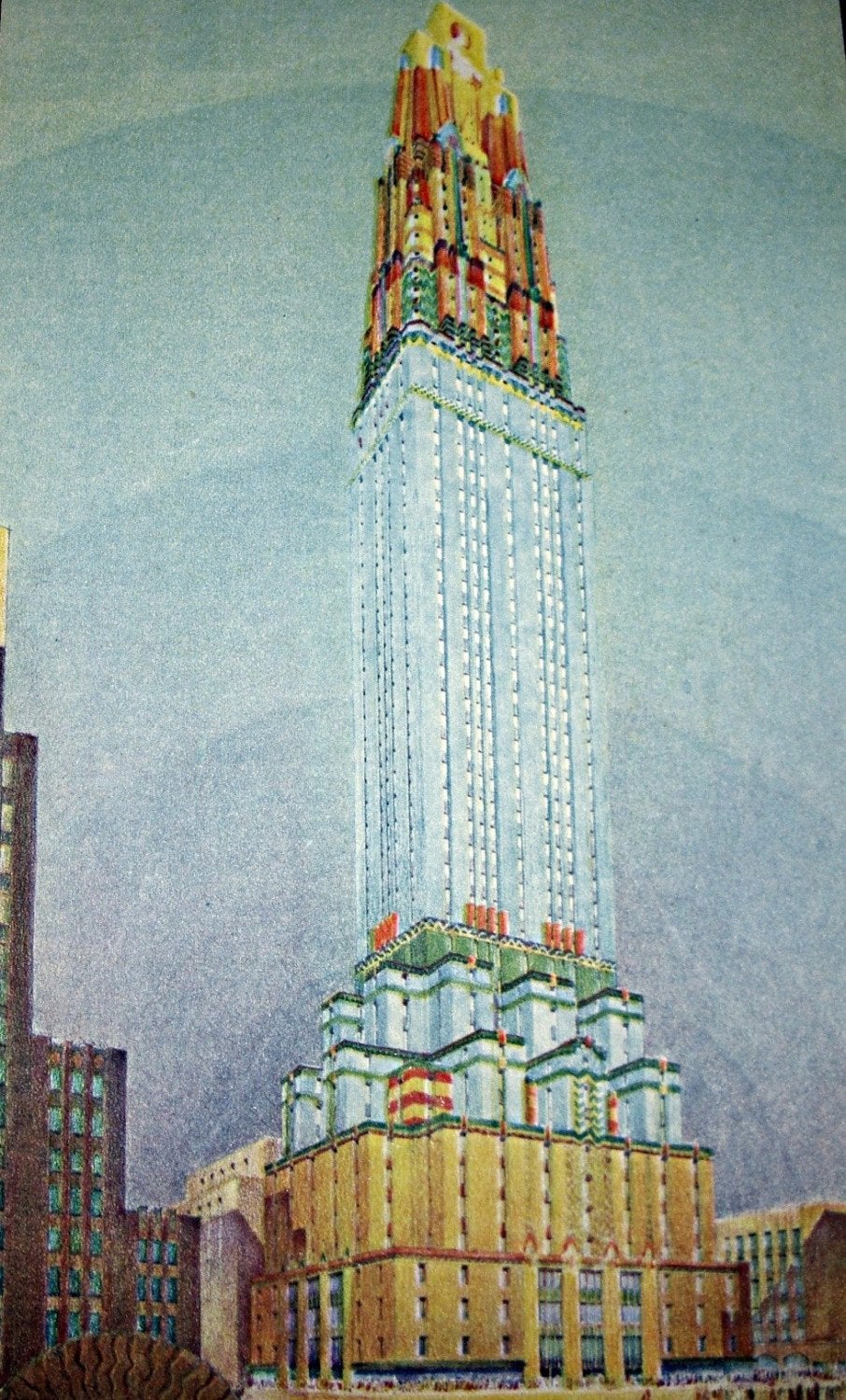 This image comes fron an old copy of the Illustrated London News dated 28 June 1930. A full-colour sixty story terracotta skyscraper, meant to become New York's greatest Art Deco building with a nod to the Mayan temples of ancient, Mexico, this was the dream of architect William Bergen Chalfant for Amos Parrish & Co.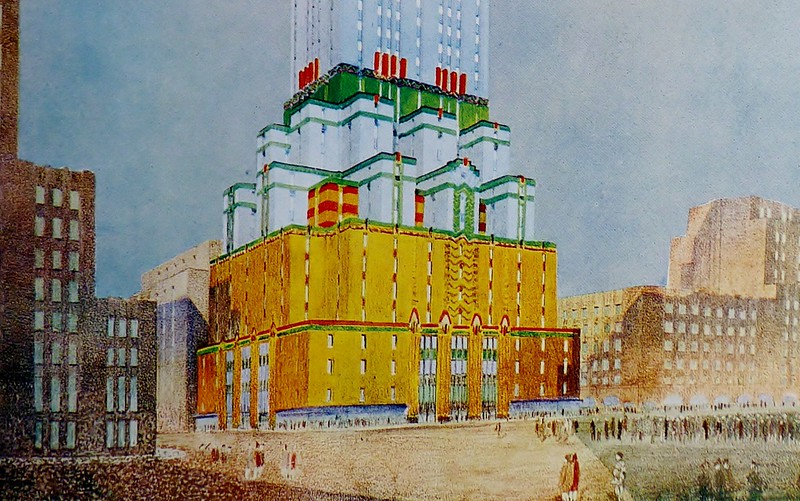 The fashion company would fill it with the worlds most elegant couture houses, fashion stores, showrooms and auditoriums. The Wall Street Crash of October 1929 saw to it that this dream would never happen.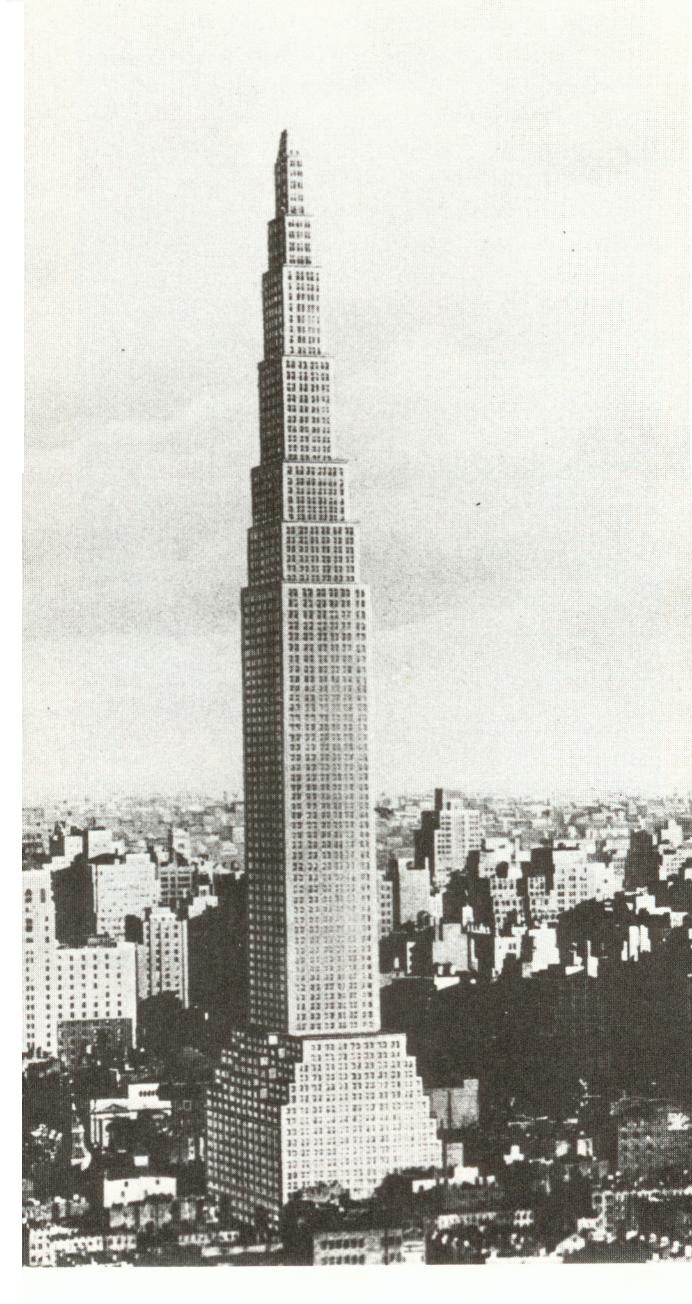 Last up, John Larkin's 110 story skyscraper, one of several ambitious designs he proposed to reach the clouds. The 1920s started a race to build the tallest building in the world and his plans were by far the tallest. Larkin was a fruit seller before he was an architect – and he nearly got to build his giant skyscraper at West 42nd Street – sadly the Great Depression beat him to it and he went bankrupt in the 1930s. Ain't that the American Dream.