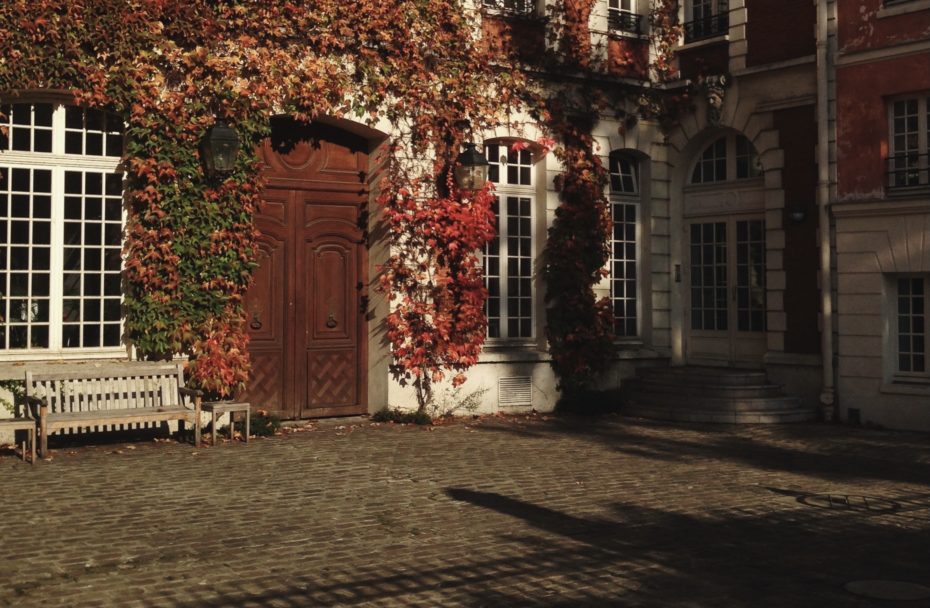 In the mood for something cozy and pastoral for fall in Paris? Something "cottagecore" – internet slang for all that is effervescently au natural. Think gingham tablecloths, and cottages on rolling fields with cuddly donkeys. Think quaint bee houses in the Luxembourg Gardens, or a stroll through Paris' accidental gingerbread house street. Fun fact: 31% of France is actually covered by forests, and that percentage grows by 0.7% every year. So we humbly ask: is there a better place to feel your cottagecore oats than la douce France? We've compiled a milk bucket's worth of charming cottagecore activities in and around Paris for your pleasure…
Maison de Balzac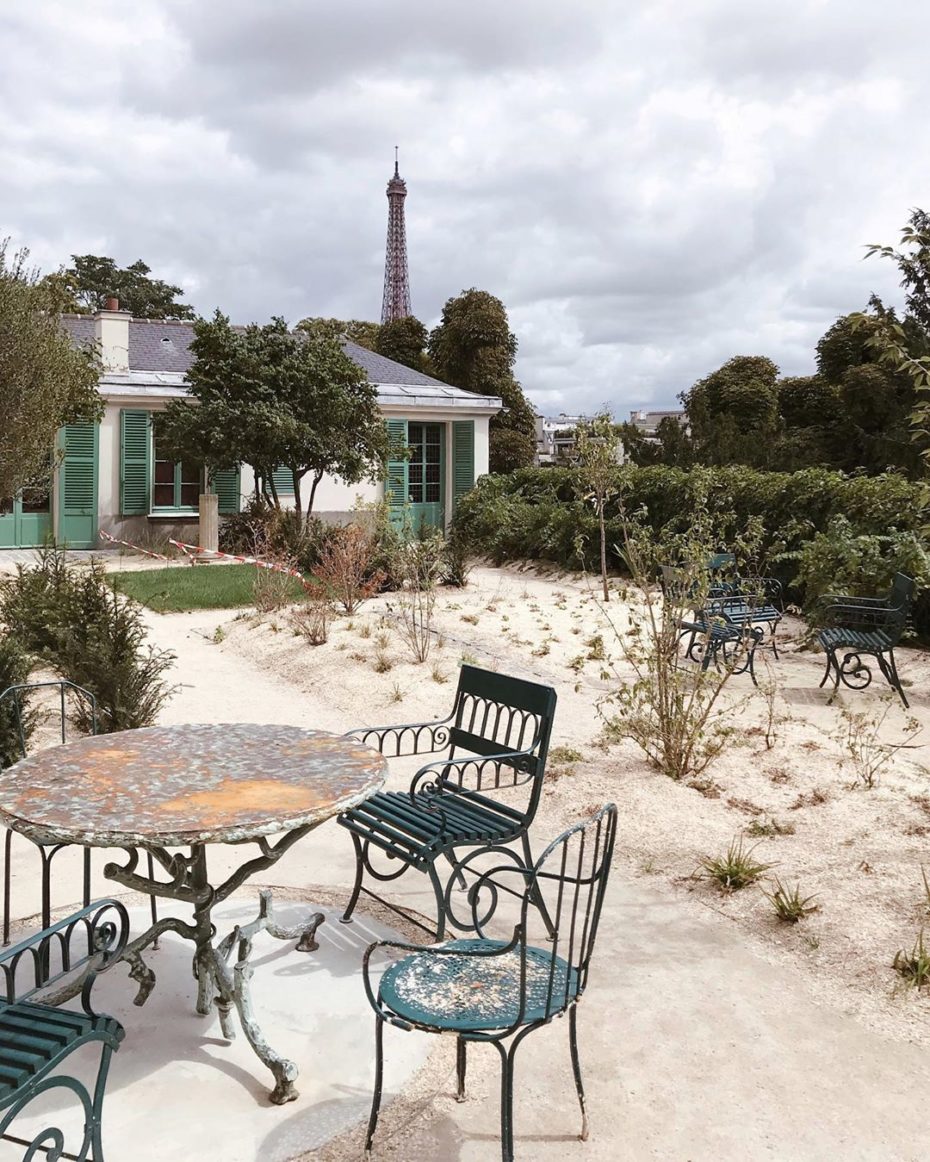 The French writer Honoré de Balzac was one of the most colorful characters of 19th century Paris. Visit his time capsule home-turned-museum, not terribly far from the Villa de Beauséjour, known as the Maison de Balzac.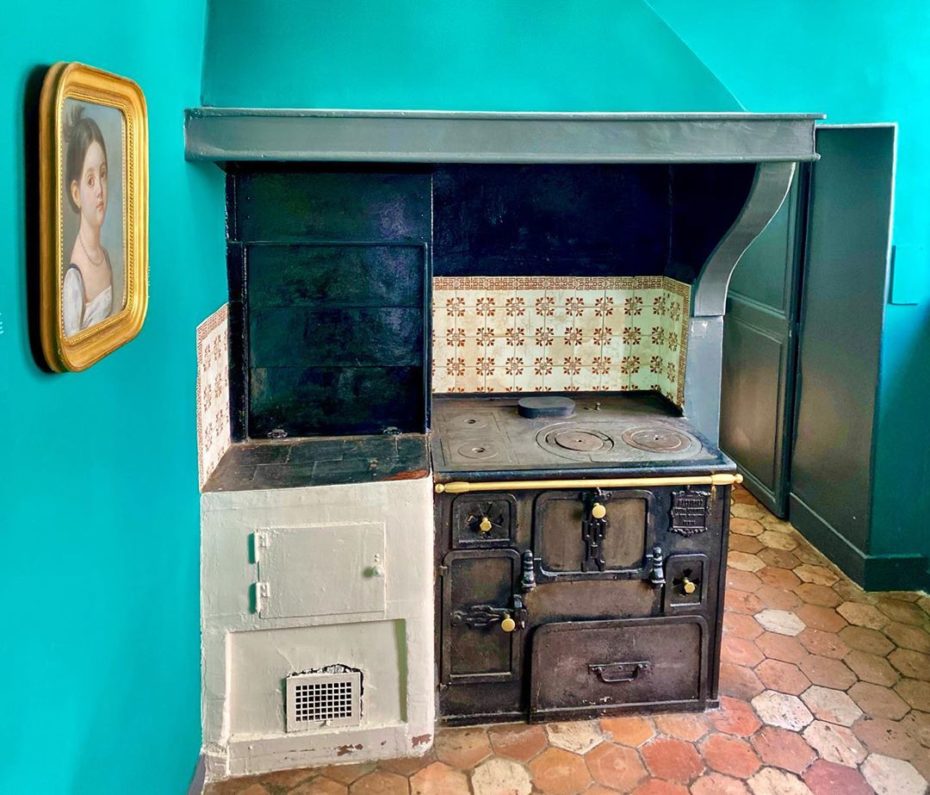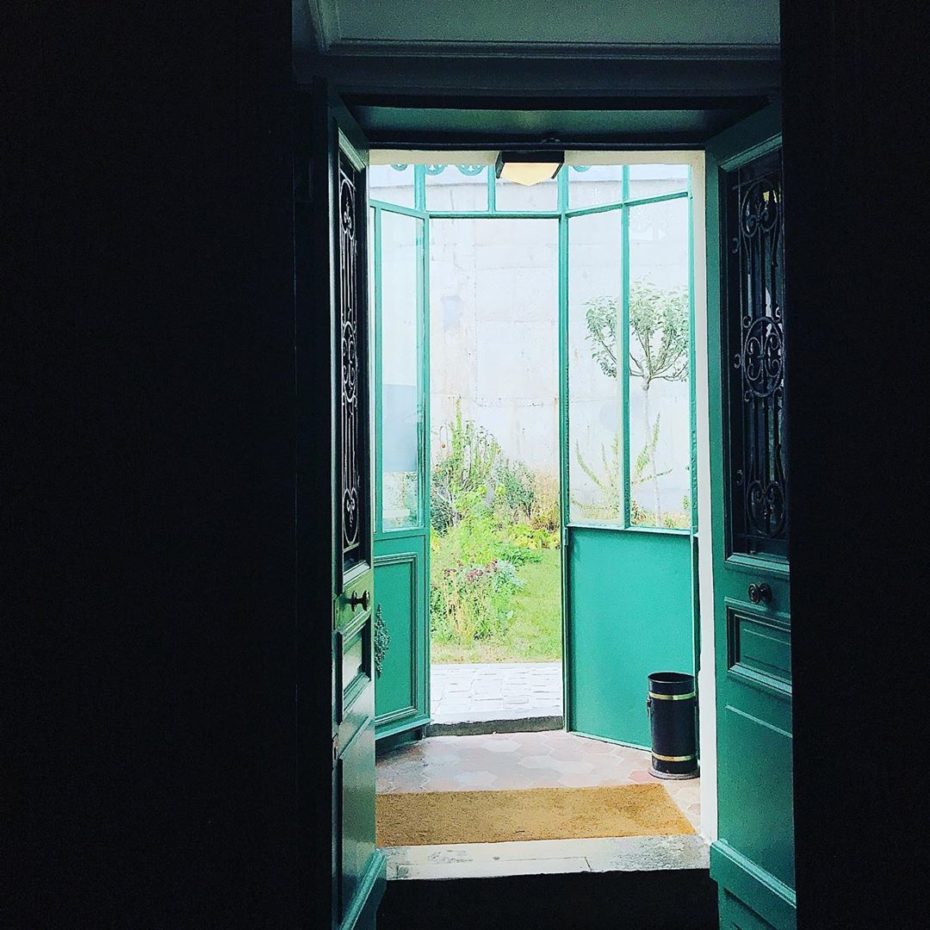 It feels like a slice of the country in the city, sunken down amidst the the other towering apartments of the 16th arrondissement. Bonus points for the secret view of the Eiffel Tower.
Learn more on the museum's website.
The Little Paris Bee School
We've tracked down the Paris and New York City bee villages alike for so many reasons (primarily: save the bees!), but especially because we're suckers for anything miniature. This little Paris beekeeping school is tucked inside the Luxembourg Gardens on the Left Bank, and makes some 450 pounds of honey a annually. It's sold every Autumn at the Orangerie du Luxembourg, just a few minutes walk up the garden path from the charmingly antique set-up.
Learn more about its history and exact coordinates in our full article on the school.
The Secret Gingerbread House Street of Paris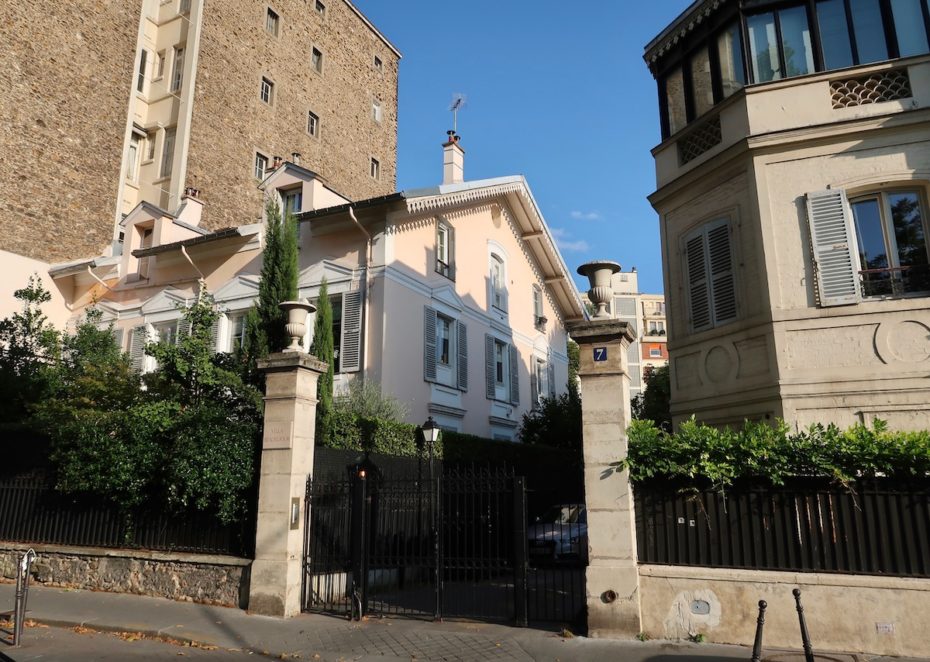 We got a hot tip from a reader a while ago about a magical little corner of Paris in the 16th arrondissement called the "Villa de Beauséjour," dotted with ornate wooden houses that fresh from Hansel and Gretel. Turns out, they're the vestiges of Russia's structures from the Universal Exposition of 1867.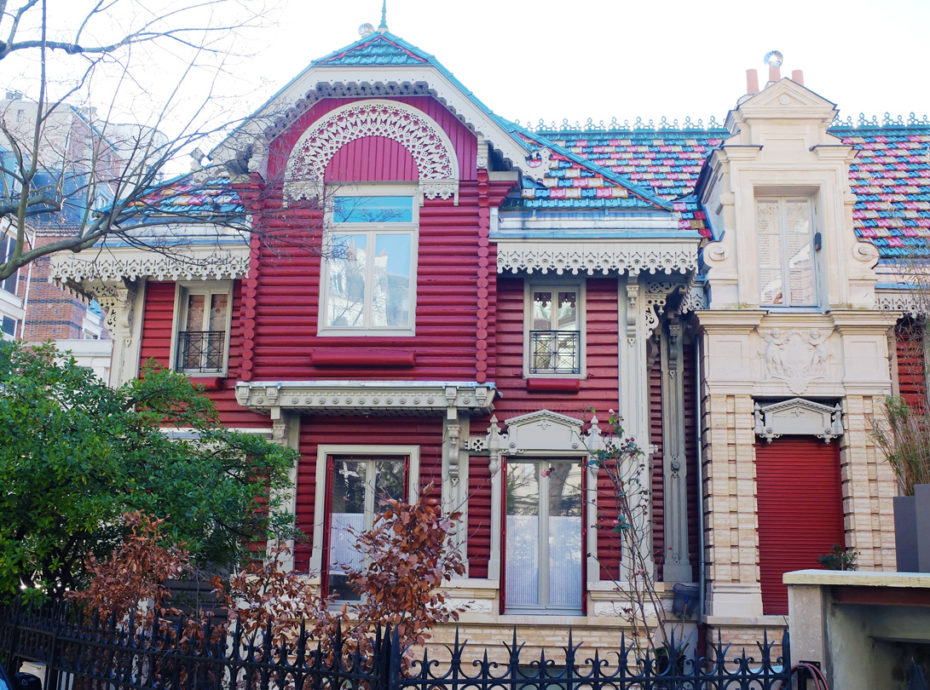 "The villa is a private road, now closed with a coded gate," our kindly tipper says, "You used to be able to get in on weekdays by pressing the general 'open' button but now you have to wait for someone to come in or out and beg them to let you go see the dachas. It usually works." Noted.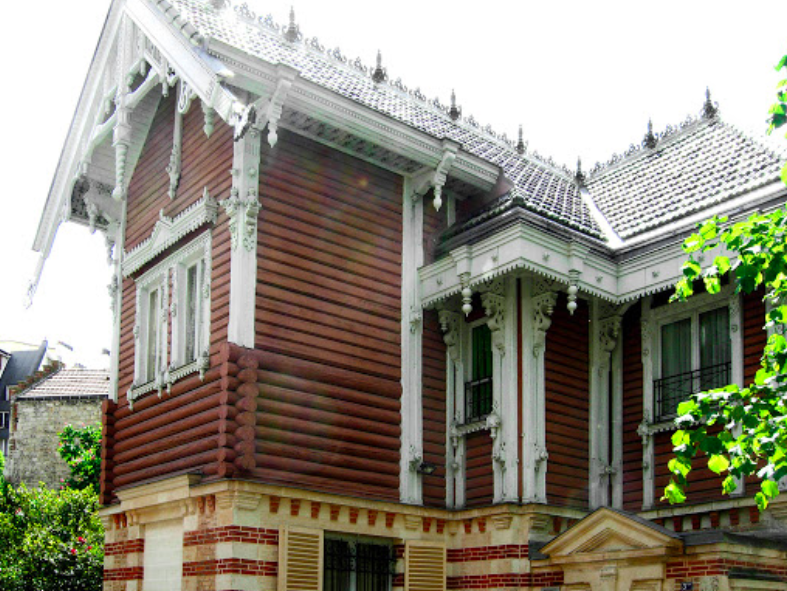 Find it at 7, boulevard de Beauséjour.
A real old Country Tavern in the Heart of Paris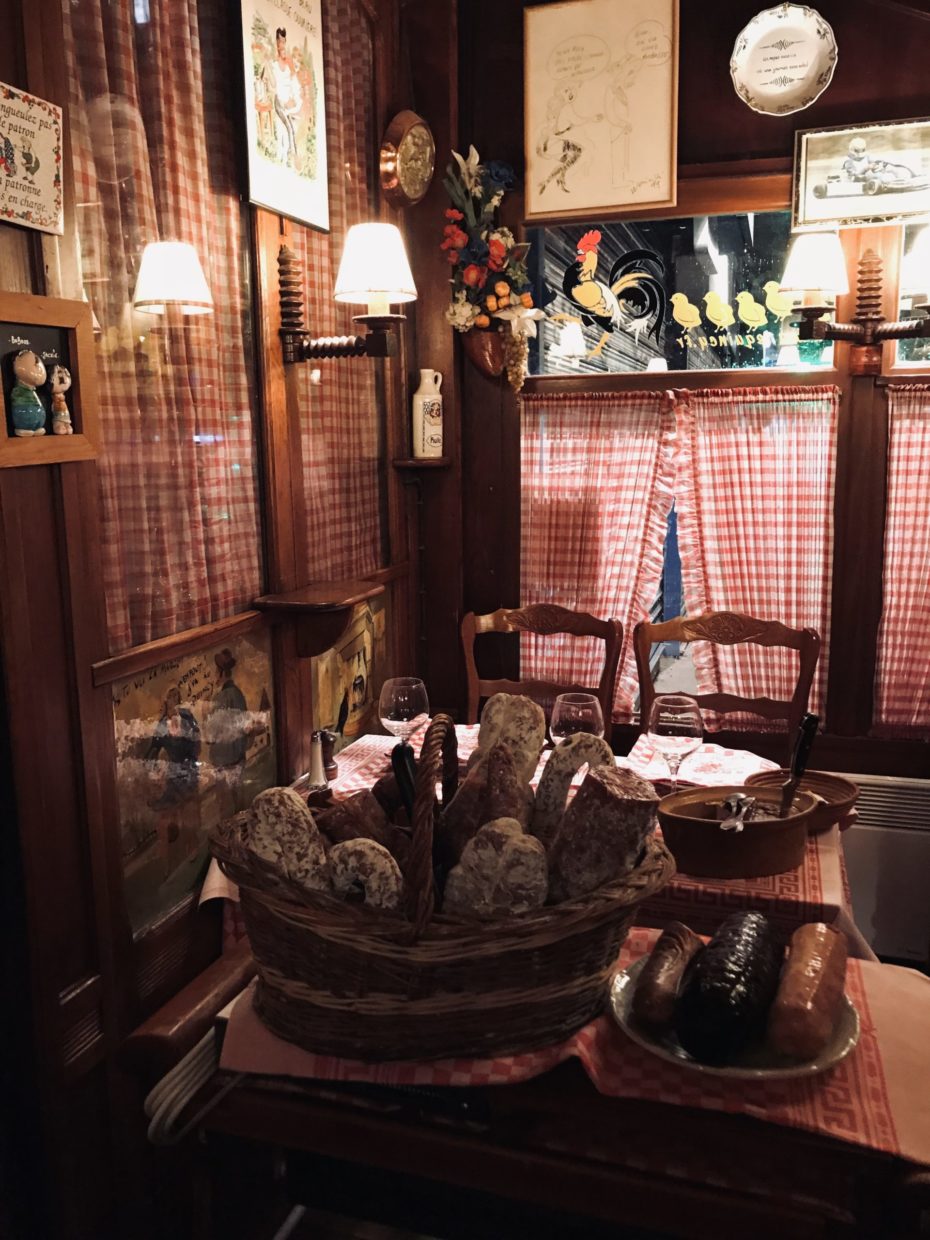 Come with a big appetite or don't come at all! Before you order at Le Quincy, the waiter cuts you a chunk from the house saucisson and brings sparkling wine as an aperitif. Then you meet "Bobosse", the 80 something year-old owner and boss who insists on taking all the orders. And he doesn't like it if you're not hungry. Seriously do not try to just order a salad.
(28 Avenue Ledru-Rollin, 12ème; +331 46 28 46 76; open Tues-Friday, lunch & dinner).
Country Bumpkin Lane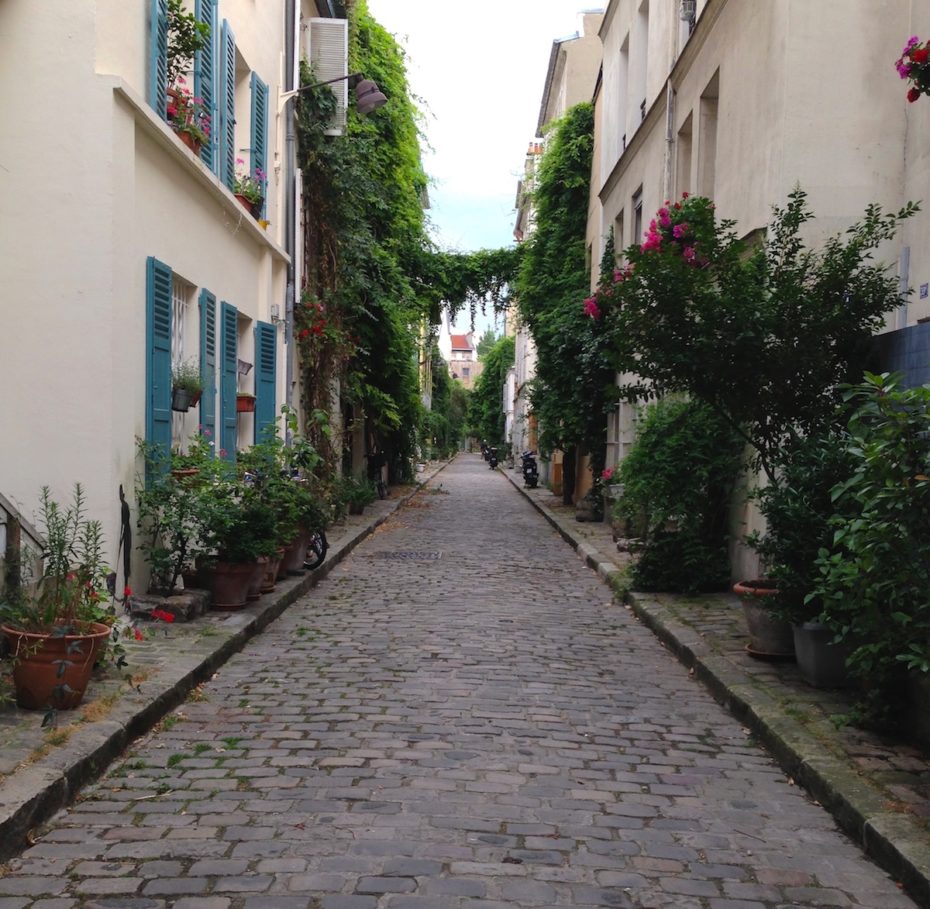 Just off the main shopping street of a residential neighbourhood in the 14th arrondissement, tucked away ever so sneakily you could almost miss it, is rue des Thermopyles, a heavenly Parisian countryside hideaway. Vines curl around peeling pastel window shutters and arches of thick green foliage wildly frame the cobblestone path as if they were portals to a remote French village. Follow the rue des Thermopyles to the end and you'll come across a local garden for picnics on the pelouse or a first date on the benches.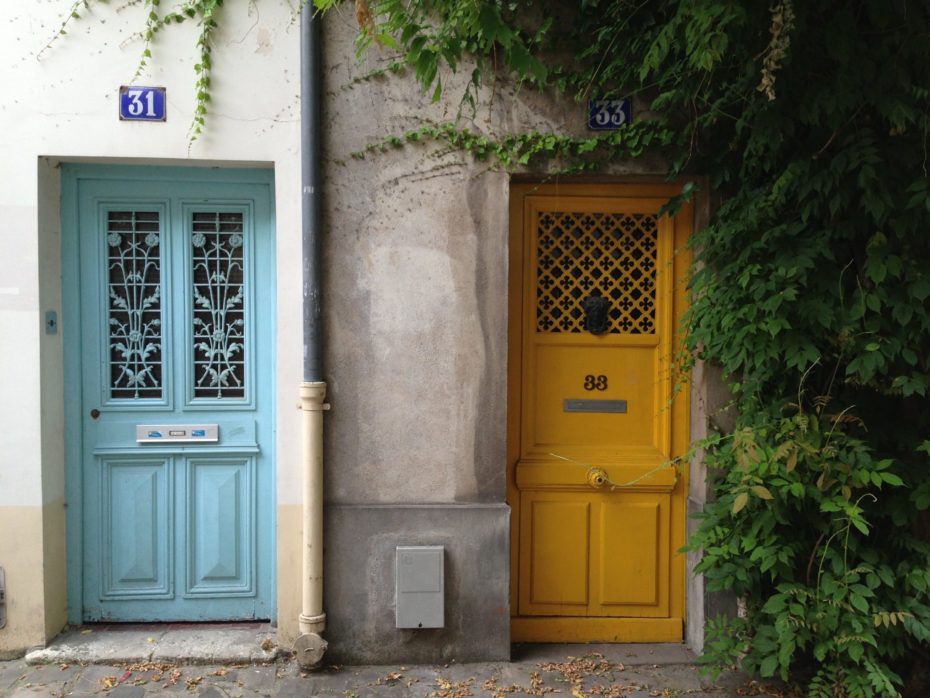 On the other side is la Cité Bauer, where neighbours sit and chat on their doorsteps, exchanging gardening tips. The prize for the most unusual façade most certainly goes to No. 19 Cité Bauer, for its impressive sculpted heart-shaped door. The words 'Isten Hozott' are inscribed into the ironwork inside the heart, which means 'welcome' in Hungarian. The house was in fact built in 1959 by a Hungarian artist, Alexandre Mezei.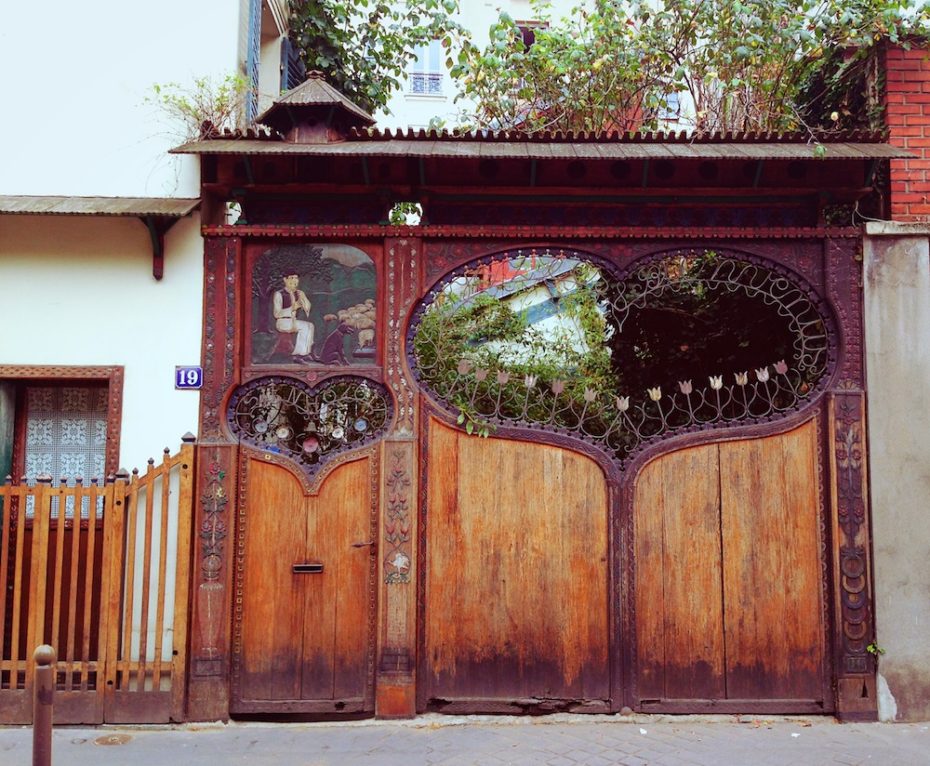 If you have some extra time on your hands, take a five-minute detour to Villa d'Alesia nearby, where you'll find another charming street dotted with a beautiful line-up of art deco façades, mostly ateliers, one of which belonged to Henri Matisse.
(Start your stroll at rue des Thermophyles, 14ème)
Countryside Cakes in Saint-Germain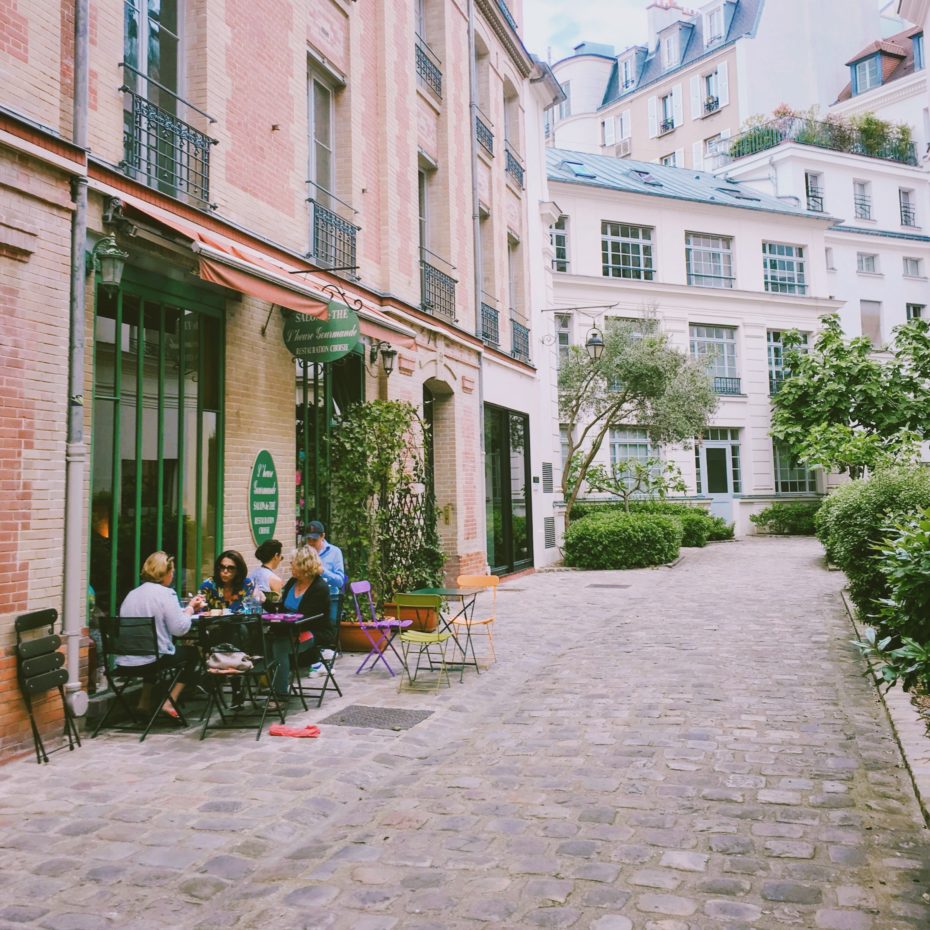 Looking like the perfect tea salon on a village road, L'Heure Gourmande has the most underrated Sunday tables waiting in a hidden cobblestone passage. Try the Provençale quiches served with generous well-dressed salads, and if you have room, order the outstanding chocolate tart for dessert. The pace is slow, the kitchen is small and the ingredients are so fresh you'll wonder if they don't have their own garden patch nearby.
(22 Passage Dauphine, 6ème; +33 1 46 34 00 40; open every day, 12pm-7pm)
La "Farm" de Paris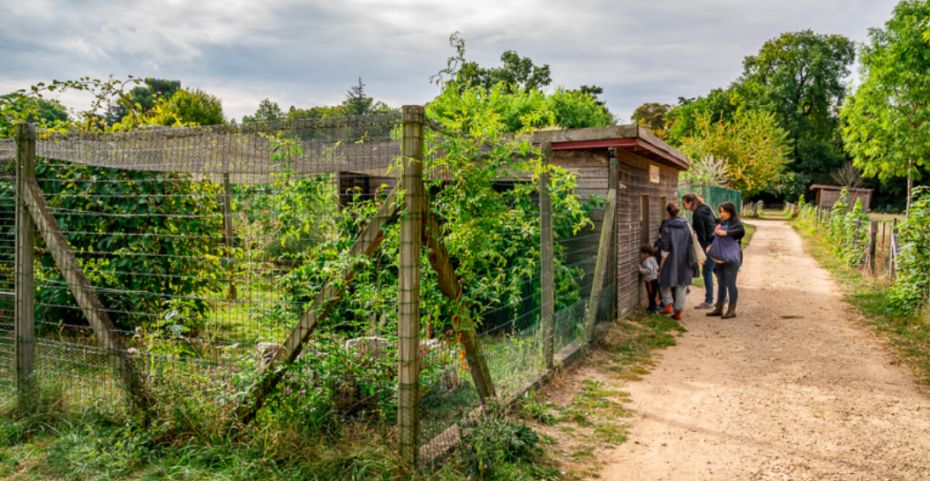 Located in the heart of the parc of Vincennes, La ferme de Paris is a patch of heaven, open for seminars and such on sustainability and environmentalism during the week, and open every weekend for free. Not only that, but visitors are encouraged to participate in farm duties on weekends. No better way to mingle with some chicken and sheep in the big city.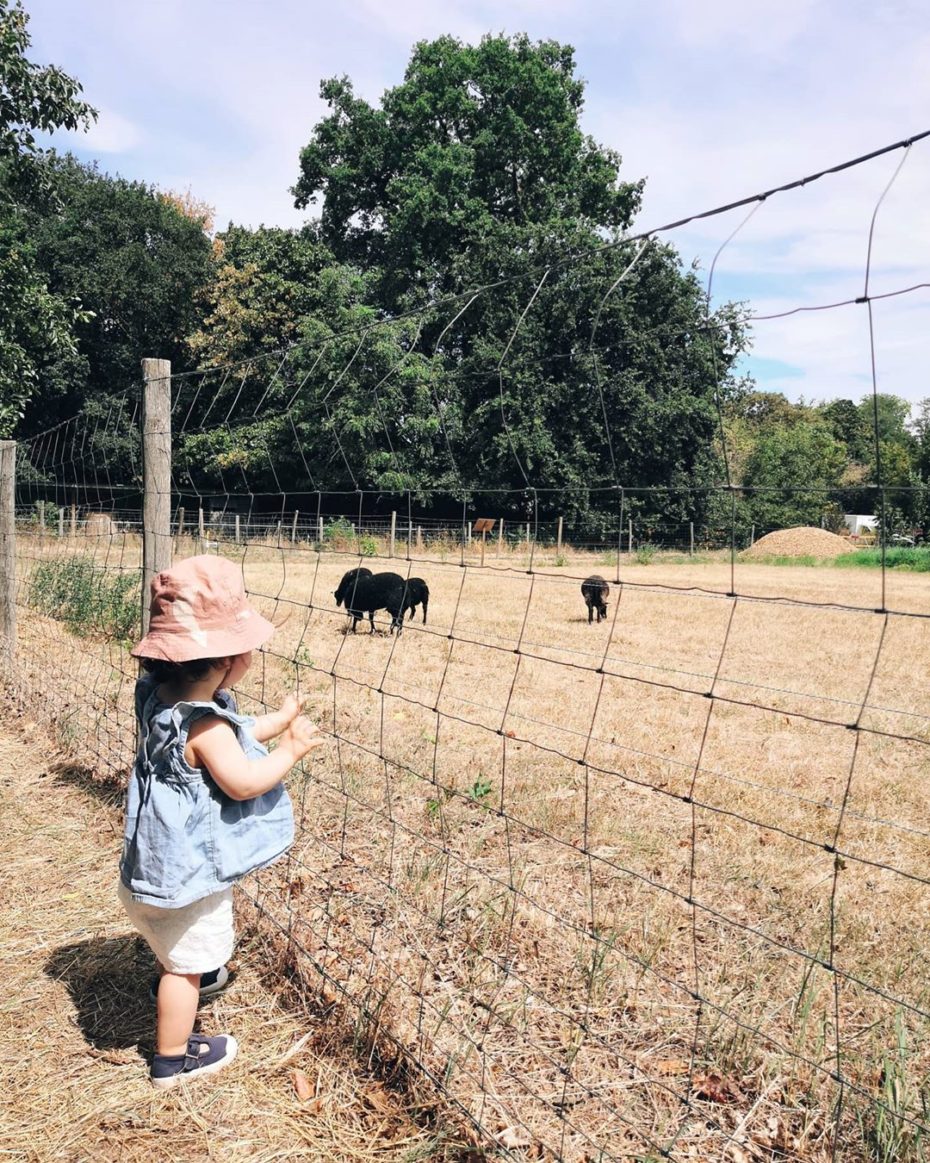 Learn more here.
A Museum of Rural Romance
Perched at the foot of Montmartre, you'll find the Musée de la Vie Romantique, a 19th century hôtel that is dedicated to the writing of those who once exchanged ideas in its charming interior, from George Sand to Chopin, and the art of the Romantic Era. There's also a cute garden and café space for you put your feet up afterwards.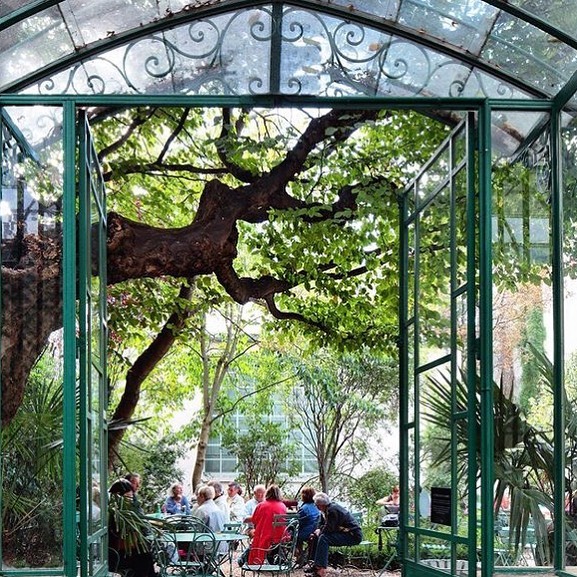 In warmer months, its exterior is crawling with flowers – just one of so many reasons to love this musée, which feels especially #cottagecore at the moment with its current exhibit, which is themed around the heart. Aw.
Learn more on their website.
The Other Montmartre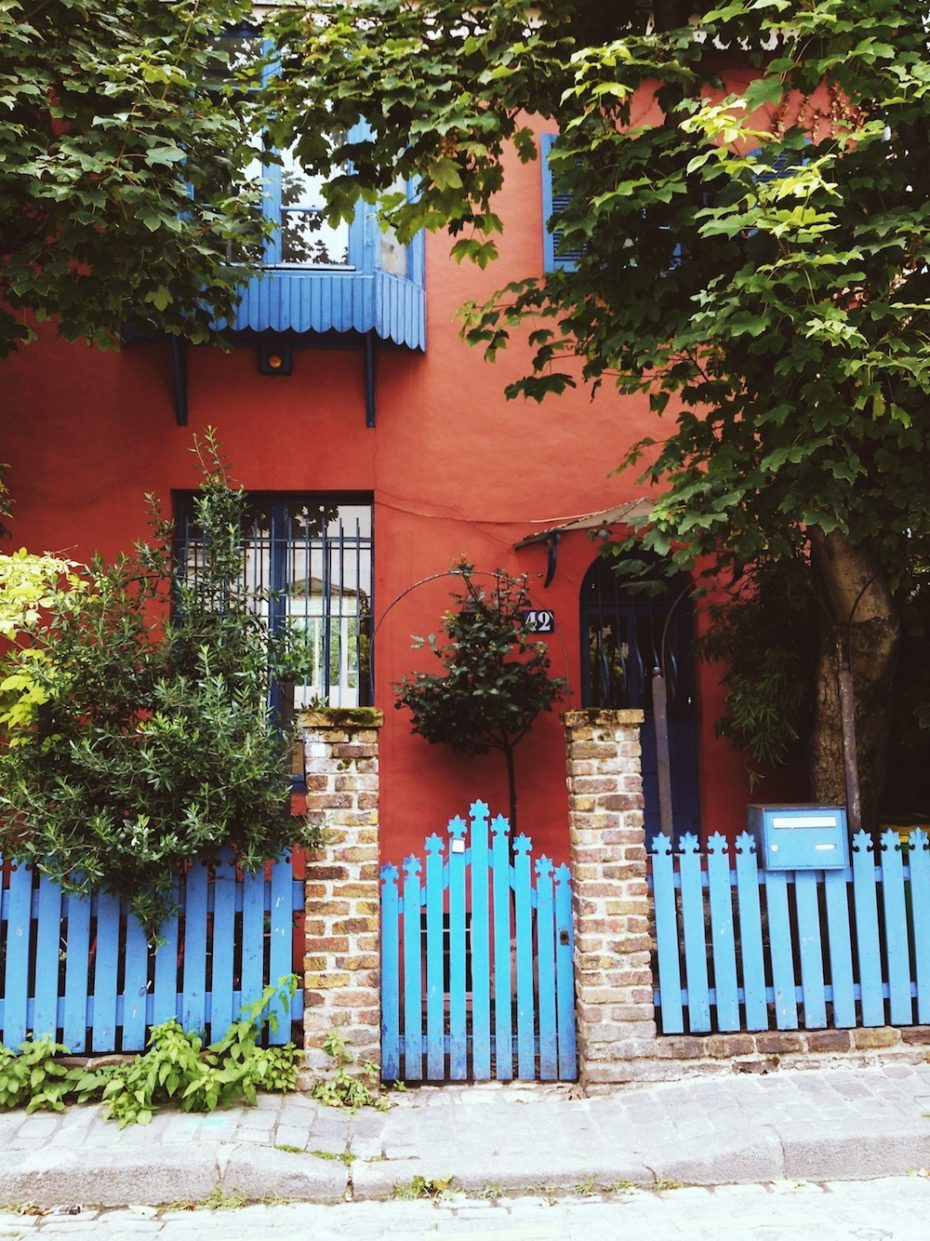 For an undiscovered tourist-free alternative to Montmartre (the cupcake hilltop village of Paris), escape to a different corner of the city in the 20th arrondissement with just as much charm and just as many steps. In an undisturbed corner of the French capital known officially and affectionately, as La Campagne à Paris (the countryside in Paris), think of it as a smaller, secret Montmartre.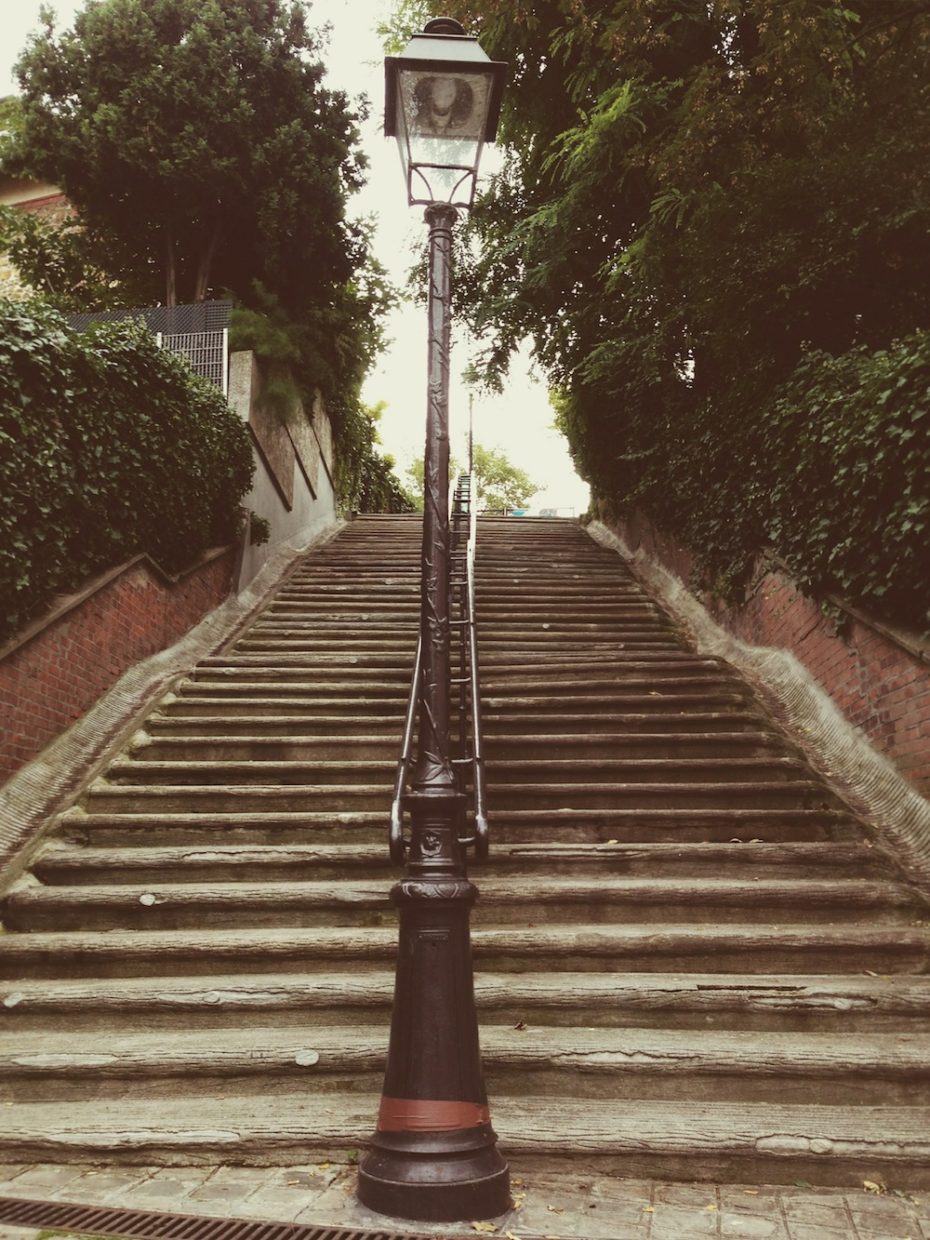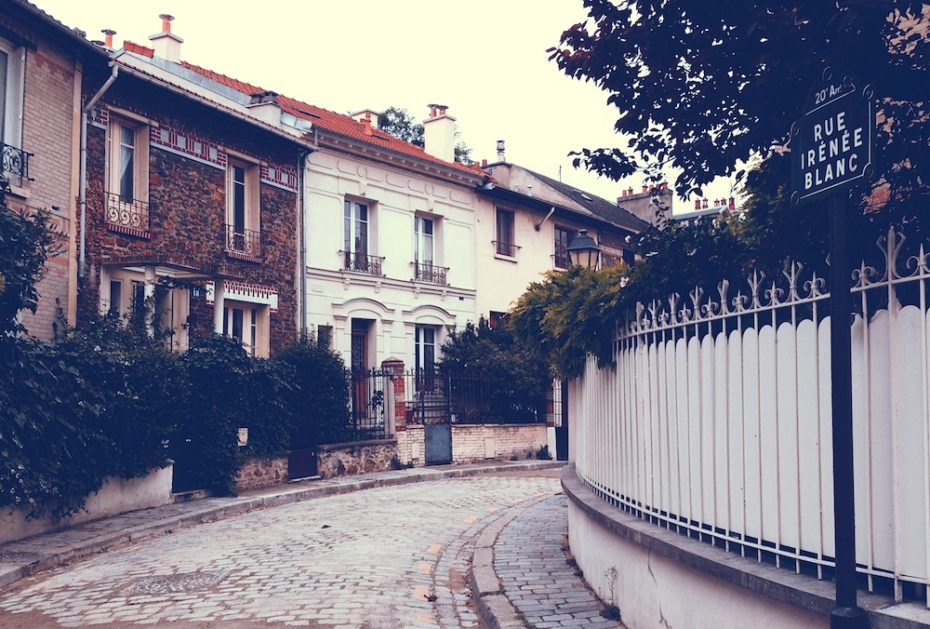 Built on a hill between 1907 and 1926, the roads that wind up to the top are connected by picturesque staircases that shortcut past enviable backyards. Every house is different and residents put their all into their patios, decorating them with garden gnomes and miniature windmills. There's even a local grocery store just like Amélie's, on rue du Capitaine Ferber, and old- fashioned storefronts with gorgeous typography. As for a preferred scenic route? I don't have one. Dive down every staircase, poke your head round every gate and get absolutely positively lost on this leafy little hill.
(Use rue Irénée Blanc as a starting point, 20ème)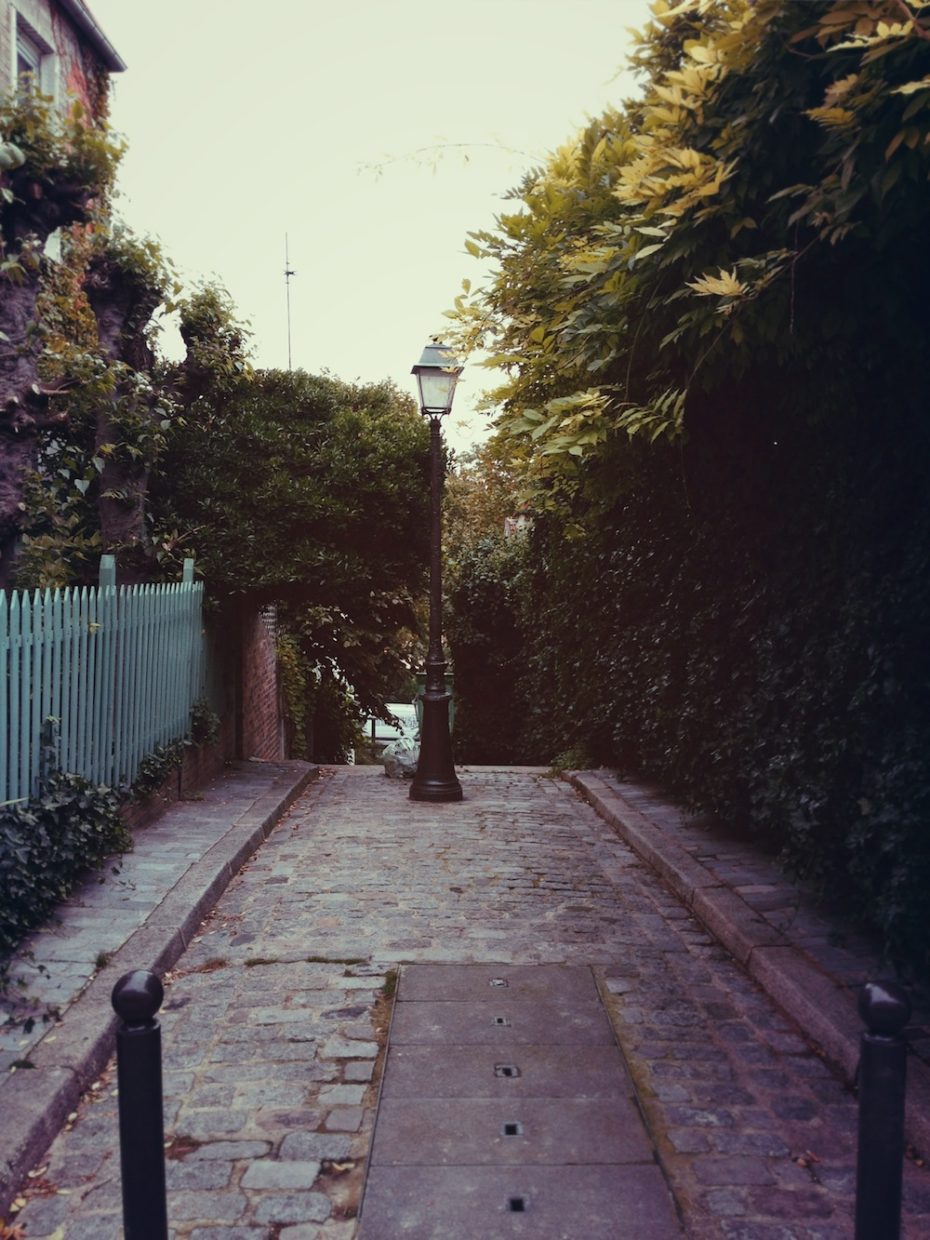 While you're in the area, stop for lunch in a nearby twelfth-century village of the 20th arrondissement at Café Lumière.
(15 rue Saint-Blaise, 20ème; +33 9 5058 76 86; open every day, 10.30am-midnight)
The Parisian Cottage Bistrot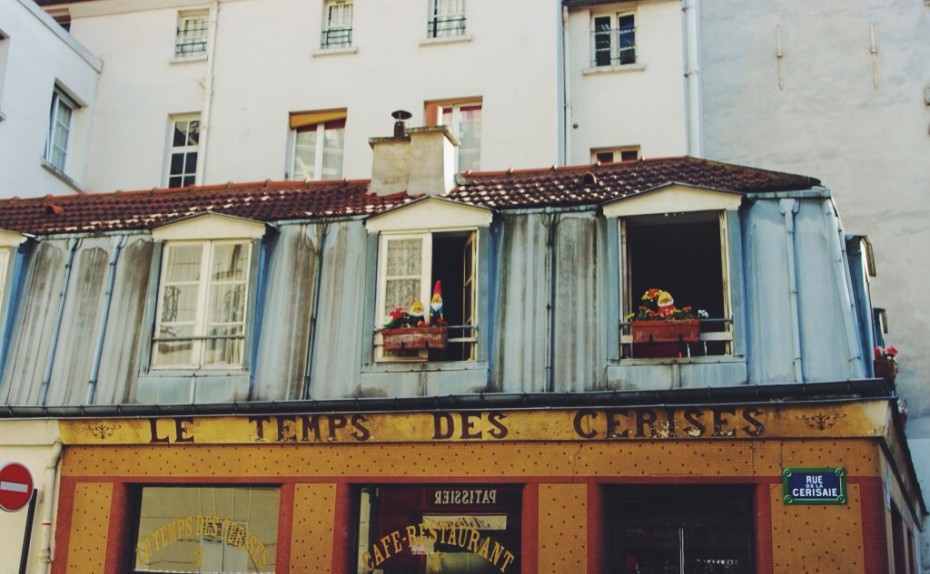 Le Temps de Cerises is one of the last little houses of bygone Paris still standing in the heart of the city, and thanks to its unchanging eighteenth-century mosaic façade, the traditional French bistro earned itself the title of a historical monument. Inside, we could be stepping back in time fifty years, when the same photographs hung on the wall and the same old clock chimed on the hour, as if any of the regulars were ever in a rush to leave this timeless place. You'll find the menu very friendly, even for the fussiest eaters.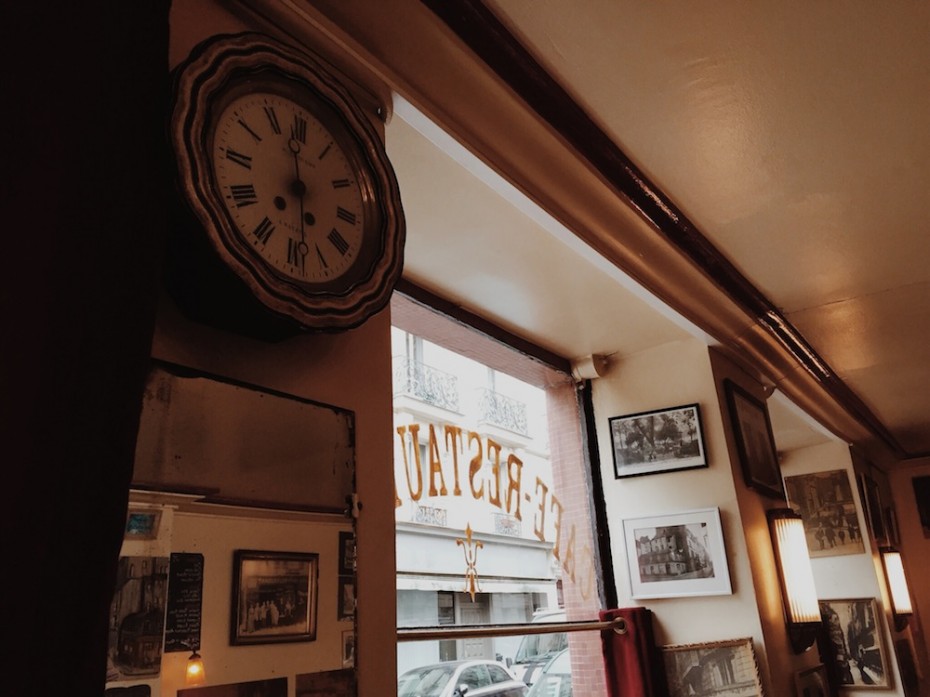 (31 rue de la Cerisaie, 4ème; +33 1 42 72 08 63)
Where to Stay(cation)
In one of Paris' Candy Coloured Cottages
Hallowed ground for Instagrammers and colour seekers alike, the Rue Crémieux feels like a slice of dreamy Notting Hill in the 12th arrondissement of the city. Stroll down this alley to soak up the kitschy murals and charming Tudor exteriors. If you're lucky, you'll run into a cute cat or three.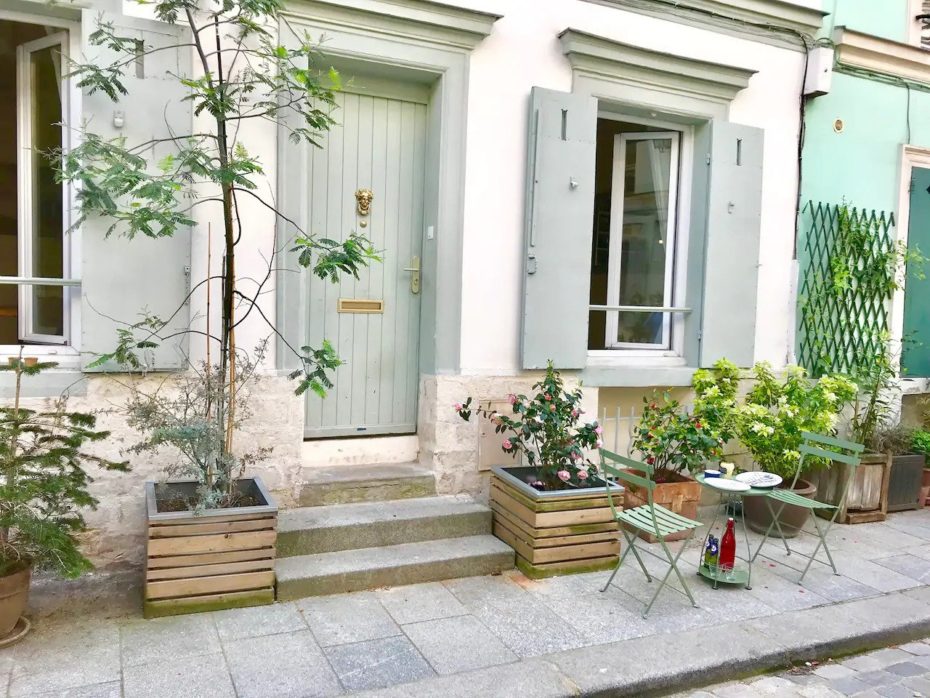 Several of the residents of this street rent out their homes on Airbnb, we've found a few of them here: House 1, House 2 and House 3.
A Rococo Wonderland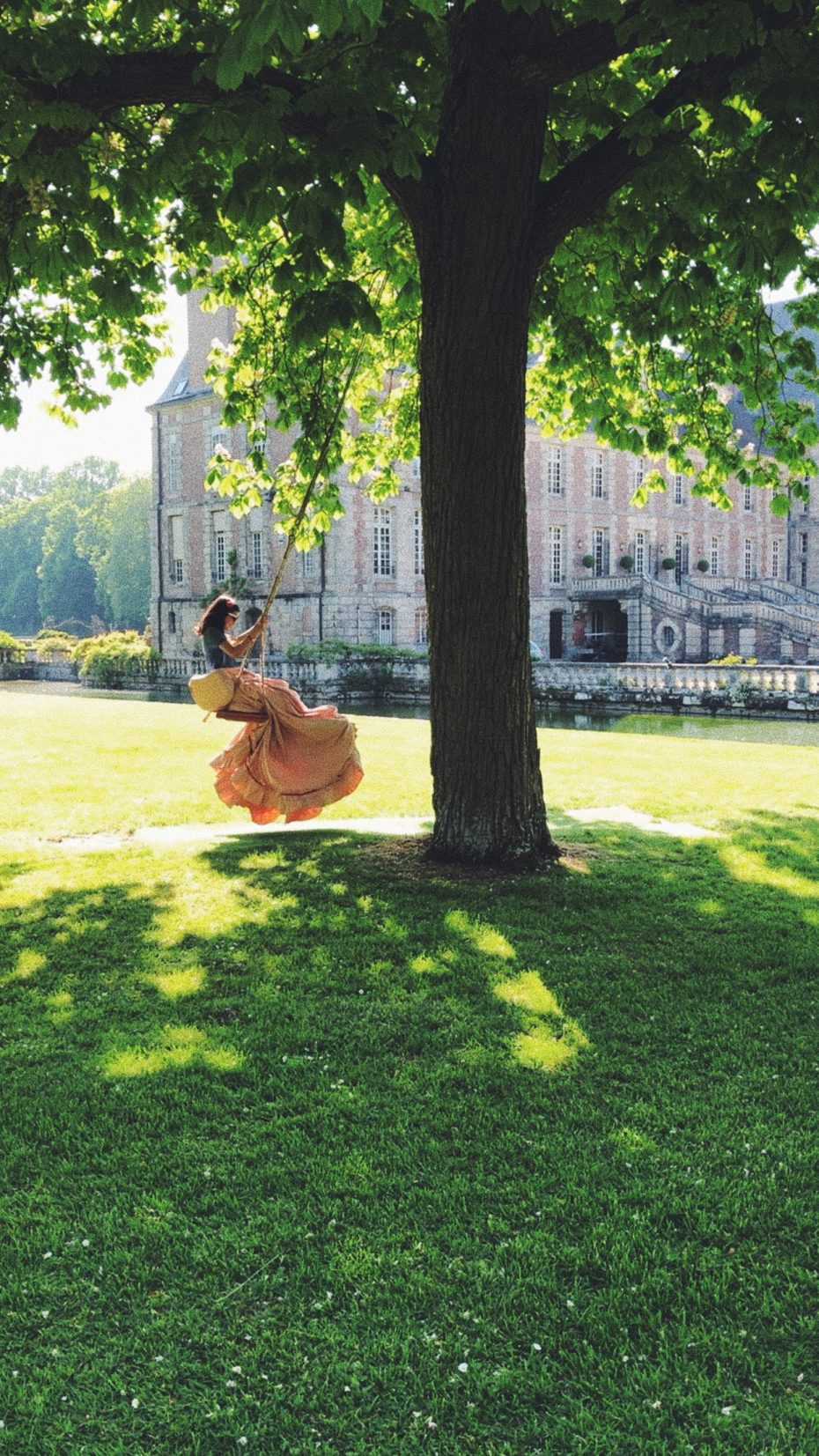 Château de Courances is an under-the-radar treasure that's still privately owned by a family, open to in-the-know château hunters at the weekend. In an hour's drive, you can be running your hands through its crystal clear fountains at the chateau named after its abundance of flowing water (courances: running water currents), enjoying the stunning gardens that could take you all day to explore, sampling the cakes from the tea salon by the Japanese garden and indulging your inner child on the Rococo Fragonard swing.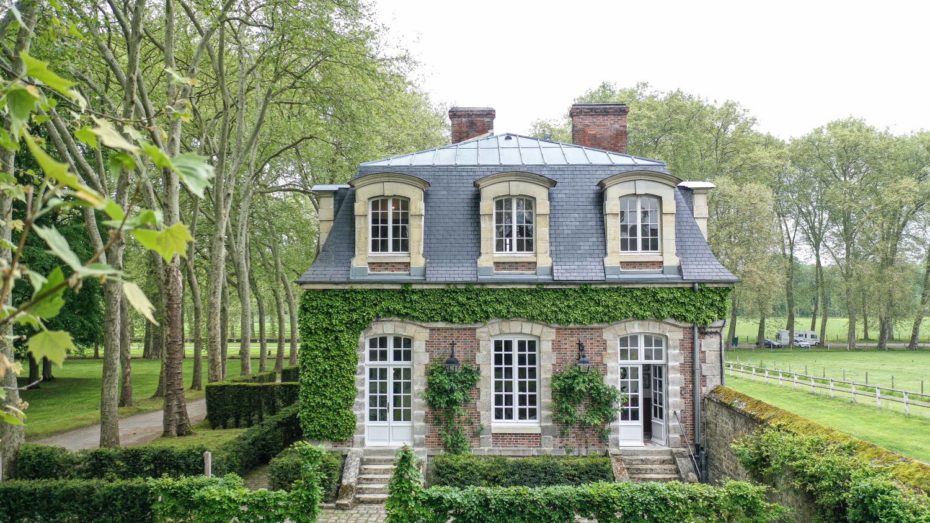 The open season starts in Spring and ends in November (Courances.net) but if you want to stay overnight, there are cottages available on the estate to rent for very reasonable prices…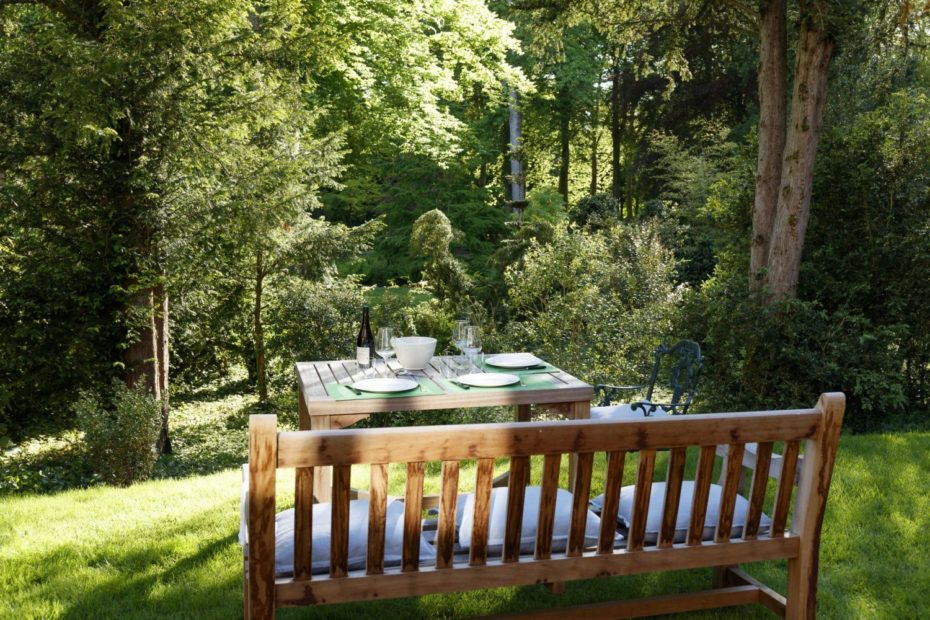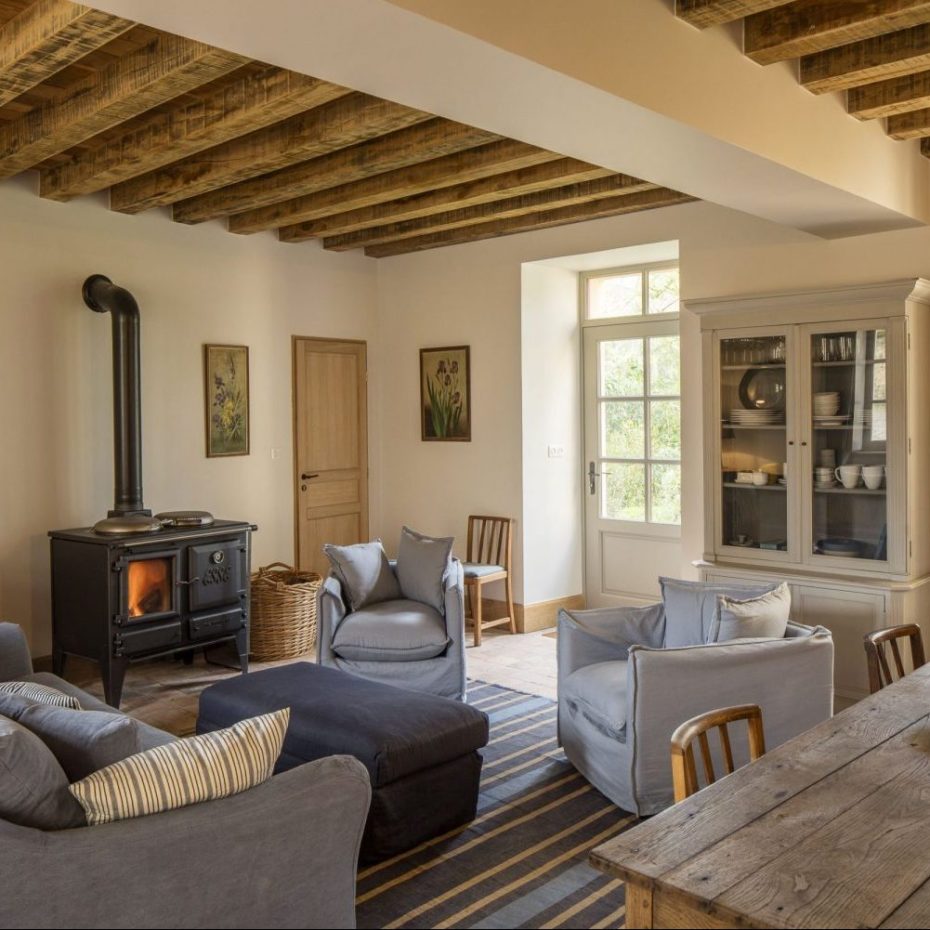 Take a look at the available properties here.
From Paris to Provence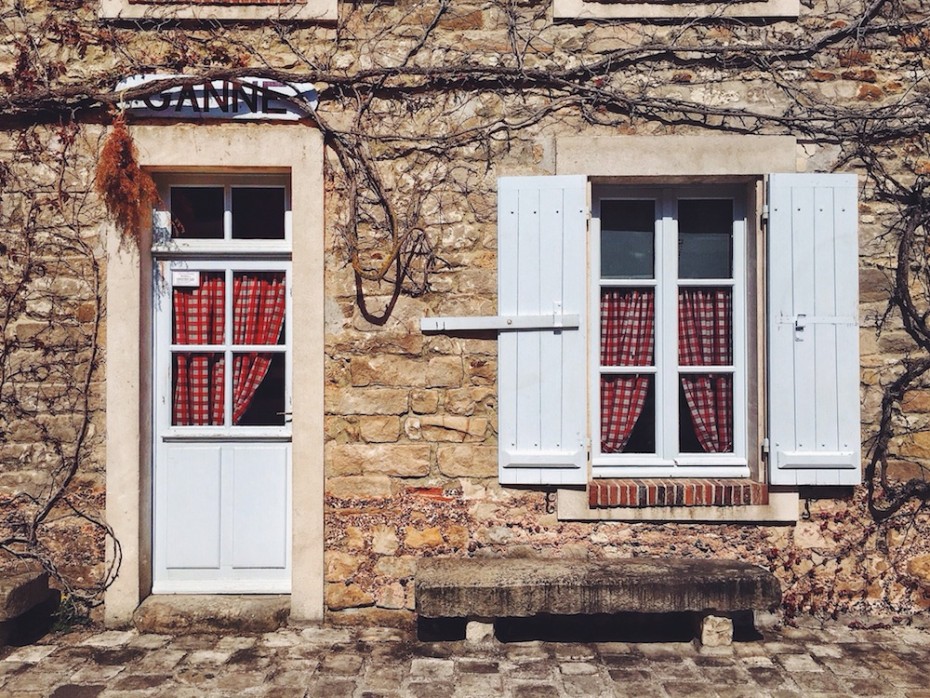 Picture a quaint French village you can reach in time for lunch, where you
can have a table for two in a sun-drenched garden with hens crowing next door. Too much to ask? Not in Barbizon, nestled at the edge of the picturesque Fontainebleau Forest, less than an hour's drive from Paris. It's the kind of village you might see in a Renoir painting – in fact, this village practically gave birth to French Impressionist art. Both Claude Monet and Pierre-Auguste Renoir came here in the 1800s as young Parisian art students, lured by the bucolic charms of Barbizon that influenced them to develop their own art movement, which we now call Impressionism. Artistry is still very much alive in this village, peppered with ateliers and galleries tucked away down cobblestone paths.
Renting a car recommended. For public transport, take the RER D train which runs every thirty minutes to Melun and then a short taxi ride into Barbizon, 77630.
Here are two lovely little stays we found locally: a cottage in the heart of Barbizon and a farmhouse outside the village.

A 200-yr-old Storybook Cottage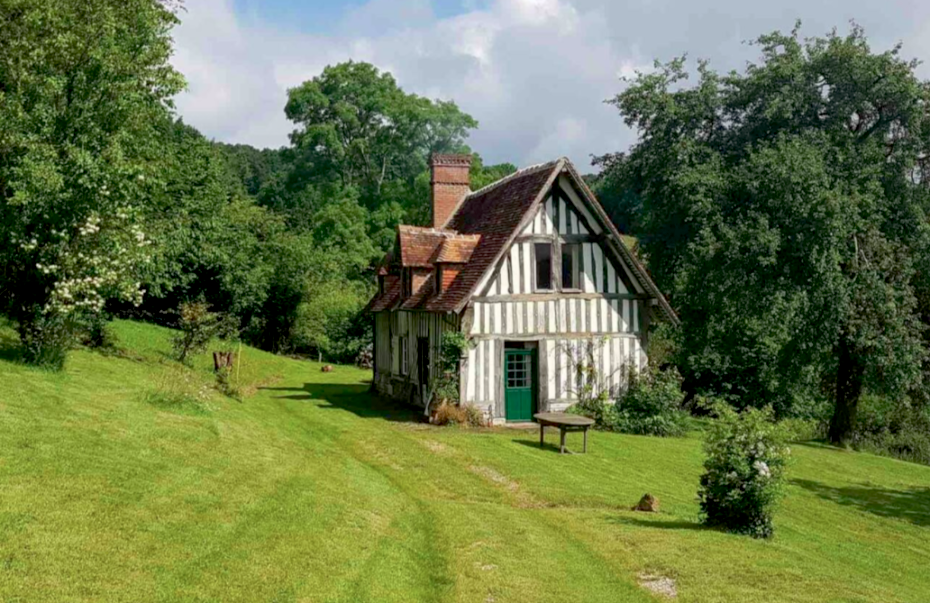 We've got a whole article about the joys of staying at French farms and country houses. La Thibaudière cottage in Normandy, just an hour's train ride from Paris, is our next coup-de-coeur. Not only will you be situated in pin-drop silence greenery with access to forest footpaths, but you'll be putting your feet up in a 200-yr-old Tudor style cottage.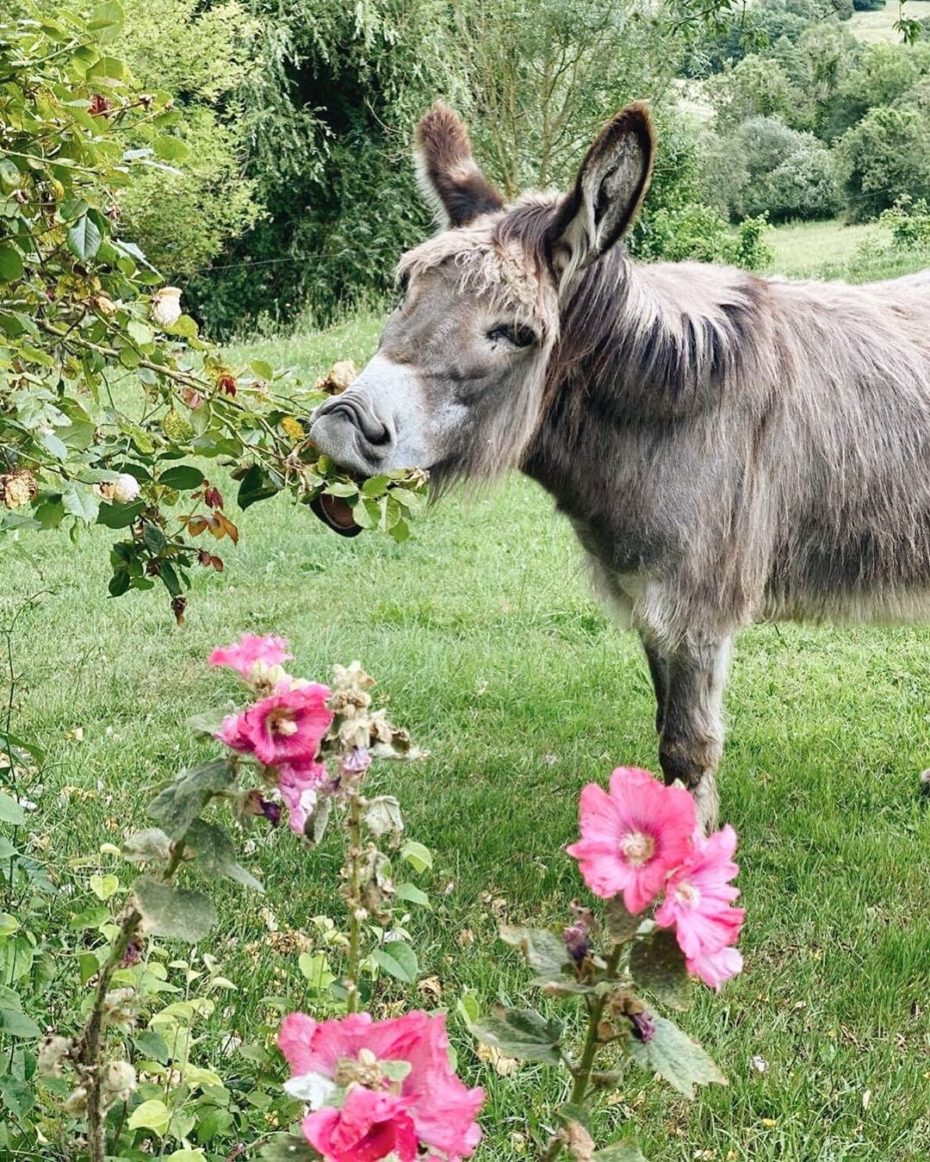 There's a wood burning fireplace, room for seven dwarfs guests, and two friendly donkeys named Germaine and Felicie in the adjacent barn (keep up with them on the cottage's Instagram). Fun fact: the house was inhabited by Mick Jagger's kids' nanny. If walls could talk!
More information on Airbnb.
Stay in Monet's Neck of the Woods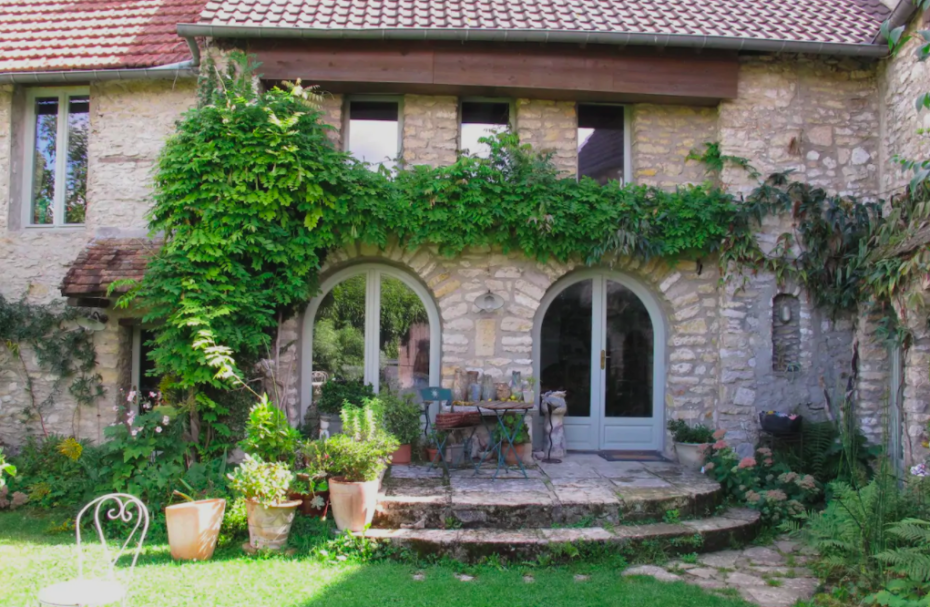 There's arguably nothing more cottagecore than visiting Claude Monet's gardens in Giverny in the Paris suburbs – so why not make a long weekend out of it? This cozy cottage has a double bedroom available that'll do just the trick.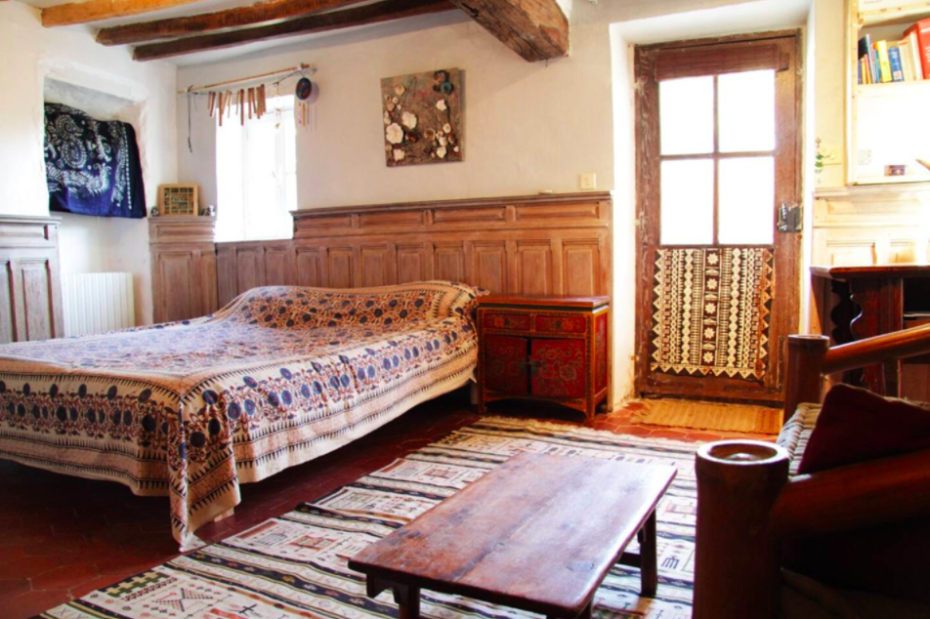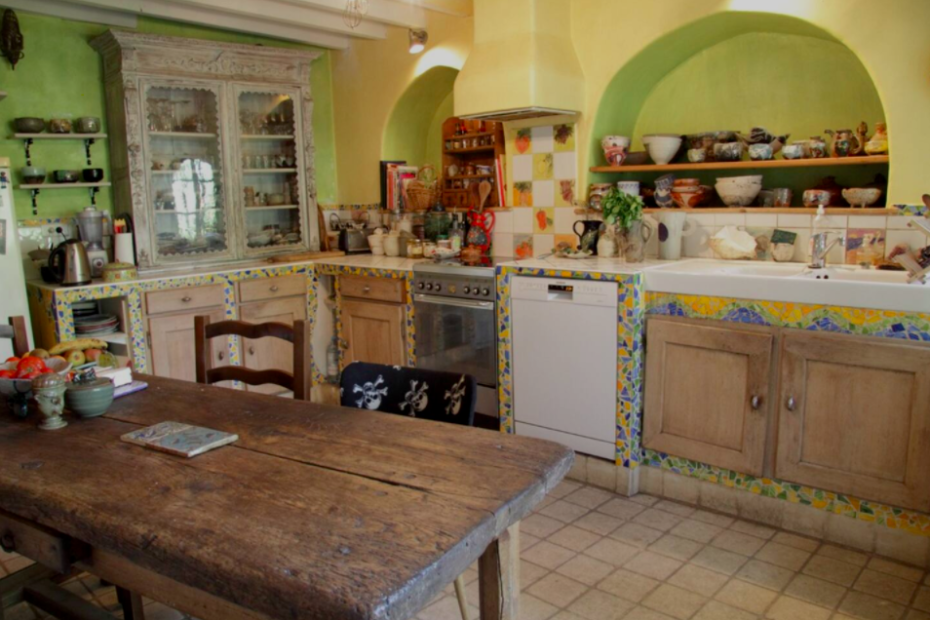 More on Airbnb.
Join in on the Paris Grape Harvests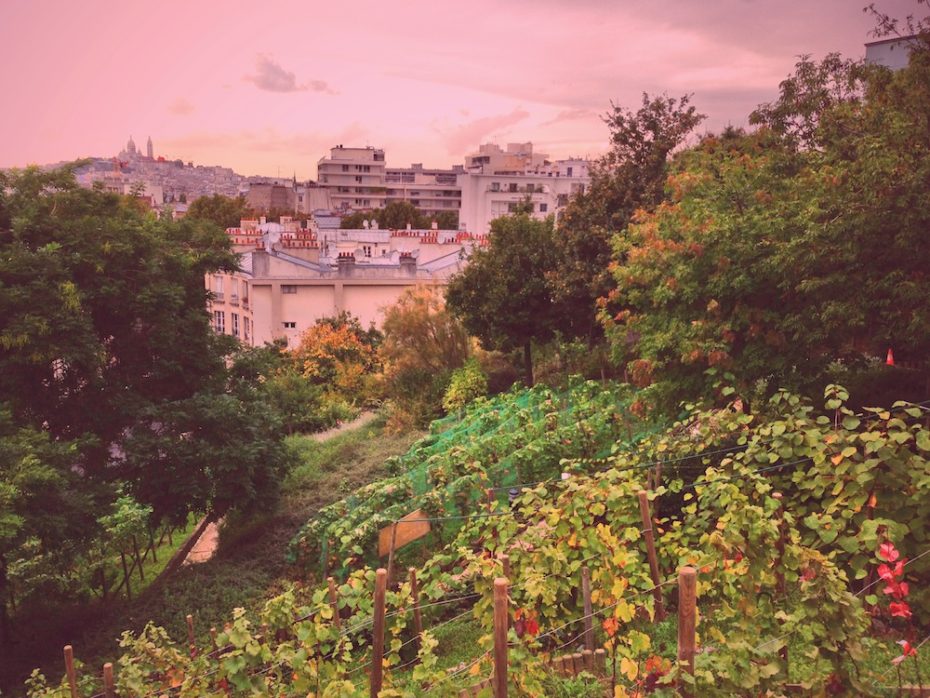 The Montmartre annual wine harvest has been a festive Parisian tradition since 1934, but its not the only place in town where Parisian grape farmers will be busy during the October harvest. Find one of the city's best-hidden vineyards and my favourite view here and another unlikely vineyard at the end of a search for Paris' Lost Wine Village.