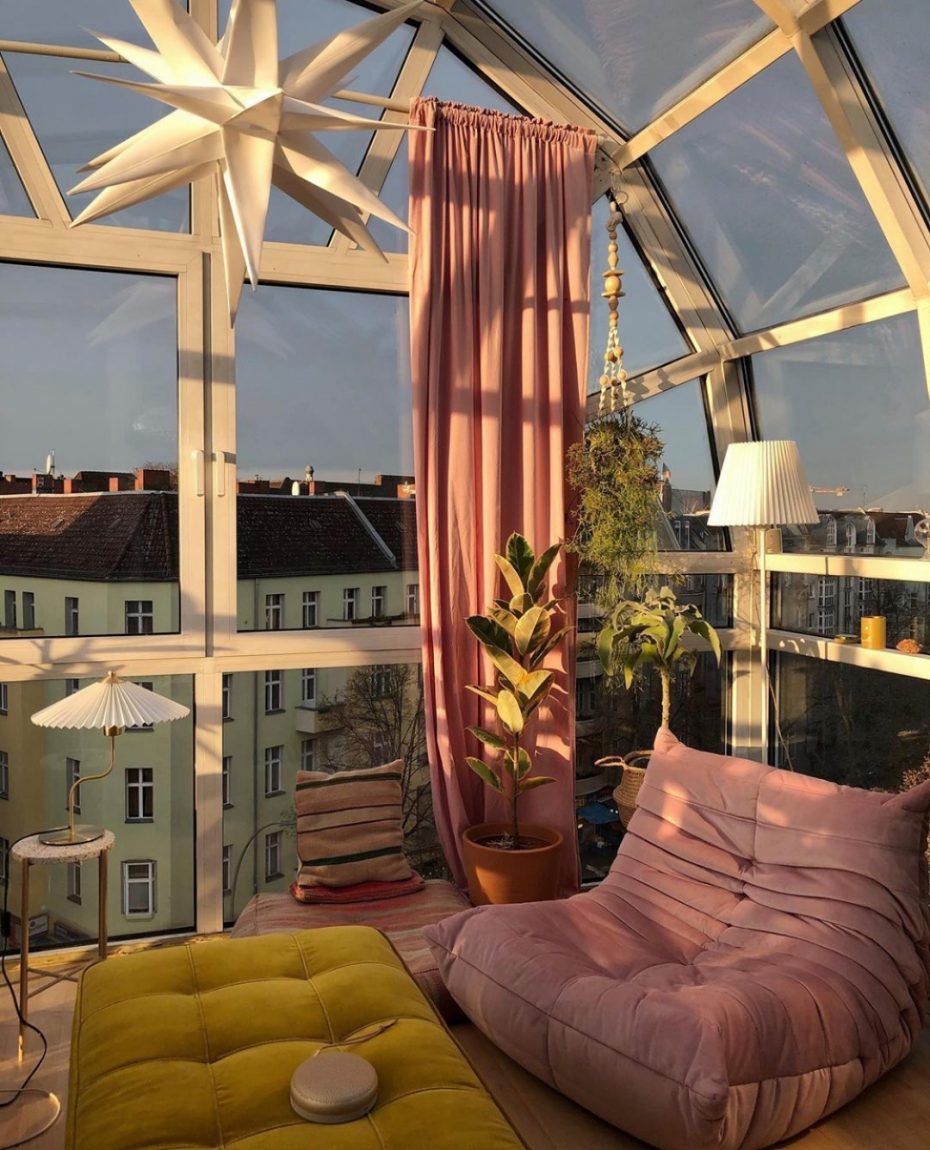 During the lockdowns of the past year, it's been all about nesting (and investing) in our homes. Serving as both our workplaces and sanctuaries, as well as our private entertainment spaces, apartment Feng shui has become top priority next to staying healthy. One of the most re-posted apartments on Instagram during the pandemic has got to be the glass rooftop retreat of Hannah Lagom, a Berlin-based editorial entrepreneur and the lucky tenant of this dream space. We caught up with Hannah to ask her a few nosy questions about her now Insta-famous pad.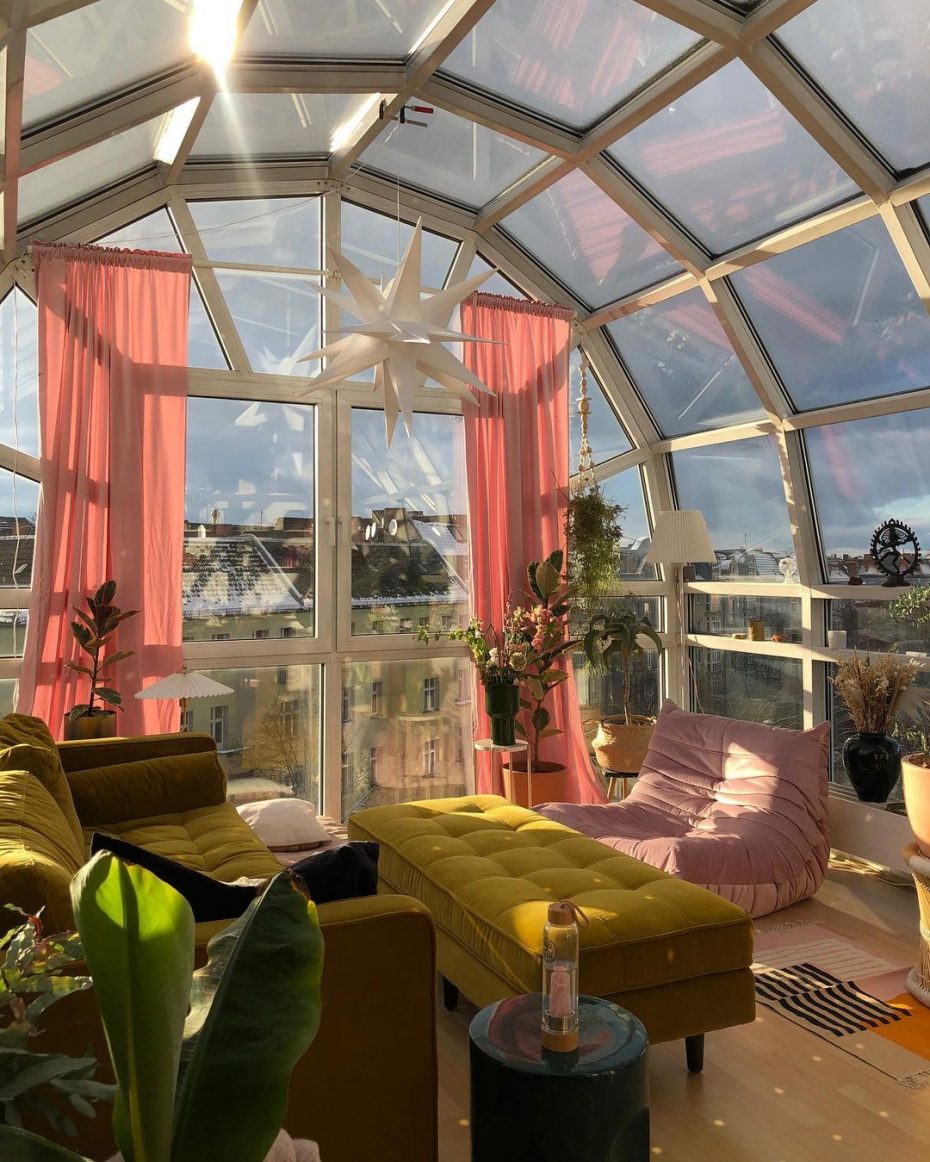 During the lockdowns and working from home, what have you been cooking up in your apartment?
At the end of March 2020, as the first lockdown happened, I founded our very own storytelling agency @almostagentur with my sister Marie. Since then we've been quite busy coming up with social media and communication strategies for mostly sustainable lifestyle brands. In October 2020, coinciding with the second lockdown, we published the latest issue of our print magazine @almost.mag. The issue is all about secrets so it was kind of a great match that we launched without a big party!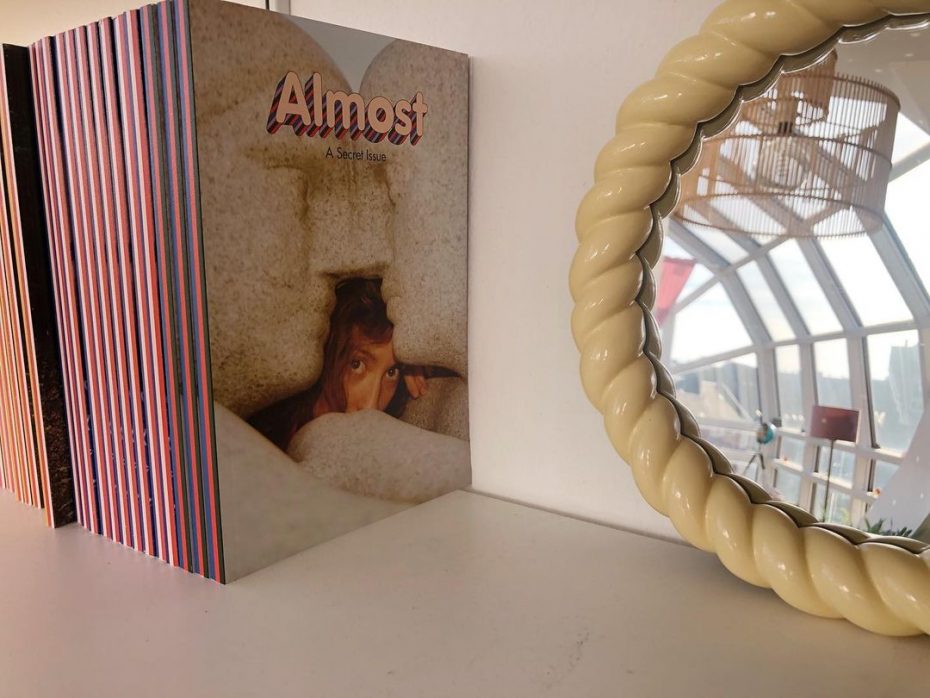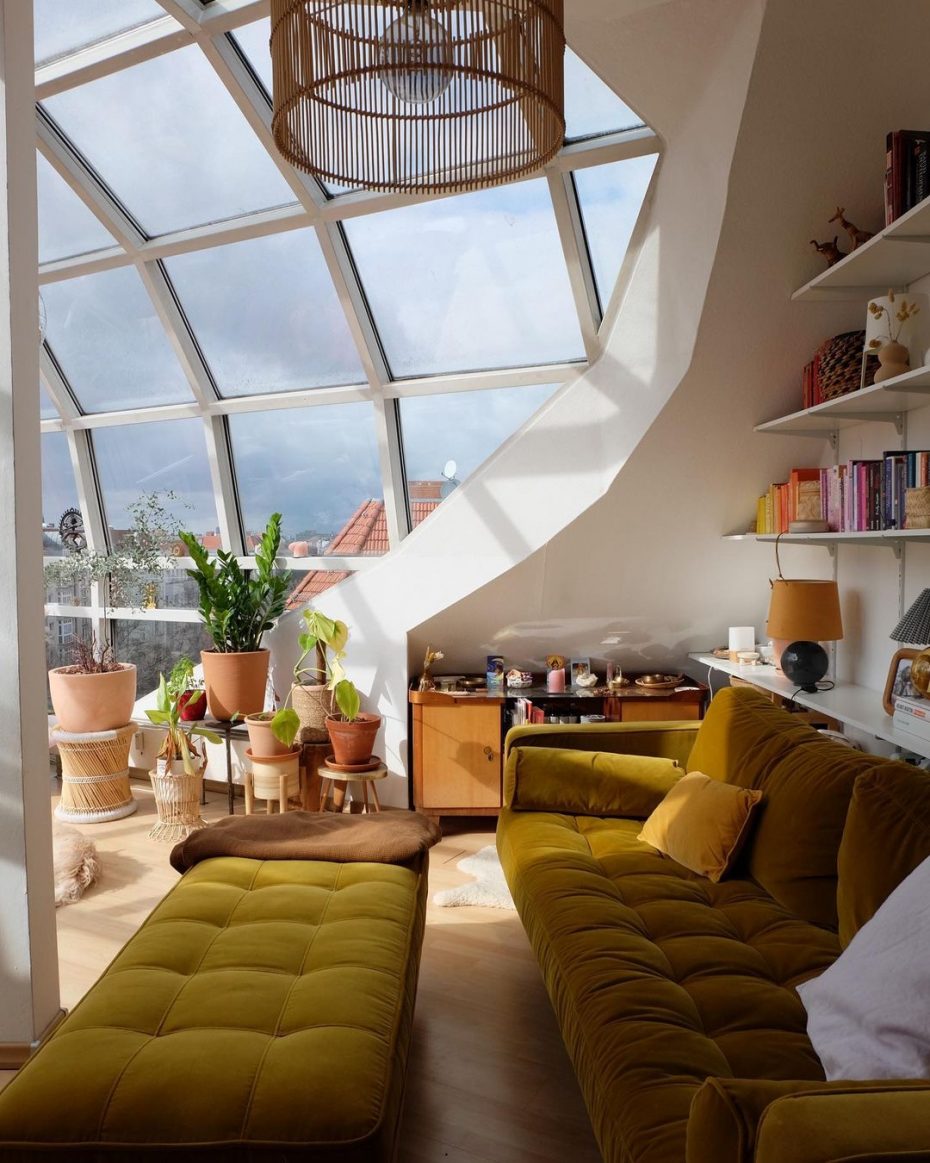 How long have you lived in your apartment and how did you go about finding such a charming haven in Berlin?
I moved into this gorgeous apartment in November 2019. I was so lucky to spend the past year here and not in my small 1-room apartment where I lived in before. I think we were super lucky finding this place on a common real estate app (Berlin Immobilien). Of course my boyfriend and I had all our burocrazy-papers ready for each viewing and I think a little lucky magic didn't hurt the process either!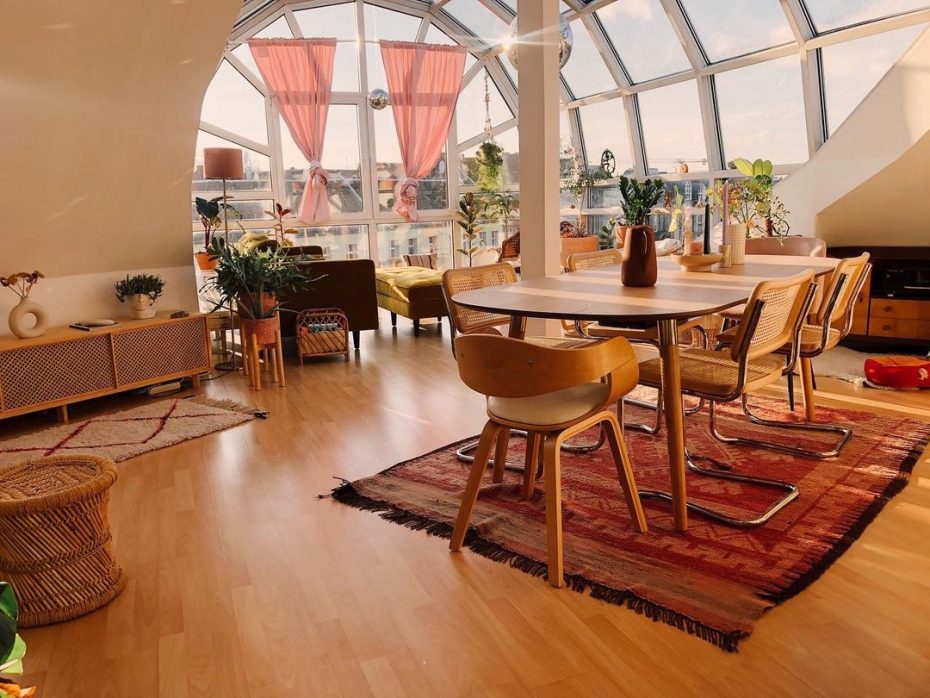 Do you know at all about the building's history?
Unfortunately I don't know much. I asked the building manager when I moved in but he didn't know either strangely.
What's your favourite thing to do in that wonderfully light-filled space?
I sometimes call our living room "the spaceship". I love having breakfast there in the sun and since it's quite spacious I dance and do my yoga practice there. On days when it's not too hot I also just work from the couch. We had one beautiful New Year's party here with friends. I hope we can repeat that soon. The place is great for having people over.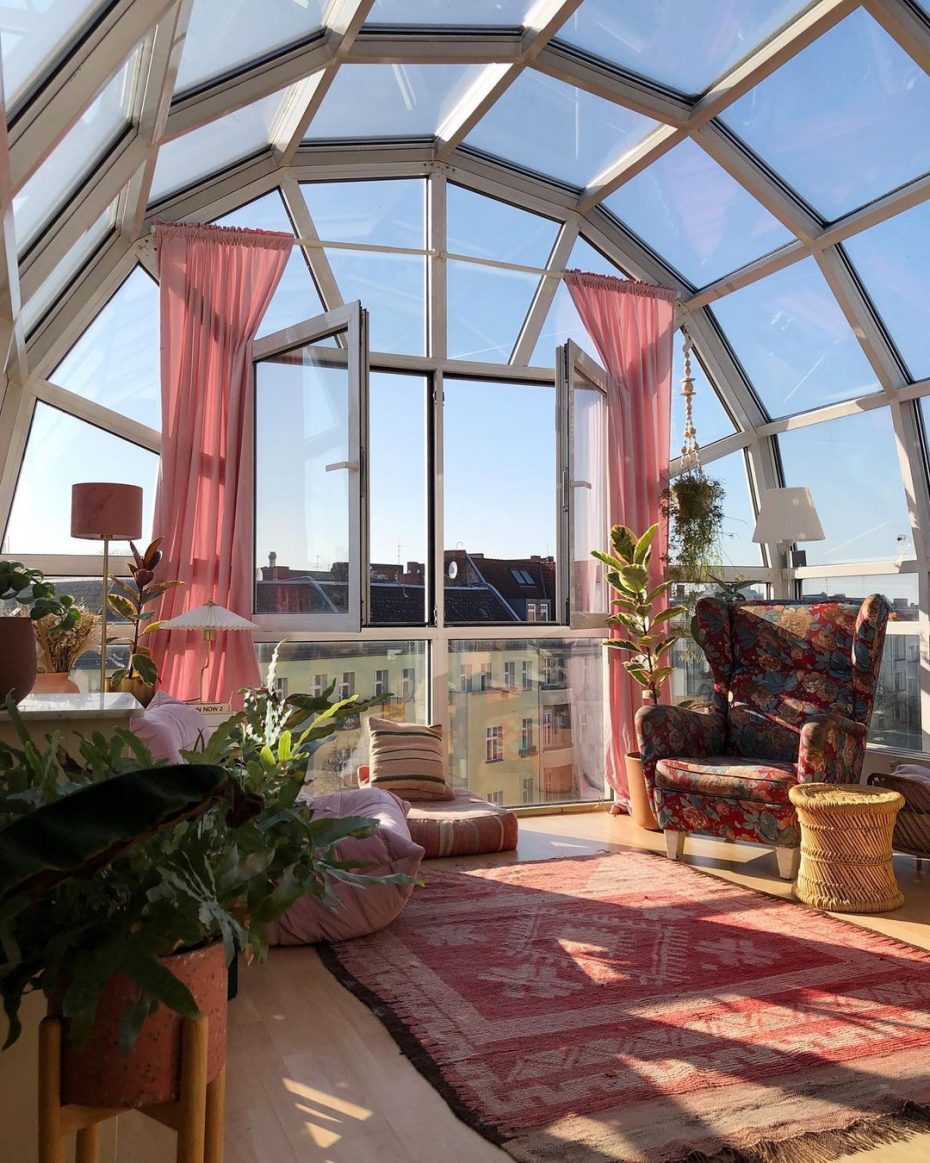 What's been your process for furnishing the apartment?
Furnishing this place was like a fun puzzle. Both myself and my partner brought some pieces from our old apartments but the unique architecture of this place demanded some creativity. One of the first things we did was build the bookshelves in the living room and bedroom, cutting them ourselves to fit the tilted walls. I didn't make a specific mood board for this apartment, I went more with the flow but then I discovered that I had made an interior Pinterest board back in 2016 which pretty much looks like the apartment now. A lot of natural materials, beige and off-whites and then some pink, saffron and other colourful accents. I guess my taste did't change much since then.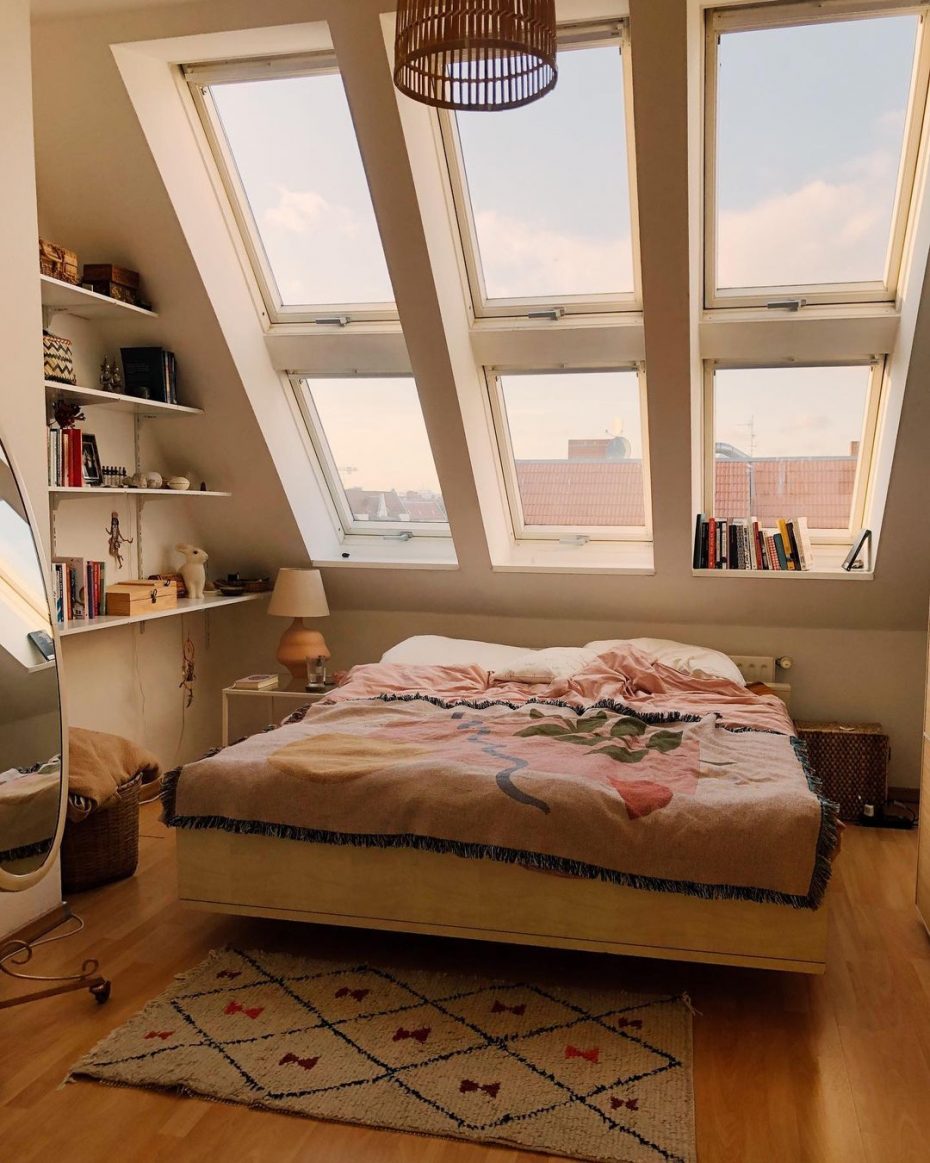 What are your favourite spots in Berlin for finding unique additions for your apartment?
There are some nice flea markets in Berlin where you can find quirky additions for your apartment. Also I am a big fan of finding cool second hand pieces on ebay classifieds. For decorations and accessories I love checking out what the potter Jeremy Bellina is working on. He just moved his studio closer to my home….very tempting.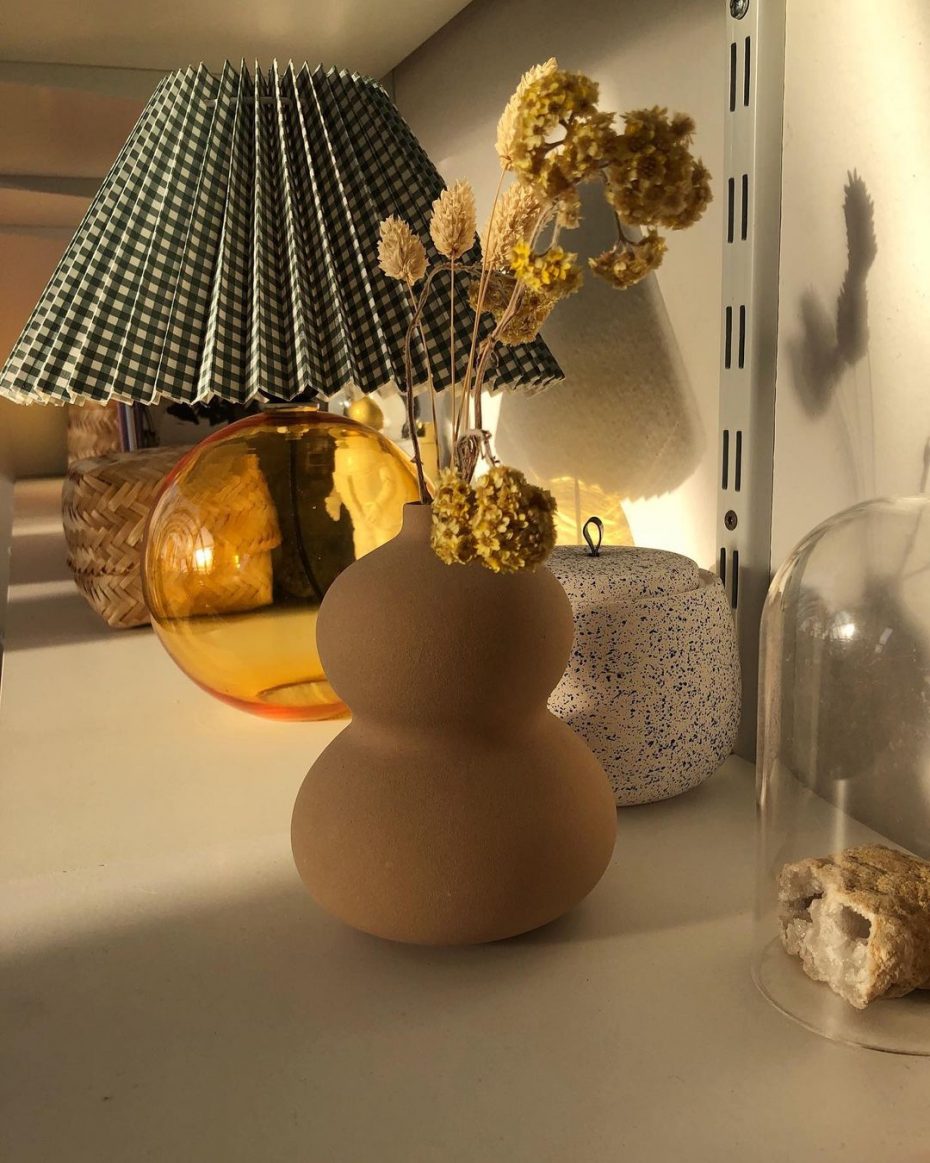 What are your favourite pieces in your apartment?
I really like my bedside lamp that Jeremy Bellina custom made for me. It has a beautiful organic shape. Speaking of organic shapes, my newest piece is a mirror sculpture by the sustainable label Nove and the Berlin based artist Julia Mauerer. I really like it, too! And of course my pink velvet Ligne Roset Togo. I never sat anywhere more comfortable (and pretty) before.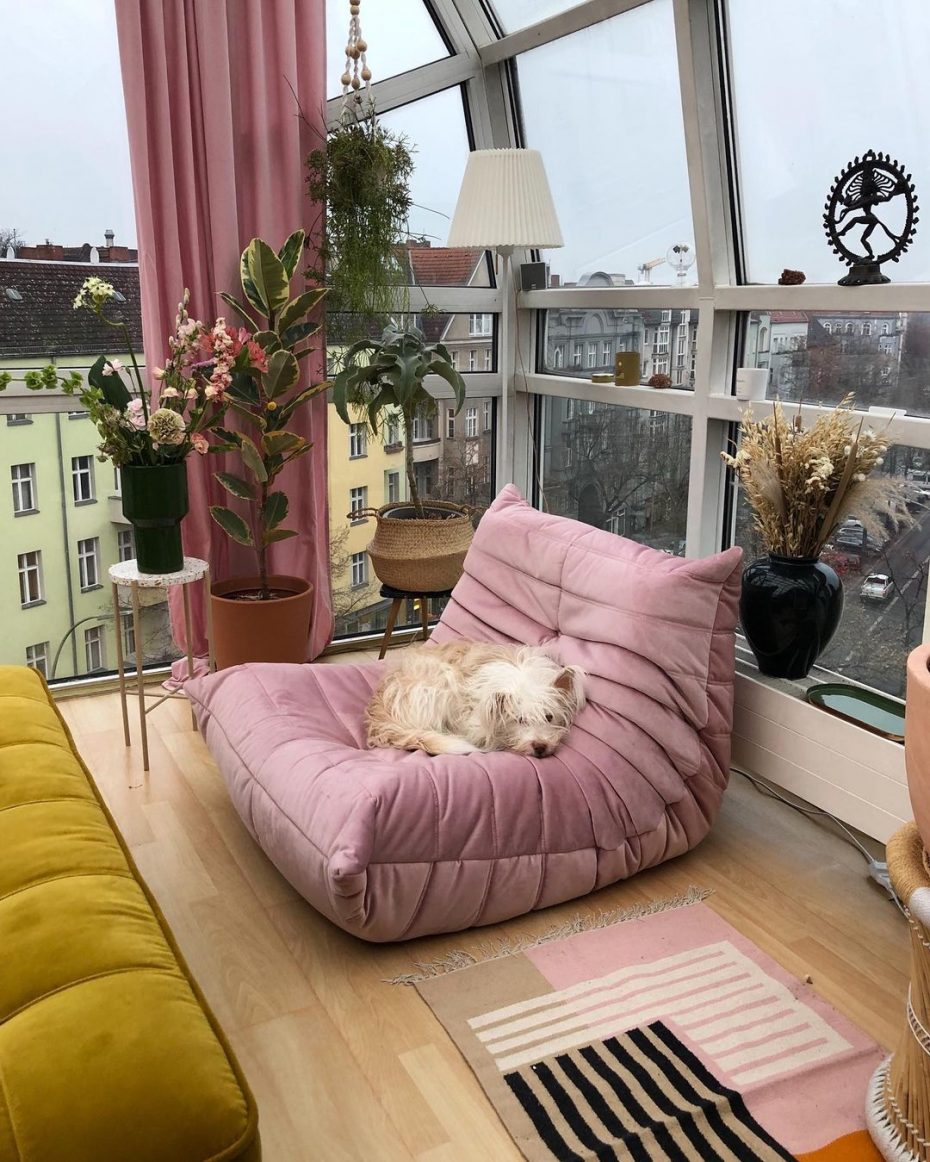 How would you describe your current aesthetic? And how do you think you were influenced to adopt it?
I am definitely not a minimalist and I am quite nerdy about details and finding new compositions in colours and shapes. I think my approach to interiors is the same I have towards fashion. I have certain things I have loved forever so they build my base; natural colours, velvet and wood as materials and influences from the 70s and playful Scandinavian design. And then I add colourful, more on trend details that I like and more quirky, personal pieces. I would say this is my formula for outfits, my apartment or even the inside of my VW bus. Living in London and Stockholm both influenced my for sure, as well as travelling to places like Morocco.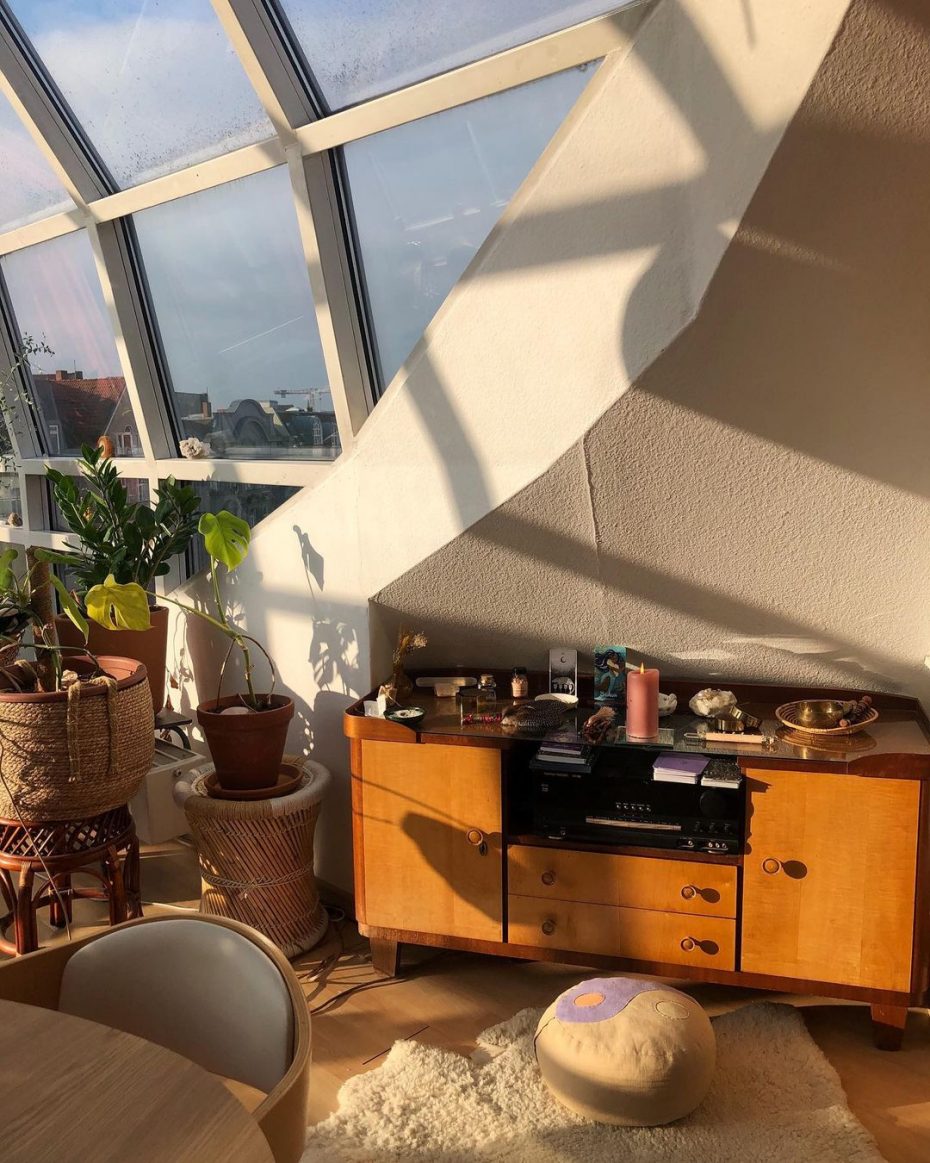 Since accidentally finding Insta-virality with your apartment, have you had any unusual requests or propositions?
Hah! It's insane how many people shared my living room on the gram. Usually the requests I get are not too weird but I did get an email asking if my living room could be in a computer game.
Have you/ would you consider putting your home on Airbnb?
I get that question a lot. Usually I let friends stay in my apartment when I'm travelling so that the plants are taken care of and I like the feeling of knowing the apartment is always occupied. Renting it on Airbnb is unfortunately not allowed with my renting contract, otherwise it might be worth considering for sure.
Do you ever worry about the neighbours peeking in?!
Not really! I met two of my neighbours via Insta and they showed me how little you can actually see from the outside. So I'm quite chilled.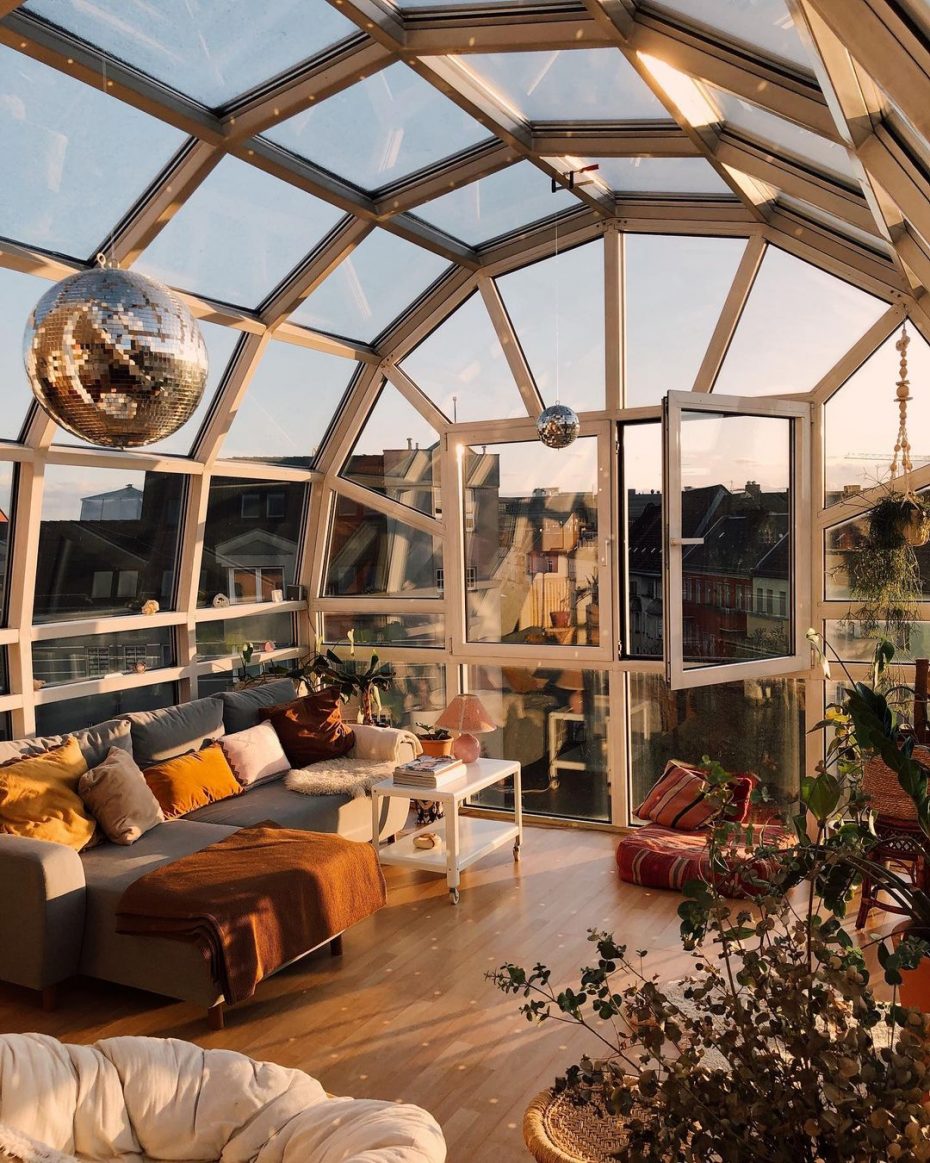 Favourite place/ museum in Berlin to find creative inspiration?
I really enjoy the photography exhibitions at C/O Berlin, I've also seen some inspiring modern art at Hamburger Bahnhof and the Kulturforum is a good place for fashion exhibitions.
Favourite social media accounts for design inspiration?
Oh there are so many! A few of my current faves are: