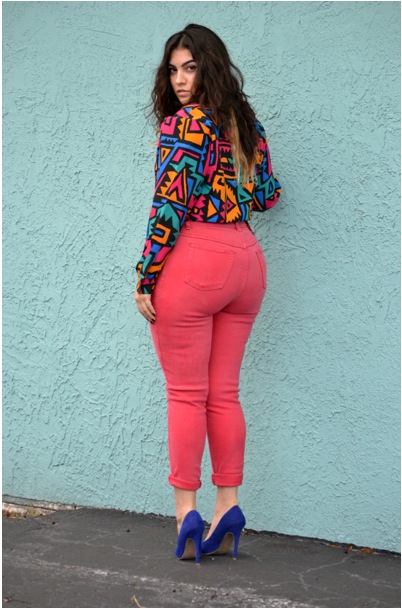 You could say I have history of dismissing style bloggers that spend half their time doing photo shoots of themselves. But with this one, I'll bend the rules a little. Is it because she's not the typical size of a fashion blogger? Admittedly, it's what first caught my eye, but that's just skimming the surface…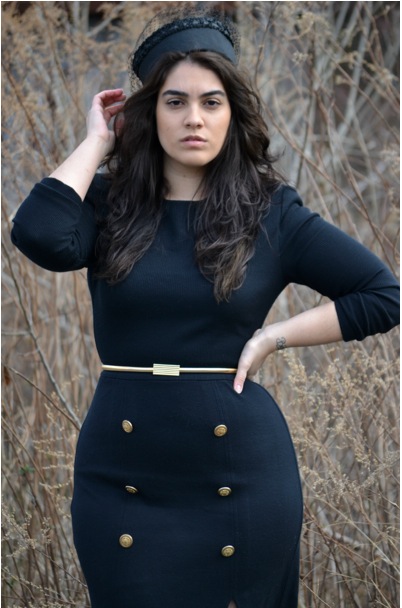 I believe there's a certain expectation for curvier girls to make up for their lack of protruding collar bones by having extra funny, kinda goofy, super-approachable personalities. But not this one.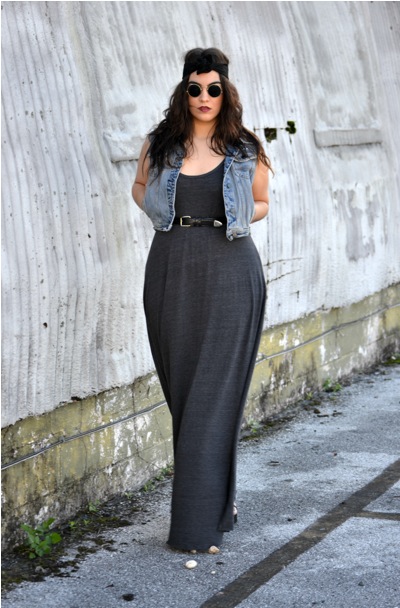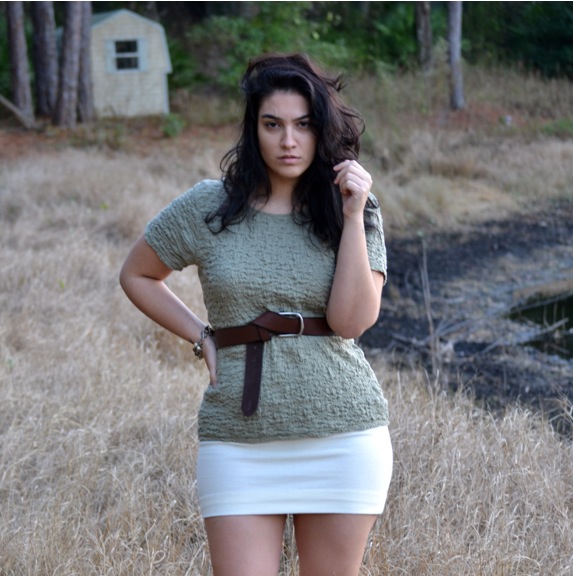 Between her steady camera gaze and brash commentary, Nadia Aboulhosn has so much attitude to boot, that when browsing her blog, I quickly became a captivated, slightly intimidated fan.
But I'll be brutally honest as usual, at the risk of receiving hate mail and say that this rarely happens when a girl is physically bigger than me.
Unless it's Adele or something.  (I said rarely not never).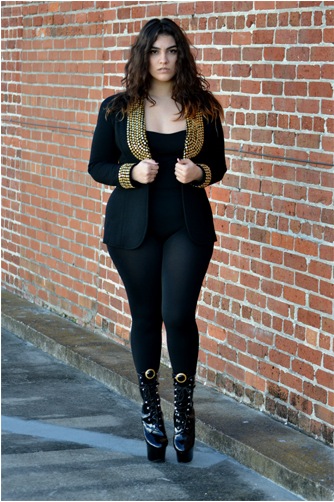 It's a bleak thought but in the the realms of fashion, women are typically the envy of other women if they fit into smaller sized jeans and seldom the other way around.
Yes, I get momentarily intimidated by tall, stoic model-esque French women that waft past me during Paris fashion week. And yes, I feel considerably more at ease, less threatened when I see curvier girls around.
So what is it about Nadia that gives her that enviable power?
Proving that perceptions of beauty can be changed, the 19 year old Lebanese-American fashion blogger keeps her followers engaged with a fierce enough confidence to carry off any style and demand respect, regardless of fashion's size standards. Because she's making her own standards. (Nadia personally remodels most of the clothes she buys to suit her preferences).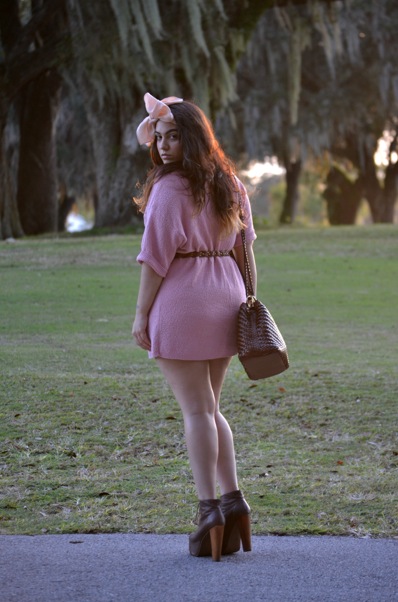 There's not a single goofy face, funny pose or approachable smile to be found on Nadia's blog. She is in no way apologizing for her size. Nadia takes herself as seriously as any other waif-like fashion blogger strutting around in size 0 skinny jeans at fashion week. And thus, so do we.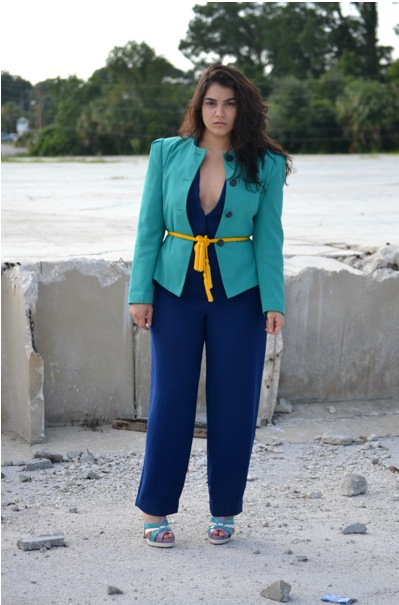 Am I saying we should all walk around looking pissed off in order to look confident in  everyday life? No, but as Nadia demonstrates, if you take yourself seriously just as you are, others will too.
Recently announced as the new face of American Apparel's plus size range and regularly featured in style magazines across America, aspiring fashion designer Nadia is tipped to be sitting in the front-row of NY fashion week by next season.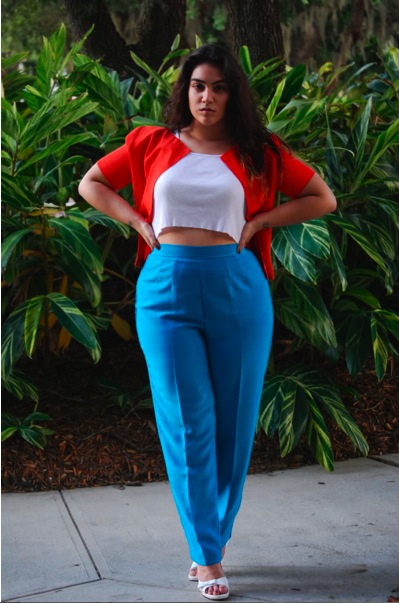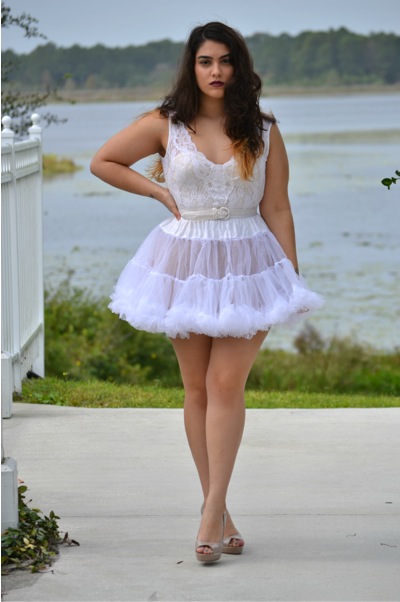 There is a certain illusion to this whole 'fierce confidence' thing however because no doubt, even the most confident of women, thick or thin, can be insecure or act goofy or silly. But these 'serious' women create an aura that can certainly come in handy in the professional world.
And this is what Nadia lives by. It's that unmistakable "don't take no sh*t" confidence  that we're admiring, that elevates her above the rest.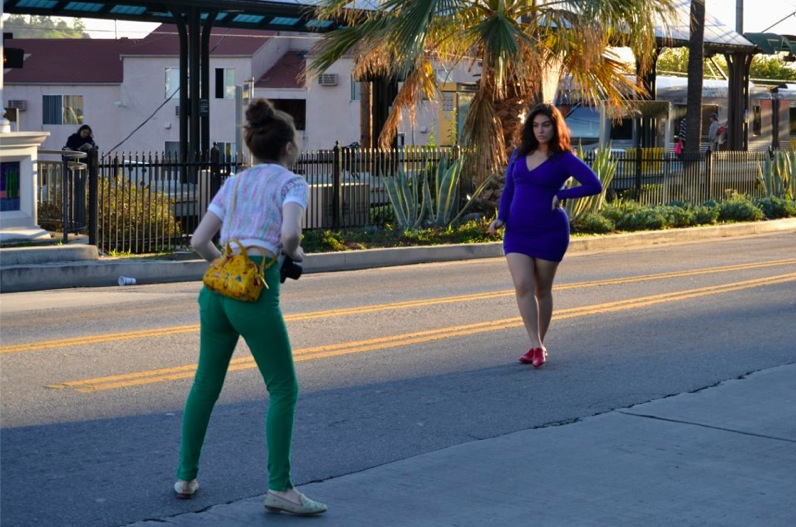 I've stressed it time and again in various topics on my blog, from relationships to body perception– confidence is key. I chose Nadia as my 'Girl Crush du Jour' not because I'm on a mission to promote curvier women over skinny women but rather because I'm trying to promote confidence in all women.
Nadia is walking-talking proof that confidence can fix a lot more things than any physical changes to your appearance can.
"The way to stay confident is to find a purpose in life, a place where you feel comfortable at and comfortable with yourself. You know yourself better than anyone else, trust you. I never lose sight of my vision. This is how I have become so confident with myself. If you're confident with who you are on the inside, then it automatically shows on the outside. When you know who you are as a person and what you want out of life, confidence comes naturally."

-Nadia Aboulhosn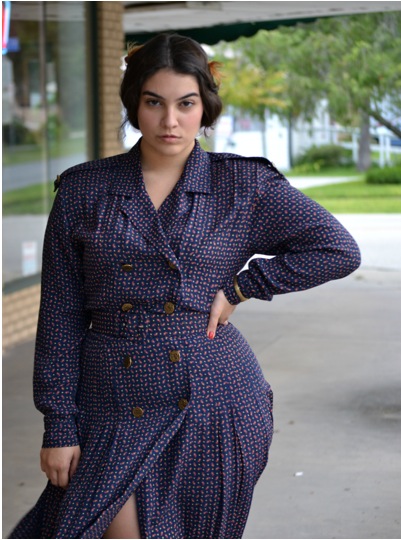 It's only true that curvy girls need to work even harder to diversify perceptions of beauty in a society where 'thin' has been 'in' for the better part of a century. They'll need to have a confidence as intimidating, enviable, even as aggressive, as the women half their size to make a real and lasting impact.
But in today's climate of unrest for the fashion industry concerning the kind of body image it promotes, there's currently a door that's ajar for the curvier woman. And Nadia Aboulhosn seems to have her foot in it.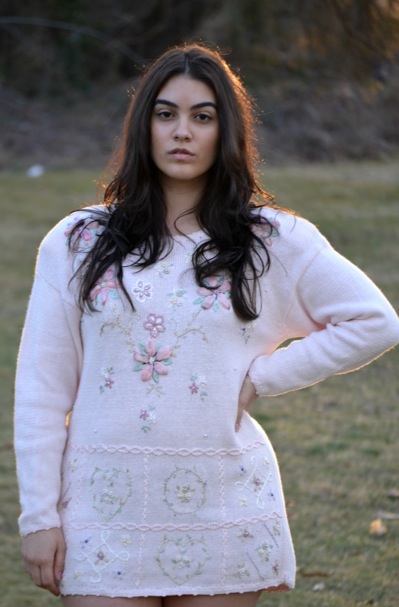 Meet Nadia:
[youtube http://www.youtube.com/watch?feature=player_embedded&v=d7fmuwMxvYo]
…
Each of Nadia's posts come with a quote. I picked out a few …
"No work without an aggressive character can be a masterpiece." -Unknown.

"Each time a woman stands up for herself, without knowing it possibly, without claiming it, she stands up for all women." -Maya Angelou

"If I tell you that I am good, probably you will say that I'm boasting, but if I tell you that I am no good, you'll know that I'm lying" -Bruce Lee

"Your willingness to be truthful about who you really are opens up enormous possibilities" -Oprah

"Fashion is not frivolous. I am a businesswoman, a very serious business person" -Donatella Versace

"If you set out to be liked, you would be prepared to compromise on anything at any time, and you would achieve nothing" -Margaret Thatcher

…
If you like style blogs and you'd like to see something that's different from the others, here's Nadia's blog.