Let's talk cars. Cute ones. Like they used to make 'em.
BMW Isetta, 1957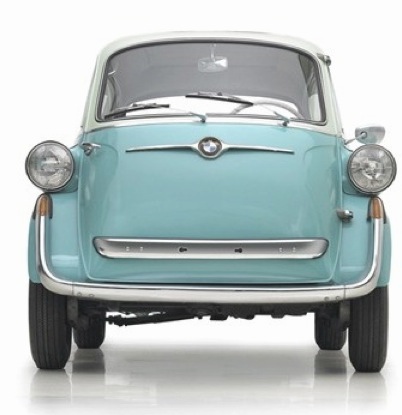 It's said to be the very best microcar of its time. BMW teamed up with Milan-based refrigerator company, Iso Spa of all things on this one, thus the name "Isetta", meaning "little Iso". Probably the most unusual thing about it is the fact that you entered the car via the front windscreen!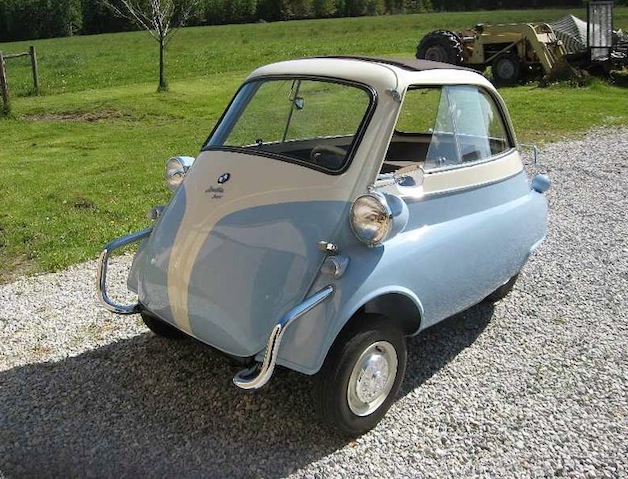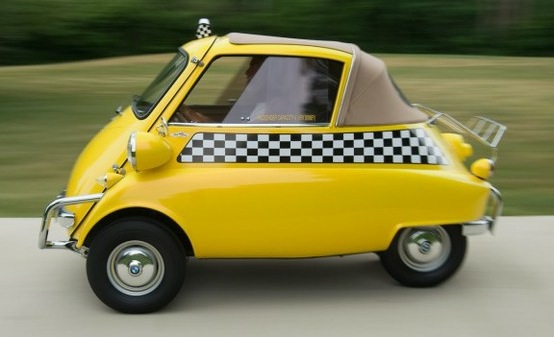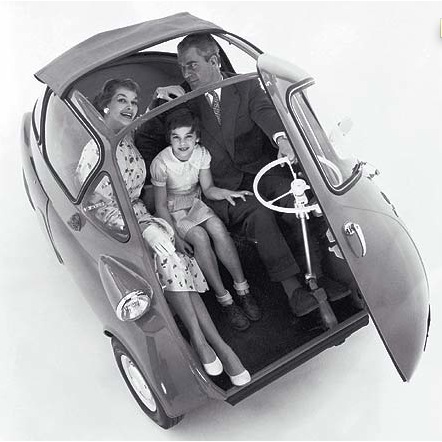 Via
here
The Messerschmitt, 1960
This is a three-wheeled German car and it was made by an aircraft engineer which might explain why this little thing looks more like a cockpit on an old fighter jet.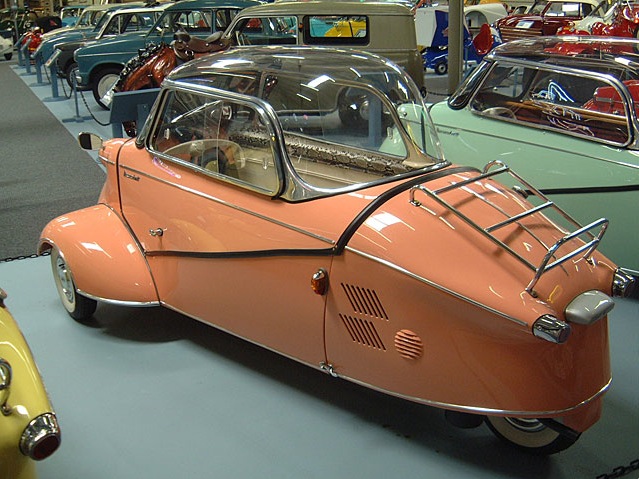 More info here
1959 Autobianchi Bianchina 500
Produced until 1970, this little one was originally equipped with the smallest Fiat engine.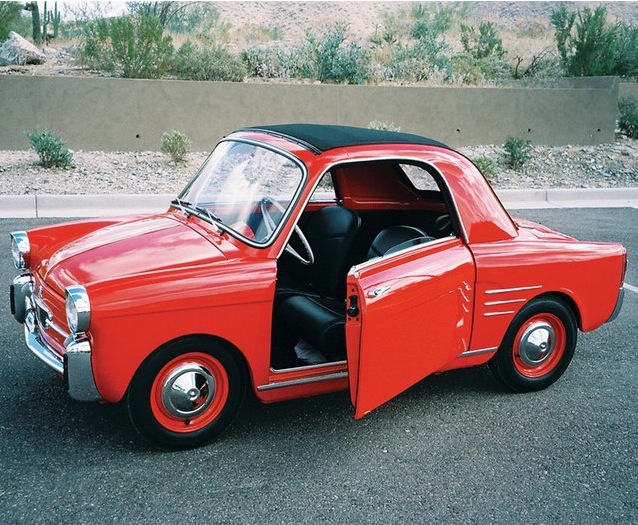 Goggomobil, 1959
Less than 67,000 of these German beauties (it's just 10 feet long) were manufactured between 1957 and 1969 and manage a top speed of only 52 mph. It's only ten feet long and powered by a two-stroke, two-cylinder engine.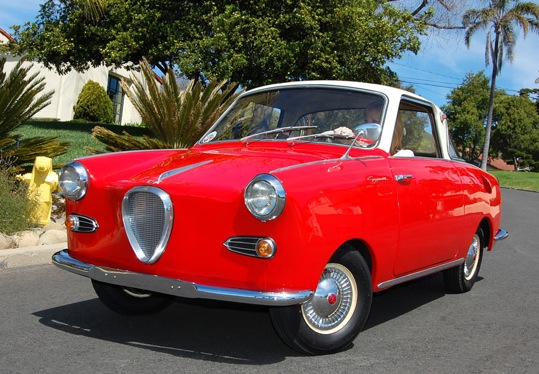 More here
1960 Goggomobil T-300
And the following year came the T-300 in all its tiny glory. If you're lucky, you could find one on Ebay in the range of $5000 to $8000.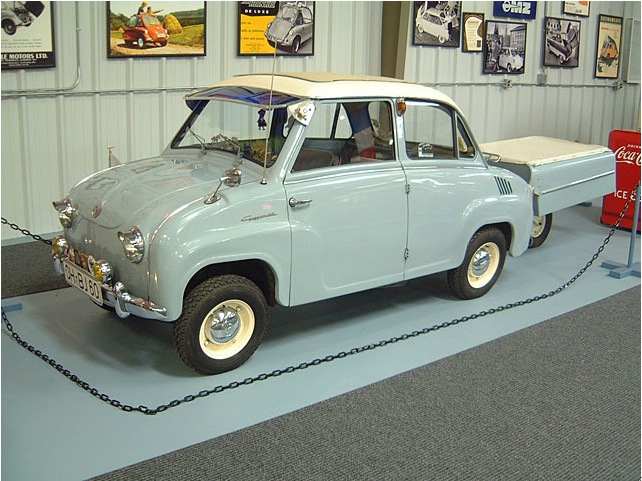 View more here
Fiat Marine "Eden Rock" 1958
This was actually a prototype but no less amazing! With a a wooden-slat wraparound bench in the rear, this would be perfect for a weekend seaside break.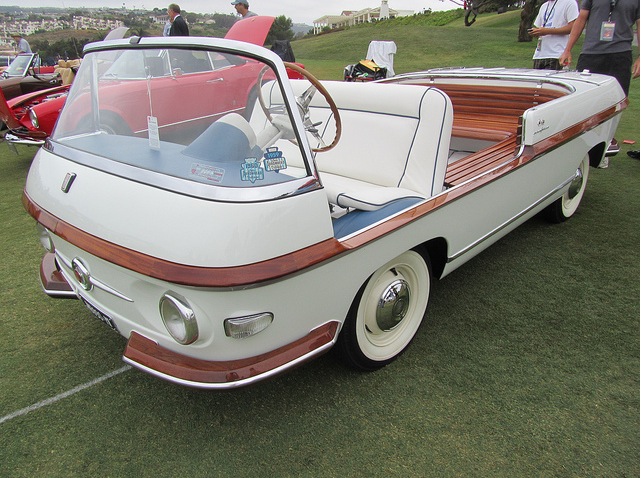 FIAT 600 Multipla
Sorry for the cheesy picture but may I present to you the Fiat Multipla– the mini minivan.  It was widely used as a taxi in many parts of Italy but moreso as a family car in other parts of Europe (you can see just how many people it could fit in the image below). It reached a top speed of 57.1 mph (91.9 km/h) and could accelerate from 0-50 mph (80 km/h) in 43.0 seconds.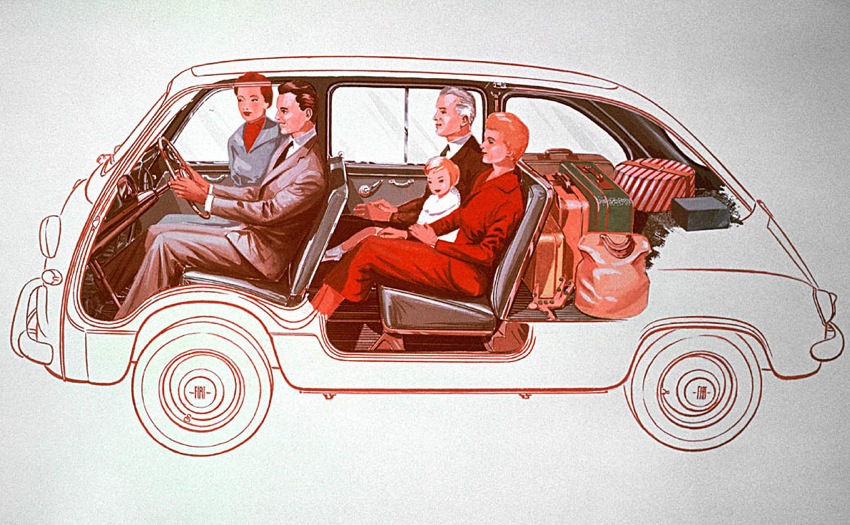 Fiat 'Jolly'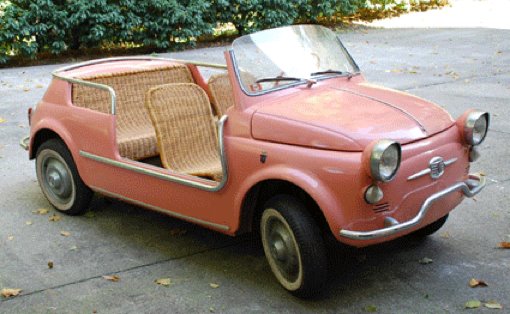 With all the Italian seaside resorts of Italy, beach buggy conversions of regular became somewhat of a trade. A little company called Ghia (now owned by Ford) specialized in these conversions and was chosen to create who the 'Jolly' conversions on Fiat's 500, 600, Multipla (as seen in the previous model) and Giardiniera platforms.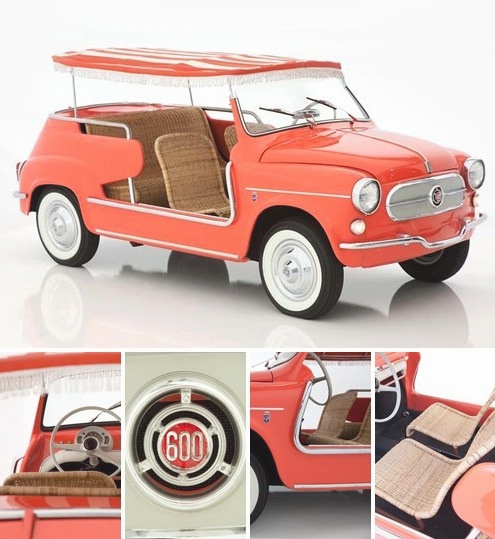 Known at home as "La Spiaggina", literally meaning  "beach-ette", the Fiat beach-buggy was marketed worldwide as the Jolly, meaning "joker" in Italian. They were available in pink, coral, white, pale yellow and sky blue.   Considered a success, the model had a healthy run from 1958 to 1966.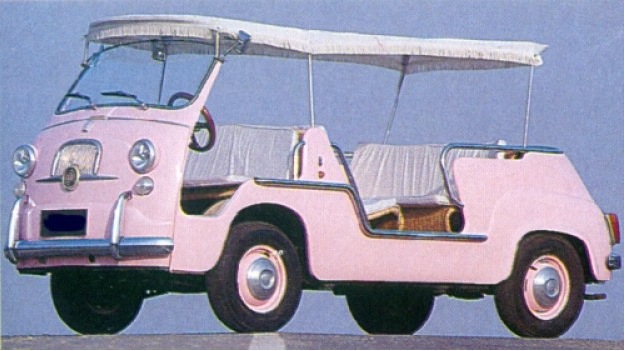 More via here
The Mini Mini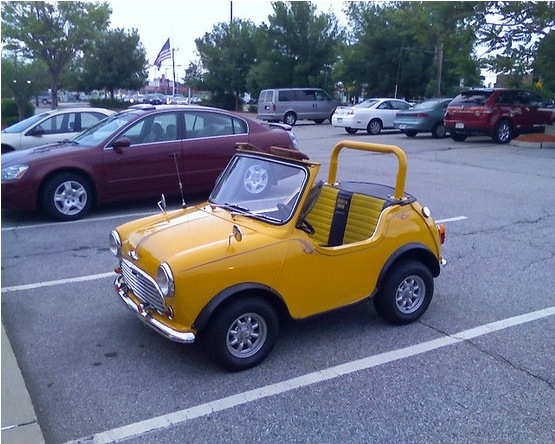 This is not an official Mini model but the Mini Mini has become a bit of a trend amongst Mini enthusiasts.  It's a simple concept – take one classic Mini, remove the roof, cut into 3 sections widthwise, thow away the middle and weld the front to the back!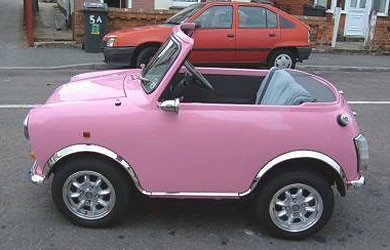 and here's another customized mini– the Mini Pick-up truck!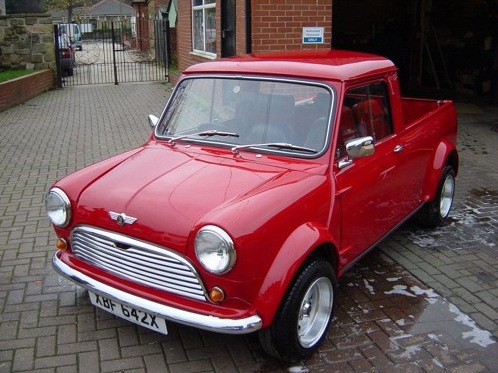 More info via here
The Volkwagen Nano Series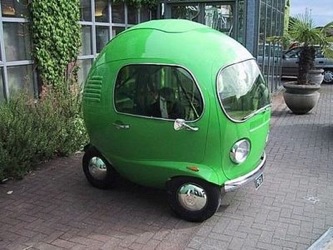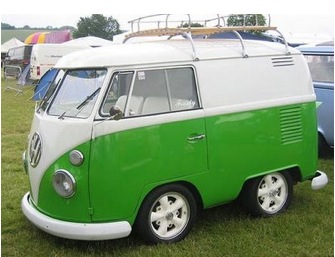 Piaggio Ape Calessino
The Ape Calessino is a limited edition with only 999 of these vehicles available in the world. Designed during the economic boom of the 1950/1960's, a period which was called La Dolce Vita, the Ape Calessino was extremely fashionable and embodied the very essence of an Italian holiday. Today I've seen them popping up around Paris as part of a special taxi service.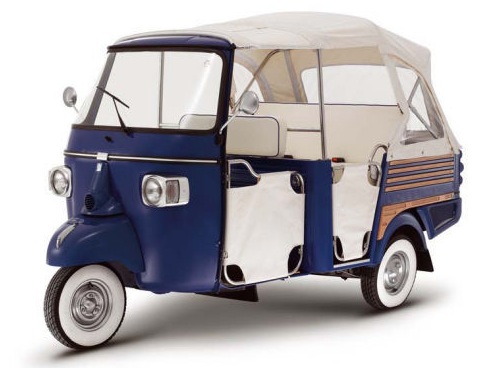 More info via here
Vespa 400
An adorable town car made in France from 1957-1961. I wish they would bring these back!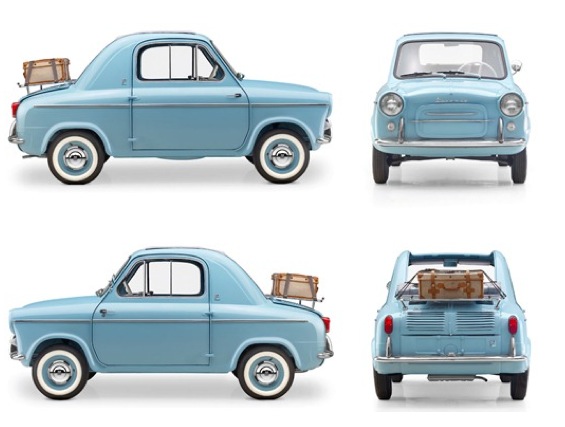 More via here 
Fuldamobil
It looks suspiciously like Mr. Bean's car but I can't say for sure! Manufactured from 1950 to 1969, the original design was conceived by Norbert Stevenson, a freelance-journalist for a very simple three-wheeled car with room for two people inside. It ended up being pretty popular and was constructed in four different continents.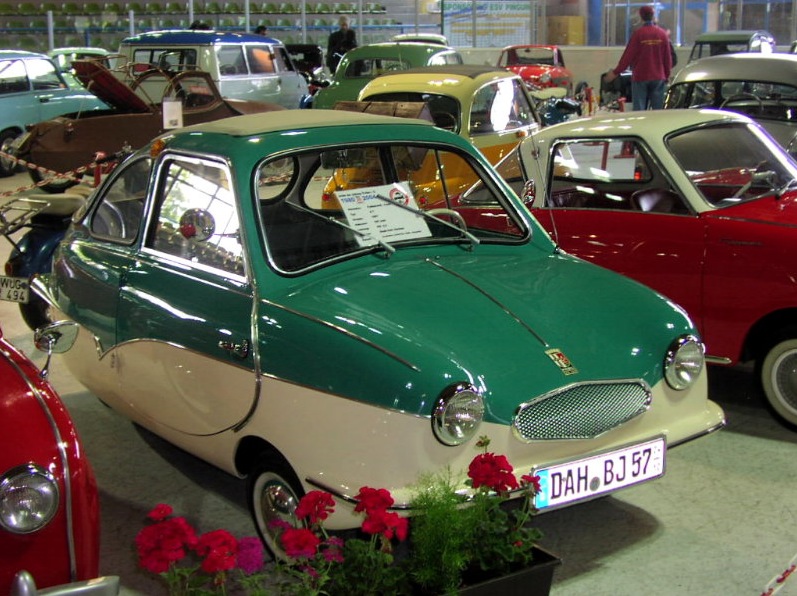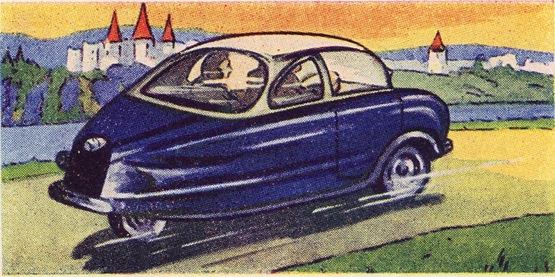 More via here
Nissan Figaro
This one has a special place in my heart because it was indeed MessyNessy's first car (yes it was pink too). Only 20,000 models went into production in Tokyo in 1991 and then came back into fashion a few years ago when they began being imported en masse to Europe. I had to sell mine when I moved to Paris, sniffle, but it's a great little car that will give you lots of memories.