Kitschy design is being reproduced so much these days you can't really tell if something is actually retro anymore. But what about the original retro homes that didn't change with the fashion and stayed exactly the same since the day they were built when kitschy living was the future? MessyNessy did some digging on Retro Renovation– a "wonderful universe of like-minded folks who love their mid-century homes".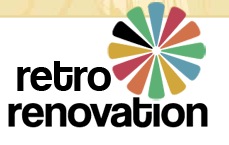 Retro 1962 Home goes over 50 years without ever being lived in…
In 2009, furniture craftsman Nathan Chandler bought a brand new home… well, sort of. The house was built over 50 years ago in 1962 by the man Nathan bought it from. For personal reasons which cannot be disclosed by Retro Renovation, the owner nor anyone else ever moved in and the home was left uninhabited for over half a century.
The mid-century kitchen, never before used and in mint condition, still has the General Electric company instructions manuals and welcome pack, a few packets of courtesy dishwasher powder that's never been opened and all the fabulously retro appliances of the past.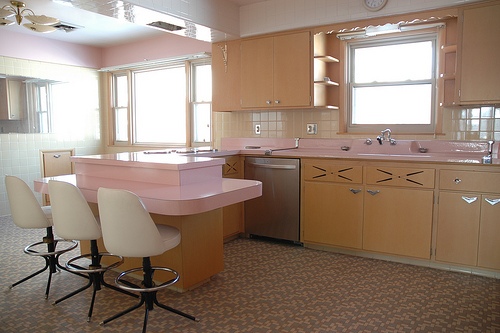 We're lucky enough to see pictures of this pastel time capsule kitchen because the new owner,  Nathan Chandler actually put the kitchen up for sale in 2010 so that he could craft his own vision of a mid-century kitchen (probably something less pink).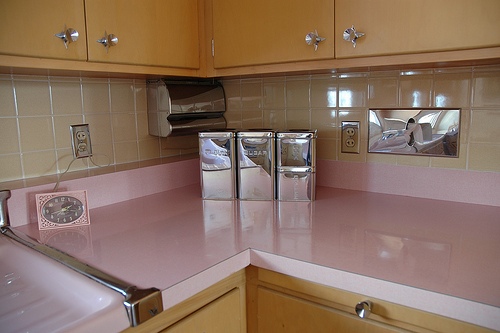 Although this rare beauty has no doubt already been snapped up, let's just take a moment to appreciate this kitchen of yesteryear that could even teach the folks over at SMEG a thing or two about retro kitchen design….
I hope the pink kitchen went to a good home, it looks as if it was designed with love, intended for a special lady that never got the chance to use it.
Find out more about all the wonderful details of this kitchen on Retro Renovation here.
Photos from Nathan Chandler's Flickr Account via Retro Renovation.
P.S! Retro Renovation also has another site called Save the Pink Bathrooms, and you guessed it– it's all about pink bathrooms!
The creator of both sites says it "grew out of concern that pink bathrooms are being ripped out of 40s 50s and 60s homes way too hastily. The reality is: Pink bathrooms are a wonderful part of our home design heritage. And there is no doubt in our minds whatsoever that they are poised for a comeback."
…
1957 Sputnik Home in Texas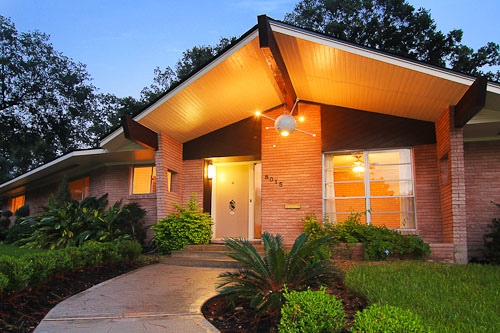 This three-bedroom, 2,334 square foot house built in 1957 was recently up for sale with an asking price of $192,500. The large sputnik light fixture at the entrance was installed by the original owner when they moved in the same year the Soviet Union launched the first satellite into space and began the Space Age.
The owners were selling the house complete with the original 1950s kitchen appliances (also pink) which had been replaced but kept in storage.
See more of the Sputnik house and it's original pink kitchen appliances on Retro Renovation here.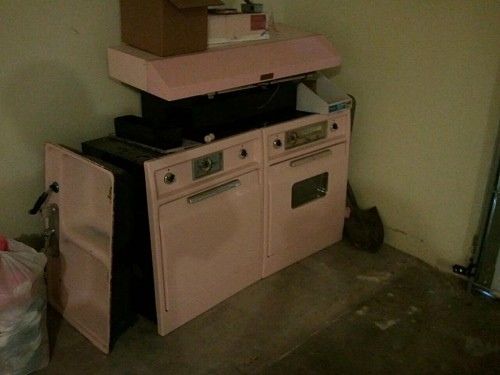 ….
1965 House of Kitsch FOR SALE! (Complete with beauty parlor)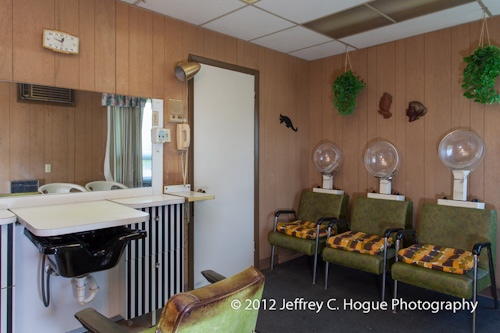 An absolute time capsule of the kitschy design era, this 1965 house in Reading, Pennsylvania found by Retro Renovation is up for sale right now with an asking price of $164,900.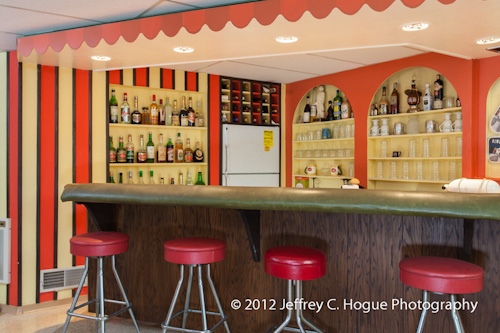 With it's own professional beauty parlor and eye-popping bar area, it looks like something straight out of a retro film set.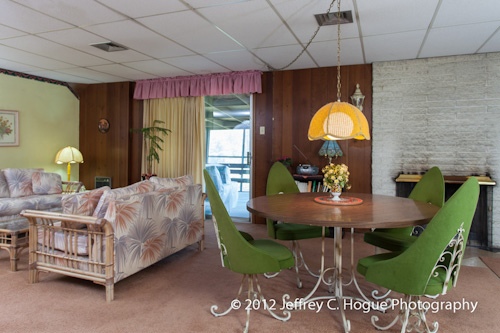 Check out the wallpaper on the ceiling of the kitchen! How kitschy will you go?!
Interested in buying???! For more details on this property still up for sale, click here to go to the agency website.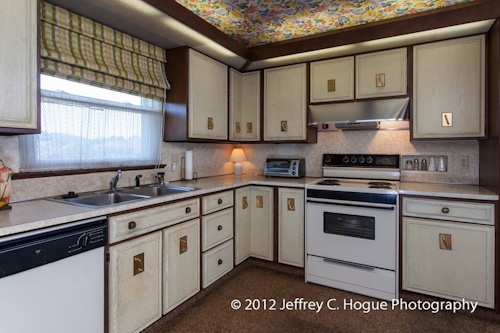 Photos by Jeffrey Hogue Realtor via Retro Renovation
…
1970s Glamour Den in Nashville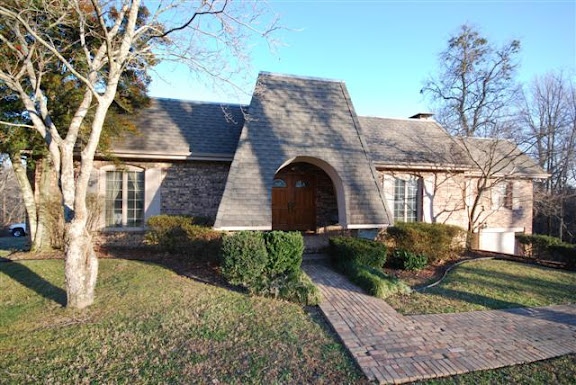 This house found on Retro Renovation hasn't been updated since disco died but you can imagine it would have made quite the party house in the seventies!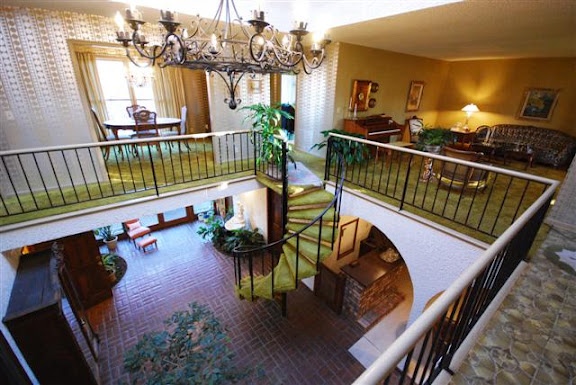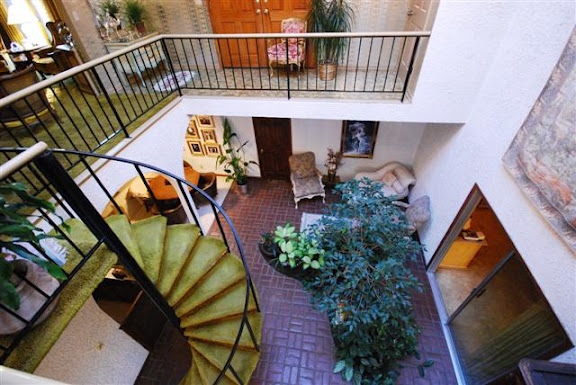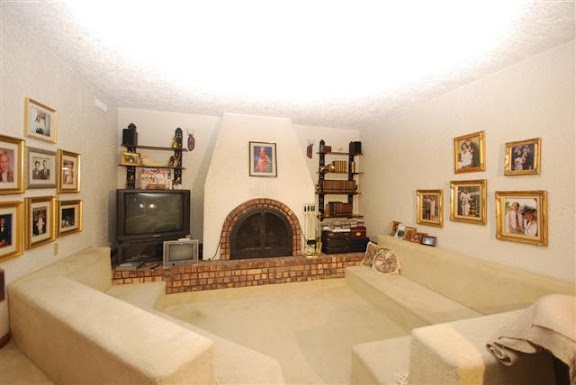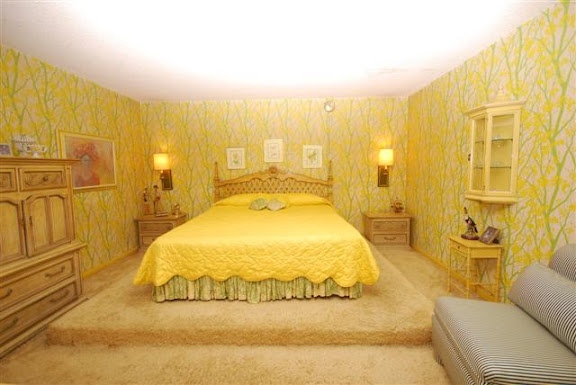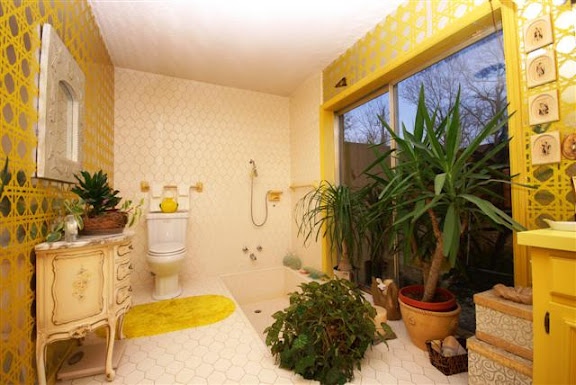 Just look at that lemon bathroom with the sunken tub!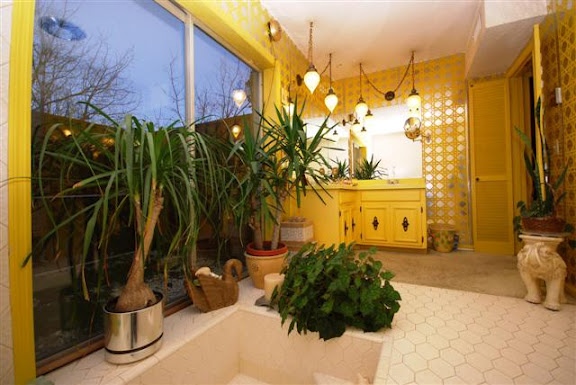 See all of the photos on this Picassa album here
…
1950s Texas Ranch House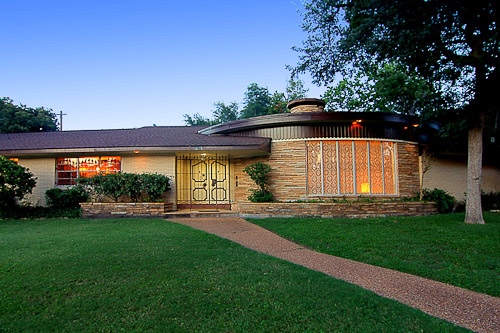 Custom-built in 1957 for the local lumber barons Joseph & Sadie, who are still in business and a well-known name in the Glenbrook Valley where the house lies. According to Retro Renovation who spoke with the estate agent Robert Searcy, it cost just under $80,000 to complete and is one of many retro homes in Glenbrook Valley, which was officially declared a protected post WWII historic district in 2011 because of all its preserved mid-century architecture. Sounds like Glenbrook is a bit of a time capsule town in itself!
Explore this property further on Retro Renovation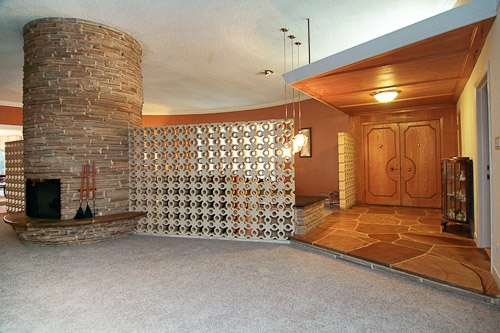 The property is centered around a brick tower which also serves as a fireplace. I'm particularly intrigued by the patterned cutout partitions that seem to be a repeated feature around the house.
…
Streamline Art Moderne Home, 1948
Streamline Moderne was a design movement that came after Art Deco and favored a purity in its lines and shapes. It combined curves with long horizontal lines and often ultra modern elements– which is exactly what this kitchen in Portland, Oregon does.
The movement also took the art deco style and stripped it of its ornaments as you'll can see in the striking fireplaces of the property. Explore the house further on Retro Renovation, including photos of the unchanged art deco bathroom and classic retro entrance….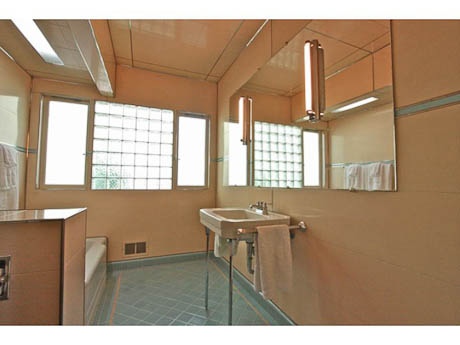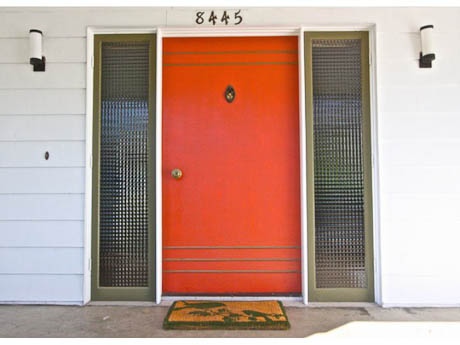 Hope you enjoyed sticking your nose into these time capsules as much as I have!
These properties were found on the wonderful Retro Renovation.com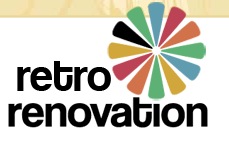 Images thanks to Retro Renovation, TK Images and Go Beyond the Ordinary