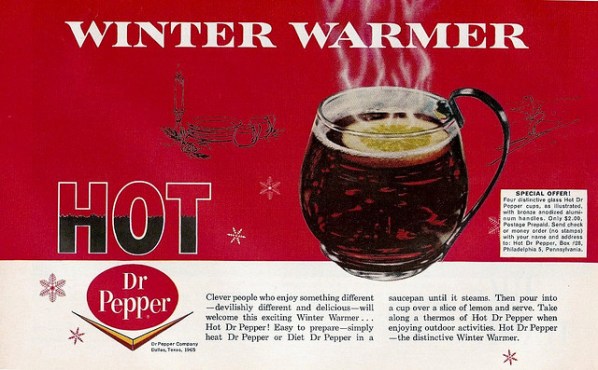 Here's something different for a holiday party– Dr. Pepper, as in the cherry cola, served as a hot beverage! In the 1960s, the soft drink brand made a go of marketing it as some kind of non-alcoholic alternative to mulled wine.
Easy to prepare–simply heat Dr Pepper in a saucepan until it steams and pour into a glass or cup over a slice of lemon. Perfect for the family or when friends drop in–and take along a thermos of Hot Dr Pepper when enjoying outdoor activities. Hot Dr Pepper–the distinctive Winter Warmer!
I wonder why they never brought back the idea? Anyone tried this?
[youtube http://www.youtube.com/watch?v=qq9hNTUbtiE]