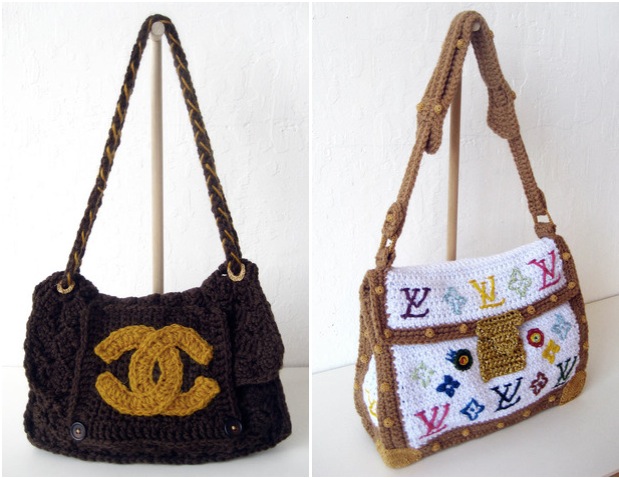 Before you get too excited by these images, as the title might suggest, this is not an article about a new designer fashion trend for crocheted bags.
(And you may or may not remember a little article I did a while back called 3 Reasons to Stop being an a** hole and say NO to Designer 'It Bags'.)
So now that you're re-acquainted with Nessy's stance on the subject, I'd like to introduce you to the work of someone who seems to be of a kindred spirit– only much more proactive and talented in the field of knitting/ crocheting…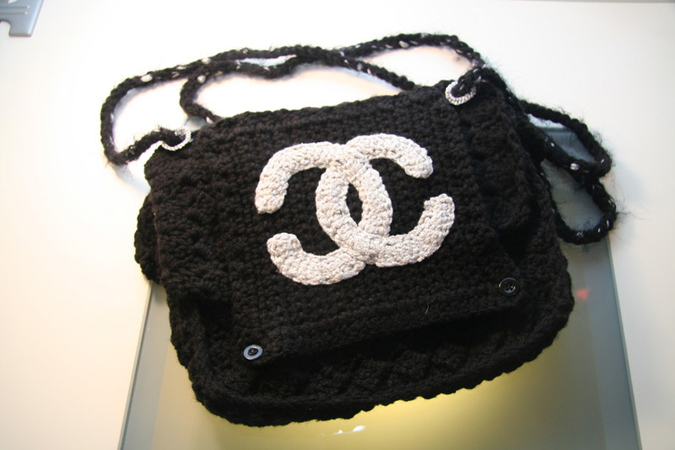 Since 2006, Stephanie Syjuco has spearheaded a global project encouraging crocheters (beginner and experienced) to join her in hand-counterfeiting designer handbags with the goal of 'debasing and defiling designer items one step at a time.'
That's quite an ethos! The senseless shaming of big brands? Well there's a little more to it…
"We're surrounded by products and we're surrounded by choices," says Stephanie, who is fascinated by consumerism and bootlegged goods, "We seem so far removed from the idea of making anything. Everything gets made in places very far away from us, by ananoymous people."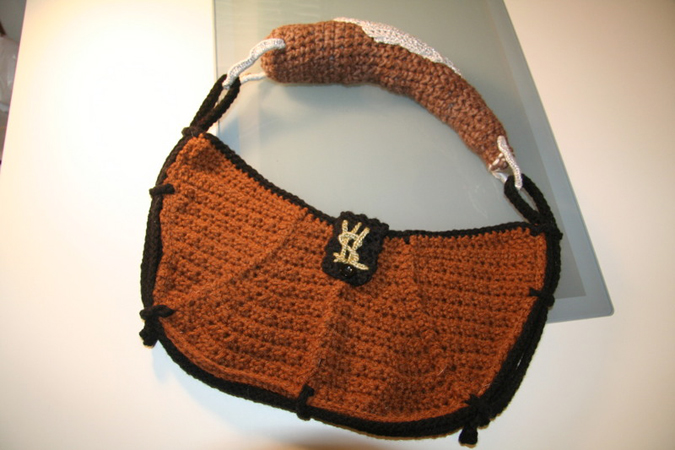 The Counterfeit Crochet Project is not about selling counterfeit bags made out of yarn– none of the bags are for sale and the "workers" actually get to keep the fruits of their labour, unlike the workers in India where Louis Vuitton, for example, has a factory on the sly¹. It's "about do-it-yourself aesthetics and improper ways of interfacing with capitalism," says Stephanie. And it's certainly a more peaceful way to take a stand against capitalism, while still catching our undivided attention…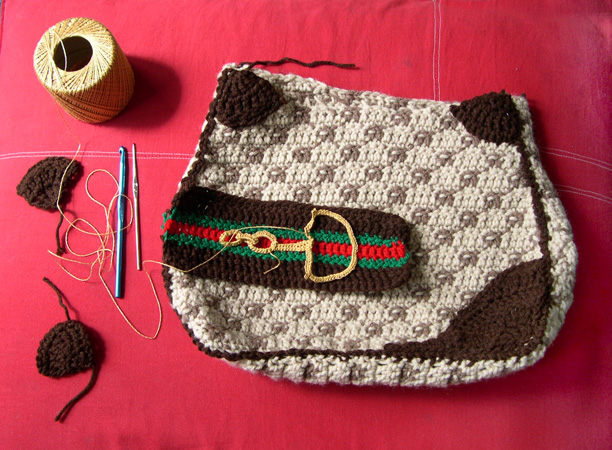 At the Craft and Folk Art Museum (CAFAM) of Los Angeles, Stephanie is currently displaying the bags made by her collaborative global network of crocheters for an exhibition called "Social Fabrics", which examines issues surrounding mass production and consumption through projects made primarily from cloth.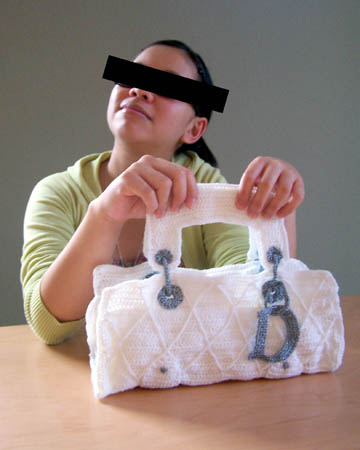 Stephanie encourages her network of counterfeit crocheters to model in their own mini-fashion shoots with their finished accessories but also to block out their faces in a way. "To me the funny part was to create that censorship about them doing something really bad. Because as bootleggers they're doing something thats not quite sanctioned."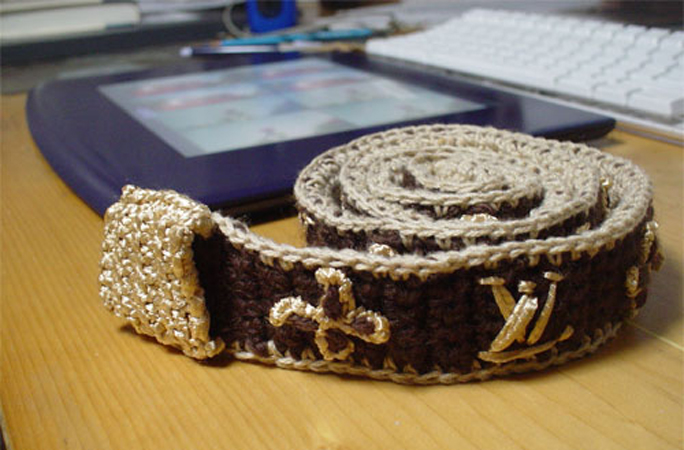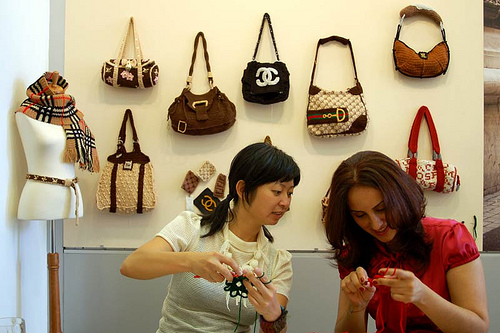 Crochet is so often portrayed as a 'lowly medium' favoured by grandmothers to make their Christmas jumpers. I love the irony. You've got the large corporate brands that push the idea of cutting edge fashion and exclusivity, and then you've got Stephanie and her band of crocheters, knitting away, creating bags that end up looking more tempting than the real thing!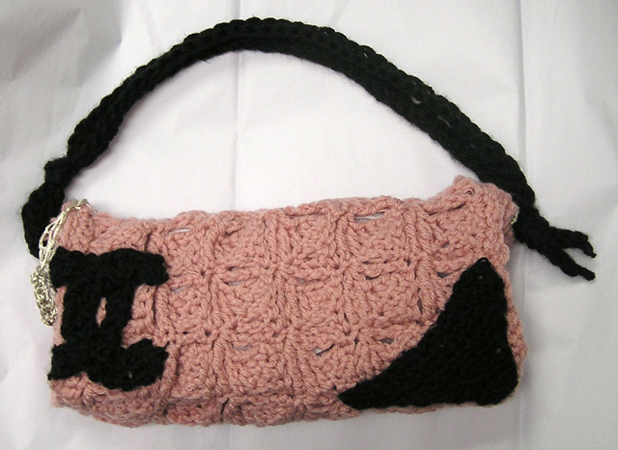 "It's a chance to reclaim the production process by making their own unique versions of luxury goods. Each counterfeit bag that's made, ironically references a mass-produced designer good, but it's inherently a unique object".
Stephanie admits she wouldn't want to own a designer handbag. "I actually really like the [crochet] fakes much better. There's something about the copy that's gone through all the wrong channels that it's so much more unique and special than that sanctioned object."
So there you go, if you want one of your own, you're going to have to get creative and make it yourself! For my Paris readers, I can recommend getting down to L'oisive Thé,  a knitting café where you can learn the basics and pick up a new hobby.
If you're in Los Angeles, The Counterfeit Crochet project will be at the Craft and Folk Art Museum through until May, and Stephanie will be offering workshops to learn techniques for crocheting handbags.
If you're a whizz with the knitting needles already, join the Counterfeit Crochet Project today and  "translate" high fashion handbags into "homemade" versions.
There's also this short video to check out via Spark:
[youtube http://www.youtube.com/watch?v=XRc4_LYpmYA]
:::
YOU MIGHT ALSO LIKE:
.