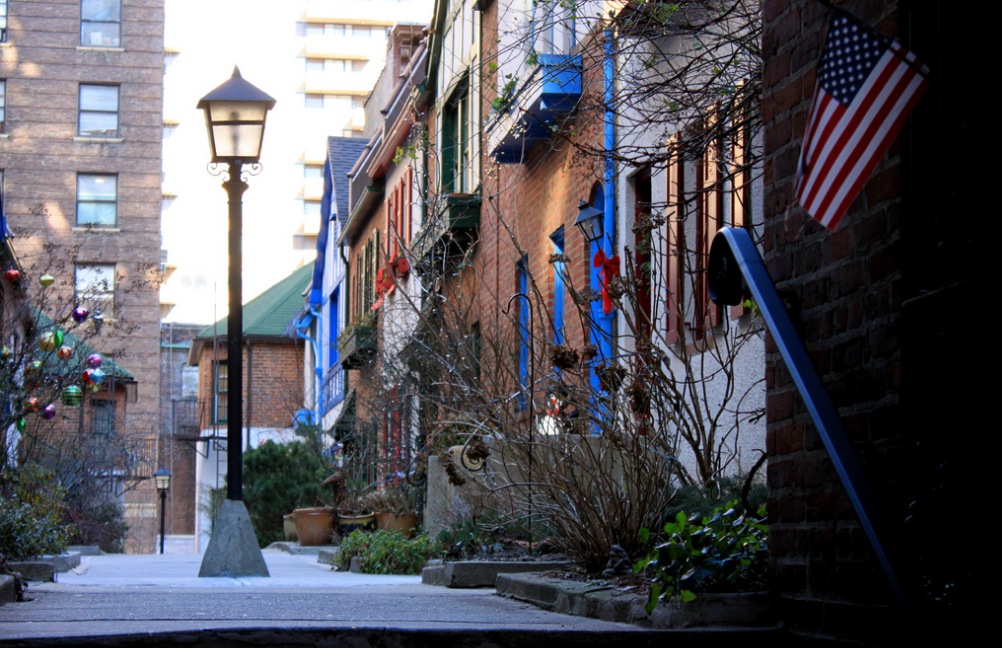 As much as I wish I could travel back and forth between Paris and New York (by way of my own secret portal disguised as a telephone booth, of course) for now, I've chosen Paris to roam and explore down to the very last cobblestone street. But that doesn't mean I haven't been taking notes on all the little hidden places I plan to conquer stateside. So I thought I'd open up my travel scrapbook, and share a few. For now, let's just call it a beginner's guide to secret New York.
Lead image credit: Emilio Guerra 
A Tiny Tudor Village at Pomander Walk
Surrounded by a concrete jungle of high-rise apartments, Pomander Walk is quite the little New York miracle. An English countryside haven built in 1921, this quaint community of Tudor style cottages is discretely tucked away behind an inconspicuous metal gate on West 95th Street from Broadway.
Humphrey Bogart once owned one of the houses and there's still a little green shed at the top of the staircase that was the old guardhouse used by his bodyguard while Bogie was living there!
See what the houses look like inside here.
Image credit: amNewYork
Image credit: Strong_Sarah 
Nightclub impresario Thomas J. Healy bought the land and named it after a romantic comedy that came to the New York stage in 1910 about the residents of a small crescent in Chiswick, London. He had plans to turn it into a major hotel but financing fell through and luckily he built these adorable little Tudor cottages instead.
NYC resident explorer ScoutingNY has a great article on Pomander Walk.
Image credit: Steph 2504 
A Movie set at Sylvan Terrace
Image credit: Andriy Prokopenko
If this place looks like a movie set to you, that's because it often is. The residential community of wooden houses built in 1882 is a popular filming location– perhaps you might recognise it from Broadwalk Empire!
Image credit: Julia Manzerova
A hidden treasure at the top of a staircase on Amsterdam Avenue in Washington Heights, these 20 high-stooped row houses were restored in the 1970s. Once home to middle class workers, today they can hit the market with a million dollar price tag.
Image credit: Brian
Remains of Old Harlem at Sylvan Court
Image credit: Paul Lowry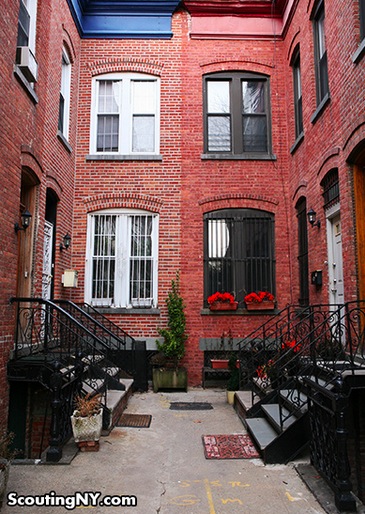 A few block away and not to be confused with Sylvan Terrace is Sylvan Court, a small dead end private street lined with several 1880s townhouses that have yet to be fully restored. This de-mapped blind alley is what remains of the old Eastern Post Road, which led from the city to Boston when Harlem still just was a sleepy village. The two story houses were probably used as stables in the late 1800s.
Image credit: Scouting NY
The Skybridge on Staple Street
Image credit: Vilen G
This is the kind of gem you would tragically miss if you were too busy looking down at your smartphone. A bridge from a bygone era, it was built in 1908 for the New York City Hospital House of Relief which had expanded to the building next door. Today its owned by fashion designer Zoran Ladicorbic, connecting his apartment to his fashion studio. (The dream).
Image credit: JGL Songs
Discover more Sky Bridges of New York on Untapped Cities
Carriage Houses on Hunts Lane
Image credit: Steve Minor
Along with a few other streets such as Grace Court Alley and Love Lane, Hunts Lane harks back to a time when horses and their carriages ruled the streets of New York.
Image credit: Navema
The Last Gaslight of NYC on Patchin Place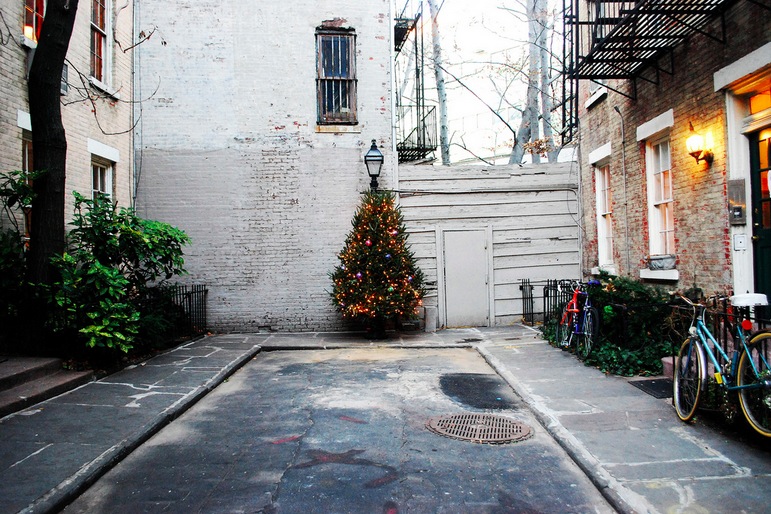 Image credit: Rachel Citron
Thousands of gaslight lamps used to light up the streets of New York, but standing proudly at the end of a little cul-de-sac in Greenwich village is the last one left in the city today. Untapped Cities noticed the 19th century landmark on the short stretch of brick houses which was built around 1850, "for Basque waiters working at the Brevoort Hotel … once famous for housing writers like Theodore Dreiser and E. E. Cummings. Now a designated landmark, the cul-de-sac remains almost completely unchanged."
More on Untapped Cities
Image credit: My Suspira
Mosaics and Workmen's Cottages in Cobble Hill
Image credit: Lisonange
Cobble Hill is a Brooklyn neighbourhood full of surprises. There's the mosaic house on Wyckoff Street, a whimsical masterpiece by the artist in residence, and then there's Warren Place Mews, comprised of 34 homes designed in the 1880s as workmen's cottages.
Image credit: Rebekah Burgess
Although these townhouses measure in at just 1,050 square feet, they're currently being snapped up for around $1.4 million a pop. Take a tour inside a few of them here on Curbed– most of them still have all the original interior details.
Image credit: JGLSongs
So, if you're lucky enough to be in the Big Apple for the Thanksgiving holidays, perhaps take a stroll in search of one of these treasures … ya know, to work off some of that stuffing!
:::
YOU MIGHT ALSO LIKE:
.