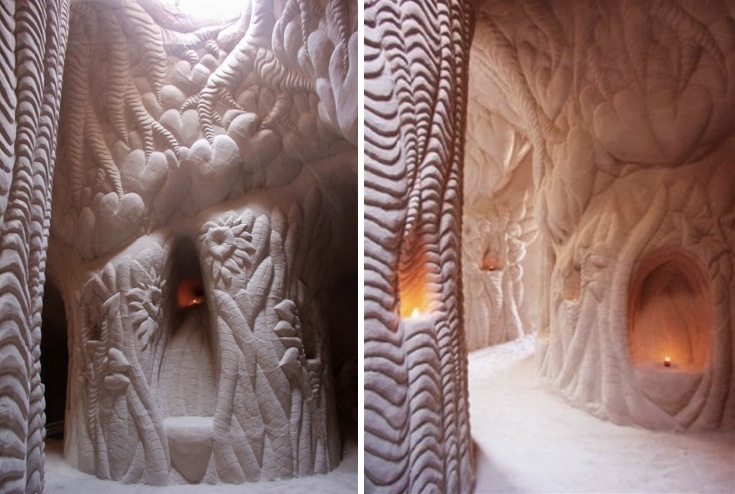 Here's something you won't find on Craigslist. Hidden beneath the desert of Northern New Mexico, hand-sculpted from the sandstone cliffs, an etherial cave network built by a single man, is up for sale.
Armed with not much more than a pick axe and a wheelbarrow, a sixty seven year-old sculptor and off-the-grid visionary artist, Ra Paulette, has carved 14 expansive caves entirely on his own in the space of the past 25 years.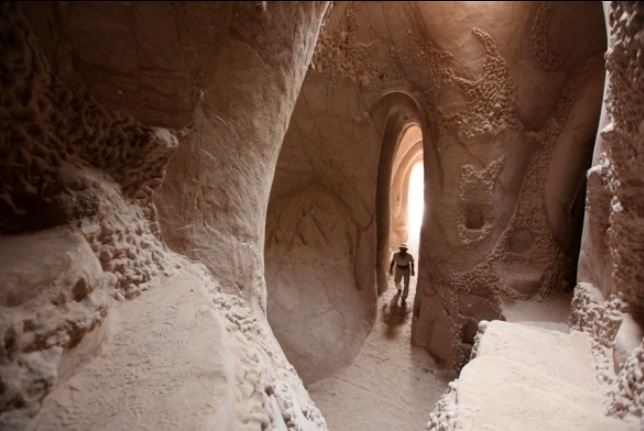 "When digging and excavating the caves I break down all the movements into their simplest parts and reassemble them into the most efficient patterns, " says Paulette in trying to explain his 'process'. "Like a dancer, I 'feel' the body and its movement in a conscious way. I'm fond of calling this 'the dance of digging',  and it is the secret of how this old man can get so much done."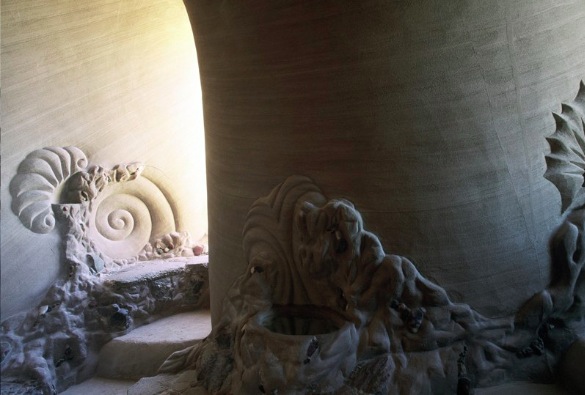 Before coming into his unusual profession, Paulette was what you might call a drifter. His biography tells the tale of a college dropout who was discharged from the navy and then hitchhiked his way across America, finding odd jobs along the way as a mailman, watchman, janitor and later as a farmer who lived in a cabin without electricity or running water for several years in the Smoky Mountains of Tennessee. In short, this guy has led a pretty fascinating life so far– the kind of life that has the makings of something profound (like a mythic hand-carved cave cathedral that archeologists might re-discover and marvel at in 2,000 years time).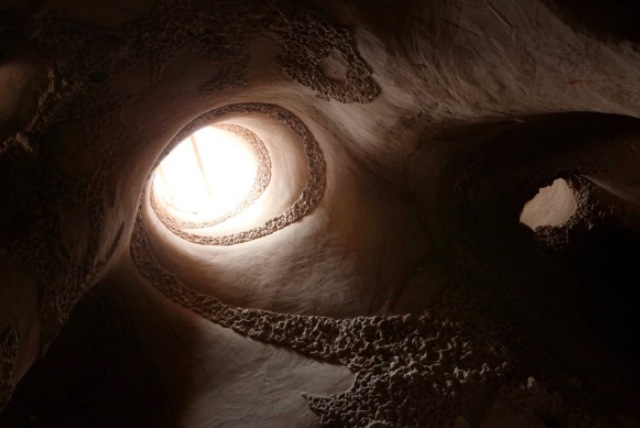 But it was his job as "human back hoe" that he took in 1985 after moving to the Dixon area; digging outhouses, building wells and stone walls, that gave Paulette both the skill and yearning to do something artistic with landscaping that would eventually lead to his cave projects.
A meticulous and solitary worker (except for the company of his faithful dog) with an obsessive character, Paulette's relationships with his patrons over the years have been notoriously troubled, an aspect of this artist's story that has been captured in an award-winning short documentary following the creation of what would be his final masterpiece.
Watch the trailer for the documentary, Cave Digger, directed by Jeffrey Karoff, short-listed for an academy award nomination:
But now let's talk price tags. The cave in question up for sale is one of Paulette's masterpieces entitled, "Tree of Human Kindness". It's located between Santa Fe and Taos on a lot size of 208 acres. The entire thing can be purchased at a price of $995,000 (a reduced price) or alternatively, the property can be purchased in divided lots. The North and South halves can be purchased separately at $550,000 for 100 acres each or fourteen subdivided lots are available for $49,000 each.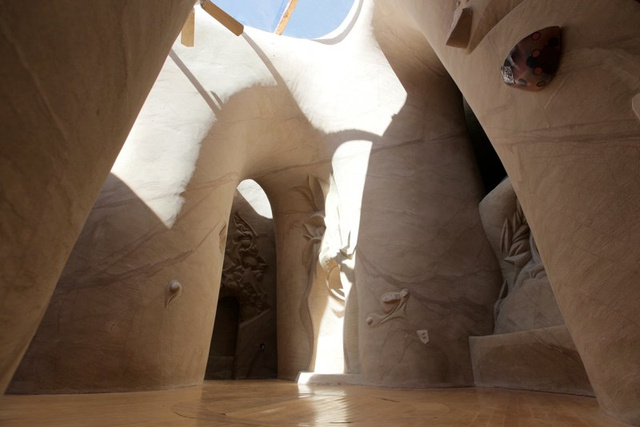 The property listing boasts 'majestic mountain views, surreal rock formations throughout, two unforgettable hand-carved cathedrals or meditation chambers, candlelit niches, recessed seating and various breathtaking side rooms that are washed in sunlight.' The listing also promises interior roads provided on the property, underground electric power and telephone is availability at the lot line, easy and gated access from the State Highway 285 as well as the possibility of 'owner financing for qualified buyers of this fabulous property.'
Putting a price tag on the work might make the whole idea of a 'cave cathedral' seem a little less authentic and ethereal, but Paulette's caves are a testament to the amazing things mankind can do with art, and high art has value– no matter how hidden and secluded it may be.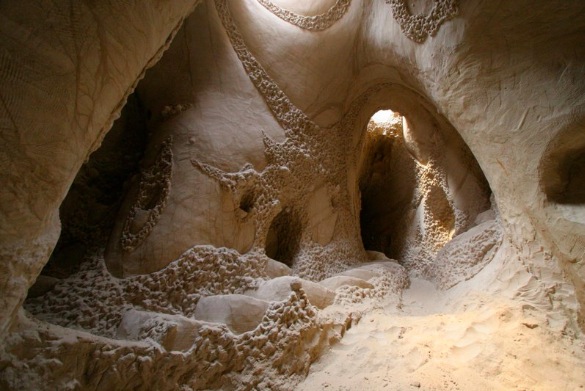 And in case you're wondering what the heck you would do with this type of property, here's a video of a cave concert given inside one of Paulette's caves recently. Just an idea.
Anyone in the market for a cave cathedral? Let us know in the comments!
Ra Paulette's website here/ Cave Digger documentary website/ Full Property Sale Listing.