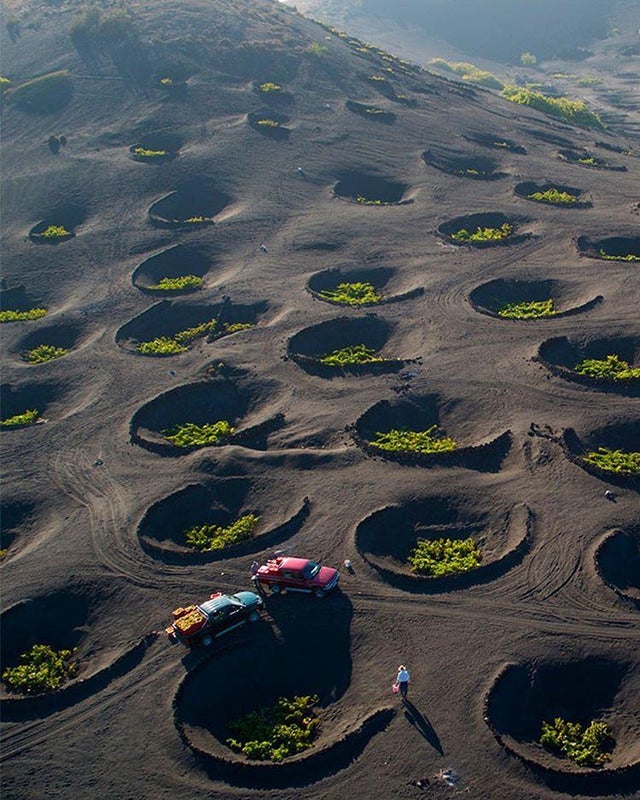 I'll see your Vintage Bordeaux and raise you a glass from a volcanic vineyard. If aliens are out there somewhere and they happen to enjoy the occasional bottle of wine, this could be what their vineyards would look like. But alas, this is just plain ol' planet earth being totally and completely awesome again.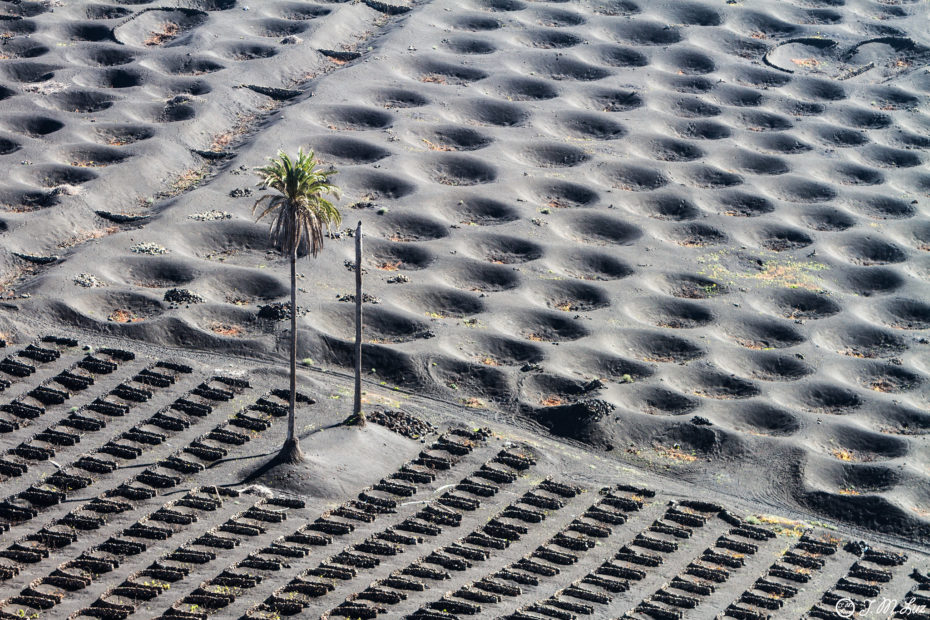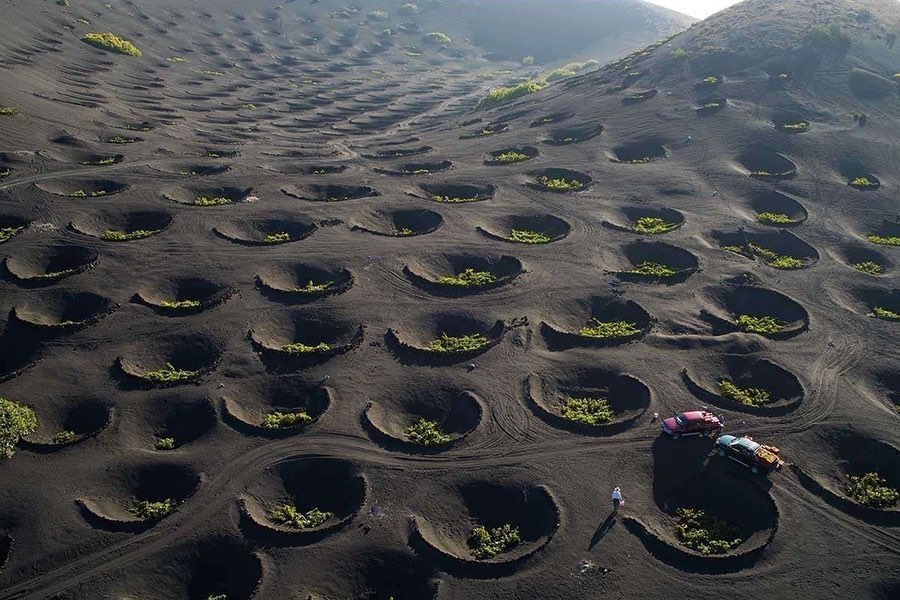 We're in Lanzarote, the easternmost of the autonomous Spanish archipelago, the Canary Islands, a short distance from the north coast of Africa. Essentially formed after a bunch of volcanos erupted 15 million years ago, the entire island is made up of solidified lava streams, volcanic rock and a heck of a lot of black sand. It hardly rains– 16 days a year at best. In the vast black plains, the heat can reach up to 50 degrees celsius (120F).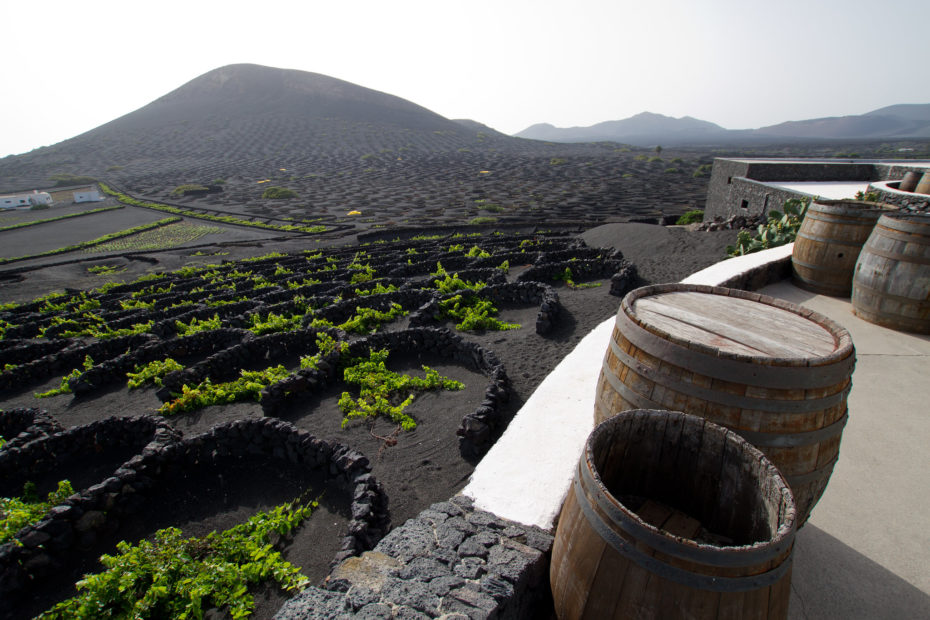 So how does anyone even manage to plant a pansy here, let alone harvest wine that can produce anywhere between 400,000 to 600,000 bottles per year?
The Lanzarote winemakers are probably the hardest working winemakers on the planet– and their forefathers, the ones who discovered the technique to make wine in their barren landscape back in the 18th century– well, hats off to them…
The last volcanic eruption on Lanzarote happened in 1730, until which time farmers had been happily producing wine, grain and cereal and generally making the most out of the arable farming land of the island. Then came an almighty eruption which lasted 2,053 days– that's six whole years of endless hot lava, volcanic ash and gas pounding the island.
While many residents made the not-so-unwise decision to pack up and start new lives in Cuba and the Americas, amazingly, others were not ready to throw in the (hot) towel.
With only a harsh and alien landscape to work with, the farmers had to completely re-invent their techniques of cultivation, but it didn't take long for the resourceful and resilient residents to figure out that against all odds, the newly deposited volcanic rock could actually be of use to them.
Known in spanish as picón, the volcanic soil was found to be highly efficient at absorbing moisture and rainfall (if any) and retaining it in the black earth. Lanzarote is the only place in the world where this unique method of dry (volcanic) cultivation is used.
But nobody ever said planting and harvesting vines on volcanos was going to be fun…
Every single vine requires its own three meter deep and five meter-wide pit, fortified by a semi-circle stone wall to protect the plant from the winds. Lanzarote now has nearly 2,000 hectares of active vineyards– so that's quite a bit of digging and stone-stacking in a volcanic atmosphere.
But we haven't even got to the harvest yet, where of course the island's unique method of dry cultivation requires that everything has to be carefully done by hand– one person per vine pit, so as not to disturb the sensitive volcanic super soil.
A single vine will give a farmer up to 30 kilos of grapes per harvest which are transported by Lanzarote's local camels– yes, camels. Camels and wine.
And don't forget the farmers are working on land that's heated up to temperatures you might slowly pre-heat your oven at.
Like I said, I'll see your vintage Bordeaux and raise you a glass from the volcanic vineyards of Lanzarote.
A few addresses I found in wine-producing La Geria region of Lanzarote…
This charming boutique guesthouse situated in the heart of La Geria. This hotel also overlooking the volcanic vineyards, with suites from €96. And one of the more notable wineries open for tours and tasting sessions.
(As Lanzarote wine is only left to mature for a maximum of two years, and is then perfect to drink, it is regarded as a young wine).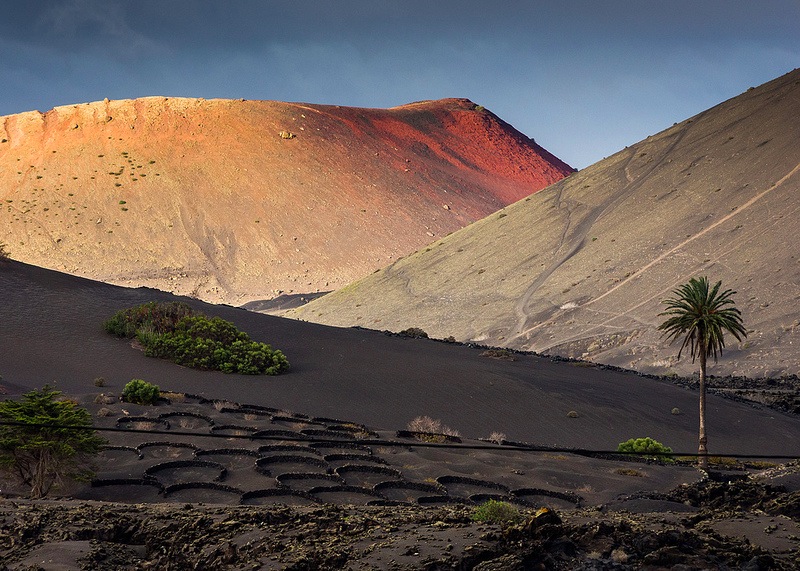 Looking for more off-beat travel tips? Become a MessyNessy Keyholder to gain access to our Travel eBook library and a direct line to our Keyholder Travel Concierge to plan your perfect trip. Need help planning a weekend in France? Need some restaurant recommendations for a remote village in the North Pole? We're here to help.