You could say Kat Wise has been to Oz and back– several times. Her story so far makes for an extraordinary tale of adventure and bizarre life events that sound almost like a modern-day sequel to Dorothy's odyssey down the yellow brick road.
In no particular order: she's worked for Mother Teresa, trained as a baker, been contracted by an exiled princess of Burma to teach refugees how to make Kentucky Fried Chicken, bought a burnt out school bus for $500 and painted it six thousand colours, learned how to poke thieves in the eye in Ecuador where she lived under an active volcano, perfected her Spanish as a translator in the Amazonian jungle, resided in a trailer on Broadway, hitchhiked across the Sahara and spent time in Mongolia where she came to the conclusion that she now wants a yurt.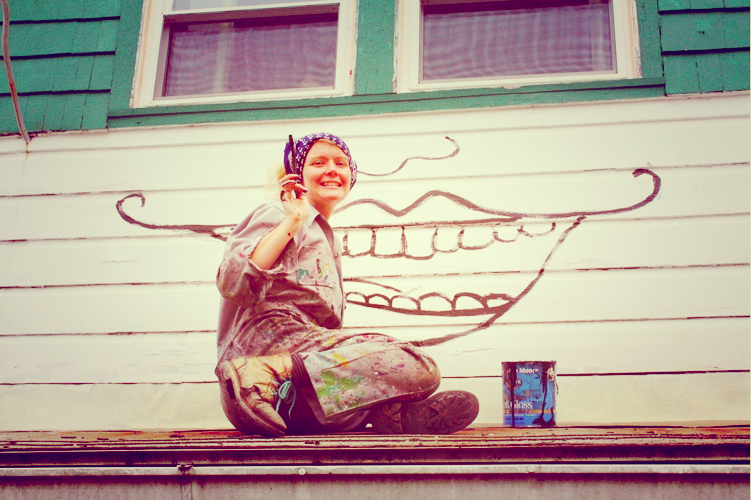 But for the moment, Kat is living in what I'd comfortably appoint the most psychedelic house on earth.
"Despite what people think, I have never used any drugs, never got arrested, never borrowed money or went into debt, never even got a stupid tattoo (or any tattoo, for that matter)," says Kath, "I was a straight-A student all through high school and college … People tend to assume that freaks come from damaged places, but I beg to differ. Being a weirdo is a gift."
All images sourced from the Kat Wise website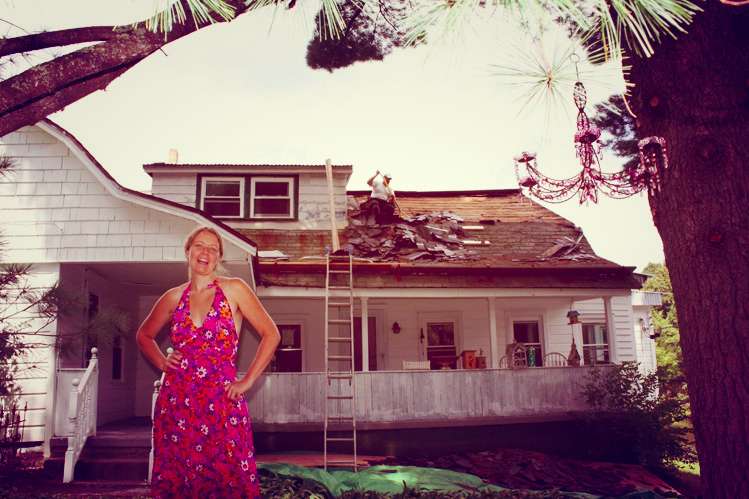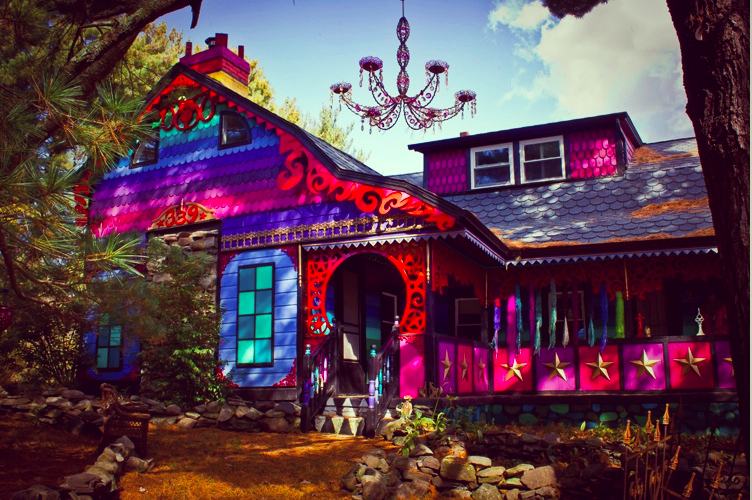 In 2009, Kat and her partner purchased 'a janky old farm' house near Woodstock, NY next to a pond inhabited by snapping turtles. They began a major renovations project on the traditional 19th century home both inside and out. Kat (and her 'ninja house elves') painted murals on every exterior surface of the house, while inside, customised DIY furniture was added little by little; countertops made out of pennies, shrines built around toasters and that sort of thing…
Exterior Before & Afters: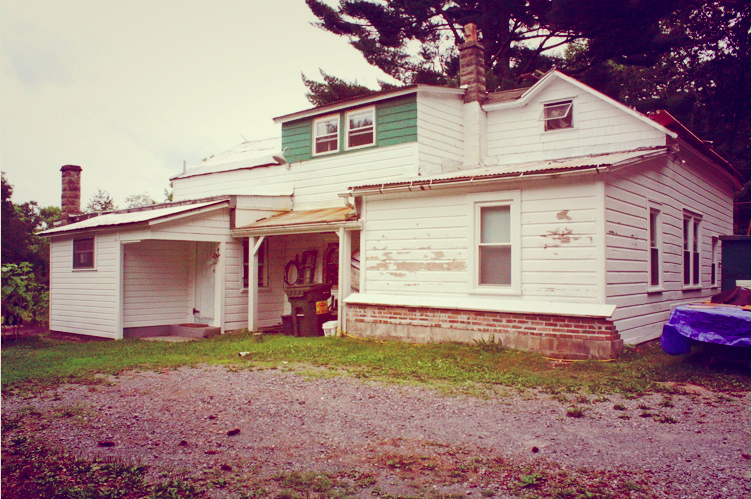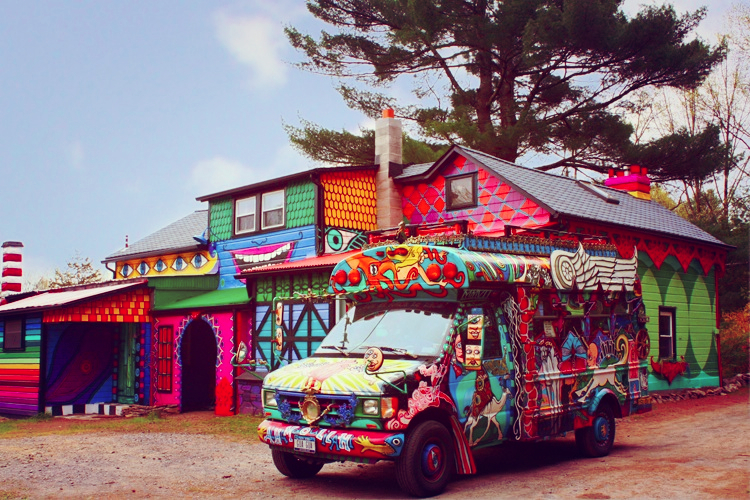 The house has been named Calico, but it's often referred to by Kat as 'the rainbow house' or 'the house that sweaters built', because of her up-cycled clothing business on Etsy that helped finance the renovations. "Thanks to the insatiably money-thirsty house, Katwise sweater production had to go in to triple overtime," recalls Kat. "Mercifully, the Gods of Etsy smiled upon me and blessed my sweater shop with crazy success … I discovered patchwork sweaters are like crack for hipsters."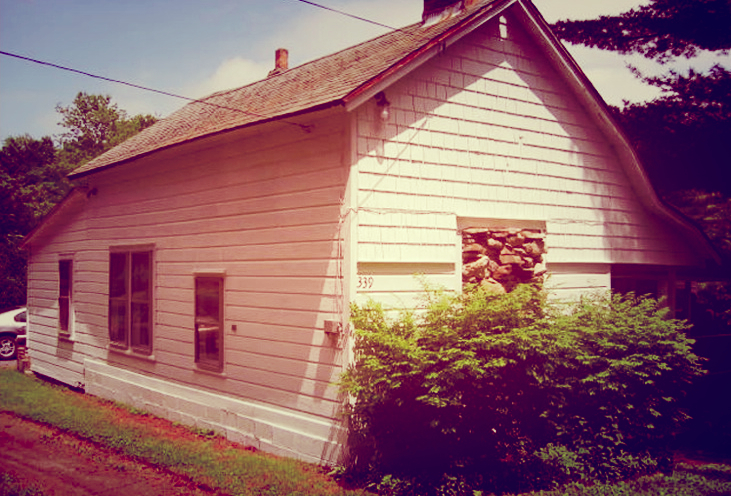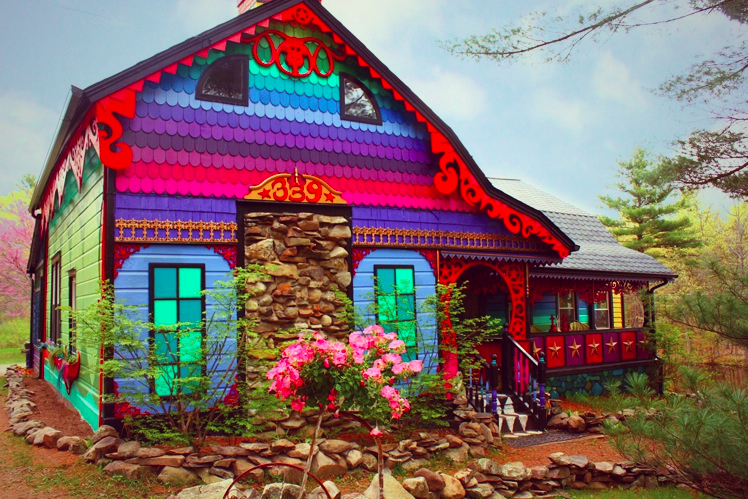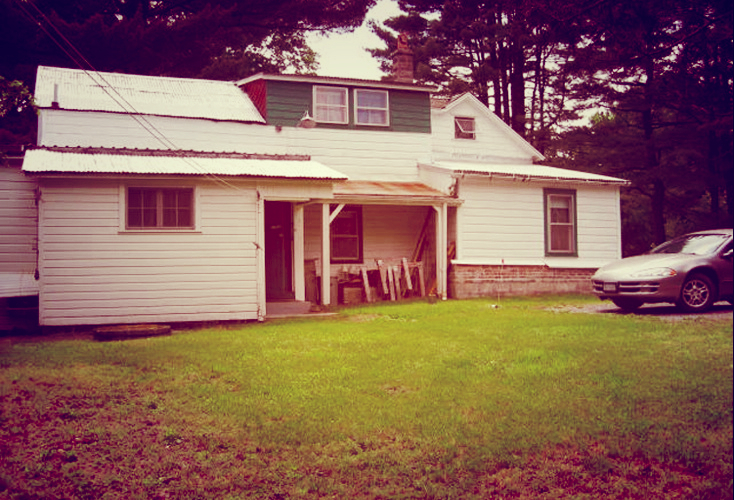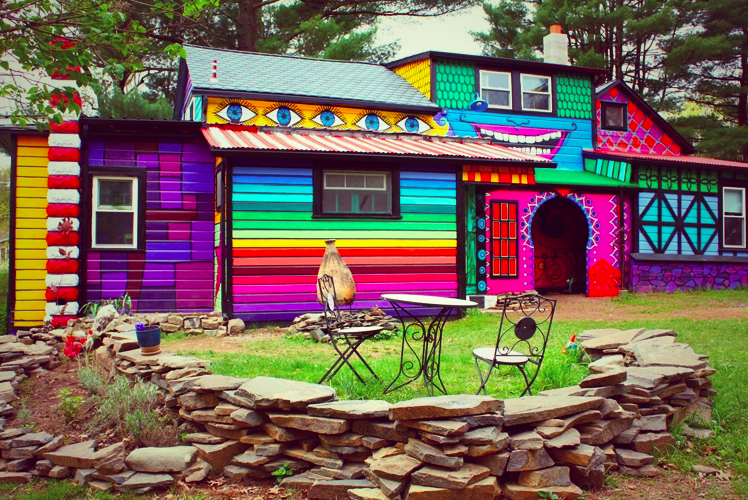 On her website, Kat describes the style of her upstate New York home as "Bollywood Regal" but often notes, "wow, I really do have a lot of crap".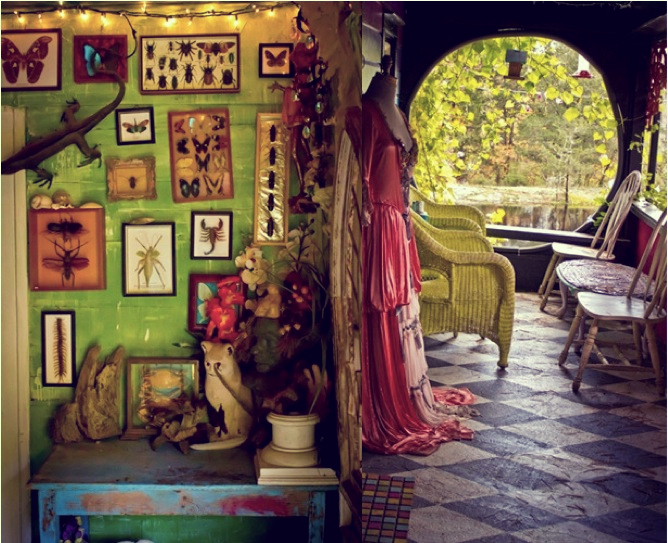 Above left, is the jungle room, filled with bugs Kat collected herself in all her years of travelling and pictured right is where she'll drink her morning coffee and watch the hummingbirds.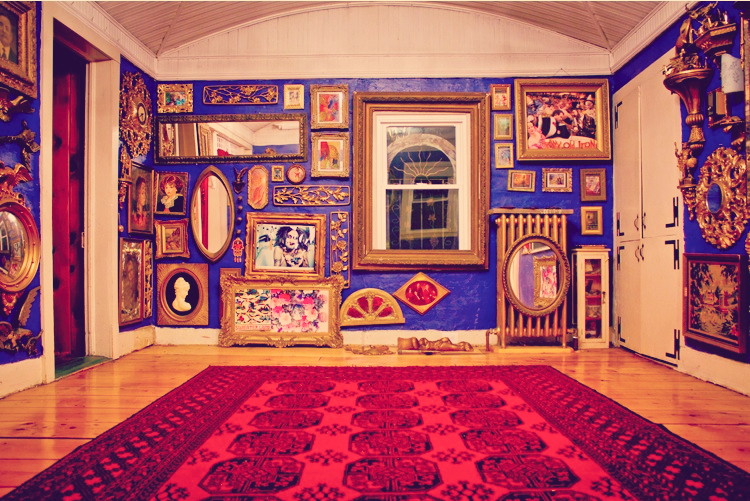 "The ballroom."
Now I'm not saying this technicolor house of Oz is for everyone. Kat actually decorated her bathroom in all white, admitting even she needs a break from the vibrancy of Calico. But there's something magical about Kat's story and the DIY transformation of this once rather unremarkable farm house …
Before & After kitchen: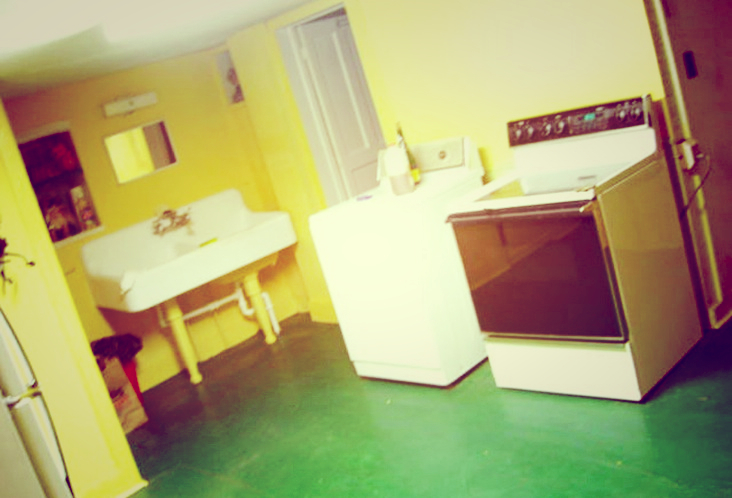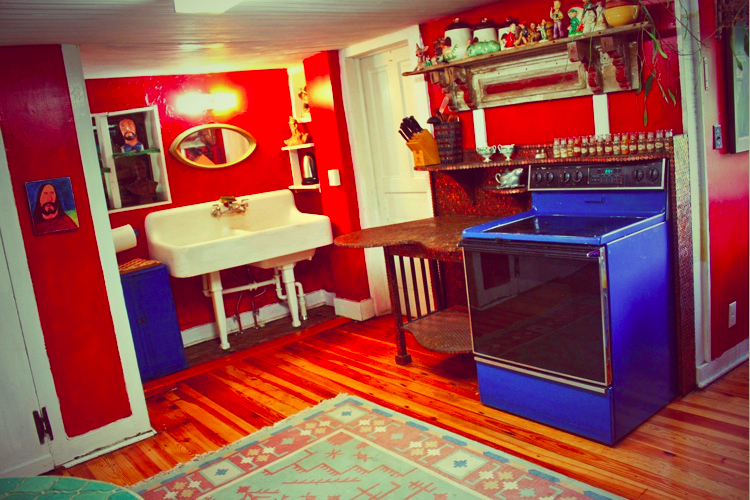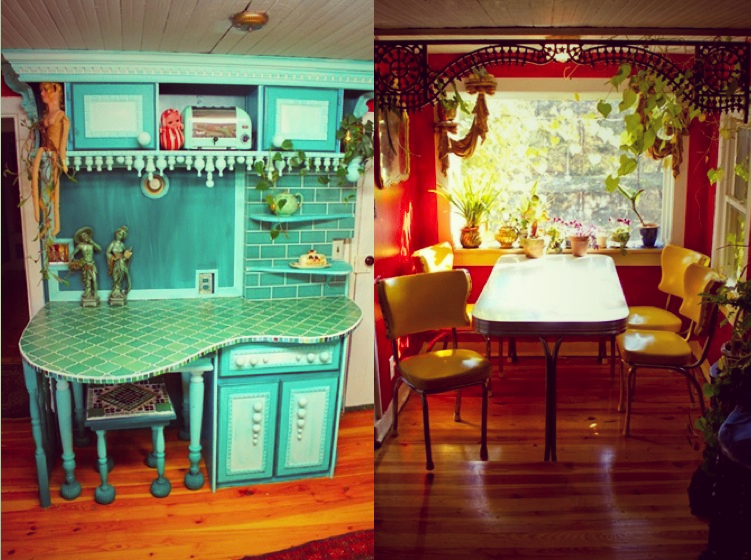 Above left: "We built this whole counter basically as a shrine to the toaster. Come on – that toaster is adorable, right? … It toasts to perfection."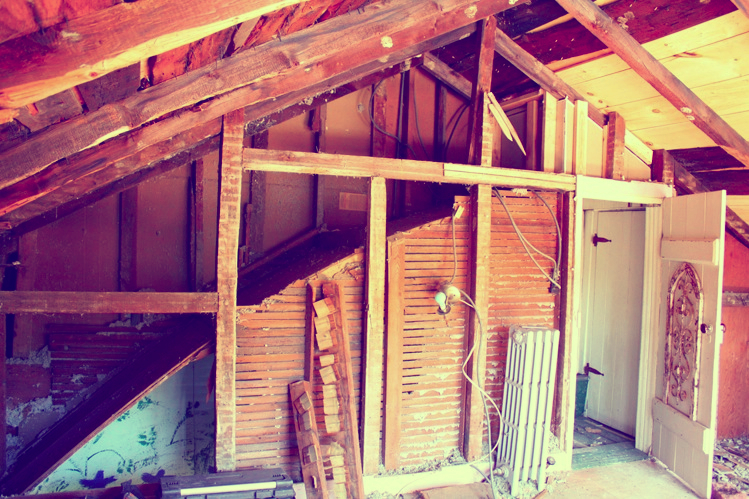 "The very first night we spent in the house we went nuts and tore up all the green linoleum. We found 7 more layers of (hand painted) historic linoleum … There was even newspaper in there from 1859."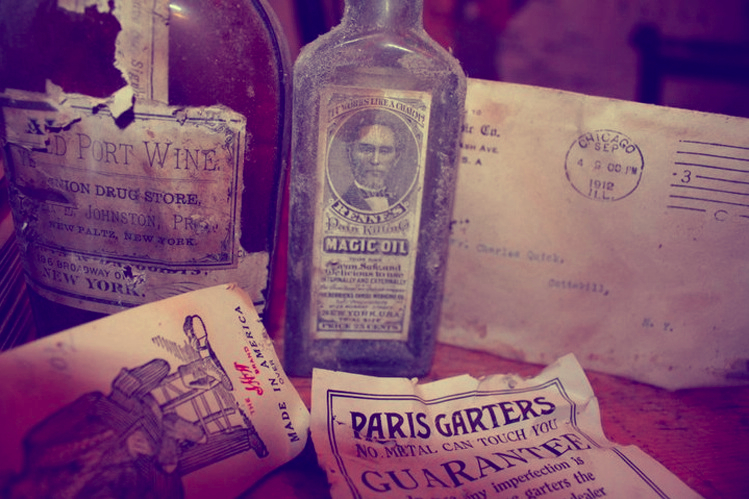 These are a few of the objects Kat and her partner Mason found in the walls; magic oil and a letter to Charles Quick from 1912.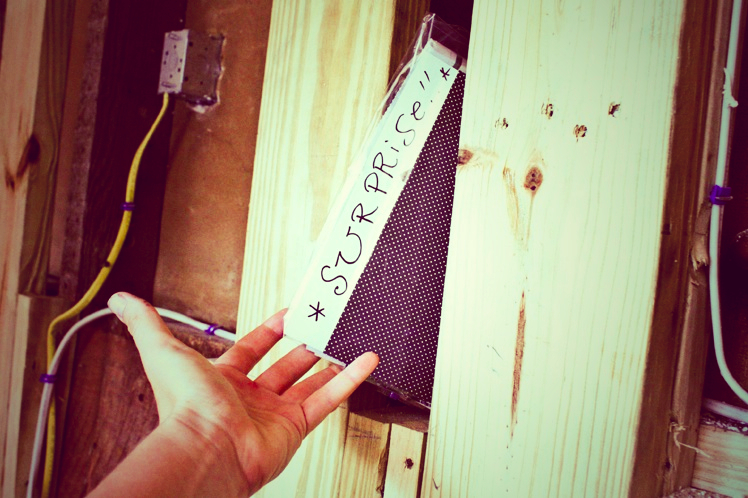 They couldn't resist making their own little time capsule and putting it in the walls for the next people to find a hundred years from now.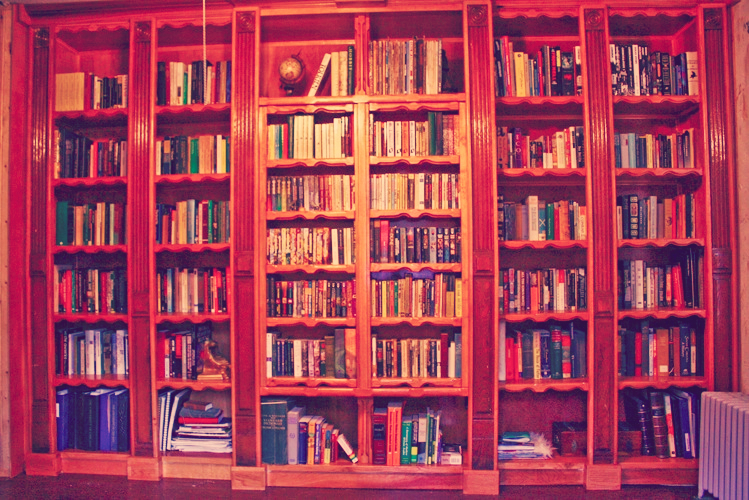 They also built this neat speakeasy bar disguised in their library…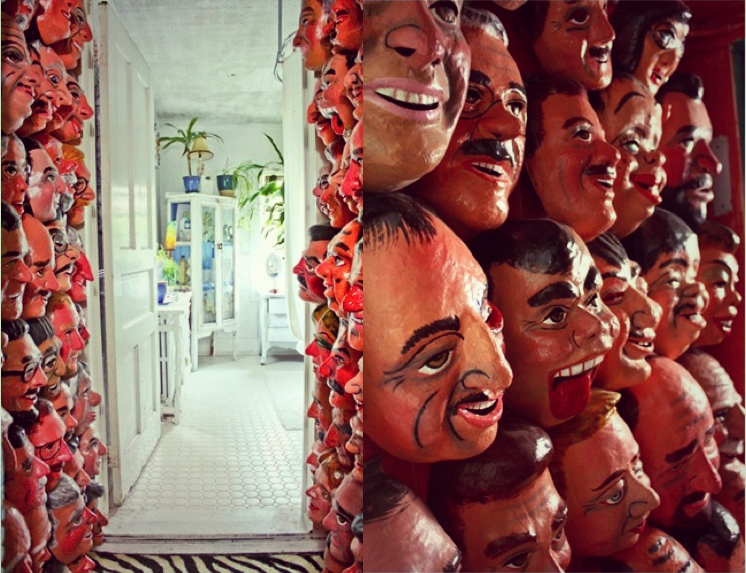 "These masks are from my beloved Ecuador. I bring a few back in my backpack every time I go down for New Year's eve."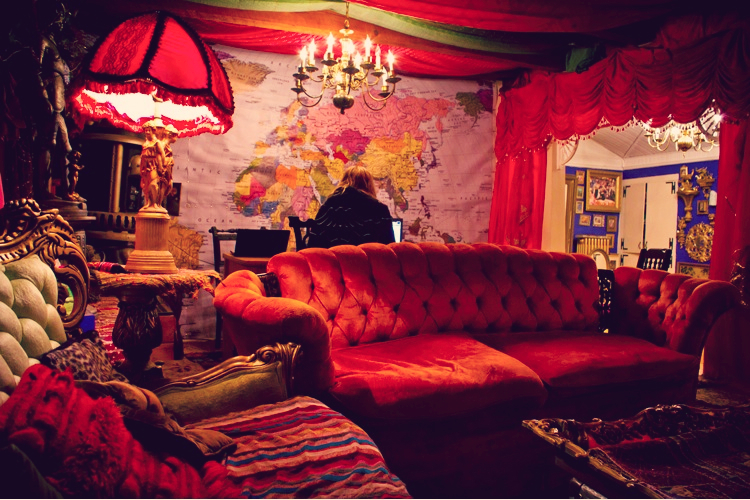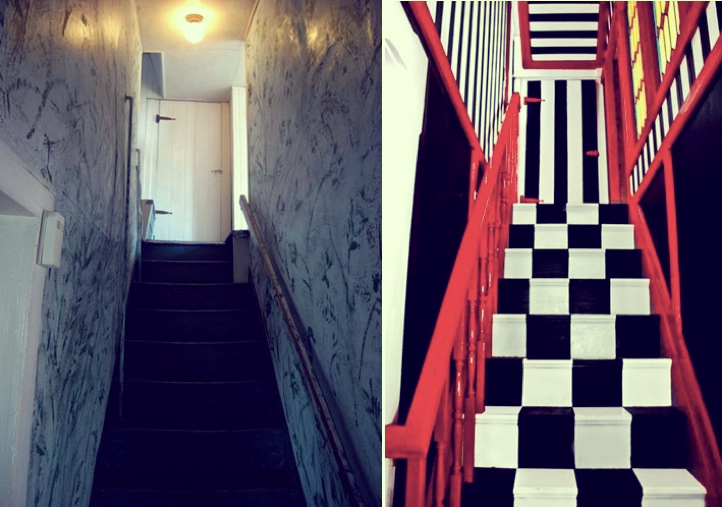 After all her travelling and adventures, just like Dorothy, it looks like Kat Wise has finally realised there's no place like home … just as long as home is 'somewhere over the rainbow'. [Queue Judy Garland].
"This is just the first coat," ensures Kat of her real-life house of Oz . "It will only get weirder."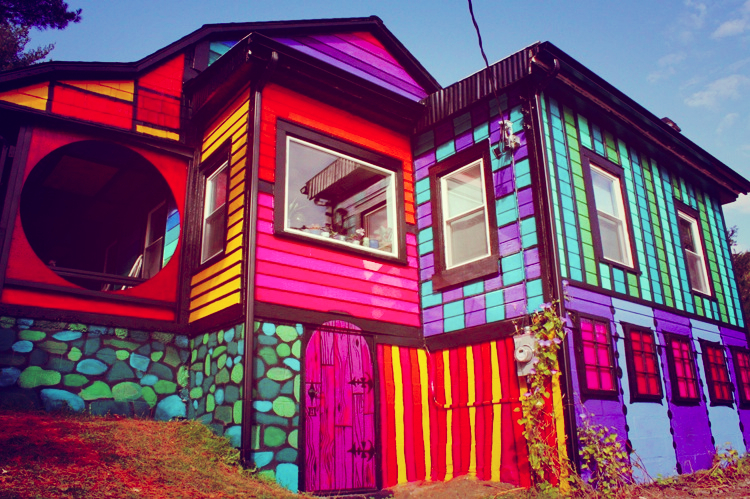 Discover the Kat Wise website, a very interesting little corner of the internet. See more images of the house (before & after), check out her murals and read about her incredible story here and here.
All images (c) Kat Wise 
:::
YOU MIGHT ALSO LIKE:
.