All good things come in awesomely designed packages. Isn't that the saying? Okay so I'm a sucker for beautiful packaging and these 13 products had me at hello…
1. Art Deco Wine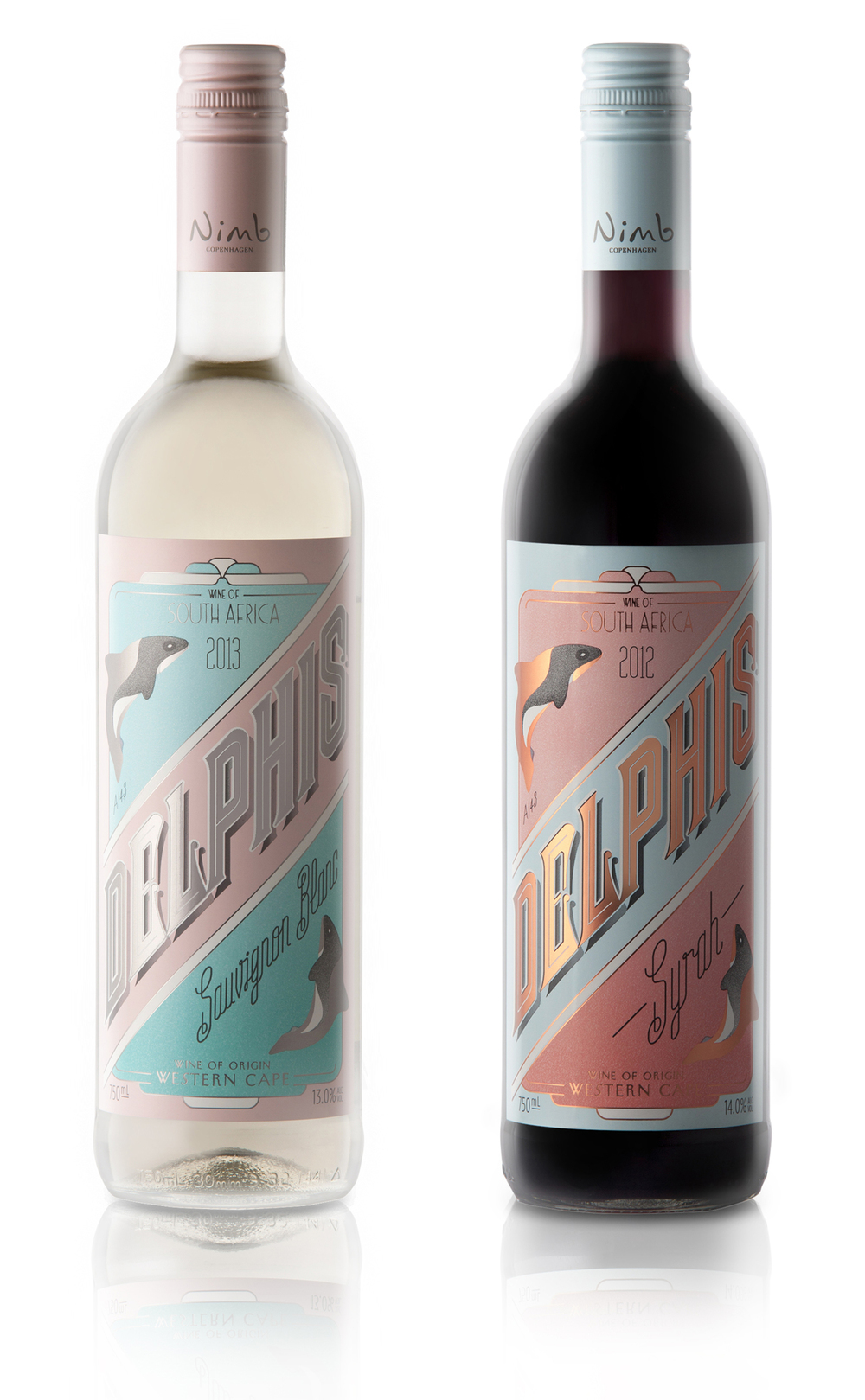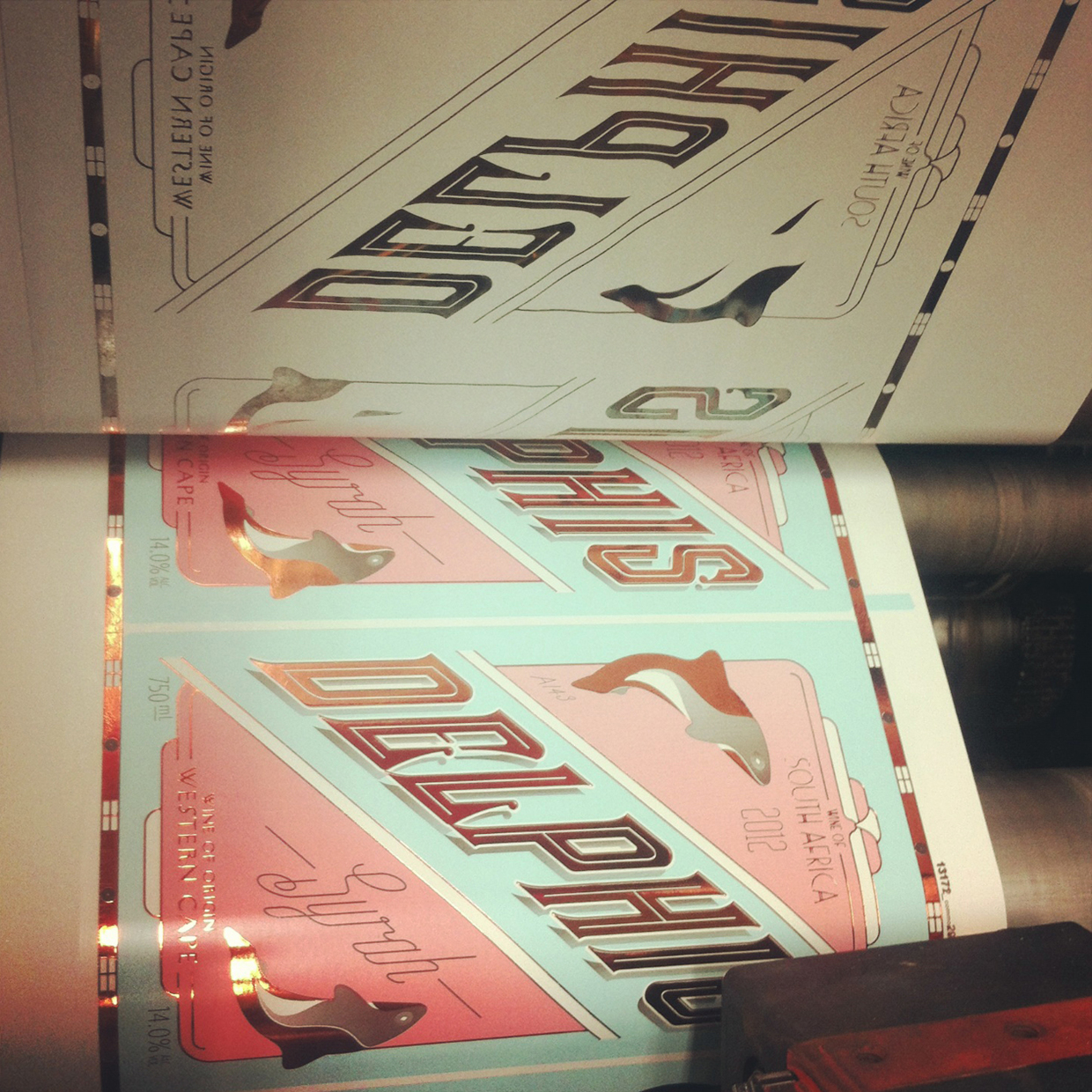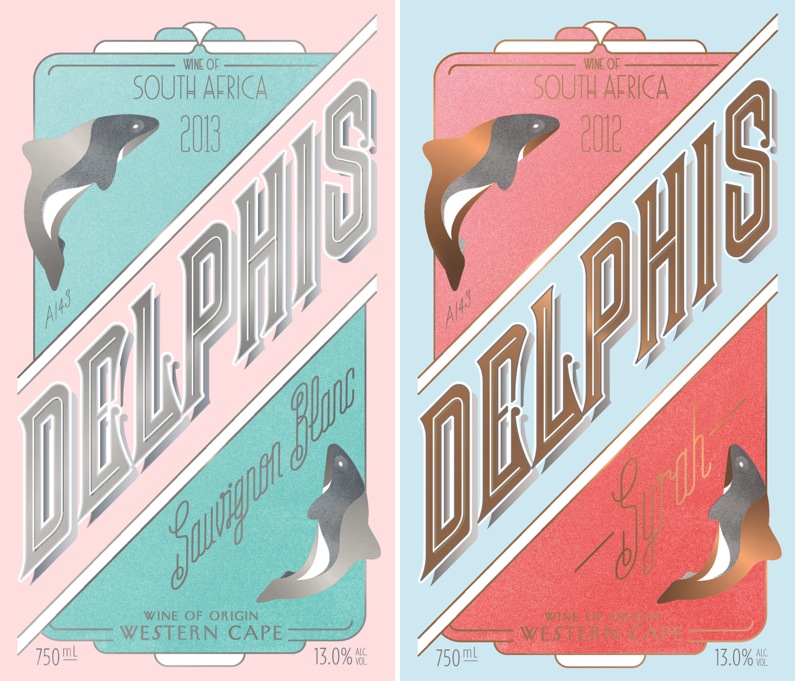 "Delphis Sauvignon Blanc and Delphis Syrah are made exclusively by Hamilton Russel for the Nimb Hotel, located in the Tivoli Gardens in Copenhagen, Denmark."
Designed by Pearly Yon who has some rather beautiful stuff on her website portfolio.
2. Fire Hydrants with Flare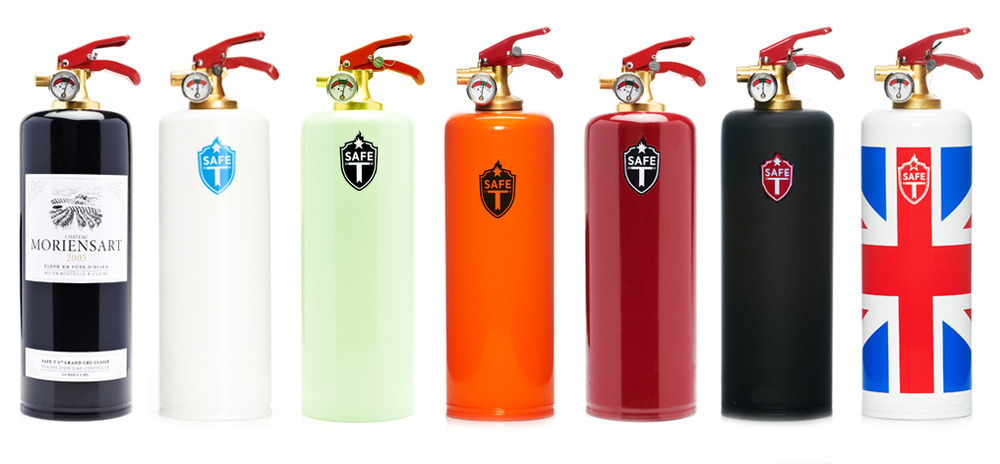 Yes, that is indeed a fire hydrant styled like a wine bottle.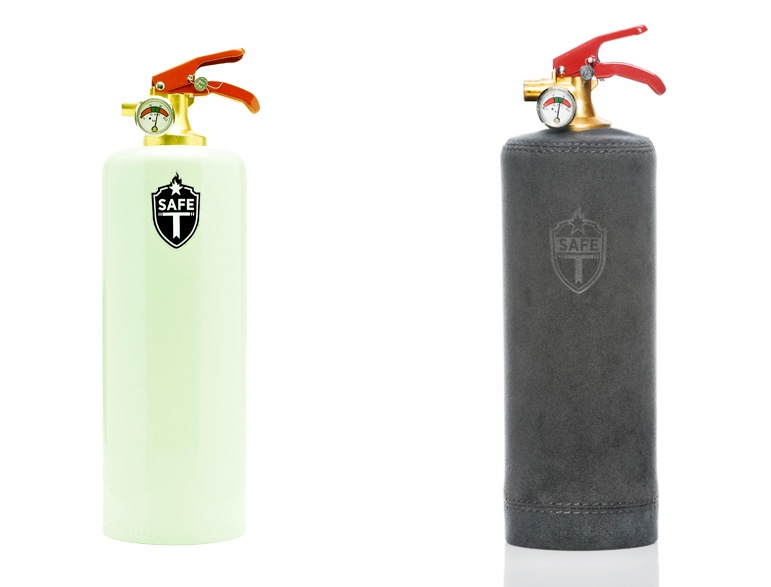 Everyone has to (or is supposed to) have a fire extinguisher in their homes, so why not have a stylish one? Available from Tusch and Egon
3. Madly designed Gin & Tonic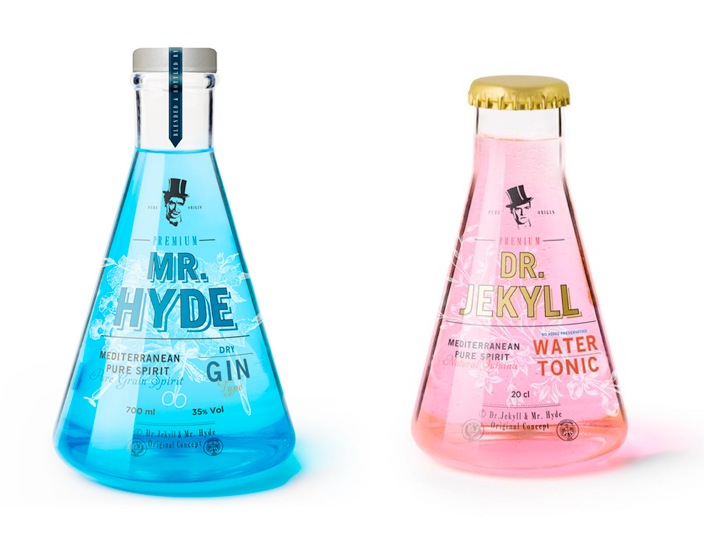 These would sit proudly in my drinks area and never be allowed to open. Unfortunately, they're not gone into production, but you can check out the designer, Eduardo del Fraile and his awesome website here.
4. Cupcake Houses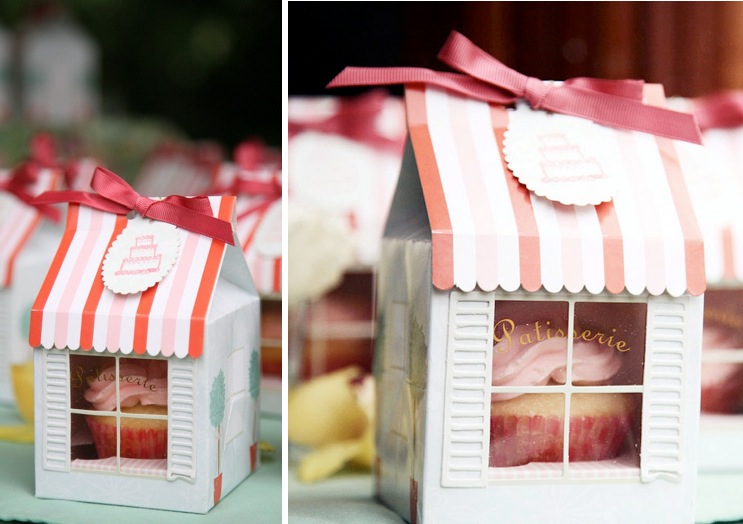 In this case, the product is the packaging. Yep, sorry, cupcake not included. Available to buy here, designed by Meri Meri, browse more of their baking products here.
5. Vintage Matches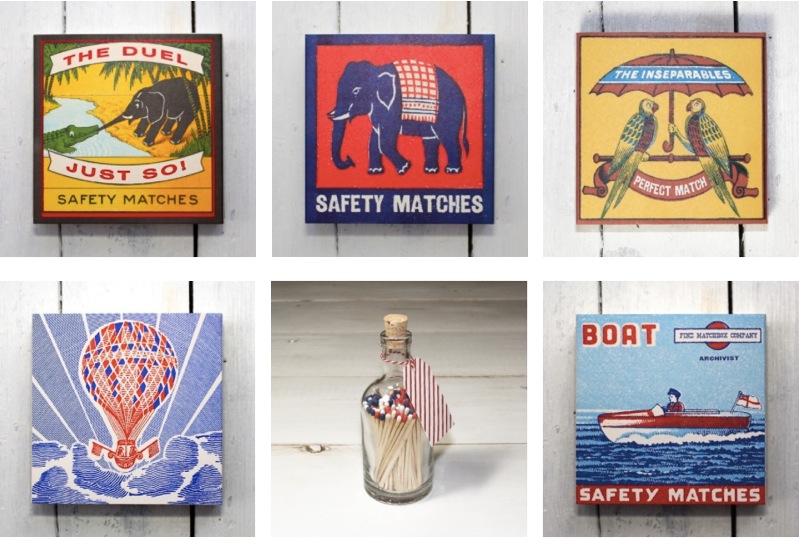 At Fine Matchbox Co. letterpress is their passion and they love giving this traditional printing technique a modern twist, using their vintage windmill press to create stylish and clever products. Founded in 1994 by Sarah and William Allardice, Sarah had previously worked for one of Britain's most prestigious stationery brands, whilst William's career had been a little more unorthodox, moving from the Wedgwood design department to selling racehorses to the Japanese. This fabulous collection of matchboxes, a perfect marriage of function and design, has now become accepted as one of the great gift products, competing easily with chocolate and flowers. Browse more here.
Also available at Fable & Folly.
6. Out of the Box Music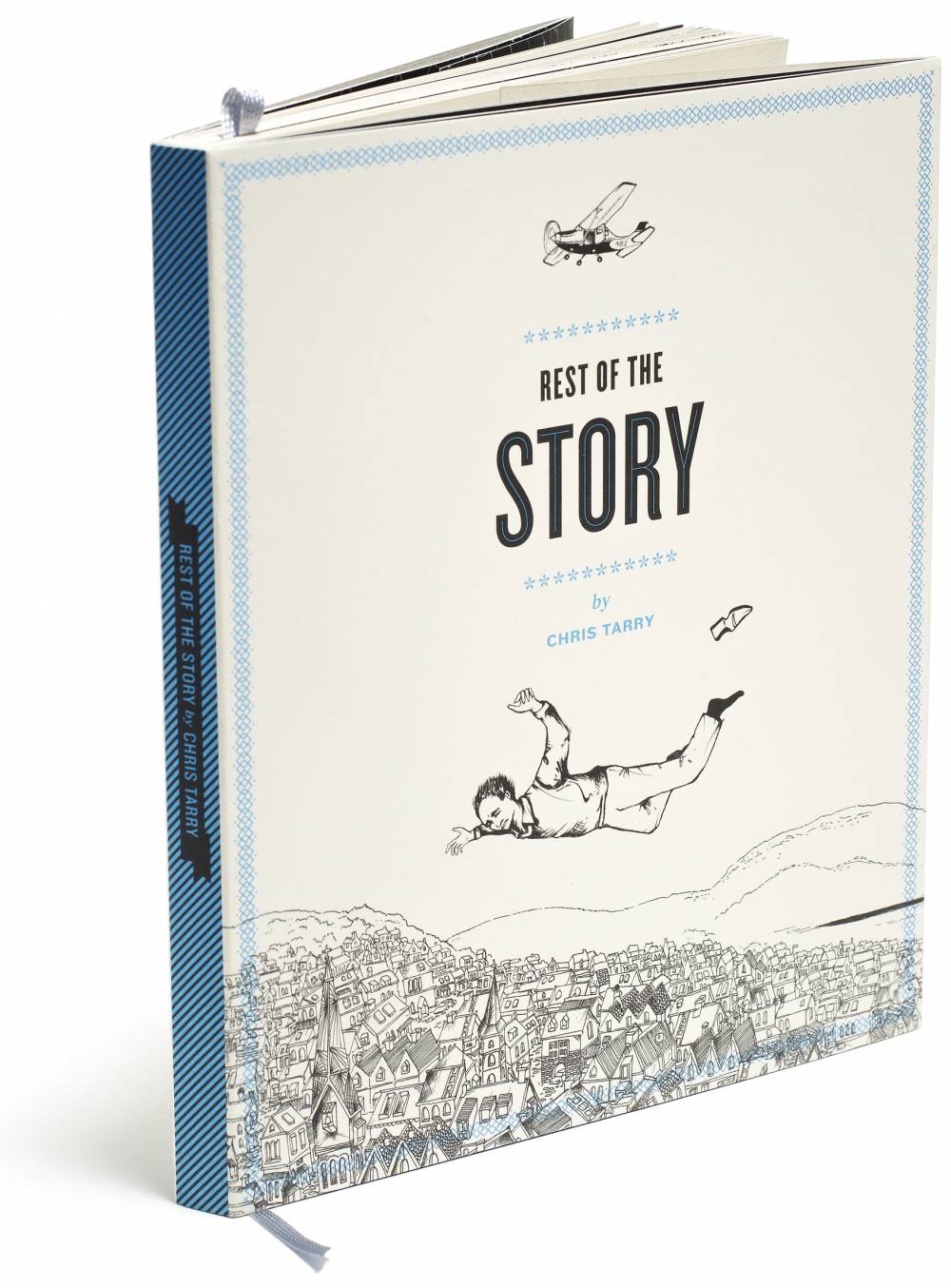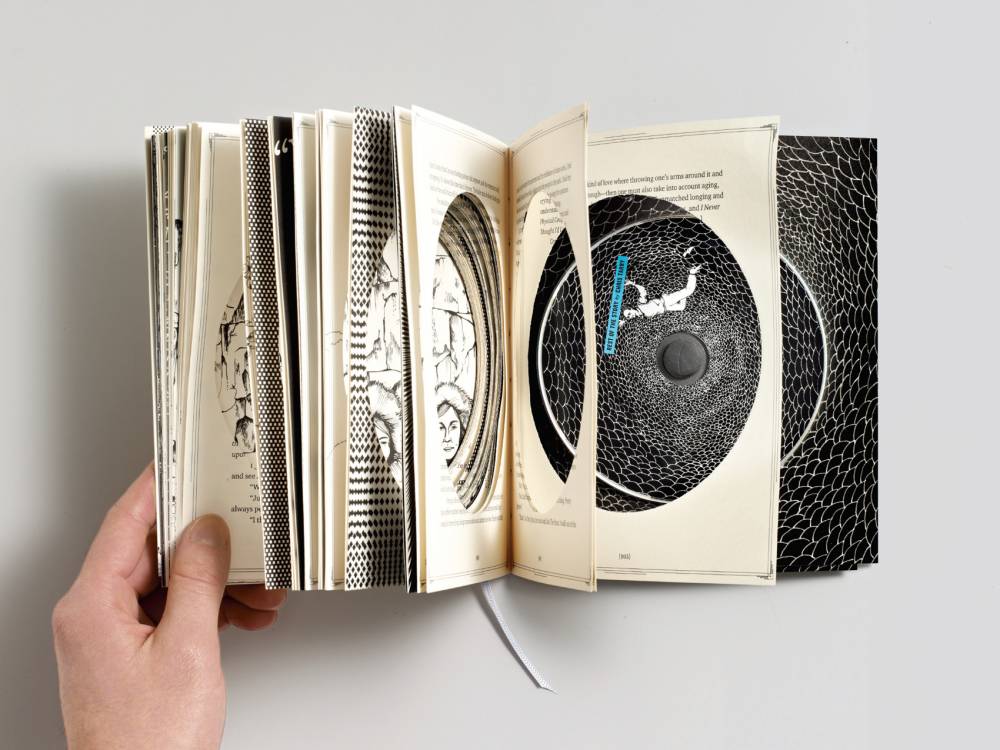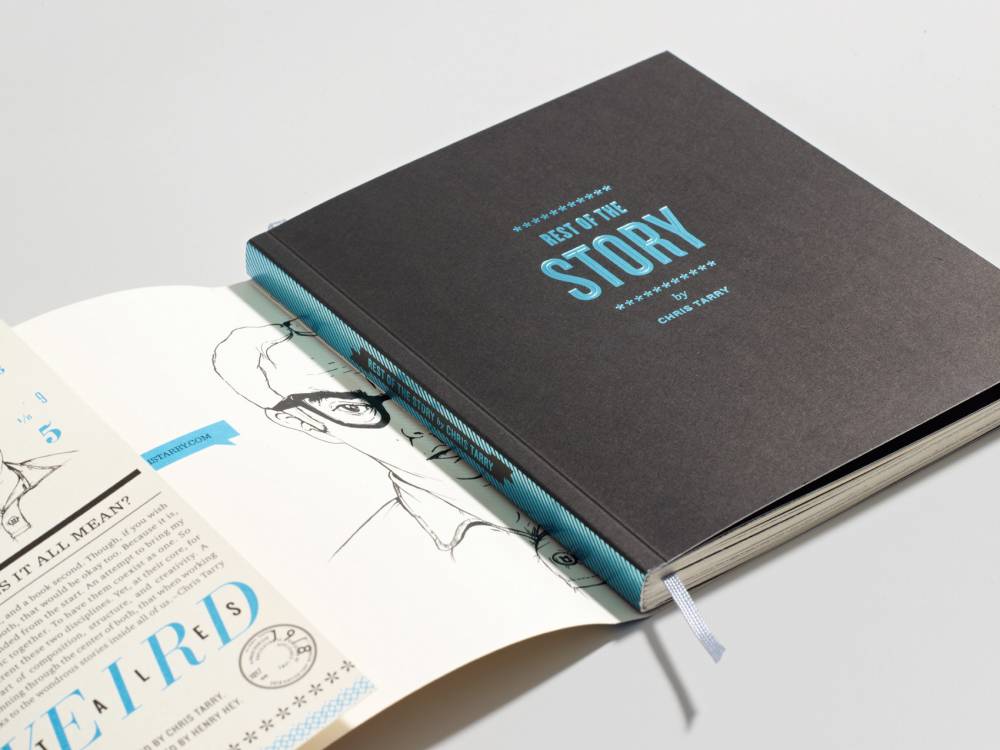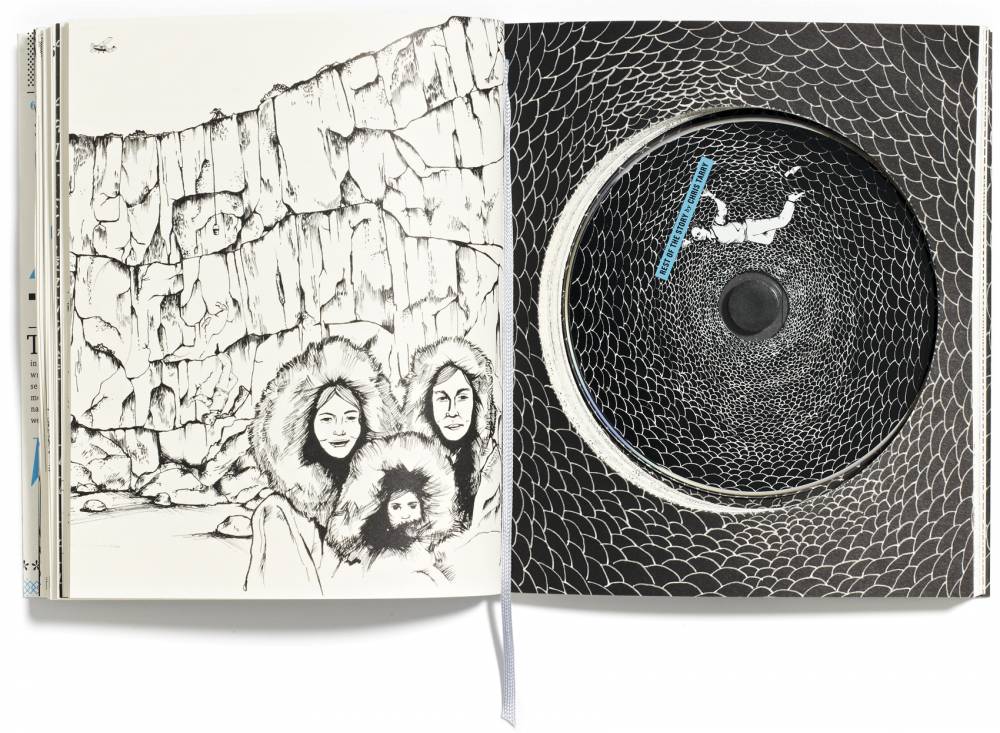 Designed by Rethink Canada

"Chris Tarry is both an accomplished author and a highly distinguished jazz musician. The challenge was to package his latest CD, Rest of the Story, in a way that highlighted both of these talents and reflected the creativity of his work … As an extra twist, the CD lies at the bottom of a large die-cut hole in the book, mirroring the fall of the character from the cover illustration."
7. Symphonic Beer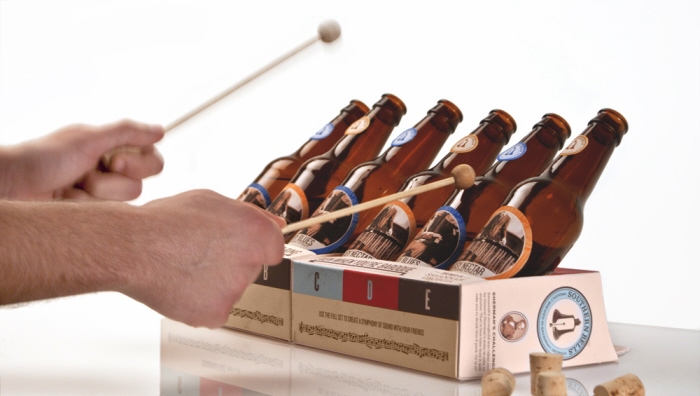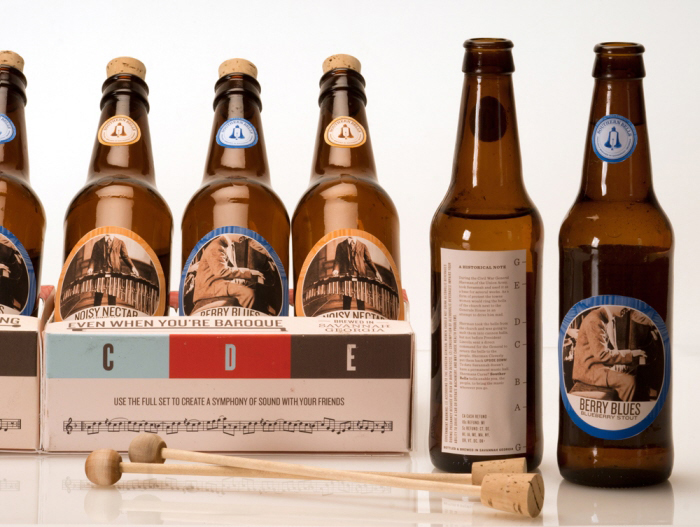 Southern Bells: Musical Beer Packaging – hidden within every 6-pack are two mallets attached to the corks (inside the beer). After drinking your beer to the level indicated on the back (or filling it with water) you can place the bottles into the holder and begin playing.
Designed by Sam Gensburg, this is currently a concept, but he says he's open to working with the right company and designing a version specifically for their needs. Get in touch budding breweries!
8. Vapor E-Liquids from the Ancient Artisans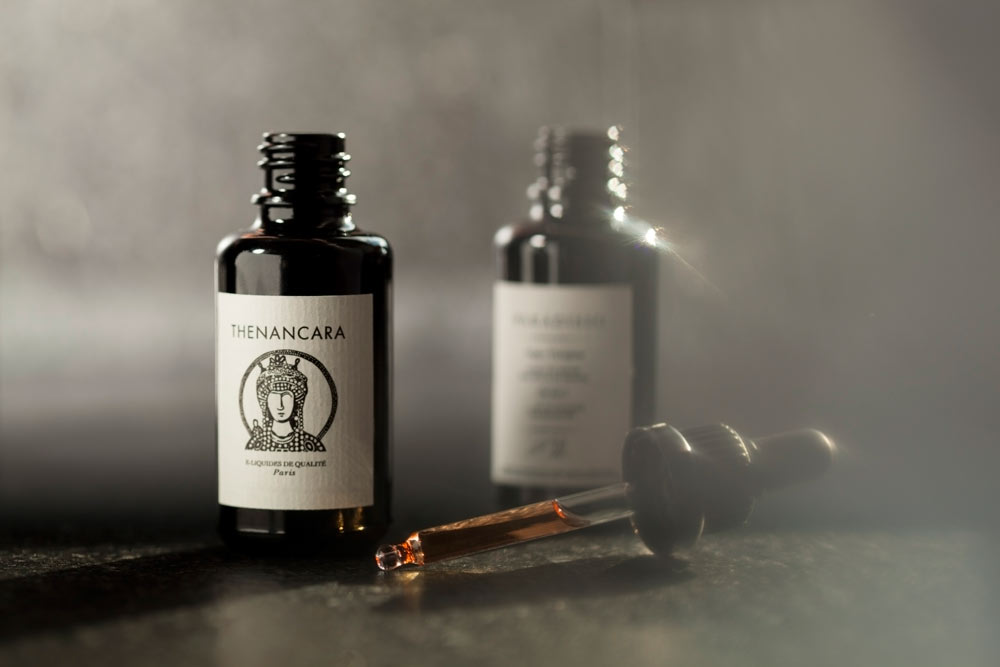 This beautiful apothecary-esque brand of e-liquids for electronic cigarettes are made and designed by the in-house artisans with papyrus style labels featuring some very mythical typography and artwork.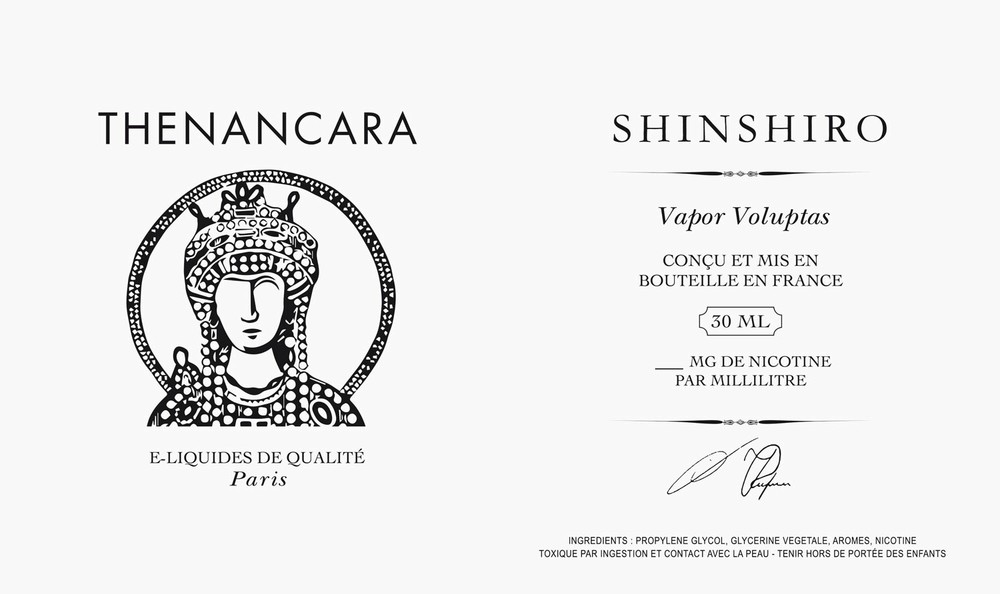 An invitation to travel for anyone who will appreciate the delicacy, the richness of spices, the fervor of sweet nectars; Thenancara e-liquids are complex elixirs, sure evoke forgotten pleasures…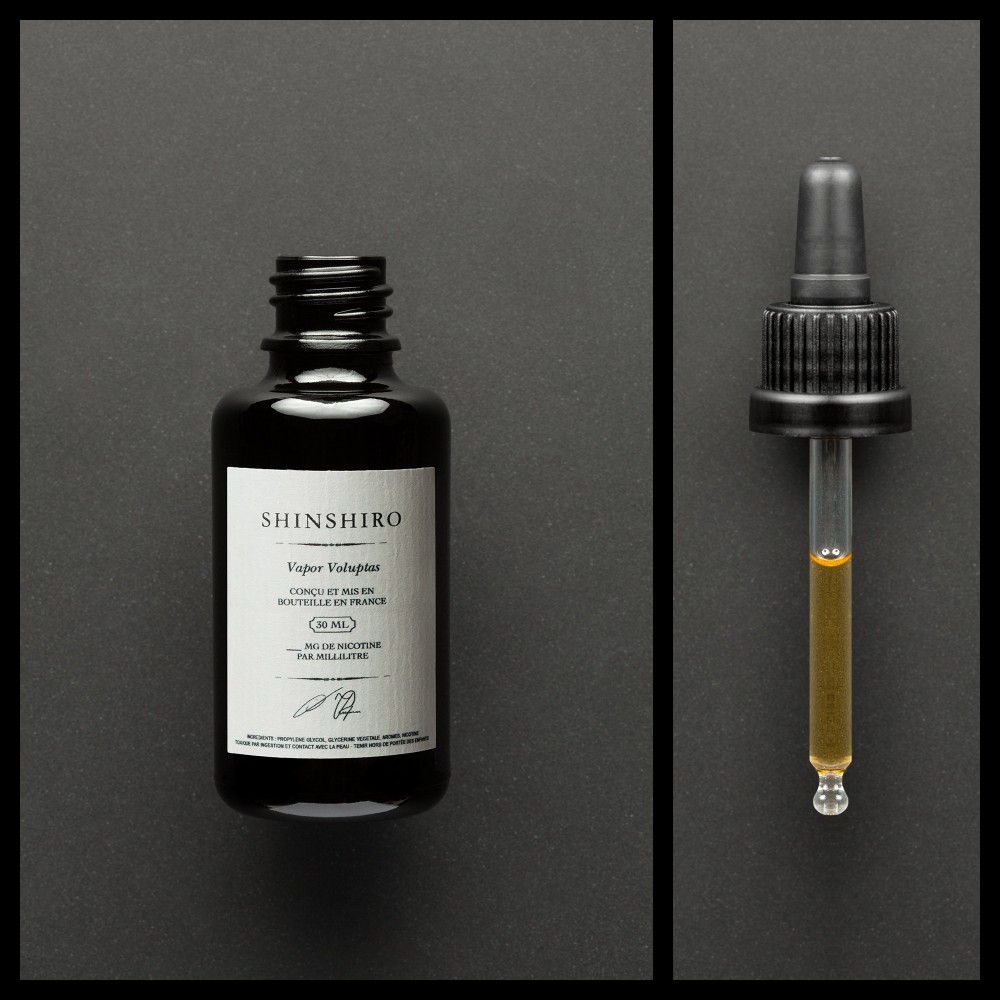 Do you vape? Discover Thenancara.
9. Perfume for Book Lovers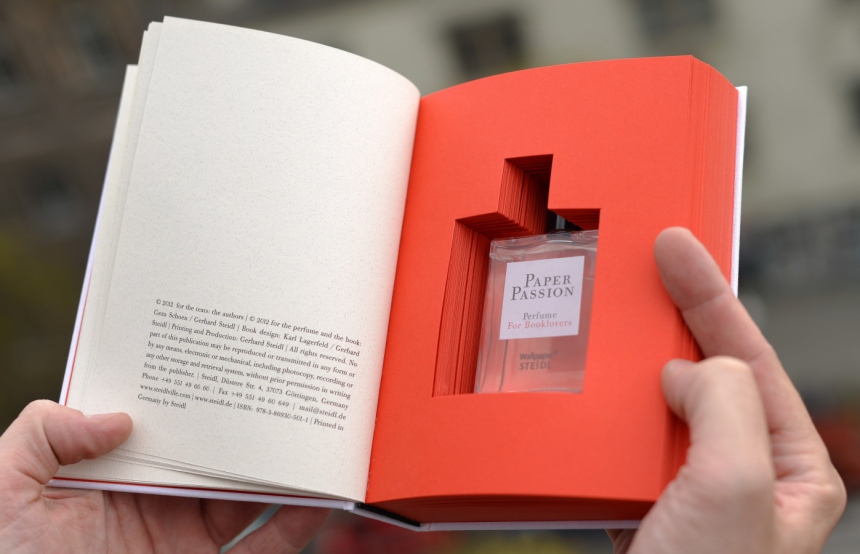 Gerhard Steidl was first alerted to the importance of the smell of a book by Karl Lagerfeld, prompting the perfumer to put the particular bouquet of freshly printed books in a bottle (it's important to note this is inspired by new books, this is not a perfume for smelling like an old book). To Wallpaper* magazine the pairing of the publisher with the perfumer seemed a natural partnership and so the idea for Paper Passion was born. Hidden inside the pages of a book, Paper Passion is accompanied by texts from Karl Lagerfeld, Günter Grass, Geza Schoen and Tony Chambers.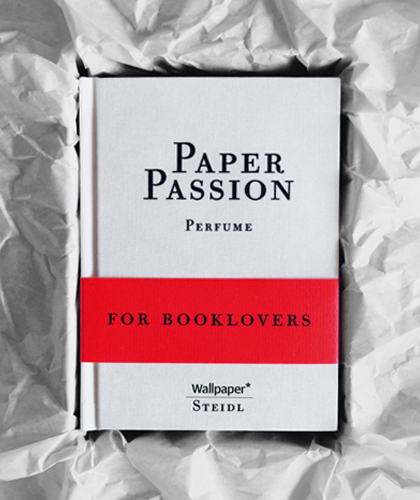 Available to buy here.
10. Surfboard Grooming Kit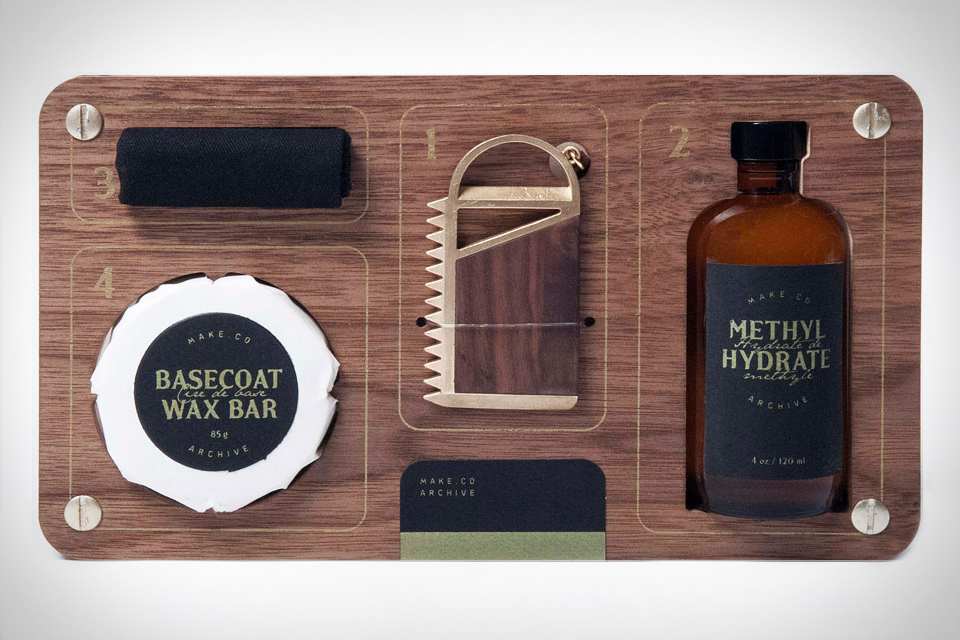 A stunning men's gift, this collaboration between Make co. and Archive with special help from Studio Point for the branding and packaging, includes a bronze and brazilian Lapacho wax comb, a black cotton cloth, a bar of wax, and a bottle of methyl hydrate.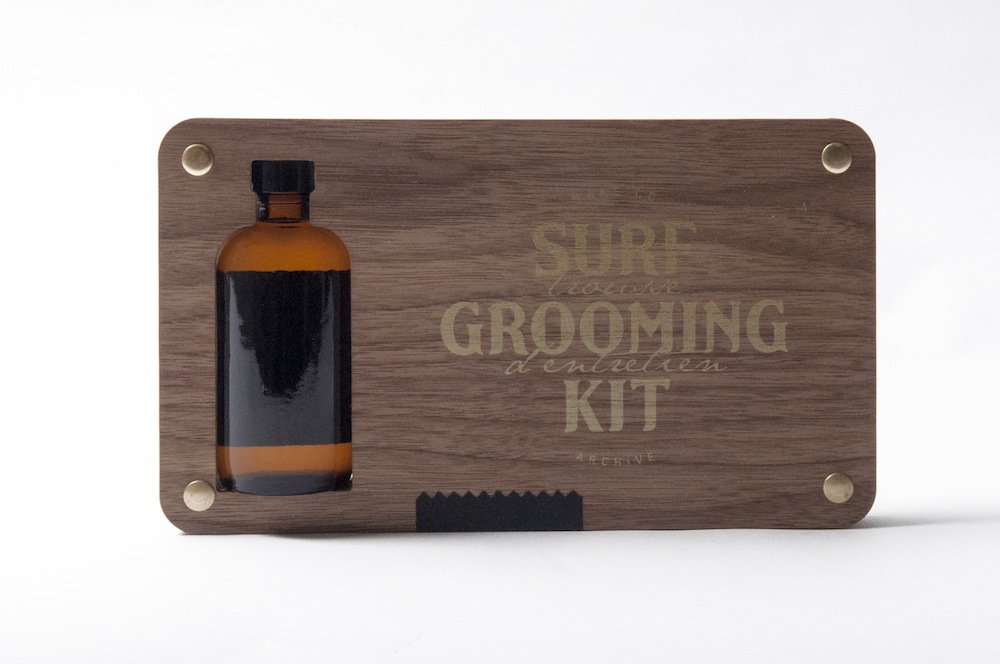 Only 25 were made by The Make, but something tells me they'll be making more.
11. Whiskey inside a Chocolate Rock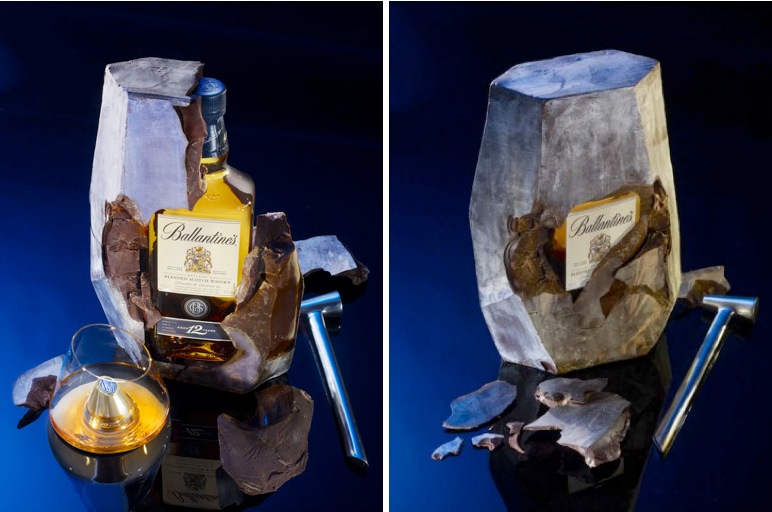 French chocolatier Patrick Roger teamed up with Ballantine's whisky to create this limited edition bottle buried in chocolate. A hammer was included for cracking it open.
12. Pasta for One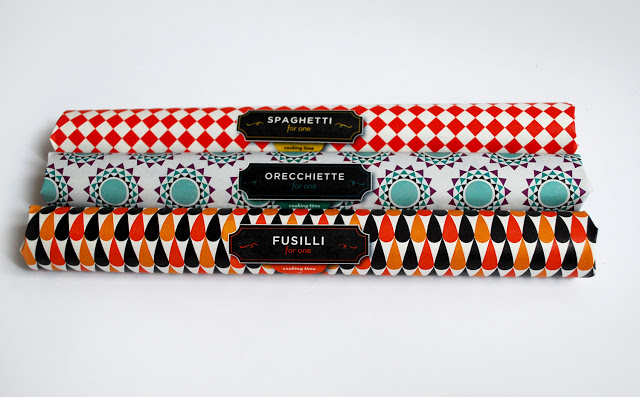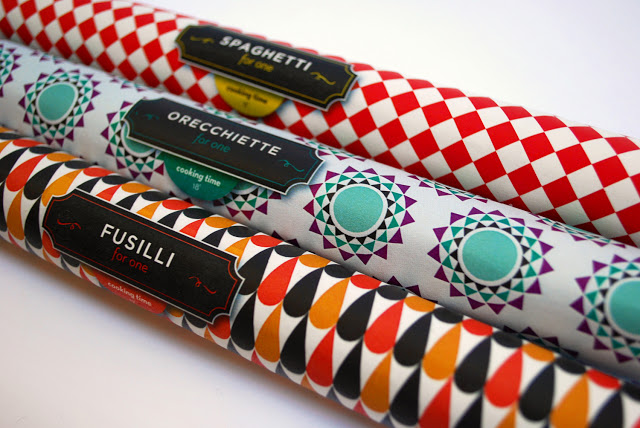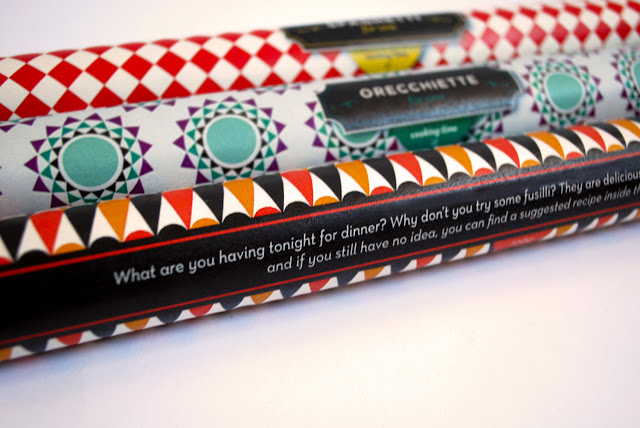 A personal project designed by Alessia Olivari in Italy.
"In Italy pasta is a diet pillar, but abroad, if people want to enjoy pasta only for one evening, huge boxes are useless. So I thought of a single unit pasta box. Every kind of pasta has a different pattern that recalls Italian tradition."
Unfortunately Pasta for One is not for sale, but if you want to see this product get off the ground, it would be worth getting in touch.
13. Wine Box Radio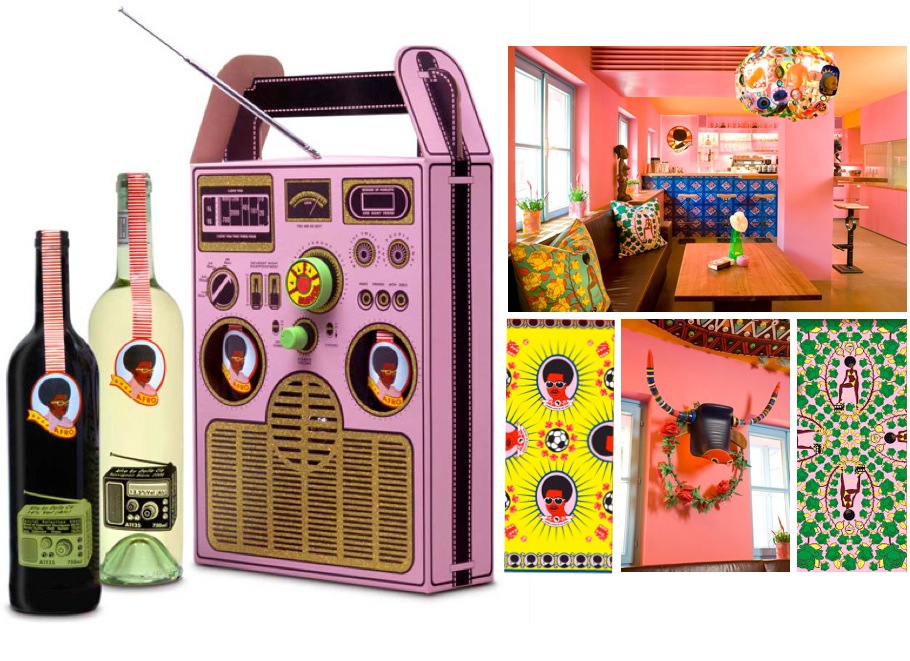 A vibrant café in South Africa teamed up with Dalla Cia wine to make this very funky wine box with a working radio! Unfortunately it doesn't look like they're selling it on their website for the moment but certainly stop by the café of you're in town. Afro Café website.