Before you start wondering whether Airbnb has sponsored me to write this post, they haven't. This is just me, lost in Airbnb and their endless roster of dream homes to stay in. Summer might be behind us but I'm starting to think just one last getaway before the weather turns sour could be good for the soul– especially if it involves a bit of glamping. I went searching through Airbnb with my magic keywords: 'trailer', 'Airstream' and 'caravan', and found some really special little places all over the world …
1. The Malibu Airstream star-gazer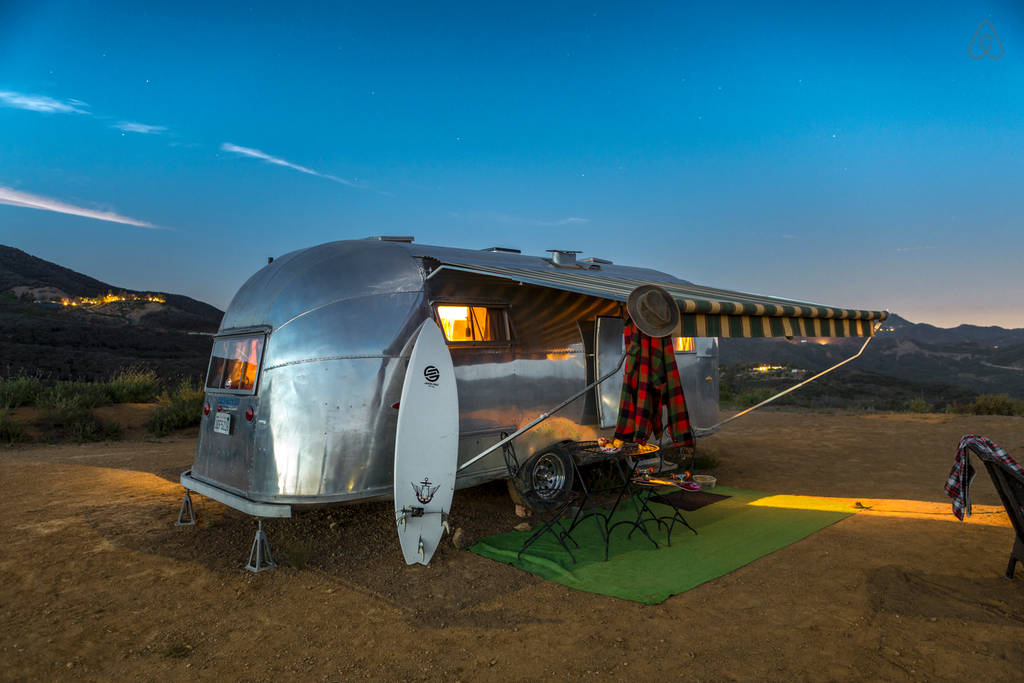 Here's what the host says:
Perched on a hilltop with a magnificent 360 degree vista of the Pacific Ocean, Catalina, Santa Barbara Island and the Santa Monica Mountains, spend the evening watching the sunset over Boney Mountain as it fades to black. The stars come out by the millions- and you watch for comets and satellites passing overhead from the comfy Adirondack chairs.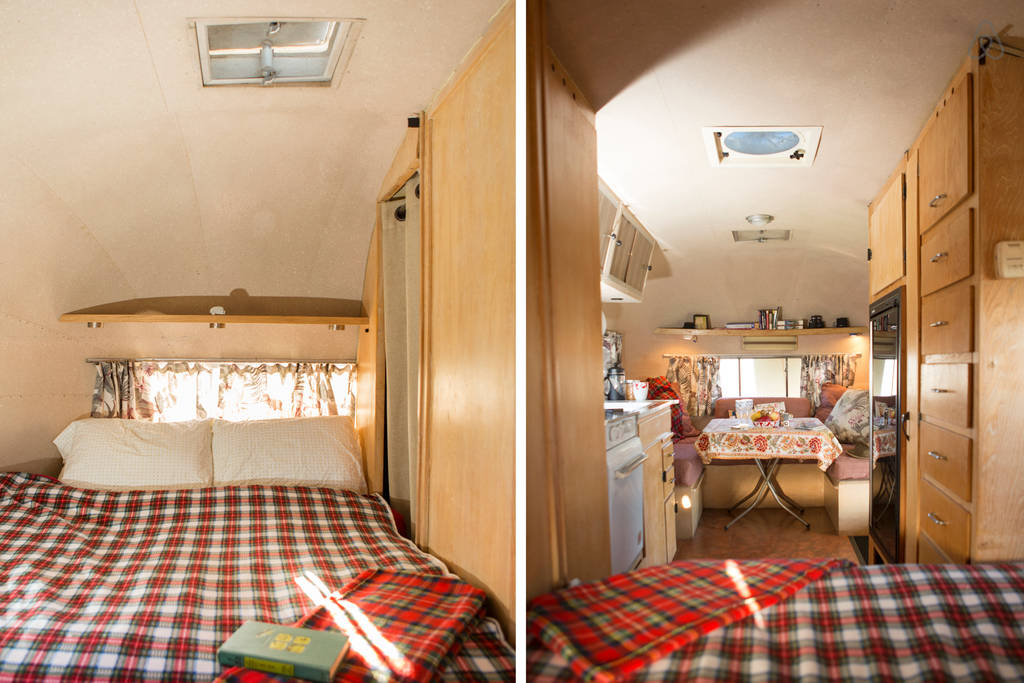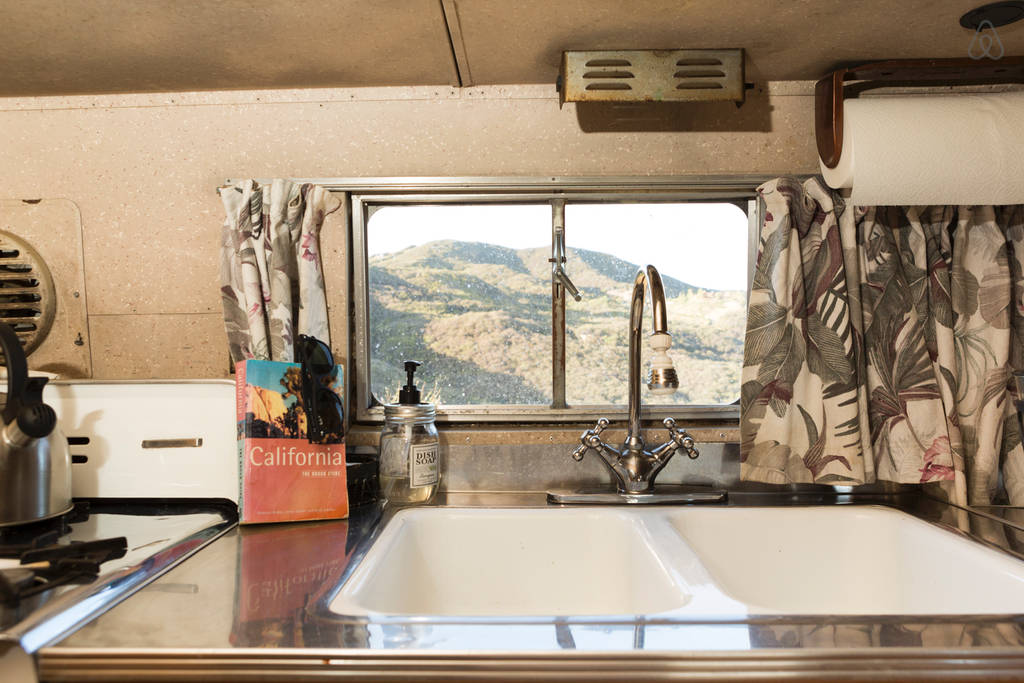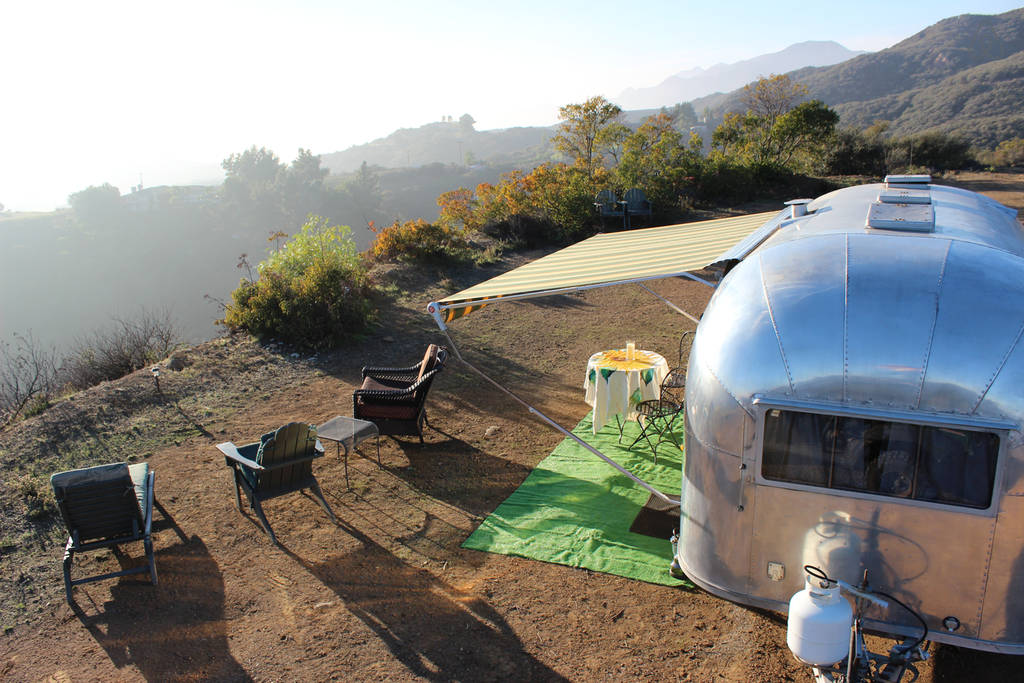 You retire to the comfortable restored interior of 'THE ALUMILODGE'- a 1957 AIRSTREAM 22 ft. FLYING CLOUD, and plug your iPod into the Bose Acoustimas sound system while opening a chilled bottle of local area wine you brought from the refrigerator. The dinette is set for a romantic dinner which you prepare in the onboard galley and gas stove. After another look at the Milky Way, you retire to the Queen size rear bed with quality linens and feather duvet- the fresh Pacific breeze lulling you to sleep in the silence broken only by the occasional owl 'hoot' or coyote howl in the distance.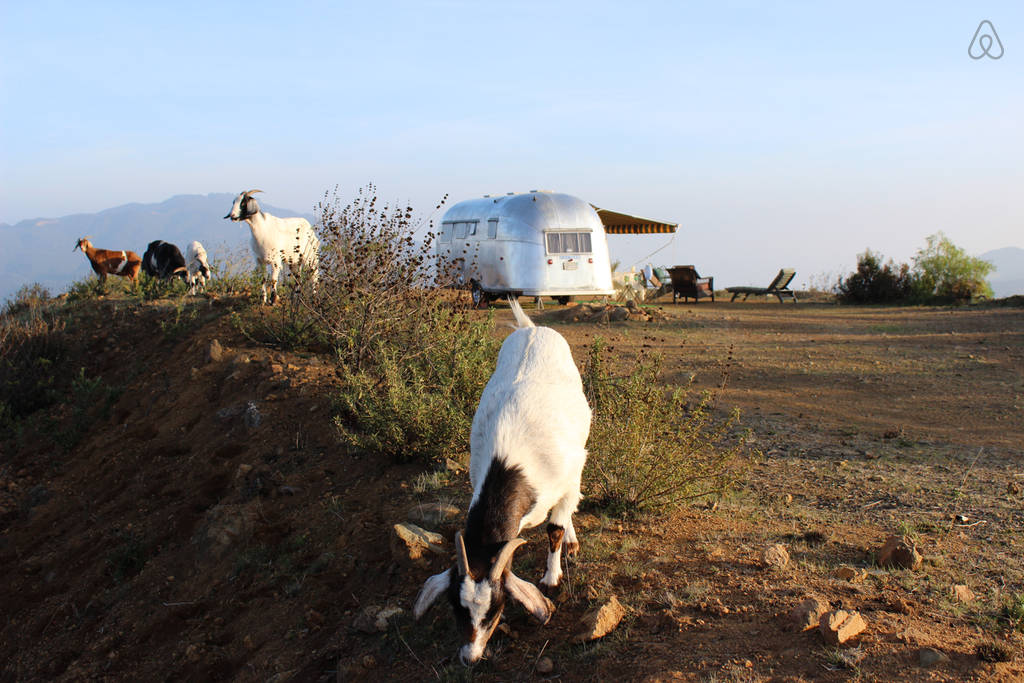 Oh and you know, just some mountain goats that come say hi and hang out around the trailer…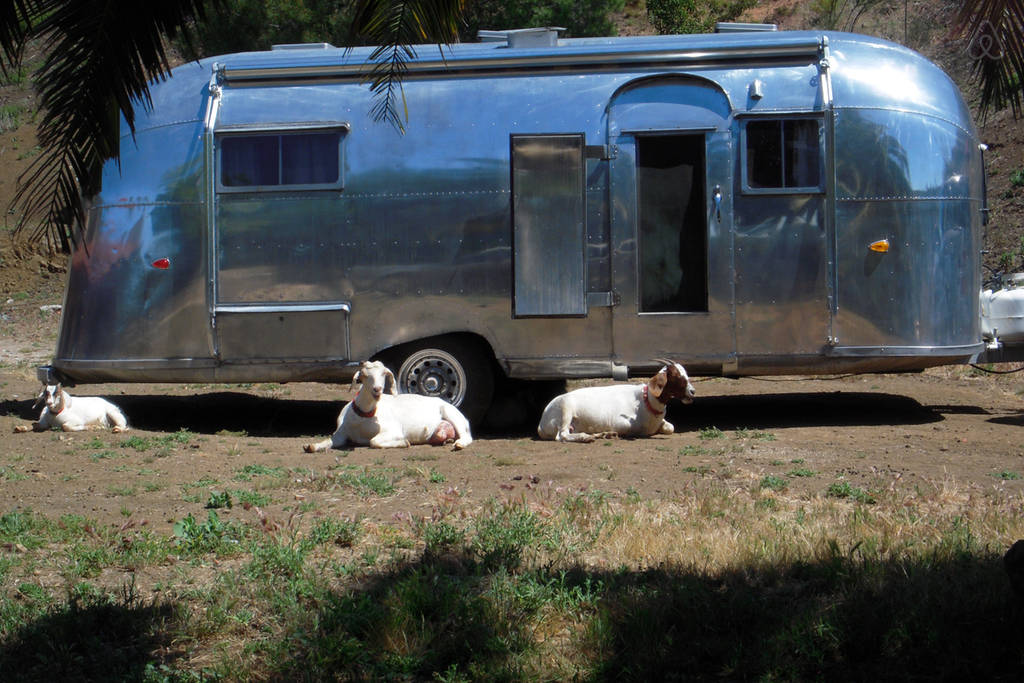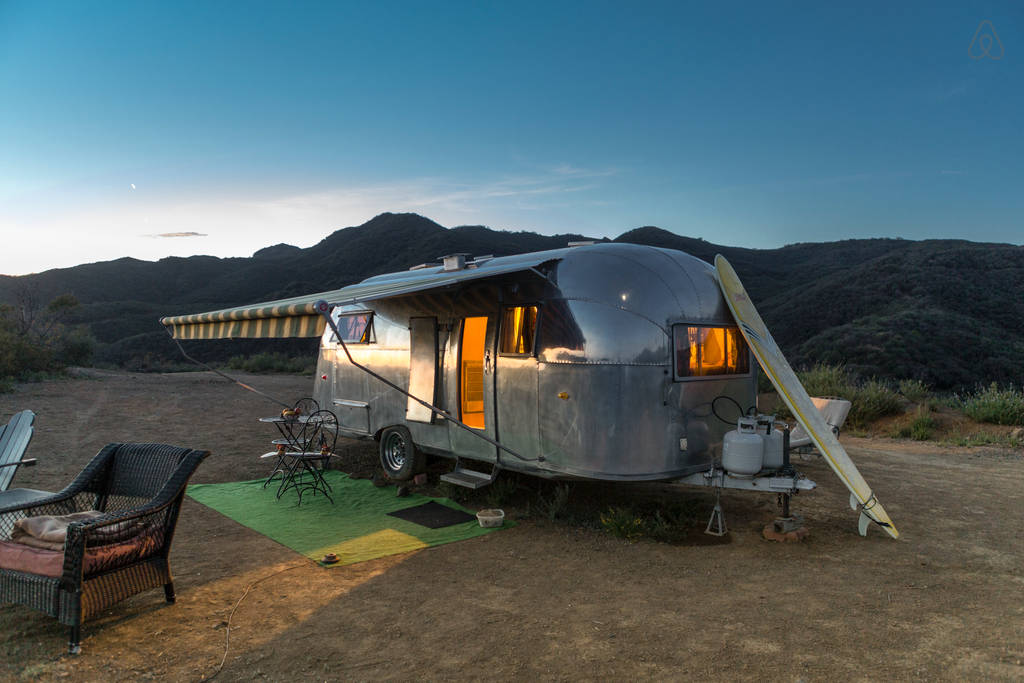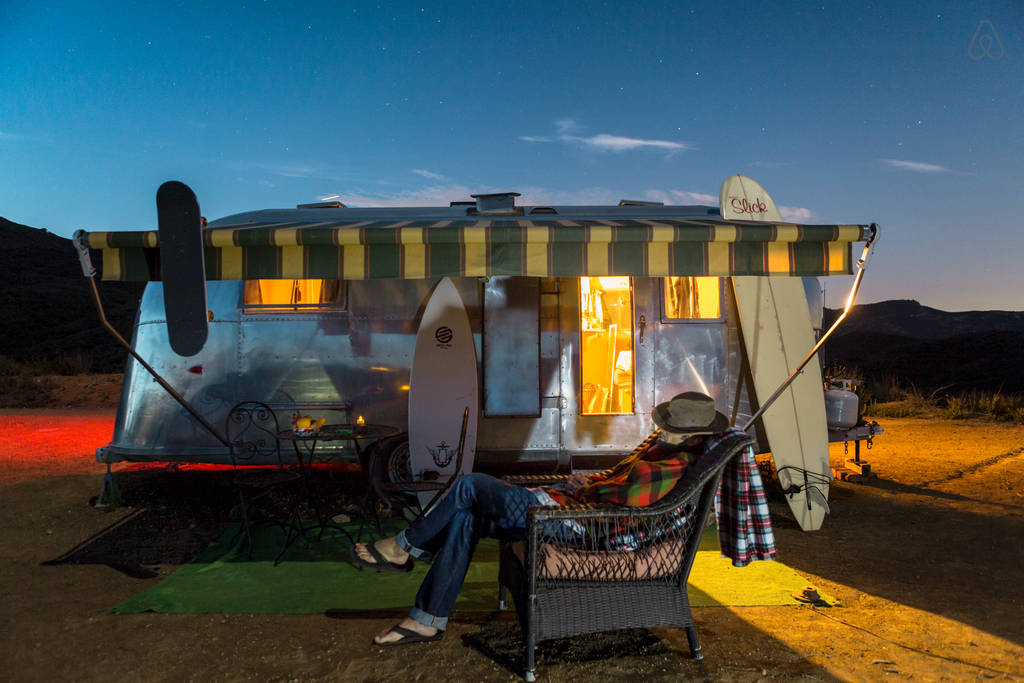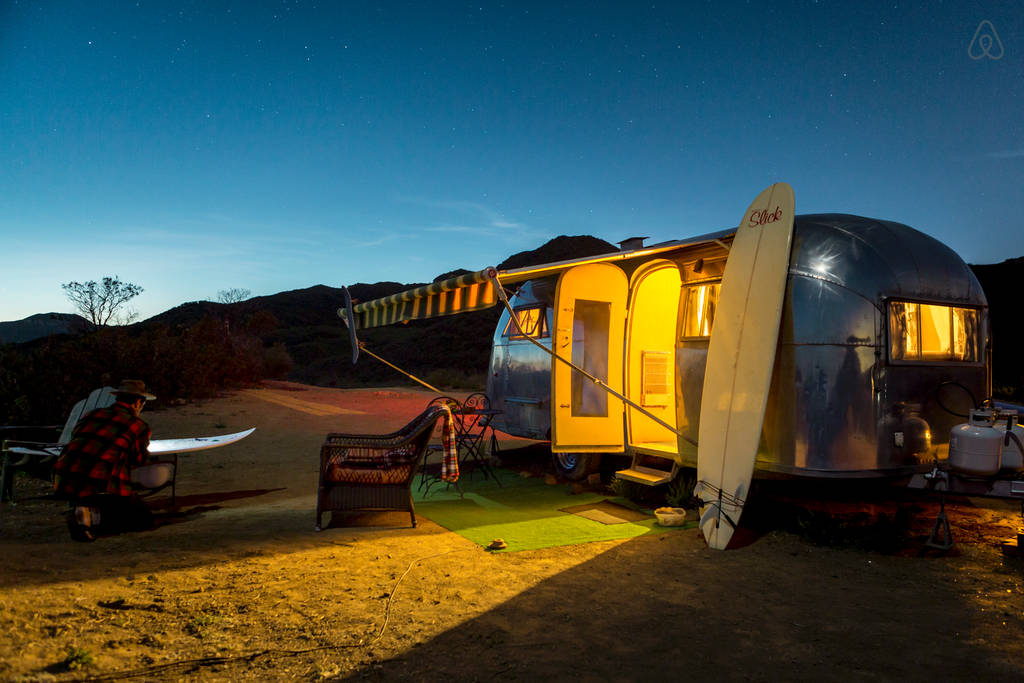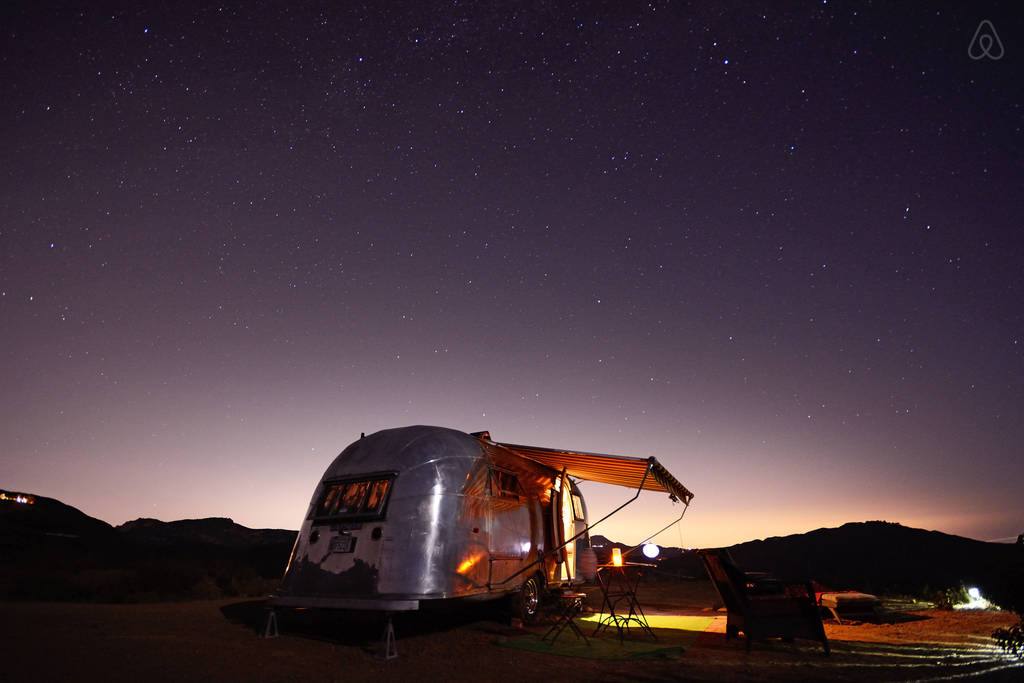 €112 per night. A seasonal pool is also available to guests. Book it here. And if that one is booked the same hosts have another airstream Malibu venue to check out here.
2. Vardo Camping in the English Countryside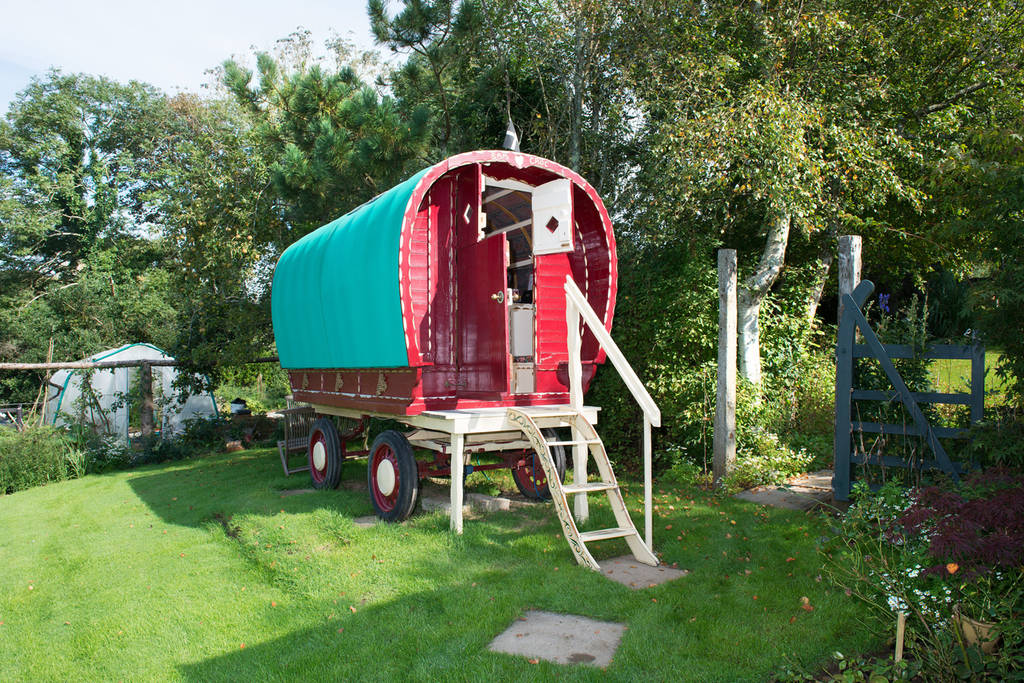 Here's what the host says:
Enjoy a romantic escape in a peaceful location but close to all amenities with Cornwall's famed coastline,surfing beaches and coastal footpath less than 2 miles away. Half a mile away is the historic Stannery village of Stratton with 2 pubs and a village store. Genuine Cornish pasties are available at the farm shop, also about half a mile away, and of course in Bude itself which, while still retaining the charm of an old-fashioned seaside town. We would highly recommend a visit to the nearby picturesque fishing villages of Boscastle and Clovelly. 
We offer a unique stay in a traditional Romany caravan furnished with some mod cons to make your stay comfortable and enjoyable.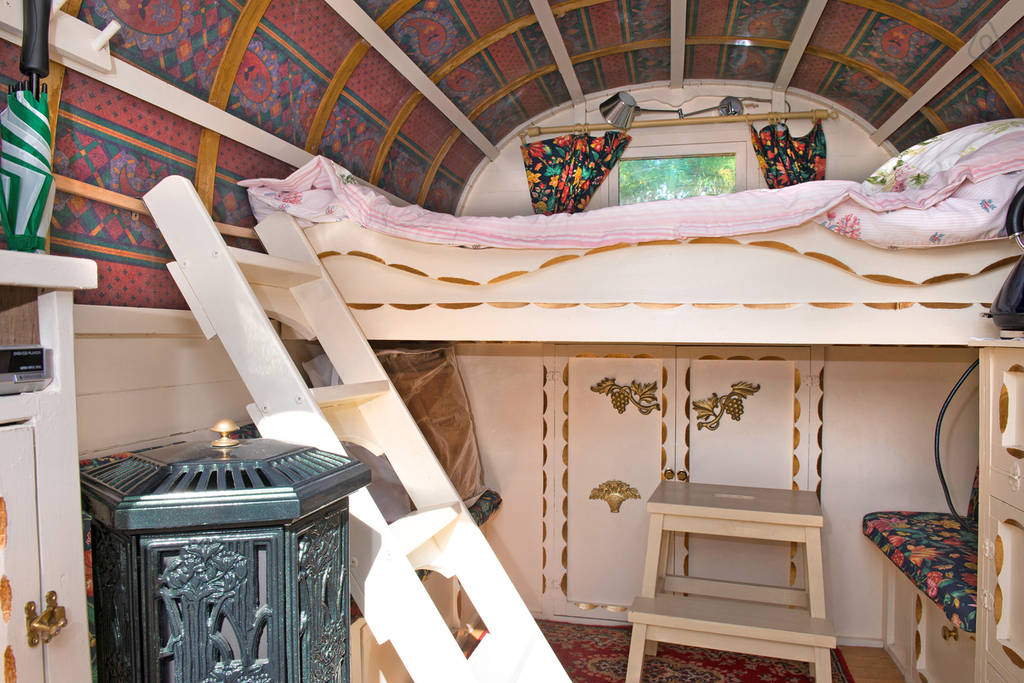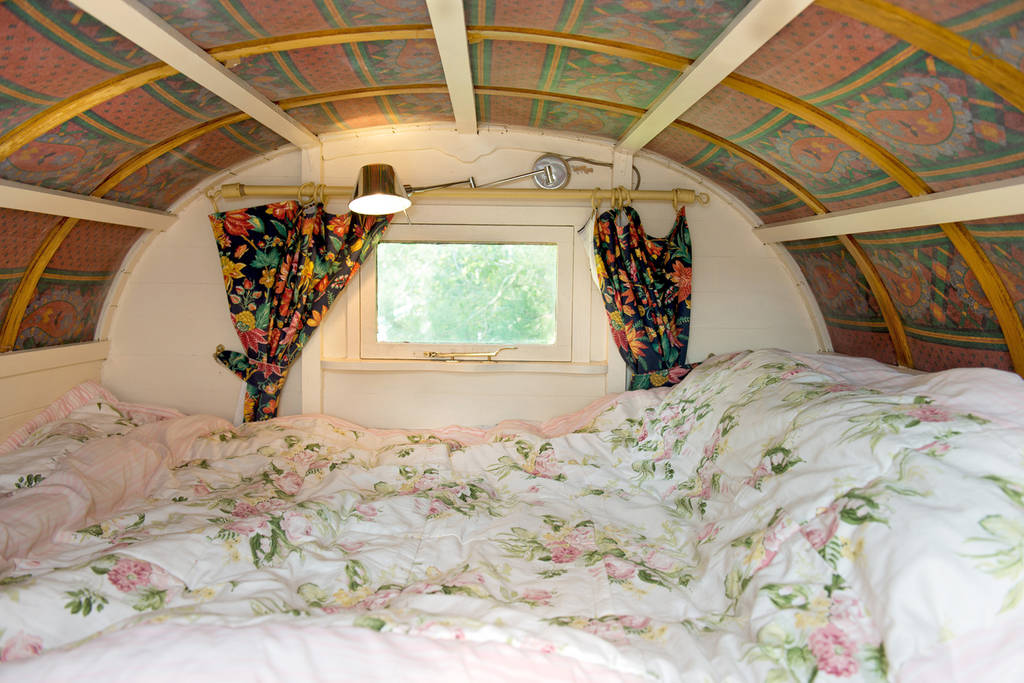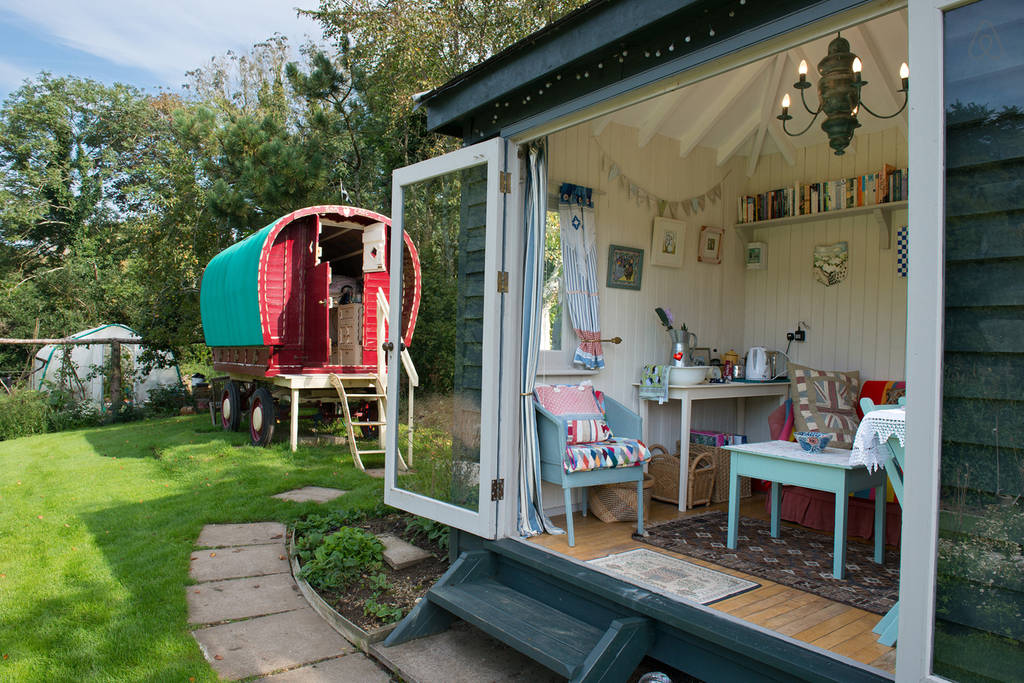 There is also a day cabin overlooking the meadow and woodland. There is a separate bathroom with towels, robes and toiletries supplied. Although there are no cooking facilities,breakfast is provided and you can choose to take this in a hamper to enjoy at your leisure, either alfresco or in the cabin where you will find tea and toast making facilities, or a full English breakfast in the conservatory at the main house.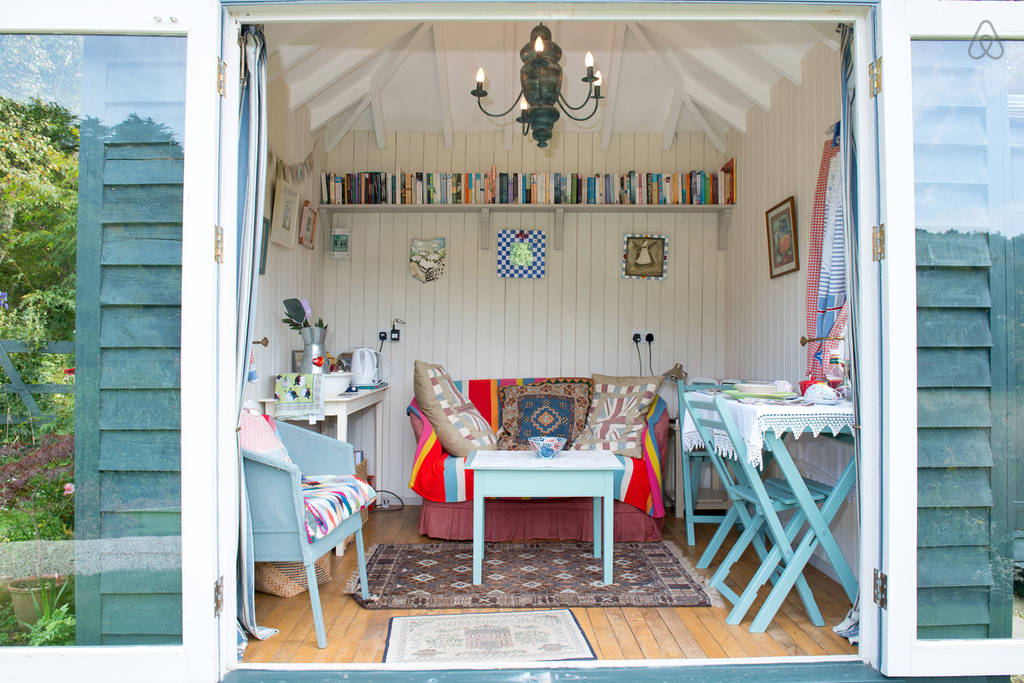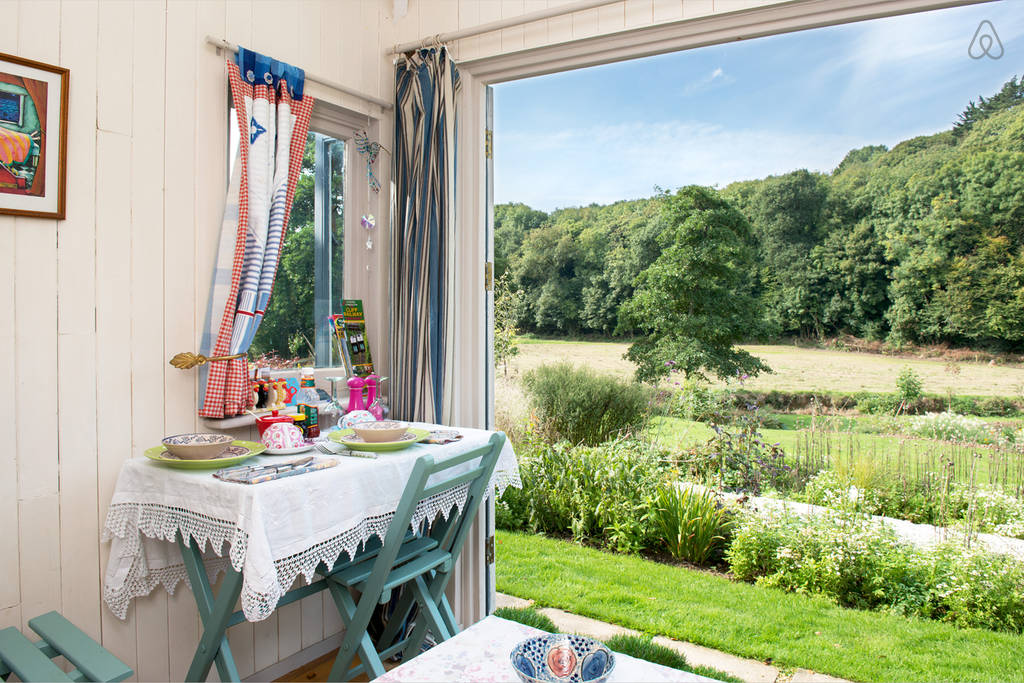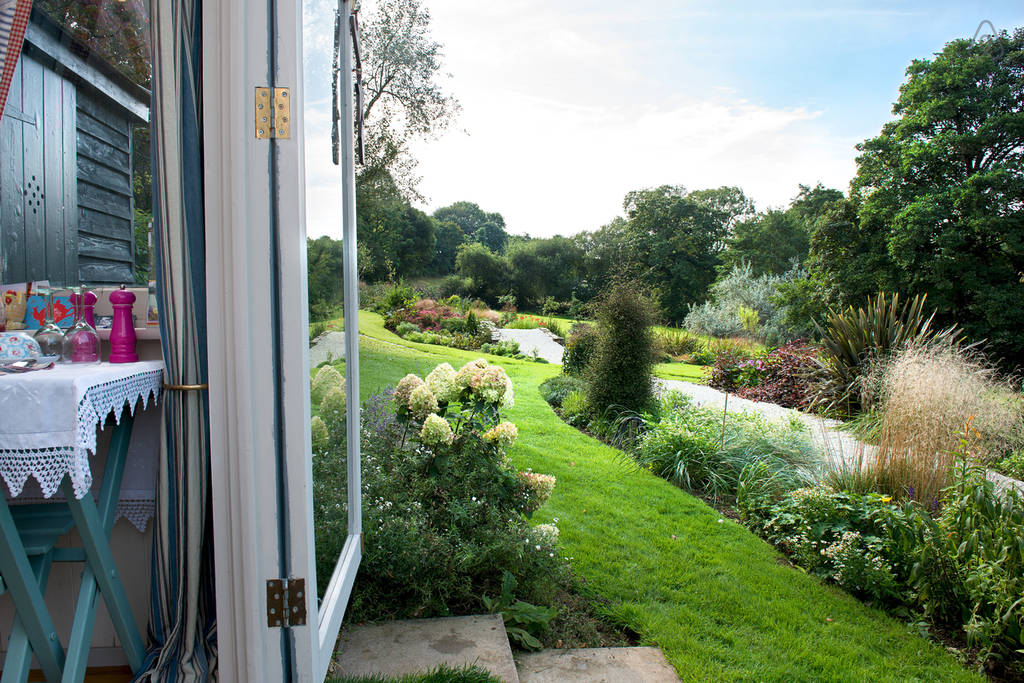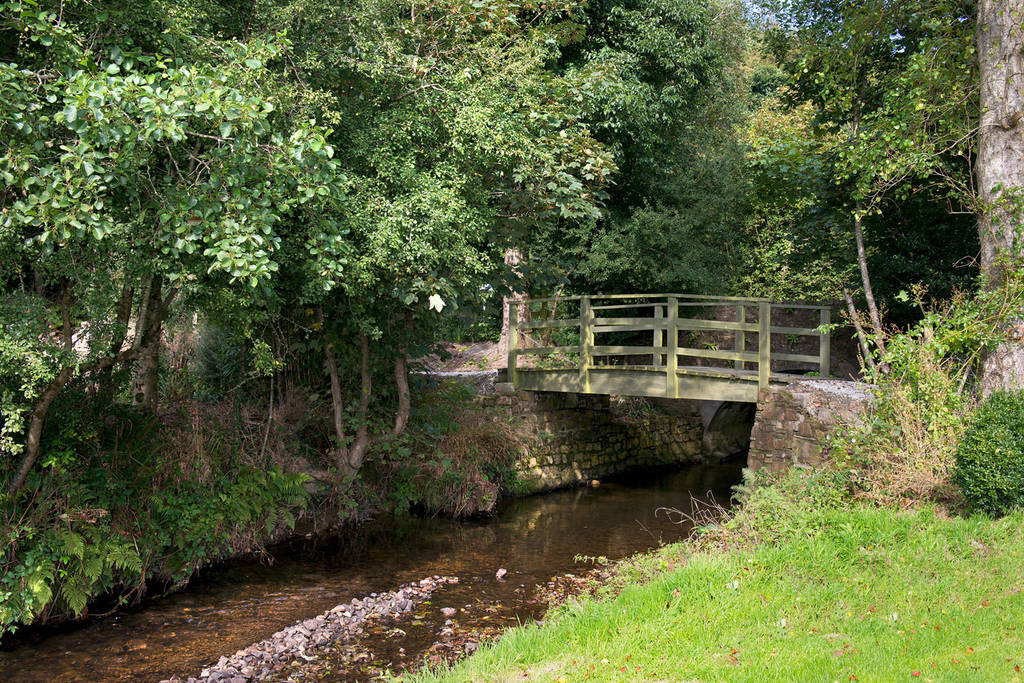 Book it for €89 per night here.
3. A Honky Tonk Texas Trailer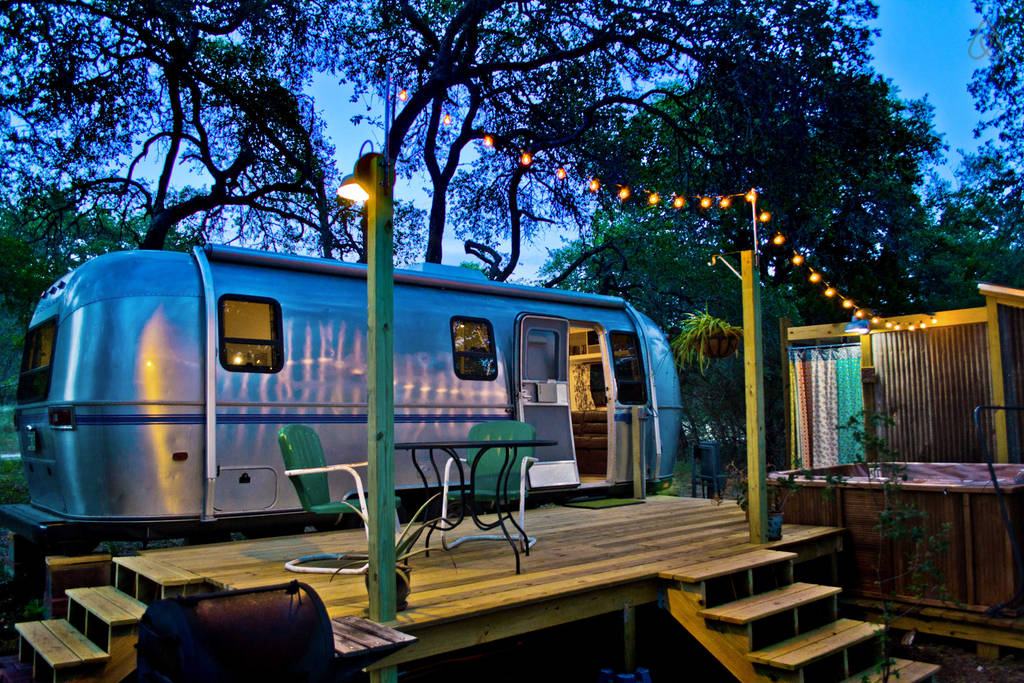 Here's what the host says:
This cute Airstream trailer has been completely renovated with a retro twist. It's the perfect place to escape for a relaxing weekend surrounded by nature, yet equipped with the conveniences of home. Grill up a yummy dinner with your honey and dine al fresco on the large deck, take a morning stroll along the creek, turn on the string lights for some mood lighting, take a dip in the hot tub, enjoy your morning shower under the trees in the private, spacious outdoor shower (room for two!), and end your day relaxing by the outdoor fire with an ice cold beer. This is the life!
This cozy retreat is nestled in an elm tree grove along the banks of Smith Creek in Wimberley, Texas.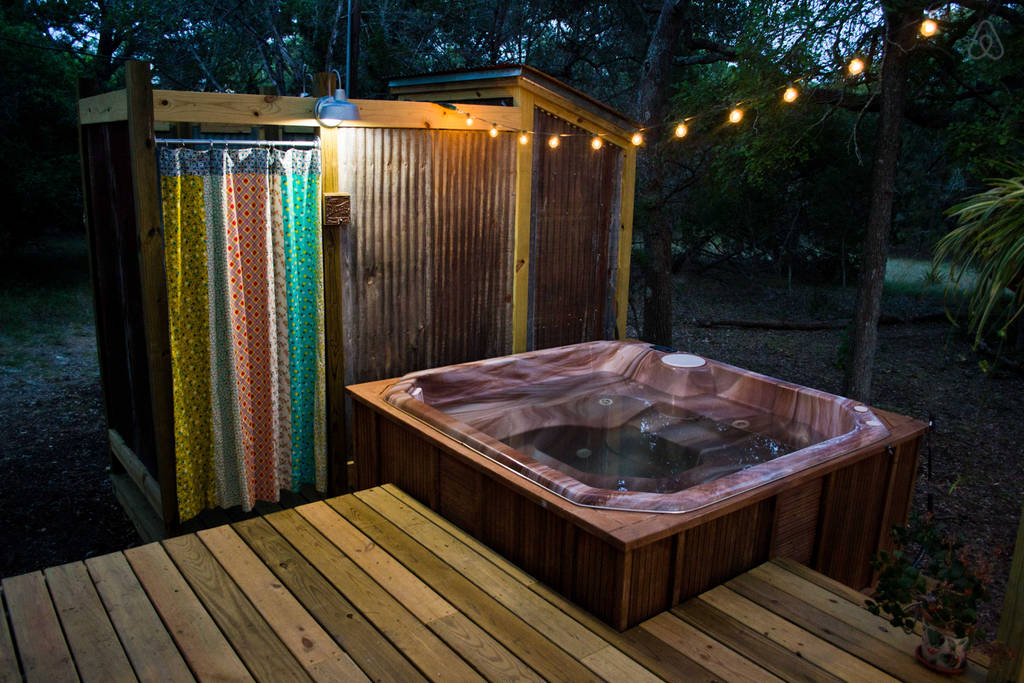 Did someone say HOT TUB?!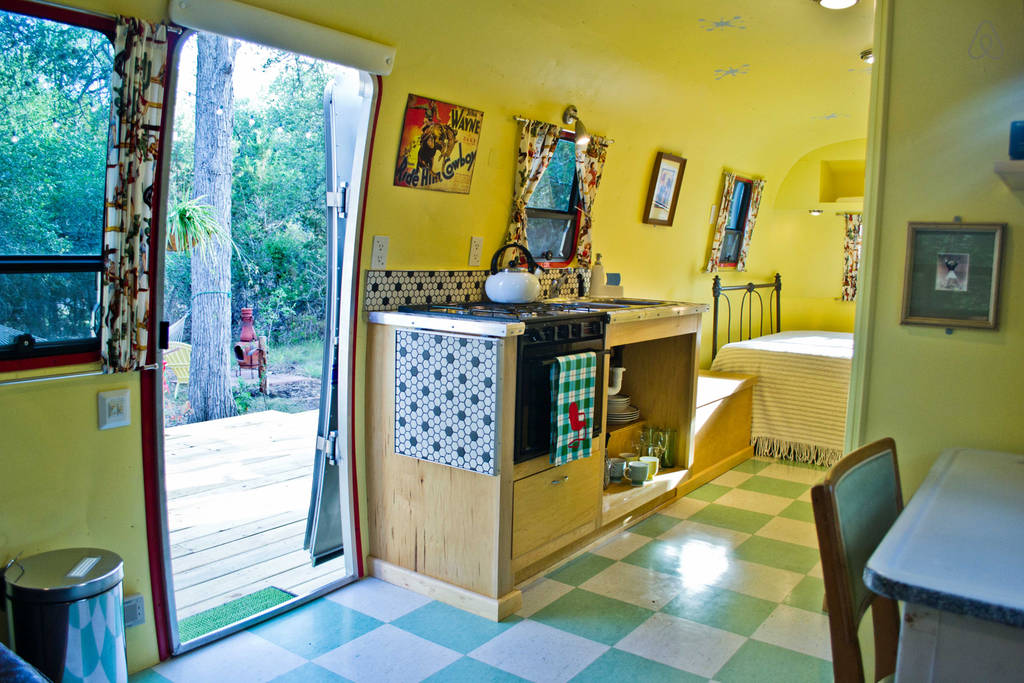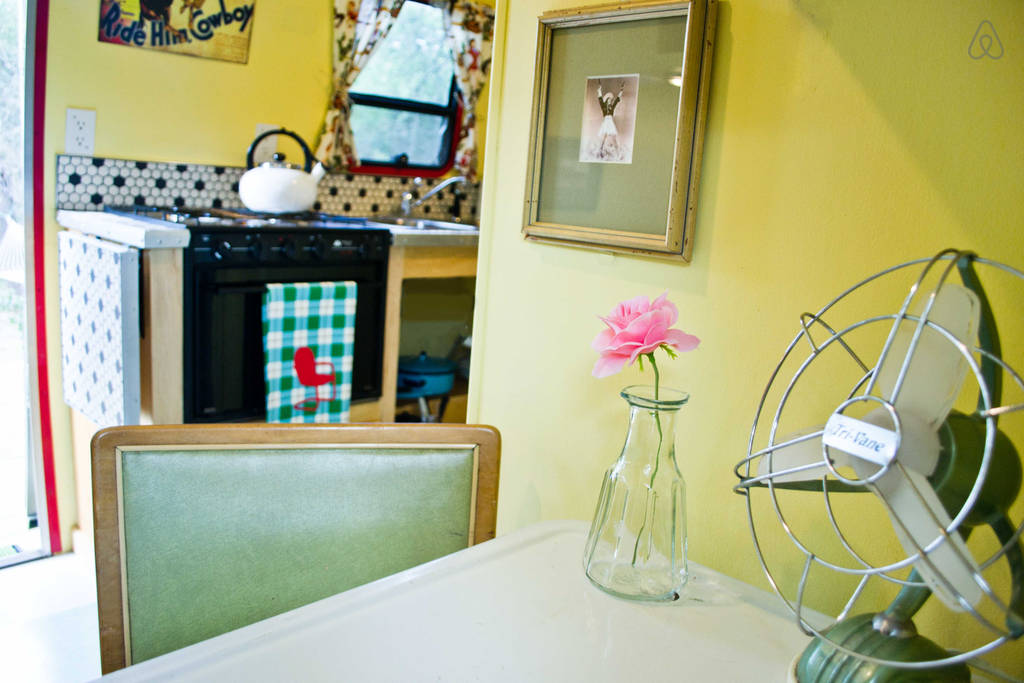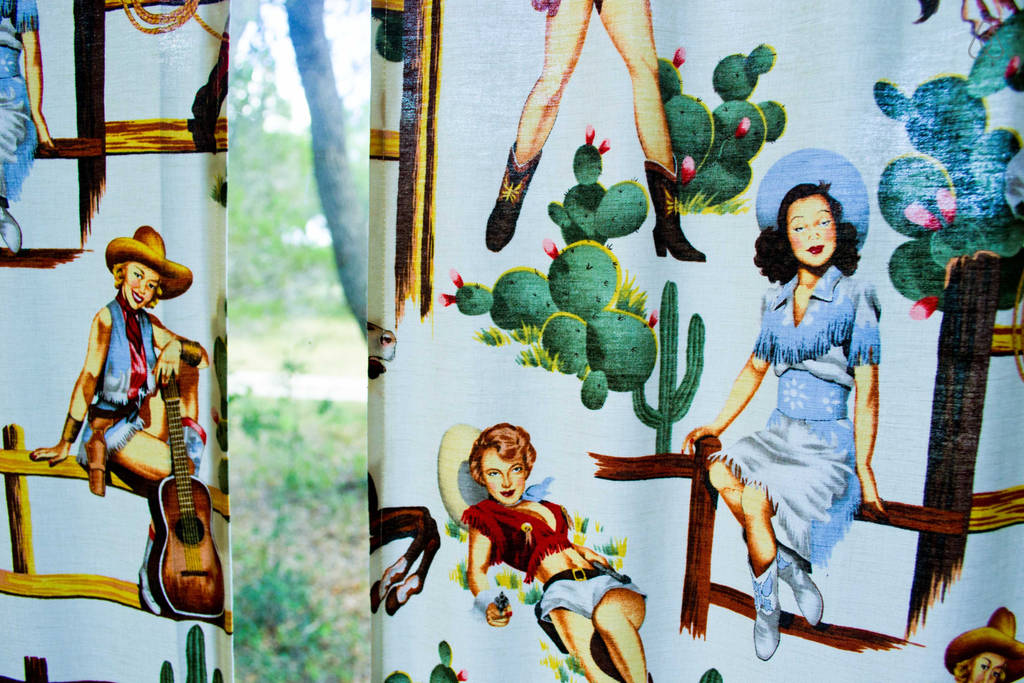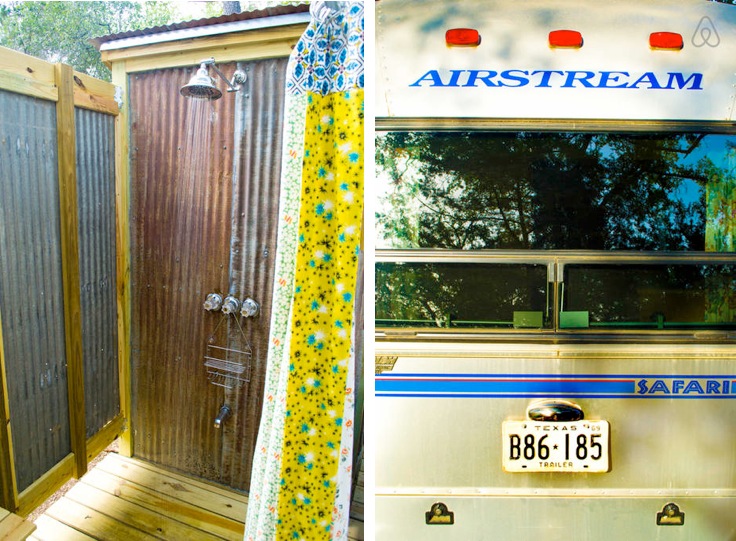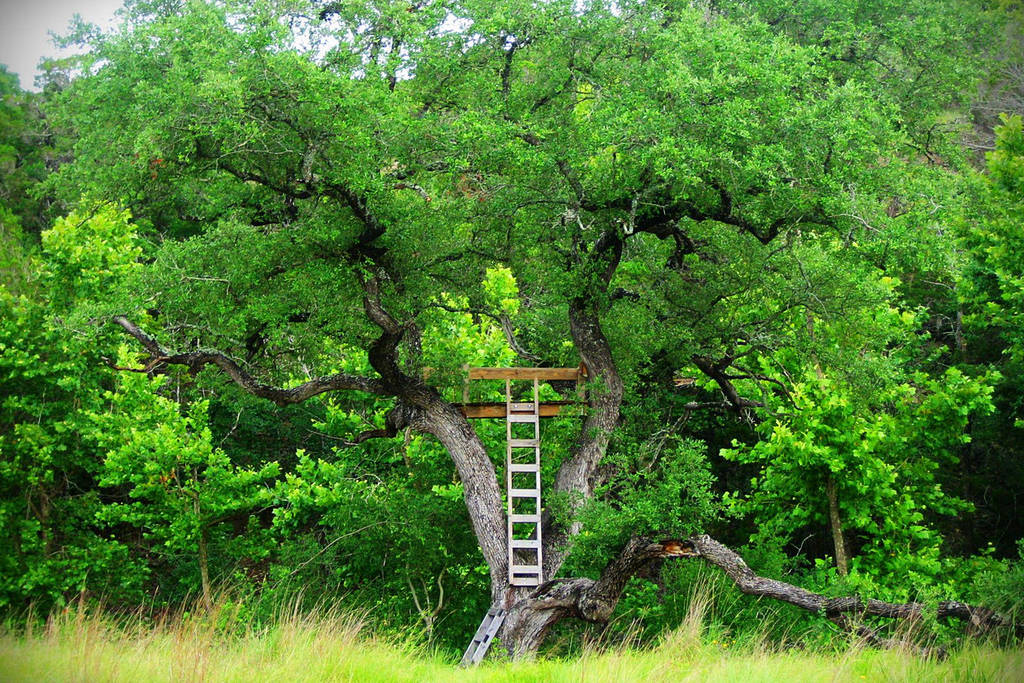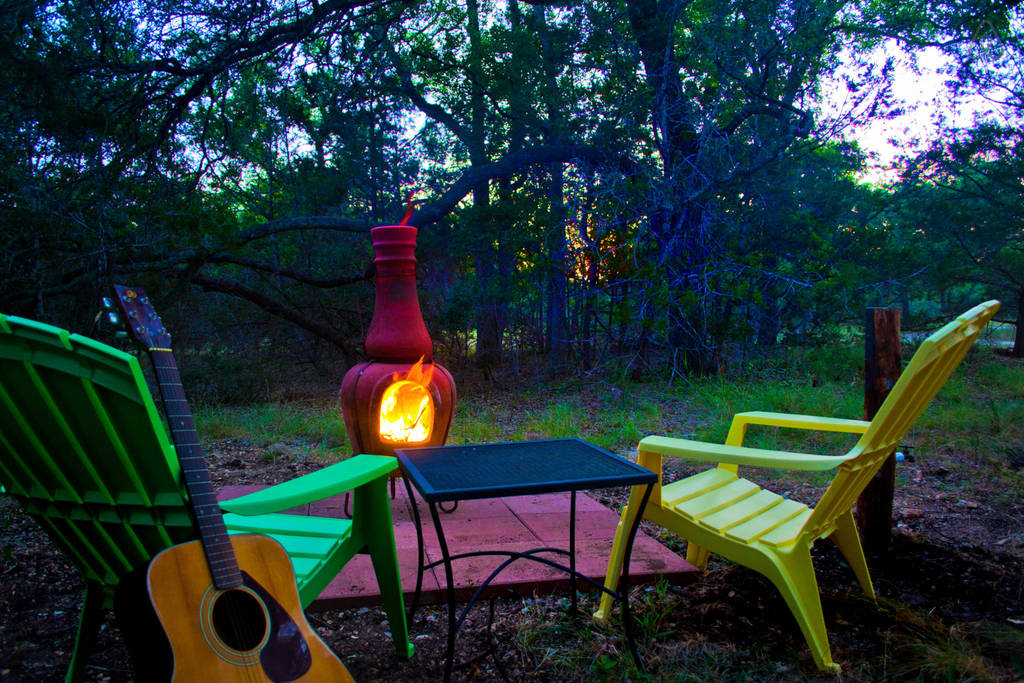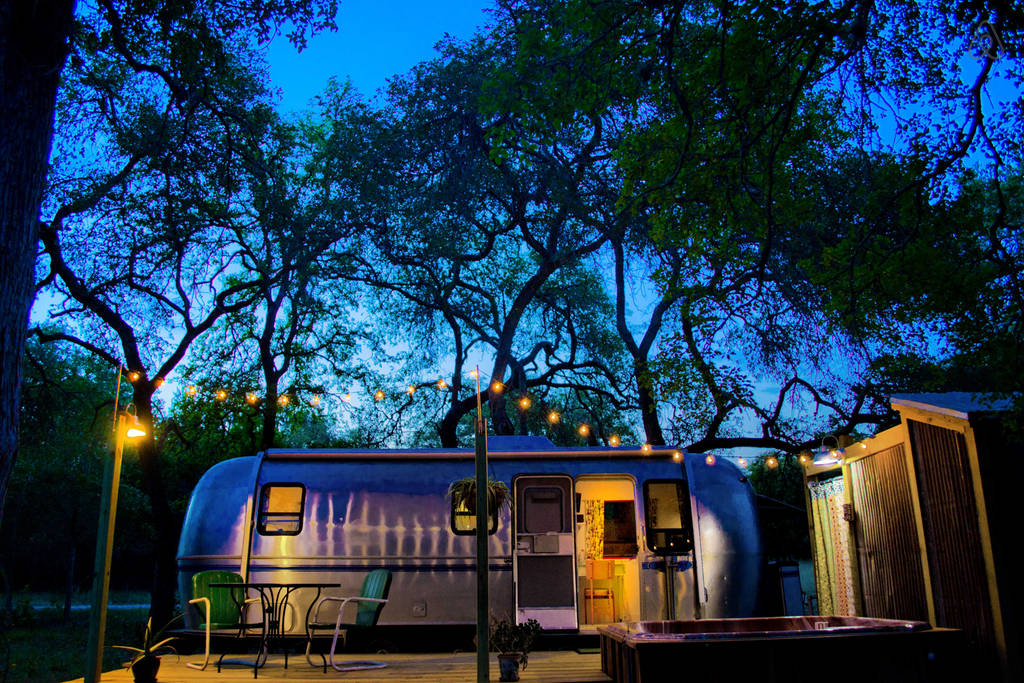 Book the Dixie Daisy for €100 per night.
4. The English Sideshow Sleeper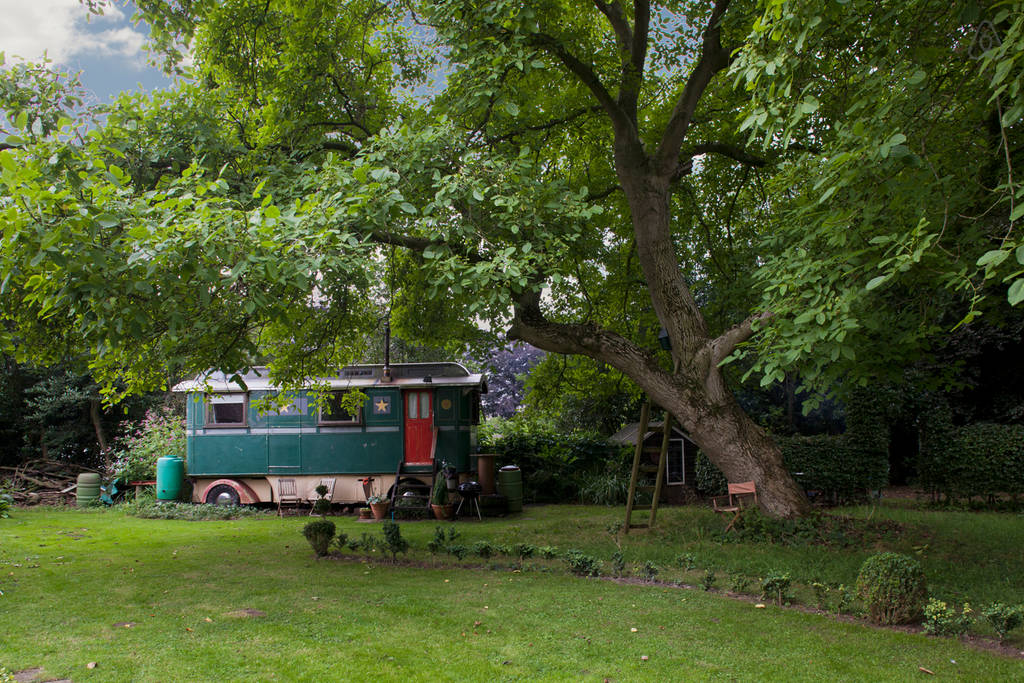 Here's what the host says:
The village lies midway between the Yorkshire Dales and the Hambleton Hills and Moors, ("the Golden Triangle.") Leeds, Harrogate, Ripon and Thirsk are all within easy reach. This is a unique opportunity to stay in our vintage showman's van set in mature gardens. It is a self contained open plan space consisting of a large double bed, a dining and sitting area, and a fully equipped kitchen with gas oven.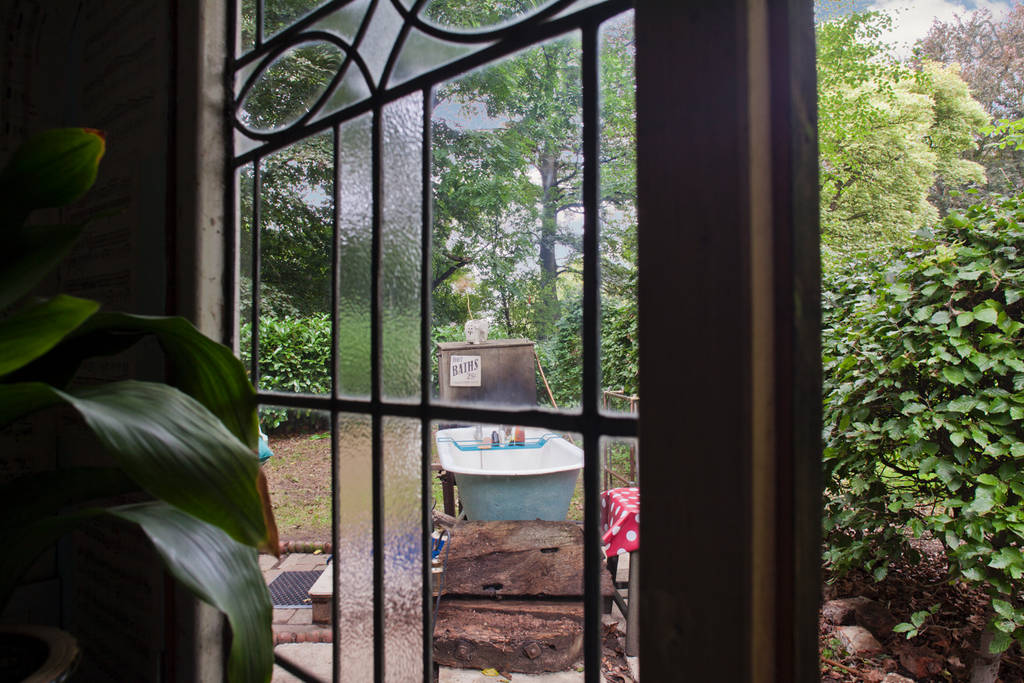 But I must admit, this is what really got my attention and secured this host a spot on my list…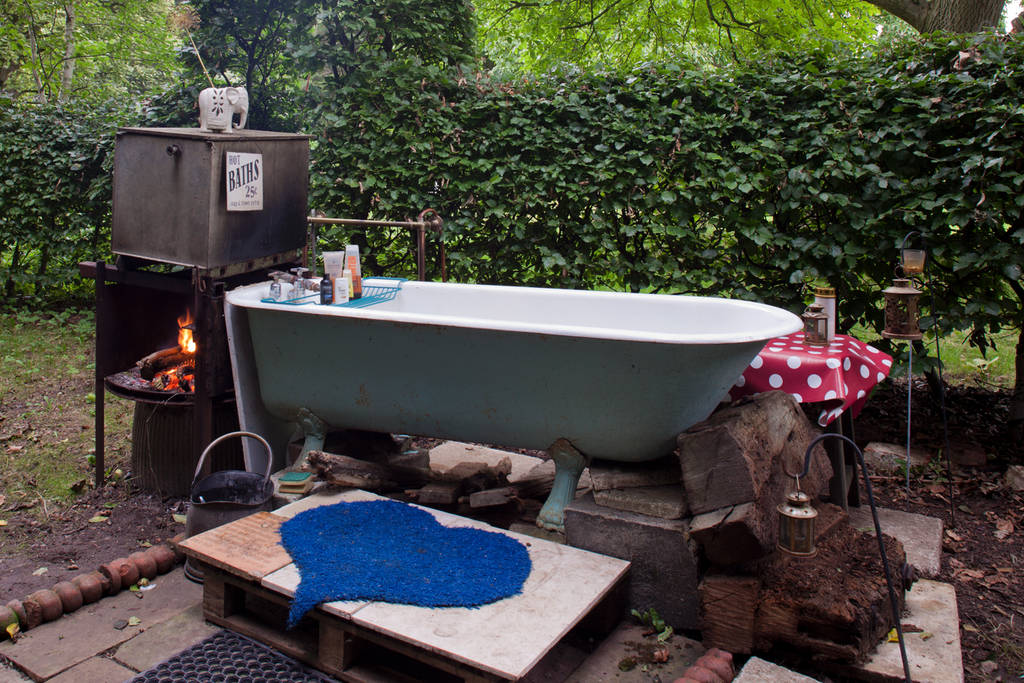 There is an outside cast iron bath in a secluded area nearby heated with a wood burning 'rocket stove'.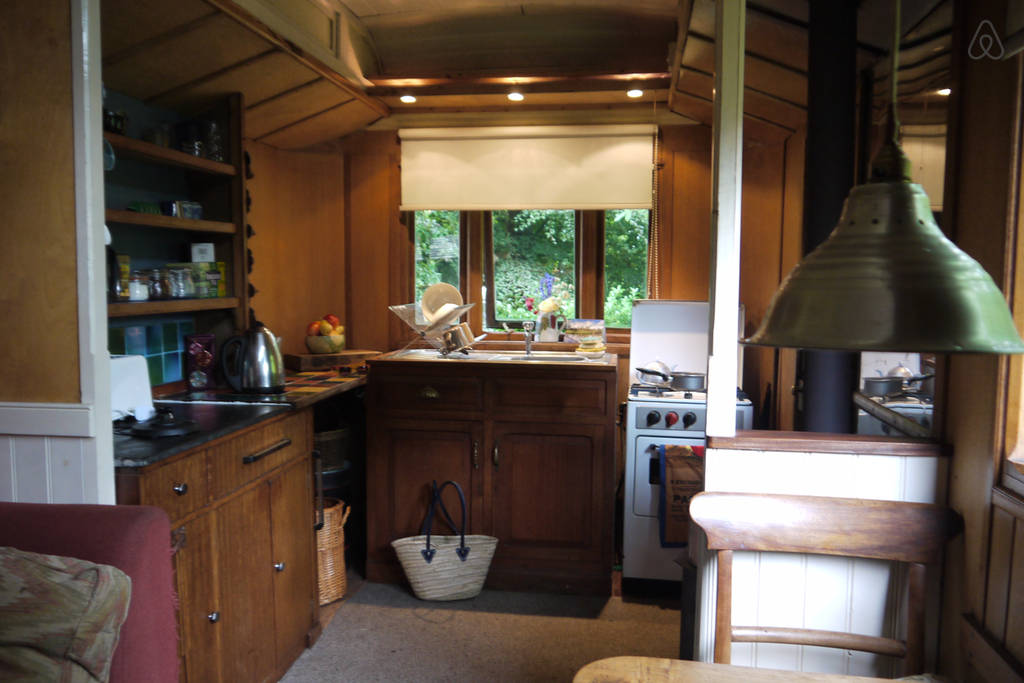 This is a walker's and cyclist's paradise with many historic buildings, abbeys and castles to visit within a radius of 20 miles. There are two pubs, both of which serve food and real ale. One of these doubles as a village shop – it sells most basics, milk, eggs, bread etc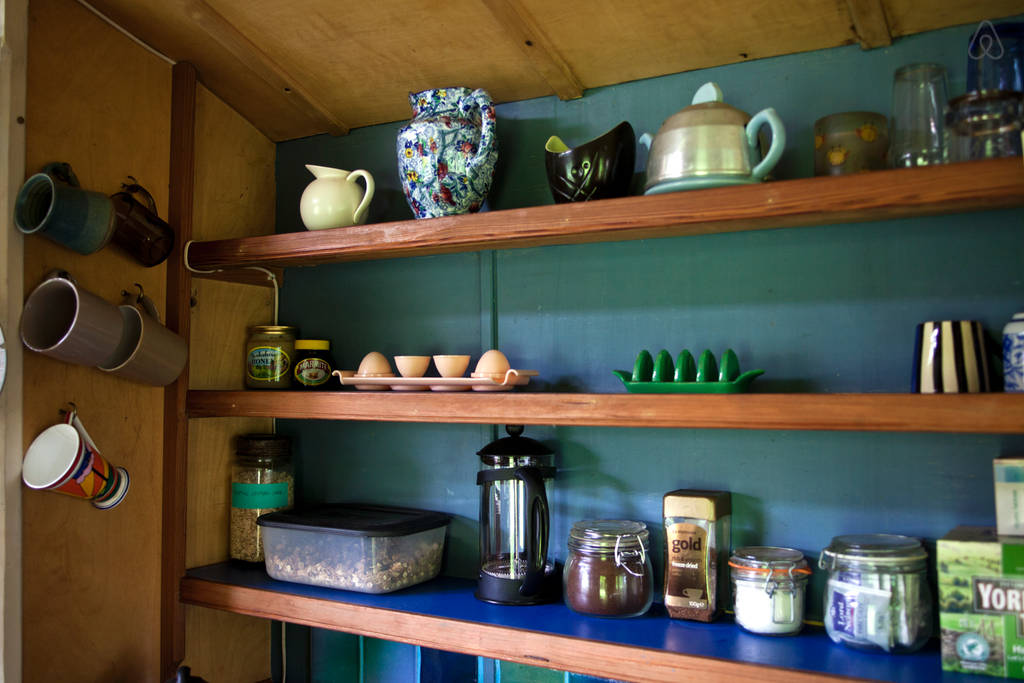 Book the vintage showman's caravan for €85 per night.
5. Beachfront Australia in an Airstream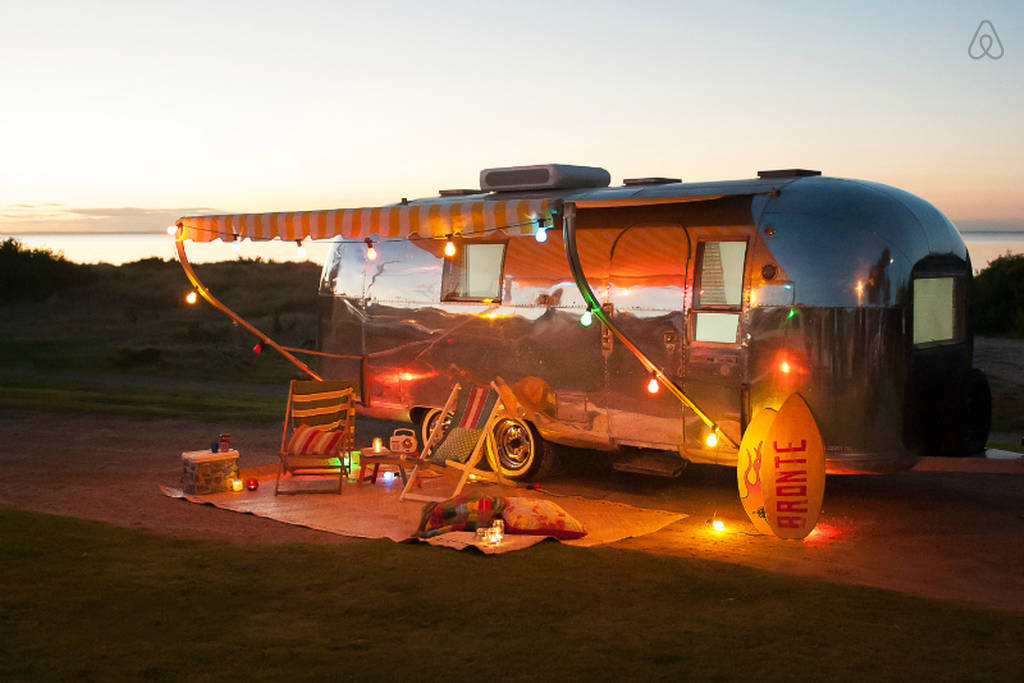 Here's what the host says:
Happy Glamper offers the hire of vintage Airstreams for personal use in your choice of location! And it just so happens that we are based on the Mornington Peninsula, one of Australia's most stunning locations! 'Peggy Sue' spent the first 46 years of her life in California. In 2012 she boarded a huge ship and journeyed to Melbourne and re-emerged from the renovation process as a wonderfully versatile Airstream ideal for events and modern glamping. You won't find anything like her anywhere in the world!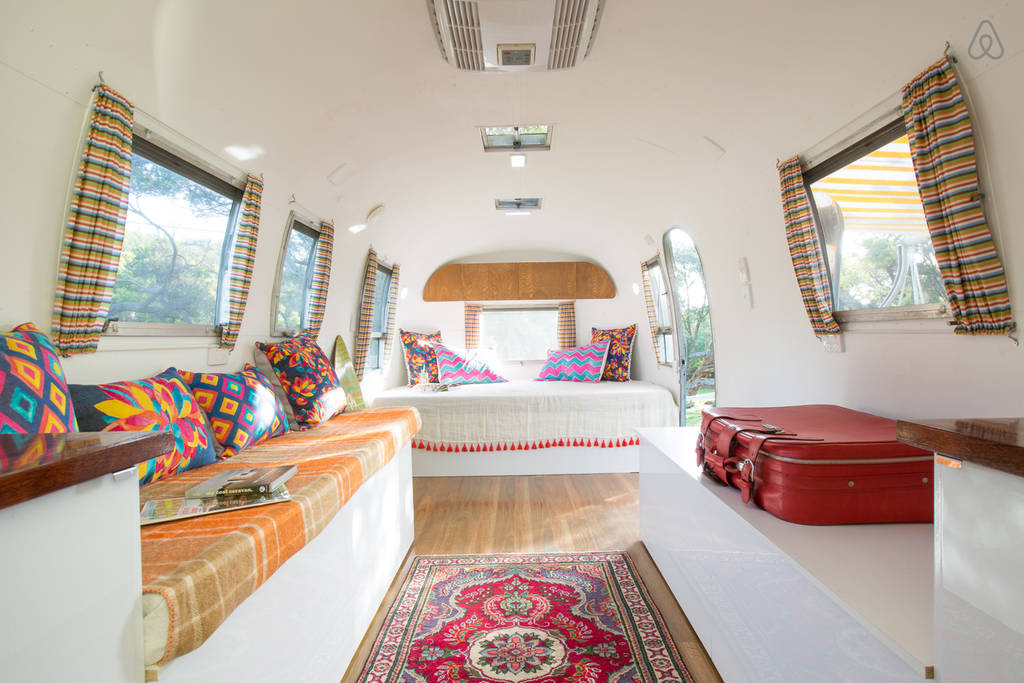 Now we can't deny that our instagram sensors would go a little crazy here…
She is often used as an event space, has been featured on the front cover of Vintage Caravan Magazine and TOAST (a local annual wedding publication), starred in the filming of a feature film in Dromana, and travelled Australia extensively with her Airstream Dreams family.
You can find more information on its own website Happy Glamper.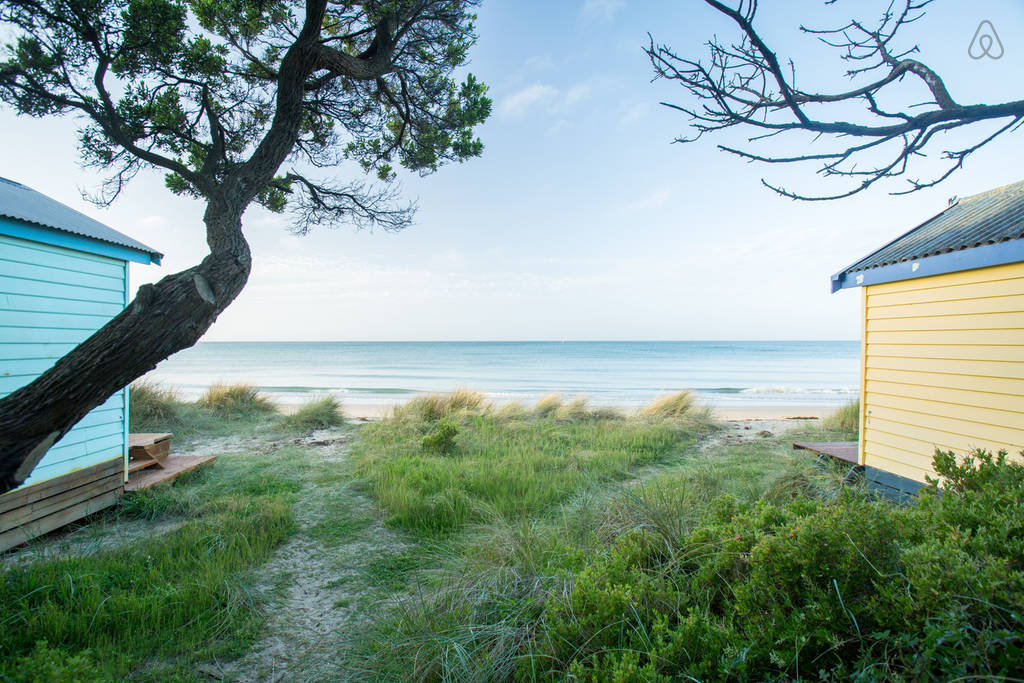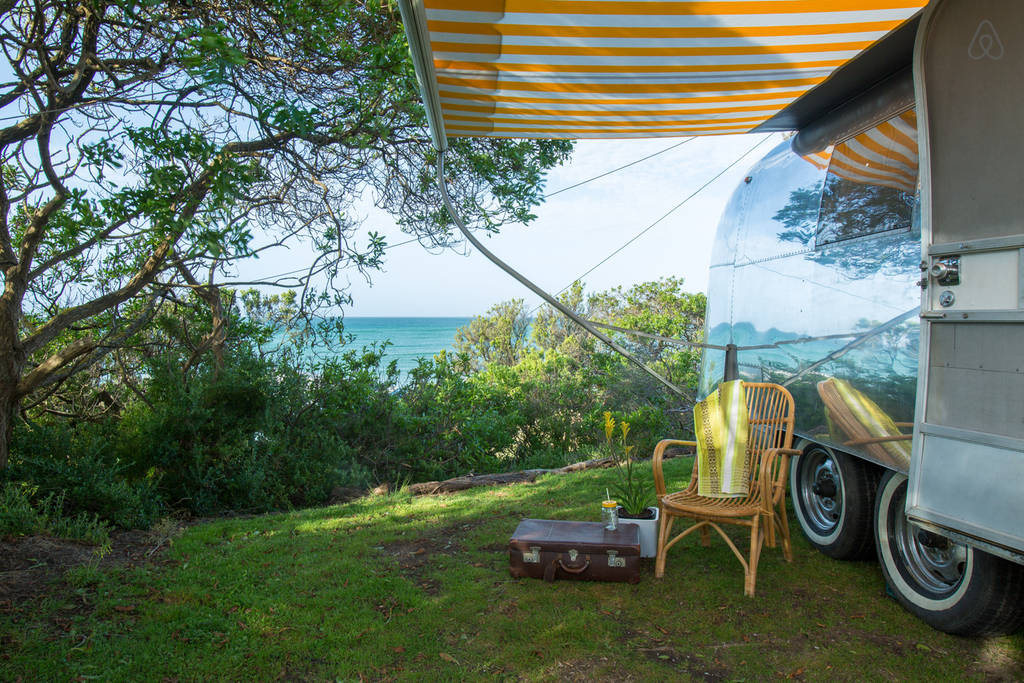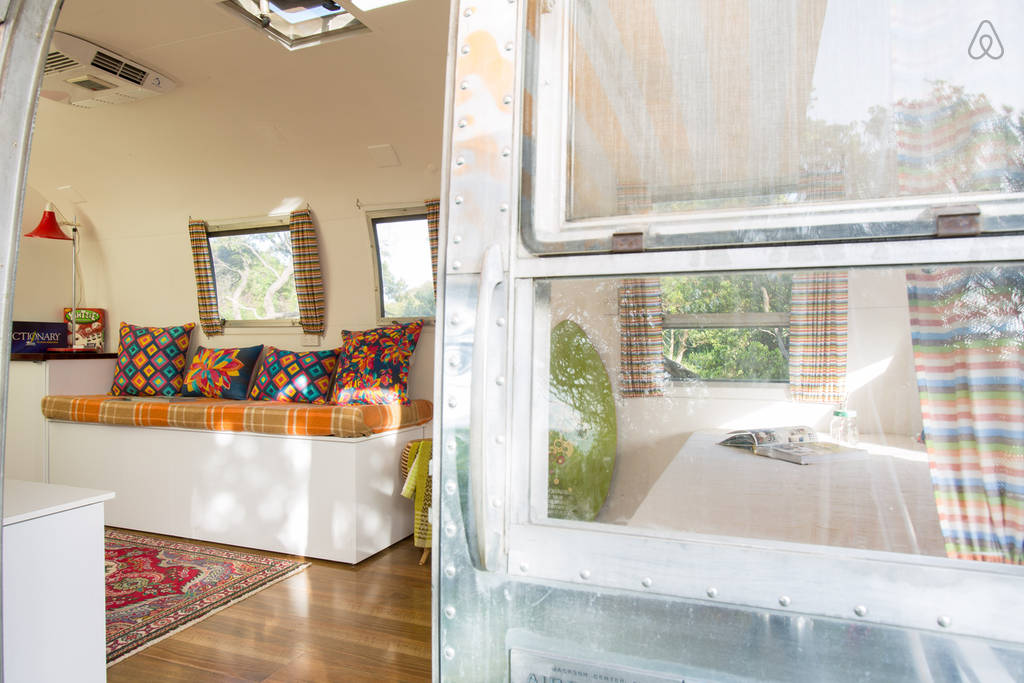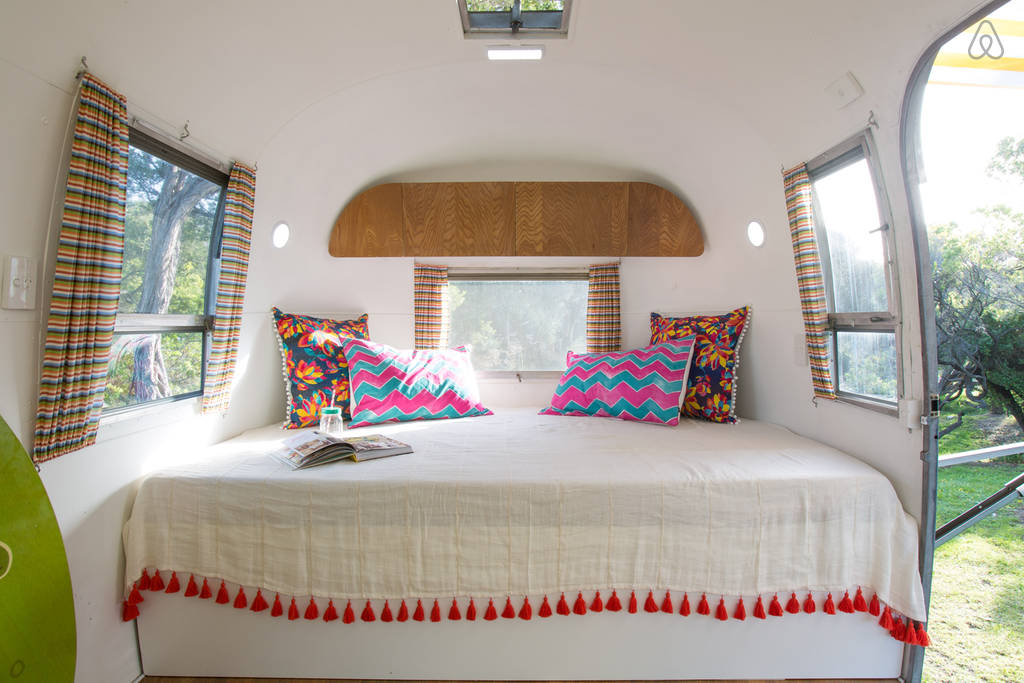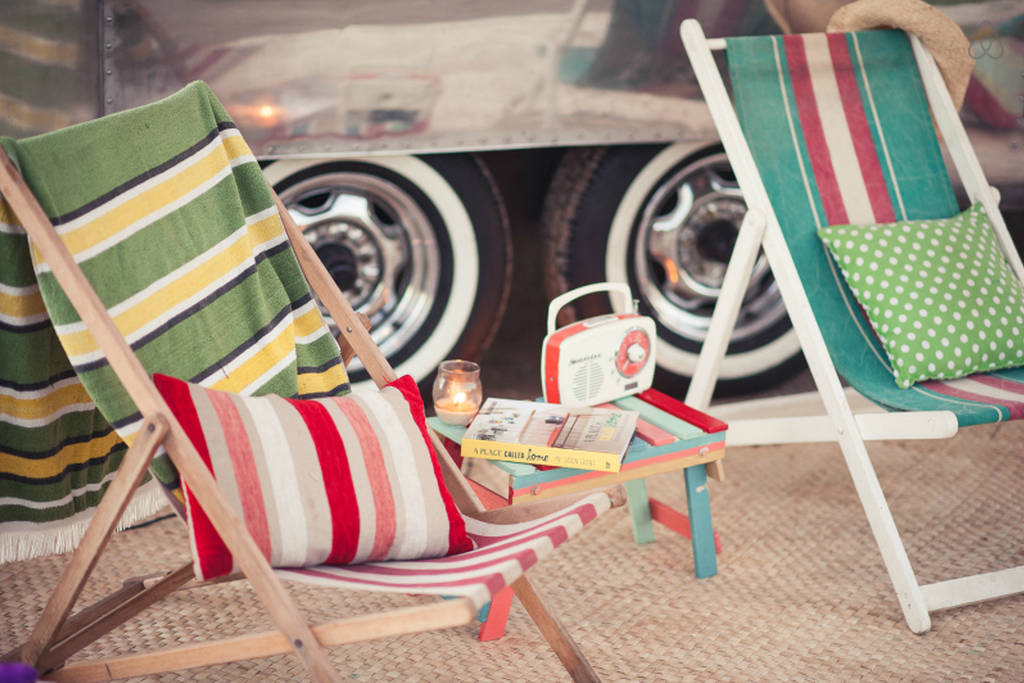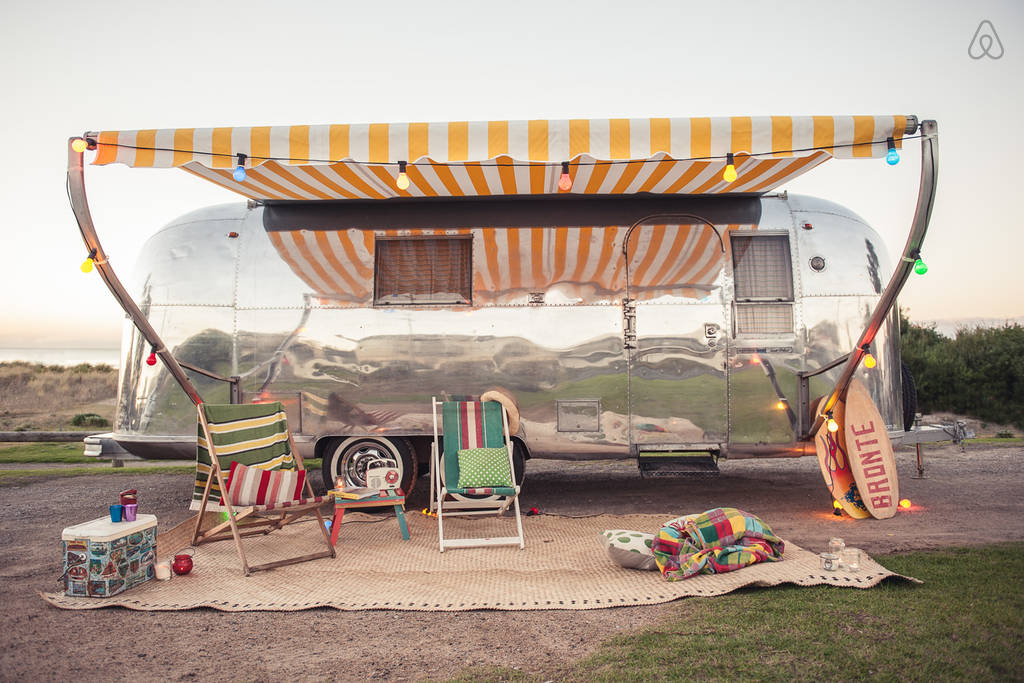 Book the Peggy Sue Airstream for a two night minimum stay at €178.
6. City Slicker in a Downtown LA Loft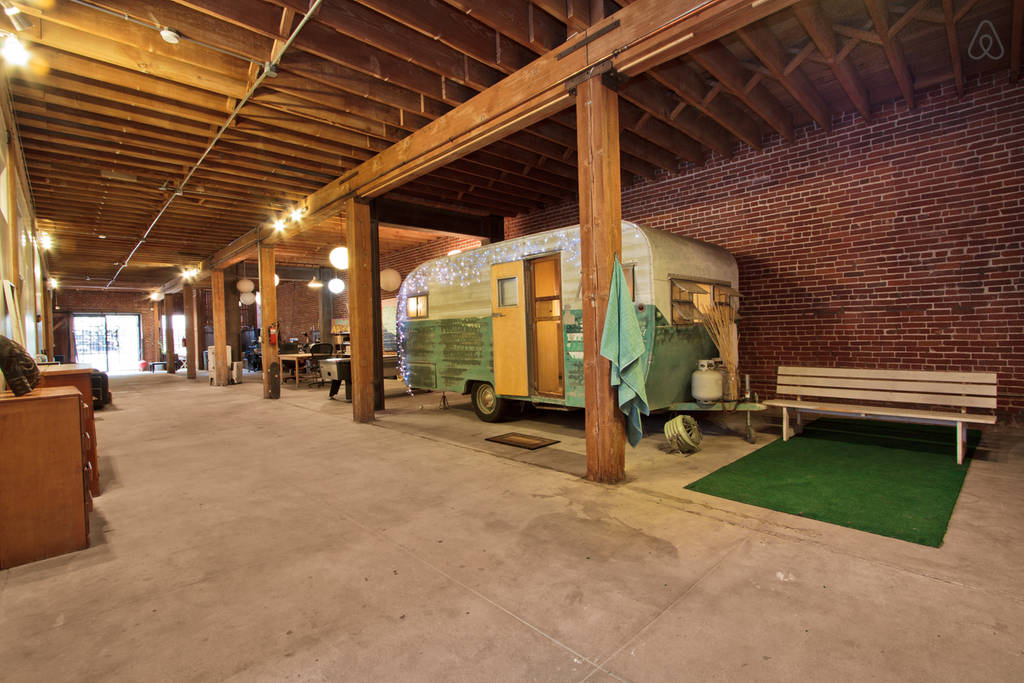 Here's what the host says:
This vintage 1954 travel trailer is a home within a home – located inside our huge 6,000 sq/ft loft (550 sq meters) in the heart of the Arts District in Downtown LA. The trailer basically serves as an extra bedroom, offering a fun and completely unique place to stay next time you're in Los Angeles.
The 16 ft trailer is your cozy and private room inside the loft. All of it's original detail has been untouched (except we retrofitted it with a huge king size bed). Outside the trailer, the loft has shared bathrooms (one with a shower/toilet, and one with a bathtub), a kitchen, multiple shared living areas, air hockey, an indoor swing, and a magical hidden garden in the back.

The space is a real artist loft that was converted from a 1918 factory. It's very clean, but this is not a cookie cutter "hotel" environment. We have a creative agency, and the loft is our live/work space. We have computer workstations, building areas, art material shelves/lockers, and 2 other bedrooms; my business partner (and friend) lives in one of the bedrooms while I live upstairs in a separate loft. Our space is generally quiet, but it is a creative live/work space.







The Arts District is a super vibrant part of Los Angeles, and we have a lot of bikes you can use (with a deposit) to explore nearby coffee shops, restaurants, galleries, museums, theaters and other cool stuff in the neighborhood.

Book this DTLA Trailer for €52 per night.
7. Poolside Andalucian Airstreamin'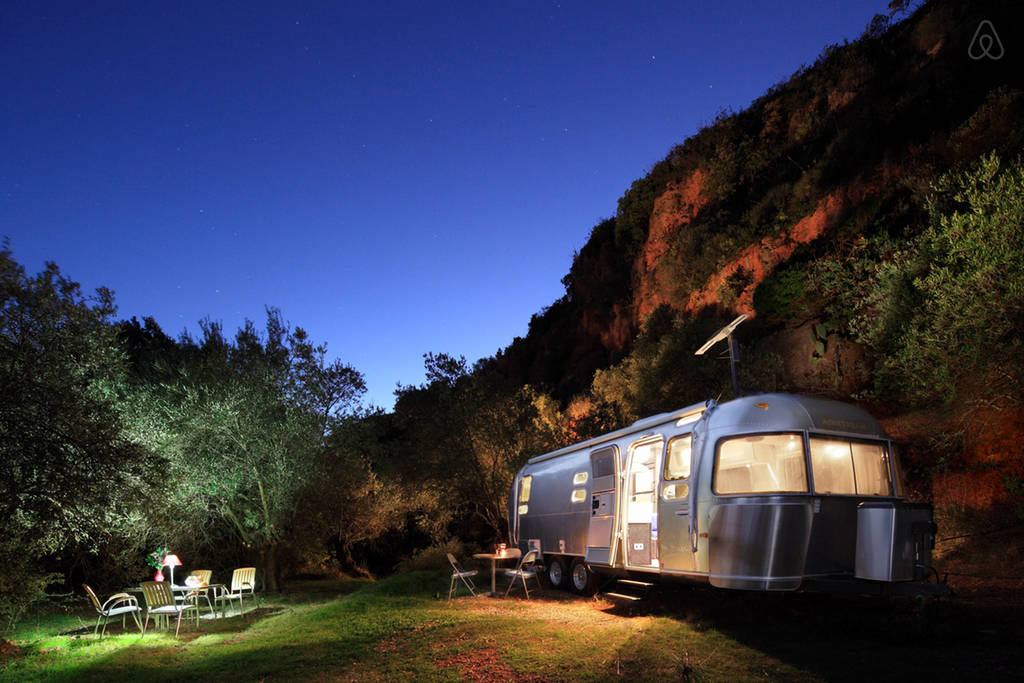 Here's what the host says:
Set in the beautiful mountain range 'Sierra de las Nieves' in Southern Spain – this is an outdoor adventure you're not likely to forget. Offering all the comforts of home with the luxury of a 5 star hotelroom – the airstream is an oasis of luxury in the middle of Nature. Modelled on the original 1930's classic, she's the perfect combination of retro nostalgia and contemporary design.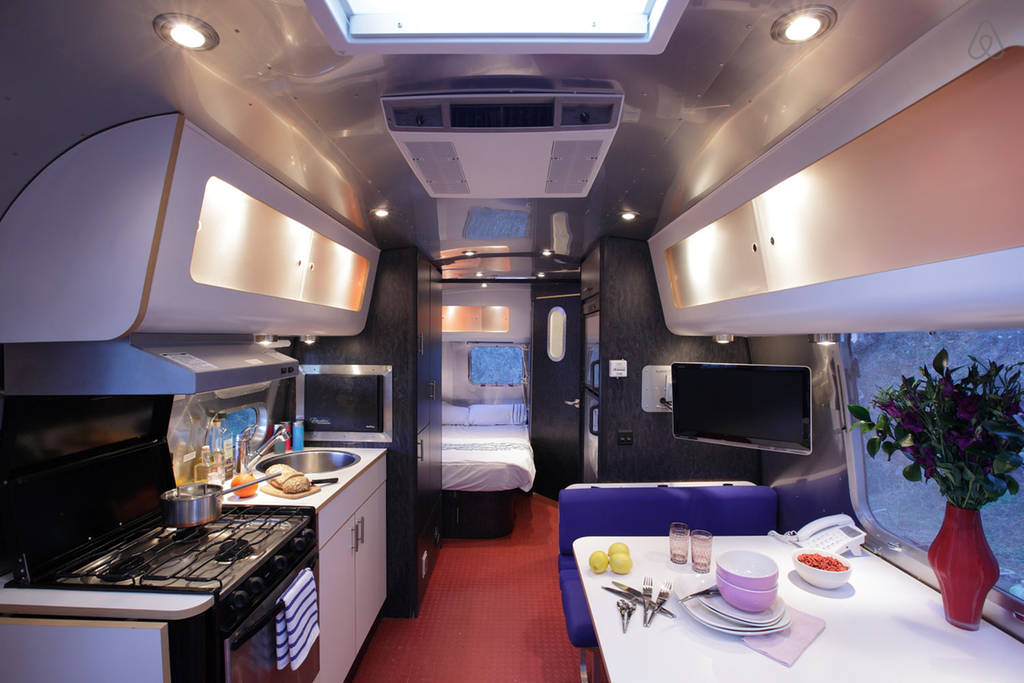 But perhaps the 'cherry on the cake' is the outdoor plunge pool – the ultimate in glamorous camping!! Laying in the pool or next to it on a warm summer's night as you gaze at the stars is a memory which is sure to remain..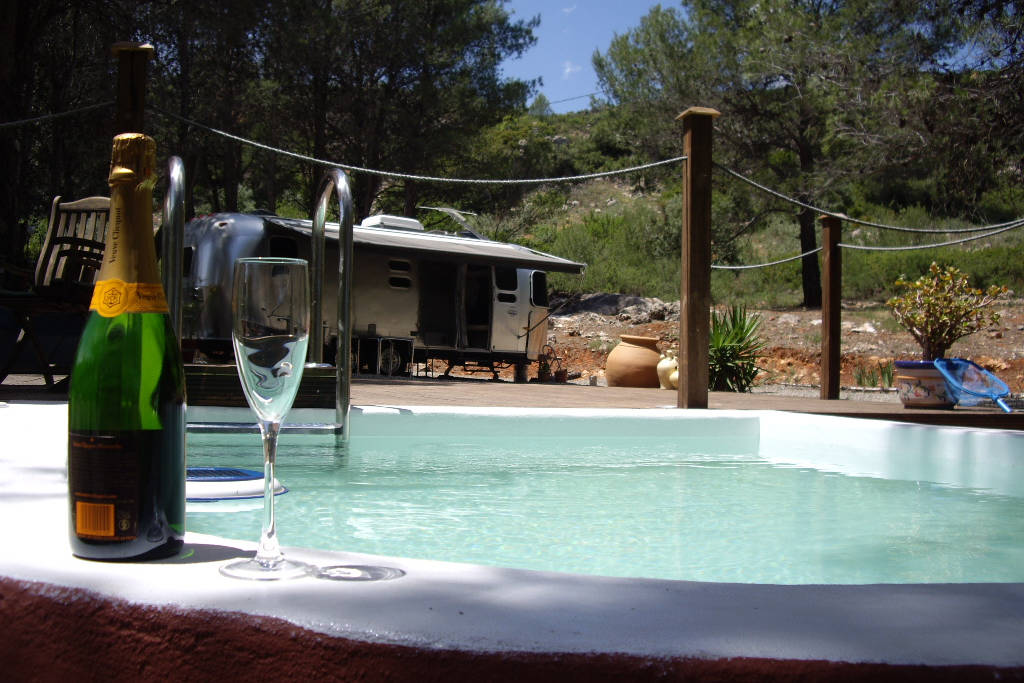 Admittedly, it's not everyday you find a trailer with its own little pool.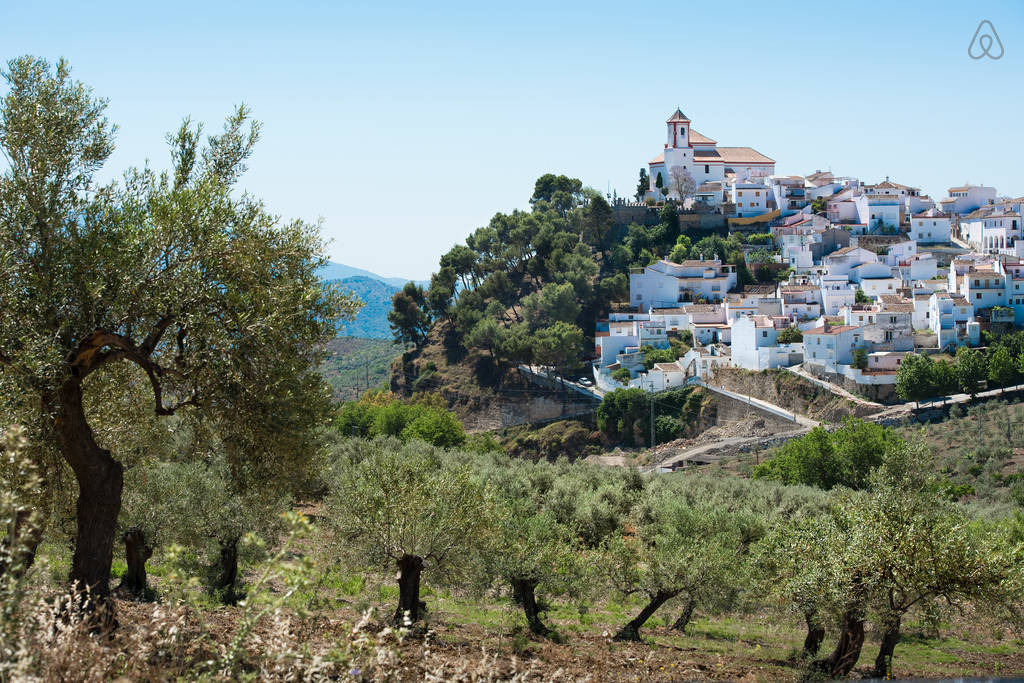 A 20 minute walk down the mountain track will lead to the nearby village of 'Alozaina' – a typically Spanish 'pueblo blanco' which has retained much of its rustic charm. Life is slow here, and not to be rushed! There are several tapas bars, cafes, and a couple of decent restaurants, as well shops and even a small supermarket. I have a good knowledge of the local area, and a deep love for the mountain – affectionately known to the locals as 'magic mountain'! You'll understand why when you visit – there is indeed something special and perhaps even magical about this place, just waiting to be discovered…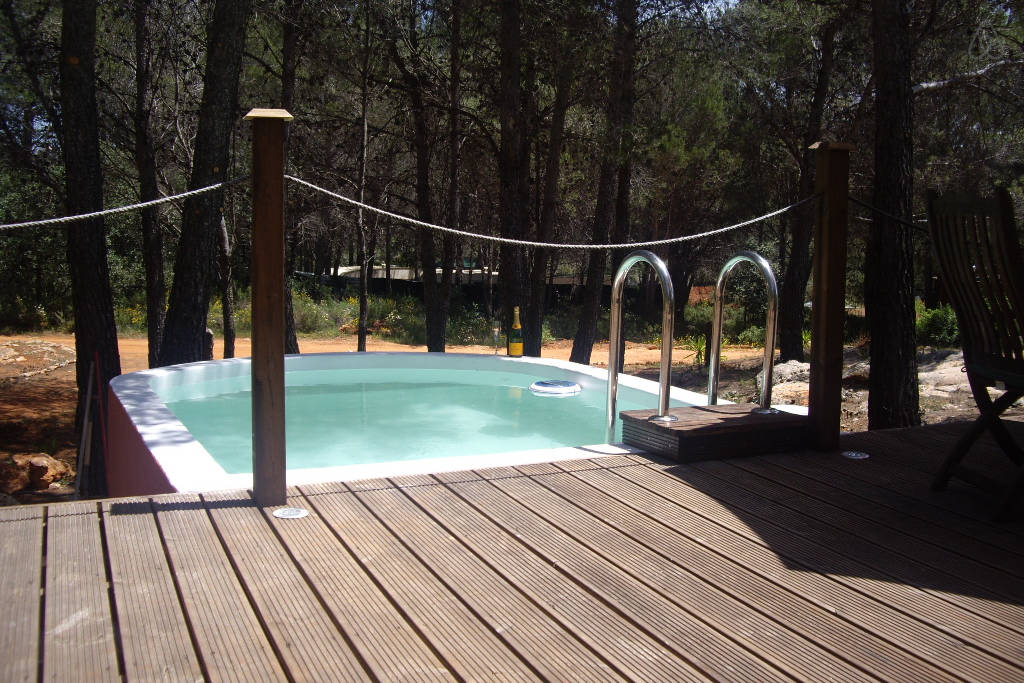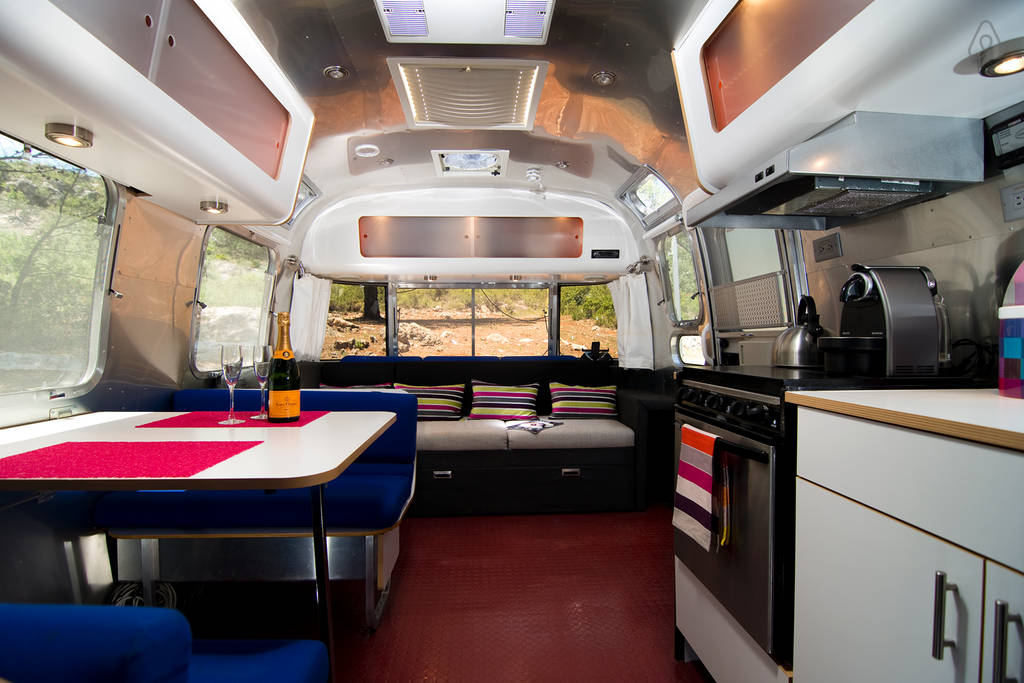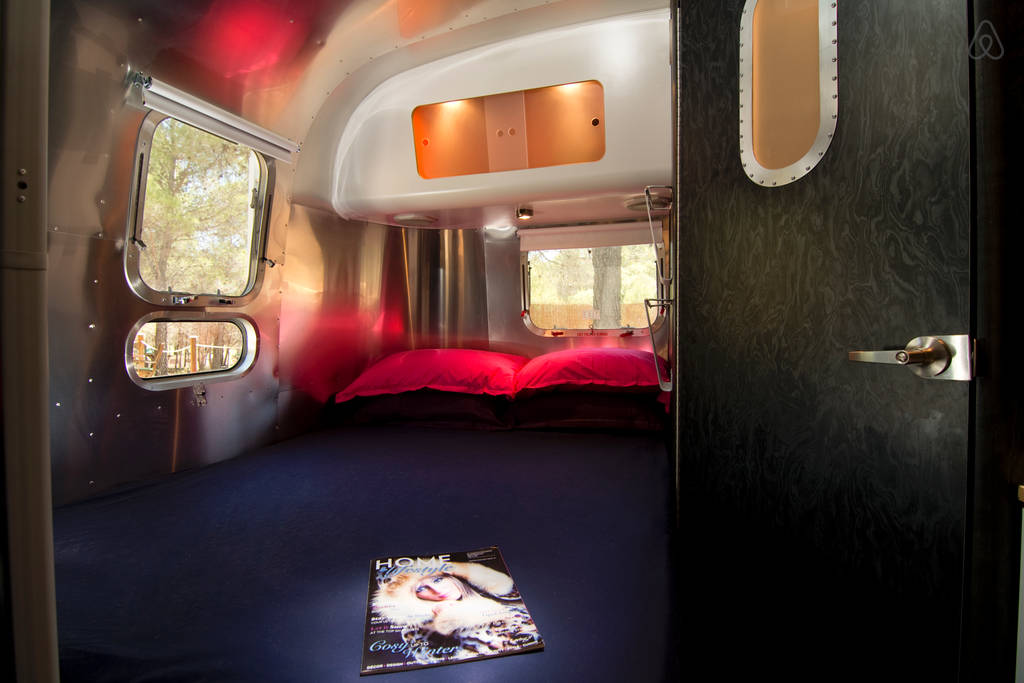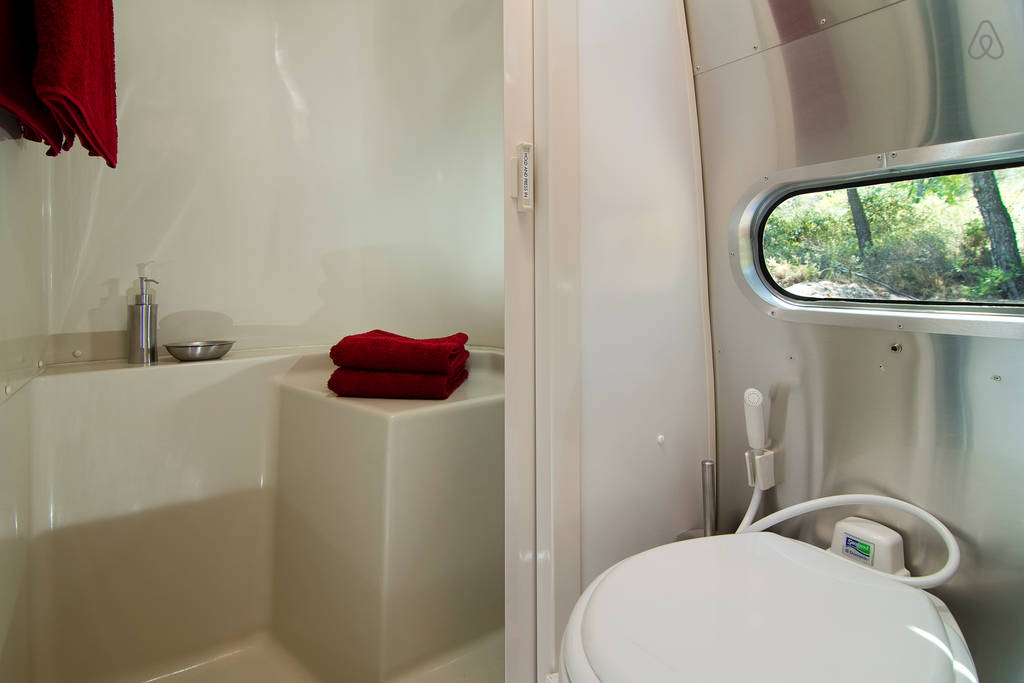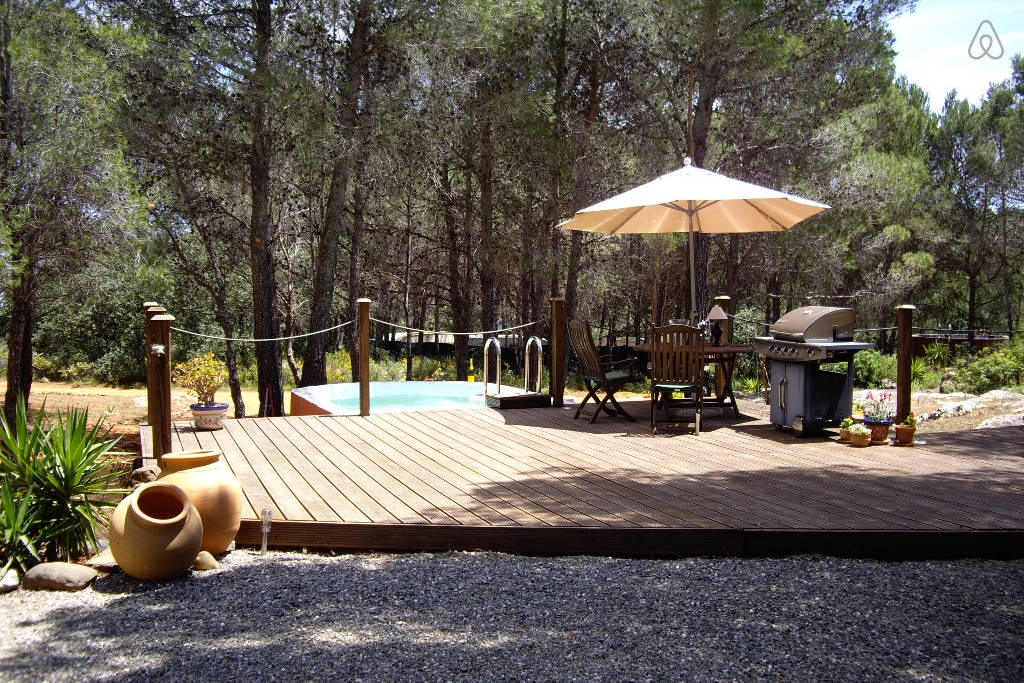 Book your poolside spot for three nights minimum at €110.
8. A Cabinet of Curiosities on a Bohemian Viennese Vineyard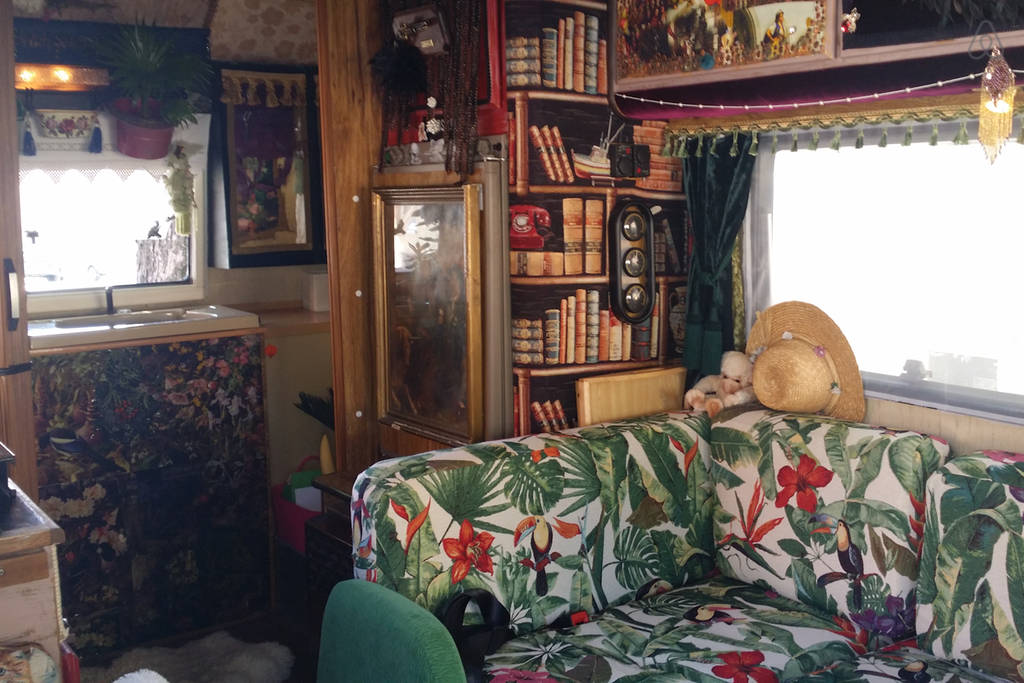 Here's what the host says:
"Cid" is my magical gypsy/bohemian style (motor) home, a 1980 Mercedes Benz Hymermobil + 2 Bicycles. It's like a little art studio + home, parked in my mums beautiful big garden with vineyard and mountain outlook near the river. It is also very close to Vienna City.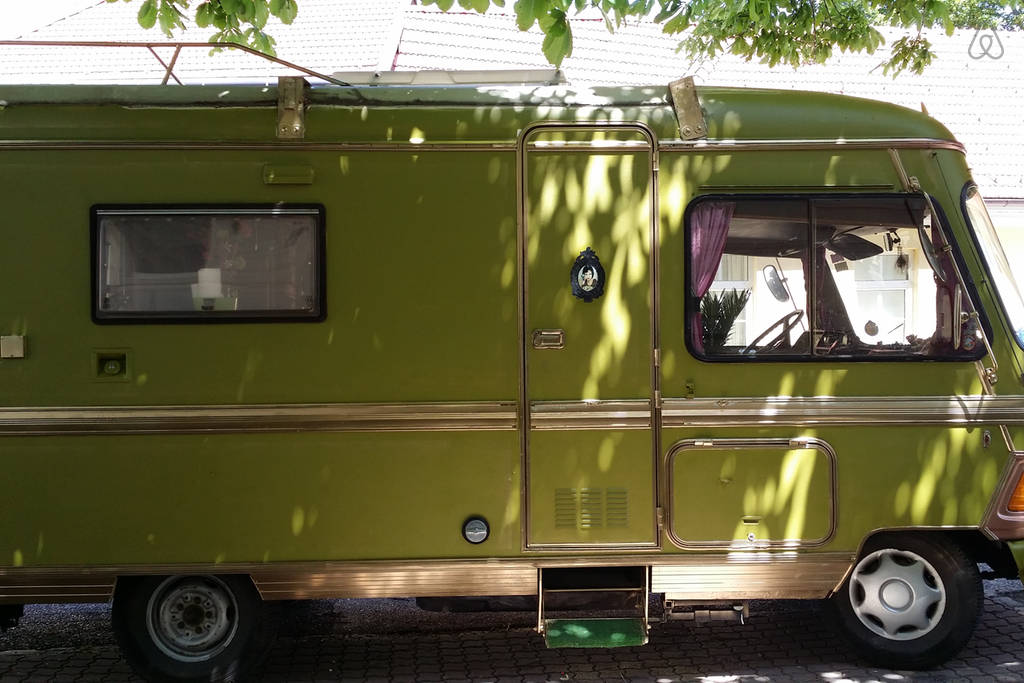 Oh, and it's also for sale:
I am also selling it because my partner and me are moving to India for some time and I had such a good time making it so beautiful that I wouldn't mind doing it again when I come back. I drove it across from Vienna to Prague, Groerlitz, Berlin, Rostock, Coppenhagen, Esbjerg, Harwich to London, Glastonbury Festival, Noisely Festival, Beat Herder Festival, Secret Garden Party, Boomtown Fair and Shambala without any problems. It is absolutely great travelling and living in it. So if you are interested in buying it please let me know. Much love, Sophie.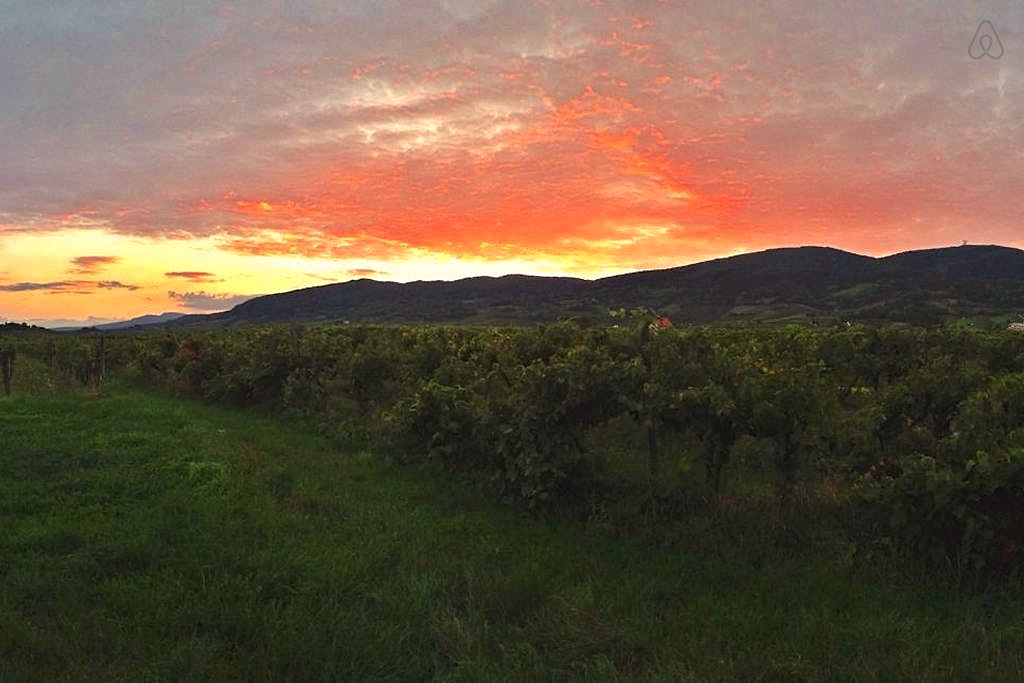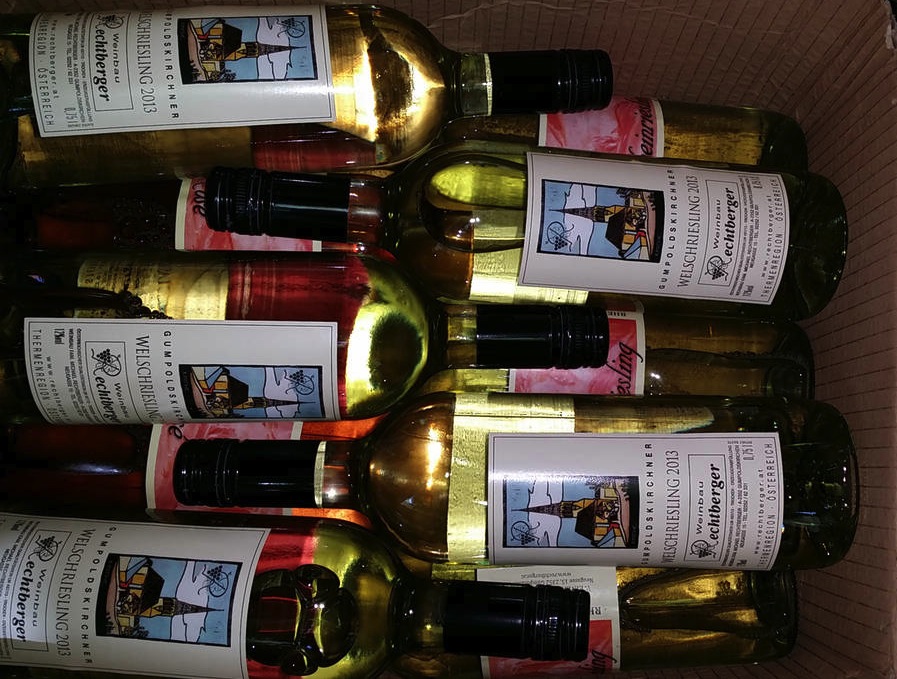 Book your bohemian vineyard motor home for a minimum of three nights (probably negotiable) for €55 per night.
9. Trailer Park Chic on Venice Beach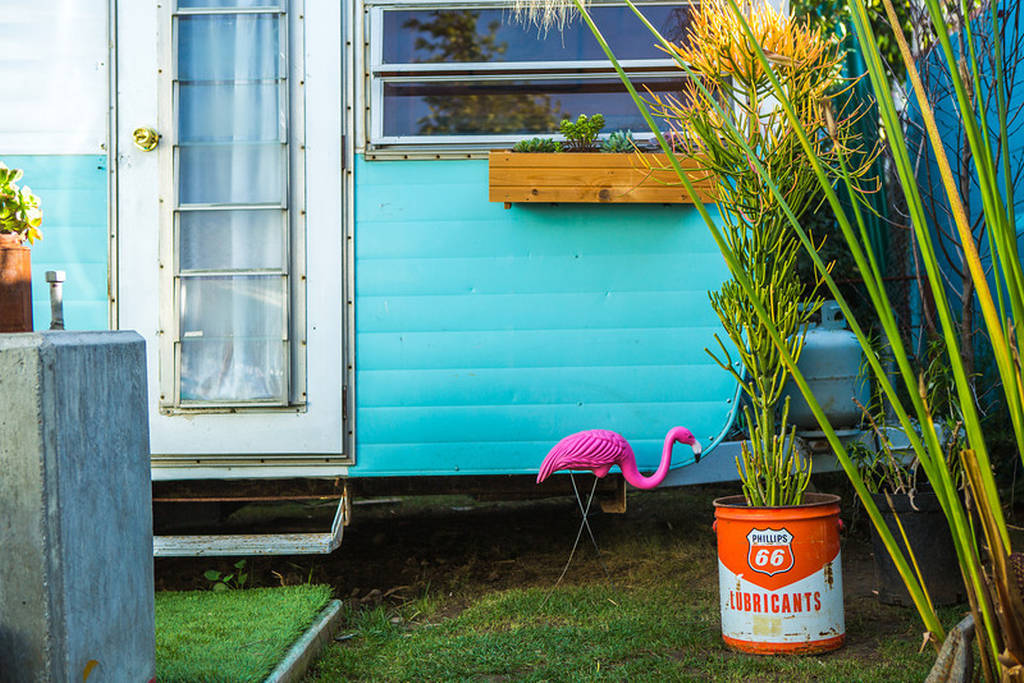 Here's what the host says:
Located in the very heart of Venice Beach, experience the comfort and charm of our lovingly restored 1966 Silver Queen trailer. This 'Canned Ham' style trailer has all original features: wood panel interior; light fixtures, kitchen appliances. The trailer is hidden in a nook in our garden, so you have privacy and your own outdoor patio.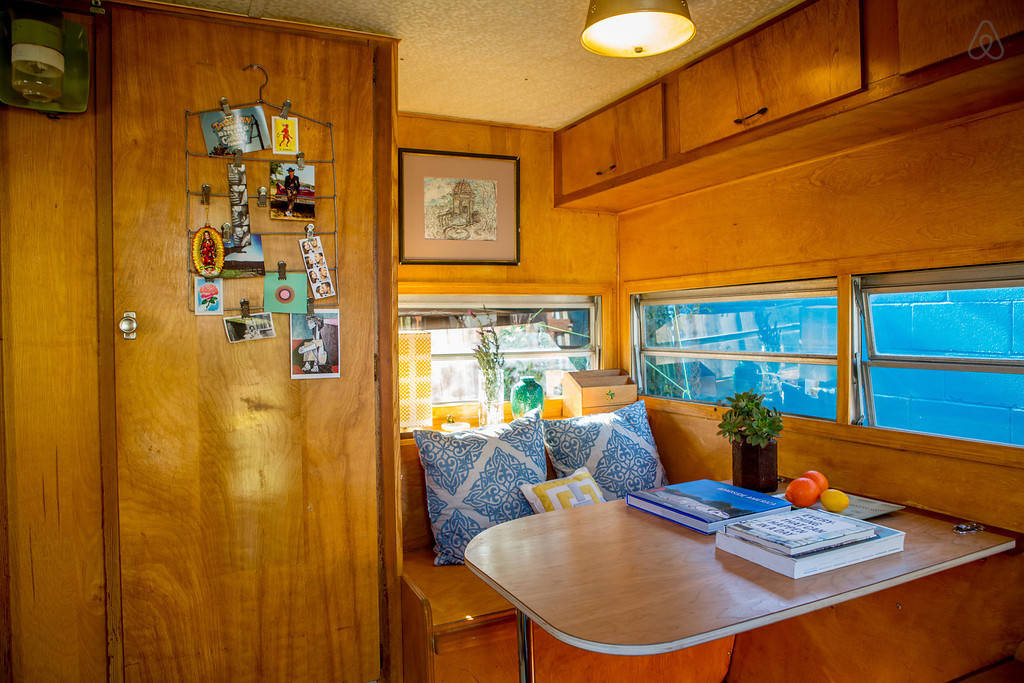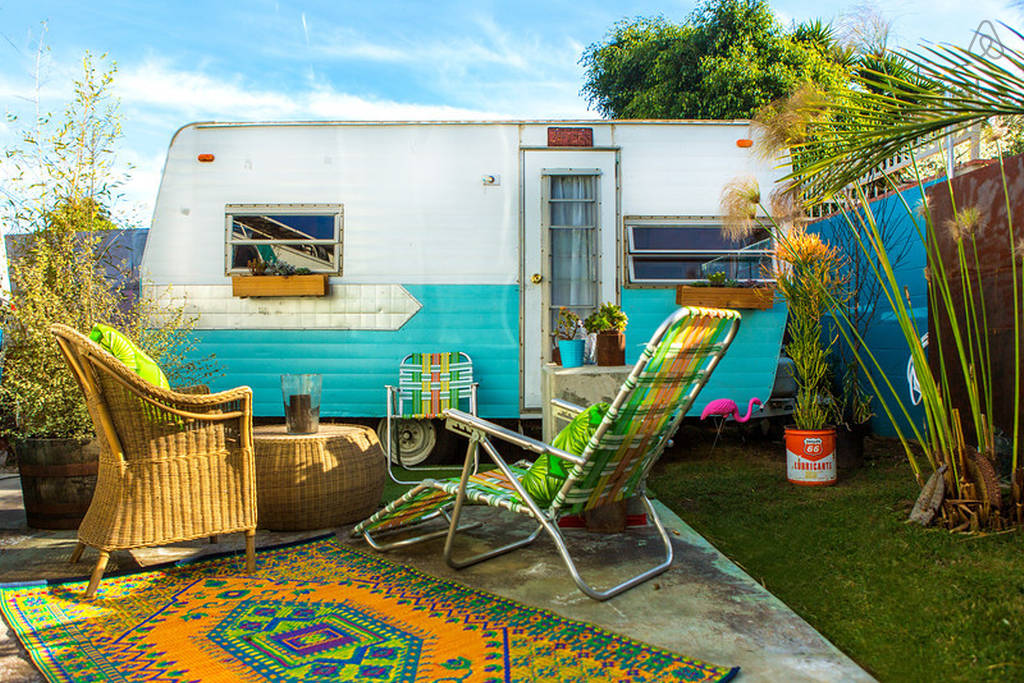 You'll stay in a secluded corner of our 5,000 sq ft lot surrounded by tropical plants, flowers, herbs. You'll have acces our large outdoor living area (to the side) which includes dining area with fridge, comfy and spacious seating area with sofa and chairs, vintage '60s fireplace.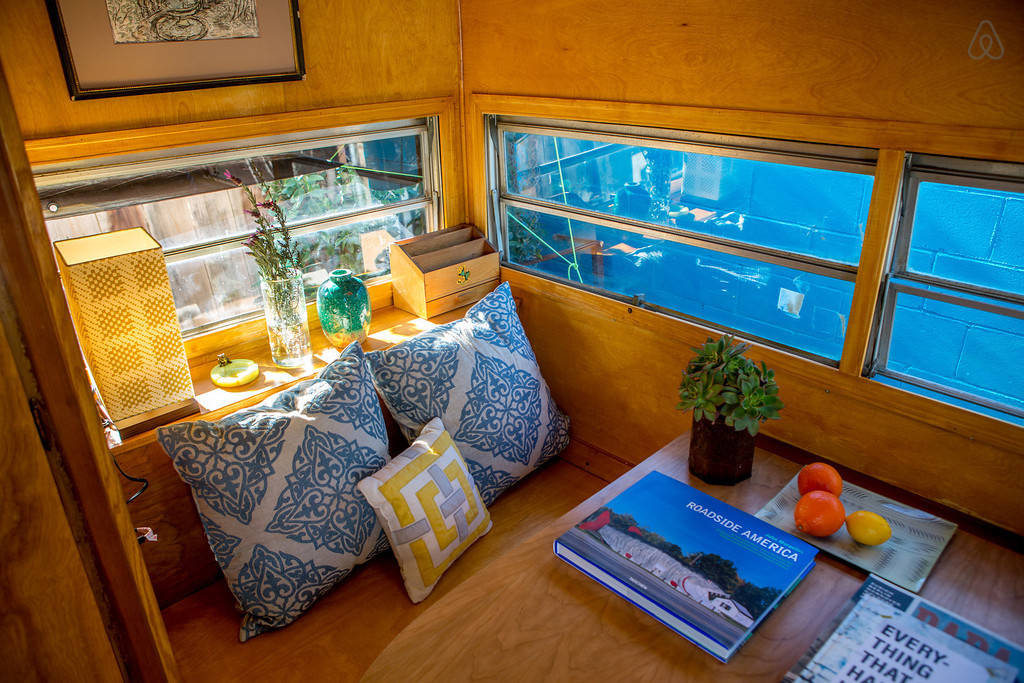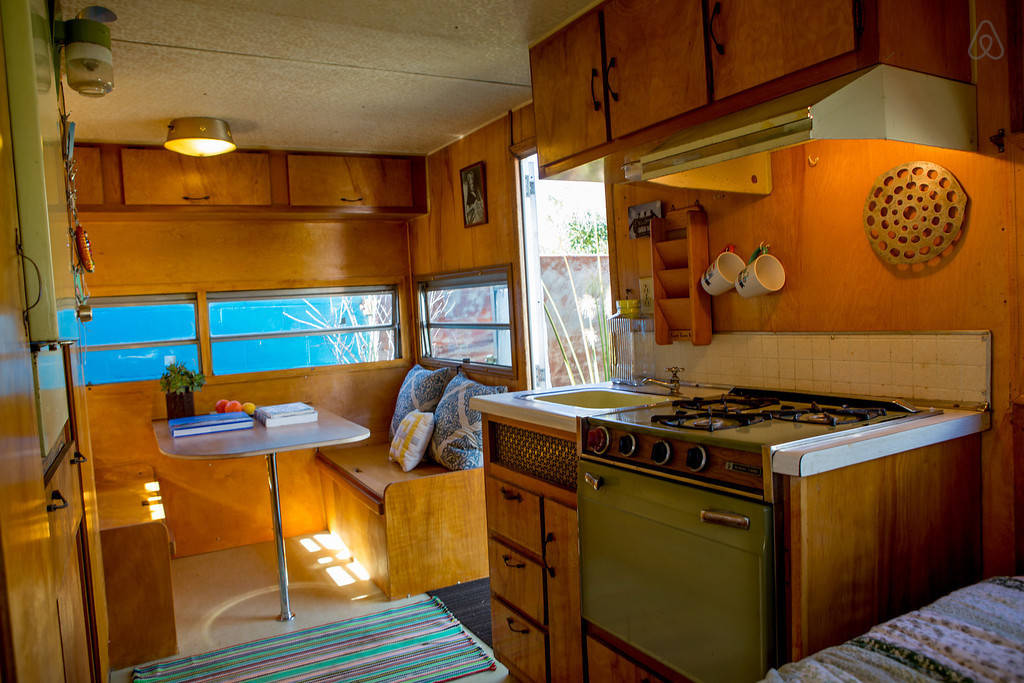 Okay so here's the thing. If you're traveling with a buddy or a partner, this 'canned ham' trailer only sleeps one person. If you need space for two, you can go for the 1960s airstream at the front of the lot, which shares an outdoor bathroom with the other trailer when its rented out.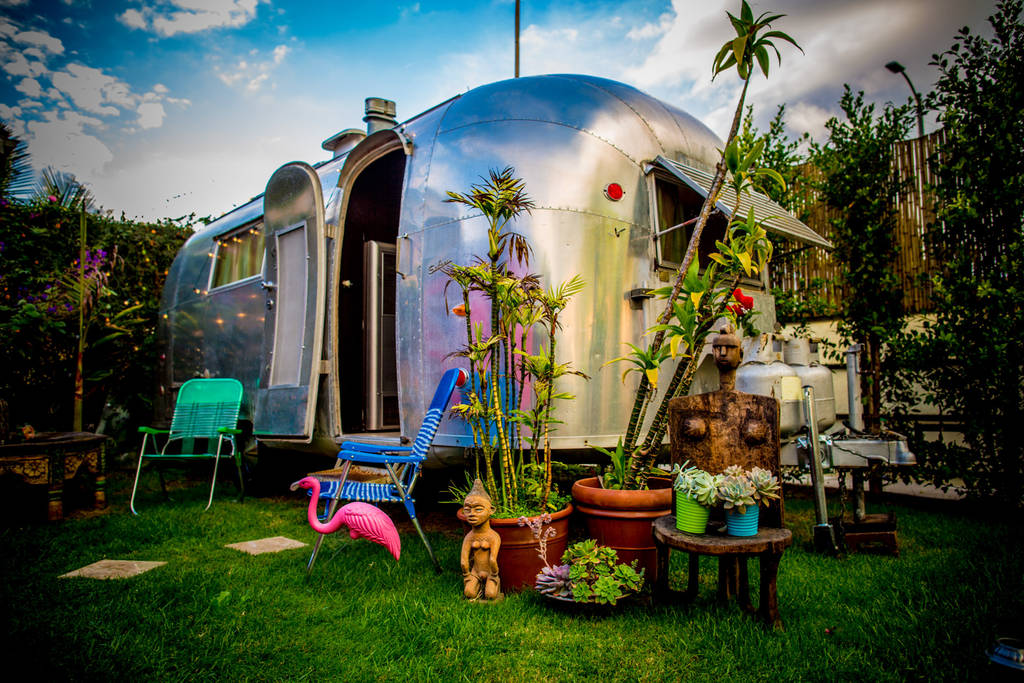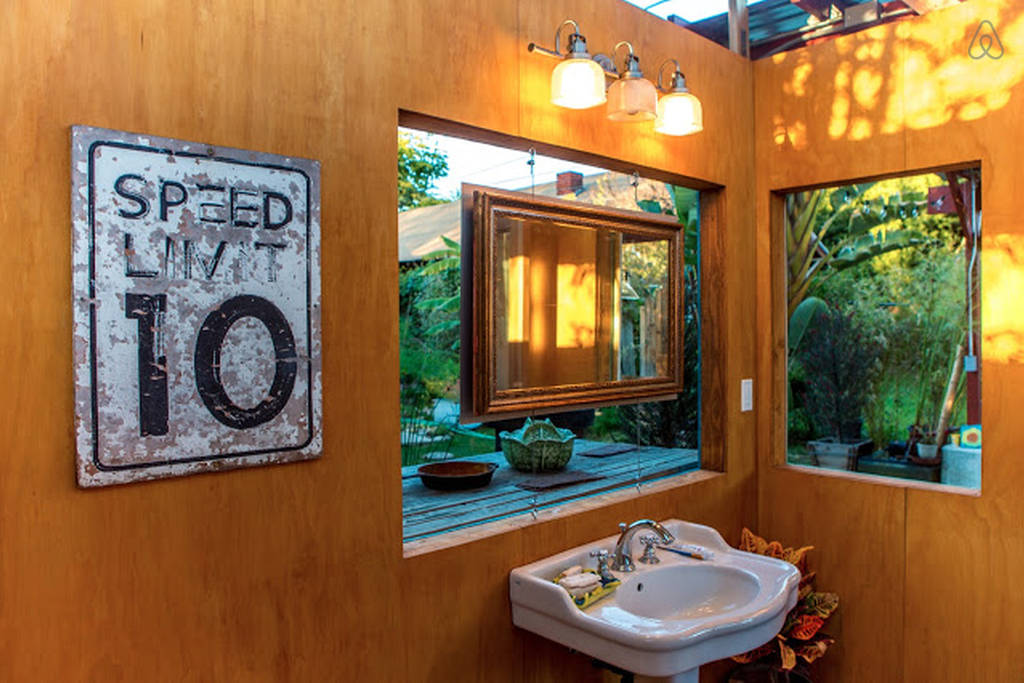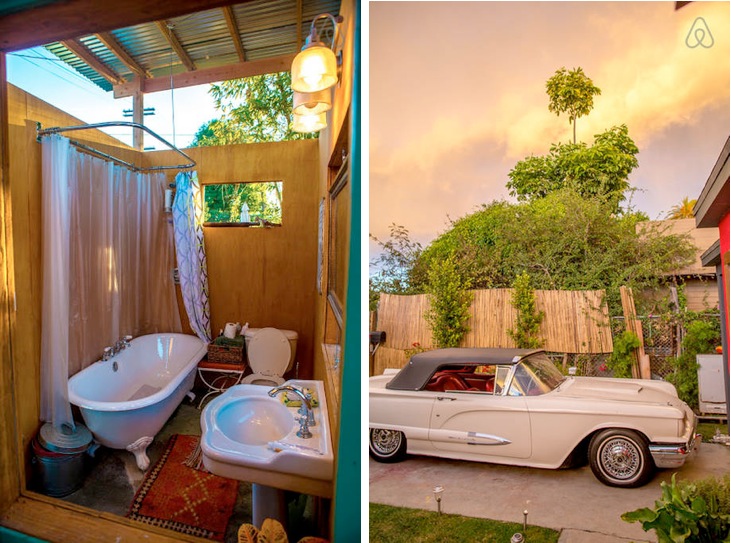 We're located in a quiet residential street only 5 min walk to Abbot Kinney Blvd (recently named 'the coolest street in America' – GQ). 7 min walk to the famous Venice boardwalk and beach.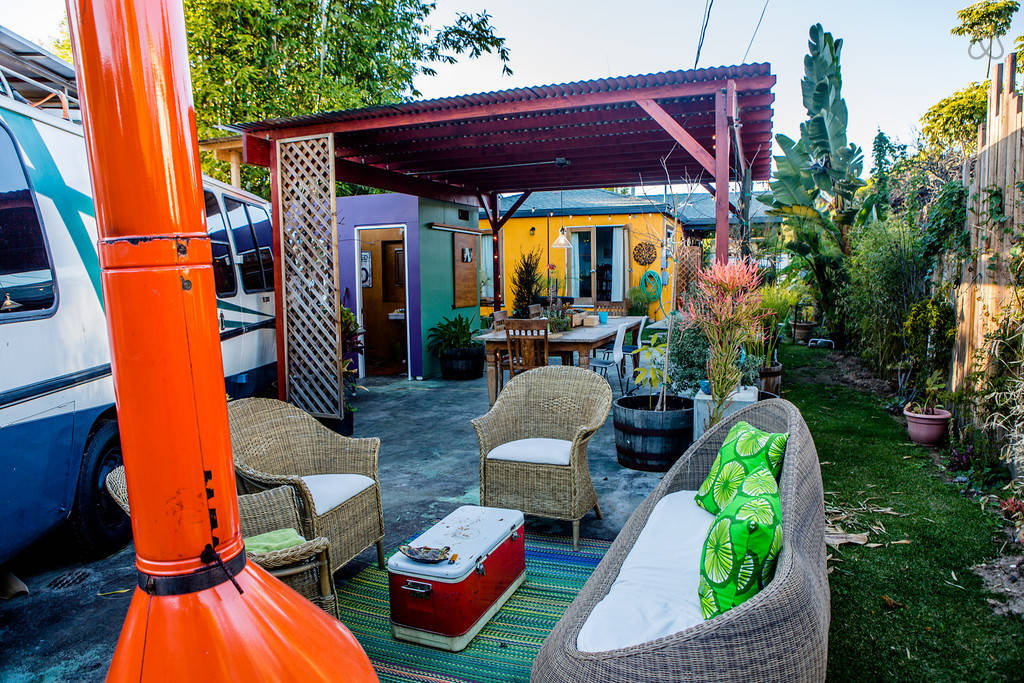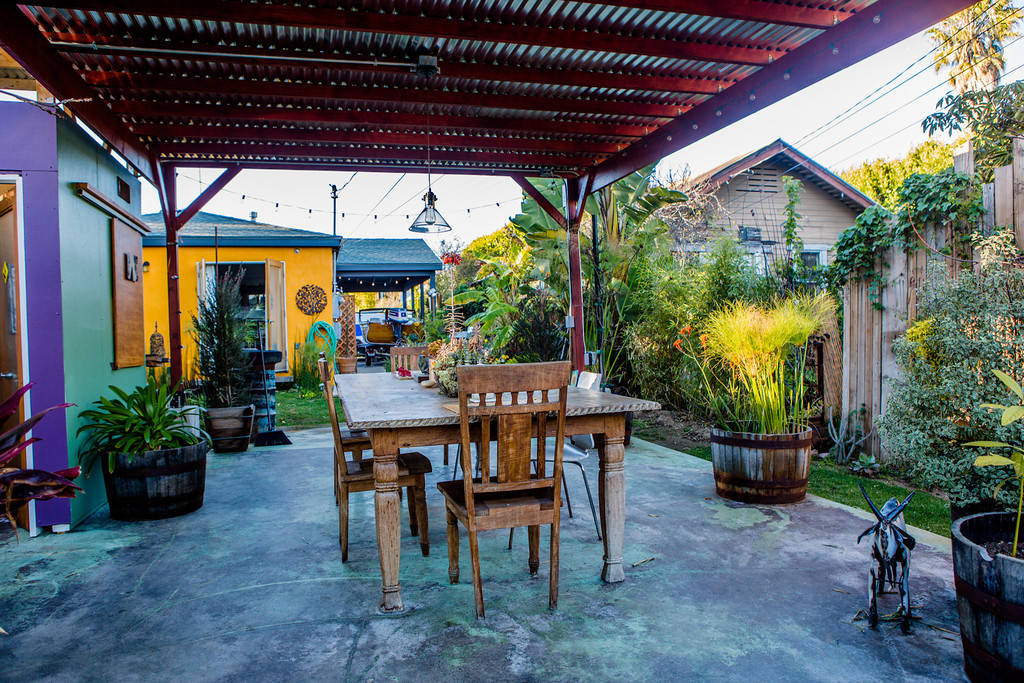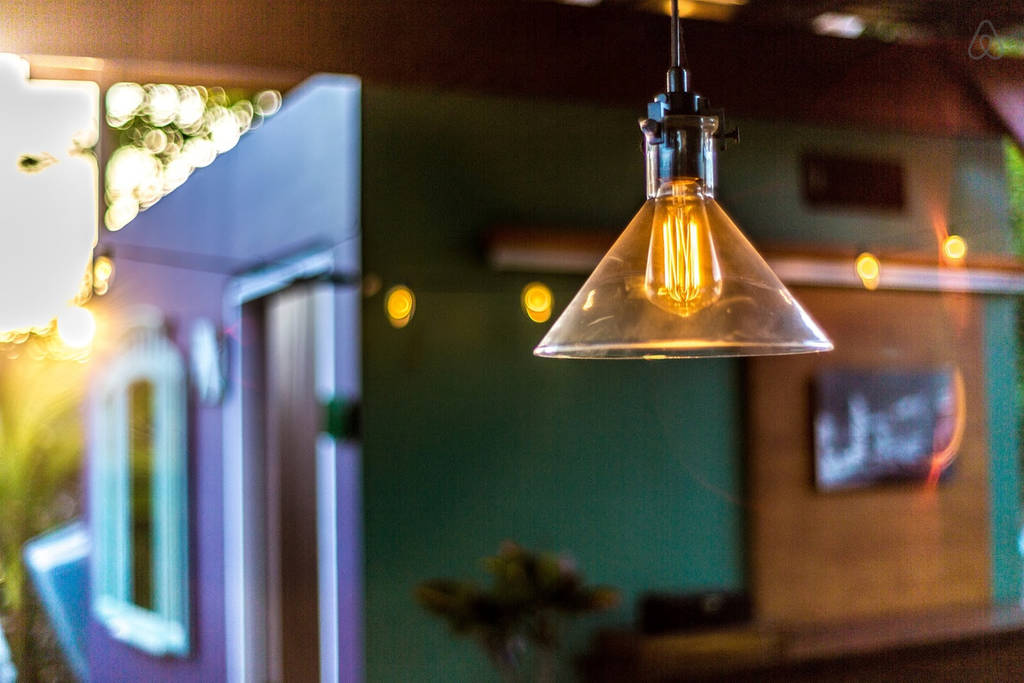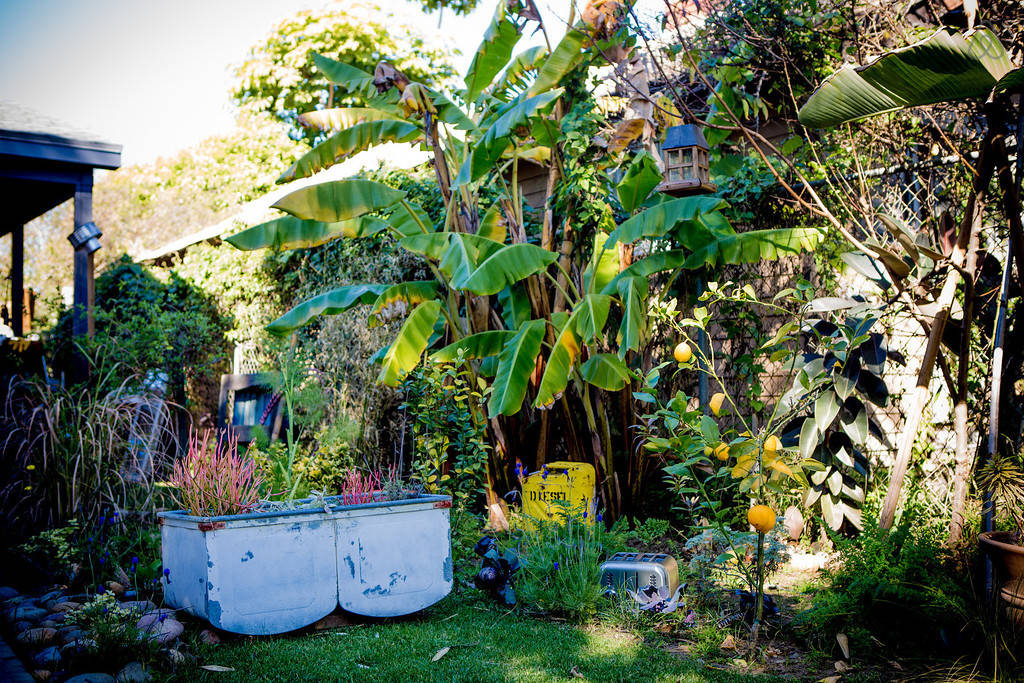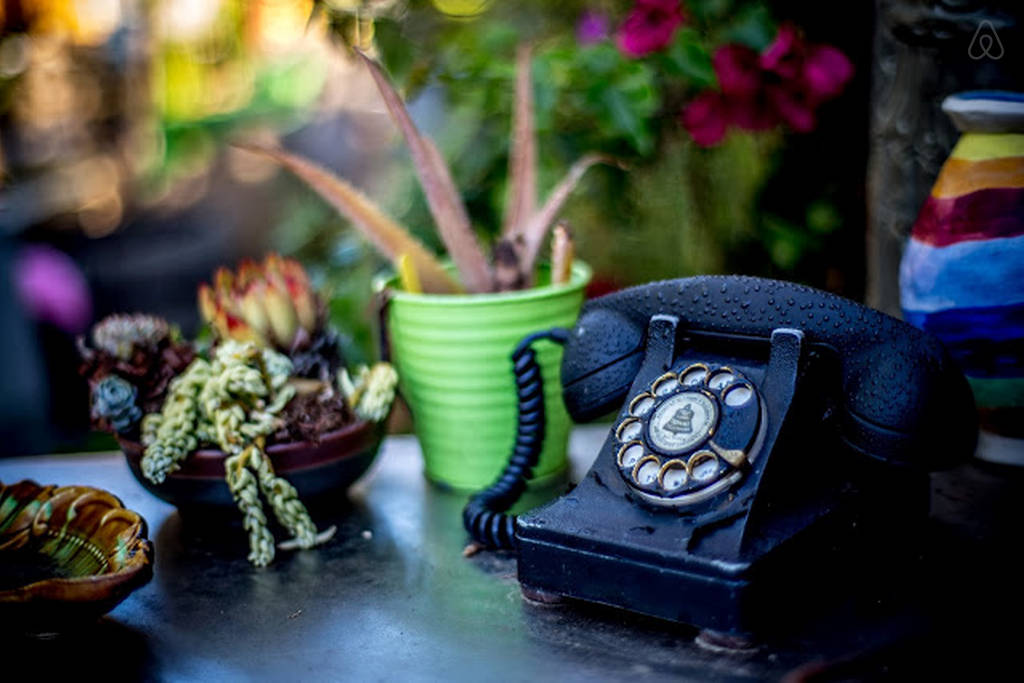 Book your 1960s airstream trailer for two people or the canned ham trailer at €79 per night.
10. Portuguese Gypsy Truckin'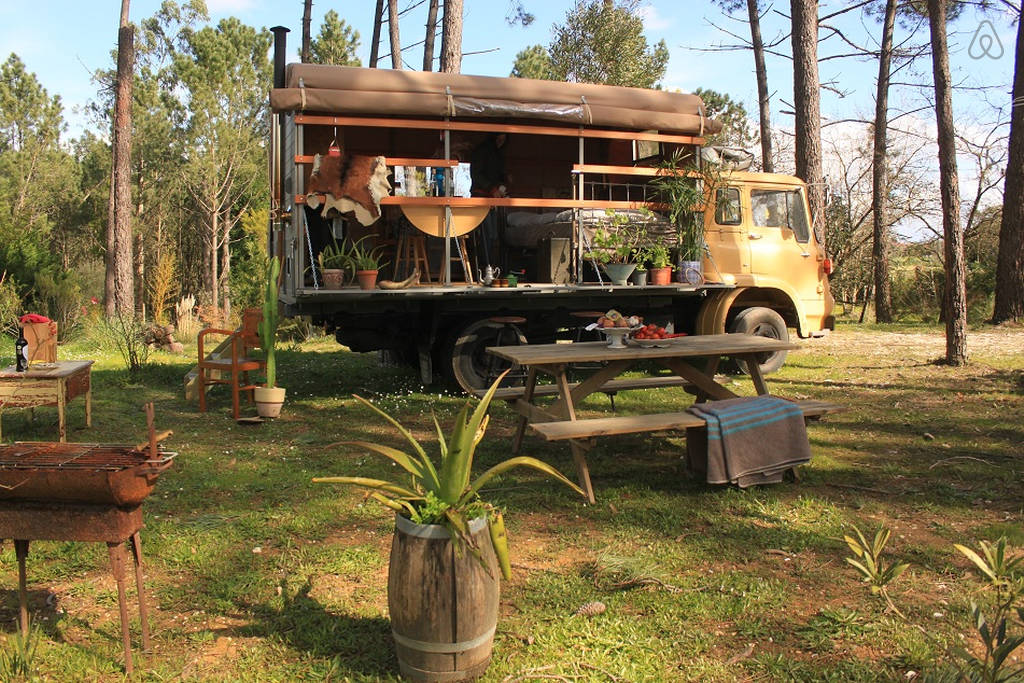 Here's what the host says:
It's easy being a happy camper when you're enjoying the great outdoors in style—in the back of a converted, vintage Bedford truck. The interior is an eclectic mixture of showman's wagon, Gypsy caravan and country cottage complete with wood burning stove.
The campsite is located in a unique outpost in the centre of Portugal. It is located in the heart of the Costa da Prata, the region with its diversified cultural and natural beauty.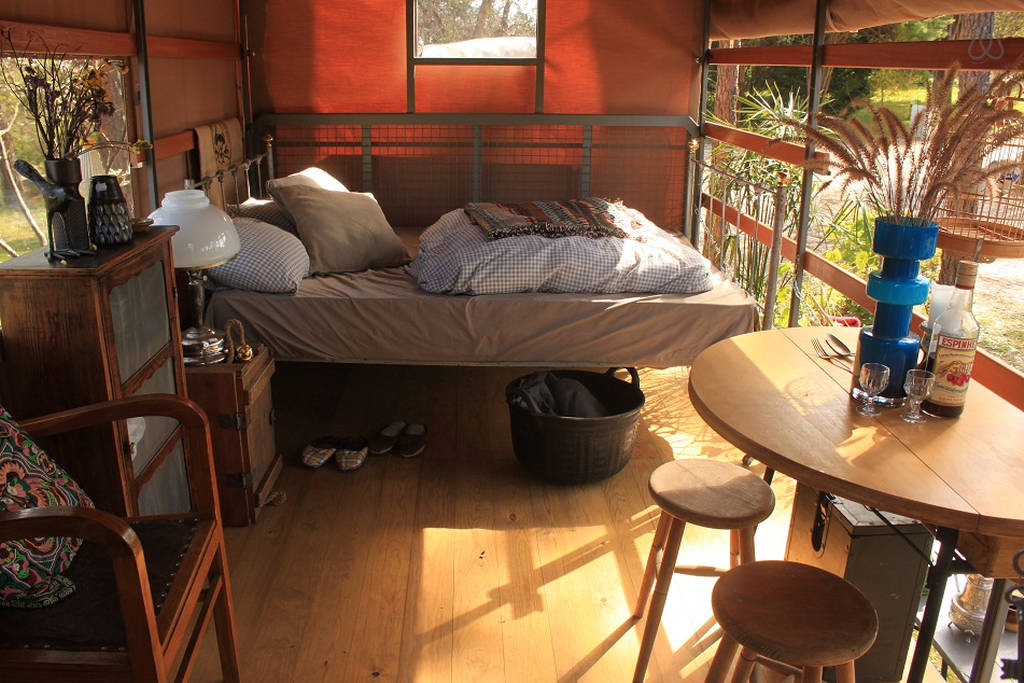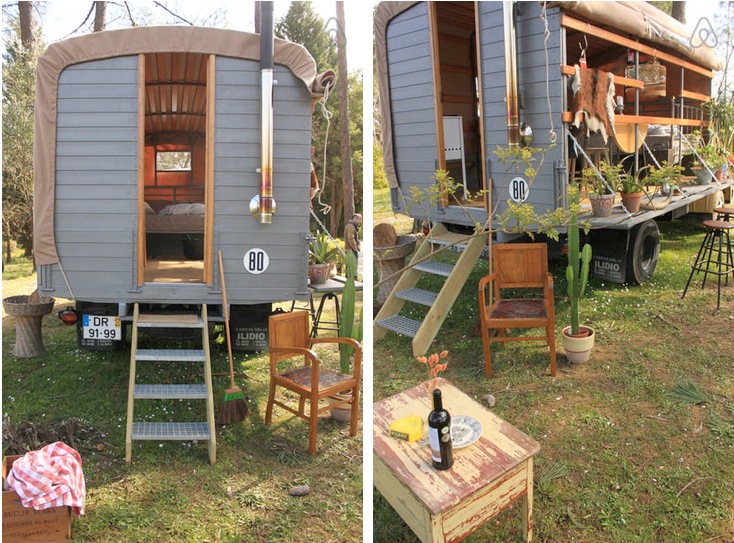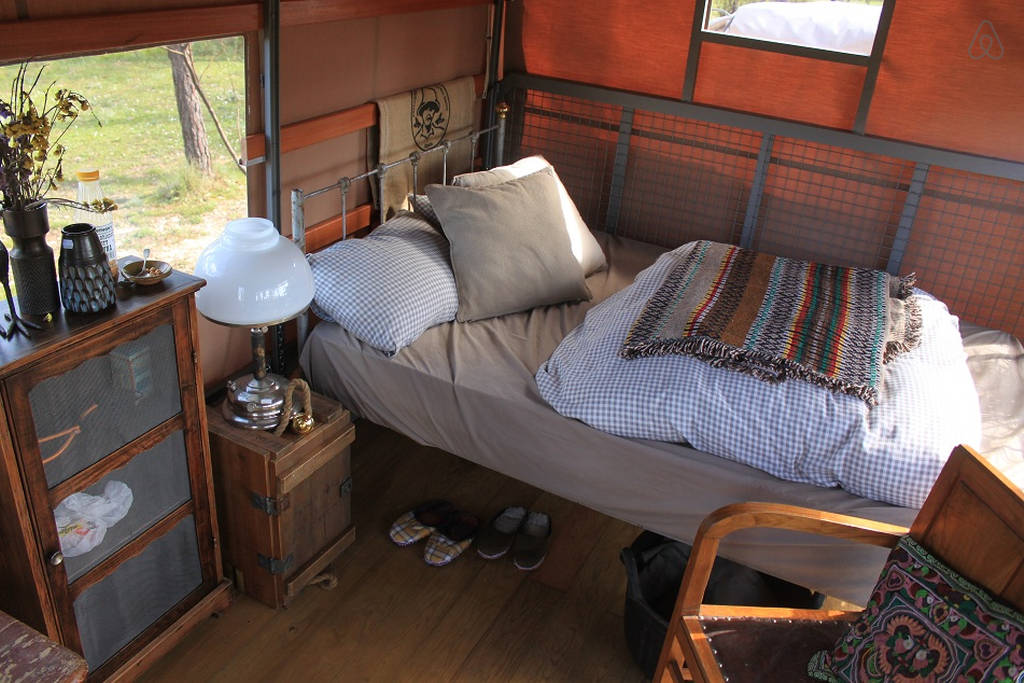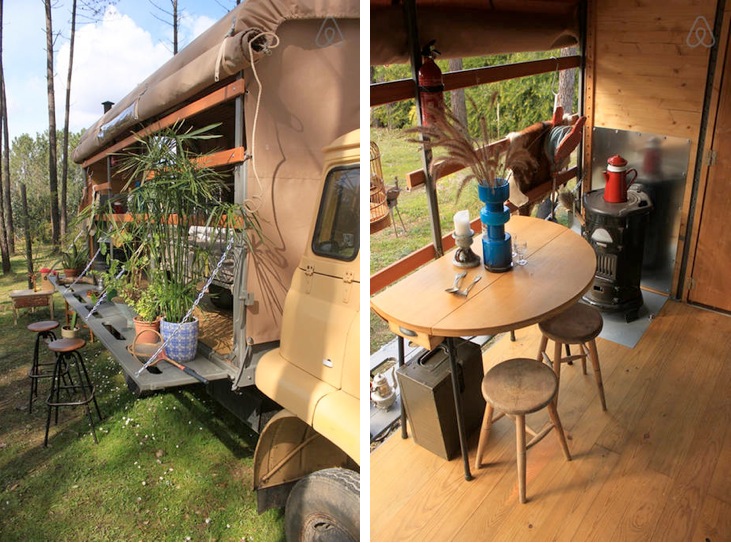 Book your Portuguese gypsy truck for €65 per night.