See, you're just like me– you see a picture of a vintage trailer and you click on it! And that pretty much sums up how I ended up on my latest internet treasure trove, Tin Can Tourists. A true appreciation society for vintage trailers, Tin Can Tourists was actually founded long before the internet came around, at a Florida holiday trailer park no less, in the year 1919. Committed to the celebration of classic RVs, they've been organising annual gatherings and information exchange ever since. With summer plans on the mind and road trip wanderlust in the air, I found the website's classifieds section of particular interest. Trailers of all shapes, sizes and budgets are listed for sale here to drive your imagination wild.
Here are my top ten picks from the classifieds…
RV there yet?!
1. Ruby Red 1956 Platt Camper and Ford Victoria Combo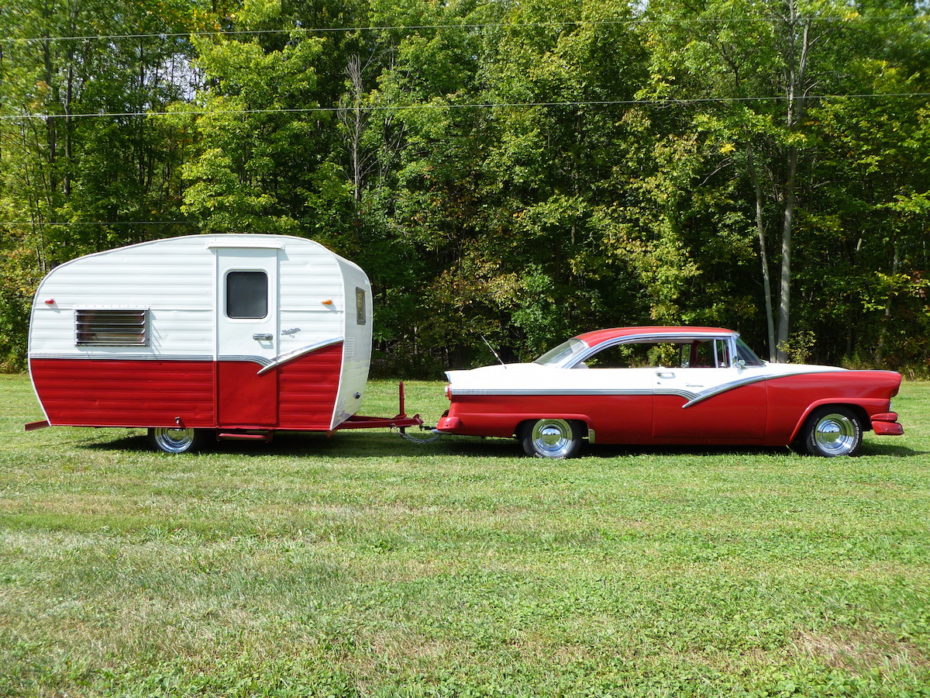 Asking price: $30,000. Trailer located in Northern Ohio. "Selling due to moving".
This 13ft trailer has been done to match the car inside and out, including matching two tone paint w/chrome trim accent, and matching wheels on exterior, red and white tuck and roll upholstery on dinette cushions matching the car's seating. Trailer has rear dinette seating that transforms into a king size bed. There is a digital flat screen TV facing the bed, w/crank up roof mounted digital antenna. There is a small but very effective air conditioner mounted in the rear of the trailer.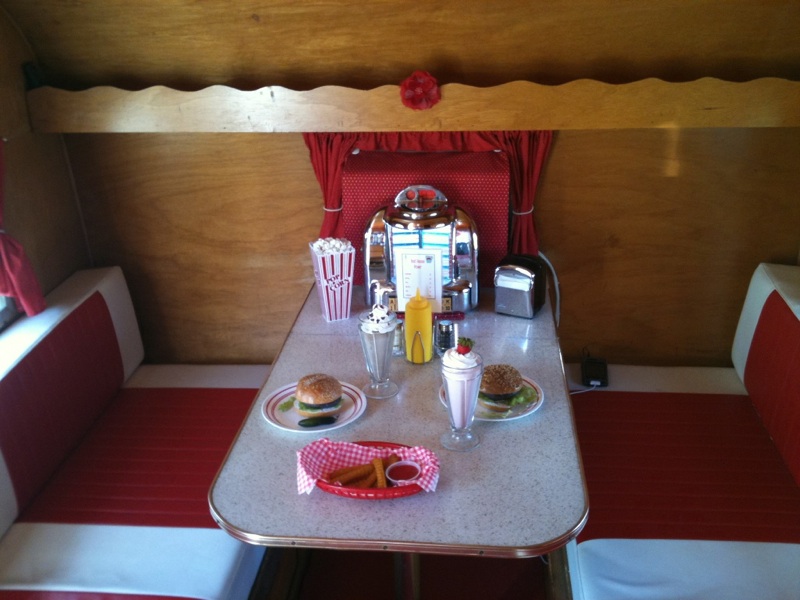 Trailer is solid, and in great overall shape, and has lived inside since we have owned it for over 15 years. Car is a 1956 Ford Victoria hard top, a great runner and has been driven all over the country during our 15 years of ownership. This combo is a head turner wherever it goes, and has won awards in the process. We have loved this combo, and cared well for it all the years we've owned it, but a move to full time RVing dictates it must be sold for us to move forward. We wanted to offer this combo in the hopes it will be taken care of, and be used for vintage events as we have over the years.
Find the full listing here.
2. 1950s Vagabond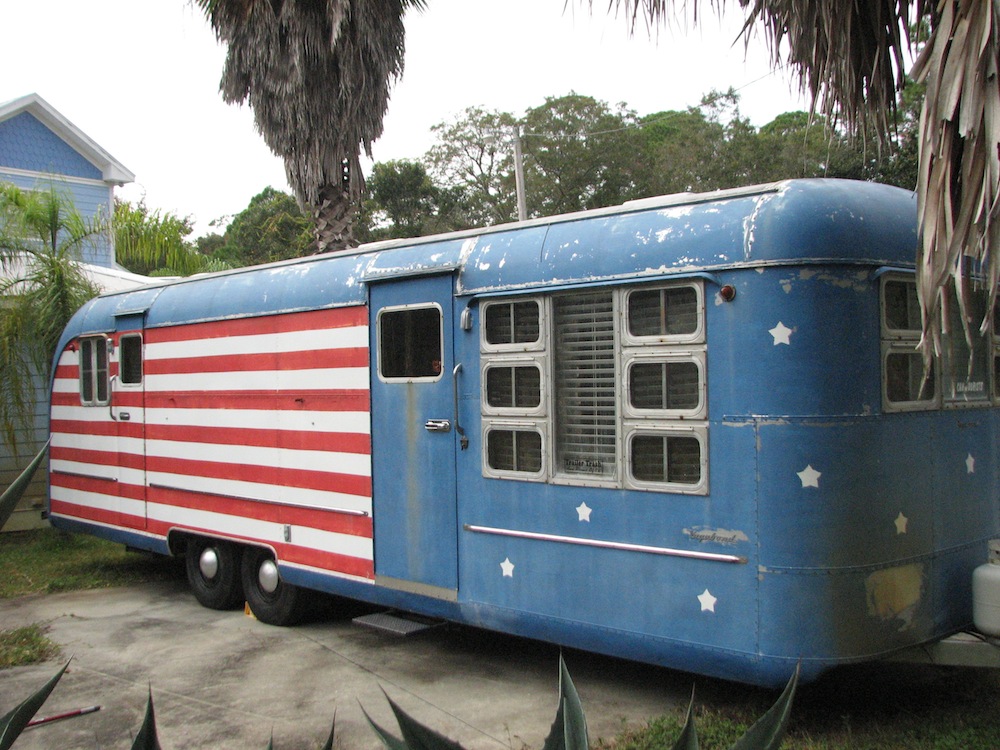 1950 Vagabond 30 foot, asking price $20,000, located in Panama City, Florida.
Interior restored to its original condition with only a few upgrades. This trailer won best in show TCT April event NC. The outside needs stripping you pick your color.
(I would definitely stick with the stars and stripes!)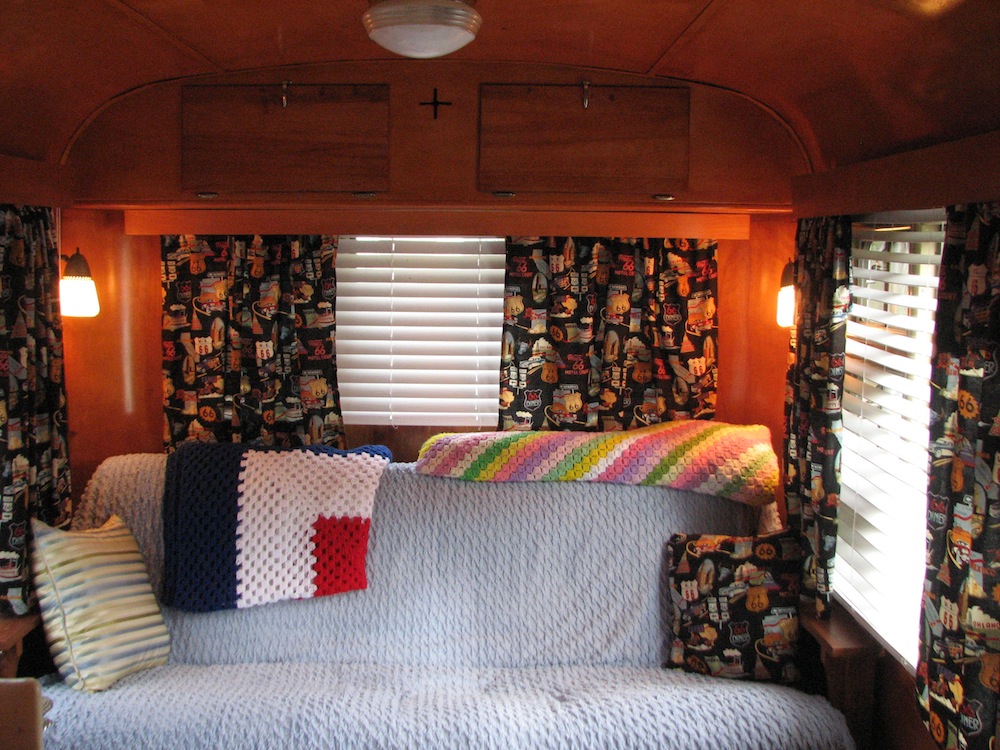 Find the full listing here.
3. Classic 1955 Airstream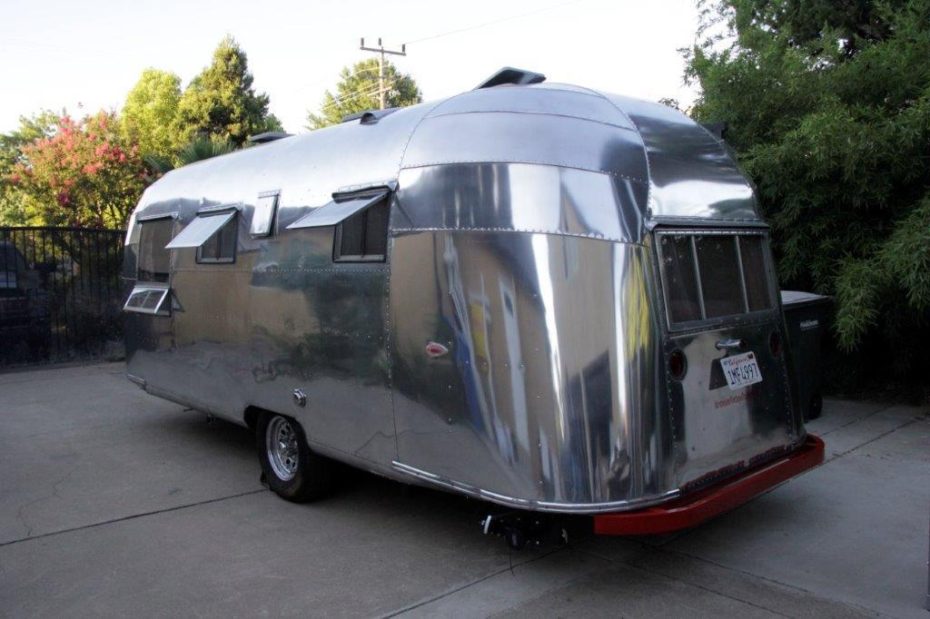 I couldn't make this list without an Airstreamer. Here's one for sale that's in great condition on the outside but could do with a bit of sprucing up on the inside. Located in Sacramento, CA the asking price is $22,200. Below is an example of the potential the Airstream has with a little creativity…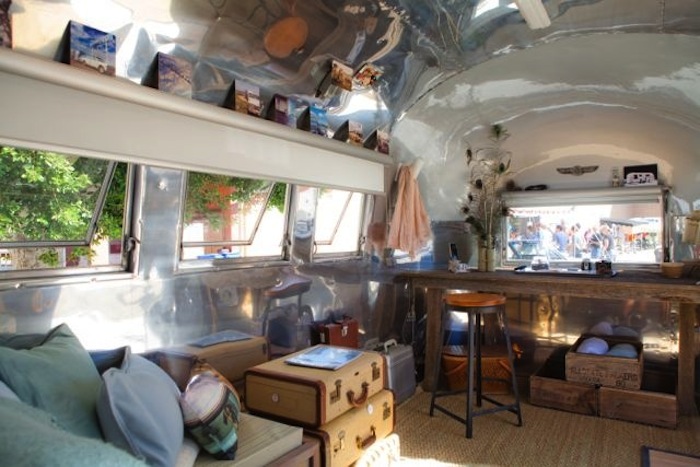 This 1964 Airstream Bambi II 17′ "Betty Jane" was decorated by Kristiana Spaulding, an Airstream enthusiast who renovates vintage trailers and rents them out for events and shoots. You can see the renovation process here and see the Airstreamers available for rent on her website, Silver Trailer.
Ready for your own DIY project? I found two Airstreams for sale, one here and one here.
4. Fixer Uppers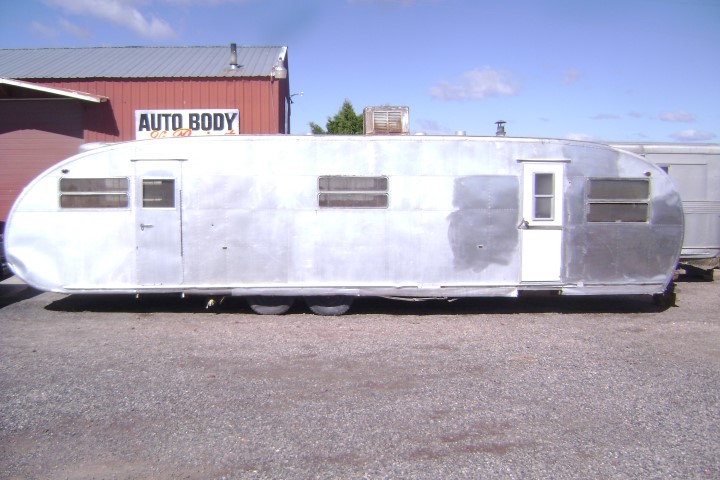 There's always a DIY trailer project out there if you're up for it. There's this one on Ebay and the one above is listed here. Or for something a little smaller, there's one here. 
For those considering a DIY trailer renovation project such as this, it might be useful to know that there are people out there that manufacture new "skins" for vintage campers (pictured above and below). This seller manufactures and sells new skins for seamless replacement sliding on vintage Shasta and Scotty campers…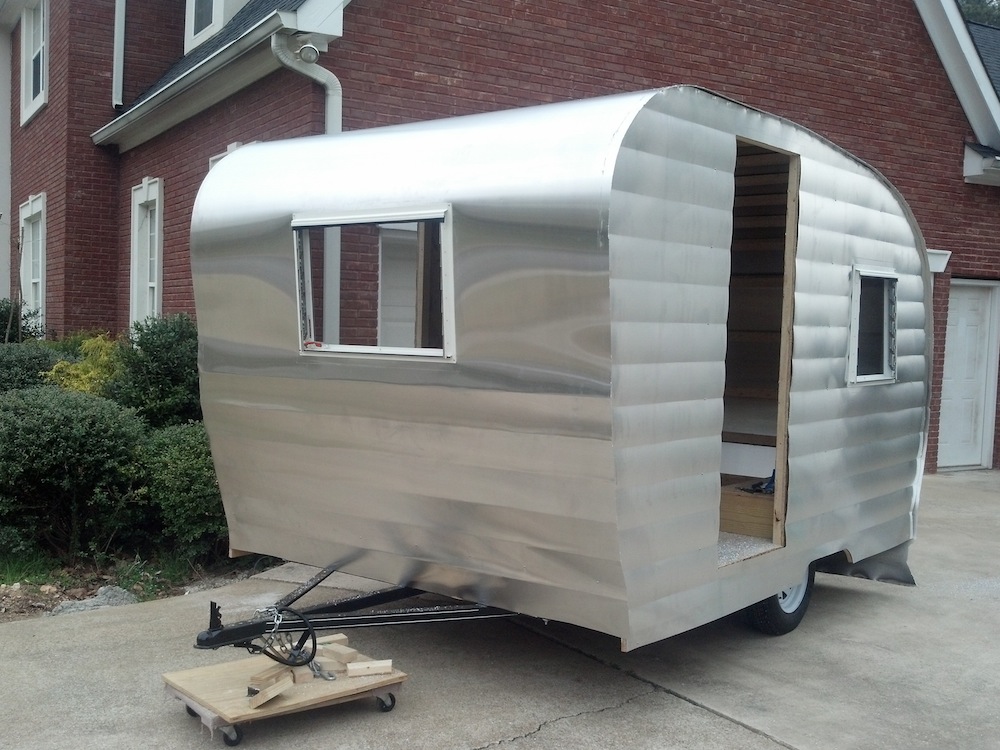 Aljo listing / Shasta, Scotty skins 
5. Bohemian 1961 Bonanza Travel Trailer, "Hazel"

Asking Price: $10,500.00. Trailer located in Wellsville, Utah.
Hazel is 16ft from the tongue to the bumper—13ft body. She is 7ft wide and 8ft tall from the ground to the top—7ft tall body. As you can see from the pictures, Hazel has been completely restored from the studs up. We put a new roof on her 2 years ago and the tires have less than 20 miles on them. Hazel doesn't have any water damage or leaks and is ready for you to start making memories in.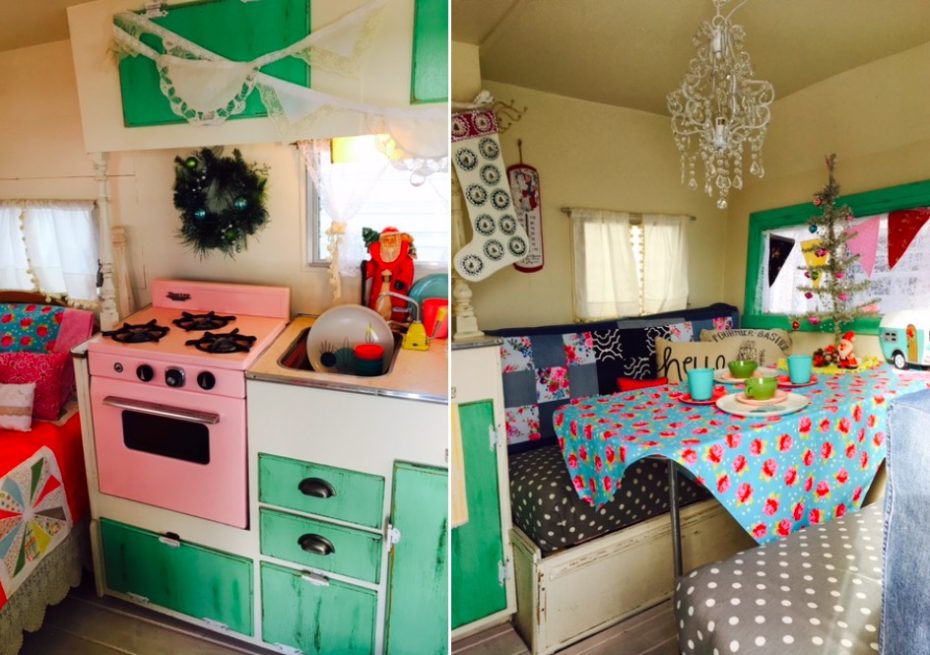 In rebuilding her, we decided to put a 4-post twin bed, including the box springs and mattress, in the rear and an antique chest-of-drawers. The bed and the chest-of-drawers are secured, but removable if someone was interested in making a business out of this trailer. With the shiplap siding on the interior accent walls and tongue-n-grove wood flooring, this trailer feels like home. The table also folds down into a full bed so you can sleep up to 3 adults. The outside is white with blue scallops and pink accents. Everything has been customized from the bench cushions, to the pink stove, green cabinets and the glass chandelier (removable while traveling).
Find the full listing here.
6. Complete with a time capsule kitchen, a 1950 Spartan Carousel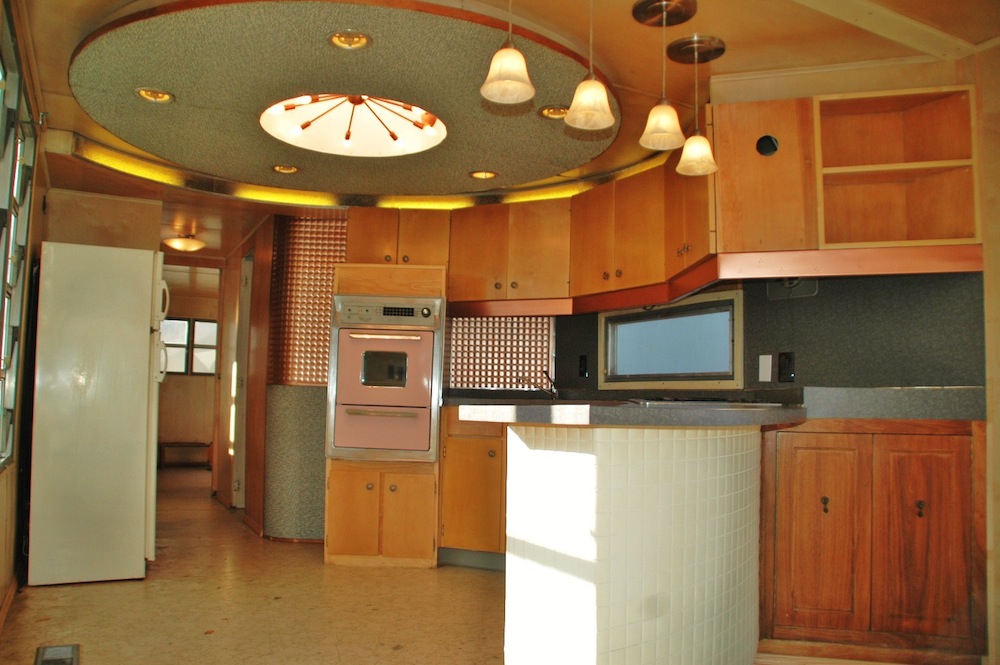 Asking Price $55,000. Trailer located in Sacramento, CA.
Up for your consideration, this professionally, fully restored, 10'x50′, 1960 Spartan Carousel is the model that Spartan created to showcase the style of a new decade. From it's newly enlarged exterior to it's totally re-designed and spacious blond birch panel interior , the Carousel was the epitome of "Mid-Century Modern". From the enormous window lined living room that merges into an unbelievable tour de force eat in kitchen and bar, to the large and breezy bedroom plus full sized , gorgeous pink and grey bathroom, this unit has been refreshed , refined and restored into one of finest examples of this super rare model!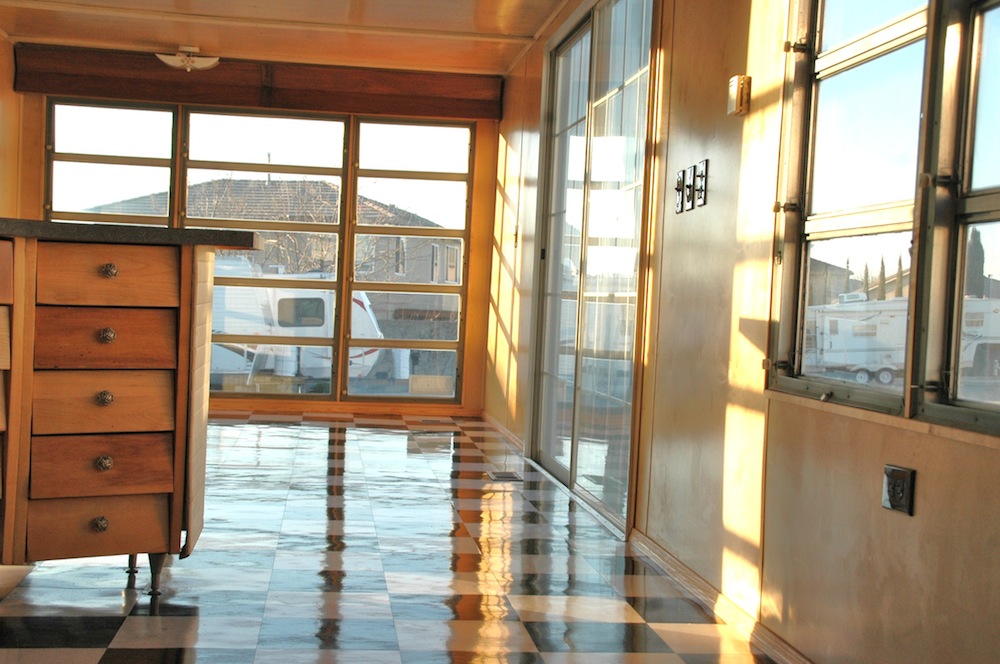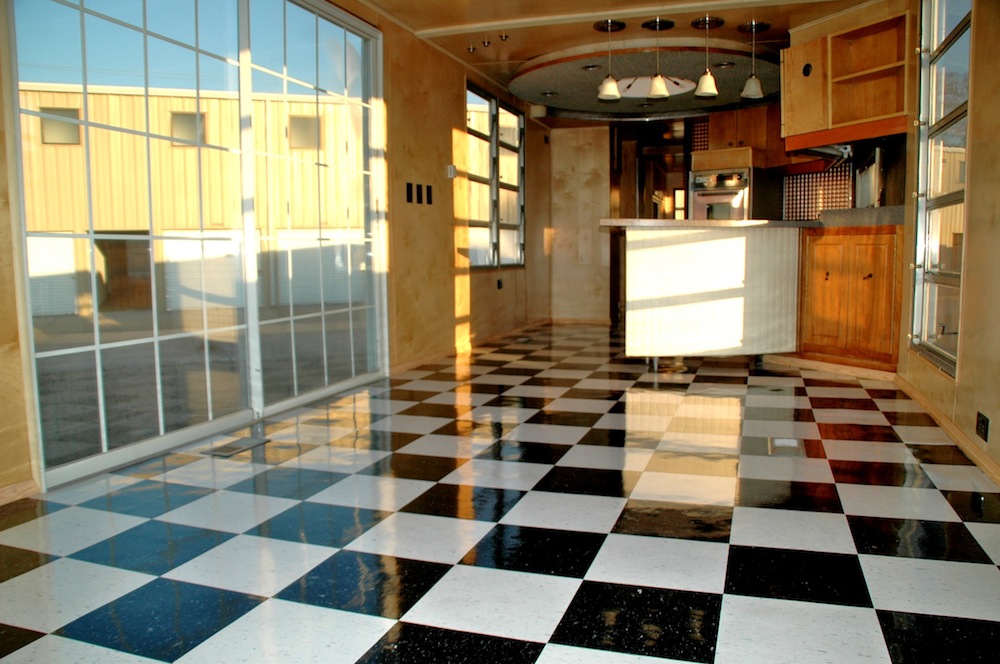 Find the full listing here.
7. Compact Time Traveling in a 1964 Shasta

Asking price: $4,500. Trailer located in Jacksonville, Florida.

Find the full listing here.
8. A 1940s Streamline Mobile Bar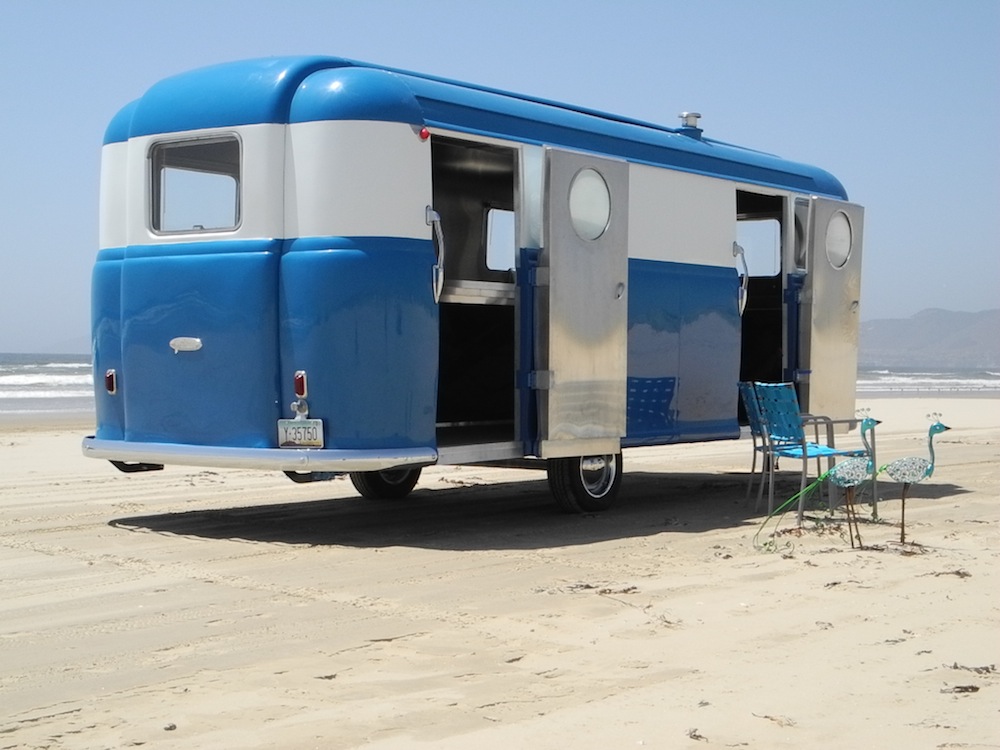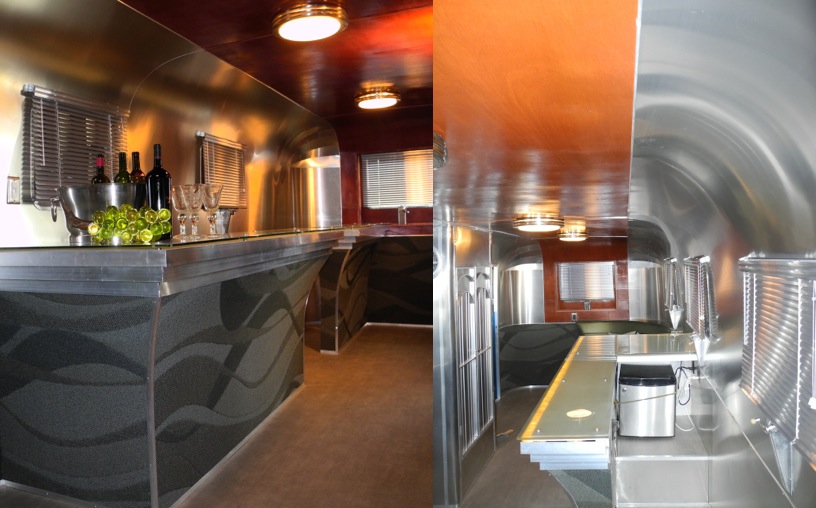 1948 Palace Royale, asking price $35,000, located in Prescott, Arizona, seller open to trading it for another trailer.
Easy to tow portable serving bar that will take all your friends breathe away. Very retro,very light and airy. With mood lighting ,a/c, very comfortable, and easy to use. The hit at any event ,party or wedding. 
Find the full listing here.
9. 1950s Shabby Chic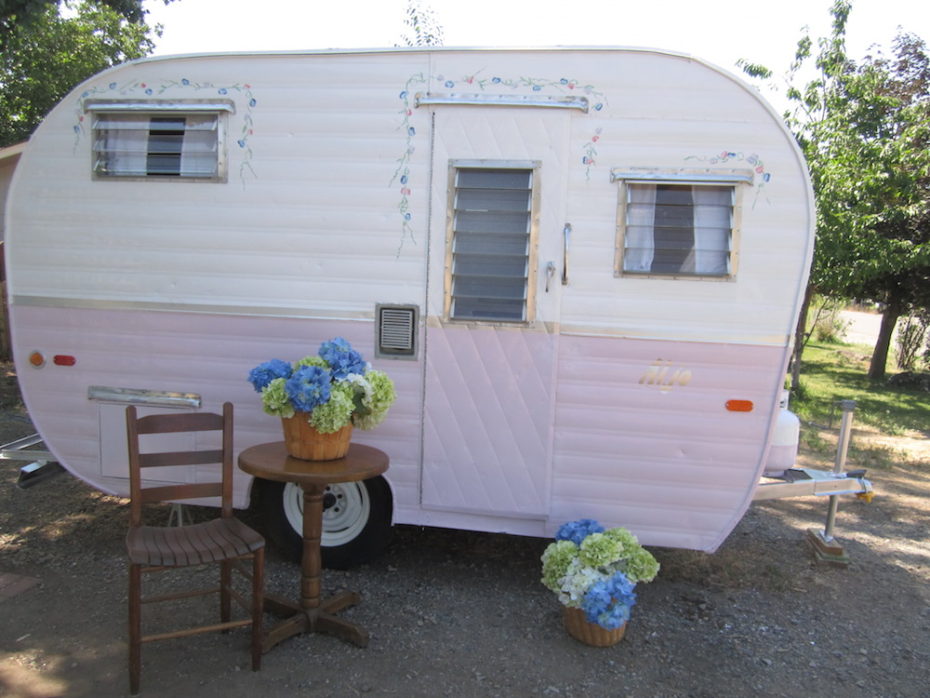 1967 14ft Oasis trailer, asking price $6,900, located in Grand Junction, Colorado.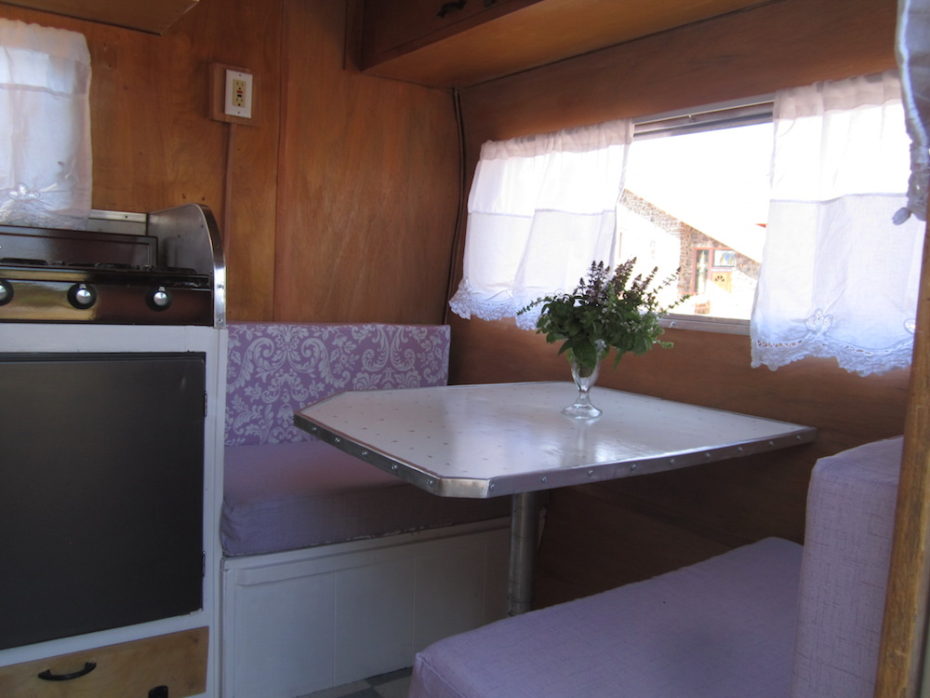 "Sweet Pea" is pretty in lavender and ready to hit the road for new adventures. A 1959 Aljo, she is 14′ 6″ Long ( box length 11′ 6″). 
Repairs include: new exterior enamel paint, windows pulled and reset, repaired and replaced wall framing and paneling where needed, new tile flooring, new gas lines.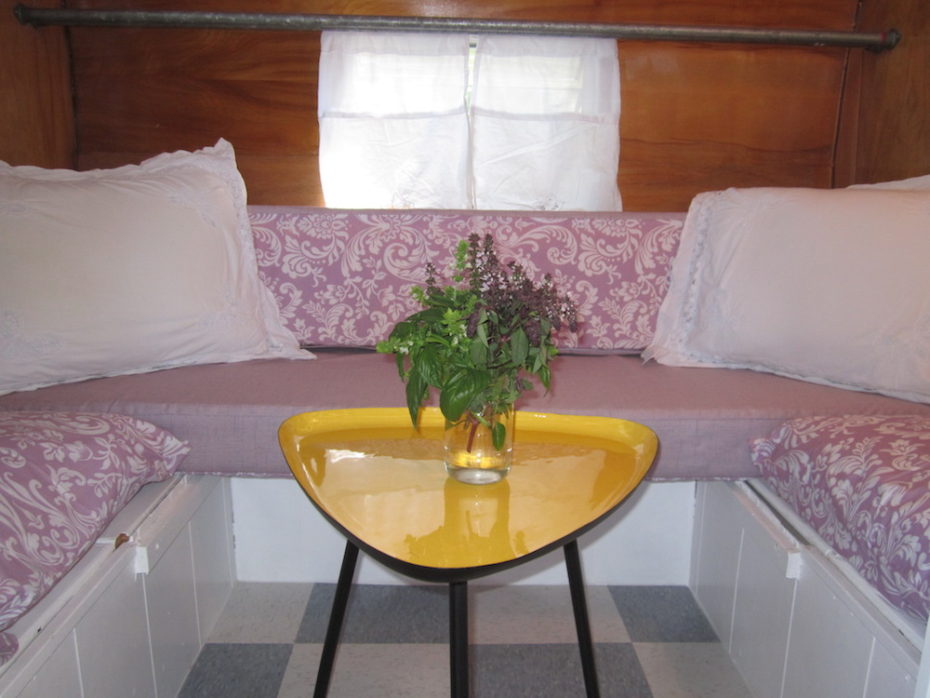 Find the full listing here.
10. 1956 El Jay, simplicity at its best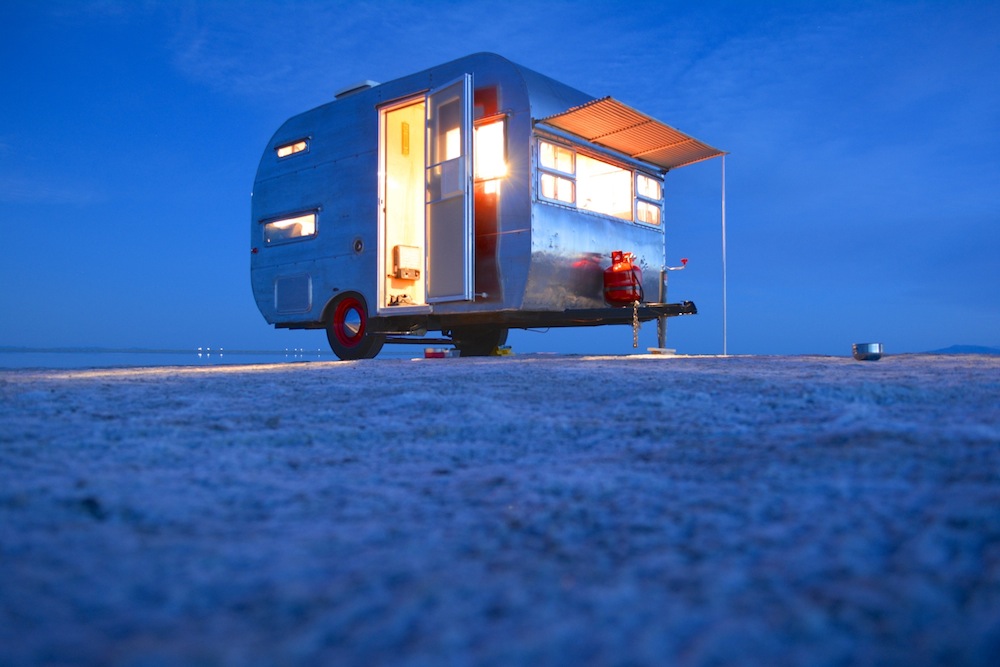 Professionally restored with an asking price of $18,200, located in Salt Lake City, Utah.
A vintage El Jay advert on Tin Can Tourists claims, "Built for fast travel over rough roads, insulated against New England weather, and time tested by hundreds of users." This 1956 travel trailer proudly embodied the post-war attitude and workmanship that define products of this era. Production run was only in the hundreds.
See the documented restoration process by Camper Paradise, specialists in vintage trailer restoration.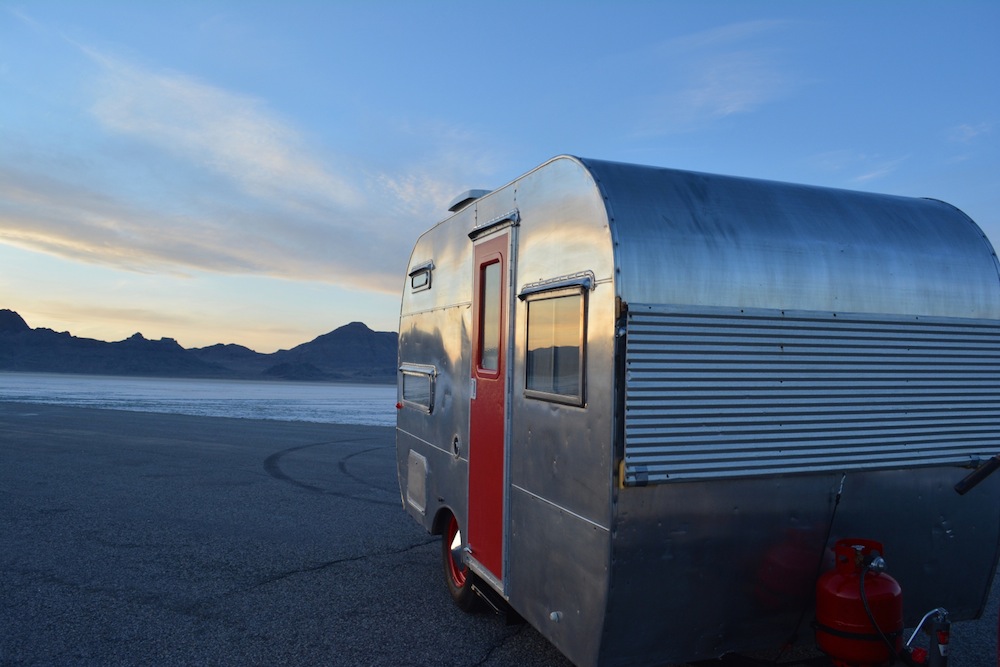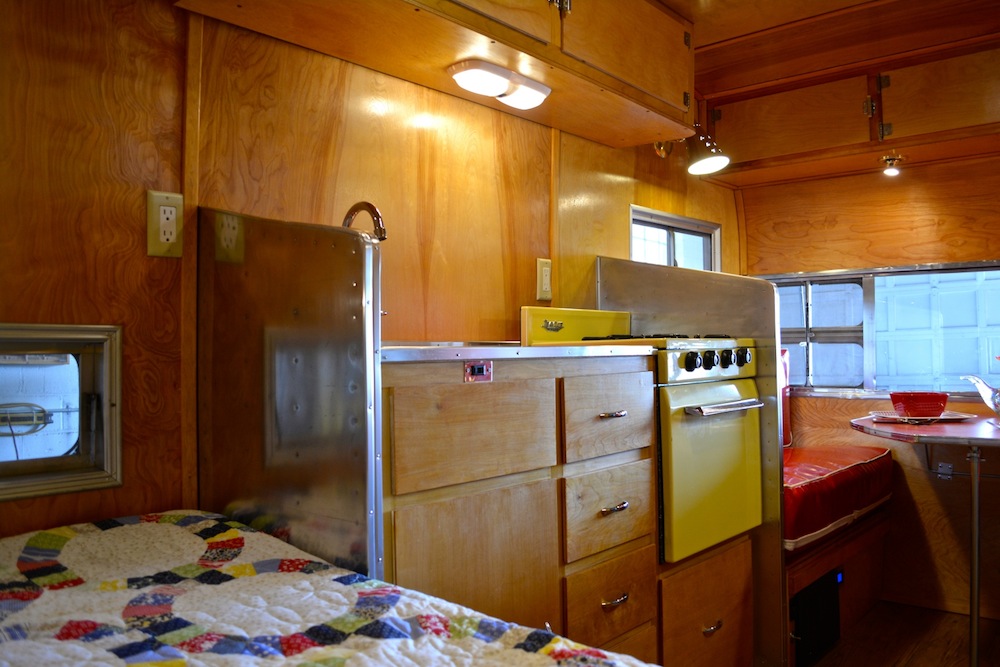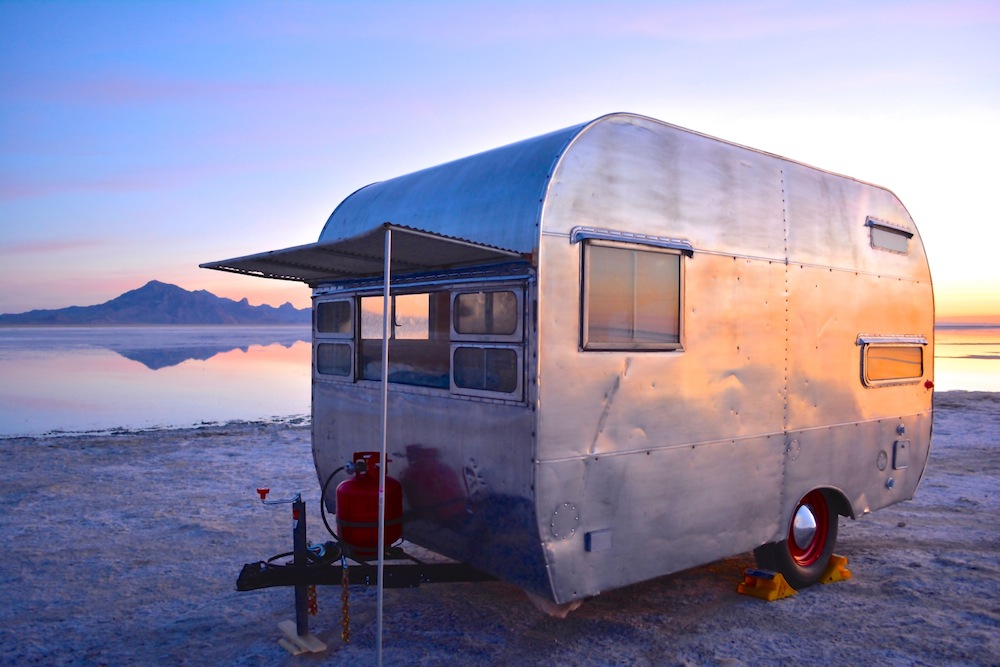 Find the full listing here and the Camper Reparadise Website here.
And before you go, check out these snaps from the Tin Can Tourists historical archive…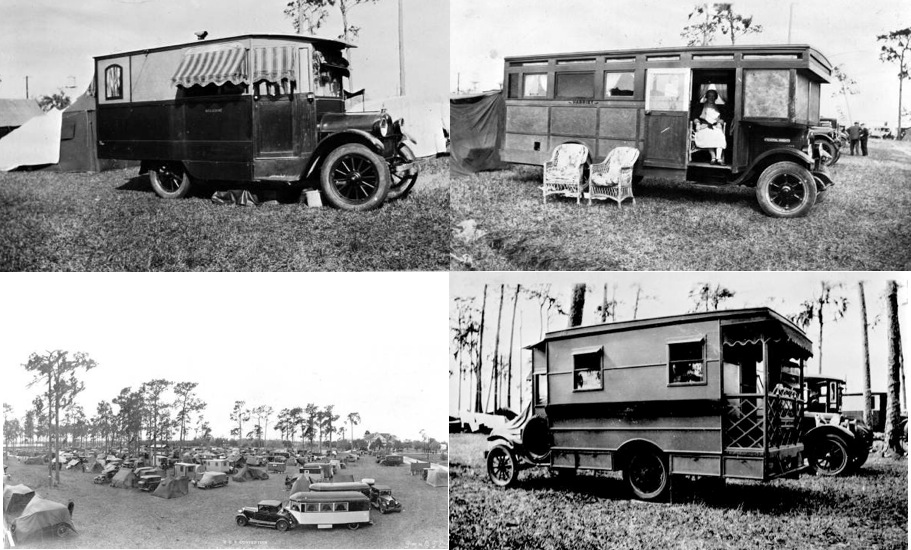 Vintage trailer enthusiasts, head to Tin Can Tourists.
 –  PS. Discover my own visual cabinet of curiosities for the undiscovered and forgotten on my Instagram