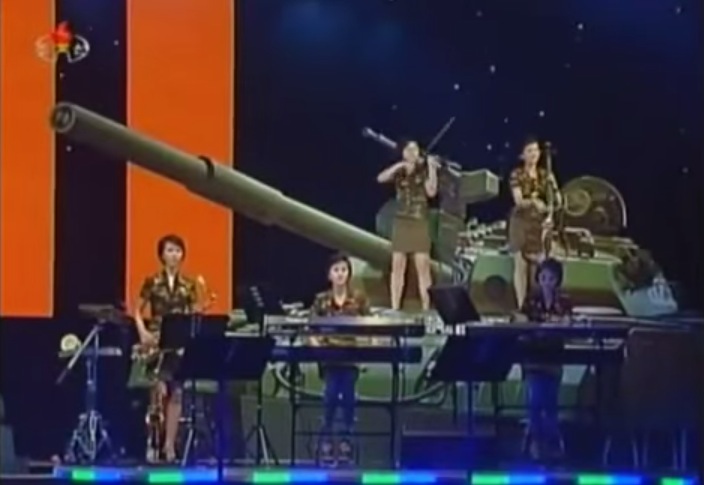 You could say I got a little off-track from my usual internet route today and stumbled upon North Korea's own K-pop girl band, Moranbong Band, which is the most popular musical group in the country. It is also, as far I can tell, the only musical pop group in the country. Consisting of 18 female members, each one selected by the country's supreme leader Kim Jong-un, the group debuted at a concert in his honor in June 2012, coincidentally (or not) the same month in which Psy's "Gangnam Style" was released.
Get ready to tap your feet to one of their performances at a New Year's Eve concert in 2013, called "Without a Break".
https://www.youtube.com/watch?v=ERLaZ488I6k
They mainly perform interpretive styles of pop, rock, and fusion … to perfection. These are clearly extremely well-polished musicians who have been meticulously trained throughout their lives. And with numbers such as "Let's Learn,", "Victors" and "We Can't Live without his Care", one reviewer of the band said, "The Moranbong girls are not what you'd expect from an unfashionably totalitarian regime where grey is the new grey. Their skirts are short, the hair is trendy, the music danceable. It could just about pass as a Eurovision entry from Azerbaijan."
I had the um, pleasure of combing through their available performances uploaded onto YouTube and thought I'd share a few special moments.
Firstly, if you've ever wandered what North Korean pop dancing skills might look like, proceed to the 5:43 mark of the video below:
Now let's turn to their vocal skills and I've got to give it to these ladies– girls got some pipes! I'd almost certainly say they have what it takes to get through boot camp on American Idol. After an extremely enthusiastic and lengthY applause, check out the soloist at the 1:41 mark below…
Also, check out the completely appropriate tribute at a pop concert to the workers party of Korea around the 1h and 8 minute and 20 second mark above. If you watch to the end you can catch the group running up to their supreme leader after the performance to receive his approval.
Moving on, a look at their stage design, most likely guided and overseen by the mastery in stage design of the supreme leader himself. You've never understood the importance of water fountains on on a pop concert stage until now at the 4:24 mark ↓. And just to remind us who's behind all this, a very hearty applause to the supreme leader when his photograph pops up mid-song at the 5:37 mark.
And last but not at all least, ladies and gentlemen, what you've all been waiting for, a North Korean pop group performing on a battle tank at the 4.53.
Oh, and they also inexplicably did a cover of the Rocky theme song one time.
Before I go, a very special message to North Korean K-Pop fan computer hackers– I very much enjoyed my introduction to North Korean pop music. Yay, North Korean K-Pop!