California native, Debra Jane Seltzer, must have the most sizeable independently-run website I've ever come across– and that's not just because it's full of the roadside giants she documents. Roadside Architecture is literally huge, containing more than 2,300 pages and over 60,000 photos. Banging away at her website for nearly 15 years now, Debra has been crazy about commercial buildings and roadside-related things all her life and has traveled all over the country (with her loveable dogs) documenting some of the most bizarrely brilliant sights that the American roadside has to offer.
Seriously, I thought this lady needed her own book, but Debra says she'd rather provide the big photos with unlimited & updated information and keep plugging away at something she considers bigger & better than a book (and doesn't earn a penny!).
Here's a taste of one of the coolest indie sites on the internet…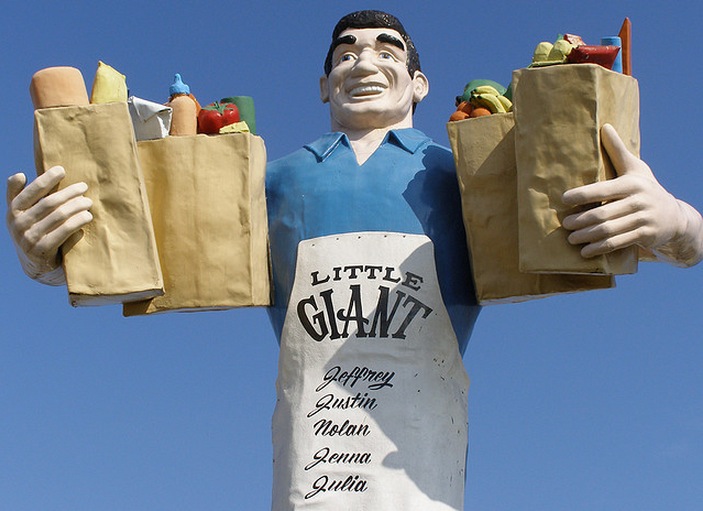 Big John, Carmi, IL
The Big John statues are about 30 feet tall. They originally wore checkered shirts, blue jeans, and an apron and carried giant bags of groceries. They were built for the Big John grocery store chain which is based in Carmi, IL, established in 1960. These statues were produced around 1967 by the General Sign Co. in Cape Girardeau, MO. It's not known how many statues were produced but only about eight of them have survived. Some of the statues were sold and moved. However, most of the statues were moved back to the company's headquarters in Carmi when stores closed. When the company moved to a new location around 2000, the remaining statues were destroyed. 
More Big Johns here.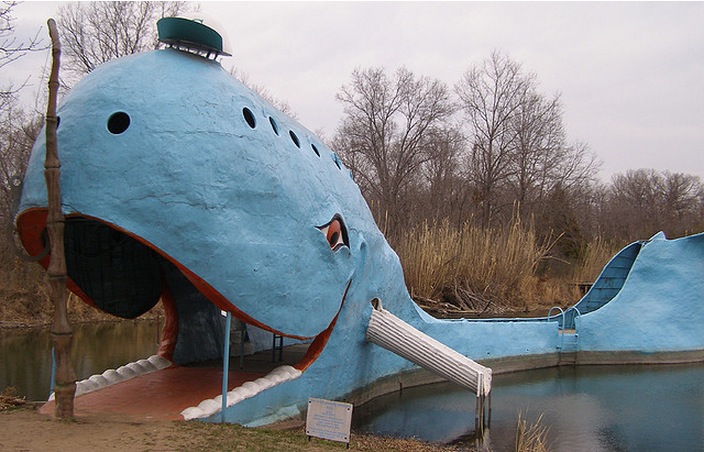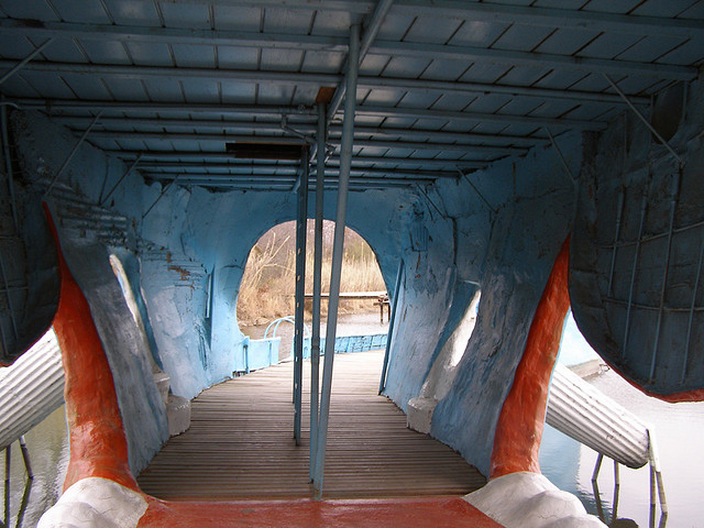 Blue whale, Catoosa, OK
The Blue Whale was built by Hugh Davis from 1970-1972 (for his wife as a 34th wedding anniversary present). The 80 foot long whale was made from wood, pipe, and concrete on Davis' pond. There is a diving platform built into the Whale's tail and a slide on both sides of the Whale's head. Davis also built picnic tables and a snack bar. He brought in sand to create a beach. The Blue Whale closed in 1988 and Davis died in 1990. The Whale has been restored a few times, most recently in 2010. It is open and free to the public for picnics and fishing but not for swimming.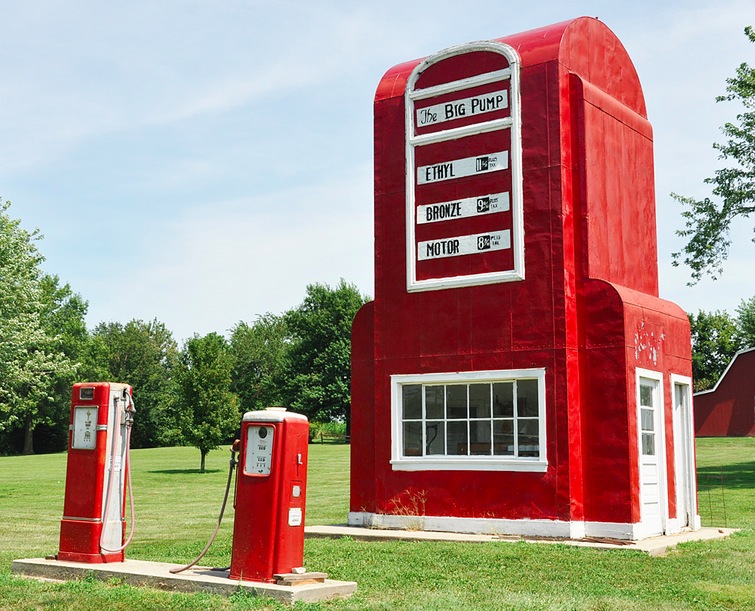 The Big Pump Gas Station, King City, MO, is shaped like a giant electric gas pump. The structure was used as a gas station office and restrooms. It was built in 1937 of galvanized metal over wood and was originally painted black and white. The Big Pump was originally located 35 miles away in Maryville, MO. It operated as a Skelly, a Texaco, and a Co-Op station. In the 1970s, the building was about to be destroyed when it was bought and donated to the Tri-County Historical Society in King City. The structure was restored and stands in a local park. It is listed on the National Register of Historic Places.
More gas stations this way.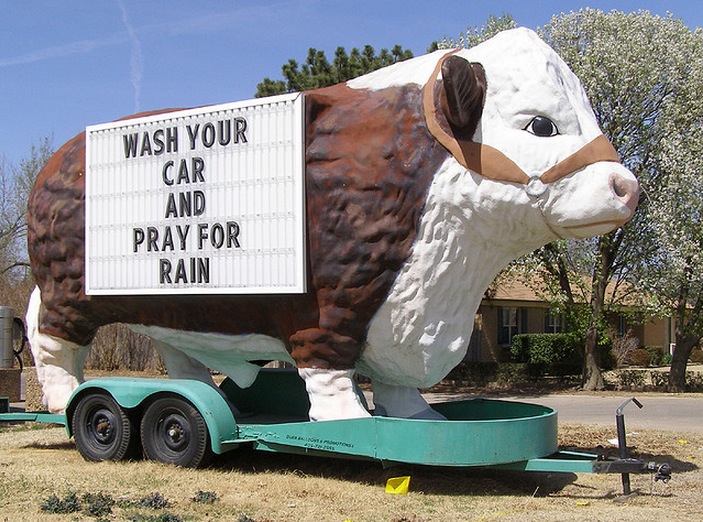 Mobile Steer, at a carwash in Oklahoma City, OK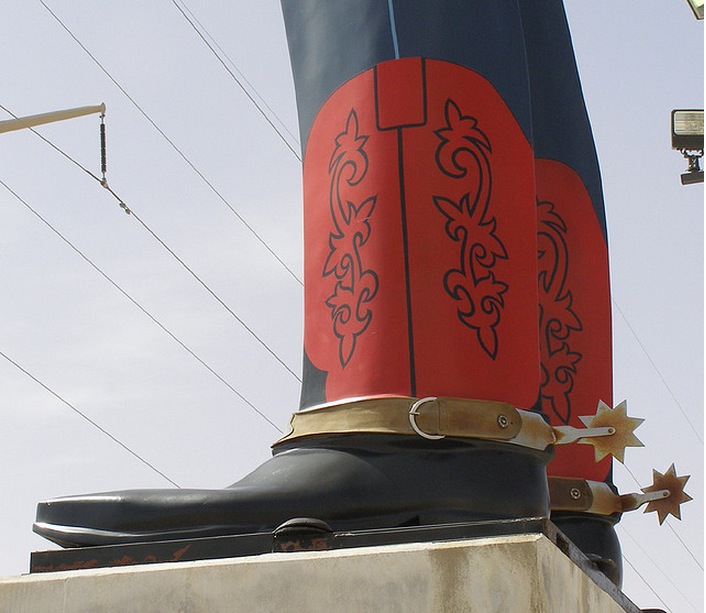 Waving Giant Man, Amarillo, TX
Tex Randall is 47 feet tall and weighs seven tons. He was built in 1959 out of concrete, steel and wire mesh by Harry Wheeler. Originally known as "The Biggest Texan", he advertised for a Western store. He held a cigarette and wore real denim jeans and a red checkered shirt. He deteriorated over the years and was restored between 1987-1989. Giving in to political correctness, a spur was substitued for the cigarette in his hand. In 2008, it was announced that he was for sale and might be demolished. Danny Byrd purchased him for $5,000 and planned to move him to his restaurant. However, estimates to move him ran upwards of $50,000. In 2010, it was announced that the statue will be restored and a park will be built beneath him. You can help with fundraising for this project here.
More giant cowboys this way.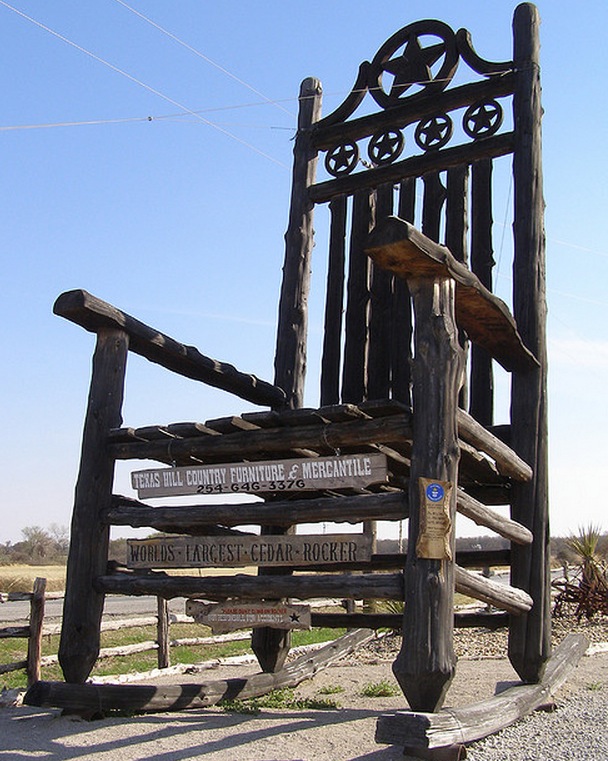 Giant Rocking Chair, Lipan, TX

Warehouse of Mass Distribution, just a few doors down from the Orange Show; Houston, TX.
"A full-scale mock-up of an LMG-118A Peacekeeper MX Missile designed by Mel Chin, with window flower boxes, three doors and maintenance-free vinyl siding. When not in storage on this lot, the mobile home is used to distribute food and clothing to the needy."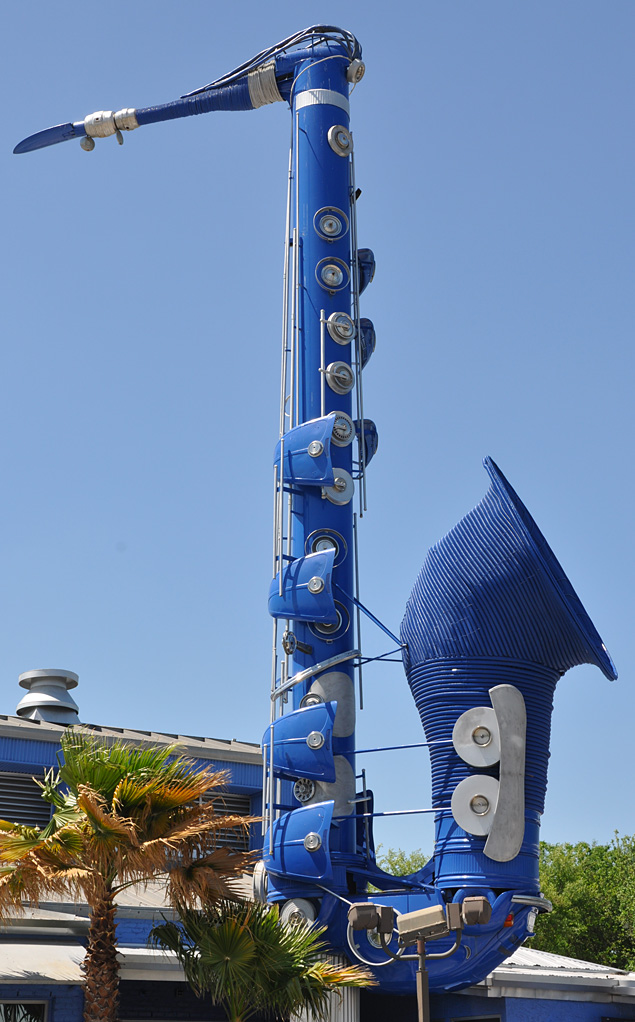 This 60 foot tall Saxophone sculpture is entitled "Smokesax". It was built in 1993 by Bob Daddy-O Wade. It is made of Volkswagen parts, beer kegs, a surfboard, room service trays, and other recycled items. The saxophone was originally painted blue but was red for many years. The sculpture was located in front of "Billy Blues Bar & Grill" and later moved to the "Cabo Restaurant" which closed in 2006. The business is now known as "The Horn Bar & Grille". The saxophone was repainted the original blue. In 2014, the saxophone was moved to the Orange Show Center for Visionary Art's storage facility. It will be put on display again in Houston in 2015. The exact location is not yet known.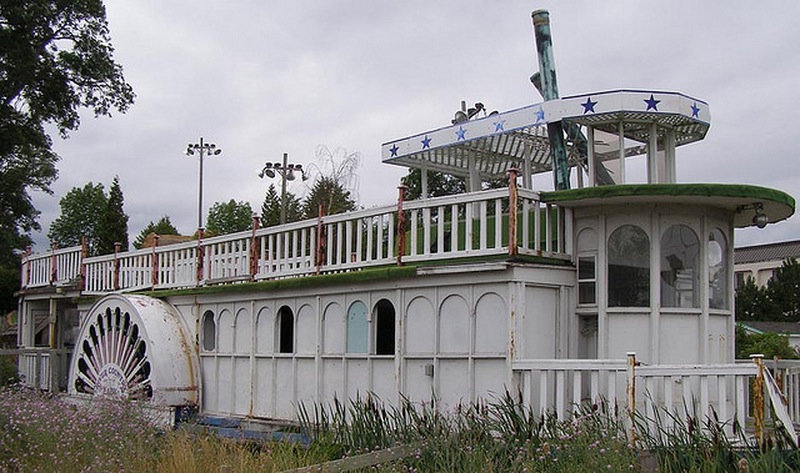 Former Bay Golf, Traverse City, MI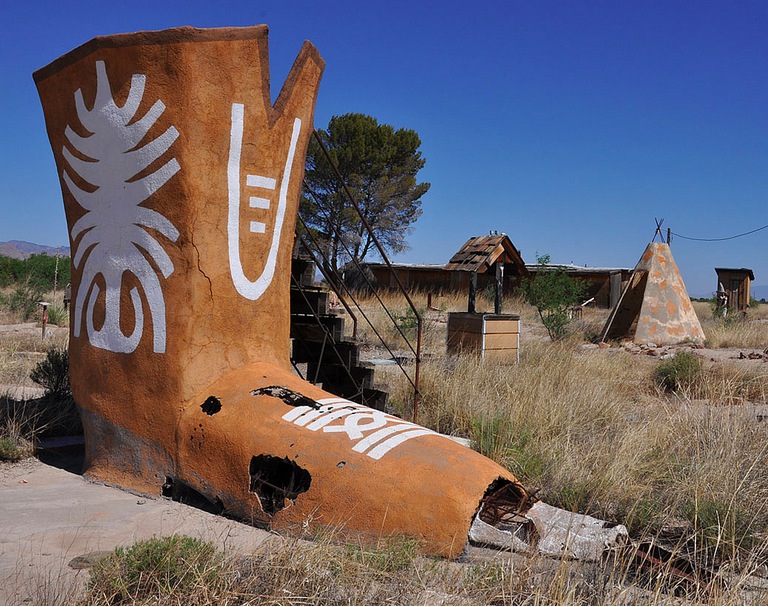 Abandoned mini golf in Willcox, AZ, abandoned since the 1980s, first seen in the early 90s.
More mini golf (by state).

Giant Rattlesnake, Albuquerque, NM, one of two 400 foot long sculptures located in the median along University Boulevard south of town. They were designed by George Radnovich of Sites Southwest and installed in 2006.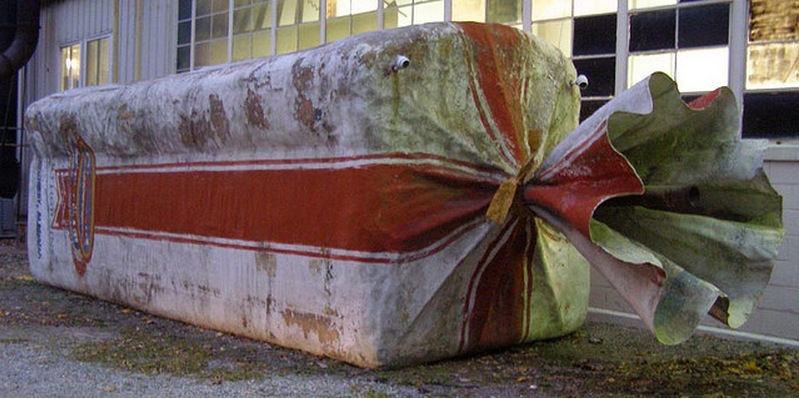 Giant Loaf of Bread in Urbana, Ohio. It is pretty neglected. Sits to the side of the American Pan Co. building, not visible from the street at all. It may look green here but it's really just scuffed up. I was there at dawn and got what I could with the existing light & camera flash.
More giant food here.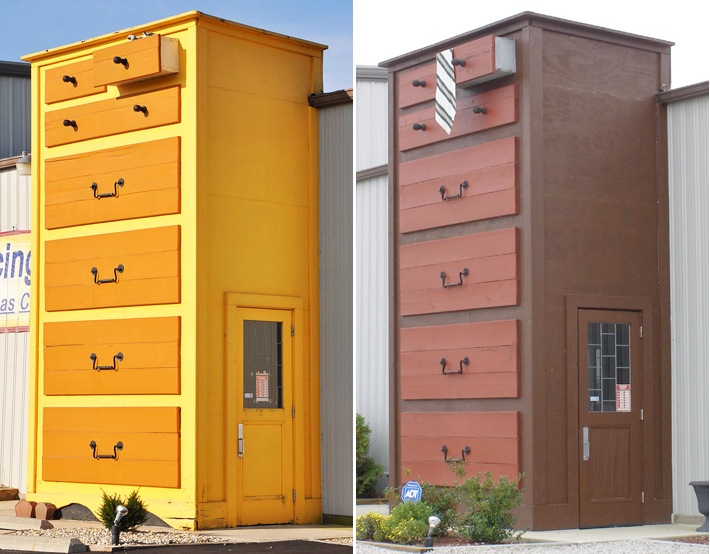 This Giant Dresser in Franklin, IN was located at Long's Furniture World. In 2006, the dresser was painted red and brown and had a giant tie hanging out of the top right drawer and later repainted yellow and orange. Around 2013, the dresser was destroyed in a fire. There are no plans to rebuild it.
More giant furniture here.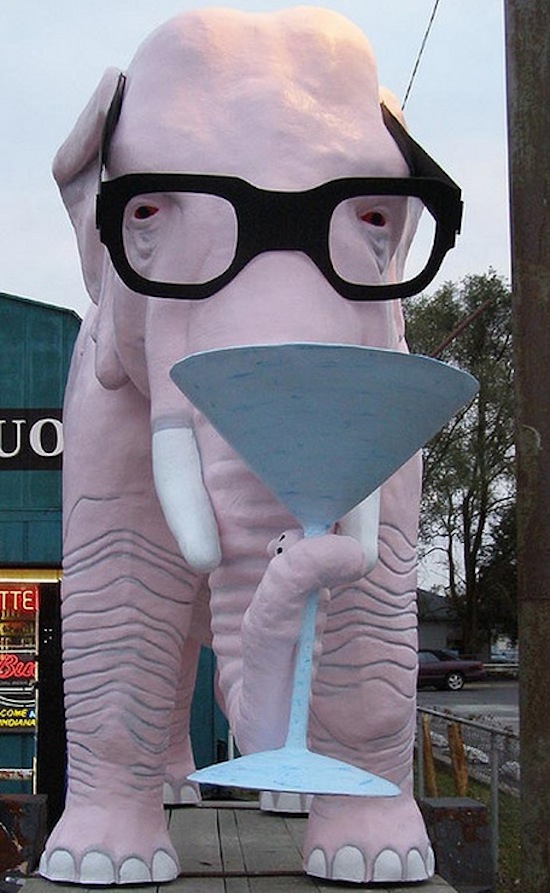 The Pink Elephant & Martini in Fortville Indiana stood on a trailer in front of Wagon Wheel Liquor when these photos were taken in 2006. The statue is still there but the business is now known as Elite Beverages. These statues are often installed on trailers to get around local zoning laws. For more, see this website.
More elephant statues here.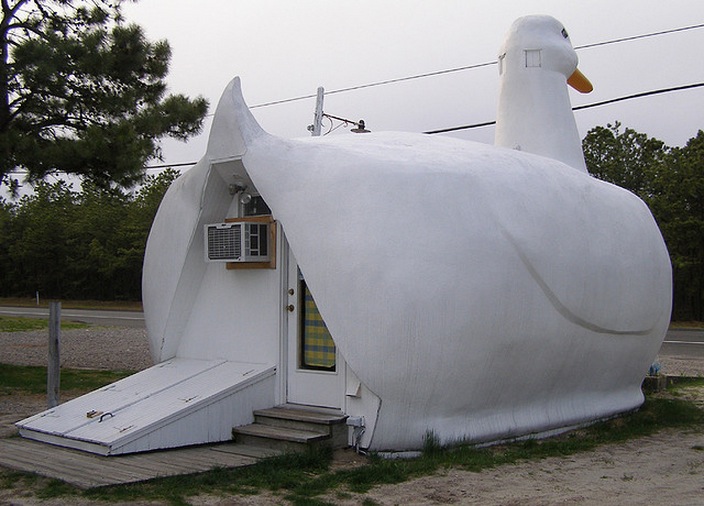 The Big Duck– I thought I'd shoot her (no pun intended) from the back; more about her here.
The Big Duck is one of the finest remaining examples of mimetic roadside architecture. In fact, similar types of buildings, shaped like animals, food, etc., are referred to as a "duck architecture" in reference to this structure. The Duck started out as a store for farmer Martin Maurer and his wife to sell their Peking ducks. The Maurers got their idea while on a trip to California (inspired by eating in a teapot-shaped luncheonette). They hired a couple of unemployed theatrical designers during the Depression. The plans for the duck were drawn from an actual duck tied to a porch with a piece of string. The Duck was finished in 1931. It is 20 feet tall, 30 feet long, and 15 feet wide. It weighs 10 tons.
Ford Model T tail-lights were used for the Duck's eyes (they still work and glow red at night). Today, the interior is used for Big Duck souvenir gift shop. (The Duck is on the National Register of Historic Places).
More giant birds.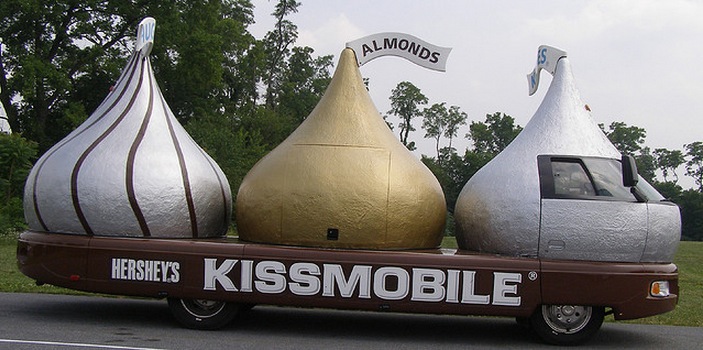 Kissmobile Cruiser, 26 feet long and 12 feet tall, created in 1997, borrowing the concept of the famous Wienermobile. The Kisses have been repainted over the years to promote different flavors of their candies. A second Kissmobile Cruiser was built in 1999. One Kissmobile travels the northern and southern states while the other travels the midwestern and western states. For more, see this website.
More giant junk food this way.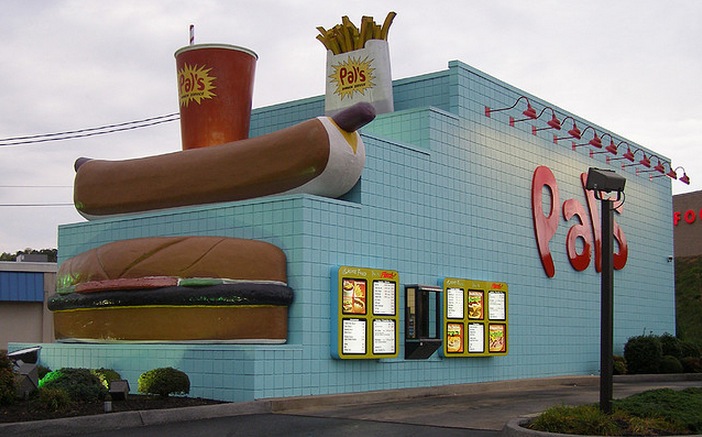 Pal's Sudden Service, Bristol, VA.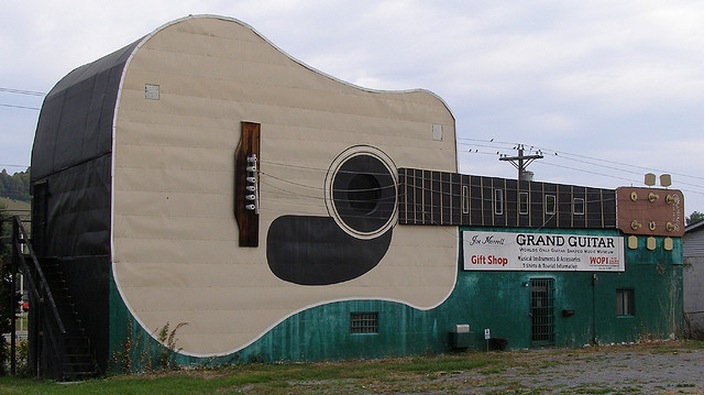 Grand Guitar, Bristol, TN, is three stories tall and 70 feet long. It was built in 1983 and originally housed a music store. It was later used as a radio station and country music museum with unusual instruments… The building was vacant in 2001 and deteriorating. In 2004, it reopened briefly as the Joe Morrell Grand Guitar, a music museum. These photos are from 2007. In 2014, the building was sold and there are plans to restore it. It is listed on the National Register of Historic Places.
More info this way.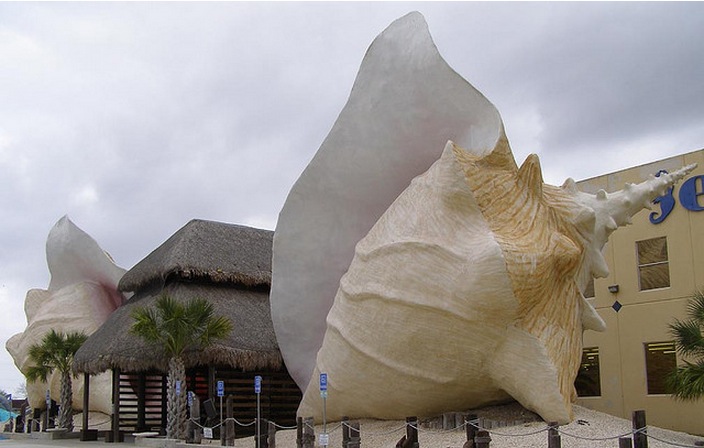 Gigantic shells, Los Fresnos, TX; at the Seven Seas souvenir shop.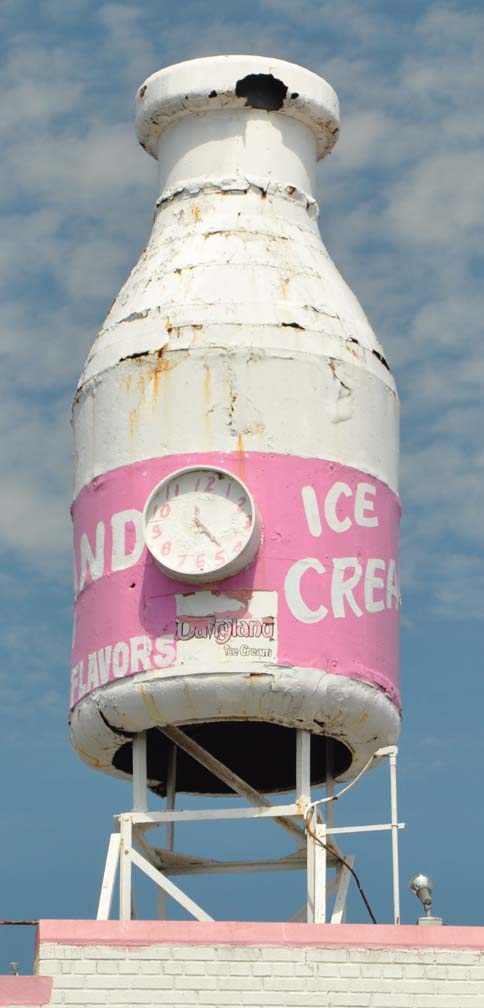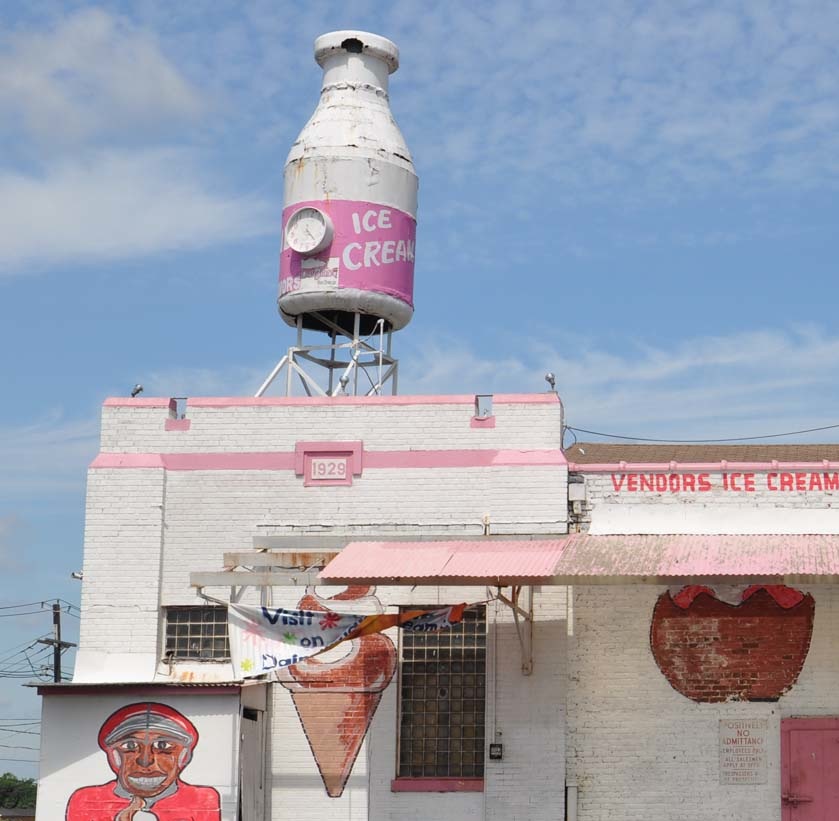 Dairyland Milk Bottle, Irvington, NJ; installed on the roof of Dairyland, an ice cream parlor. The bottle is 9 feet tall and made of metal. The clock no longer works. The Dairyland Ice Cream Company was founded here in 1900 at this building which served as a dairy production plant. In 1972, the company began focusing on ice cream.
More giant containers this way.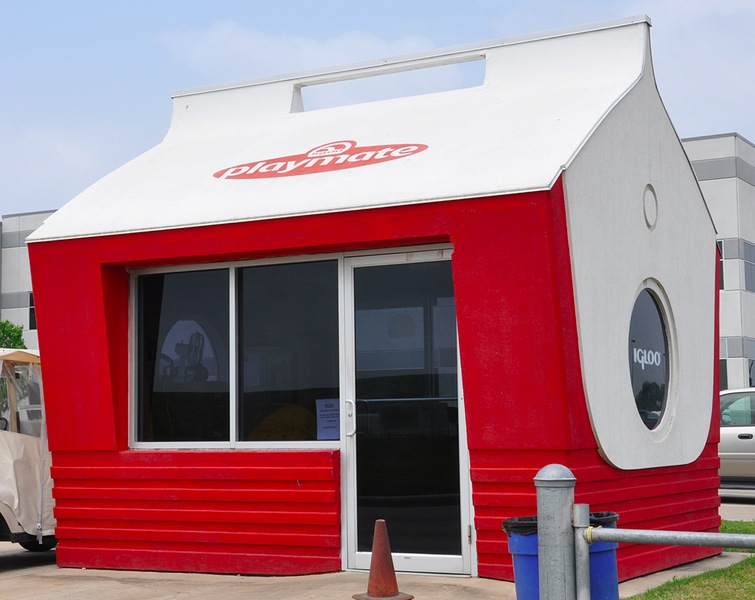 Giant Igloo Cooler, Brookshire, TX; functions as the security shack for the Igloo Products Corp.
David Adickes Studio, Houston, TX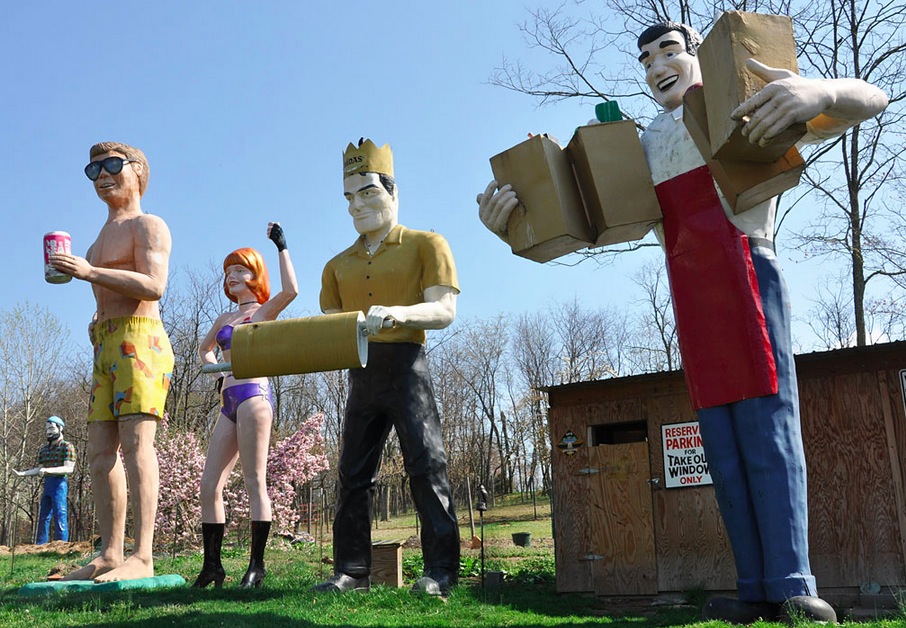 The Colossi Farnham Collection, a private collection of giant fiberglass statues in Unger, West Virginia. More info here. 
See the full collection here.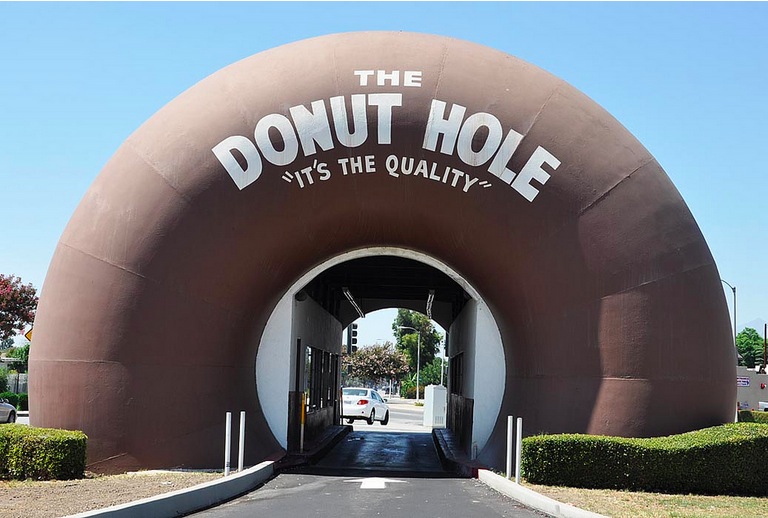 The Donut Hole in La Puente, California was built in 1968. The building features a 46 foot long drive-thru tunnel between two 26 feet tall fiberglass donuts. This La Puente location is open 24 hours a day.
More giant donuts this way.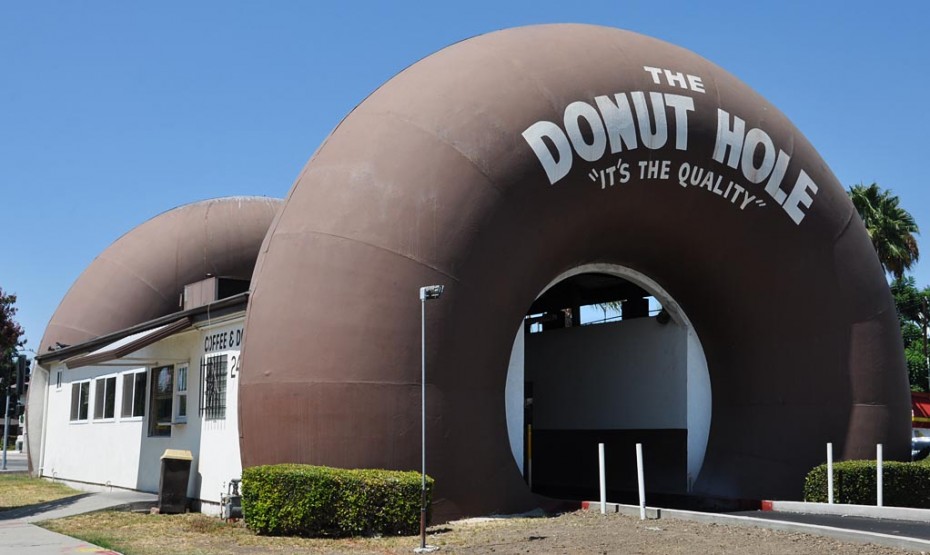 WARNING! Debra's Roadside Architecture website may just see you lose an entire afternoon. And it will be totally worth it.