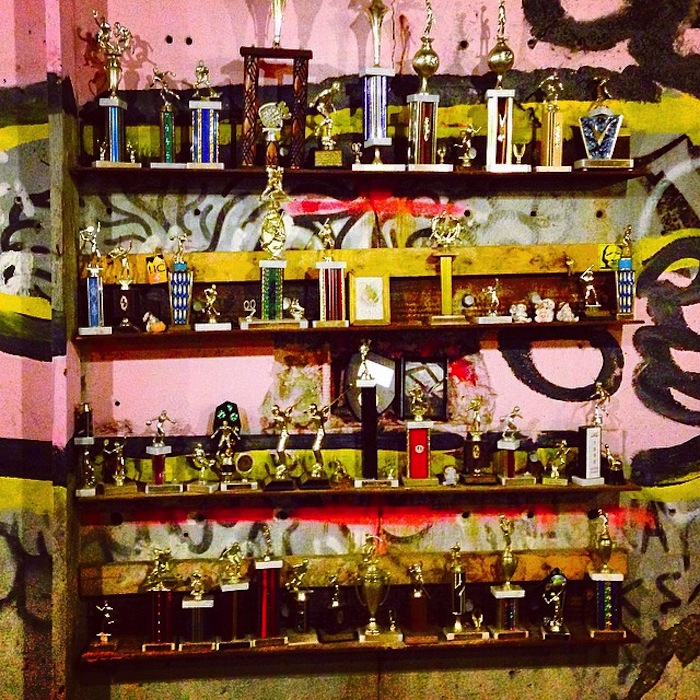 Past the construction signs on the Cambridge side of the Longfellow Bridge, a Boston landmark over the Charles River, an unexpected suprise awaits. A few perplexed passersby have snapped the display and posted it on the web, asking for more information about it…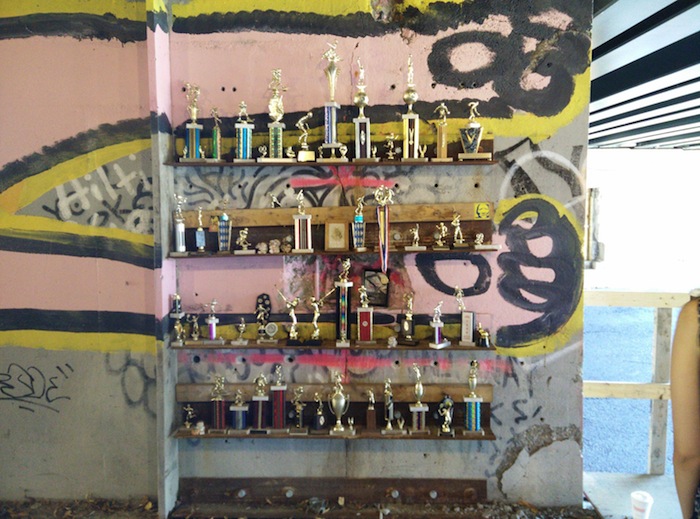 Upon stumbling upon it, you might imagine a story of a college athlete who fell from society's grace, but rumour has it, this unusual sight is actually an art installation that just "popped up" in May of 2014 and has been steadily expanding and attracting visitors who sometimes add their own trophies to the collection. Although the trophies are not bolted to the four metal shelves in any way, free to be taken, people just don't.
The trophy room has become a fun talking point under the bridge where visitors stop and talk with others about it. A graffiti artist has also painted a long, pink, multiple breasted creature as if to nurture the trophies like Romulus and Remus who suckled at the teat of the wolf at the founding of Rome.
As for the mysterious street artist behind the trophy room's conception, it appears he wishes to remain a mystery. The only trace I could find of the artist was in the comments section of this article by a blogger who stopped by the installation to add their own trophy to the shelves.
"The Trophy Guy" wrote: Thanks for adding to the Longfellow Bridge Trophy room and for cleaning up the scraps. I added 6 new trophies last week and am hoping to find some winter sports trophies such as skiing or iceskating.
Here's a short video clip uploaded in May of last year when the trophy room first appeared (before the graffiti work was added):
Hoping to see this trophy room flourish on a somewhat forgotten end of the Longfellow Bridge. Any more information on this mysterious little installation and its creator is most welcome. And any Bostonians reading, do let us know how the collection is coming along in the future!
Found via Reddit.