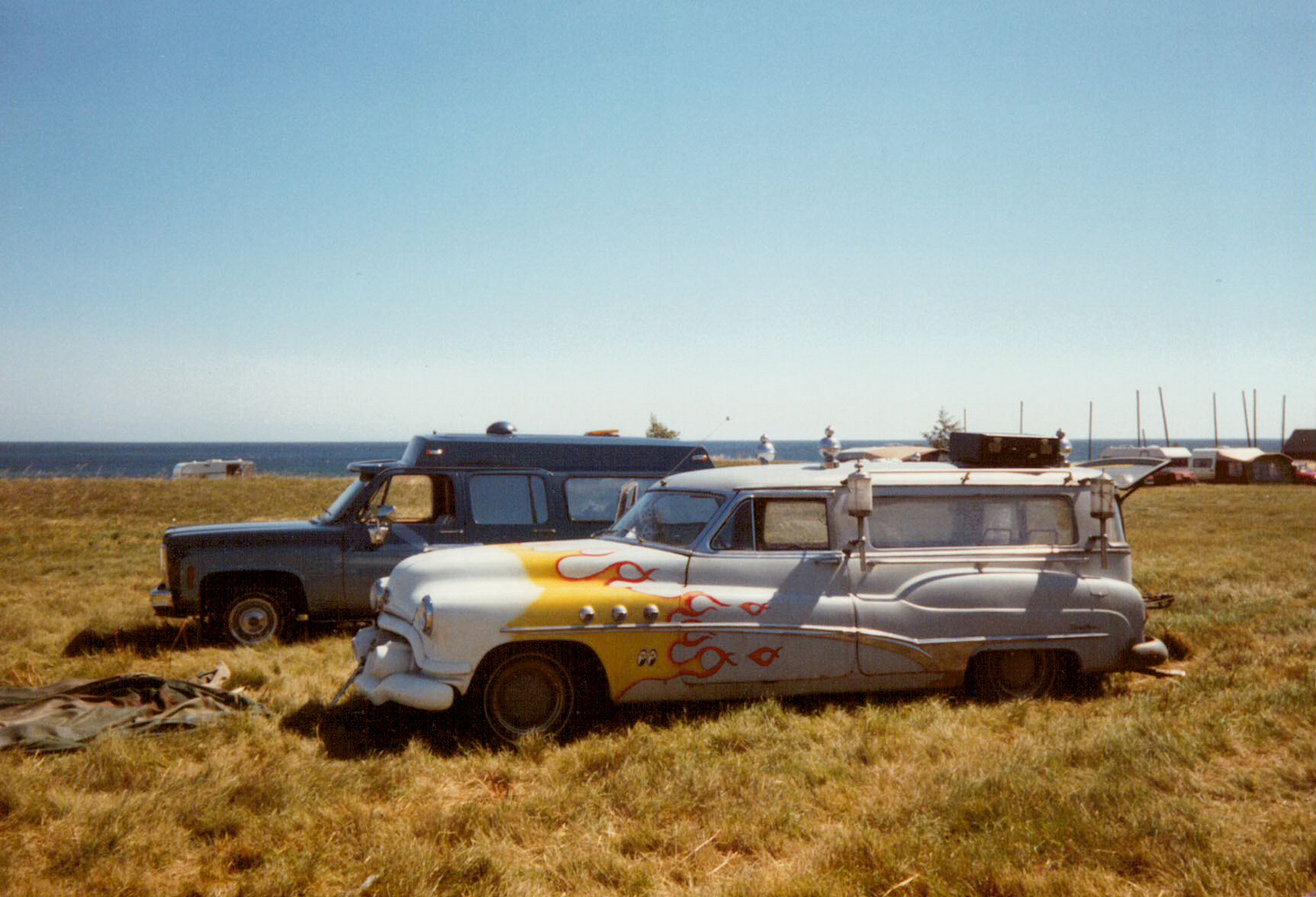 I started this article because I was researching a Scandinavian subculture of 'greasers' said to be responsible for Sweden having amassed more restored American 1950s cars than the United States itself has today. The "Raggare" movement, which emerged from a post-war youth counterculture mainly in Sweden and parts of Norway, is known for its undying love of vintage American hot rod cars and 1950s pop culture.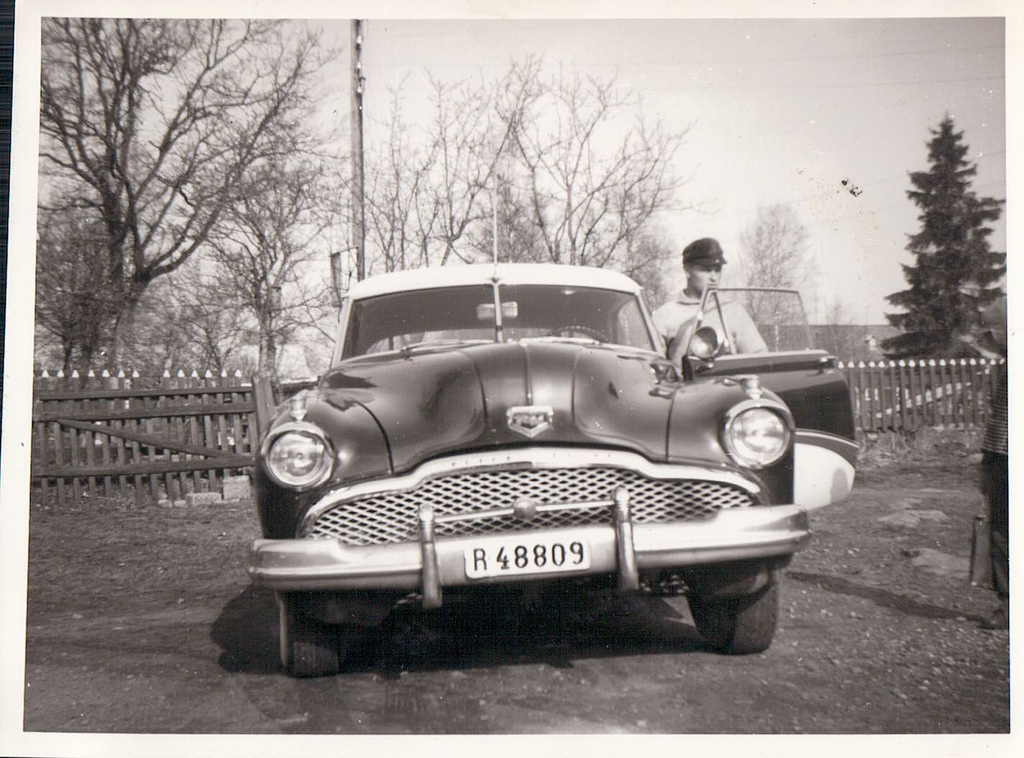 We'll look at this unlikely Swedish subculture in more detail in just a moment, but while researching the Raggare, digging through forums and old photo albums put together by members, I got a little sidetracked when it led me to a staggering amount of abandoned automobile junkyards scattered around the Swedish countryside, filled with American cars, piled high and rusting away far from home…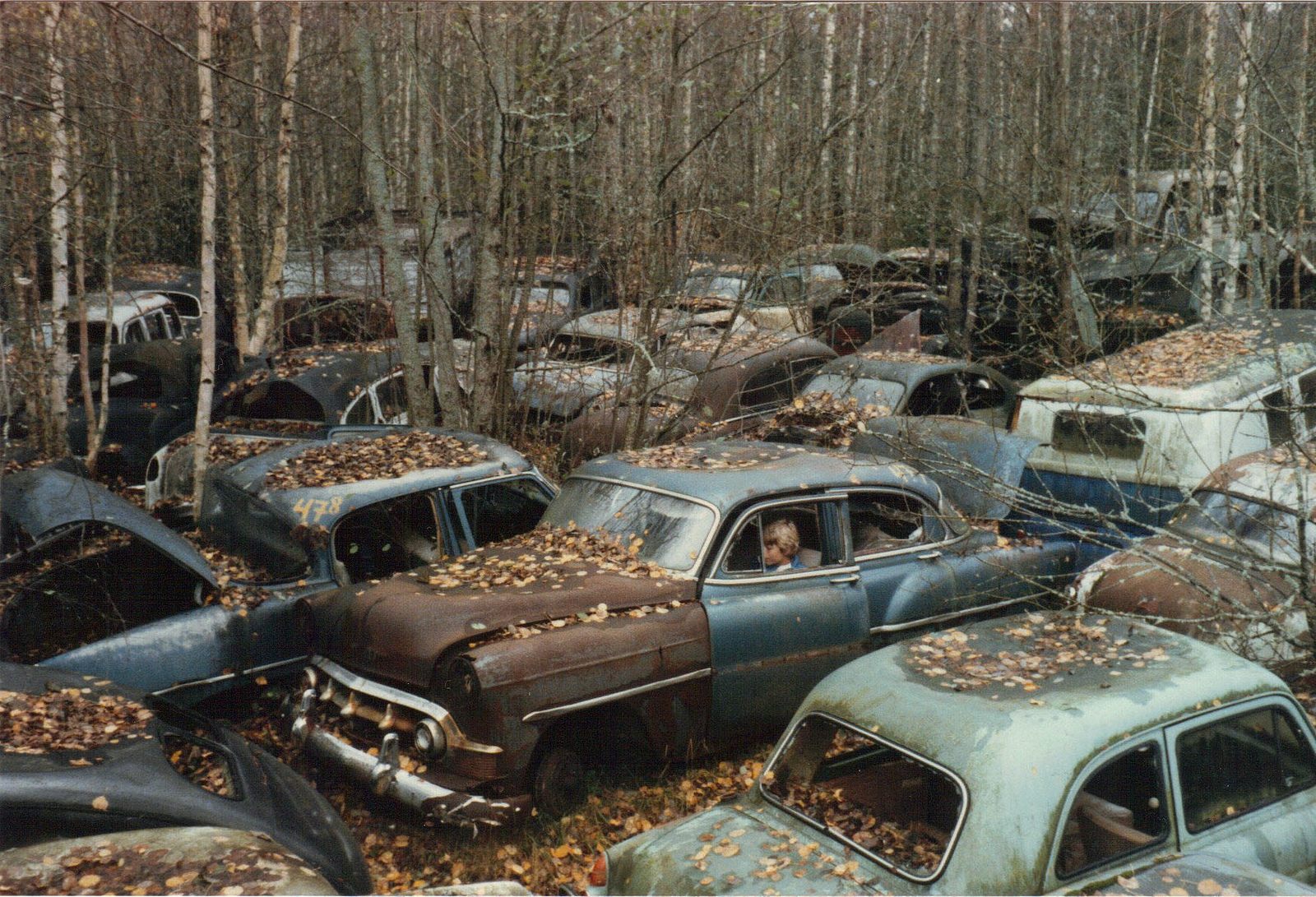 One of the most interesting sources I found was the Flickr page of a mechanic called Mike (who goes by "MadMike64" on the online photography platform) from Gothenburg, Sweden.
Mike's albums are filled with memories and old photos of the Raggare at car meets from the 1950s onwards. It's a car lover's online scrapbook of American Buicks, Cadillacs, Chevrolets, lovingly restored by the Swedish greasers…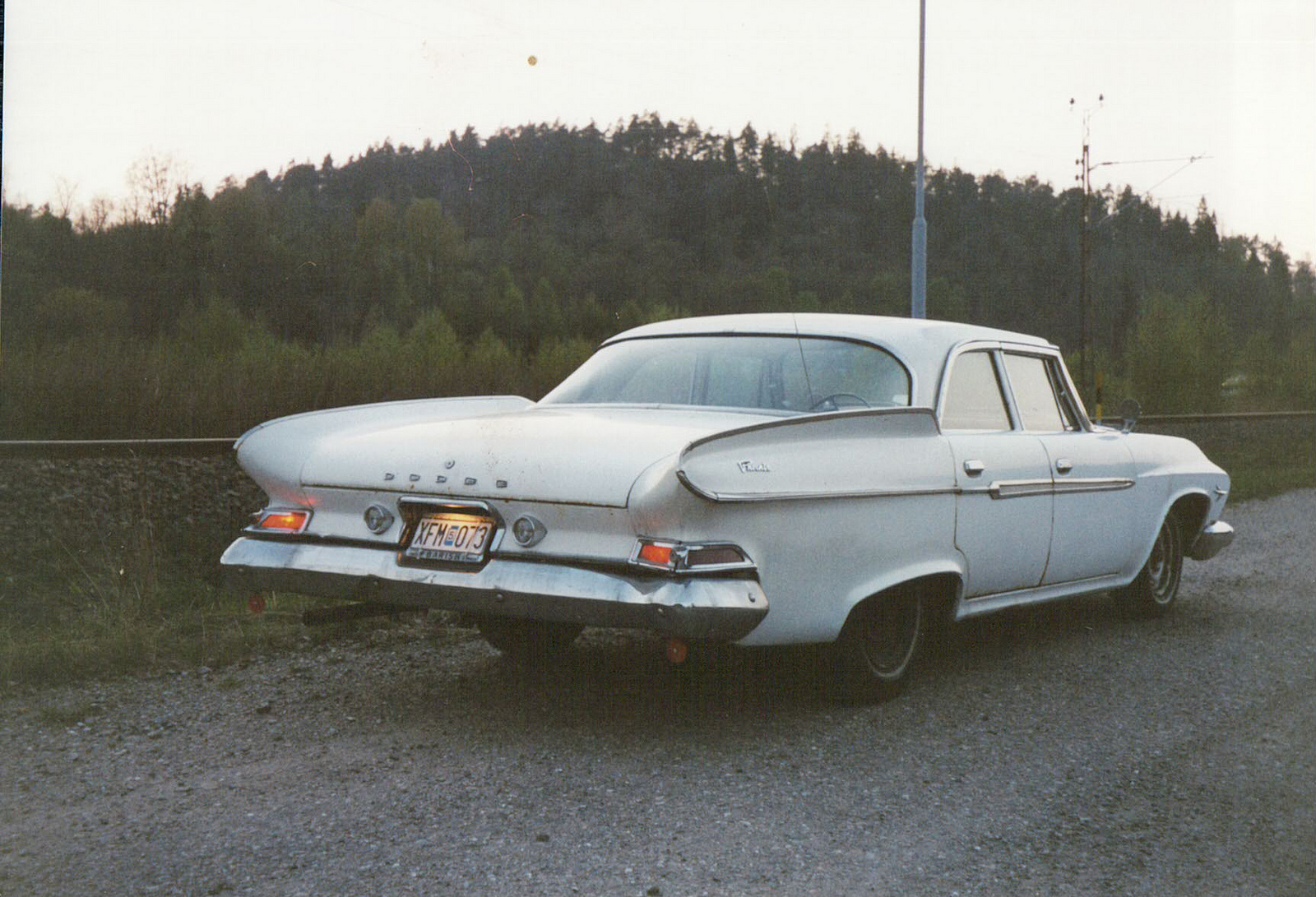 1961 Phoenix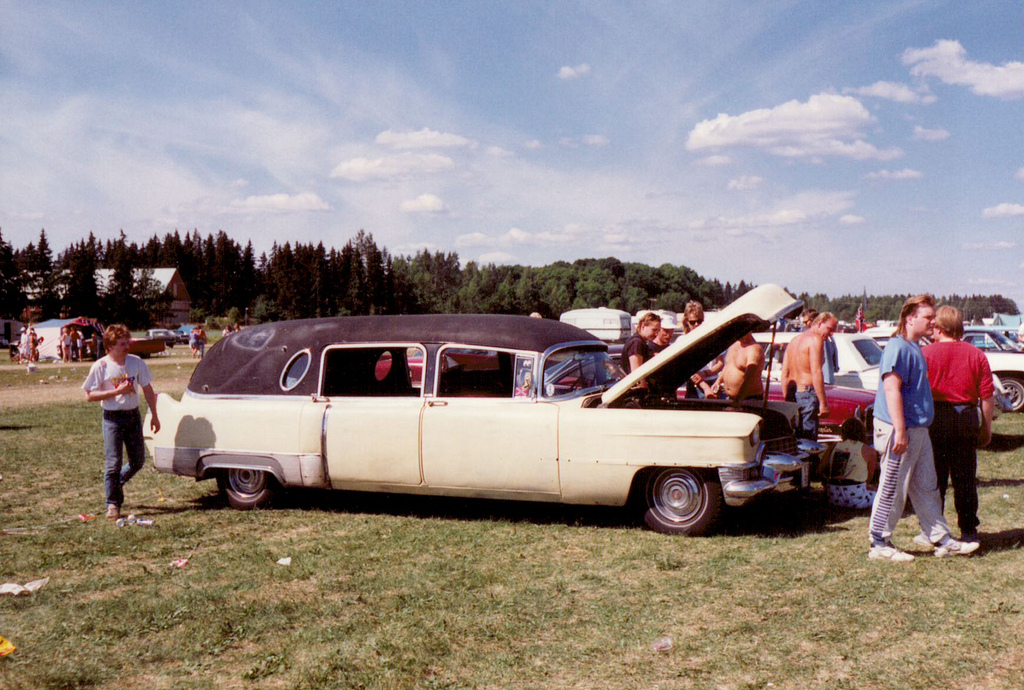 1954 Cadillac Hearse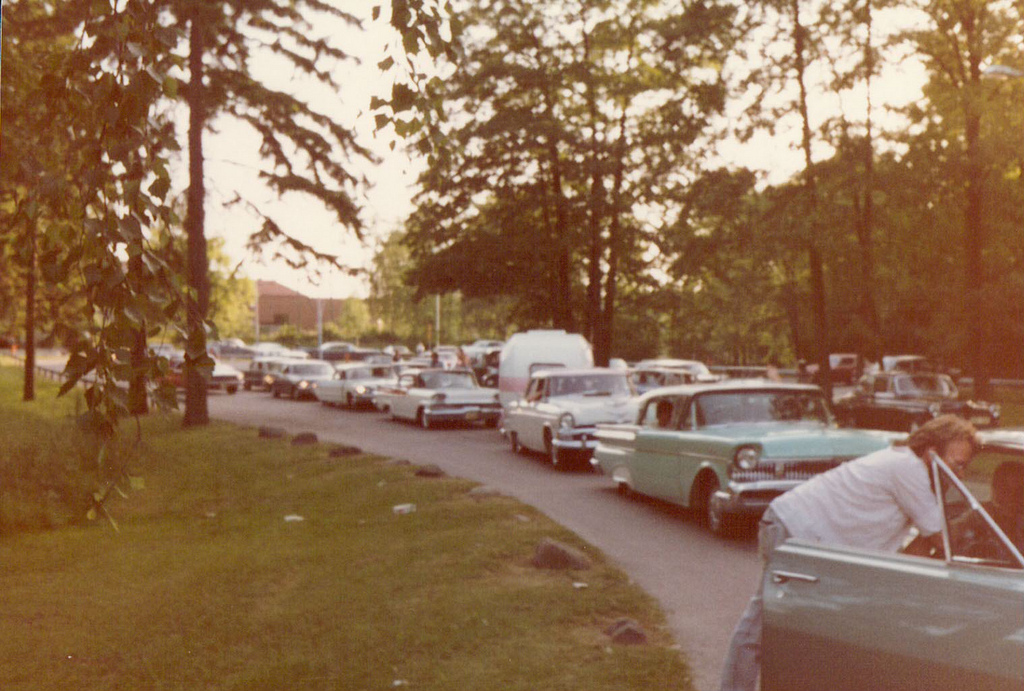 Midsummer in Sweden, 1983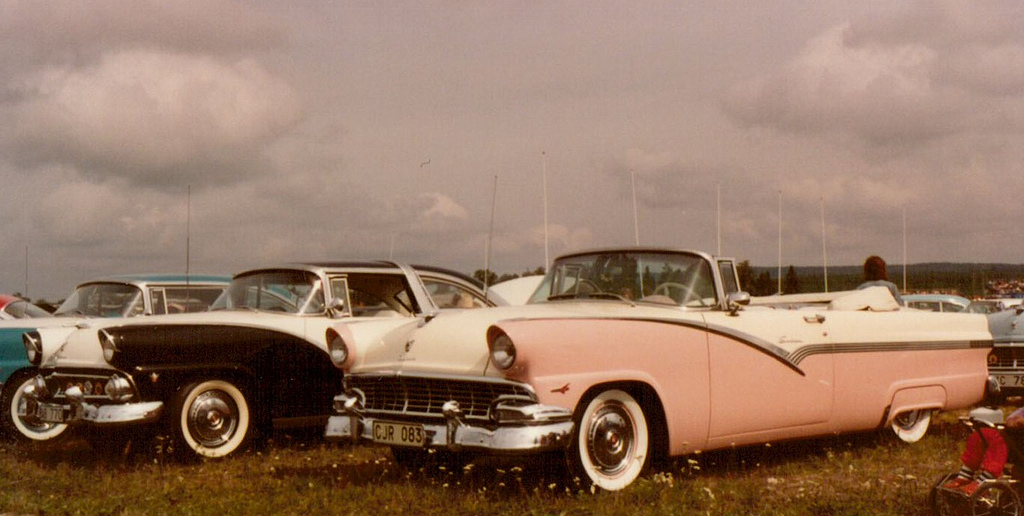 '56 Sunliner
But perhaps even more interesting are his junkyard albums…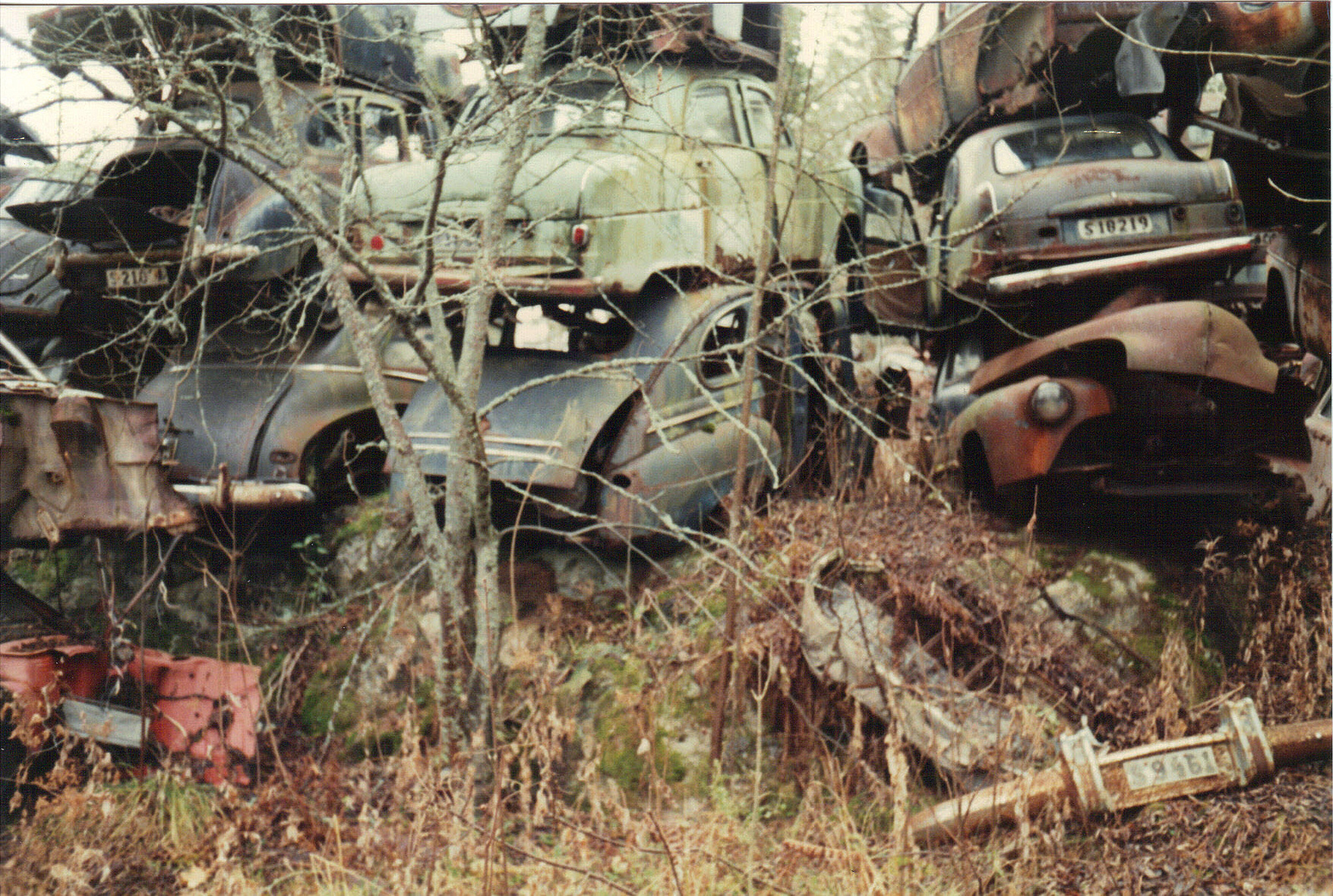 One after another, Mike's collection of junkyard albums open up to ghostly graveyards of decomposing metal corpses, once kings of the American road, now at the mercy of nature.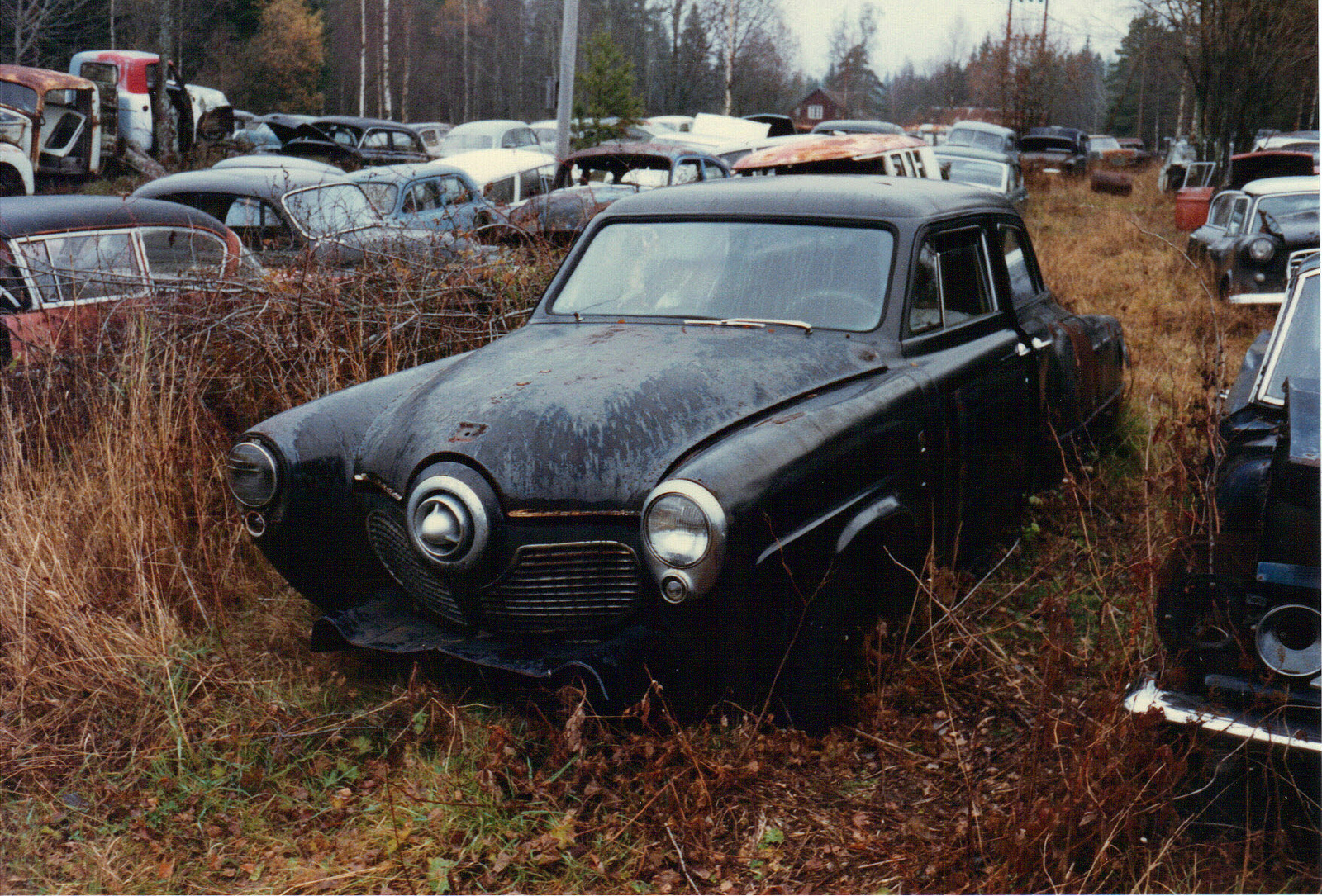 An abandoned Studybaker
With as many as 10 different albums, labeled "Local junkyard", "Eda junkyard", "Osby junkyard", "Töksfors junkyard", "Behind the old service station", the devoted member of the Raggare movement (his dad was also a raggare) has clearly found an abundance of them over the years, tracked down at the end of unmarked dirt roads, deep inside forests or just on the outskirts of town, almost as if they were as common to find in Sweden as a Ford dealership in America.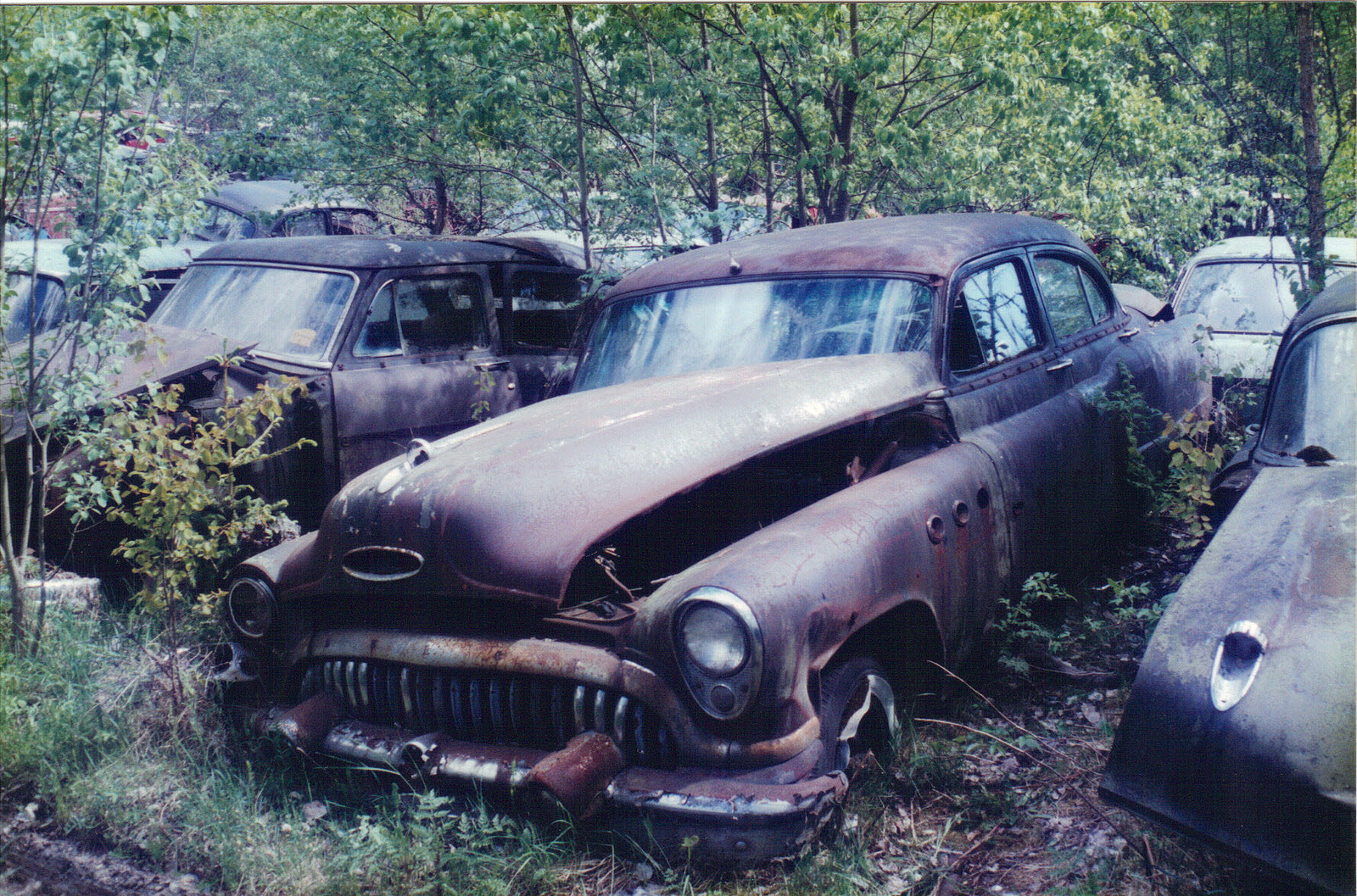 1953 Buick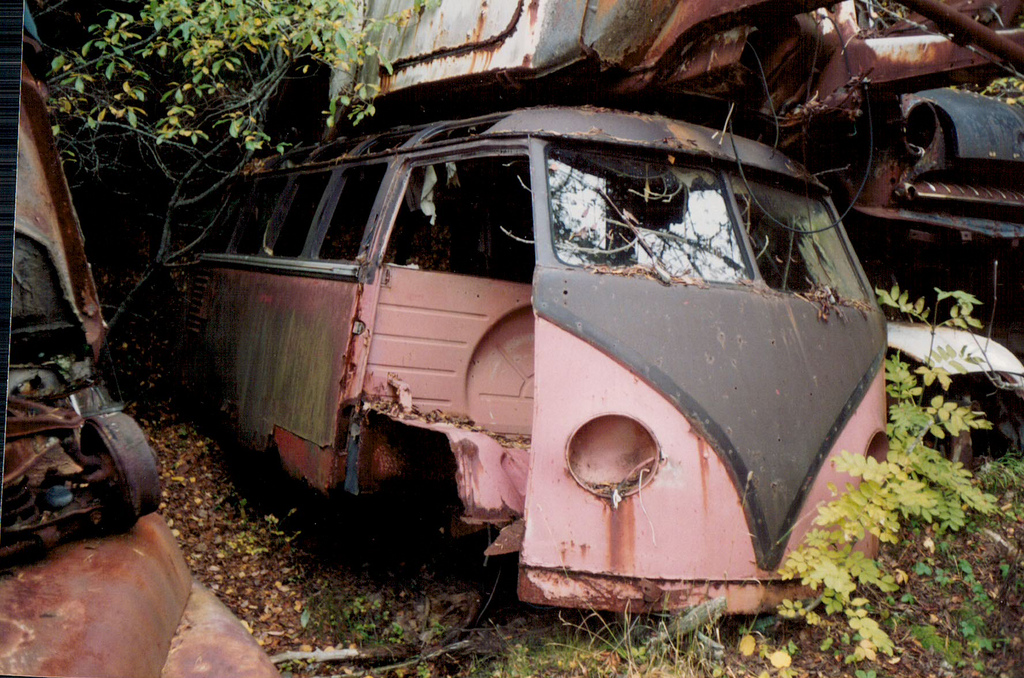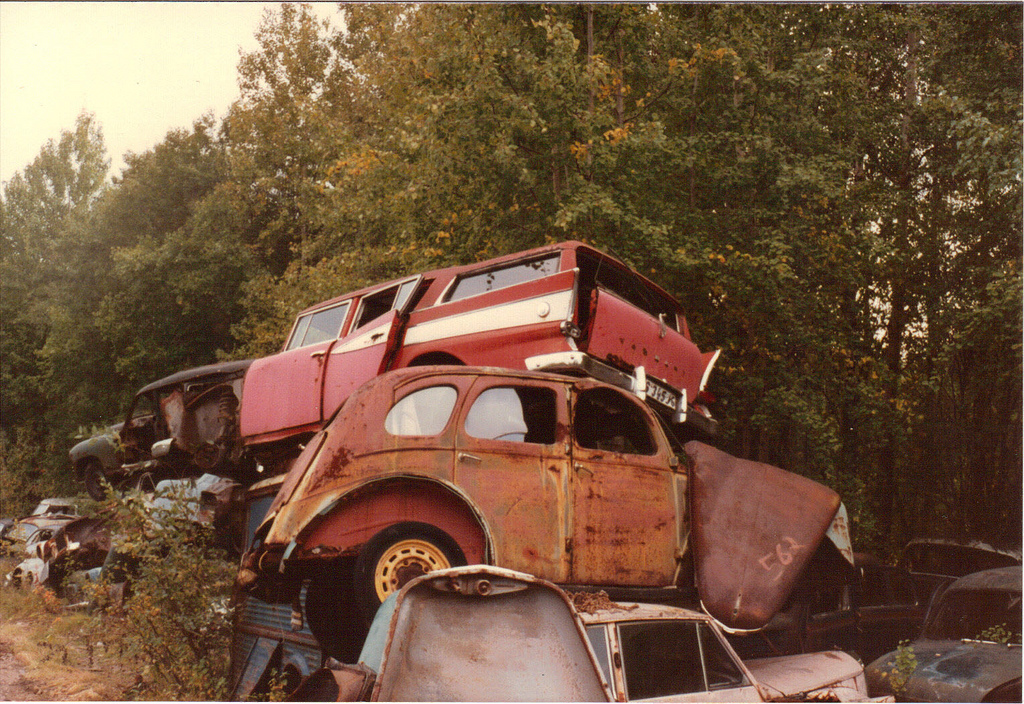 One of the more famous junkyards, which has almost become a tourist attraction of sorts for urban explorers and vintage car enthusiasts. is the Båstnäs Car Graveyard.
Deep in the Swedish woods, there lies an army of more than a thousand abandoned cars, decaying since the 1950s. The land was once owned by two brothers who opened a scrapyard business for cars left behind by U.S servicemen in Sweden and around Europe after WW2. Disassembling the cars and selling them off to Norway for parts was big business in Sweden at the time. Norway had been left a poor country after the war and car parts were near impossible to get. Junkyards popped up all along the Swedish border and Norwegians were their best customers.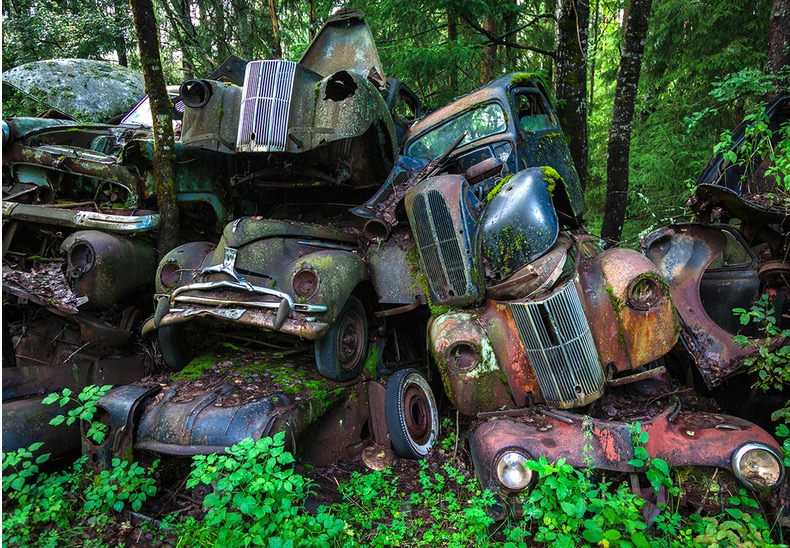 The brothers who owned Båstnäs lived on the land and continued selling abandoned American cars up until the 1980s. Today you can still the see the forgotten cars strewn around the land, filling the fields surrounding the brothers' two dilapidated homes.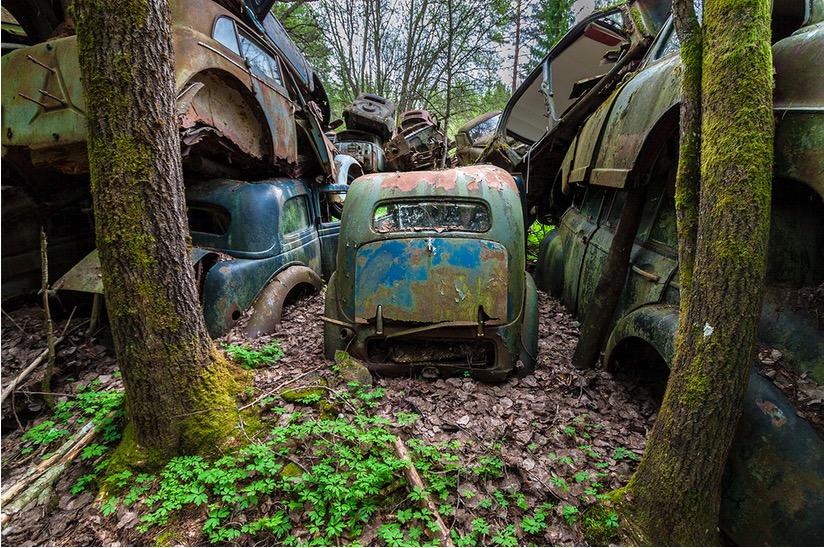 If you're ever interested in visiting it, the GPS coordinates are 59° 21′ 43.14″ N 11° 50′ 20.29″ E. You can visit it virtually on Google (and you can actually see the cars from Google Earth).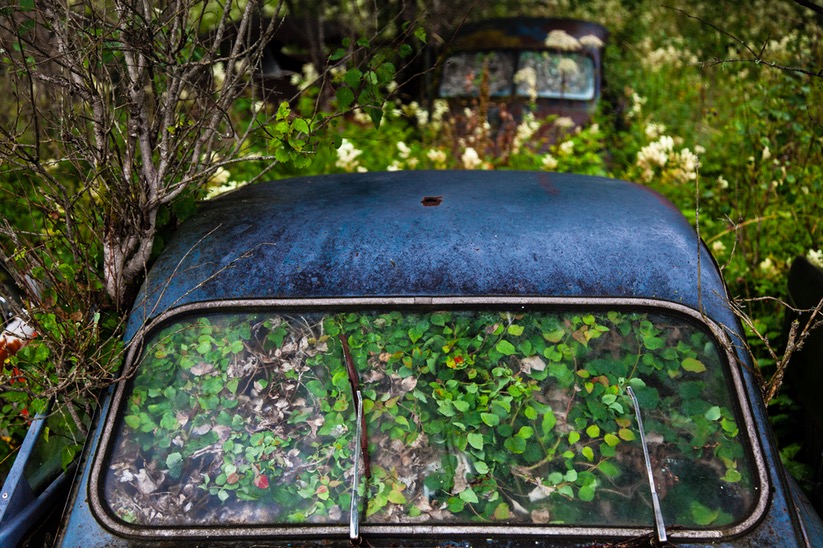 You can also see much more of this incredible graveyard on photographer Svein Nordrum's website here.
While many Swedes are demanding the country's junkyards be removed and the forests cleaned up, ironically, environmentalists are pleading for them to stay, arguing that wildlife have made nests in the automobile remains. And if they get their way, the cars will remain until they're dust.
Another notable and still active Swedish junkyard I came across stashing old American cars in the Scandinavian woods, is Bloms Bilskrot, about 400km north of Stockholm. It's so huge, it allegedly takes several days to explore properly.
Over here is a different Swedish automobile seller claiming to have the biggest inventory of vintage American cars on this side of the Atlantic sitting in a forest. So you're probably starting to get the idea…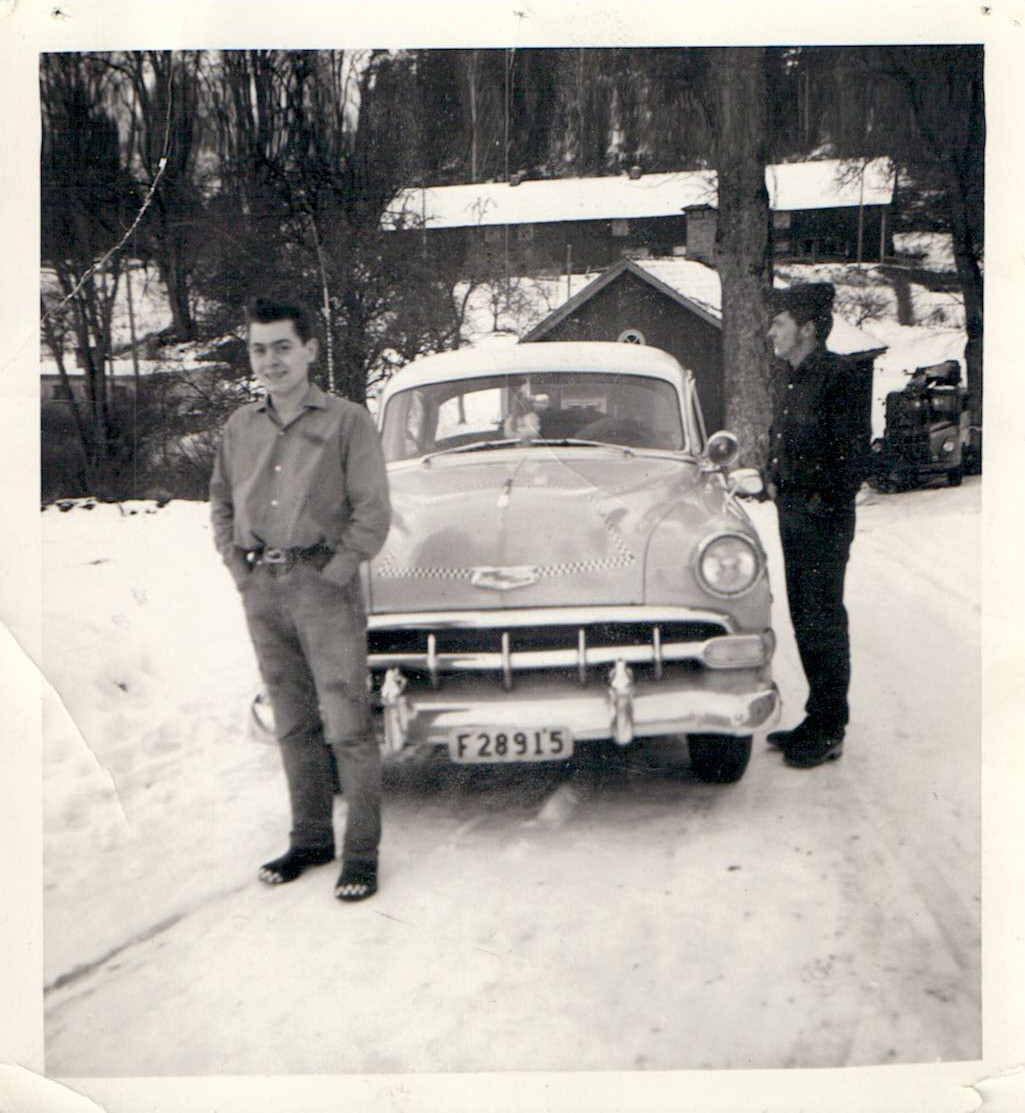 If I was looking for an answer as to why or how a subculture like the vintage car-obsessed Raggare emerged in Sweden, I think I found my answer. When you have more 1950s rides lying around in your back yard than even America has, the greaser pop culture and dressing like James Dean starts to make more sense.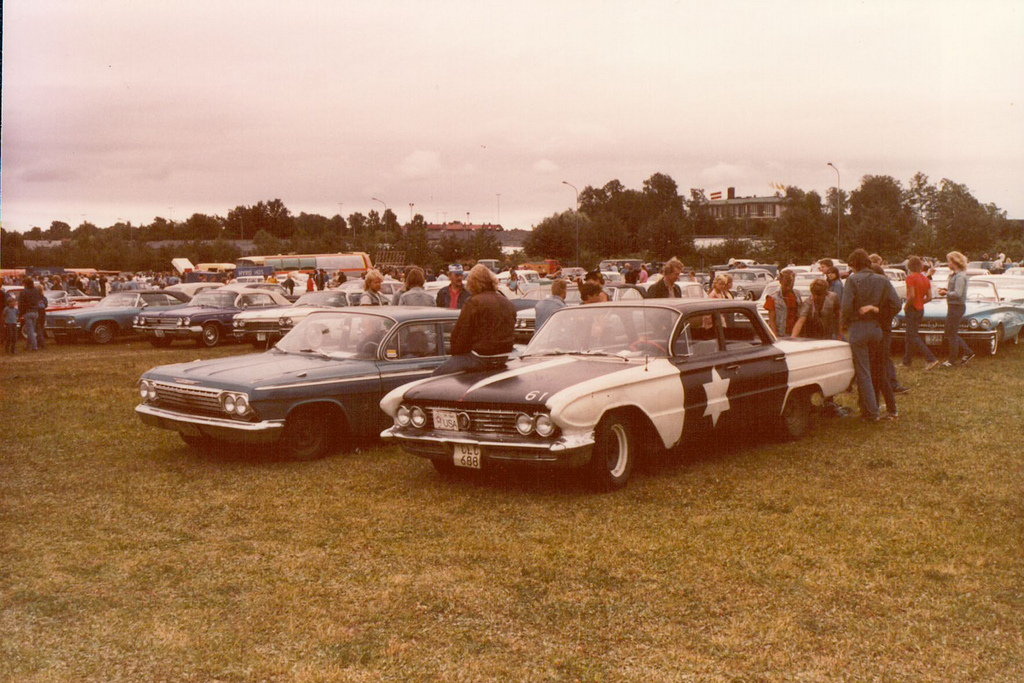 From Mike's Raggare albums, above: 1962 Impala and 1961 and a Buick lesabre at the Power Big Meet, Sweden, 1984. Below: 1959 Galaxie built in the 60`s, wrecked in the 70's and restored in the 80's. 
So let's finally turn our attention to the faces of the Raggare counterculture. When they first appeared in the 1950s, they were mostly stereotyped as the bored and rebellious gangs of young men causing a moral panic in Sweden, speeding through small towns drunk on moonshine and generally creating havoc wherever they went.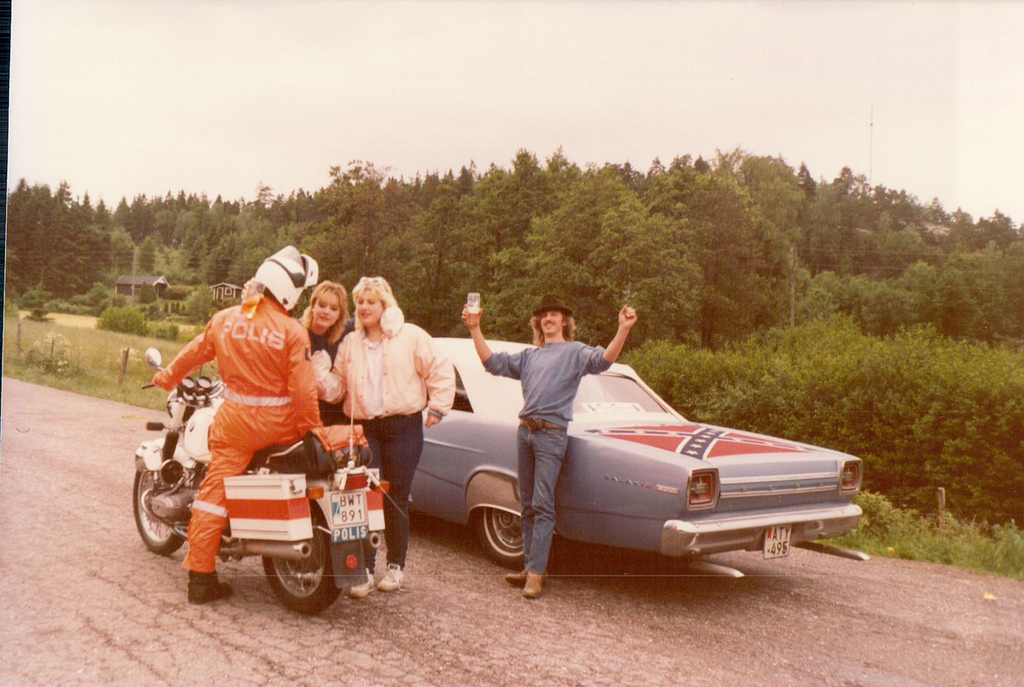 "Ragga" roughly means "to pick up girls" in Swedish and they were known to do just that; pick up impressionable young women in one town and find new ones in the next, having their "bad boy" way with them in the back seat of the car along the way.
Today, the Raggare have quite a different reputation, met with amusement or only mild disapproval by modern mainstream society. There's been some controversy about the raggare seen waving the Confederate flags while driving their old muscle cars, but to quote an article published last year by Jalopnik about the car culture, "like most cultural icons, the Confederate flag doesn't translate fully when its taken overseas … and in Sweden, it's both a symbol of America and rebellion, and not of anything with scary undertones."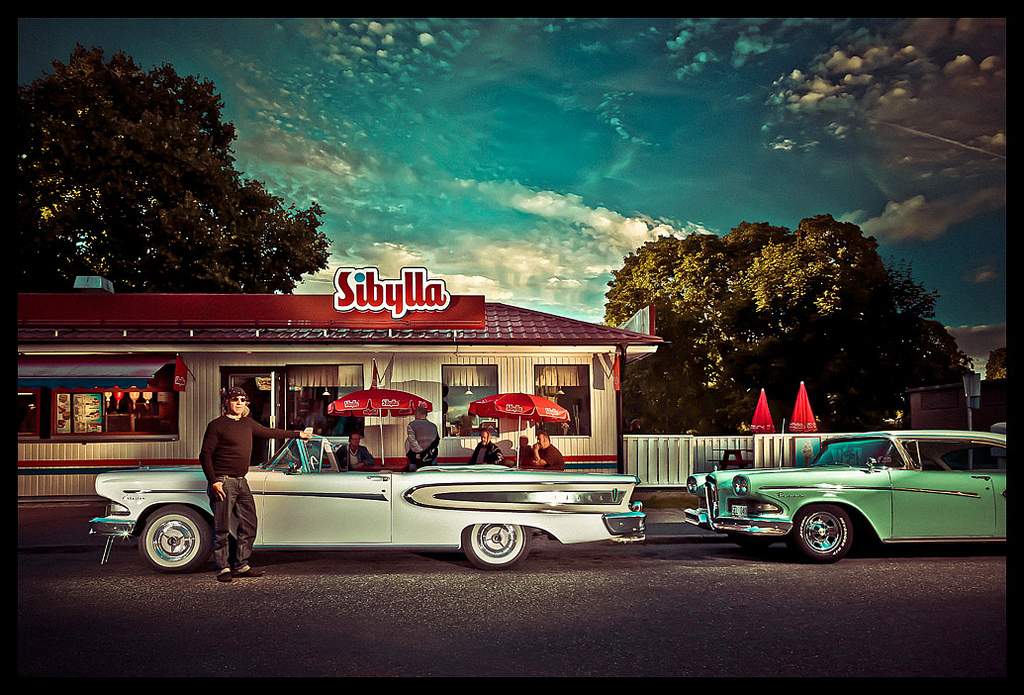 I found some vibrant photographs on by Sascha Pöltl on Flickr (full album here), perfectly capturing the raggare of today in their element…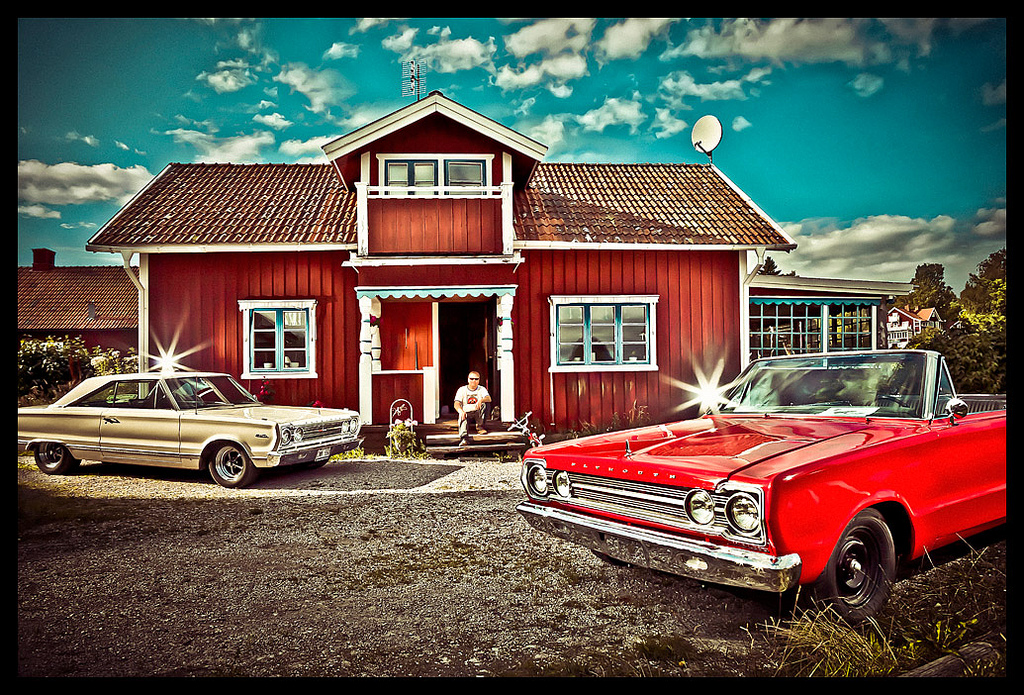 The face of a raggare nowadays is usually be that of a middle-aged Swede who simply enjoys meeting up to proudly show off their vintage restored American hot rods.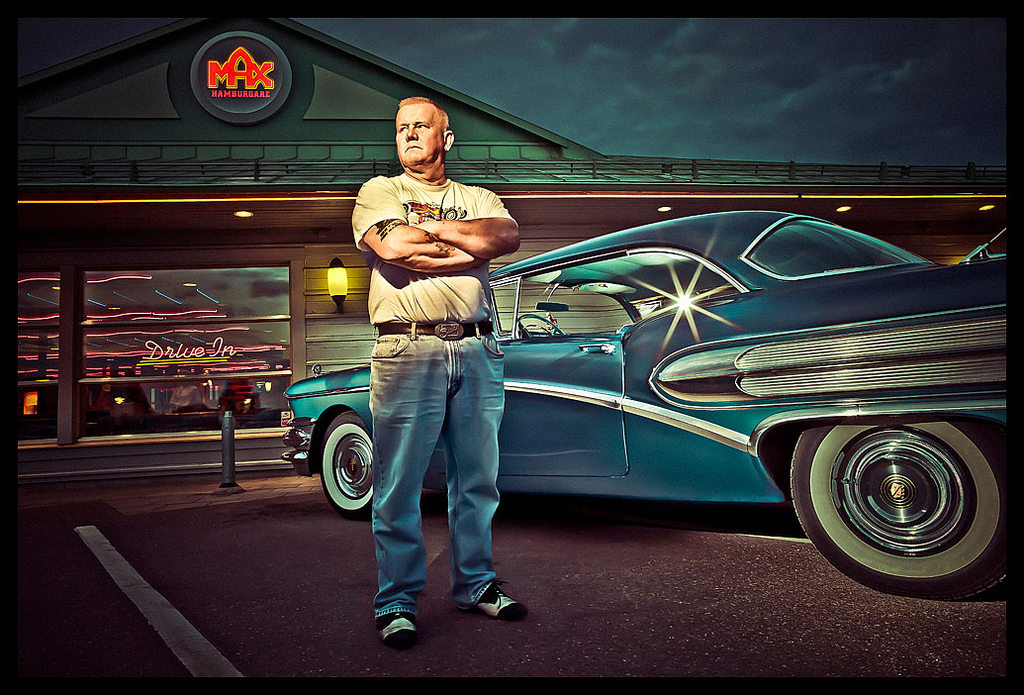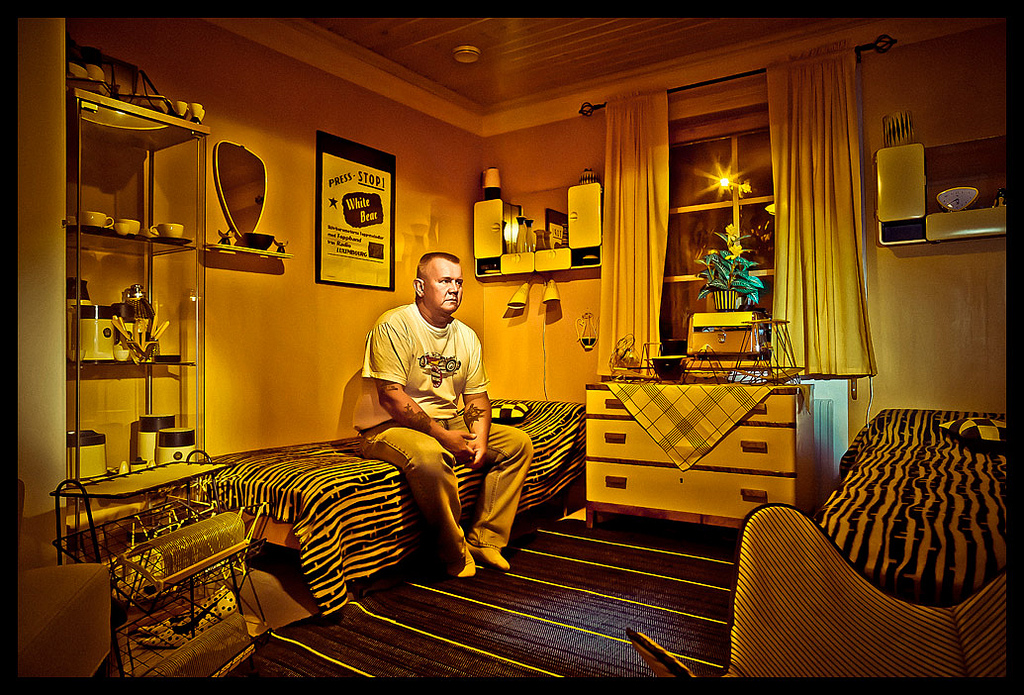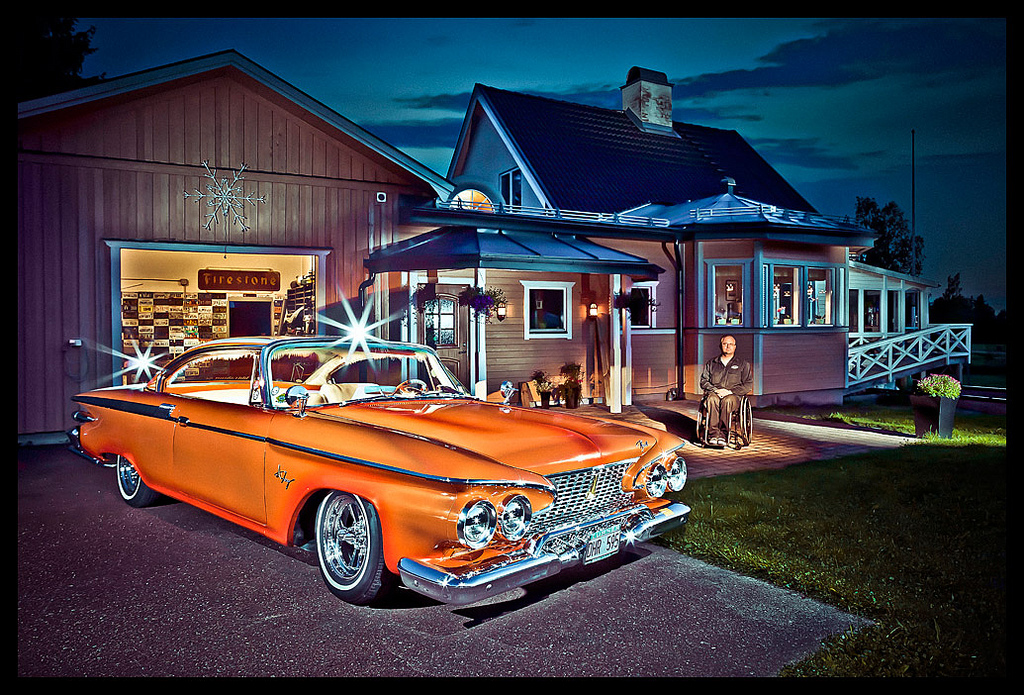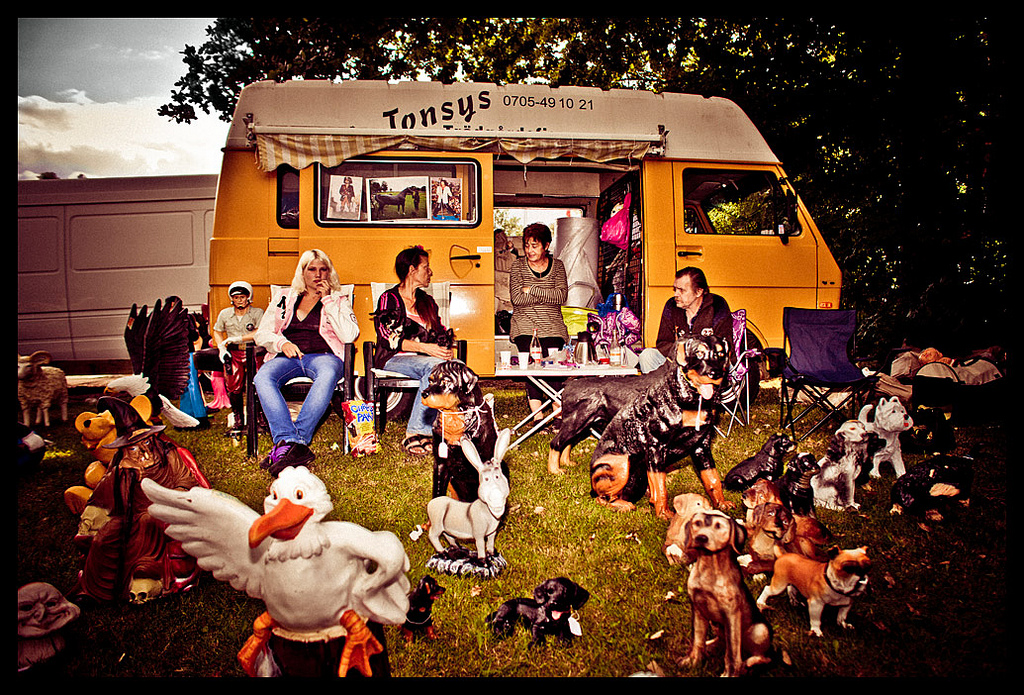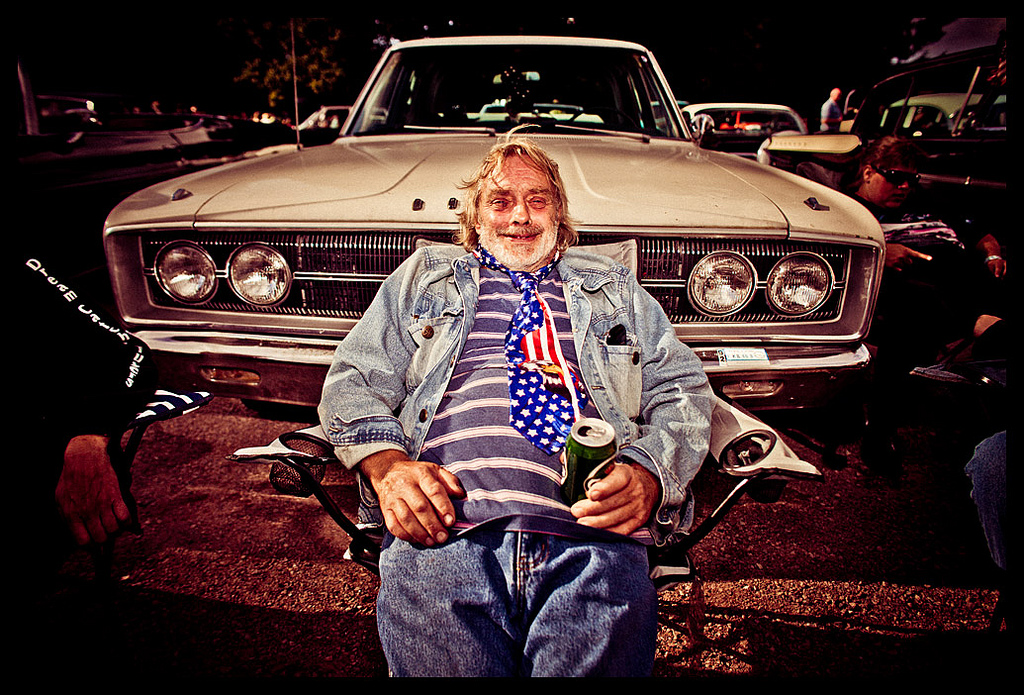 While, raggare are still sometimes depicted by the local media as "white trash", a blue collar, small town band of car fanatics, they're also the subculture behind the most famous and biggest car show in the world– the Power Big Meet.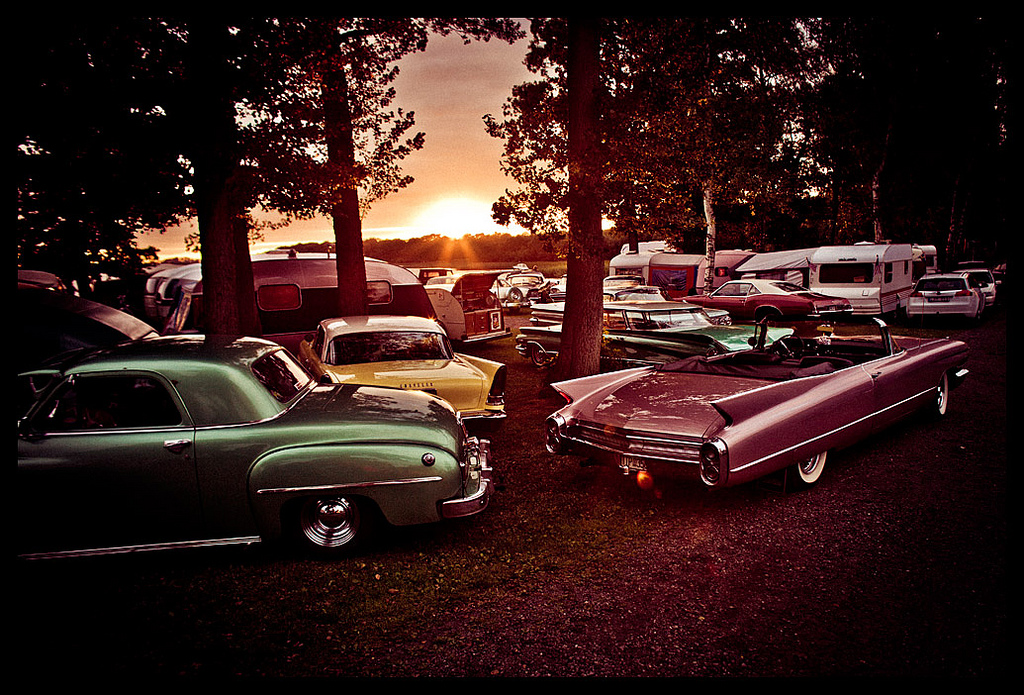 Held each summer since 1978 for enthusiasts of old American cars, in 2014, a record 17,000 cars participated and 200,000 visitors showed up.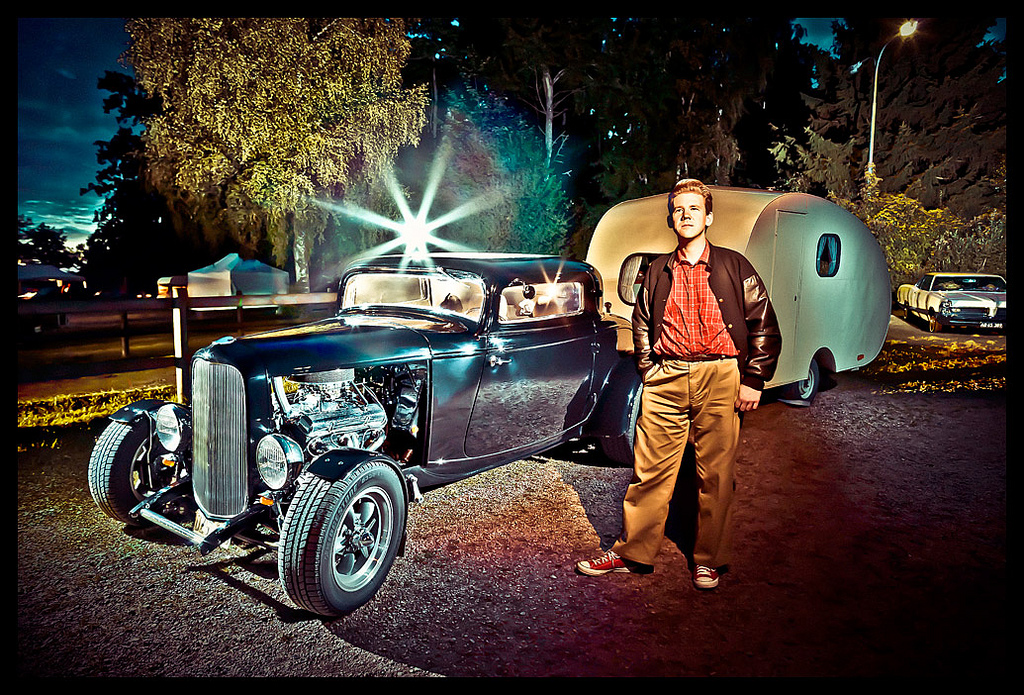 Between 4000 and 5000 classic US cars are now imported to Sweden each year, and in recent years there has also been a resurgence of younger raggare and the culture's archaic attitudes towards women seem to have been left well in the past.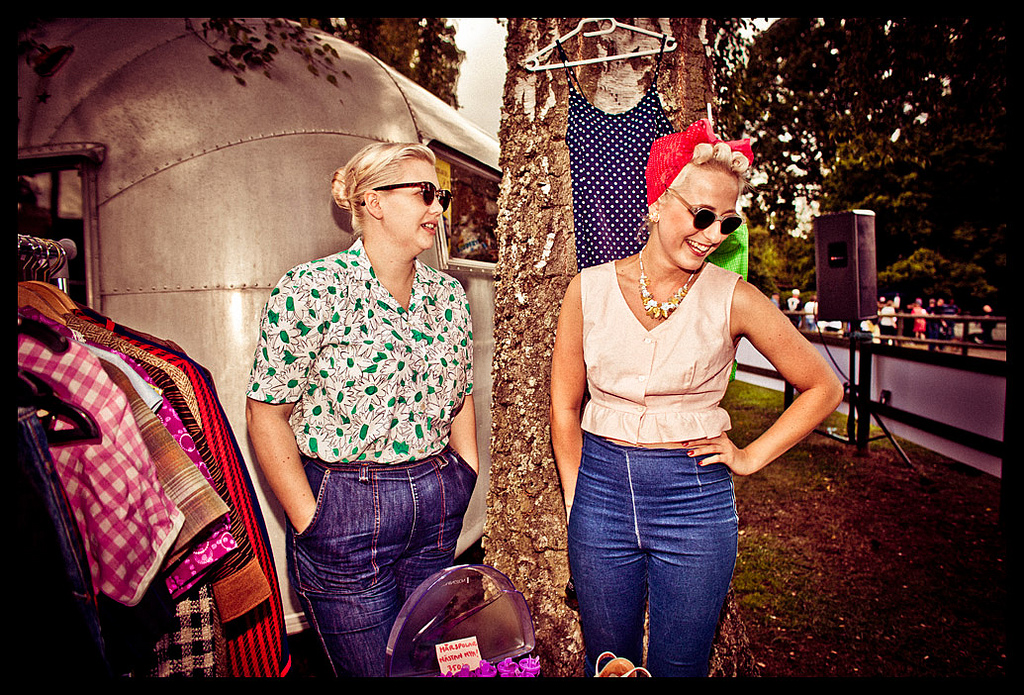 So if you have a thing for "American Graffiti" subcultures and vintage rides, particularly ones rotting in the woods, it looks like you might have a new reason to book a ticket to Sweden.