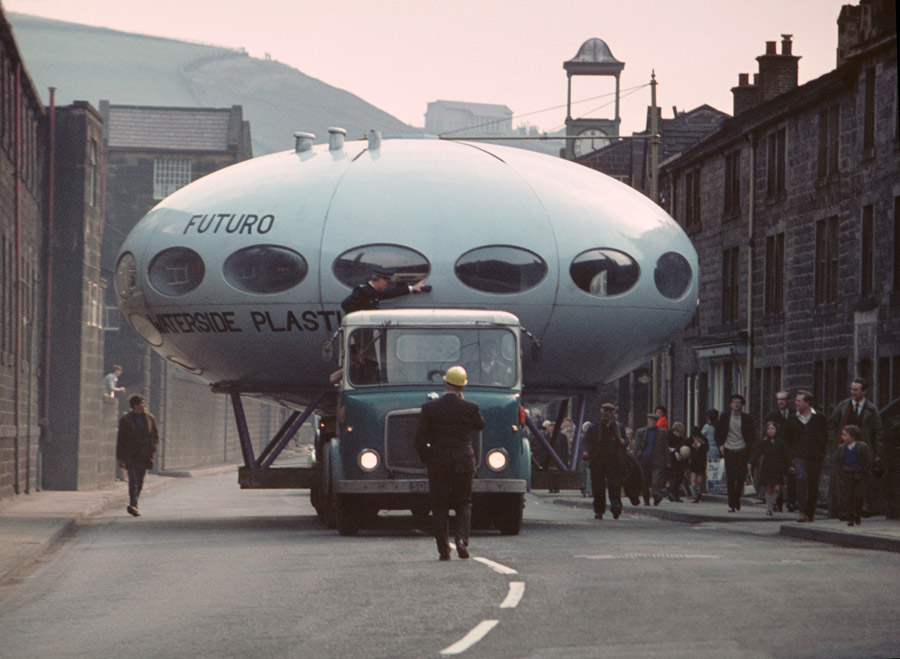 I'm a fan of most of the design that came out of the sixties, but if there's one thing I just don't get, it was the Futuro House. Designed in 1968 by Finnish architect, Matti Suuronen, fewer than 100 examples were built, inspired by the post-war futurism and space exploration. It has become an iconic piece of mid-century architecture, conceived as a "portable" ski chalet. Portable? At least, that's what the brochure said…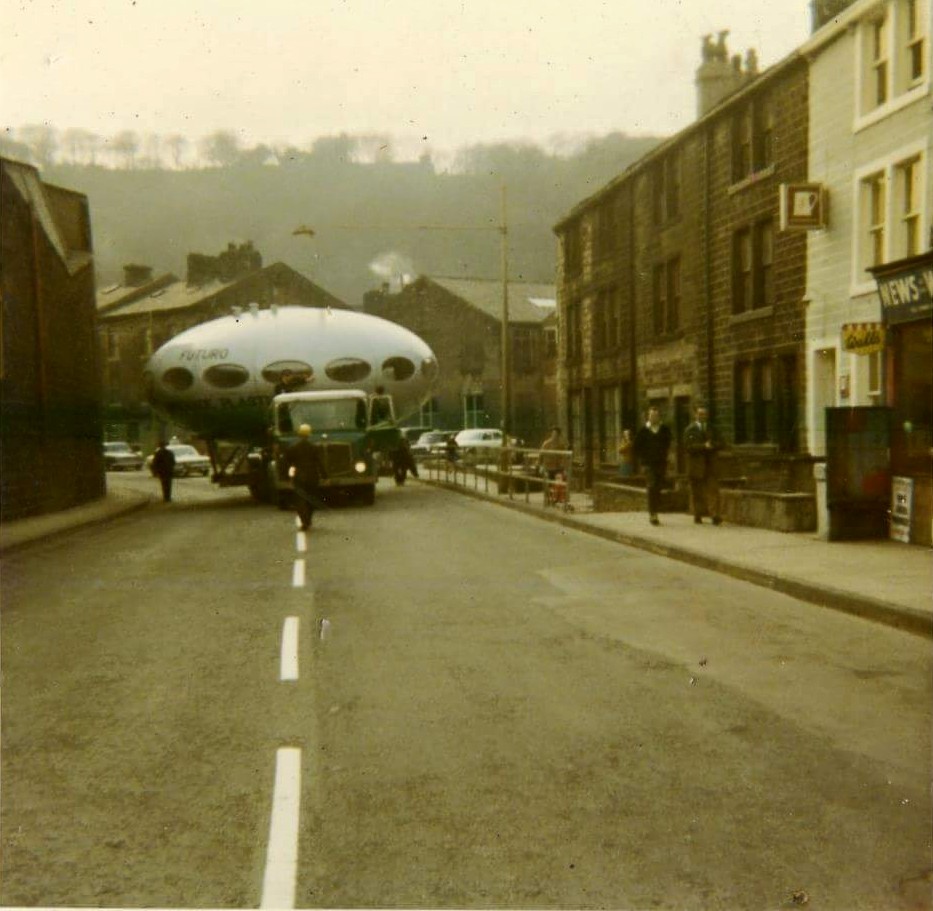 There's an example of a Futuro home on display inside one of the warehouses at my local Paris flea market, and I've never given it much attention, finding its UFO-inspired design just a little too obvious for my taste. But then I stumbled upon a collector's blog devoted to the Futuro House, with some pretty wacky old photos of this 'thing' being transported, by road, air and sea, during its brief moment of glory.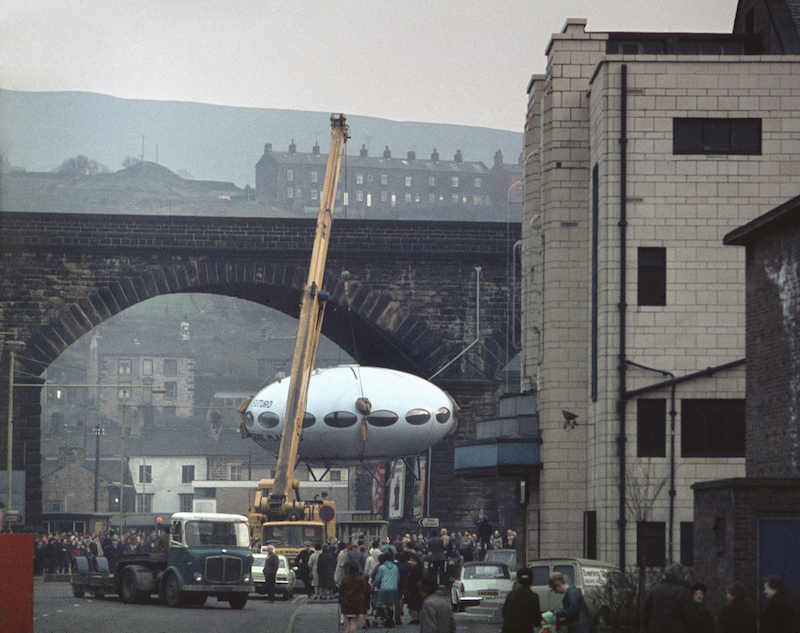 What a spectacle! According to the marketing brochures, the house could be constructed on site, or dismantled and reassembled on site in two days, or universally transported, even airlifted in one piece by helicopter to the site.
Well how very convenient…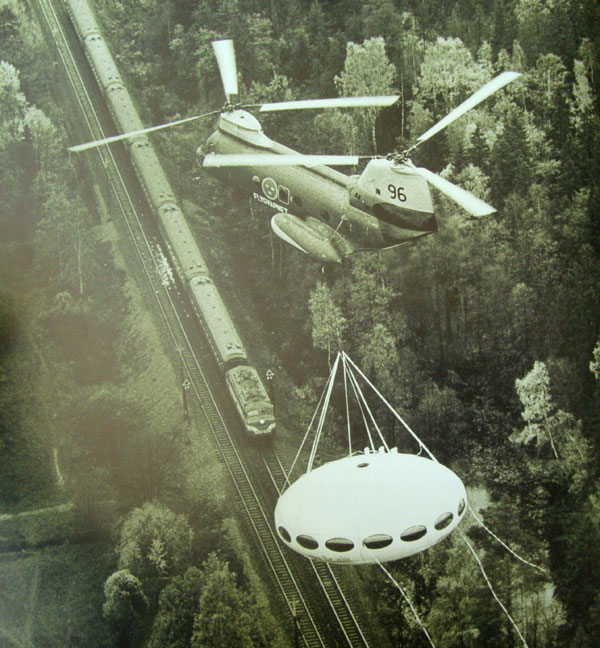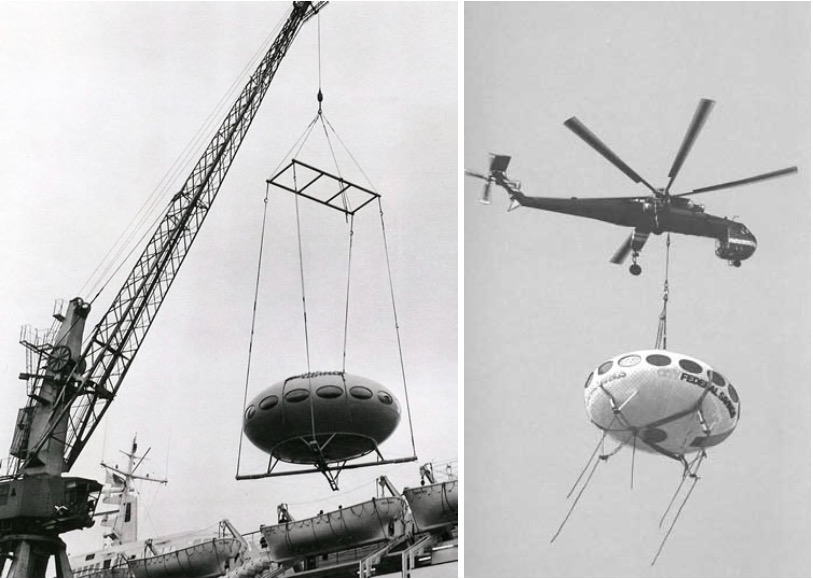 Composed of fibreglass-reinforced polyester plastic, measuring 4 metres high and 8 metres in diameter, consisting of 16 elements that were bolted together to form the floor and the roof, it promised to be "quick to heat and easy to construct in rough terrain."
Sure.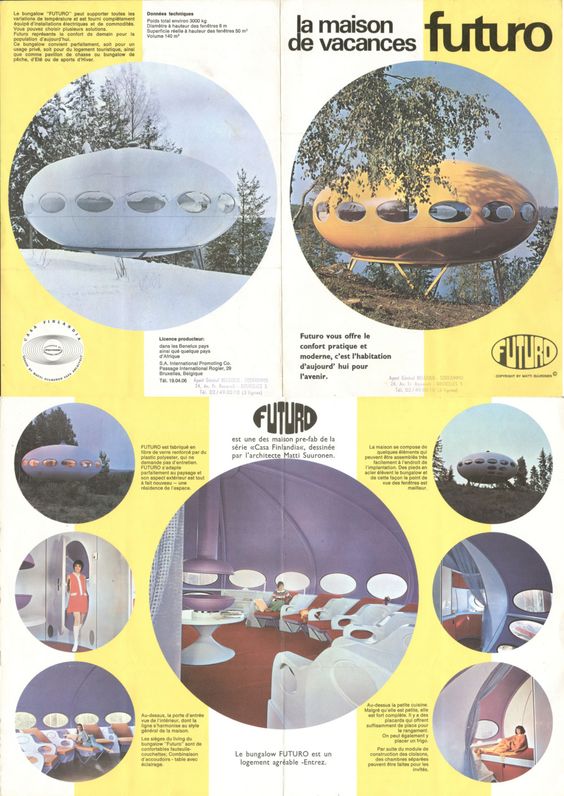 The 1970 issue of Architecture d'aujourd'hui described the house as ideal for very cold mountains or even by the sea. "The first model in a series of holiday homes to be licensed in 50 countries, already mass-produced in the United States, Australia and Belgium".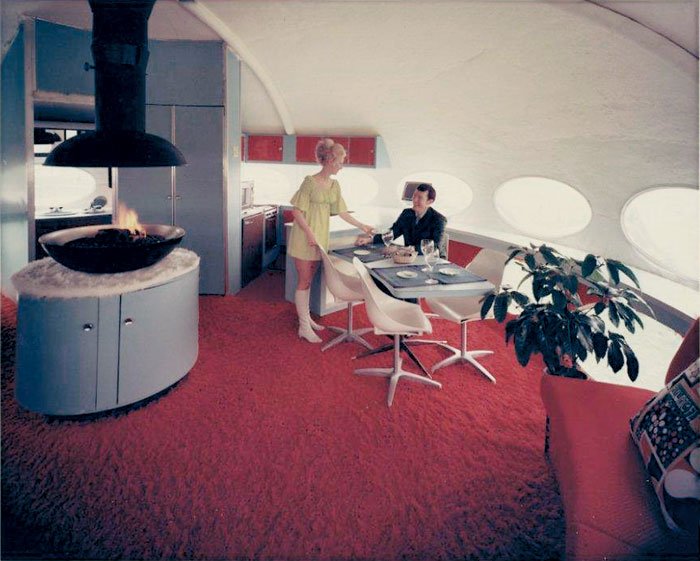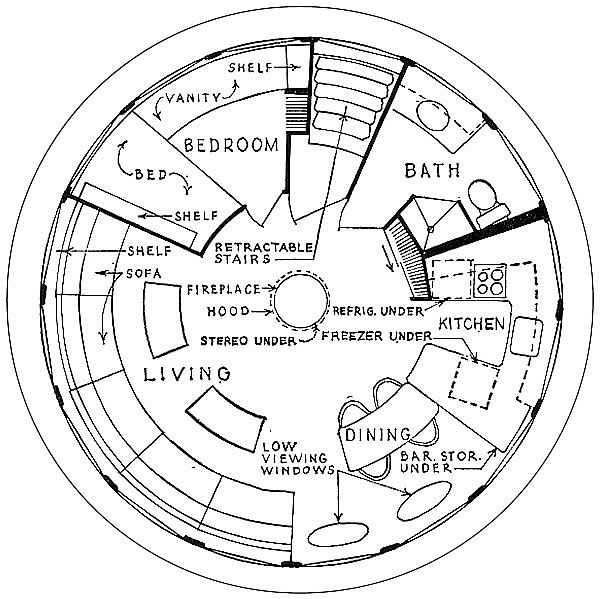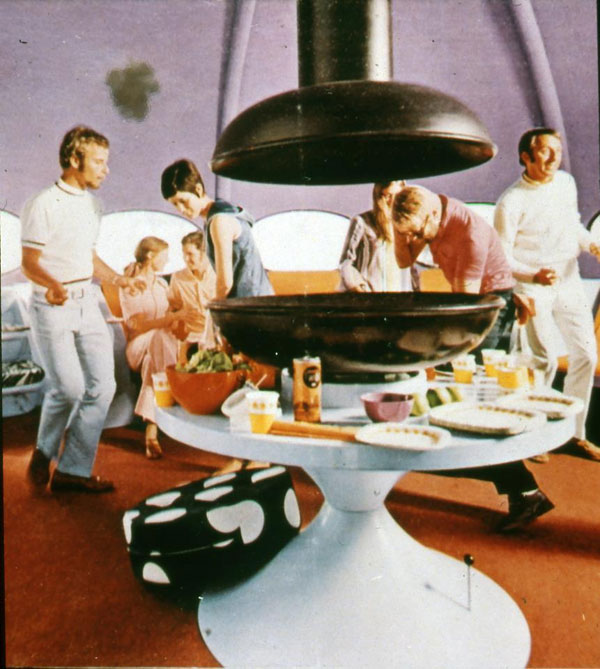 Okay, so maybe a fondue party might have been fun inside one of these things for all of about five minutes, but did they really believe they could mass-produce this UFO gimmick house?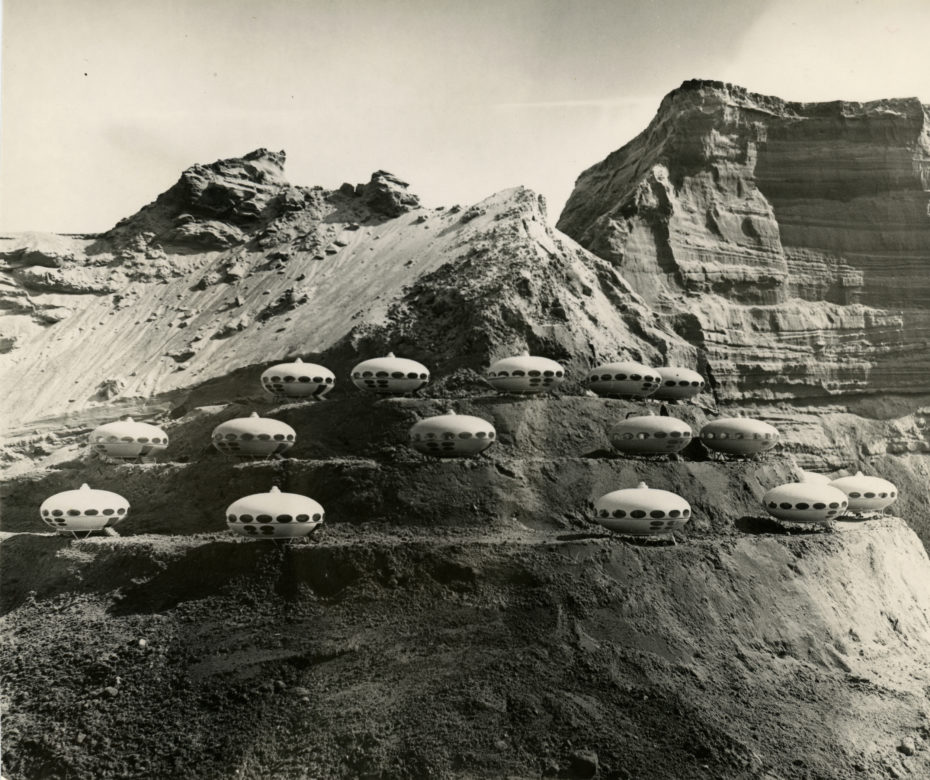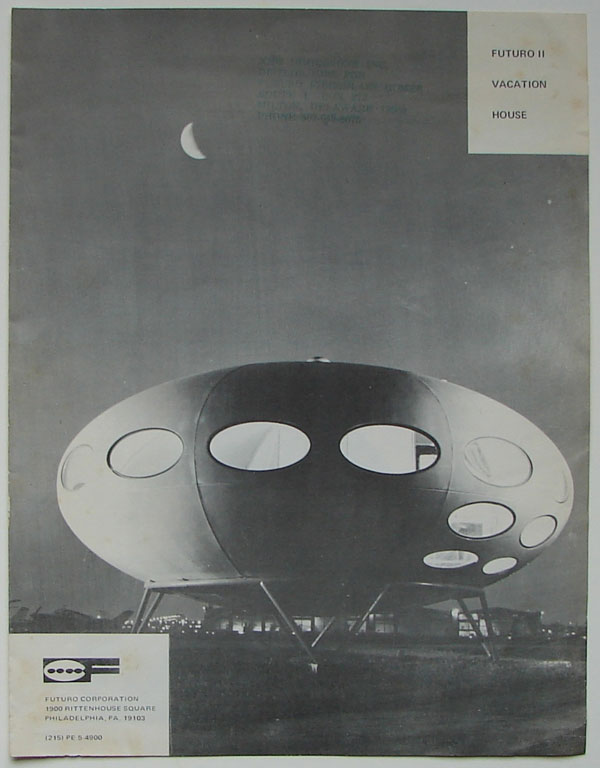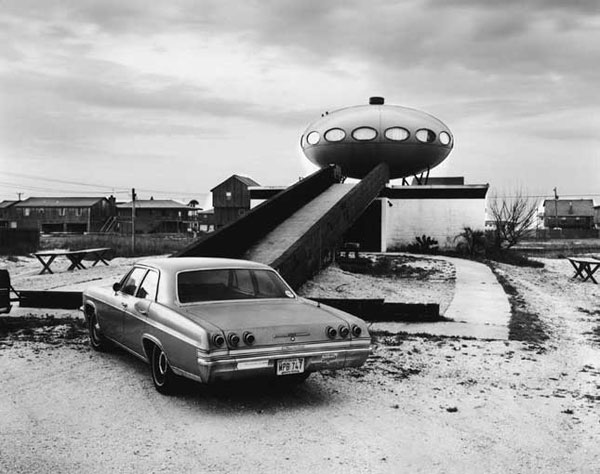 Apparently I'm not the only one who didn't get it. By the mid-1970s, the house hadn't only taken off the market entirely, it had become the target of public hostility. Even the first Futuro house that was erected next to a lake in the designer's home country of Finland, was met with protests because it looked so unnatural amidst rustic environment. In America, many municipalities banned it. Some Futuro houses were even vandalized in drive-by shootings. Okay, it's not my favourite, but really, drive-by shootings? Wow.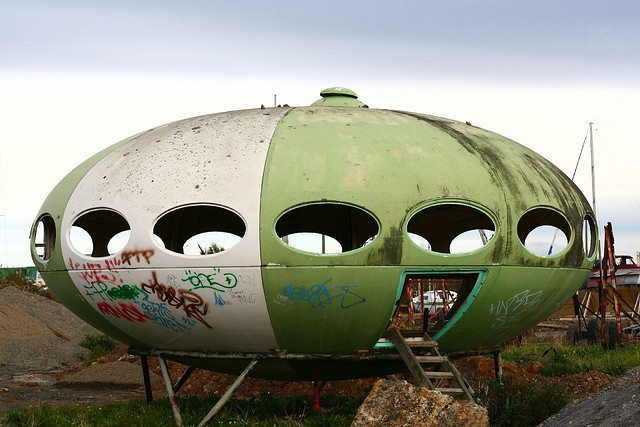 Customers who had already ordered their Futuro homes, backed out, forfeiting their non-refundable $1,000 deposits. Banks refused to finance them and over the next few decades, many were left to rot and sent to the scrapyard for demolition. It's estimated that today around 60 of the original Futuro homes survive, mostly in very poor condition, and nostalgic collectors blogs like this one keep up with their current status and whereabouts of the remaining examples.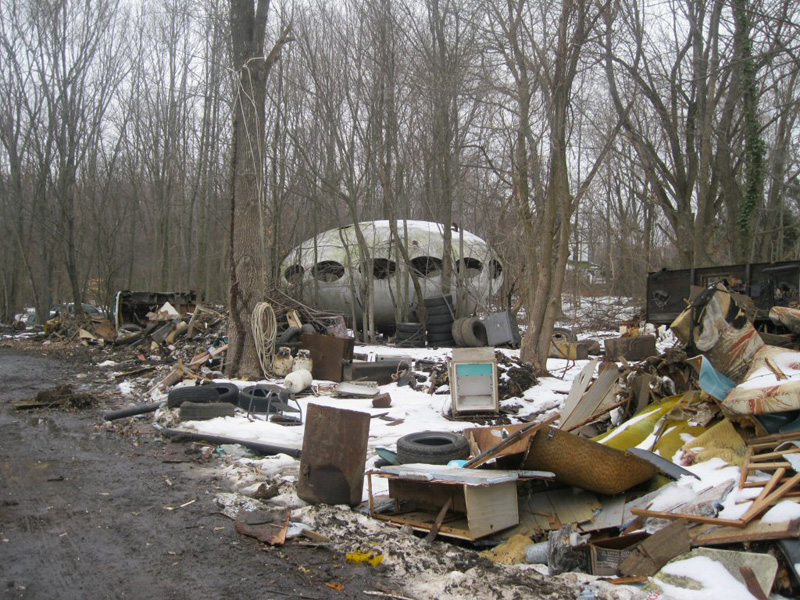 I started this article just wanting to get off my chest how ridiculous and impractical I thought they were. I still think the Futuro homes were impractical, but now I also feel a little sorry for them…