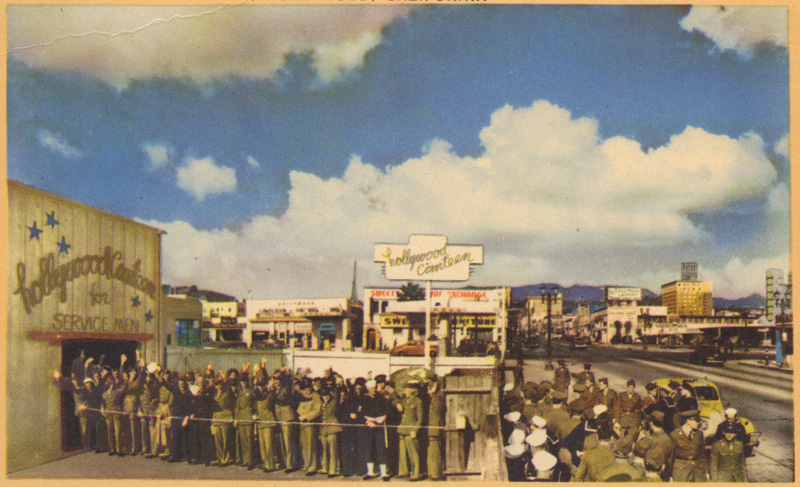 Hours away from being shipped off to Europe's battlefields or back on US soil for a brief reprieve, there wasn't a single American serviceman passing through Los Angeles in the 1940s that wouldn't have lined around the block for an evening at the Hollywood Canteen. Set up in an abandoned nightclub near Sunset Boulevard, if you were wearing a uniform, entry was free, as was the food, drink and entertainment inside the club. But what set the Hollywood Canteen apart from every club other in Hollywood at the time was that it was entirely staffed, six days a week by celebrities and volunteers from the entertainment industry. Picture Frank Sinatra behind the bar, Katherine Hepburn waiting on tables, Charlie Chaplin doing the dishes and Louis Armstrong serving up his homemade pudding.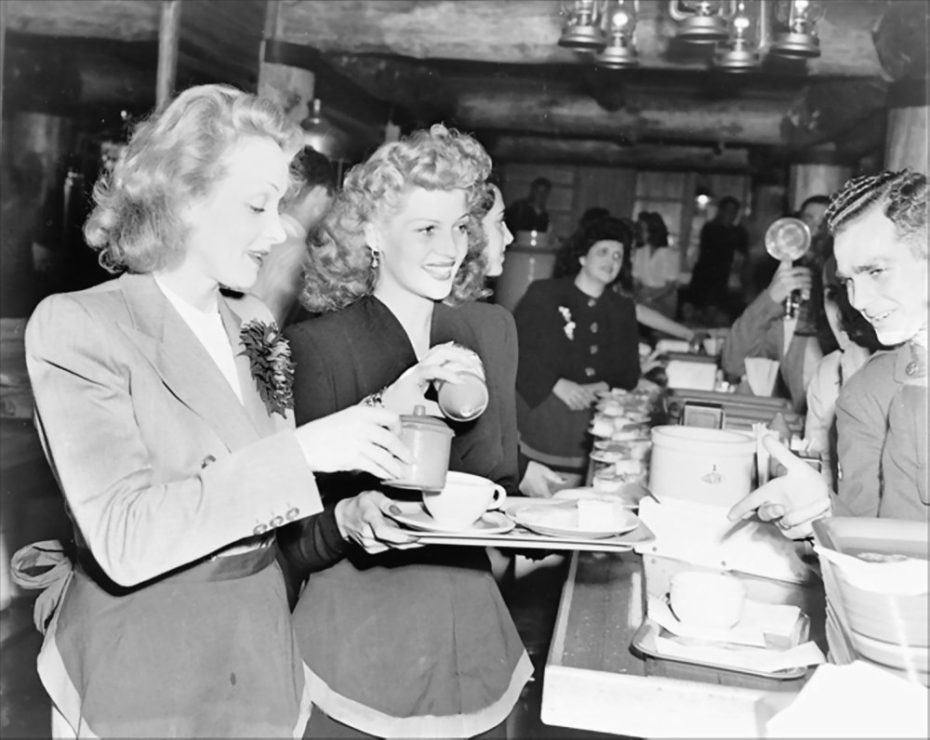 Marlene Dietrich and Rita Hayworth serving food to soldiers at the Hollywood Canteen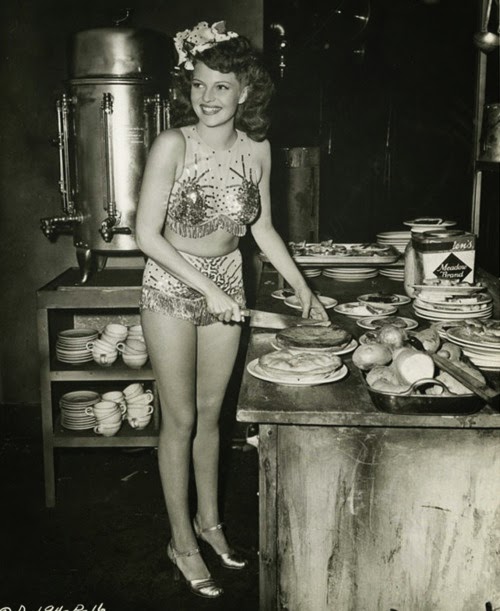 Rita Hayworth serving pie.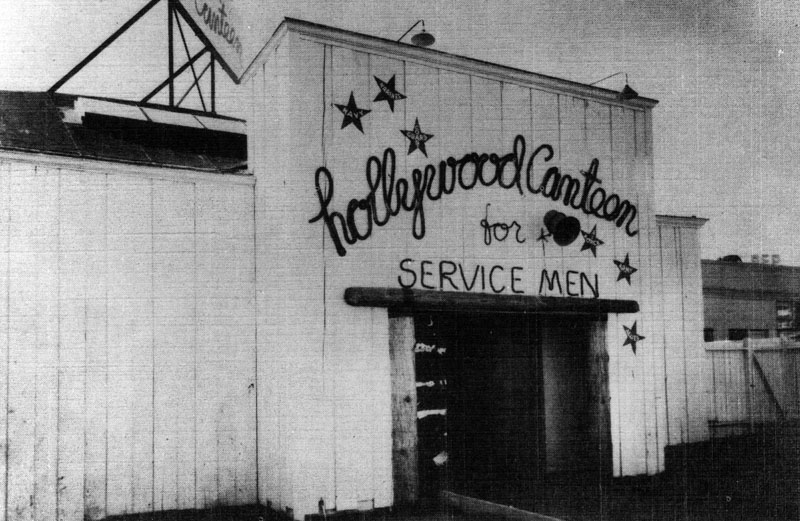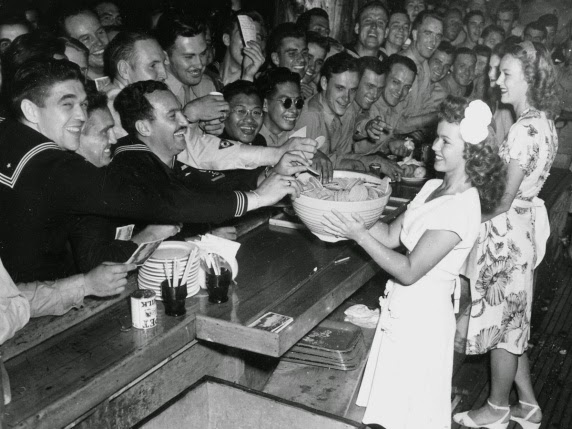 Shirley Temple behind the bar.
In the 1940s, America was at war and Hollywood was no exception. MGM studio's most valuable screen actor, Clark Gable became an aerial gunner on a bomber and narrowly escaped death when German fighters attacked his plane during a combat mission. Jimmy Stewart flew as a command pilot deep into Nazi-occupied Europe and became a highly decorated serviceman. Those who could not express their support by enlisting due to their gender or health, used their star power to help in other ways.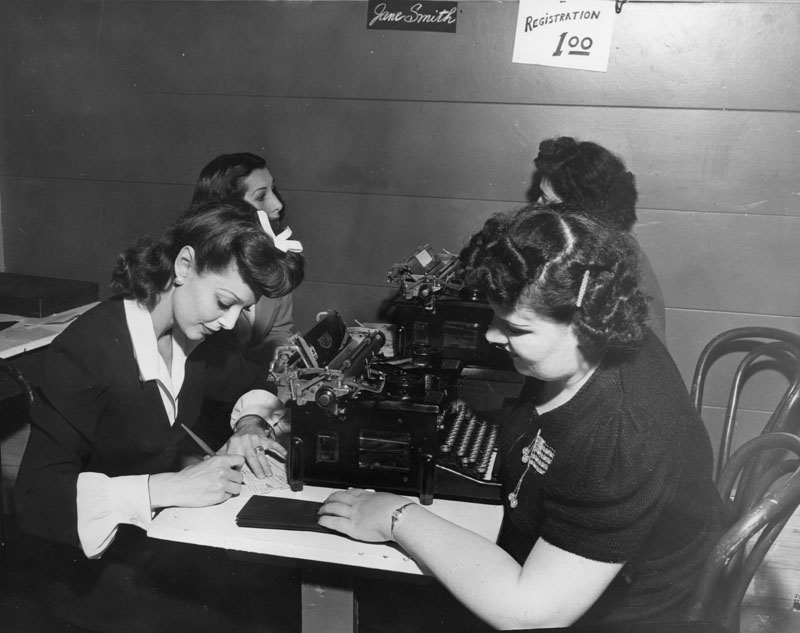 Loretta Young, one of Hollywood's top stars, registers as a hostess at the Hollywood Canteen.
One such person was actor John Garfield, who immediately attempted to enlist when America joined the war, but was turned down due to a preexisting heart condition. But Garfield found other ways to help, including using his celebrity status to entertain troops overseas, sell war bonds and star in patriotic war movies. Actress Bette Davis was also very successful at getting people to buy war bonds, selling $2 million worth in two days. She and Garfield teamed up to open a club where servicemen and women could forget about their troubles and eat, drink, be entertained, and rub elbows with a star or two for a night.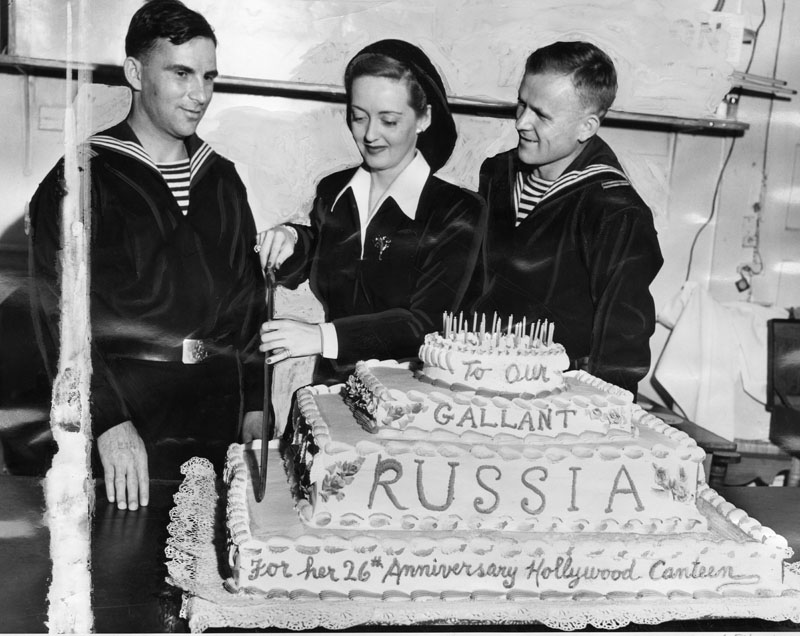 Actress Bette Davis, using a Russian Kozak sword, cuts the birthday cake at a party at the Hollywood Canteen, commemorating the 26th anniversary of the Soviet Red Army. Two Russian sailors from a Soviet ship anchored at the Los Angeles harbor, look on.
Even before it had opened, over 3,000 stars and other entertainment industry employees had signed up to volunteer, and Davis ensured that at least a few major celebrities were at the club every single night to meet the soldiers.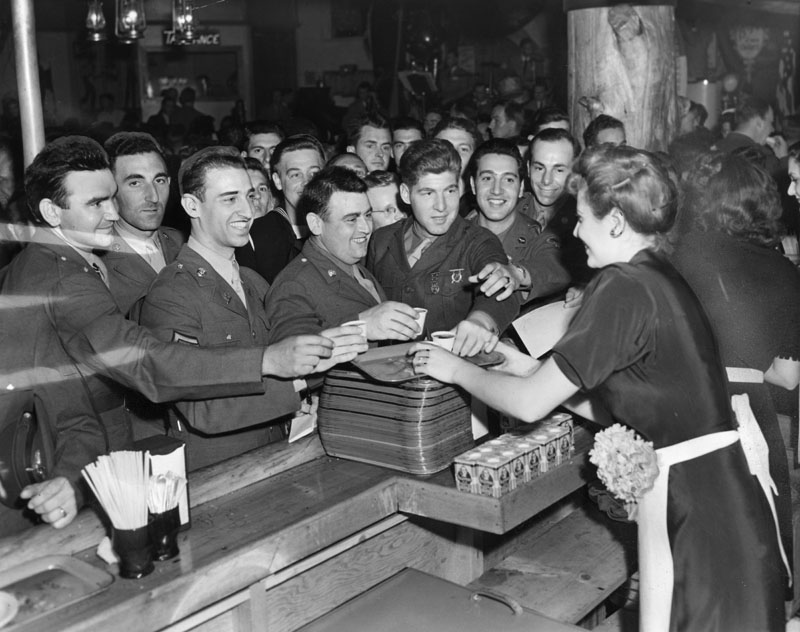 Some of the biggest names of the era cooked, cleaned, waited tables, put on a show, and danced with the G.I.s as a way to thank them for serving the country. For four years, Hollywood's most glamorous players essentially took part time jobs, sharing shifts at the canteen.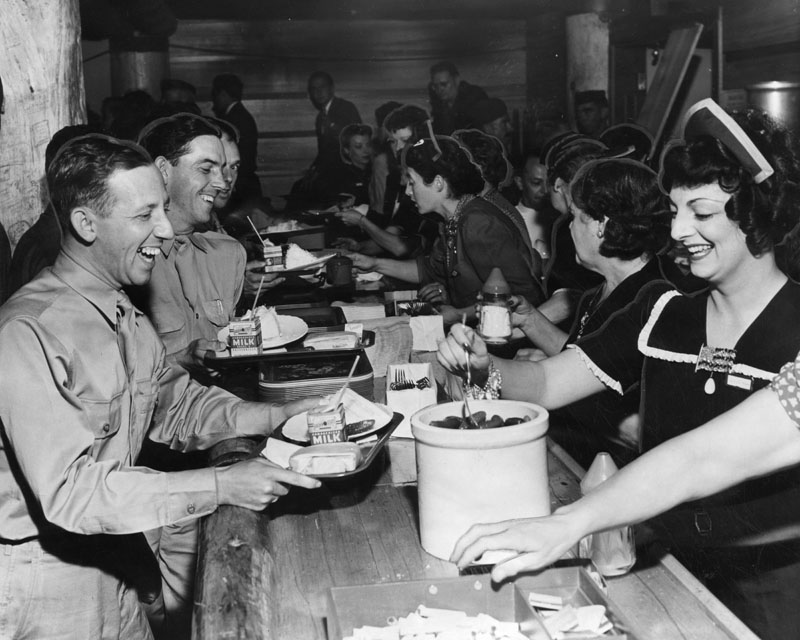 They even recruited their directors, writers, wardrobe assistants and technicians to help out. The glamorous Marlene Dietrich one night came straight from the set from "Kismet" covered in gold paint. Some of the most well-known stars who volunteered include Humphrey Bogart, Frank Sinatra, Fred Astaire, Lauren Bacall, Joan Crawford, Judy Garland, Cary Grant, Rita Hayworth, Katherine Hepburn, Gene Kelly, Vivien Leigh, Ginger Rogers, Shirley Temple, Lucille Ball, Charlie Chaplin– the list goes on.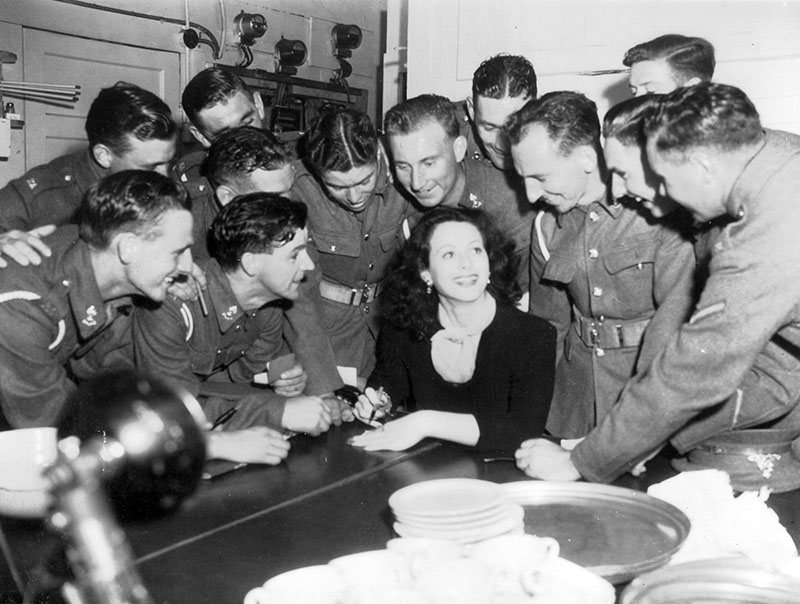 Hedy Lamar signing autographs
After just one year of business, the canteen welcomed its one millionth guest. The lucky soldier was escorted inside by actress Marlene Dietrich and given a kiss from pin-up girl Betty Grable. In 1944, Warner Bros. was inspired by the club's popularity to make a movie. Hollywood Canteen starred Joan Leslie and Robert Hutton, and featured cameos from many of the stars who volunteered at the Canteen.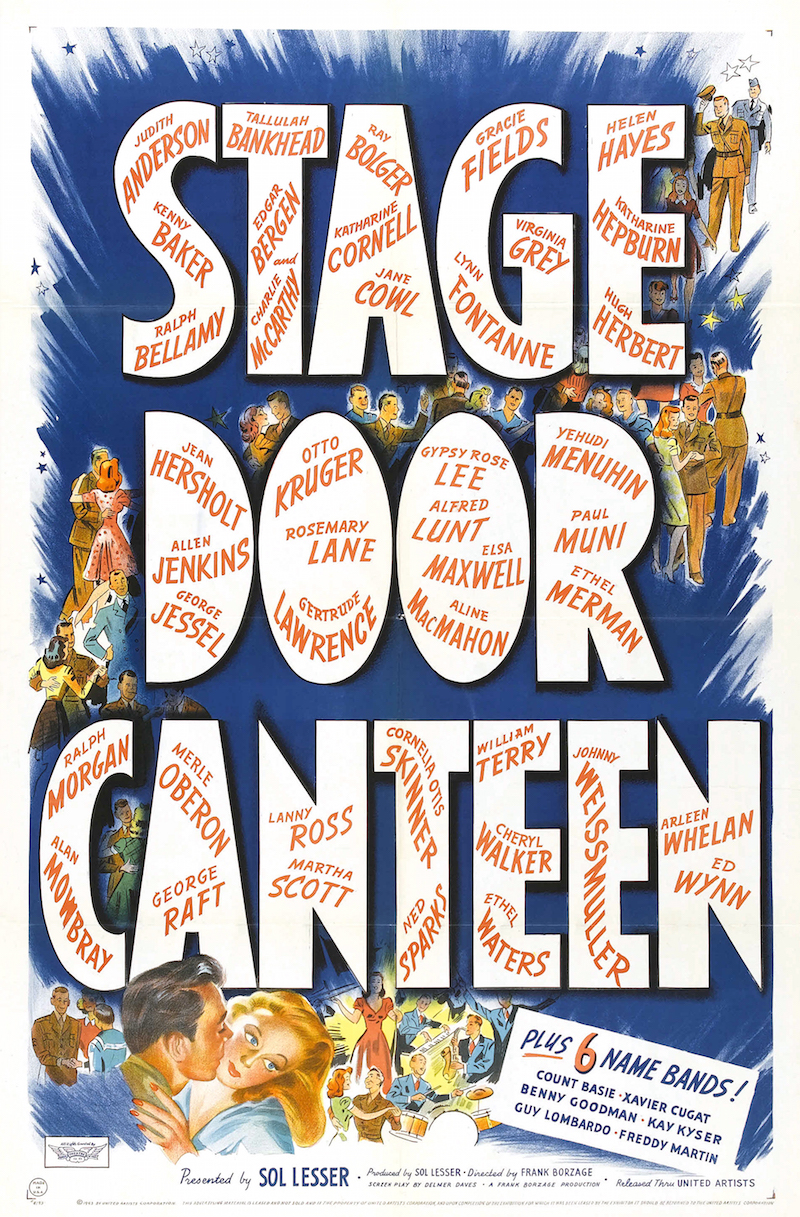 Davis recognised the importance of the work she had done at the Canteen, later saying, "There are few accomplishments in my life that I am sincerely proud of. The Hollywood Canteen is one of them." Of course, Bettie also enjoyed the company of a brave serviceman or two. For a while, she even began dating a corporal she'd met at the canteen before he was transferred overseas, much to the relief of her studio heads at Warner Brothers.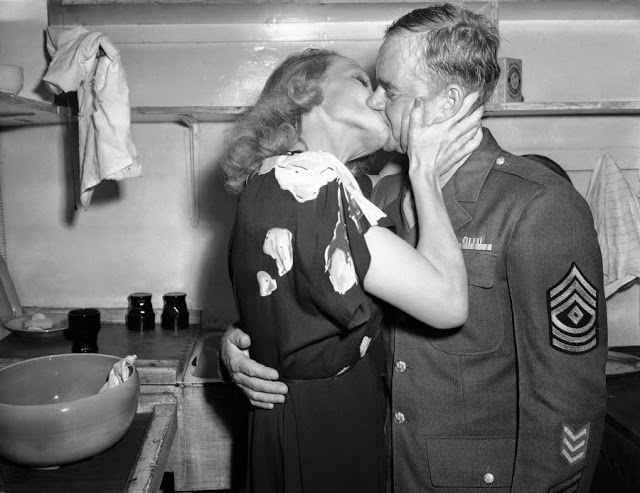 Marlene Dietrich showing her appreciation to a soldier.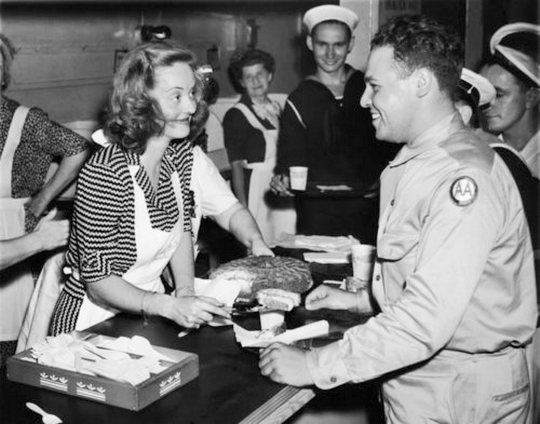 Bette Davis the dinner lady.
Taking a shift at the Hollywood Canteen surrounded by a sea of soldiers was certainly an ego boost for even the most desired of actresses, but Bette Davis kept her feet firmly on the ground. She circulated a memo to Hollywood canteen hostesses, advising them, "Forget the wounds, remember the man. Don't be over-solicitous, nor too controlled to the point of indifference. Learn to use the word 'prosthetics' instead of 'artificial limbs.' Never say, 'It could have been worse.' And when he talks about his war experiences, listen, but don't ask for more details than he wants to give."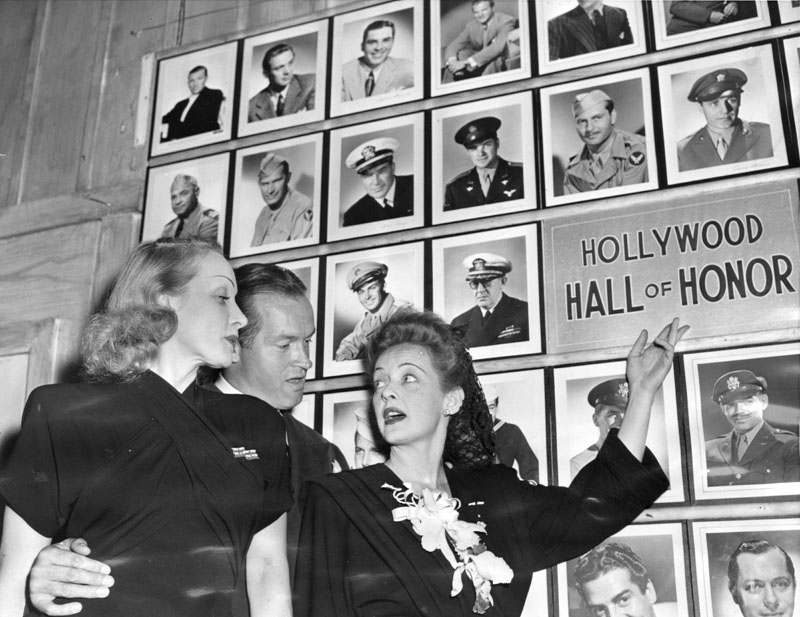 Even when segregation reared its ugly head inside her establishment, she famously took the microphone to defend African-American soldiers. "The blacks got the same bullets as the whites did, and should have the same treatment." In 1980, Davis was awarded the U.S. Department of Defense's highest civilian award, the Distinguished Civilian Service Medal, for her efforts. The Hollywood Canteen was short-lived, closing it's doors in 1945, left to live only in memory and legend.
By Julia Hider