For those who remember the Automat, the mere mention of the word taps into a wellspring of nostalgic, pungent memories. Clutching a handful of fat nickels, peering into the little glass doors framed in brass, choosing from the chicken pot pies, the cream cheese & chopped pecan sandwiches , pumpkin or lemon meringue pie, seemingly untouched by human hands. Carefully slipping in a coin, turning the knob and lifting the hinged windows to remove the steaming macaroni and cheese that Mom could absolutely not duplicate at home. At least, that's how my own mother described it, but of course, I'll never know the true pleasure of dining at the Automat. We lost them to McDonald's. Gleaming Art Deco gadgetry at its finest, cast aside with the times…
You've probably noticed me lamenting about the loss of the Automat here before, but today while waiting in the lunch line at my local canteen, eyes watering from boredom, my mind wandered back to those images I'd seen from the unspoken golden age of fast-food dining. And so, back at my desk with a less-than-average sandwich in a bag, I began compiling my very own, long-overdue retrospective of the glorious Automat.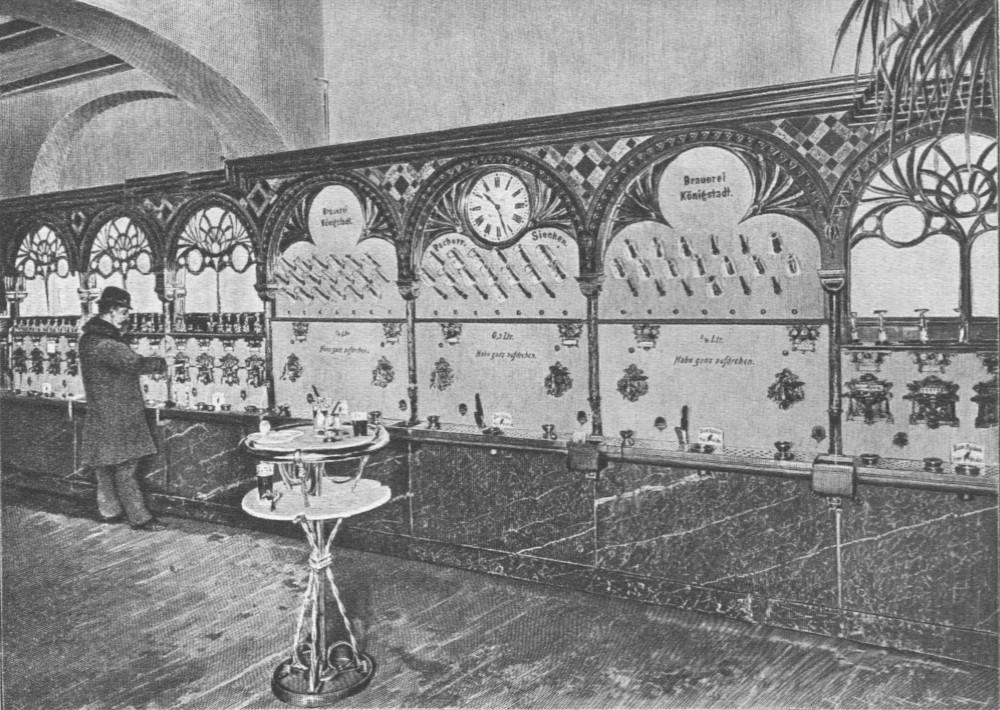 The earliest automats were essentially fast food restaurants where simple but fresh food and drinks were served by coin-operated vending machines. Originally a German invention, the first automat in the world was the Quisisana automat, which opened in 1895 in Berlin and soon expanded into other European cities and tested out the concept in the United States. Quisisana also manufactured automat machines and equipment.
The first automat diner in America opened in Philadelphia in 1912 by Horn & Hardart, which became the most prominent American automat chain. They originally used Quisisana's equipment, technology and concept before later developing their own and devising their own branded automat machines. The concept was quickly brought to New York City where it became a part of popular culture.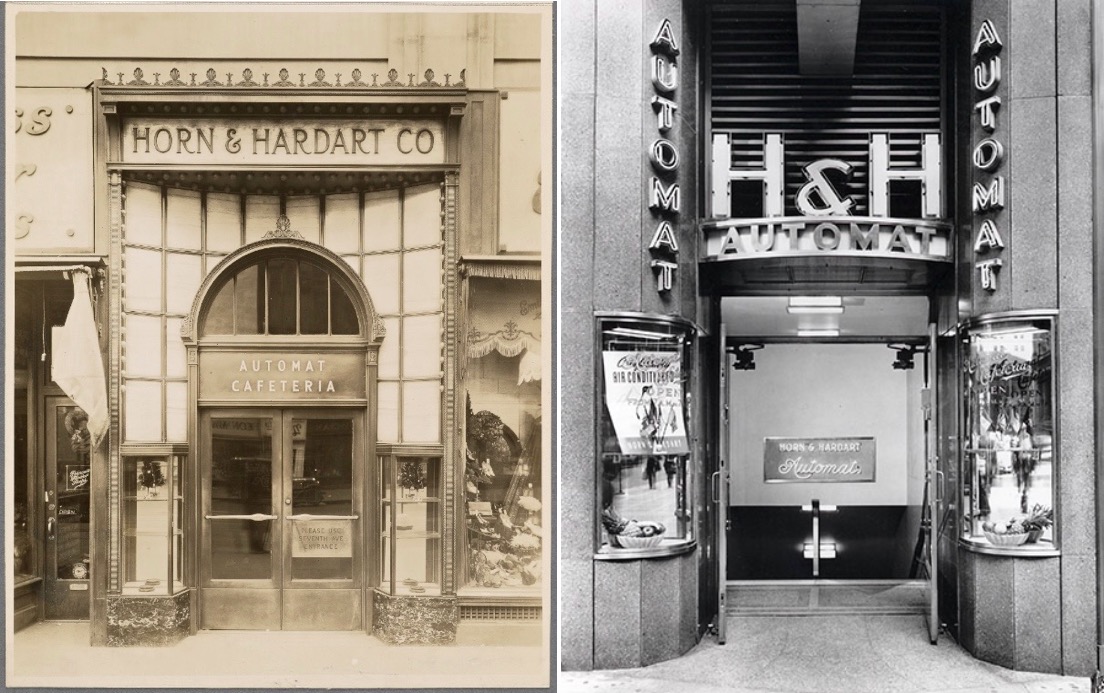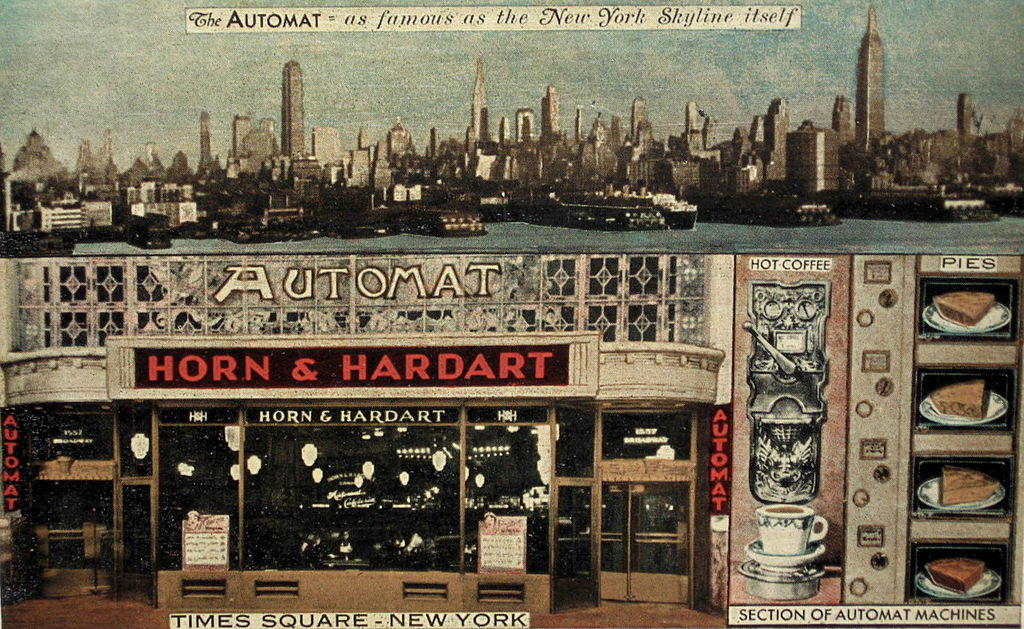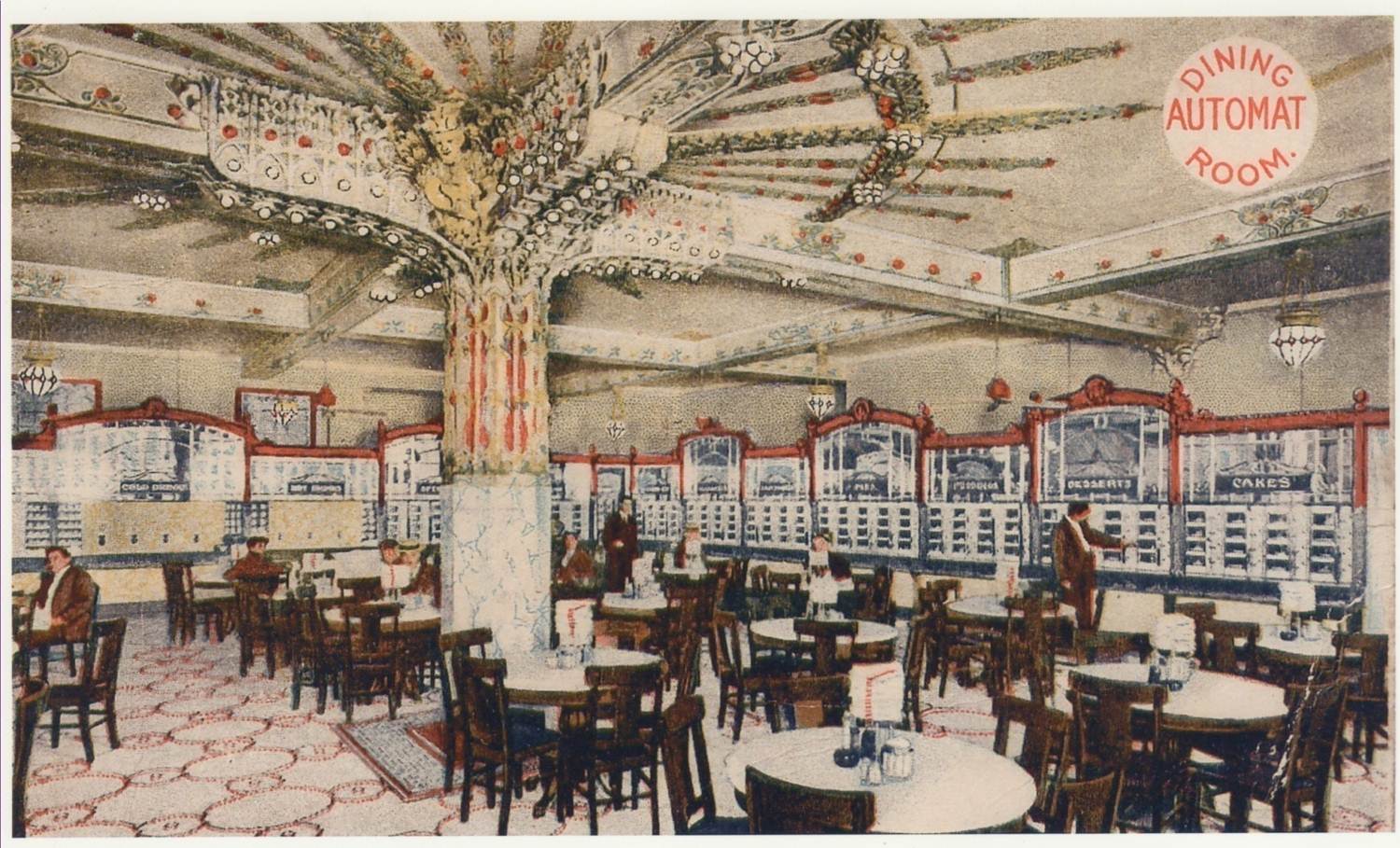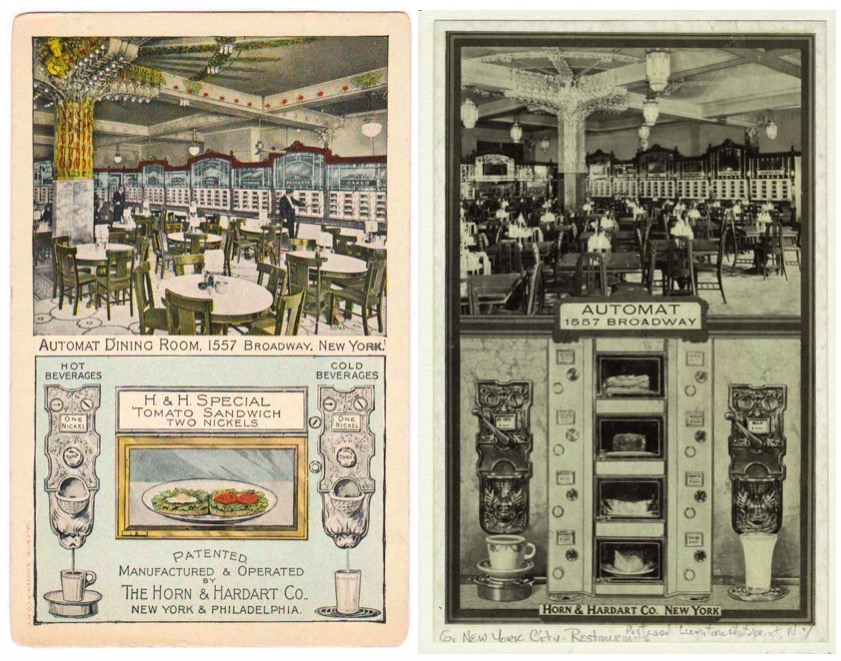 A hit with everyone one from industrial workers to celebrities to out-of–work musicians, New York alone had 40 automats and accommodated customers from every class. Wall Street bigwigs sat beside shoe-shiners and all shared the same dining experience.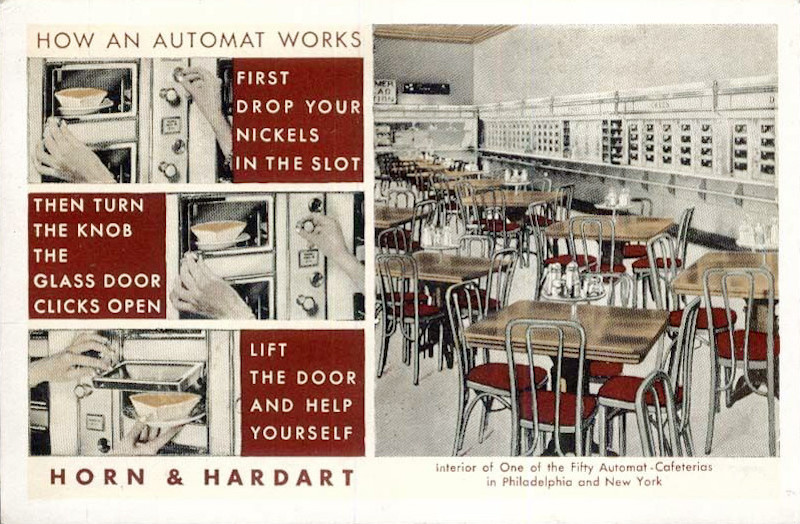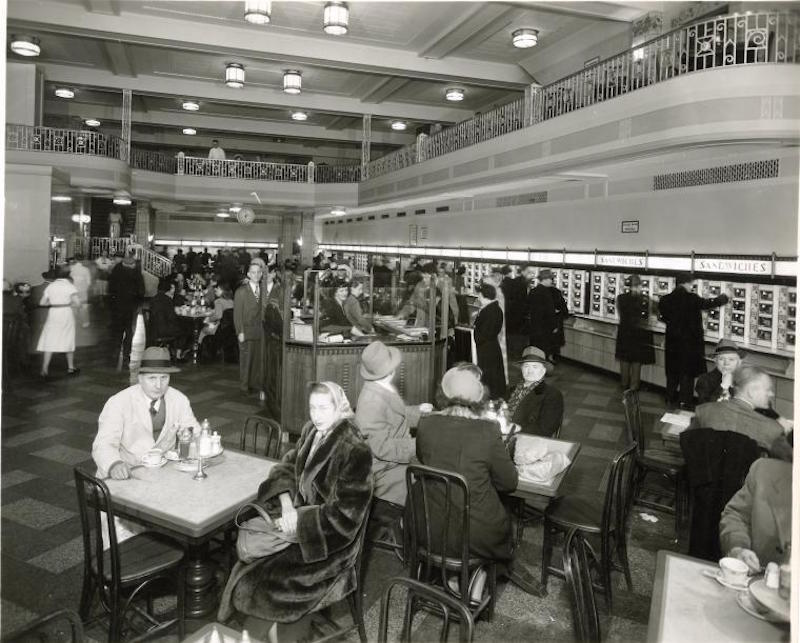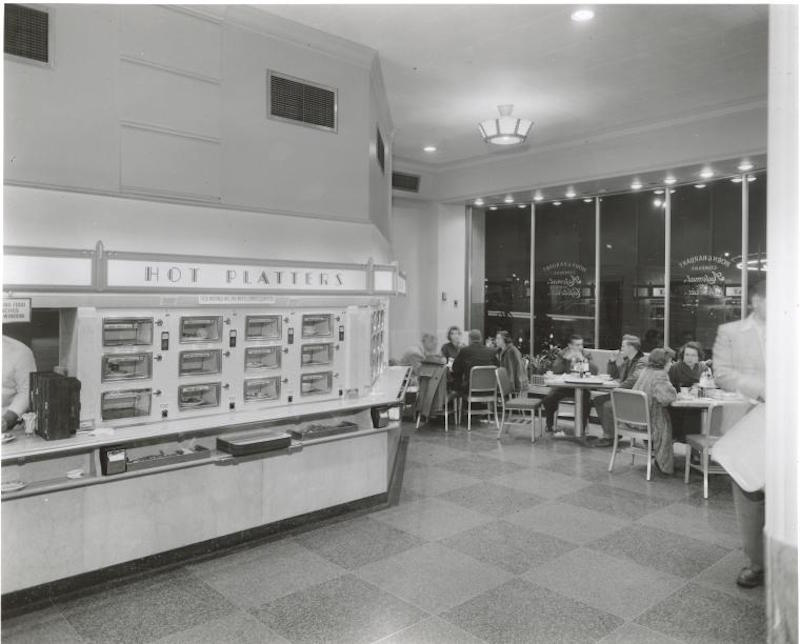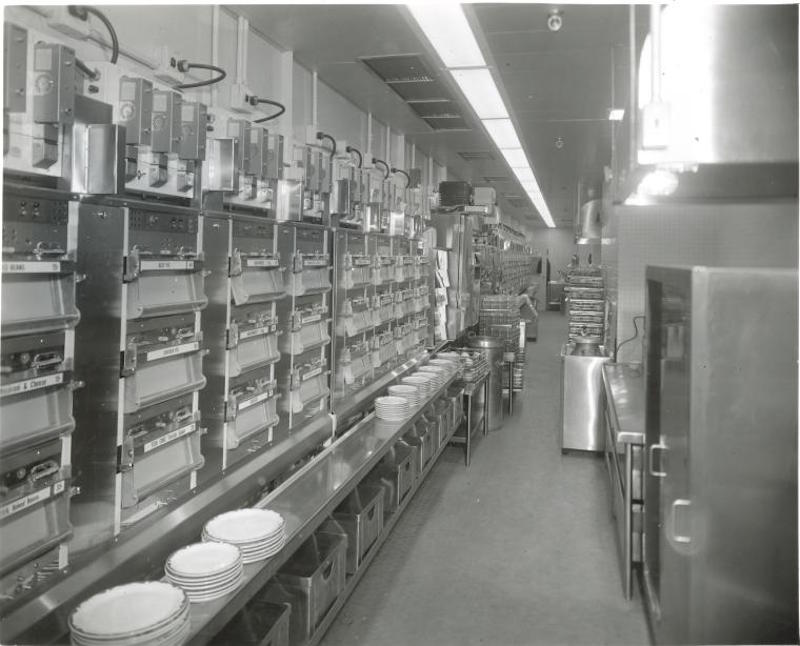 The novel machines were successfully marketed gadgets that were filled from the hidden kitchen behind the wall, always kept out of sight. There's a wonderful scene from "Touch of Mink" (1962) starring Doris Day and Cary Grant, in which Day's character is friends with an Automat employee who works behind the wall…
(Enter the automat at 0:32 seconds)
Patrons lined up "like payday depositors" in a bank, window shopping for food and waiting to drop a few nickels in a slot to open the lit up "post-officelike boxes" filled with fresh plates of American household favourites…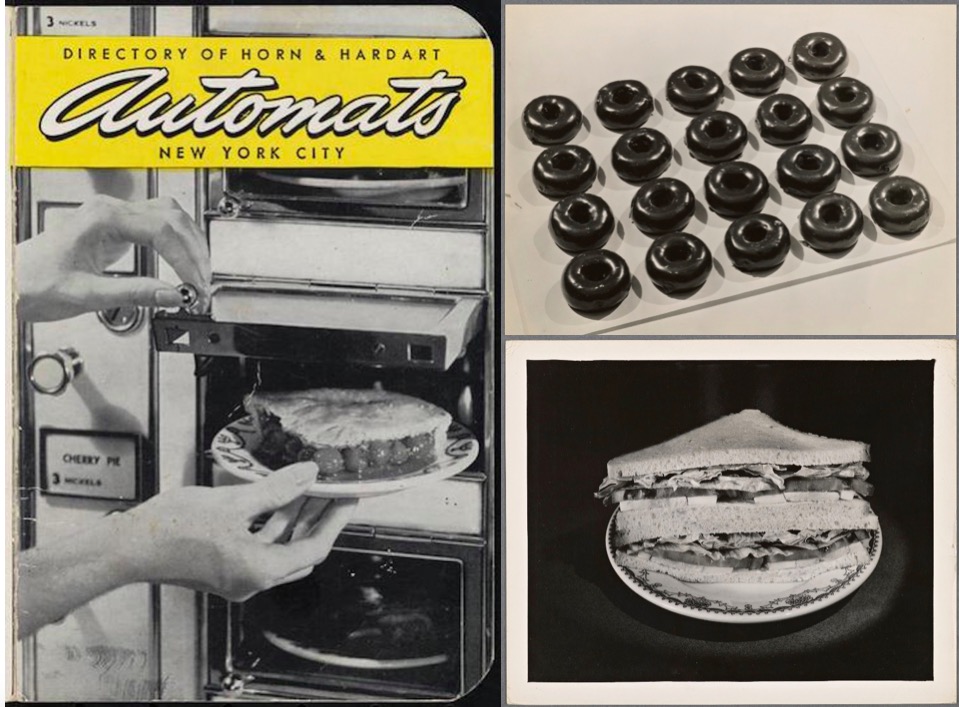 The East Coast chains reportedly sold an average 72,000 pies a day.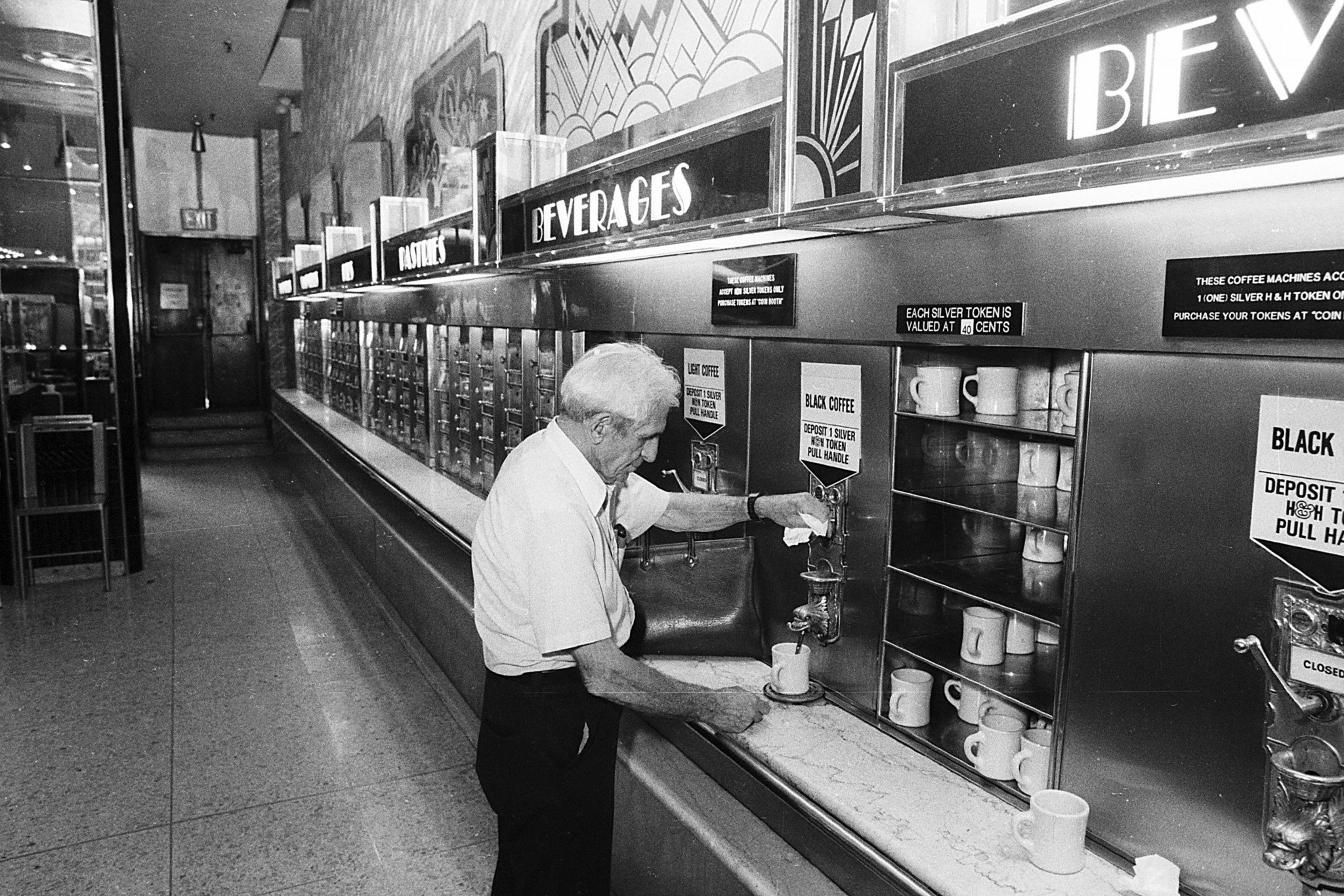 However, by the 1970s, New York had become a different place. Run-down and reeling from a decade of social turmoil, the city fell into a deep tailspin provoked by the flight of the middle class to the suburbs and a nationwide economic recession that hit New York's industrial sector especially hard. The city had emptied. Over time, Automats began leasing their real estate to the likes of burger king. The rise of even faster food restaurants from the 1950s saw Automats eventually fall victim to a changing culture. By the 1970s, their remaining appeal was strictly nostalgic and the diners soon vanished completely.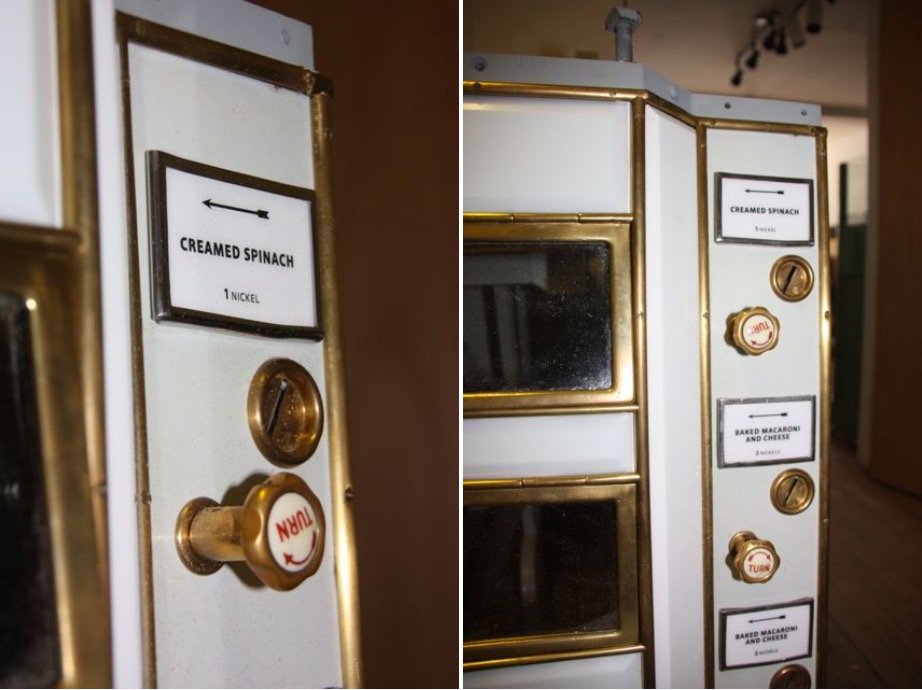 As an extinct species of American dining culture, I wondered, what happened to the Art Deco and mid-century fossil of the Automat? As it turns out, they're not as hard to find as you might think, all thanks to one man…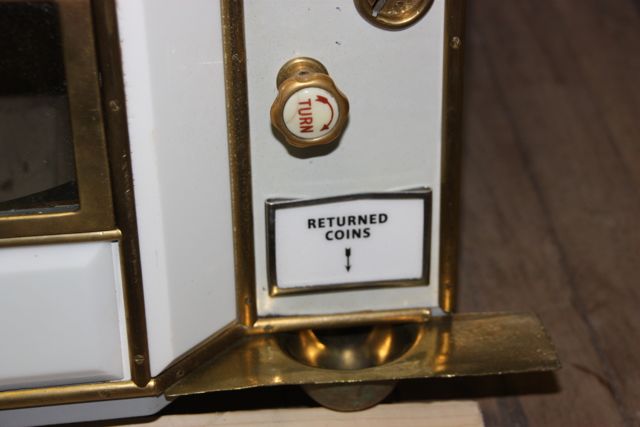 Steve Stollman has been collecting salvaged items from New York City for over 30 years and has, as far as I can tell, the largest collection of vintage Automats anywhere in the world.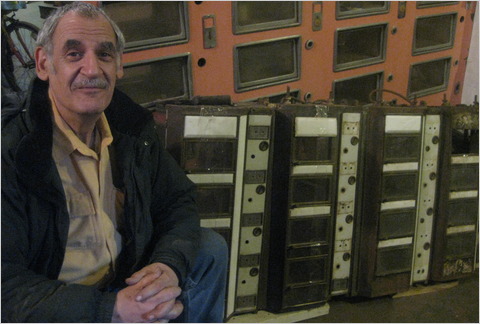 He has acquired hundreds of them, mostly from junk dealers in the 1990s and even provided the original machines for a New York Public Library exhibition on the Automats in 2012. He cosmetically restores the units and for the right price, has the skill to restore them to working order. They can sell for anywhere between $2,000 to $4,500.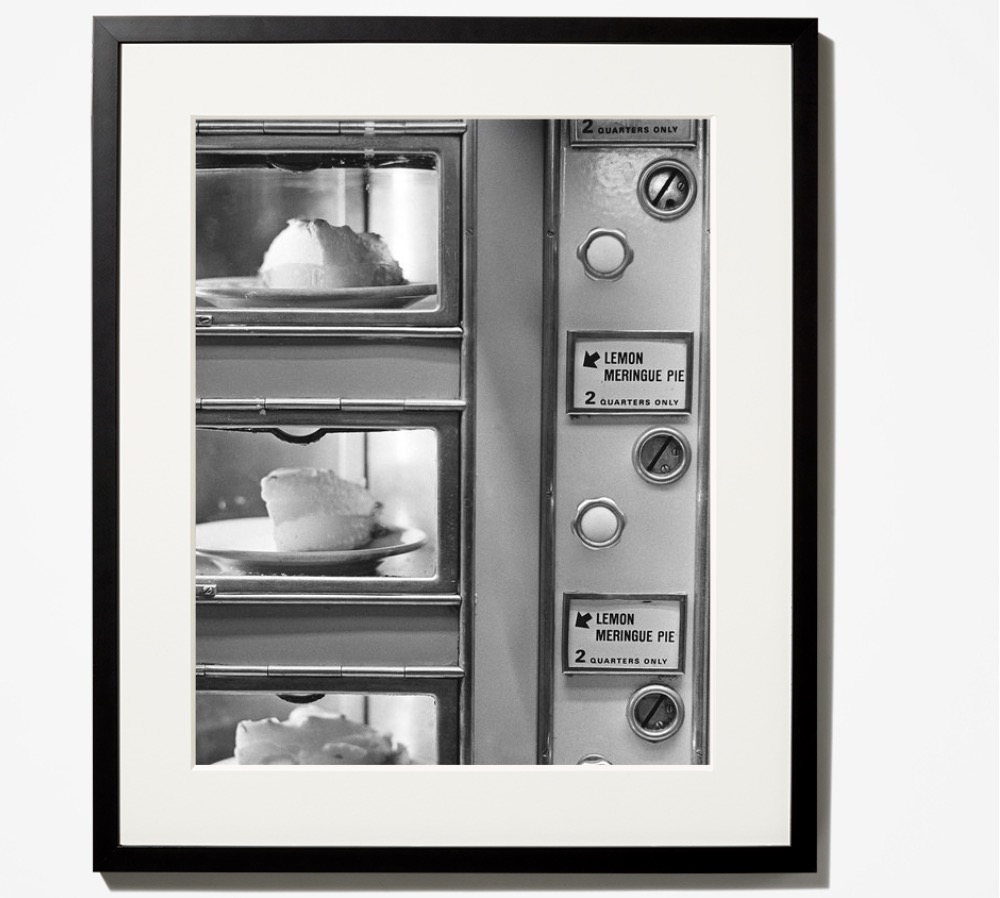 If an original automat machine is out of your price range, I'm digging this print ↑ from the NYT online shop.
I do hope there's a nostalgic restauranteur out there somewhere that might one day bring back this precious dining experience. Automats had led way to fast food, but it had done it with such style and quality that no Happy Meal has ever been able to replace.