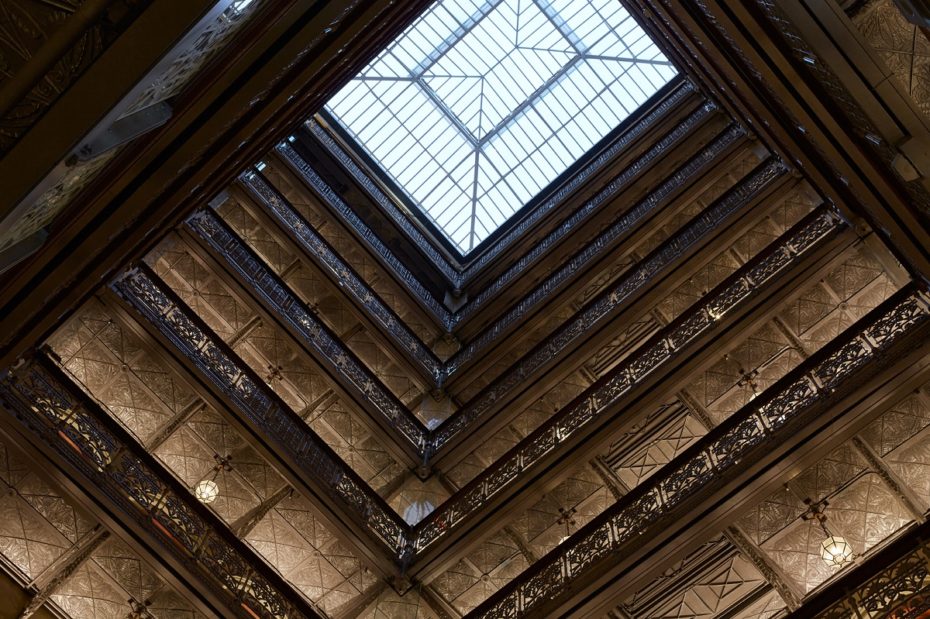 How did an entire palace, smack in the middle of Manhattan, go untended to for over 70 years? Temple Court, now The Beekman hotel, is deeply engrained in the city's history. In fact, it is the grandfather of all its surrounding modern high-rises and in 1883, the first in Manhattan.
Boasting nine floors crowned by a large pyramidal skylight, it was then called Temple Court. Its fame however, was short-lived after a series of fire safety violations in the 1940s saw to it that walls were erected on each floor, closing off the view to the atrium, sealing it from top to bottom.
By that time, most tenants had left the building because of the declining neighbourhood. For then next 50 years, Temple Court was left to decay. It wasn't until the atrium was unsealed at the dawn of the new millennium that the building was declared a city landmark despite being almost entirely abandoned.
The building's final tenant was architect Joseph Pell Lombardi, whose name you might recall for the restoration of this abandoned octagonal New York landmark. Lombardi move out of the skeletal Manhattan high-rise in 2001, leaving the entire structure vacant.
During a period of uncertainty, failed development plans and continued neglect, the world began to get a glimpse behind the facade of Temple Court again. The word was out that the atrium had been revealed, luring in urban explorers and location scouts to a hidden jewel of the gilded age.
The blog ScountingNY first exposed Temple Court at 5 Beekman Street to the public back in 2010. Supermodel Iman had a photoshoot there and Maison Margiela threw a party in the wreck, but still it was off-limits to the public.
The building was originally designed to be a typical office building, atop a Landmark Site. Even before Temple Court was constructed, there was a theatre in it's place: The Chapel Street Theatre. In 1761, Shakespeare's Hamlet was first performed there. Later, it was an educational constitution called Clinton Hall where New York University first held its classes and Edgar Allan Poe published his own newspaper, The Broadway Journal.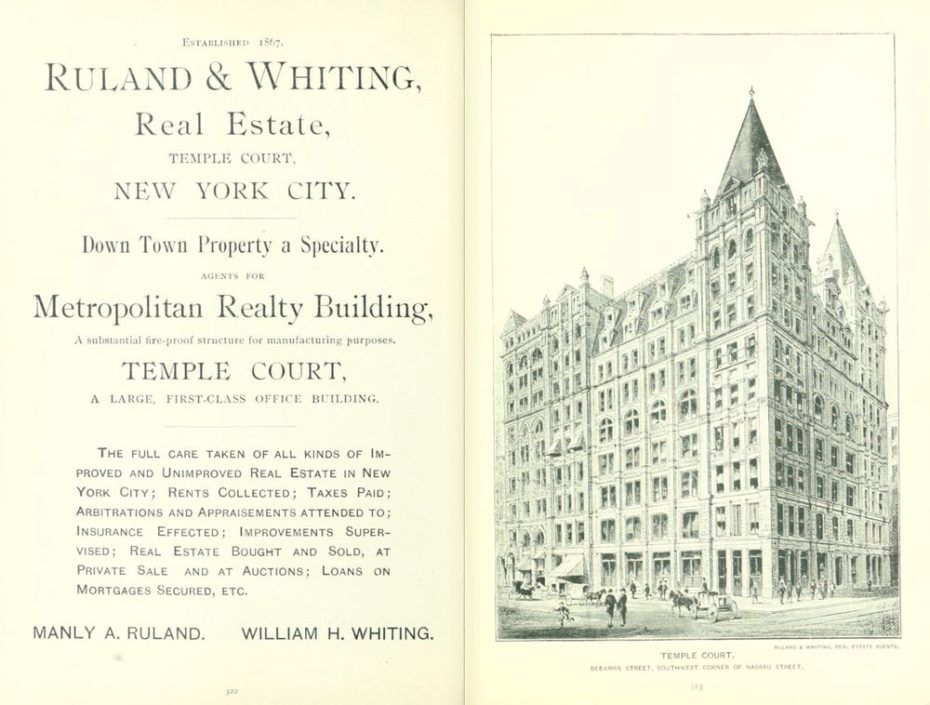 Fortunate location and history took further course and in 1881, Irish millionaire Eugene Kelly commissioned the building we now know. He first named it after himself and then renamed it after London's legal district for no particular reason. By the time he died, the building was already worth more than $630 million.
Temple Court had 212 suites (now 287 rooms) rented by professionals such as lawyers from nearby court buildings, architects, and others. Its terracotta brick appearance and iron beams were as out-of-place at the time of its completion as they are today amongst modern skyscrapers. It almost doesn't belong in New York, but somehow, makes perfect sense.
Today, it stands in the shadows of the Freedom Tower and other glassy high-rises. The touchy debate of renovating historic buildings became the burden of its new developers GFI Development Company in 2012, and controversy lurked in anticipation of the building's new life as a luxury hotel and residence. After four years of highly secretive restoration works, in 2016, The Beekman Hotel unveiled the old-school glamour of the original structure having been given full creative freedom to reincorporate the original design in all artistic decisions.
Inside is still a Gatsby-esque kind of elegance we imagine in old American cinematography. Imagine Truman Capote and his entire 5th Avenue posee of swans, and politicians and artists all mingling on the plaza level, blowing away cigar smoke and recounting their stories from summer in Europe.
A front-desk ornate with Persian rug design welcomes guests at the entrance. Leather couches and velvet upholstery are set alongside dimly-lit lamps, statues, fresh-cut flowers and wooden cabinets of curiosities tracing the history of New York City.
The Victorian atrium, an open space spanning nine stories upwards, opens up to the sky of downtown Manhattan in the center of the building, framed by wrought-iron balcony railings. Decoration was done strictly in American Queen Anne Style with a mix of surface textures and elaborate motifs. Ornate stone tiles line the floors, wooden walls and ceilings, and a group of cast-iron dragons have now been painted back to its original gold color. The coffered ceilings, ornament walls and every element of the structure was thought through to be functional and simultaneously decorative.
Whatever doubts there were, about whether Temple Court could be restored to its former glory, have now been put to rest.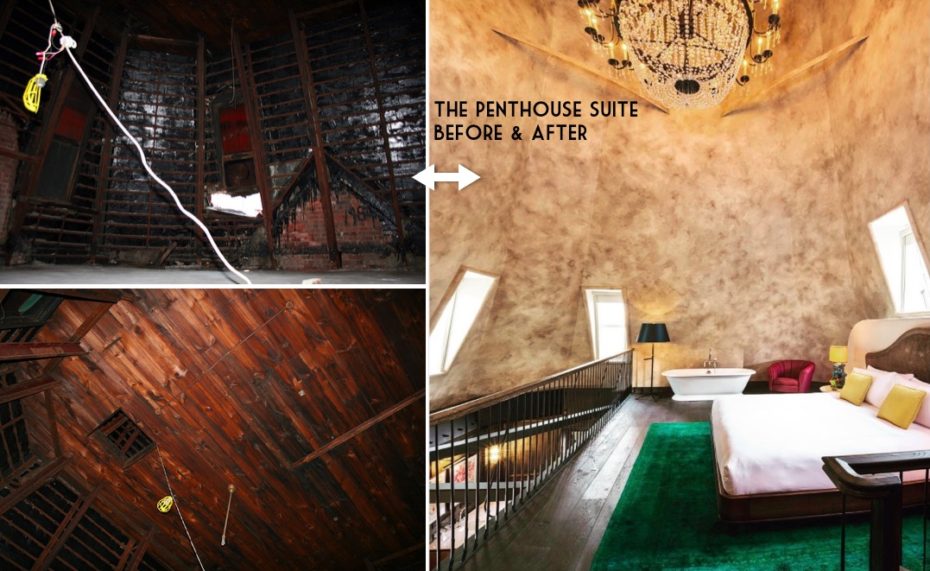 Timeless. The feeling of belonging to another century can't be taken away even in this modern. It was originally ahead of it's time, but it's time never came as there are no comparisons to The Beekman in NYC.
Nibble on French delicacies at the restaurant Augustine, wash it gently down with a Negroni, and crane your neck up at the sky of New York. You won't see the stars, but the shimmer reflecting off the nine-floors isn't half as bad.
AND by good old New York tradition, there is, of course, a penthouse rooftop.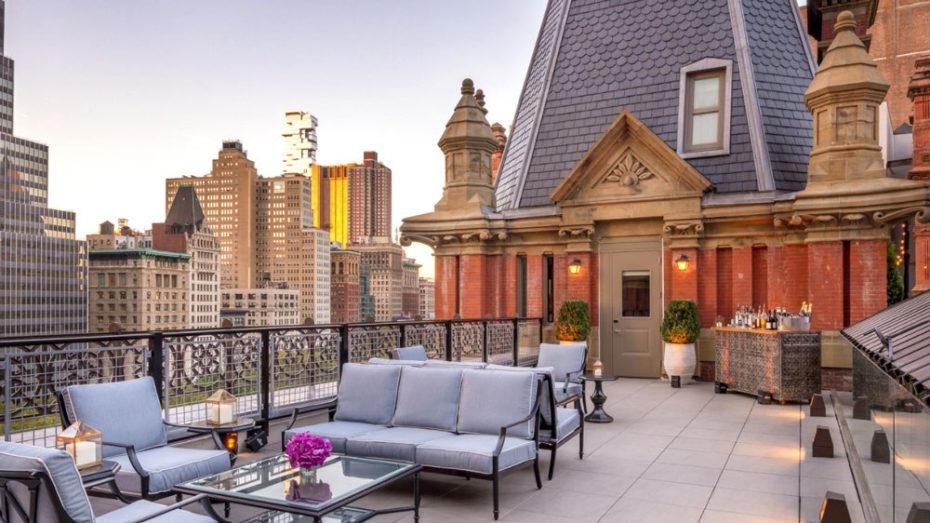 The Beekman is now open.
By Angelika Pokovba