Welcome to Saint Delphine, where the socialites go to outer space, the brownstones are cotton candy coloured, and the ever-green manicured topiaries are the proven antidote to stress. "I refer to the goings on here as the Socialite's Science Fiction (SSF)," says Cara Deming Butler, the artist, unofficial mayor, and overall space cadet behind this fictional town.
"I've created it as a place for my characters and their stories to live… It's filled with scientists, astronauts, landscapers, historians, and socialites. It's where the glamour, gossip, and cocktails of high society meet the science, drama, and cocktails of the space race…"
For those with a graphic design sweet-tooth, Cara's world is simply delectable, a helping of long-lost Matisses with an injection of 21st century sass and absurdity.
"It's astronauts in glitter spacesuits and heads of state planning interplanetary dinner parties over jasmine tea in pink living rooms. It's Barbarella meets Cher Horowitz."
Her commitment to the town is so real that she even chronicles its recent happenings in her SSF newsletter. And it's precisely that attention to detail, in her drawings as well as their narratives, that makes her universe so addictive…
Cara doesn't just stop at the artwork. For every piece she creates, there's a narrative purpose and each week, she puts together what is possibly the most whimsical newsletter on the internet, with a compilation of gossip from Saint Delphine…
Is it true Grace Kelly owned a townhouse in St. Delphine there from 1972-76? In Cara's world? You bet– right off Argonaux Place in Breganza. And did you hear about that one resident, Carmen, who was "heckling Clemens II in Hebrew while wearing a skull headpiece during the Astaire dance at last year's gala"?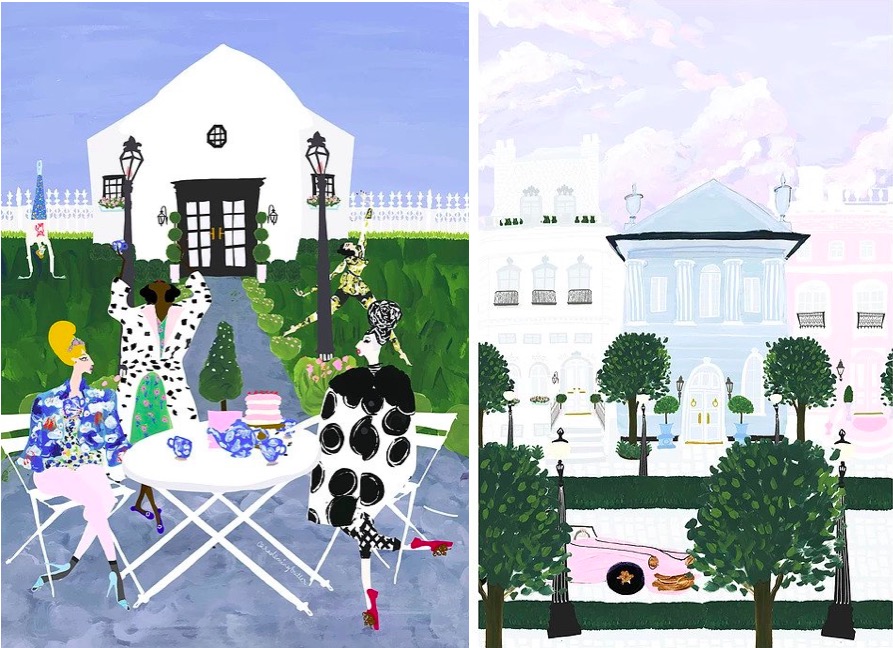 Characters like Carmen won't necessarily look like astronauts, but, in the words of Cara, "Homegirl's from St. Petersburg, has a masters in linguistics, and can speak eleven languages—two of which are foreign to this planet."
"I think the aesthetics and interests of the socialite world, when applied to something as practical as astronautics, create this overlap," she explains, "where the two co-exist in the most stylishly frivolous, but meaningful way". She says that "Socialites here are invested in space exploration—where dinner parties are thrown to honour and discuss another moon landing. And all in attendance wear Versace."
Naturally.
So how on Earth does one become the architect of such a place? "I've been working as an illustrator for about two years," she tells us, "but I've been drawing and creating the world of Saint Delphine for much longer…Growing up in Houston definitely gave me an early awareness of, and appreciation for, space exploration. Being so close to NASA, you often meet people who are actually working in space or mission control—something. It's very cool. I deeply admire that work and I see now how it's informed Saint Delphine as a 'space city'."
Ok. But where's the common thread? What's binding this fabulous, endlessly eclectic universe together? Topiaries, of course. "Topiaries are for sure the common thread," she says, "I'm adamant they belong in every house, on every lawn, at every museum, on all the streets, and on every spaceship launched.
I feel like if we ever make contact with aliens, our 'we come in peace' gift should be a topiary. It would be iconic.
"These are all things you would find in Saint Delphine. They're not at all disparate to me. A nineties platform belongs in outer space just as much as a space probe, if not more. And it was probably put there by a resident of Saint Delphine, let's be real. There's also a certain level of femininity I assign to each (artwork) that really helps cement their connection to each other in my heart."
And as it turns out, just because you're the inventor of an entire little town doesn't mean you can fully control it. "When I prefer what I've drawn to what I've imagined, that's always the loveliest surprise," she says about putting her imagination to paper, "When I want to live in one of my drawings, that's how I know it's done." As for the future of Saint Delphine, well, it looks pretty bright. Cara says she'll continue expanding it, and hopefully be able to contain it in one fabulous book.
It's hard to imagine Cara without Saint Delphine, which is essentially a snapshot of her own brain. But she's confident she would've made a solid mechanical engineer. Or pastry chef.
I would really love to have the brain of a mechanical engineer…but I also really want to be able to pipe a rose out of frosting.
Amen.
Follow Cara on Instagram, and subscribe to Socialite Science Fiction on her website.