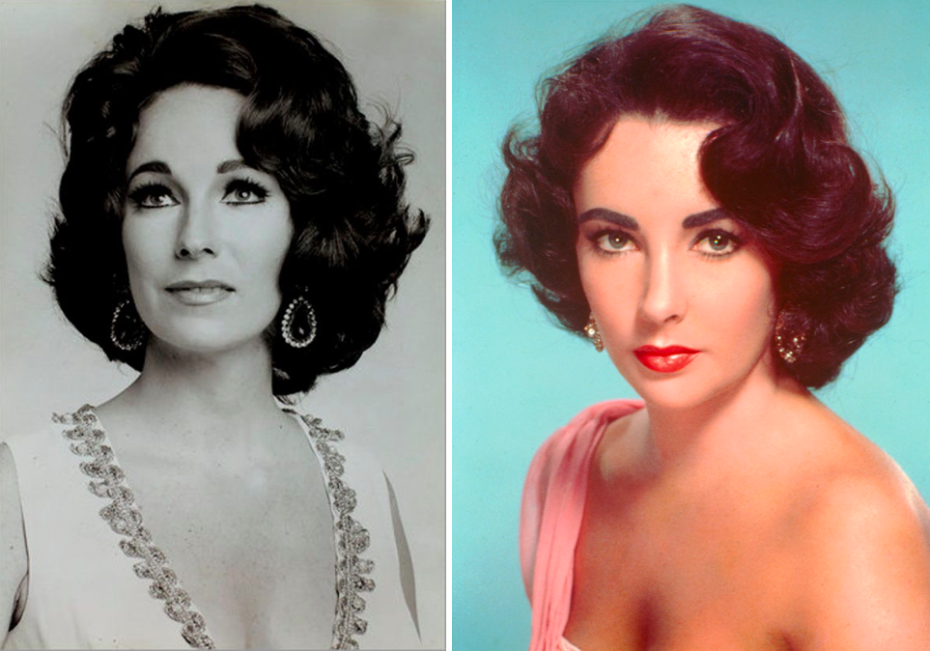 First things first, we're about to spill the contents of a very mixed bag of history's greatest eccentrics. It's one filled with impersonators, decoys, and body doubles throughout the 20th century who've got one thing in common: they're really, really good at getting under someone else's skin. From Andy Warhol to Adolf Hitler, some of these doubles were showmen (and women) who willingly stayed in the shadows, while others were coerced into more dangerous decoy jobs.
Elizabeth Taylor
While we're in the era of Old Hollywood, it's impossible not to talk about the other Elizabeth Taylor, Phyllis Shelton. She was Taylor's double and friend throughout the 1950s and '60s, in some of her most iconic films (ex. Cleopatra) and felt a real connection with the star because of their shared passion for horses.  
She recalled their first meeting to The New York Times in 2011 as a  surreal moment; "We just looked at each other and laughed," she said. With some makeup magic (including caps on her teeth) and a new hair colour, Shelton became the spitting image of the star, and even bought the horse she shared with Taylor on Reflections in a Golden Eye:
"It was beautiful in the fact that this was some girl I'd always admired, mainly because she loved horses and I was some horse freak," she told the Times,  "and who would ever know I'd grow up looking like her, so that was a real treat." But the best treat of all was when Taylor lent Shelton her and Richard Burtons's home in the Mexican Riviera for her honeymoon. 
Adolf Hitler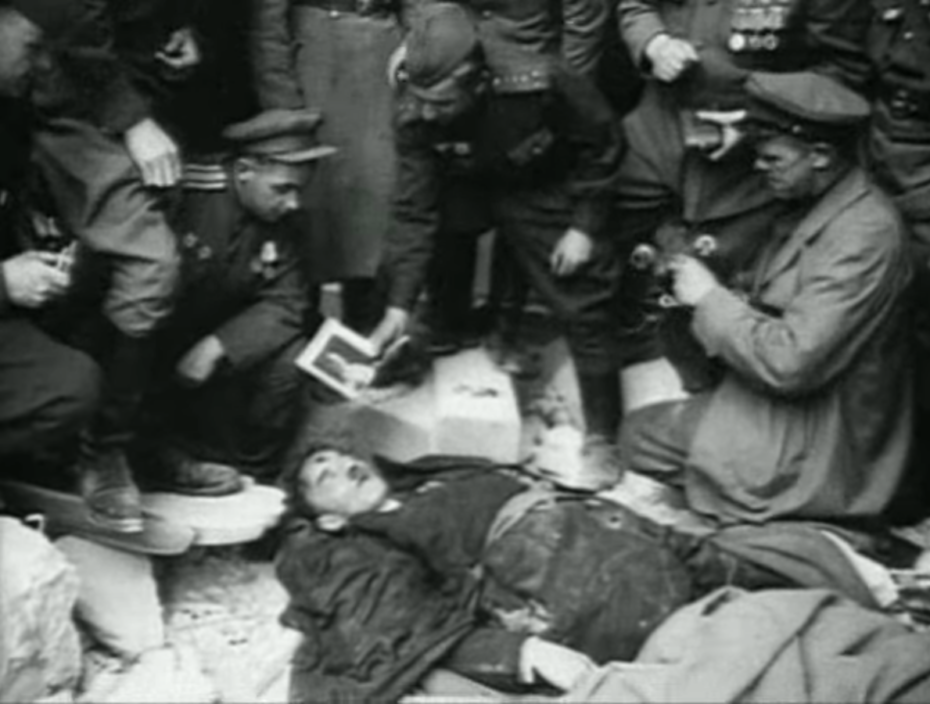 Picture a scene in the thick of WWII, with a group of Soviet soldiers crowded around the seemingly impossible: the bloodied, motionless body of Adolf Hitler. They hold up photos of the dictator beside the body's face in disbelief, but the resemblance is uncanny…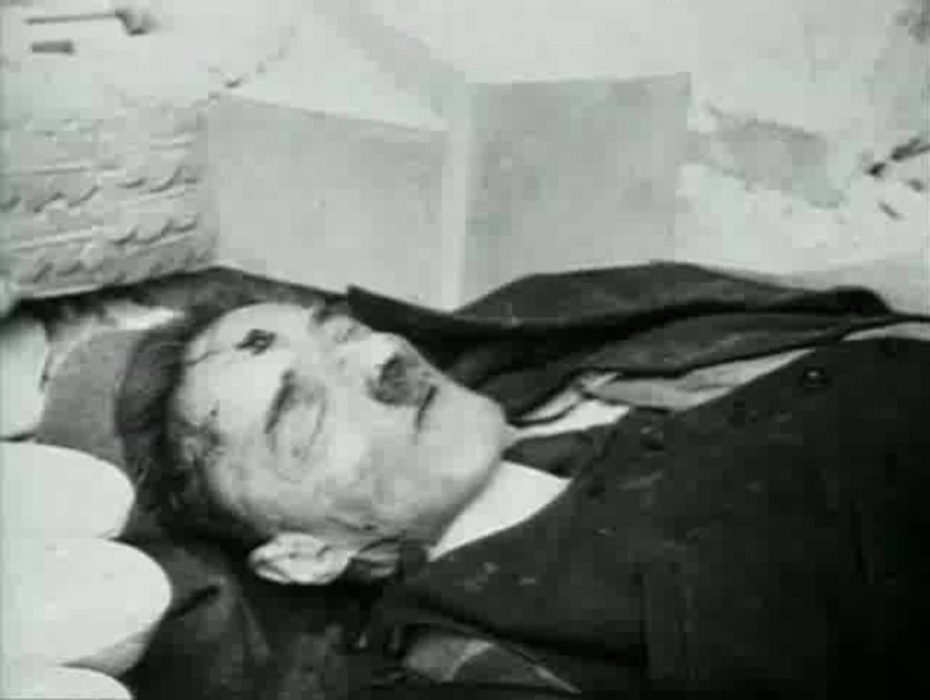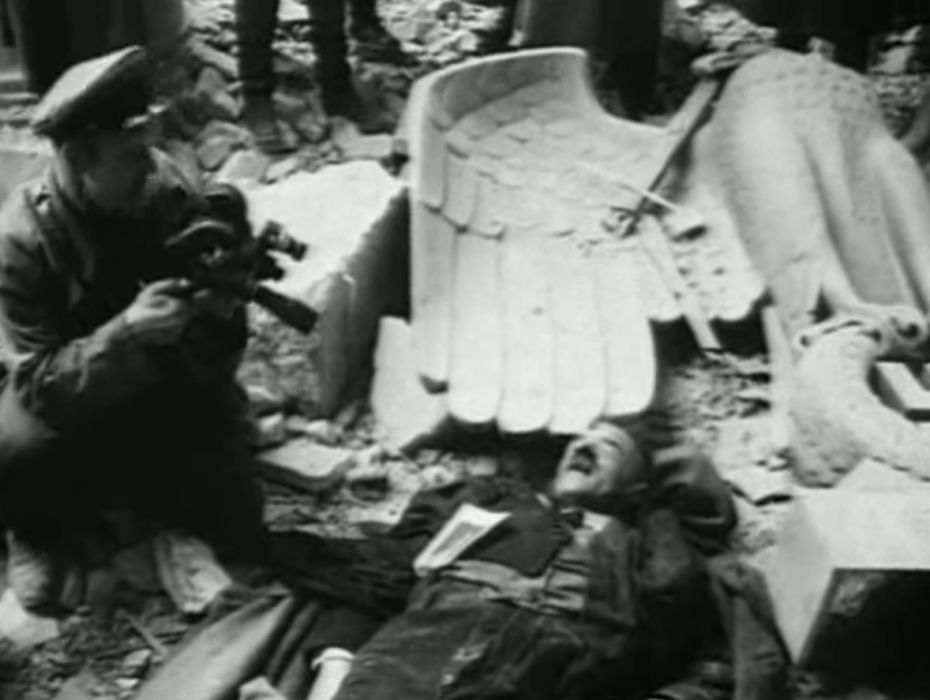 That was, of course, the point. Today, historians are divided on whose body surfaced that day in 1945 , but many say it was that of Gustav Weler, one of Hitler's estimated two-dozen doubles. Was he shot because he simply looked like him? Or perhaps knowingly sacrificed his life to protect the dictator? Was it even Weler? In 1996, author W. Hugh Thomas claimed Weler had survived the war and cooperated in an interview with Allied Troops. Whoever it might have been, the video of the cheery Soviet troops around what they believe to be Hitler is a pretty remarkable artefact…
Andy Warhol
"Art is what you get away with" are some of Warhol's most infamous words, and in the fall of 1967, he got away with convincing the world that he was on a collegiate tour in Utah and Oregon. In reality, for four long months of Q&As with starry-eyed students and professors, former Warhol "superstar" and actor Allen Midgette had actually been passing as the artist.
"I can honestly say I'm very happy that Andy had the success that he had," says Midgette in a 2014 video interview about his time with the artist. It's easy to see why the public was hoodwinked; although Midgette doesn't look tremendously like Warhol, his voice and mannerisms still carry the same monotone coolness that was Warhol's trademark. Add in a whole lot of makeup and a series of apathetic responses to students' questions, and it's no wonder he passed as Warhol:
"I'm not driven by the fame thing at all," says Midgette in the interview. He is driven, however, by one thing Warhol was famous for never giving superstars: money. "Trust me I would like to have made more money that I have," he says, "And even that wouldn't have been much. I profited from Andy Warhol by making movies with him…and making a dollar." It was actually Warhol who chased after Midgette, who'd been acting with some heavy hitters of Italian cinema like Bernardo Bertolucci, assistant to Pier Paolo Pasolini, in Italy. When he starred in Warhol's 1967 film, The Nude Restaurant, it was with some hesitation. "There was nothing about Andy that gave me the idea that it was going to be warm and friendly," he told Chronogram in 2006. 
Midgette quickly moved on from Warhol's crew, but the artist later tracked him down in San Francisco to offer him the role of a lifetime. Warhol was already quite vague with the press, and Midgette's point-blank responses to questions about Warhol's sexuality or artistic vision were pretty convincing. "One student stood up and said, 'Mr. Warhol, when I saw that movie I thought it was a piece of shit, but after hearing you talk about it, I think it's great,'" he said.  It was ultimately a photo of the real Warhol, when compared with that of Midgette's, that unraveled the whole charade. Initially, the academic community was enraged. Then, they started calling it a brilliant, extended piece of performance art.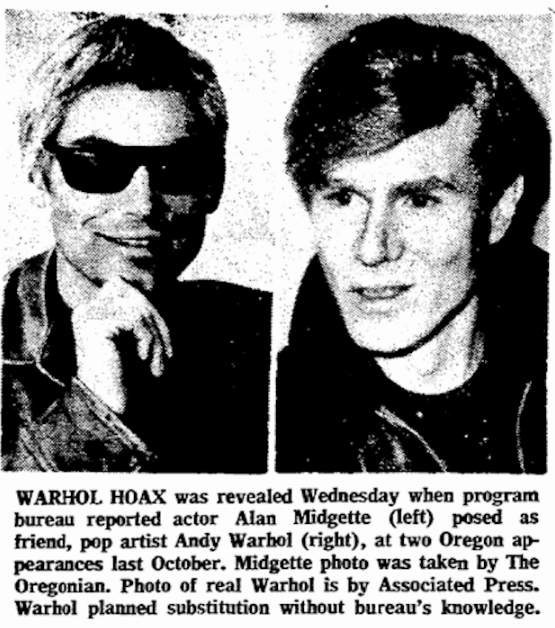 Midgette continued  'playing' Warhol on the streets and clubs of New York, even after the artist's death. "Andy Warhol is dead," wrote The Wall Street Journal in light of Midgette's behaviour, "but don't be surprised if you run into him at a party." These days, it seems he's hung up his white wig and moved to Woodstock.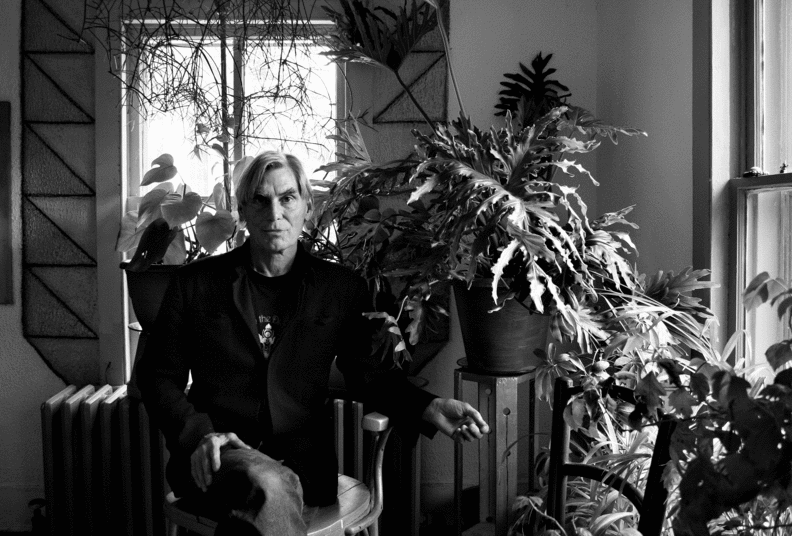 Howard Hughes
"That we have made a hero of Howard Hughes tells us something interesting about ourselves," writes Joan Didion in her famous Slouching Towards Bethlehem essay,"something only dimly remembered, tells us that the secret point of money and power in America is neither the things that money can buy nor power for power's sake […] but absolute personal freedom, mobility, privacy [to] be a free agent, live by one's own rules." For aviator, engineer and Hollywood mogul Hughes, that meant having a constant decoy. At least, so the rumours say…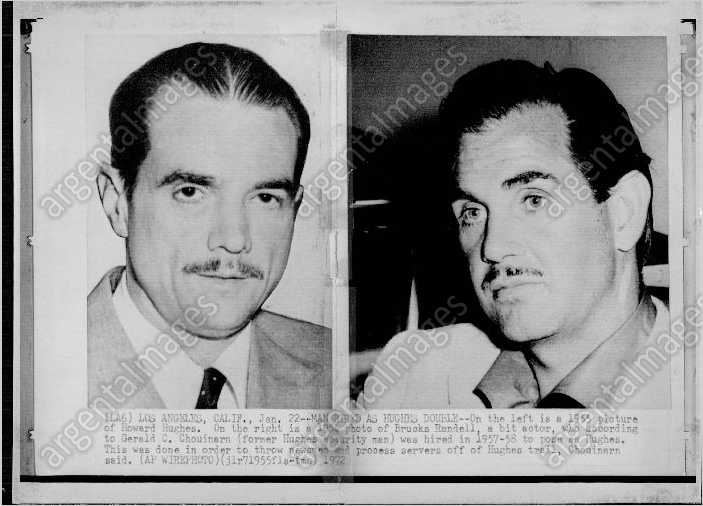 Hughes was an eccentric man by nature, but many of his "odd" habits were also thinly veiled signs of his struggle with Obsessive Compulsive Disorder, paranoia, and anxiety. "L. Wayne Rector was hired around 1955 by the Carl Byoir PR Agency (Hughes' L.A. PR firm) to act as Hughes' double," writes John E. Lewis in Mammoth Books presents Missing Persons and Mysterious Deaths, explaining that Rector continued to "play" Hughes for years, along with another man named Brucks Randell (above, right).
We can only speculate as to why Hughes had his doubles. Was it a need born from anxiety, or a very real fear of someone out to get him? (Enter the conspiracy theorists and a whole lot of speculation on JFK and Aristotle Onassis). Whatever the reasons, it's true the public was obsessed with Hughes' image, and the grandiosity it represented. Even when he was dead, they searched for his face everywhere.
Joseph Stalin
The only flagrant difference, he said, was in the ears. Other than that, Stalin's decoy Felix Dadaev was practically the mirror image of the dictator. It also wasn't until he was nearly 90 years old that Davaev finally opened up about the extensive process of 'killing off' his own identity, and taking on a new life as one of the world's most dangerous political decoys…
Perhaps Dadaev was so good at the gig because he was already a seasoned performer, albeit as a juggler and dancer. Like so many of his peers, however, he found himself on the brink of death during WWII. When NKVD forces rescued him from death, it was under the guise of transforming him into Stalin's next decoy, despite his being over twenty years younger than the dictator. All the government had to do was declare Dadaev dead, and pull him into an extensive training process to take on Stalin's looks and mannerisms. Can you tell who is who? 
We could go on when comes to unearthing history's best doubles, but we'll end things here on cheery note. Ladies and gents, presenting Michael J. Fox and his three Back to the Future II clones in 1989: