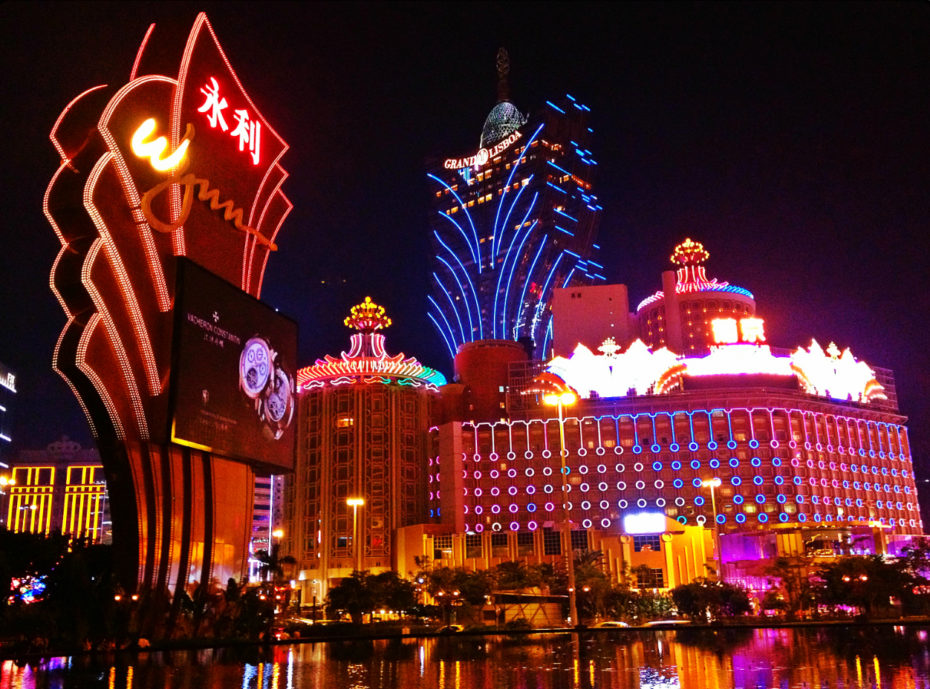 Imagine wrapping up all of Las Vegas in a neon-lit bow, and tossing it onto 29 square kilometres of land overlooking the South China Sea. Stir in a few Komodo Dragons and European-inspired skyscrapers, and you've got Macau, the gambling capital of the world across the way from Hong Kong. It's been called "the Monte Carlo of the East", and its floors are literally paved in gold bullion; it's a hotbed for unimaginable wealth, luxury and crime that has both Haussman-era Paris on steroids, and the largest "Venetian" casino in the world. But just how did this speck of coastline become the pulse of our planet's gambling scene?
According to a 2014 Business Insider article, "in 2006 Macau's casino revenues surpassed those of Las Vegas; and the Sands Macau, which opened in 2004, recouped its $265 million construction costs in one year" and in January 2018, CNN reported that in 2014 "Macau's  gaming revenue was more than $45 billion, cementing the city's position as the world's casino capital." There are over thirty-something luxury gambling halls to explore on what's know as the "Cotai Strip", from the Venetian to the Morpheus; the Grand Lisboa and the MGM Cotai. Most astoundingly, most of them were built in the last decade– and a few of the big ones in just the past few years. Take the Venetian, est. 2007, which is an exact double of its Vegas namesake. Only, at 376,000 square feet it's more than twice the size:
We'd spend more time perusing its halls, but to be honest we're anxious to move on to the next new kid in town: the Parisian Macau. It opened in 2016, and features a half-scale replica of the Eiffel Tower, a Brasserie-themed restaurant, and a check-in zone intended to look like Versailles. There are over 3,000 rooms with French-inspired furnishings, and there are apparently mimes and portrait-painting buskers roaming its grounds to recreate the feeling of "authentic Parisian life"…
They've even recreated the famous covered passageways. Only, in lieu of an old stamp or book seller flanking its sides, you'll finds luxury retail brands.
So how the heck did Macau turn into a gambling version of "It's a Small World"? After all, in the 1980s-90s it was still looking like this:
To trace the region's ties to gambling (and its increasing dependance on it) we have to travel back hundreds of years. You see, Macau was actually an independent colony of Portugal for almost 500 years. Hence, why W. H. Auden called it "a weed from Catholic Europe." In fact, it was the only European holding to have existed in China, and the Portuguese didn't hand it back until 1999.
In the 1500s, the Portuguese helped the Chinese escape from pirates and were rewarded with the rights to put down roots…and gambling habits, which have been legal there since the 1850s. To this day, Macau is still the only place in China where gambling is legal.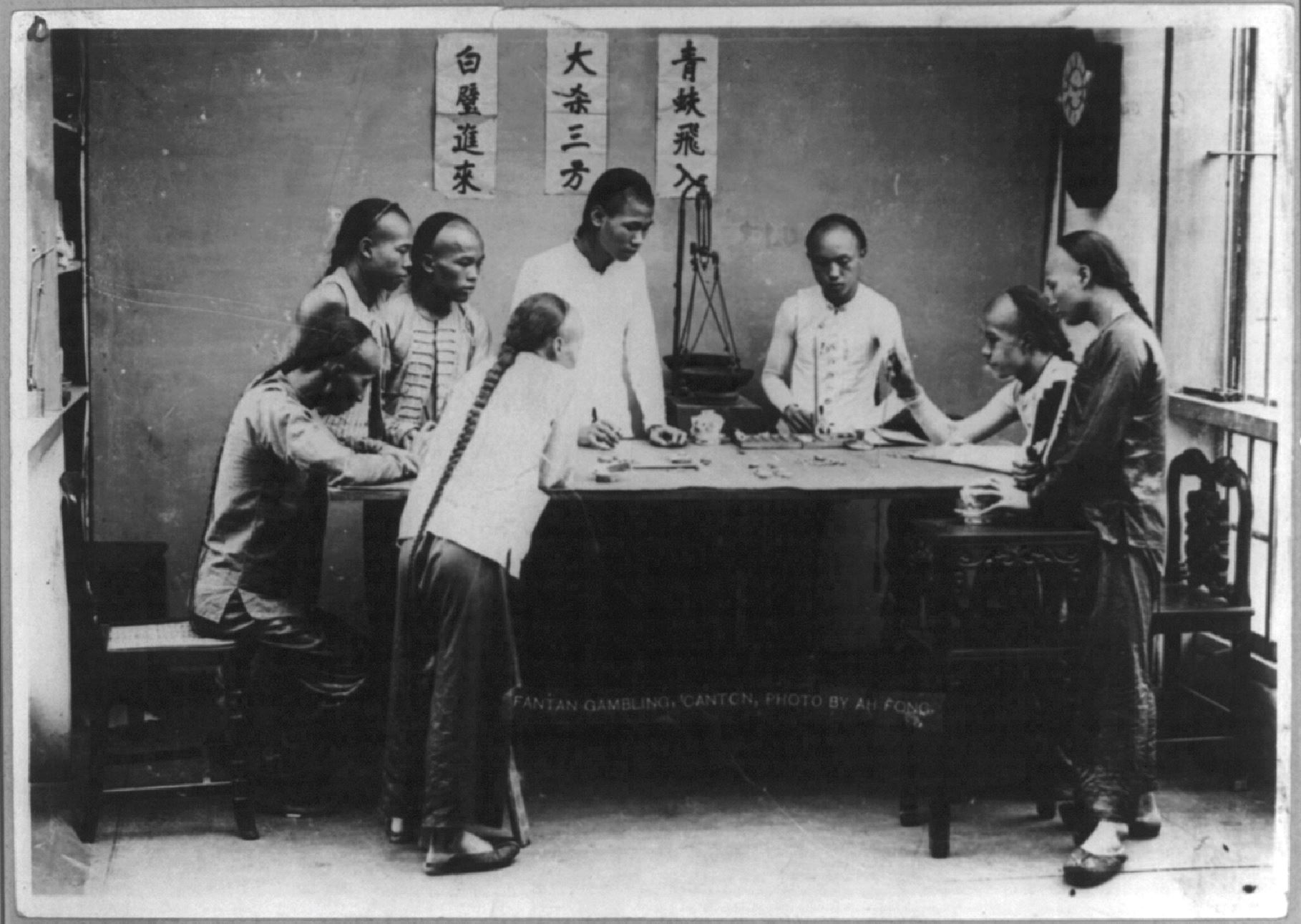 A fantan game in Canton, China, by Lai Afong, 19th century.Unsurprisingly, by the end of the 19th century there were some 200 fantan (a Chinese gambling game like roulette) houses crammed inside its borders. So in a way, Macau was kind of the originator of the Viva Las Vegas spirit…
By 1887, the countries had to come to a kind of compromise called the "Lisbon Protocol": China would recognise the "perpetual occupation of Macao" if the Portuguese promised to never hand it over to a third party without Chinese approval. Anyhoo, this explains the remnants of Portuguese architecture and abundance of pastéis de nata custard tarts. 
Prior to the big casino boom of the 1970s that gave it more visibility, Macao was mainly known through a series of Hollywood cliches for Westerners; an easily romanticised, steamy setting for film noir and crime films like Howard Hughes' Macao (1952), in which Jane Russel plays a sultry nightclub singer, and even in 2003's James Bond flick, Skyfall, which has "007" rolling around fighting with komodo dragons.
Either way you slice it, Macau always seems to come out looking like a sexy, albeit dangerous place to visit. It was the Casino Lisboa, est. 1970, that really kicked-off the move towards grand-scale casinos that were more targeted towards Westerners. It was built up to what now feels like a comparatively miniscule 12-stories by Macau's "gambling godfather", Stanley Ho, with a name that pays homage to the area's Portuguese history.
The "Grand Lisboa" (aka the skyscraper that looks like a giant palm frond) opened next door in 2008.
It was only possible because in the 1960s, the government finally gave gambling monopoly rights to STDM, a joint Hong Kong and Macau syndicate that brought in Western games and casinos. Today, the area's top casino operators will certainly ring a bell with Westerners, from MGM China Holdings to Sands China, which is run by Las Vegas business magnate Sheldon Adelson (who, in collaboration with Trump, is now looking to develop Japan's first legal casinos). Throw in a faux Eiffel Tower, and the line between the Vegas and Cotai strip becomes even blurrier. 
The gamlbing industry has certainly put Macau on the map, feeding its economy and an increasingly dominant, luxurious standard of living (it also boasts the fourth-highest life expectancy in the world). But on the other side of the glamour, there's a lot of inequality. "It's one of the most expensive places to live [in the East]" reported Bloomberg in 2015, "There's some major social issues. No one expected the gambling results to be as healthy as they are. The government is in a good position because they have a surplus" but now diversification will be the real test for Macau, whose casinos have quite a bit of dirty laundry. Why? Above all, Macau flourishes as a way for the Chinese elite– eherm, "VIP casino clients"– to get their money out of the country in hefty sums through clever junket systems. So the lesson du jour? Dunk your dirty dealings in enough Baroque-revival kitsch, and you can surpass the Chinese governnment's alotted $50k transfer limit.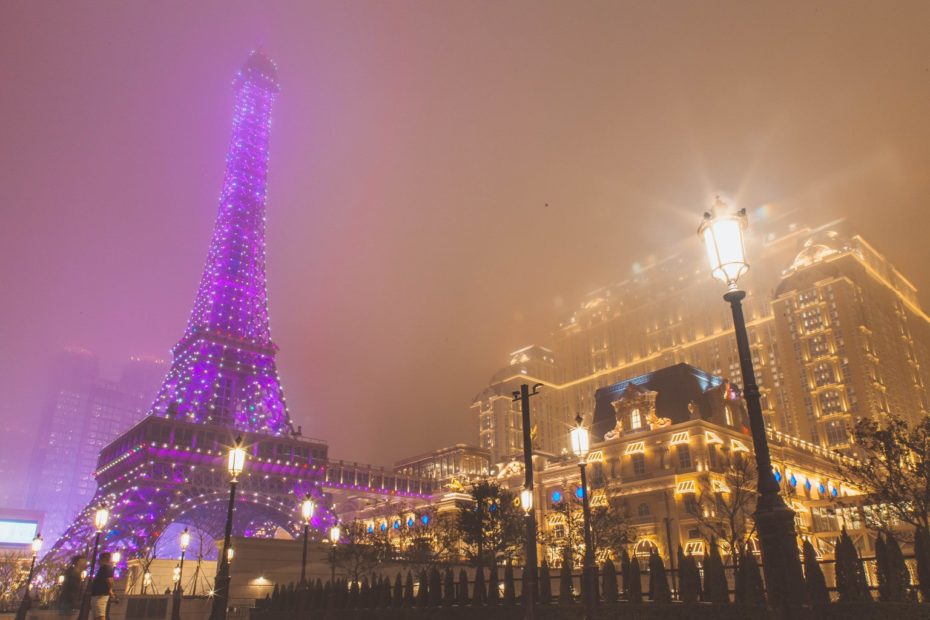 If Macau does continue to follow in Las Vegas' footsteps, the hope is for it to start becoming a more family-friendly tourist destination. According to a 2018 Forbes article, there's just not a lot of sustainiblity in relying on high-rollers, as "the mainland has tightened oversight of financial outflows and Macau authorities have increased regulation of junkets." Who knows, perhaps in 2040  Macau could be home to Disney Universe. For now, a demi-Eiffel Tower will have to do.