Who else writes an alphabet book where "E is for Ernest who choked on a peach?" or where "B is for Basil assaulted by bears?" Master of the macabre, Edwardian enthusiast, unlikely style icon, cat lover – there's no box the late illustrator and author Edward Gorey doesn't tick for us. He wasn't trying to treat children like grown-ups, but he was inviting them into very grown-up circumstances; his unapologetically dark tales colouring their imaginations (and their nightmares). Gorey was a man whose work thrived at the intersection of the ghastly and the hilarious, the fantastic and the mundane, who paved his path decades before Tim Burton or Lemony Snicket (they of course took notes).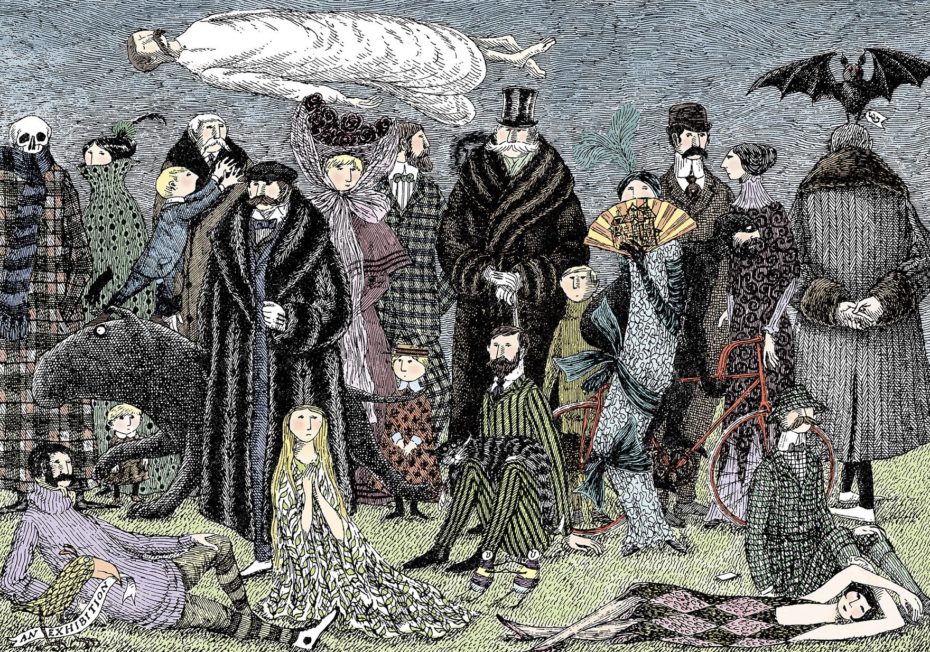 If we can shift our focus away for a moment, from the dark and grisly nature of his illustrations, we begin to discover Gorey's work as an unexpected vault of endless fashion inspiration – from the characters' flamboyant accessories to their surreal and intricately patterned clothing. Edward even dabbled in costume design for Broadway in the 1970s and won a Tony award for it.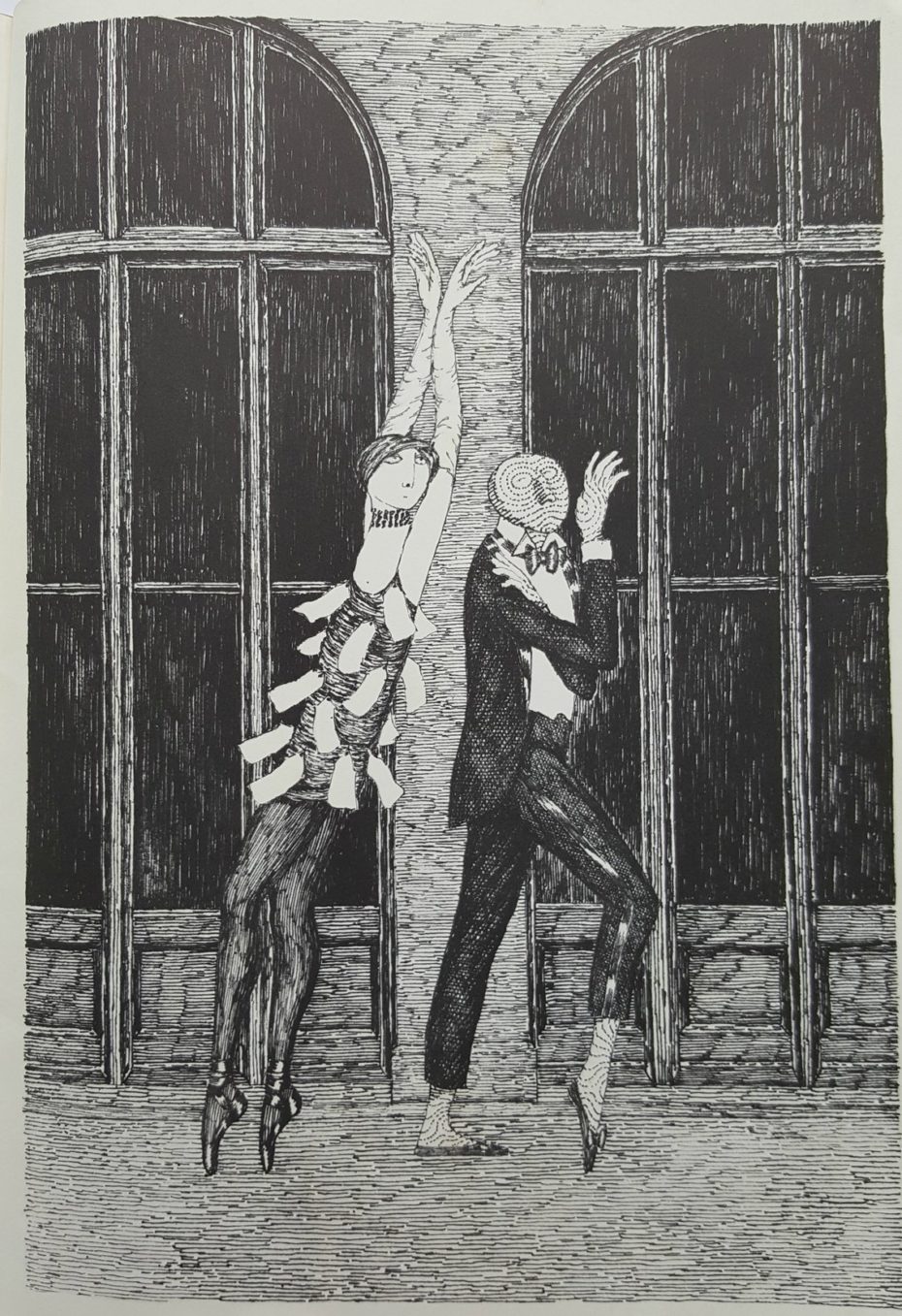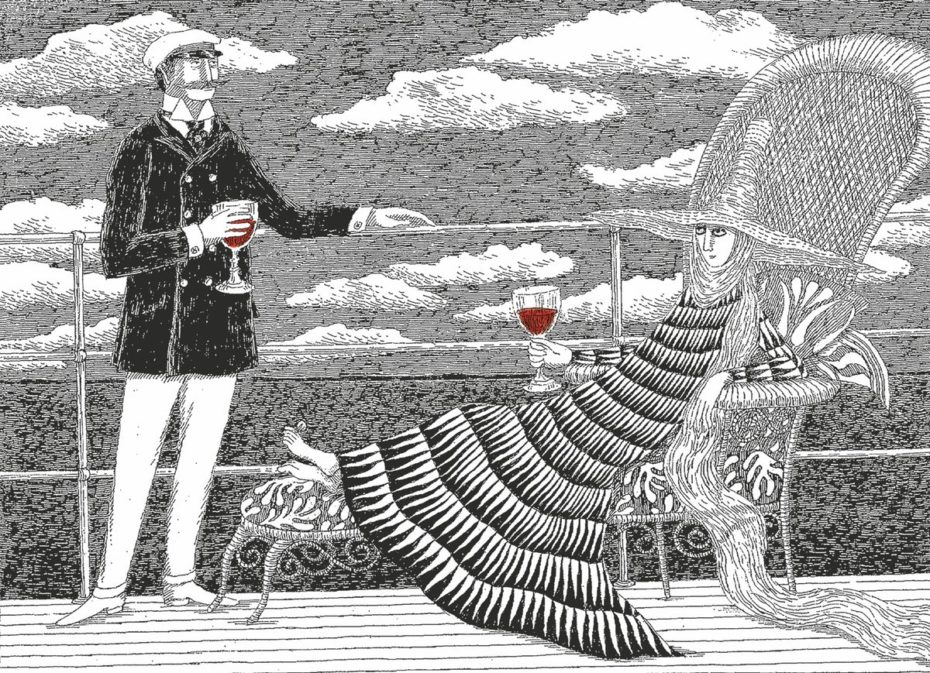 On the eve of a new documentary that could finally tell us more about the elusive Edward Gorey, we're lifting up the tombstone of the man who, as his biographer Mark Dery says, was "born to be posthumous" …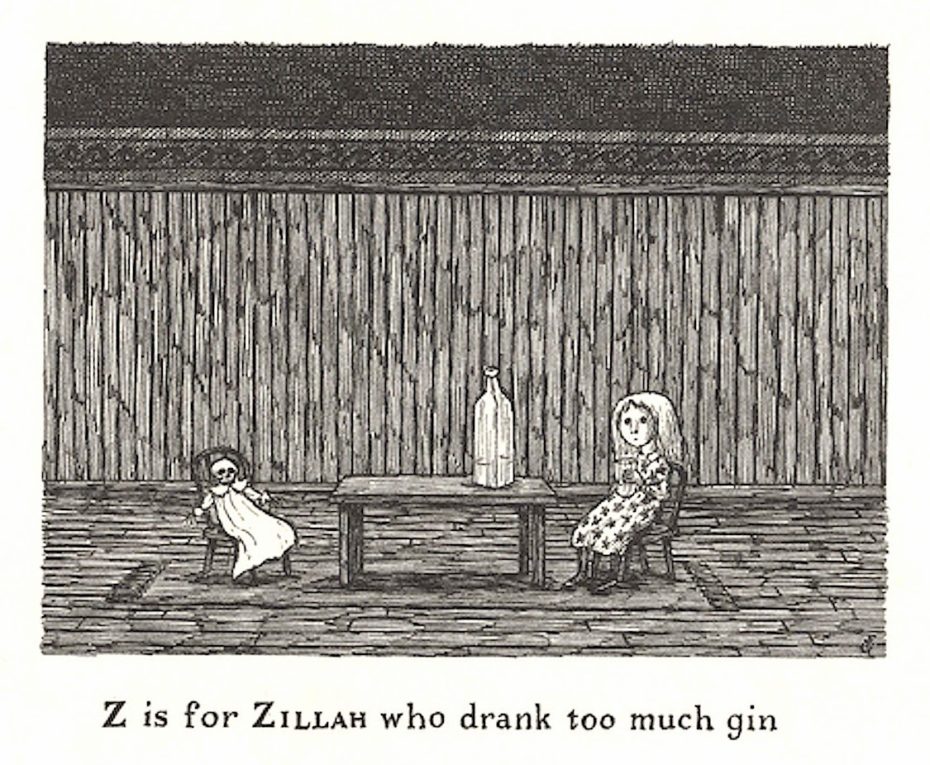 Life is intrinsically, well, boring and dangerous at the same time … At any given moment the floor may open up. Of course, it almost never does; that's what makes it so boring.

Edward J Gorey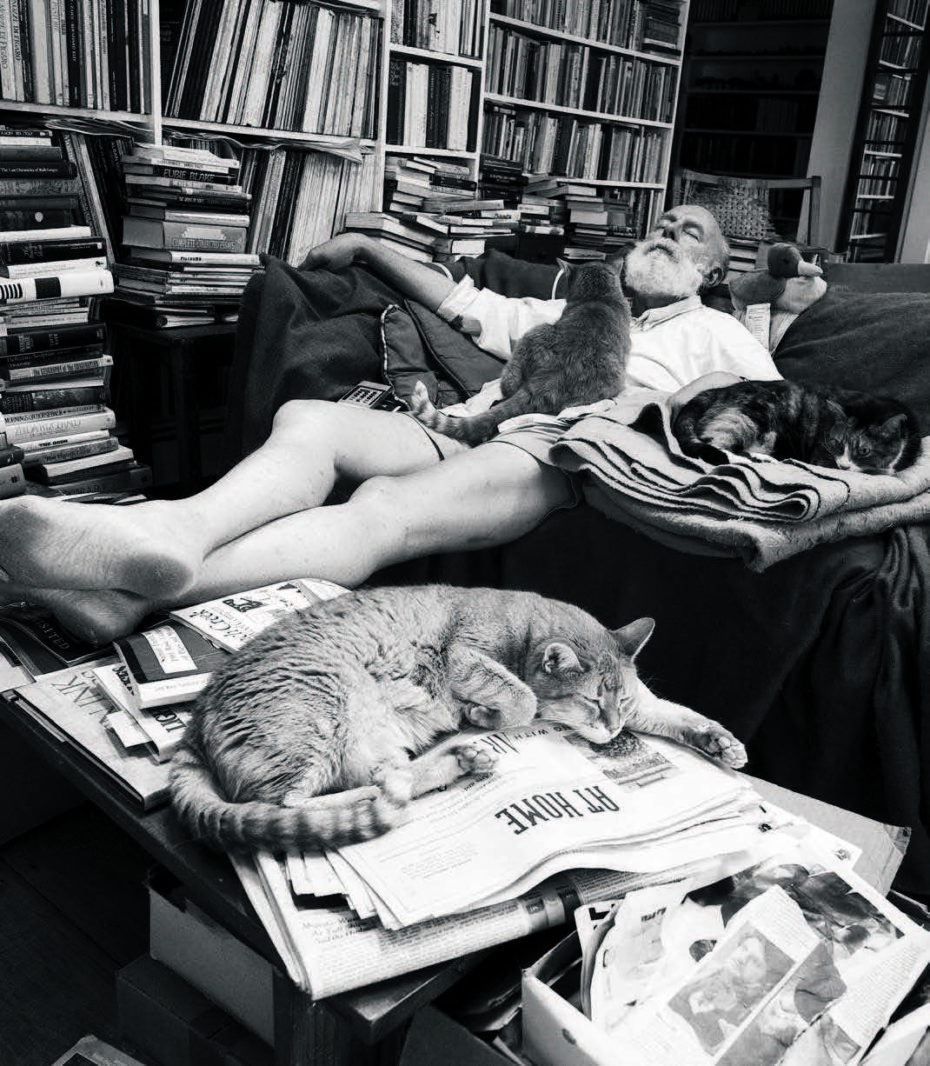 Edward Gorey's private life remains a mystery – one that critics are only just beginning to dust off since his death in 2000. Known to his fans as the "Granddaddy of Goth," he was never married and alluded in the few interviews he gave that he might be asexual. But of one major love in his life, we can be sure: cats. He had loads of them at his home in Cape Cod, his quiet companions until the ends of his days.
Edward Gorey, early 1970s, photographed by Bill Cunningham/The New York Times
His love of animals eventually led him to denounce the bevy of fur coats that formed his iconic silhouette, auctioning off his collection and donating the money to PETA. But even minus the coats, Gorey's fashion influence had been solidified: he was the seaside dandy of the East Coast, traipsing around town with his handmade metal jewellery – long pendant necklaces, chunky rings upon rings – and oversized scarves and coats. And even his illustrated characters, male and female, shared his fabulous sense of style (and his racoon coats).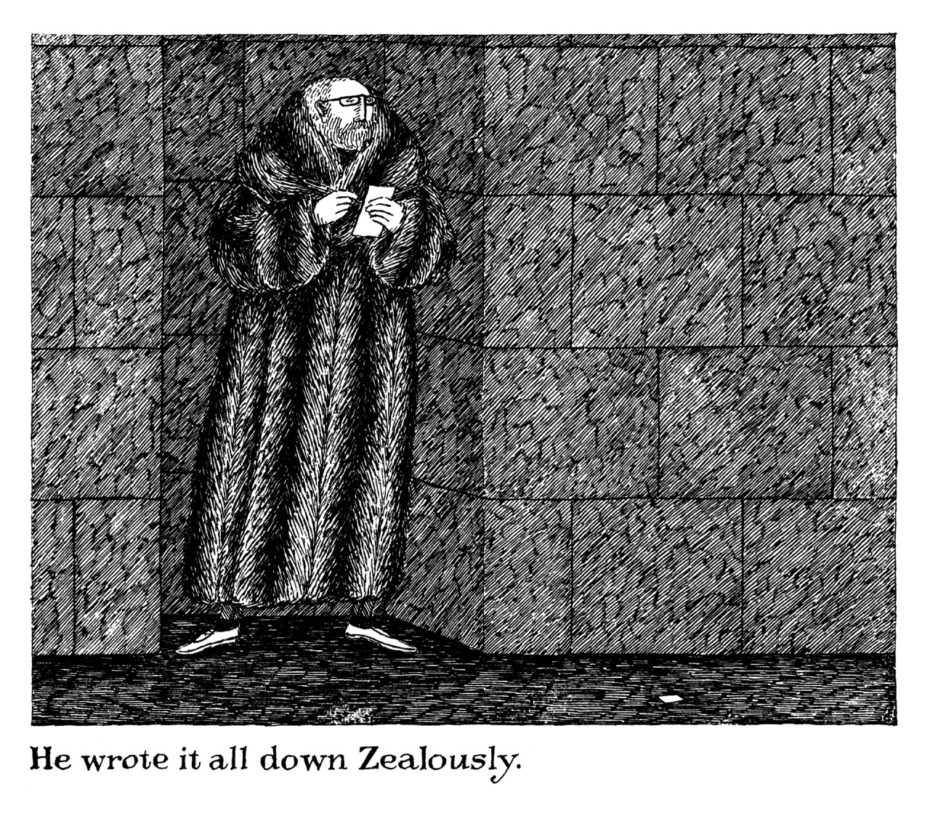 Yet, for all the pomp of his look, Gorey remained a bit of a recluse. He published under many anagrams, like Ogdred Weary, Dogear Wryde, and Ms. Regera Dowdy (one of which graced his car's license plate). When books like The Unstrung Harp (1953) and The Doubtful Guest (1957) came out, the public instinctively pinned "Edward J. Gorey" as another deceased Victorian obsessed with death.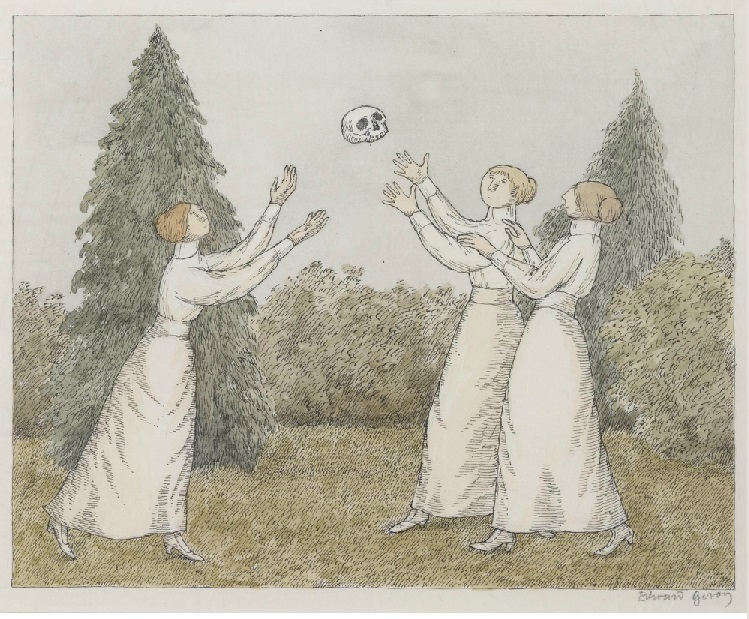 Gorey loved to tint his world with dread, and the tongue-in-cheek manner he did so was A) so very British, and B) so very new for American audiences. No one had seen anything quite like it in the US (especially not since 1880).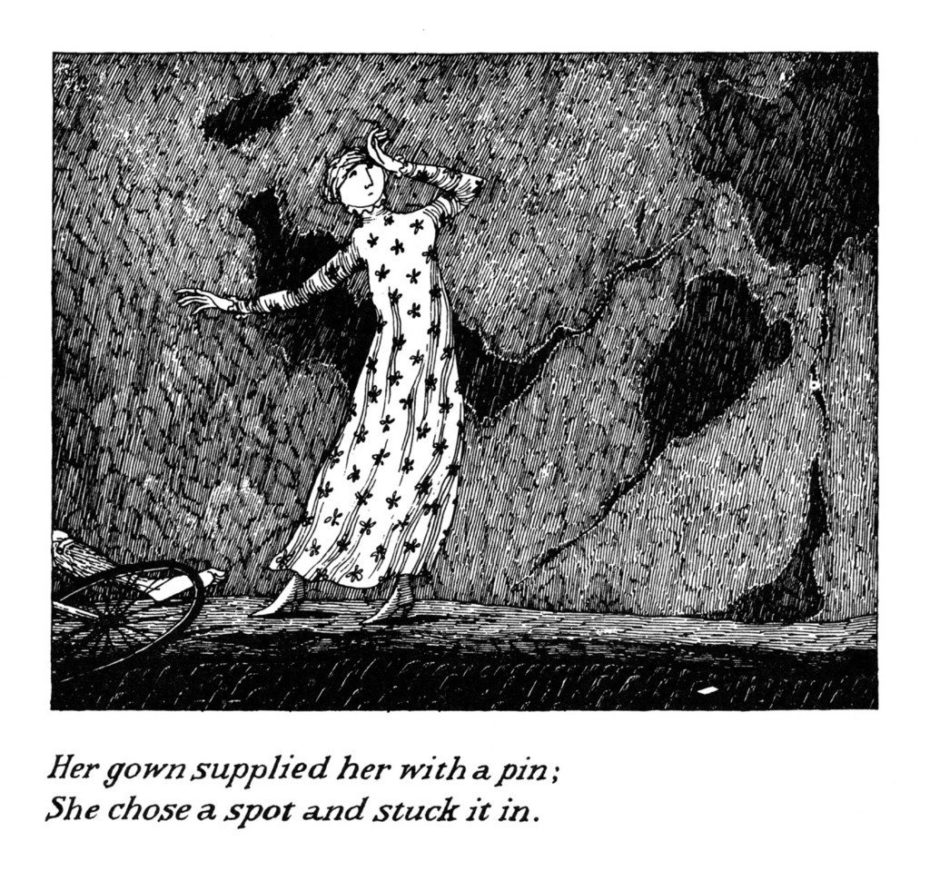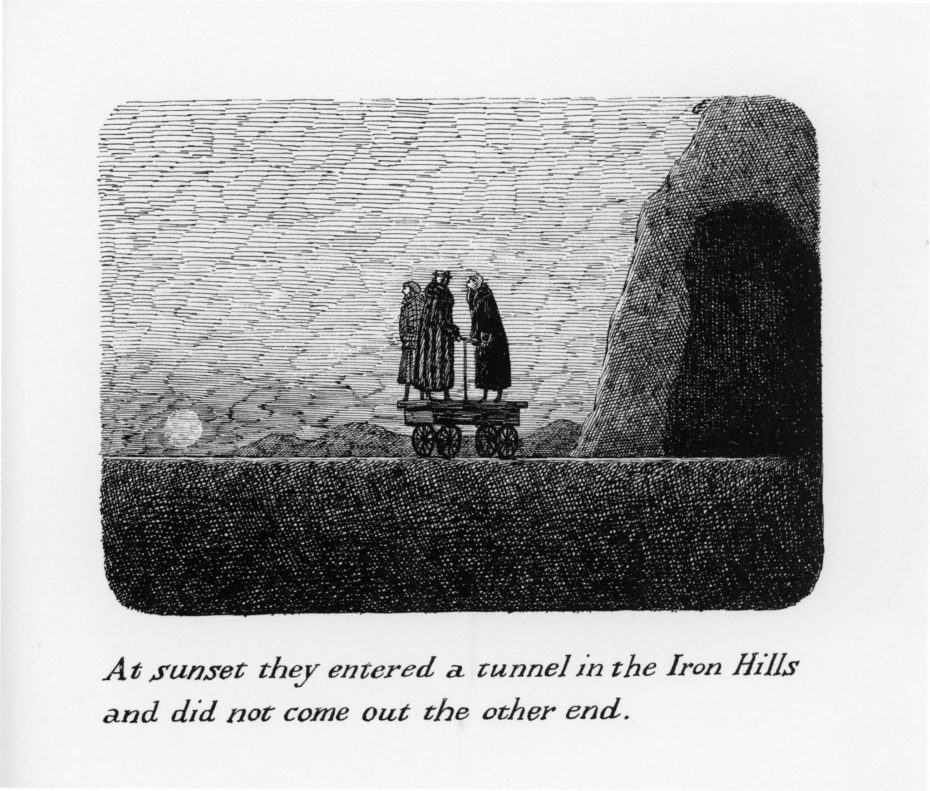 Peel back the layers, and you'll discover that Gorey was, at his core, a wisecracking Midwesterner from Chicago. His upbringing was normal but peppered with eclectic stock, from a journalist father whose second wife acted in 1942's Casablanca (the guitarist by Sam's piano), to a great-grandmother who made it big in the greeting card business. Unsurprisingly, Gorey was a drawing prodigy, making his first work ("Sausage Train") at 18 months old. He fell in love with everyone from Agatha Christie to Johannes Vermeer, making his pen go to painstakingly tiny lengths to get his signature, over-drawn style.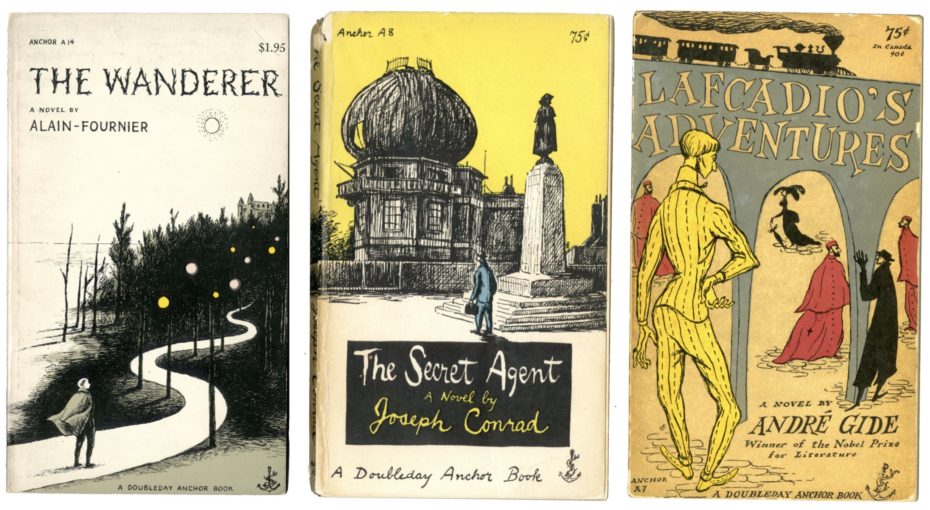 Ultimately, his talent took him to Manhattan. He befriended a man credited with launching his career, bookstore owner Andreas Brown, who ran the Gotham Book Mart in a small Midtown basement – which according to Arthur Miller was "an invaluable source of books … It's impossible to imagine New York City without it." (Like many great bookstores, it closed down in 2007).
In 1953, Gorey published his first independent work, The Unstrung Harp. The New York Times called it, "a small masterpiece" about "isolation, writer's block, and plain boredom." It was a critical success, and Gorey lived in Manhattan until 1960, illustrating book covers for Doubleday Anchor and even publishing two drawings in The New Yorker in the 1990s, which would later become covers.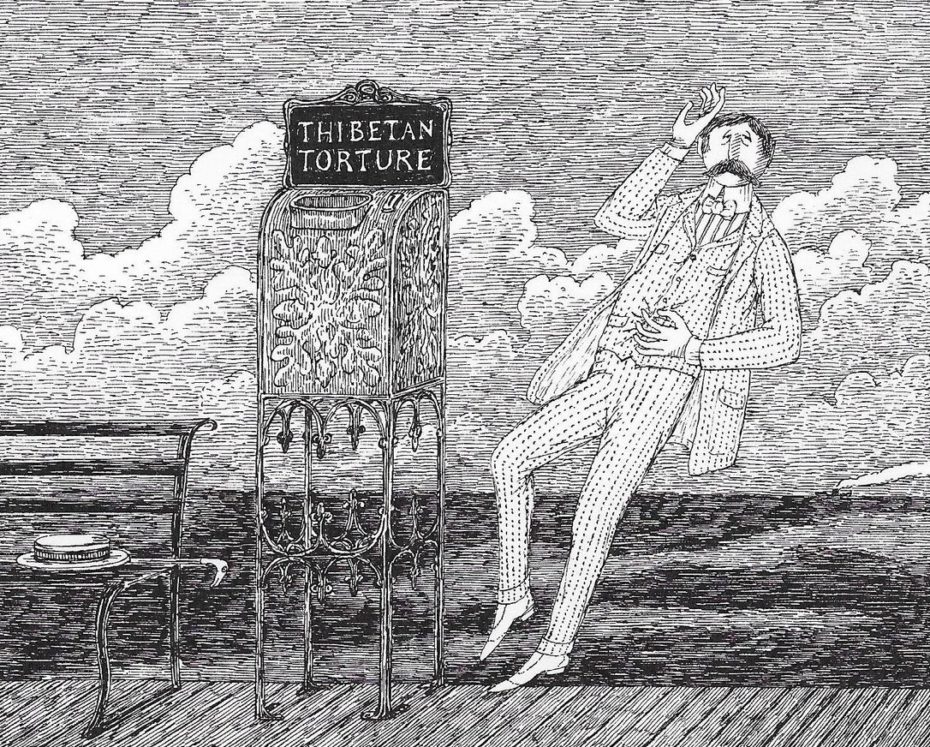 Gorey's drawings are "a marvel of pen-and-ink draftsmanship," explains biographer Mark Dery "minutely detailed renderings of cobblestoned streets, no two cobbles alike; Victorian wallpaper writhing with serpentine patterns. Gorey's machinelike crosshatching would have been the envy of the nineteenth century printmaker Gustave Doré, or the illustrator of Lewis Carroll's Alice books."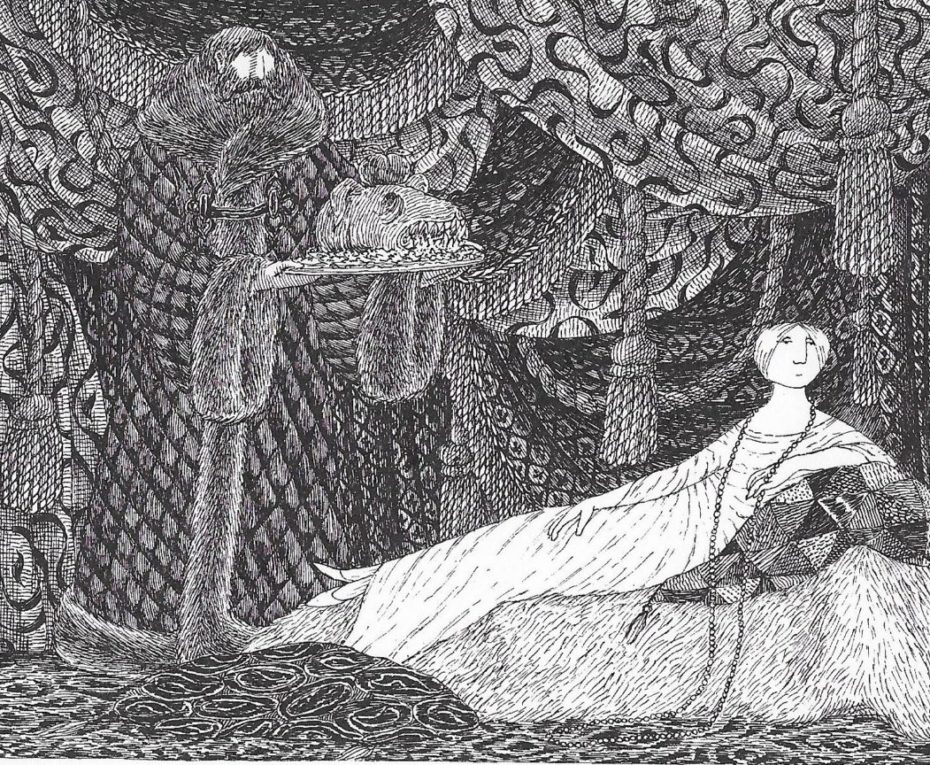 For a kid, Gorey becomes an invaluable confidante in a world of otherwise patronizing adults, extending a grisly olive branch to children each time he promises to tell them a story that would send shivers down their parents' spine. Consider The Doubtful Guest, his groundbreaking children's book in which nothing overtly disturbing occurs – save the appearance of a strange little creature who, quite simply, won't go away. The creature, which is actually kind of adorable, verges on the psychotic with its unexplained persistence to stay in the characters' lives.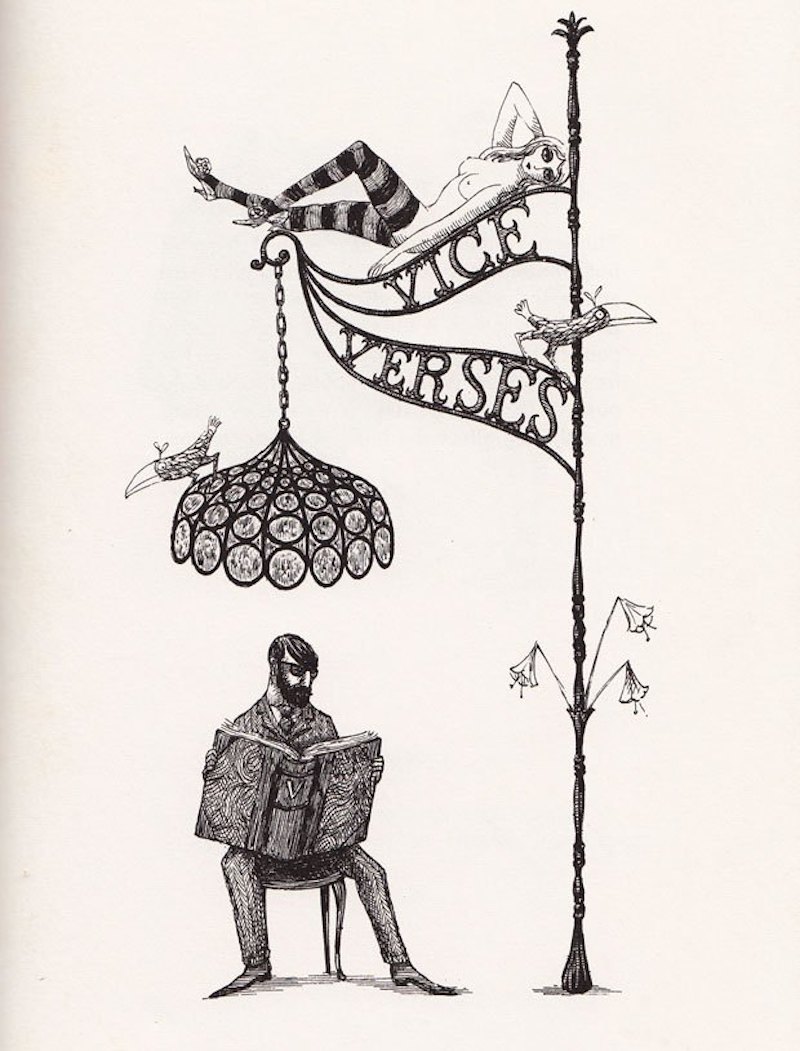 When Gorey did dabble in adult-targeted works, things got quite risqué. Consider The Curious Sofa (1961), a book of "implied," illustrated pornography he published under the penname of Ogdred Weary, as a kind of satirical take on the infamous erotica, The Story of O. Felicia Lamport, herself a noted satirist, also partnered with Gorey to publish numerous of sarcastic quips, like Scrap Irony (also published in 1961), which poked fun at everything from fashion to technology.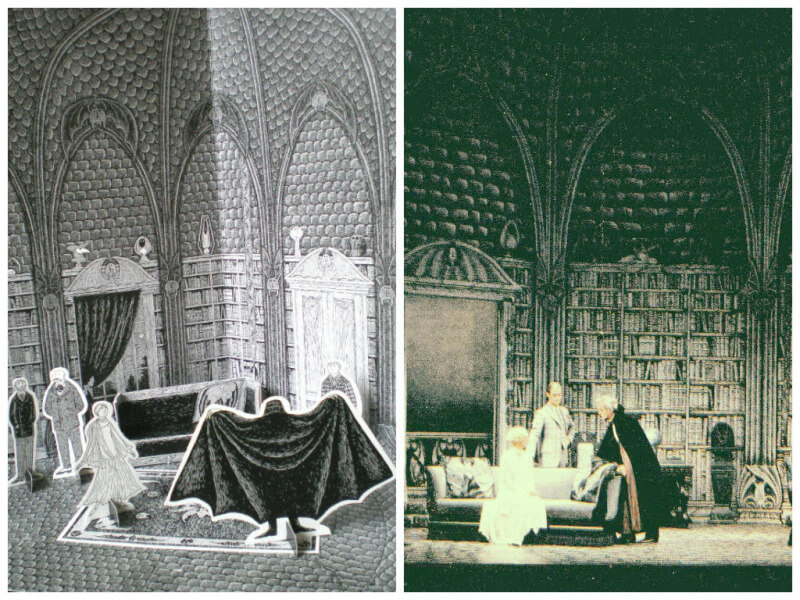 Broadway fans will also know Gorey's work from 1977's Dracula, with sets that felt like life-sized, walkable Gorey stories, and costumes that won him a Tony Award. It was Gorey's overarching aesthetic that dazzled audiences; and upon premiering, Time magazine said it simply stole the show.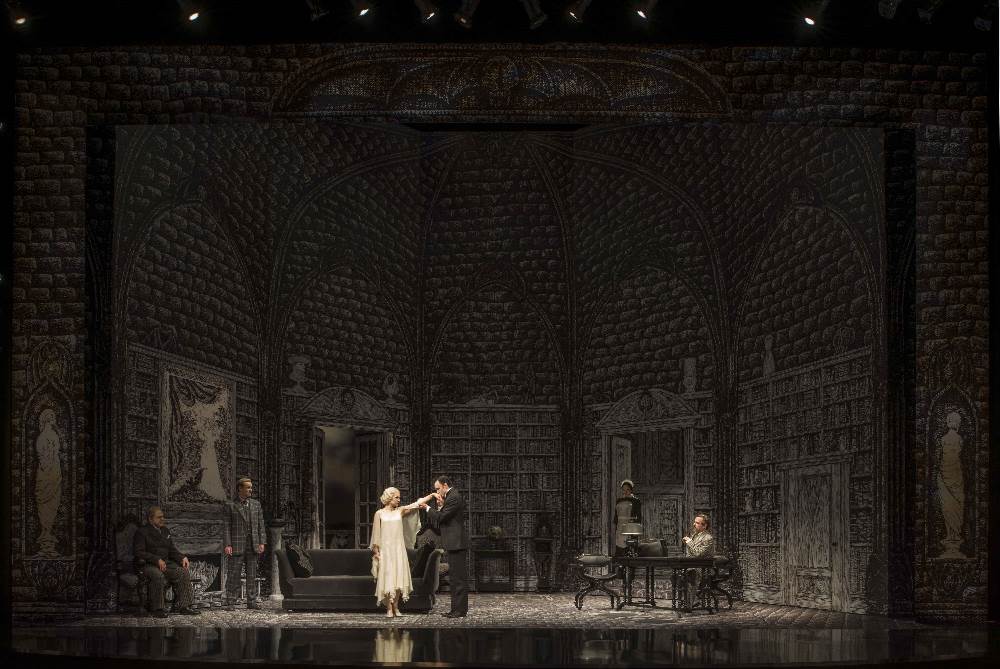 His taste has inspired interior and fashion designers across the board, from Commes des Garcons to Anna Sui, who credits his fabulousness to an eye for blending textures, cultures and eras. His animated intro for PBS' Mystery! brought him great notoriety and contains some seriously stunning fashion design, reminiscent of Emilie Flöge, the unknown designer behind the Klimt paintings.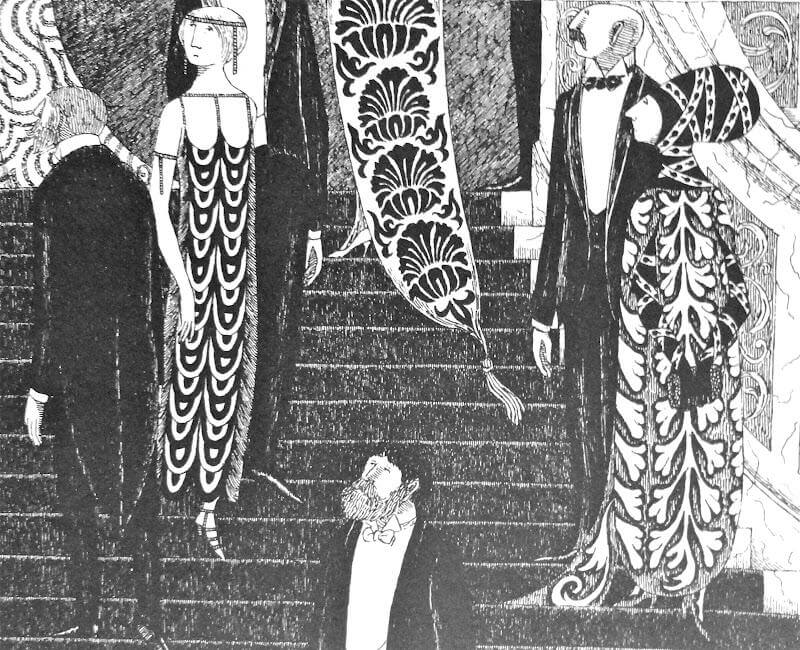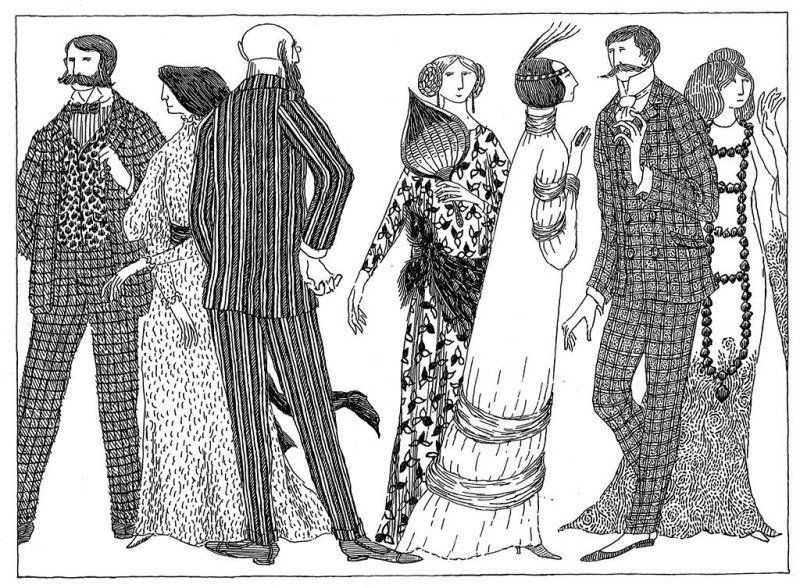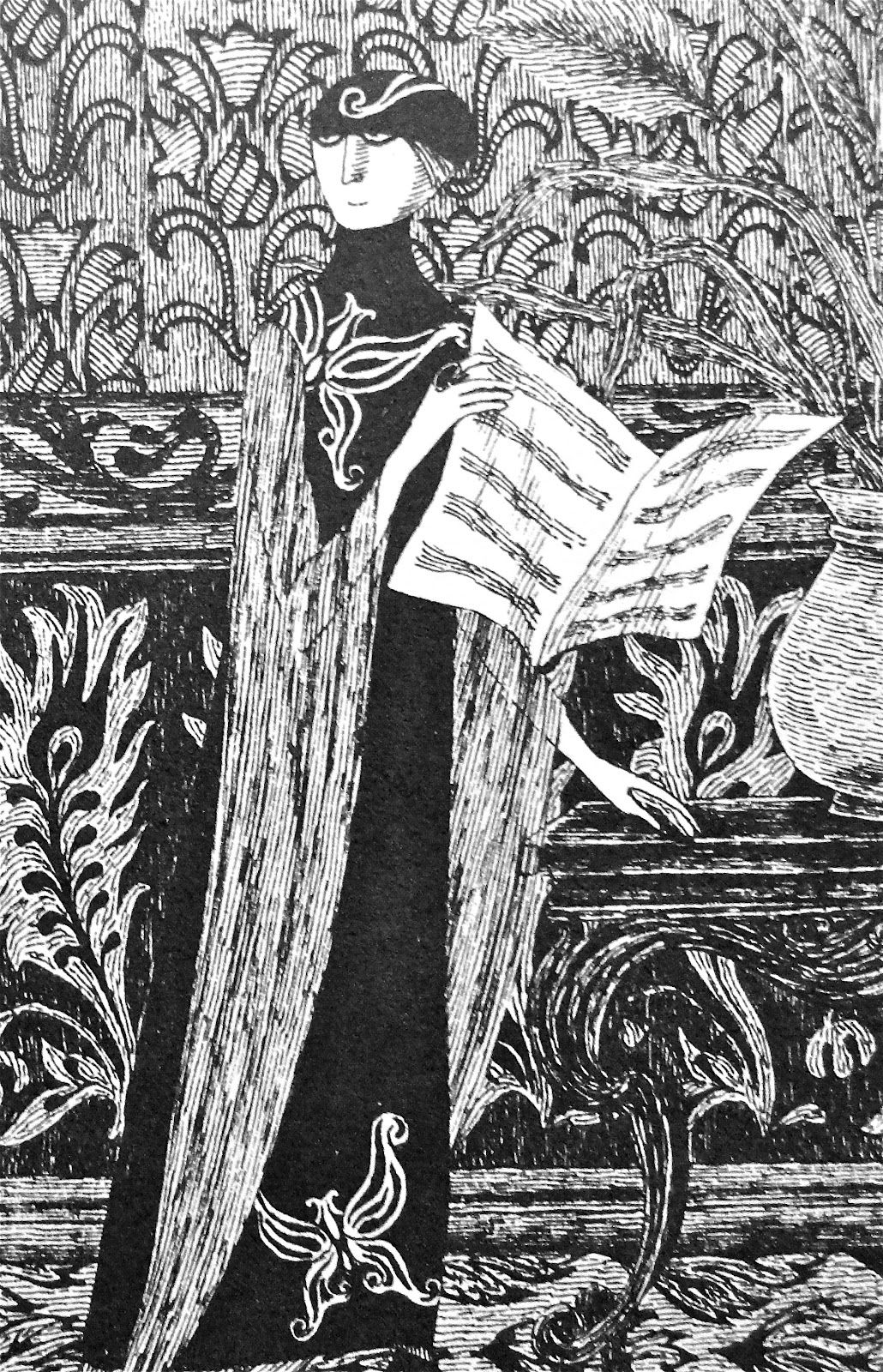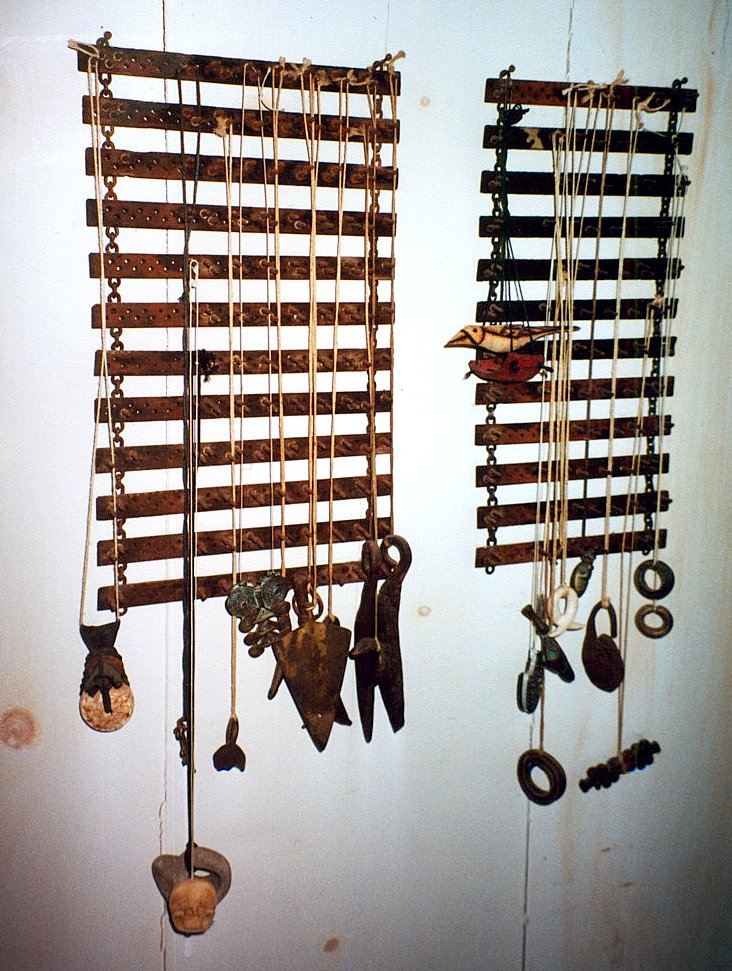 Gorey lived out his later years quietly, as a beloved community member of Yarmouth Port, Massachusetts, on Cape Cod, putting on operatic papier-mache puppet shows for what he called "Le Theatricule Stoique." One of the most memorable of the performances actually took place after Gorey's death, featuring a score by Daniel James Wolf and directed by his friend and collaborator, Carol Verburg.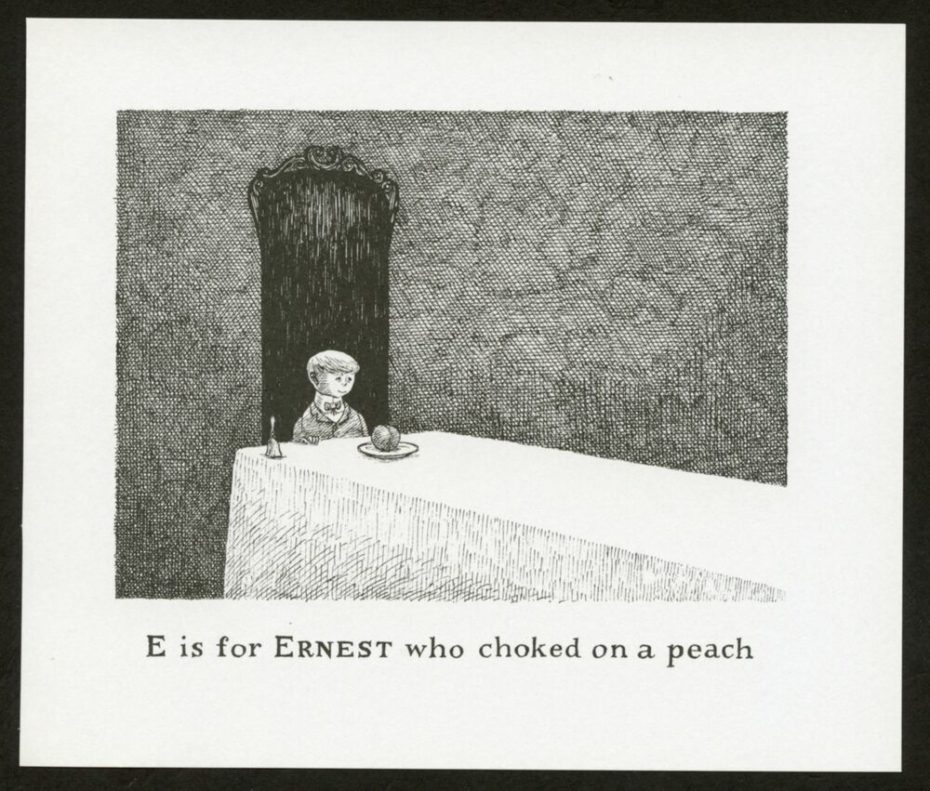 When Gorey died in 2000, Andreas Brown, the bookstore owner credited with starting his career, discovered a large cache of unpublished work, from illustrations to screenplays; "ample material for many future books and for plays based on his work".
So if we're lucky, we just might have more Gorey on the horizon.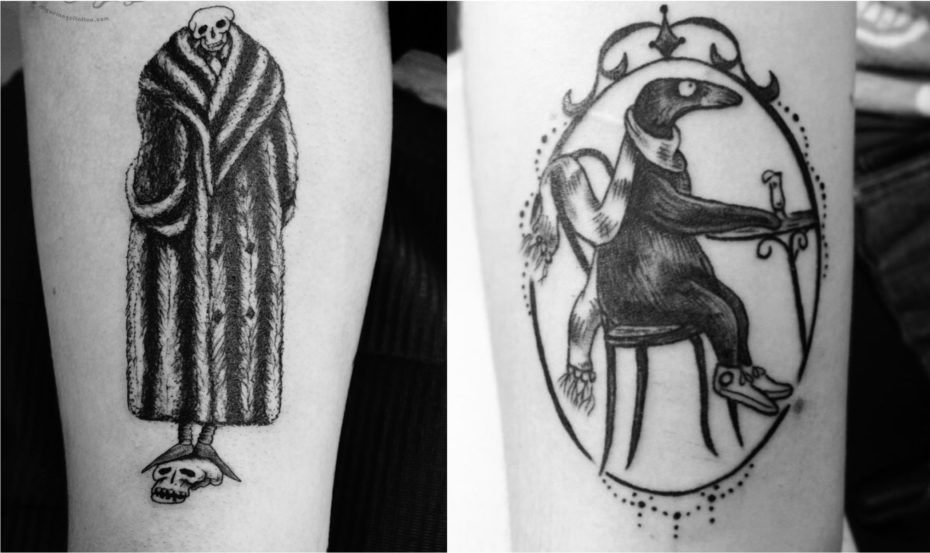 As biographer Mark Dery says, even if you don't know Gorey by name, you know him by the legacy he's left. Today, "[his] little world has won itself a mainstream cult. Whether they notice his name in the credits or not […] every Tim Burton fan is a Gorey fan at heart. Burton owes Gorey a considerable debt, most obviously his animated movies The Nightmare Before Christmas and Corpse Bride."
Lemony Snicket, the author of the Series of Unfortunate Events books, went so far as to say "when I was first writing I was wandering around everywhere saying, 'I am a complete rip-off of Edward Gorey,' and everyone said, 'Who's that?'"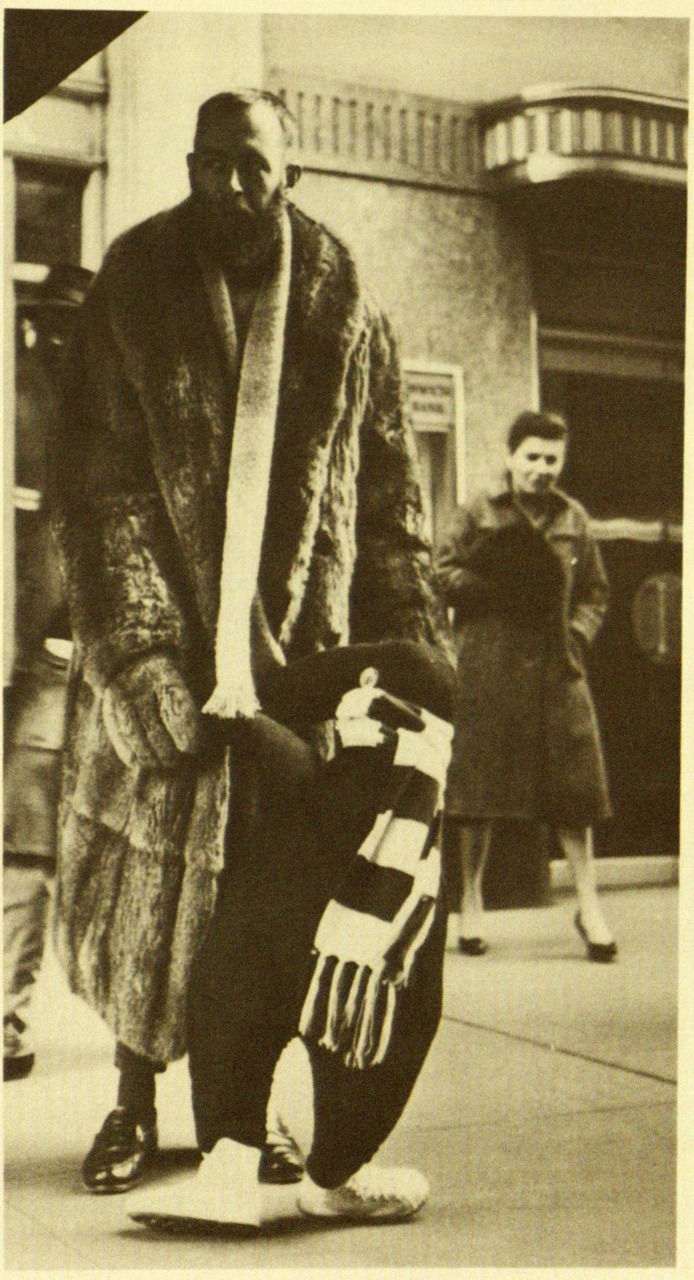 Luckily, filmmaker Christopher Seufert shot a documentary on and with Edward Gorey from 1996, up until his death in April of 2000. As of today, the crew is in post-production, but hopefully we'll soon have a new window into his life.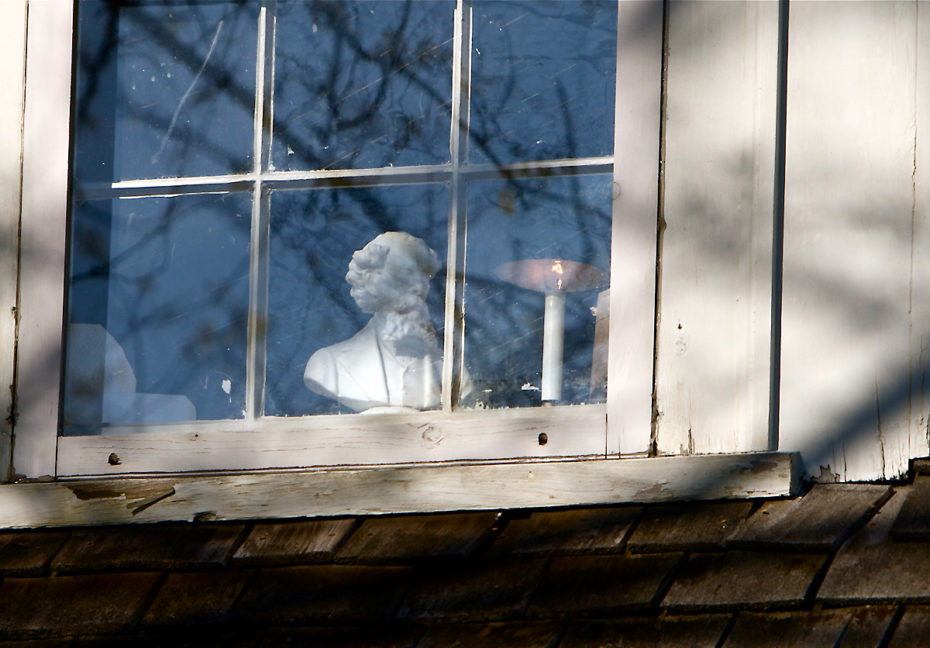 Until then, you can actually visit Gorey's home in Cape Cod, which has become one of the more personal museums out there; you can wander his halls, stare at jewlery, and sea the teapot still sitting on the kettle – half awaiting Gorey himself to wander around a corner.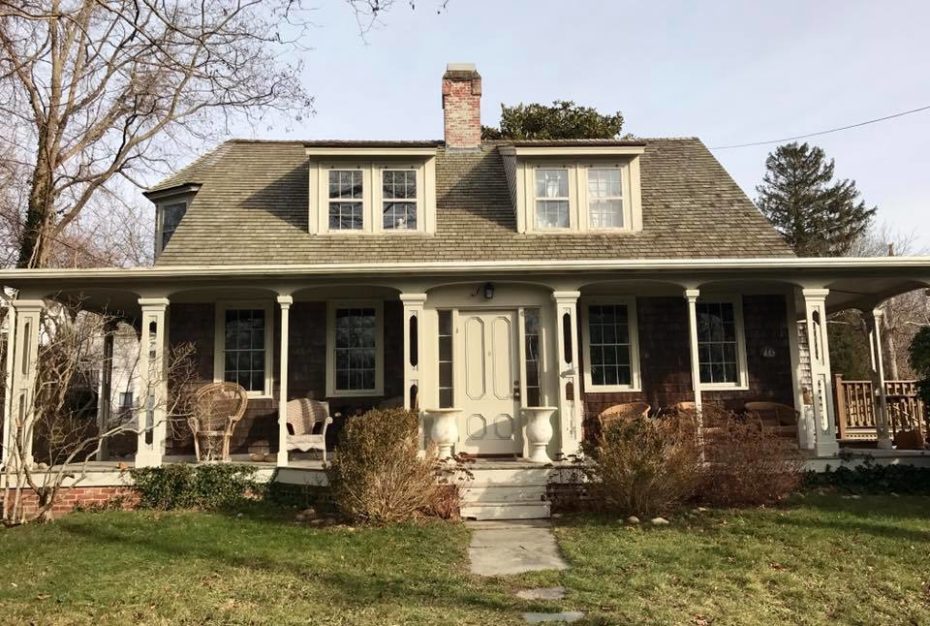 And in the meantime, here's a fan animation of Edward Gorey's Alphabet, using the illustrations of "The Gashlycrumb Tinies" using 2D style animation.
Learn more about the upcoming Gorey doc here.
You can also buy some little-known Gorey prints here on Etsy. The biography, "Born to Be Posthumous: The Eccentric Life and Mysterious Genius of Edward Gorey" is available to buy on Amazon.