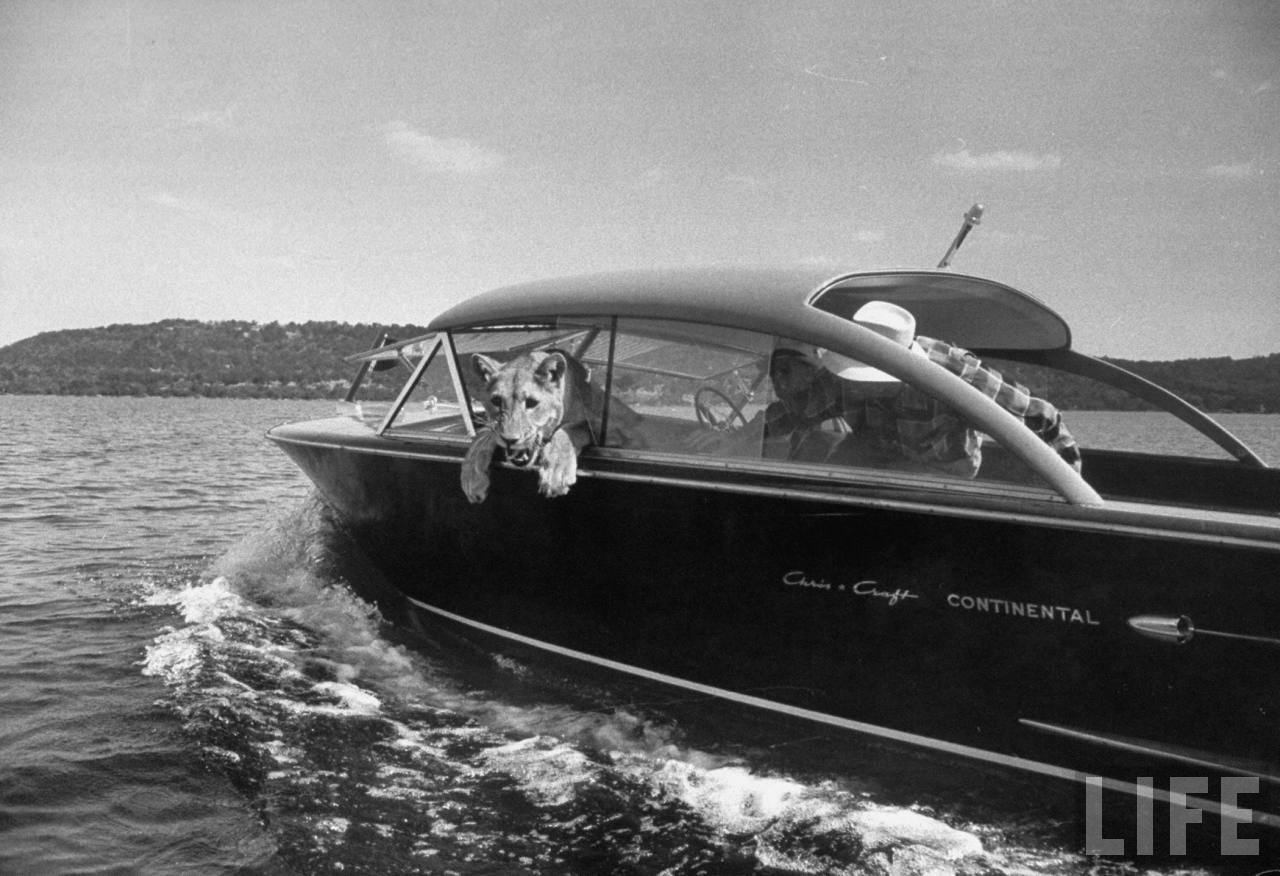 In 1955, LIFE photographer Joseph Scherschel spent a day shooting a rather unusual subject for a spread in the magazine entitled, "Living Room Lion – Blondie, A Docile 200-Pound Texan, Becomes A Member of the Family." The oversized house cat belonged to Charles Hipp, an oil businessman based in Graham, Texas. You're probably thinking, 'another bored rich guy buying wild animals for short-lived amusement', but Charles Hipp's story is a little different…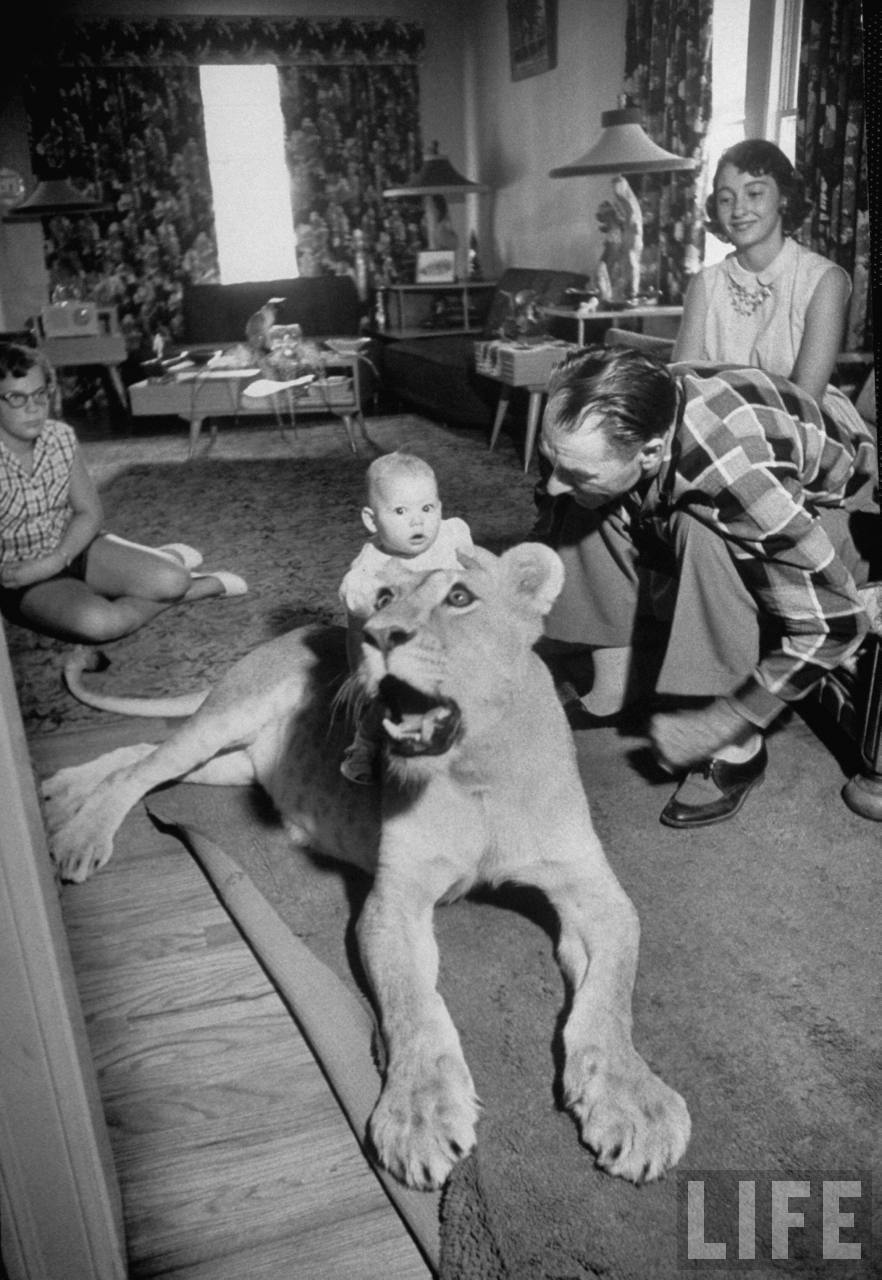 Not your typical oil big shot, Hipp was raised in the circus. Orphaned by the age of 4, he later ran away from the backwoods of Arkansas to join a circus when he was 12. Hipp developed a connection with exotic animals and proved to be a born showman in the tent. By the 1930s however, the thriving energy industry had lured Charles away from the circus. It turned out Hipp also had a knack for drilling, and within a short time he was making good money with his oil well service company where he finally settled in Texas. In nearby Dallas, his story with Blondie would begin…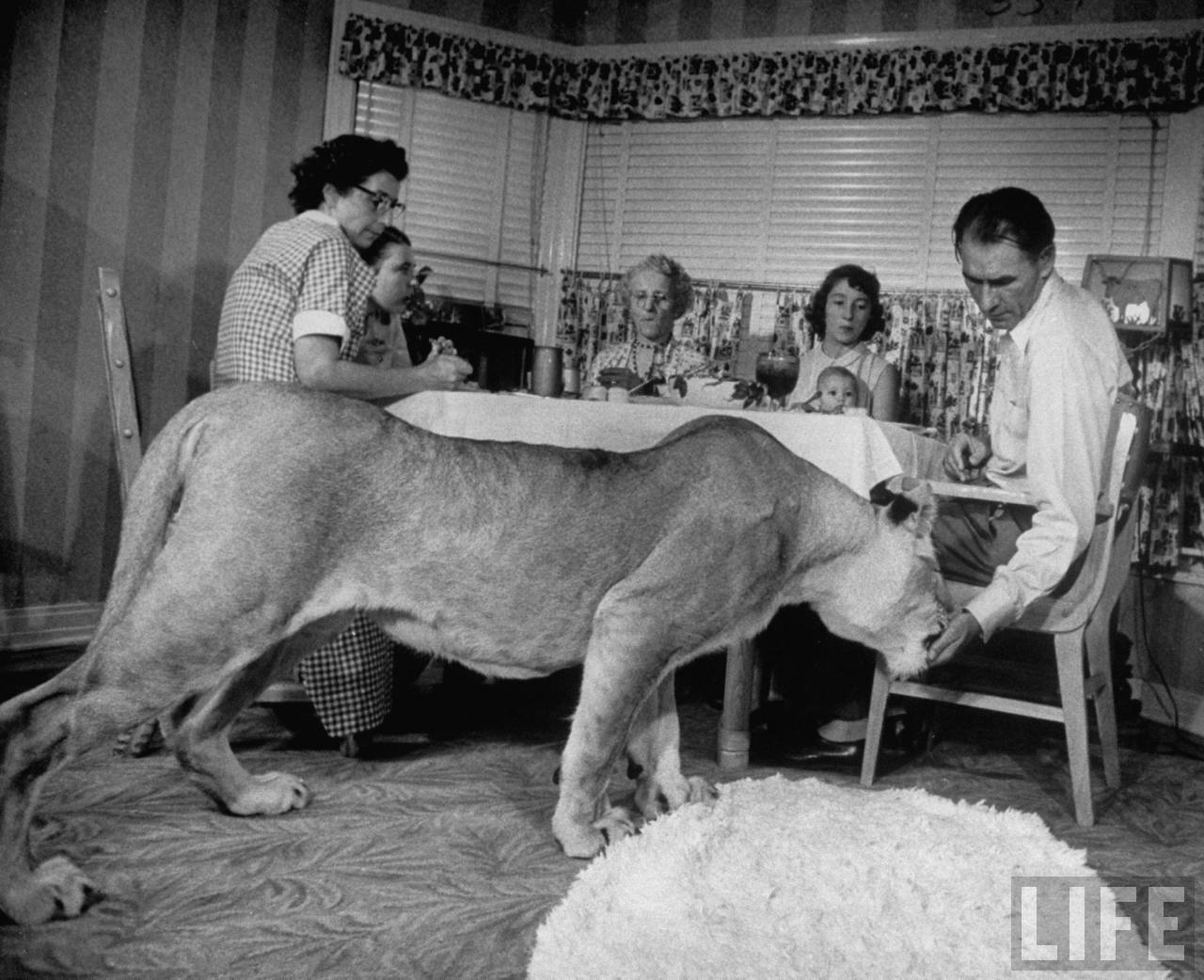 Blondie was purchased from the Dallas zoo when she was one month old. She became an instant member of the family.  Above, she can be seen sneaking meat tidbits from Hipp's hand as he sits at dinner with his wife, daughters, grandmother and grandchild Karen, who you saw balancing on Blondie's back in the living room in the previous photograph.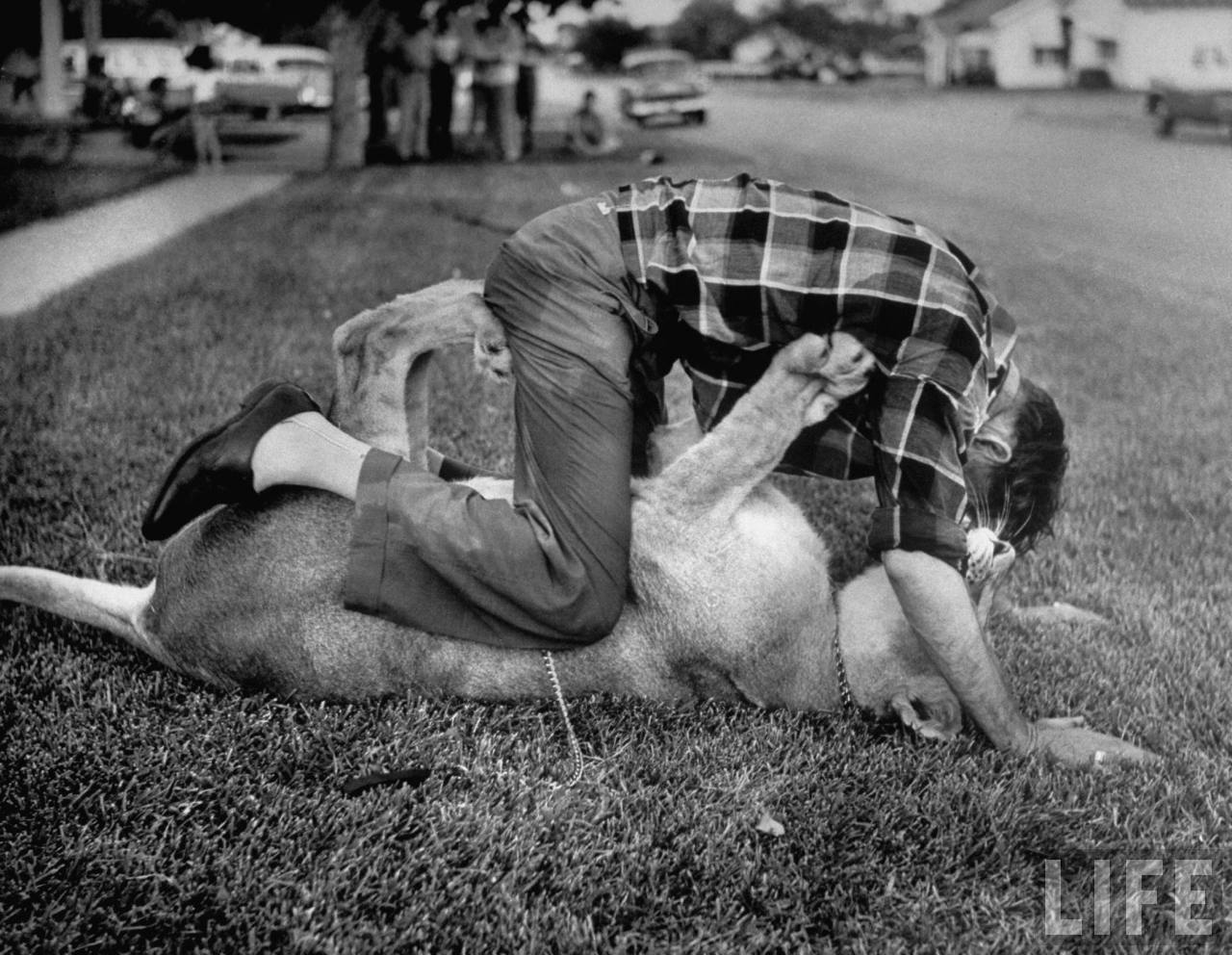 But Blondie wasn't exactly your stay-at-home cat. She often travelled with the Hipps in their station wagon and even went boating on Possum Kingdom Lake (pictured previously).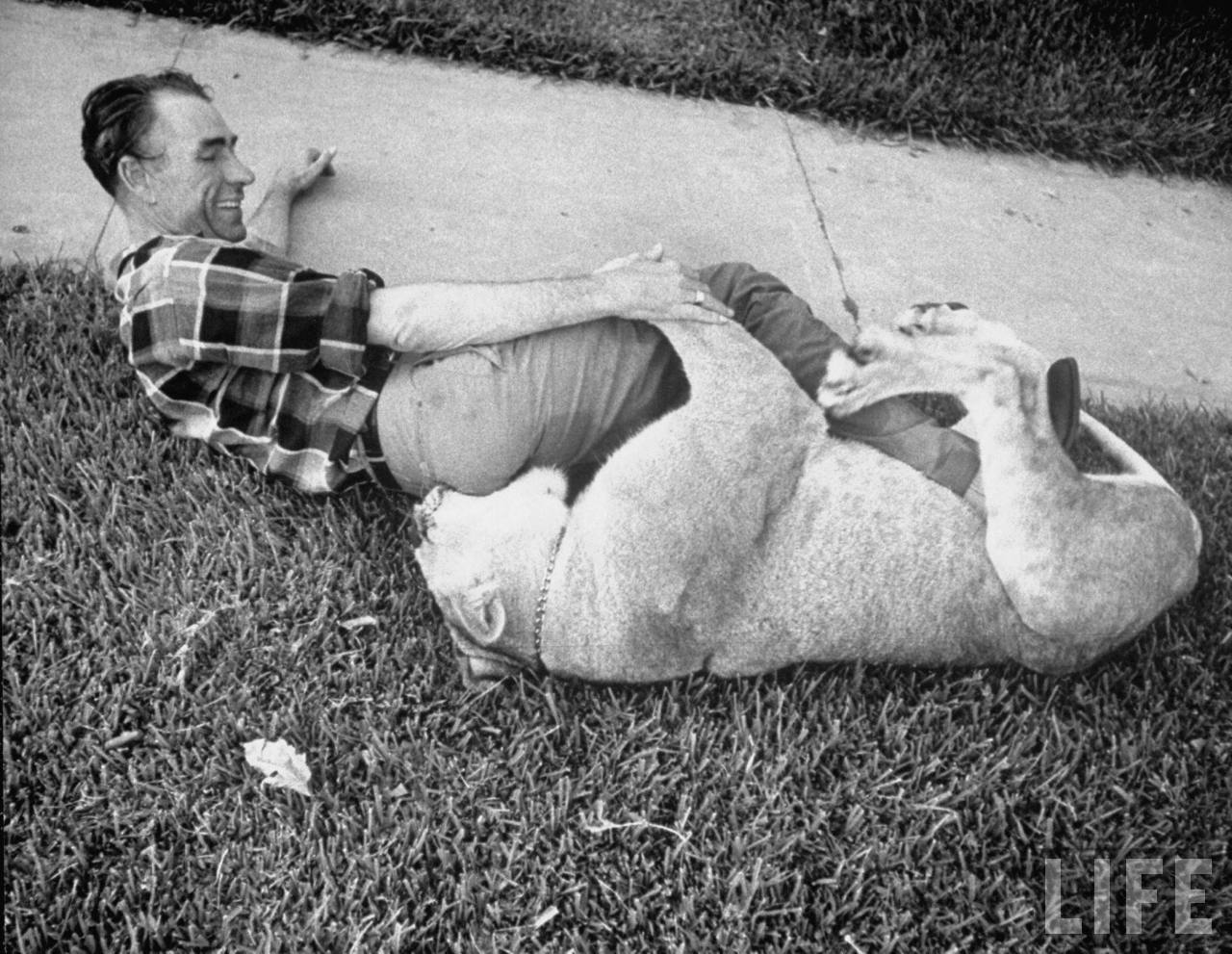 Blondie, the pet lion, playfully putting the "fang-in-the-fanny hold" on her owner Charles Hipp who is smiling through some playful pain before prying her jaws open with his hands & fleeing into the house. (Nobody got hurt.)– LIFE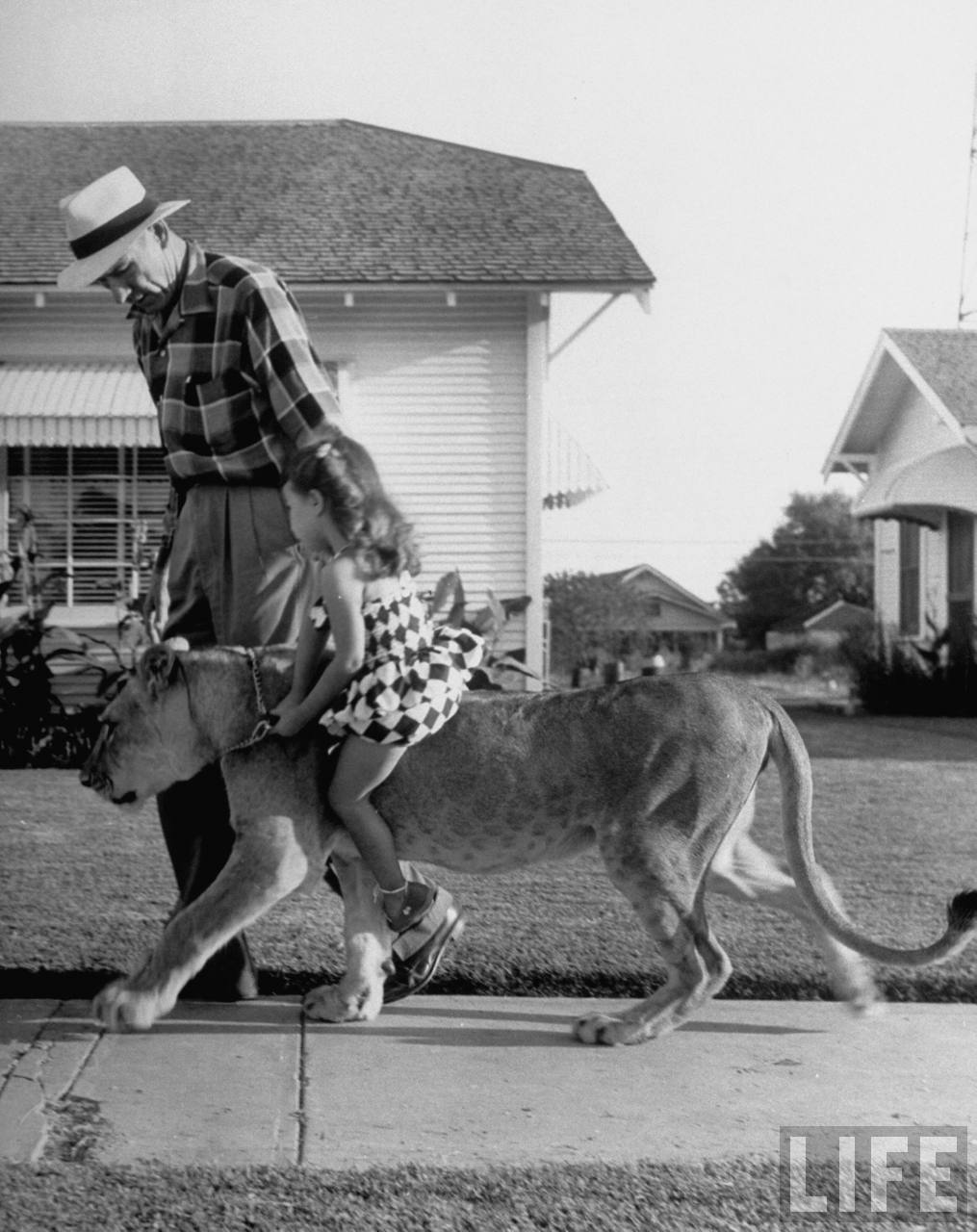 Pet Lion Blondie, age 2, giving a piggy back ride to young neighbor girl as its owner Charles Hipp keeps her in tow, in front of his home.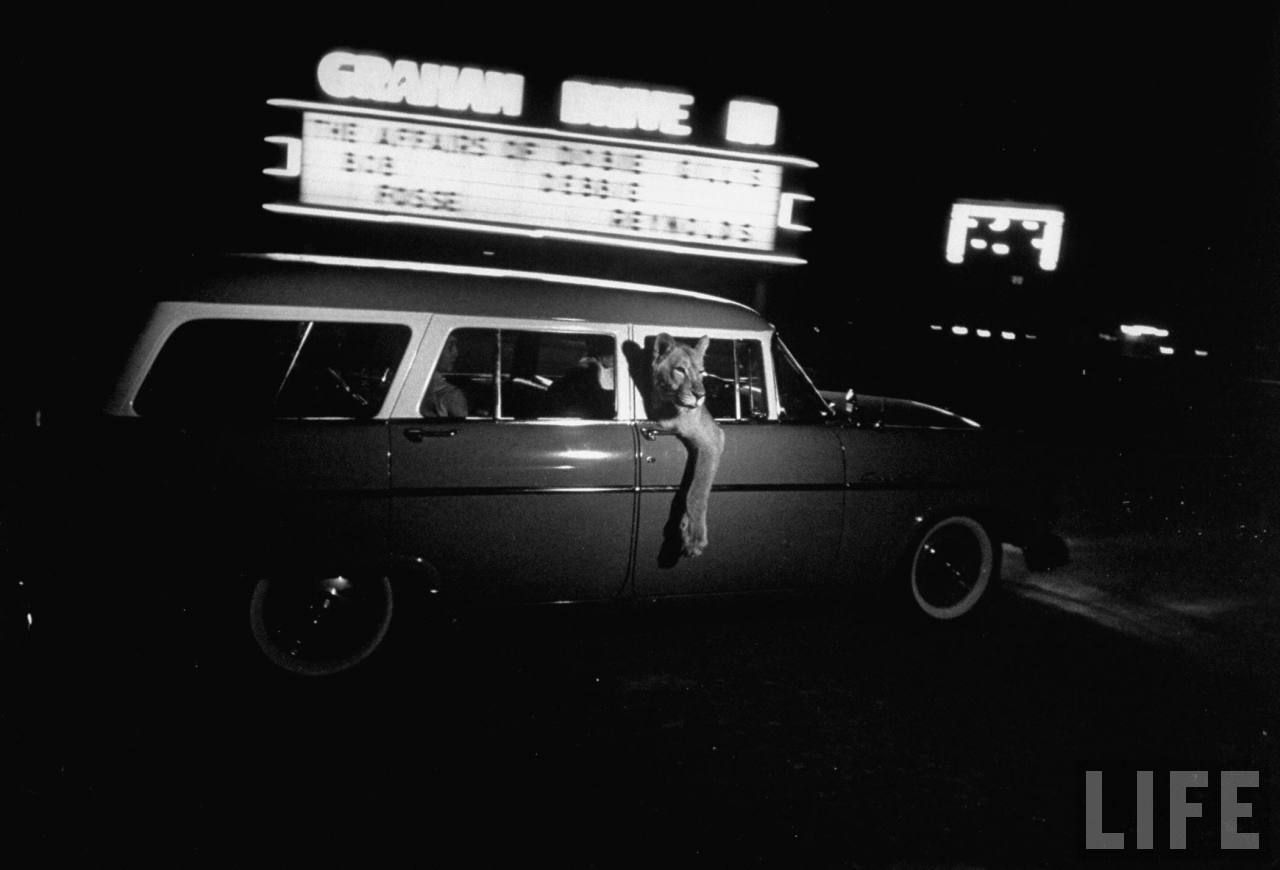 Blondie looking bored during routine ride in station wagon past Graham Movie Theater w. her owner Charles Hipp at the wheel.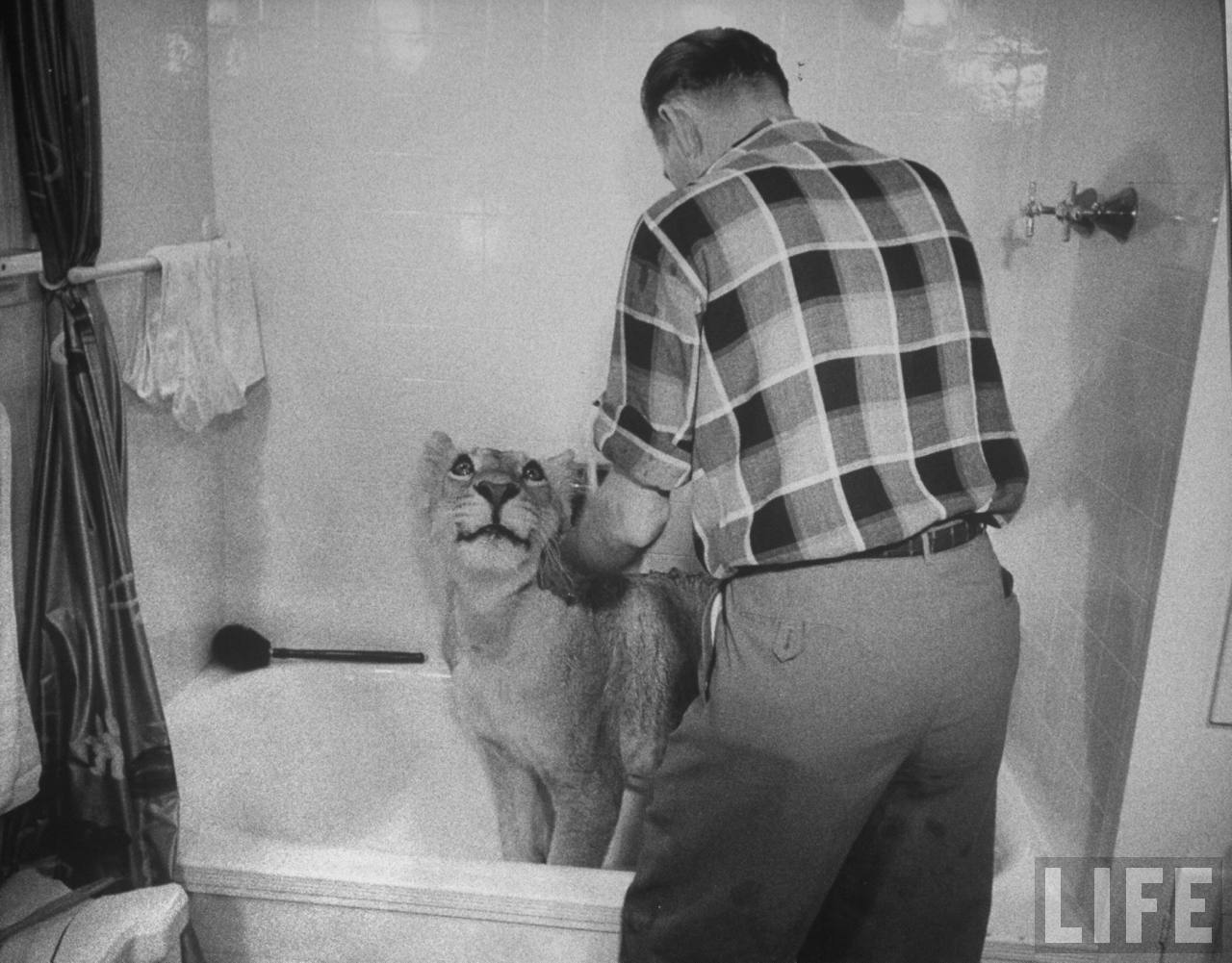 Blondie even shared their bathtub. Here she 'patiently allows her owner Charles Hipp to pour Tide detergent on her pelt which she loves to lick off & gulp down during her combination bath & shower, at home.'
Revelling in the shower spray of lukewarm water her owner Charles Hipp is directing on her pelt, at home and getting a good towel rub afterwards…
While life with Blondie looked pretty rosy, there is a darker side to Hipp's fondness for wild animals. In the 1960s, the oilman had other wild pets, including a leopard named Randy. In 1962, at the family home, Hipp's two and half year-old grandson was mauled by the leopard. He survived but was left with life-long scars. Distraught, Hipp gave away all his wild animals, but could not bare to part with Blondie. She remained a beloved member of the family until her death from old age in 1968.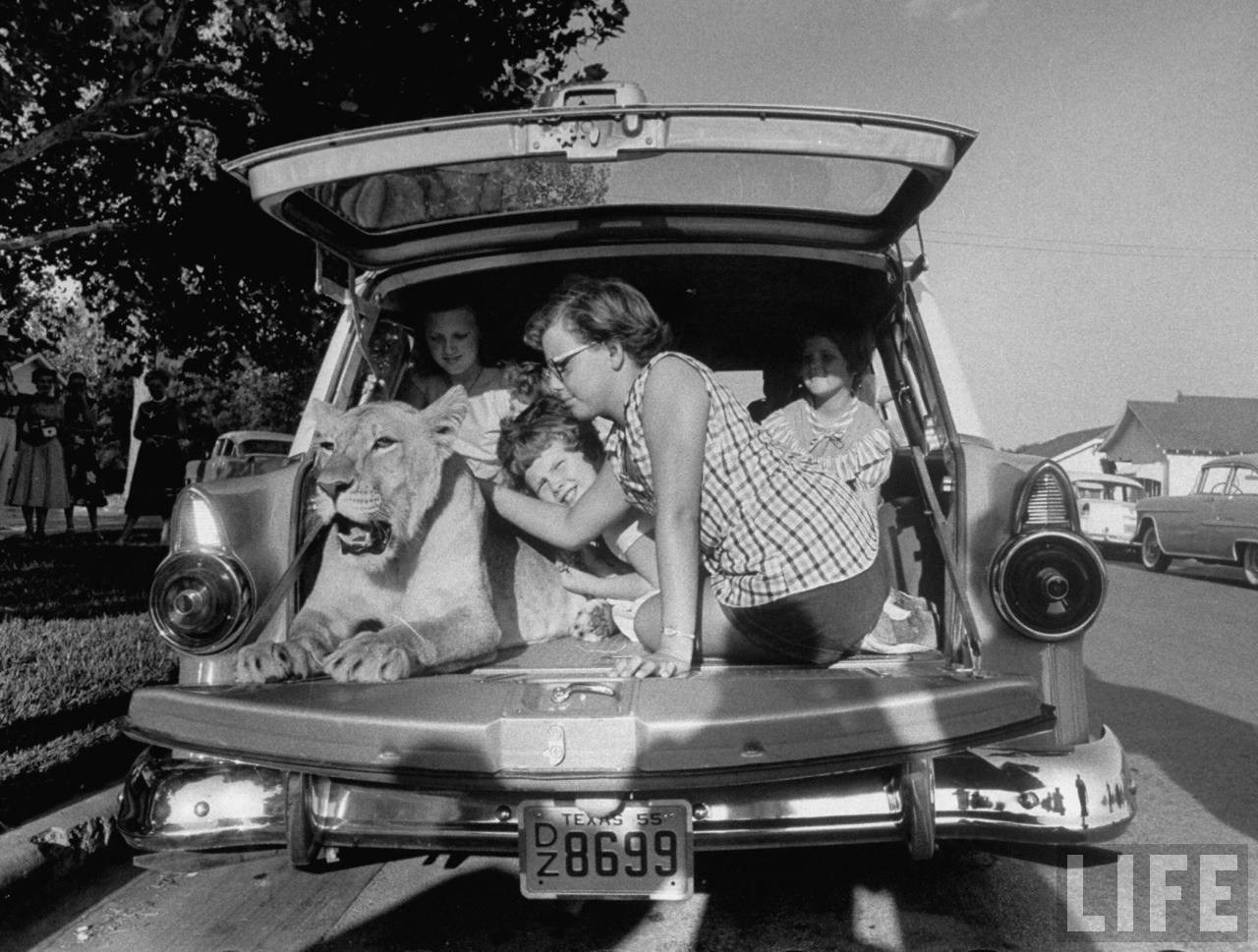 Read more about Charles Hipp and Blondie by Mike Cox
More photographs from LIFE magazine here
:::
YOU MIGHT ALSO BE INTERESTED IN:
.