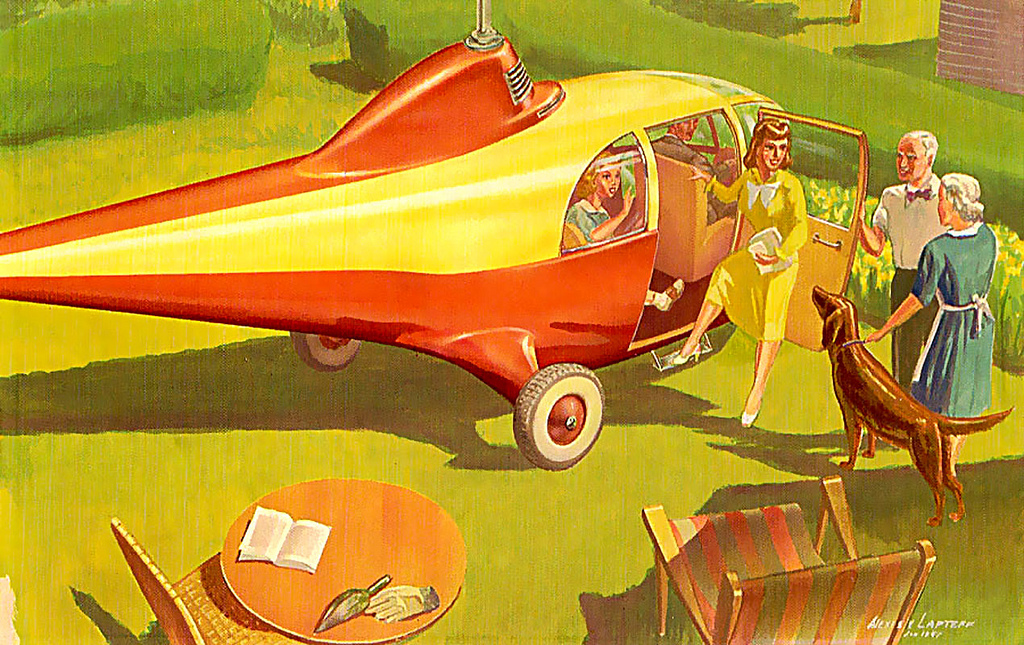 In this age of mobile, wireless, digital and whatchamacallit technology, nothing seems to surprise us nowadays. Unless they're going to finally show us those flying cars we've been waiting for since The Jetsons aired on television, we're hardly batting an eyelid at some of the latest gadgets. But if we take a look back, we might find some familiar but curious designs that will make us sit up and take notice. On my endless internet travels, over time I've been accumulating a little compendium of vintage inventions that are way ahead of their time; pioneering ideas and early prototypes that evolved into today's most advanced technology. Often these are designs, ideas or inventions that the world just wasn't ready for at the time and were put on the shelf for decades, forgotten over generations until new innovators and technology could re-discover and revive these historical firsts…
1. Before GPS, behold, the 1920s RouteFinder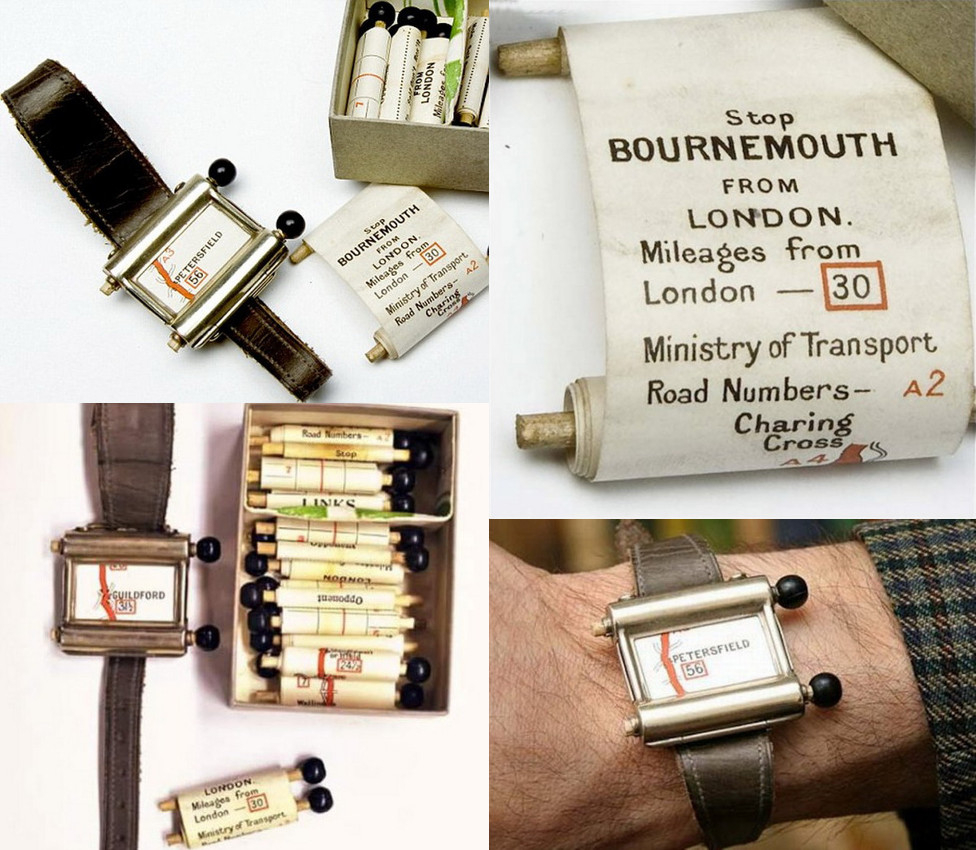 Ten years earlier, way back in 1920, you could find the Plus Fours Routefinder. This manual "navigator" resembled a clock and consisted of paper maps and two wooden handles that needed to be scrolled manually. A multitude of scrolls could be fitted in the watch to suit the particular trip the driver fancied taking.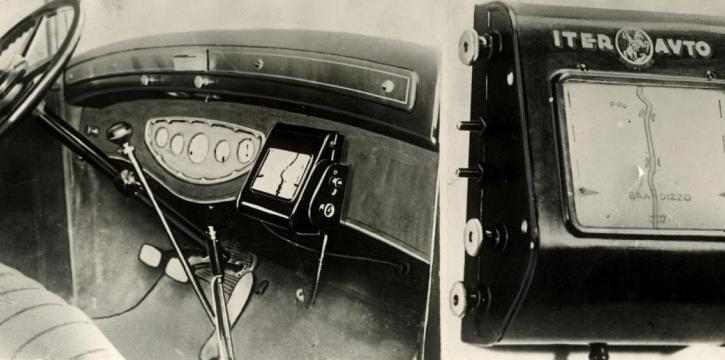 Ten years later in 1930, we find the original Tom Tom or Sat Nav called the Iter Avto, the world's first automobile navigator. The map passes the screen in a tempo that depends on the speed of the car. The screen manually scrolls paper maps that are attached to a cable that similar to a modern mechanical speedometer. If a motorist made a turn, he would have to change the map and find it on his current location.
Drivers would have to wait a few more decades for the sexy female SAT NAV voice…
2. FaceTime and Skype before the Invention of the Mobile Phone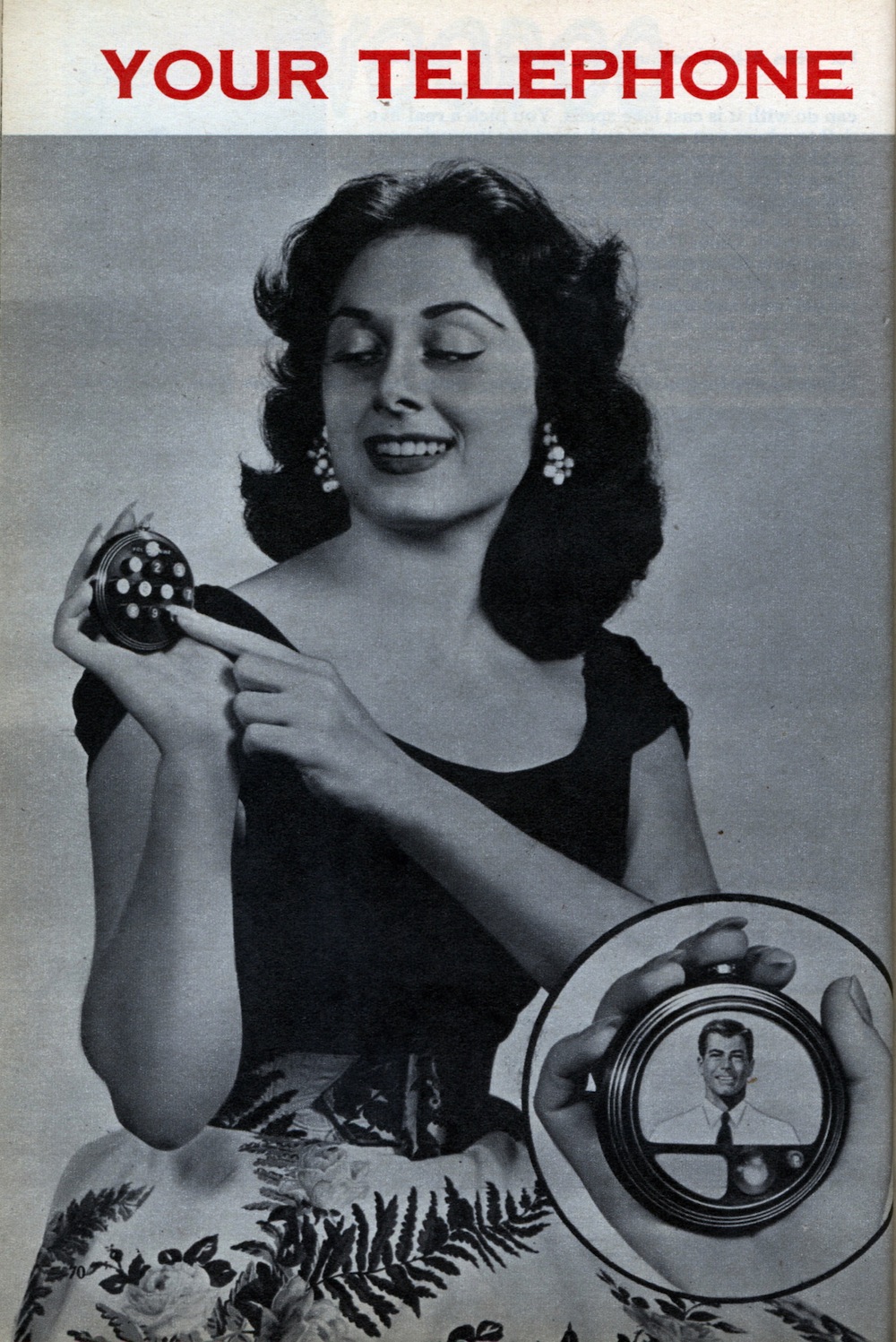 This photograph comes from a magazine article published in 1956 about the future of phones talks about audio/video data compression and voice recognition as well as a touchtone, colour videophone that you can watch TV on. Via here. 
And here's some early versions of Skype…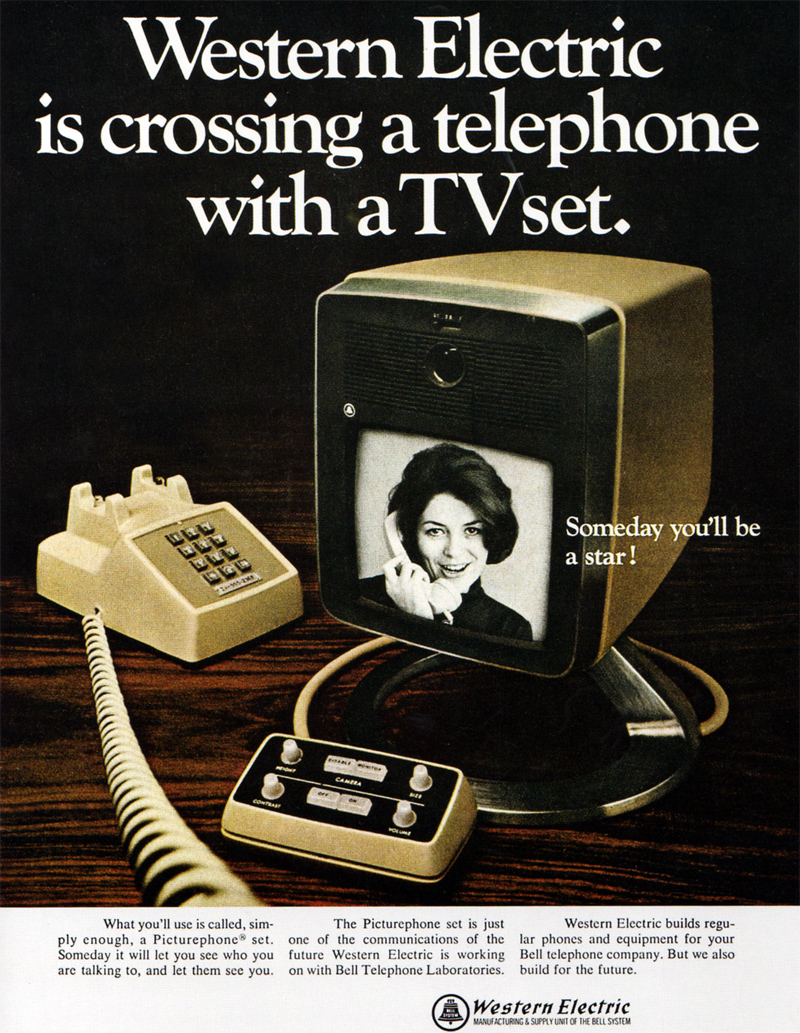 Bell Labs developed the Picturephone that debuted at the 1964 World's Fair.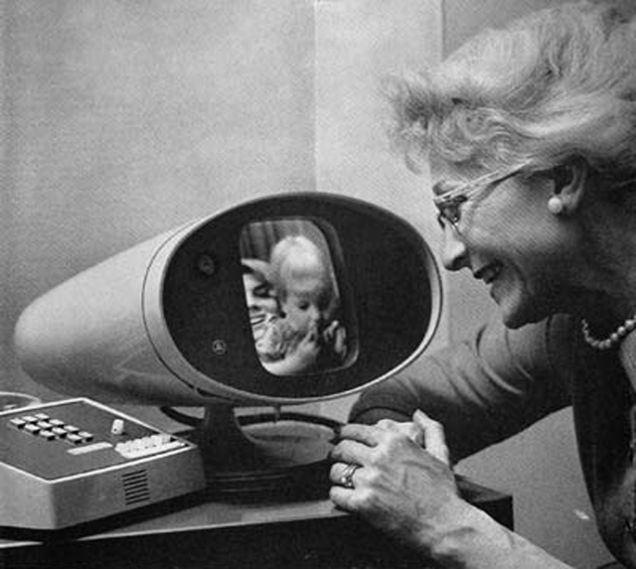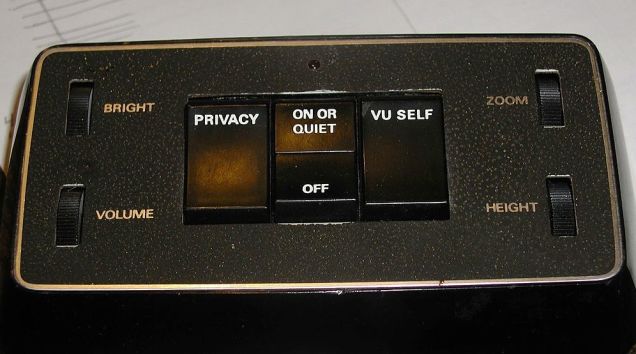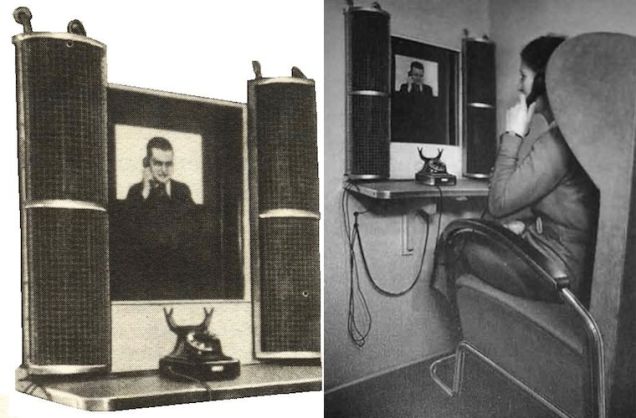 The first public videophone service was opened by the German Reichspost in 1936. It closed in 1940, because of WWII.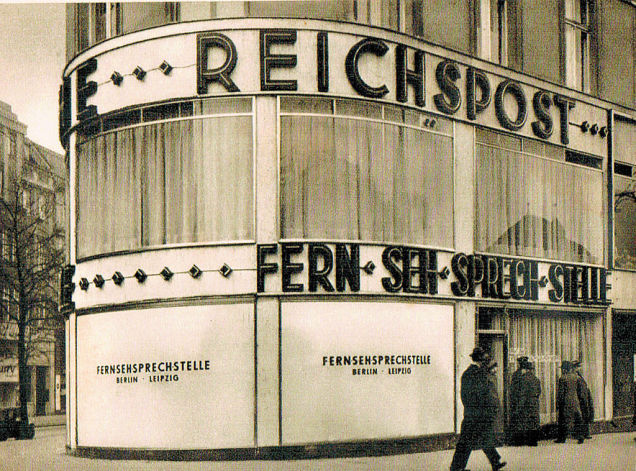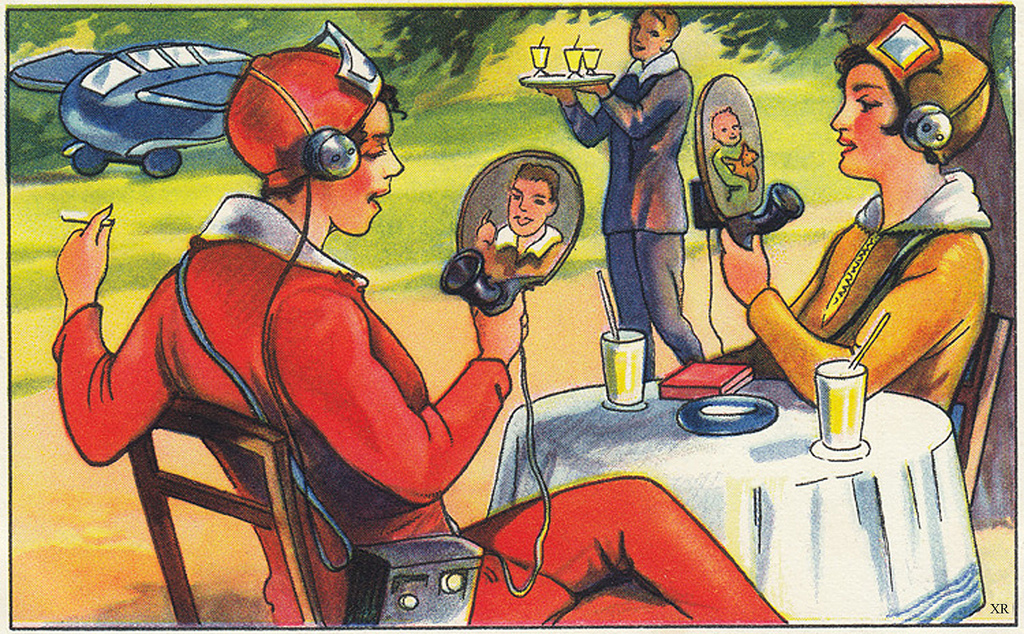 A 1930s illustration of a "proto-eyephone-o-matic"!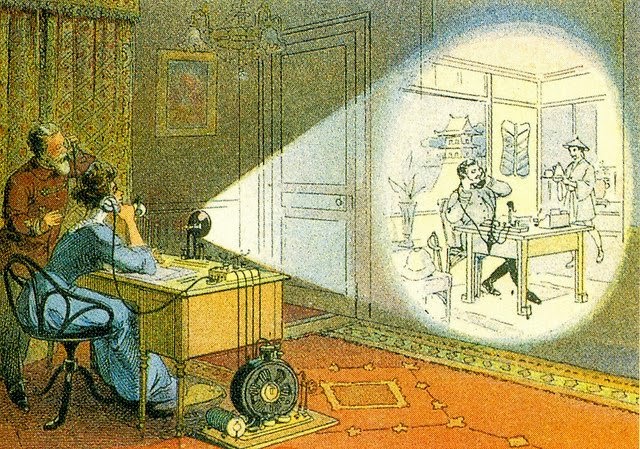 A Skype call to China? I'm not sure how smoothly that would work even today!
3. Victorian Submarines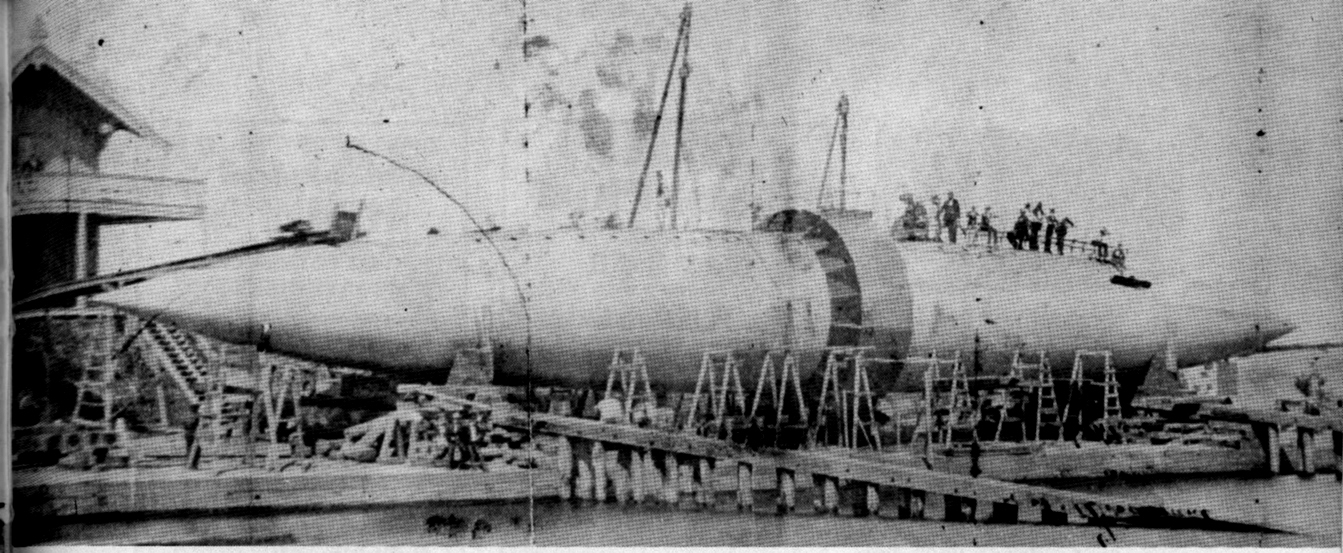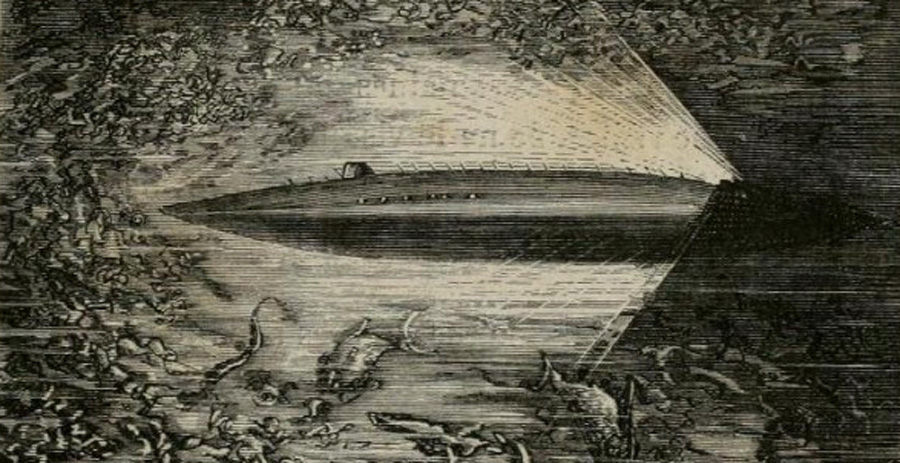 When Jules Verne wrote about his submersible ship Nautilus in 20,000 Leagues Under the Sea, there had in fact already been several very successful submarines built in the Victorian era. And Verne, who kept very well informed on the world of engineering, was clearly aware of these…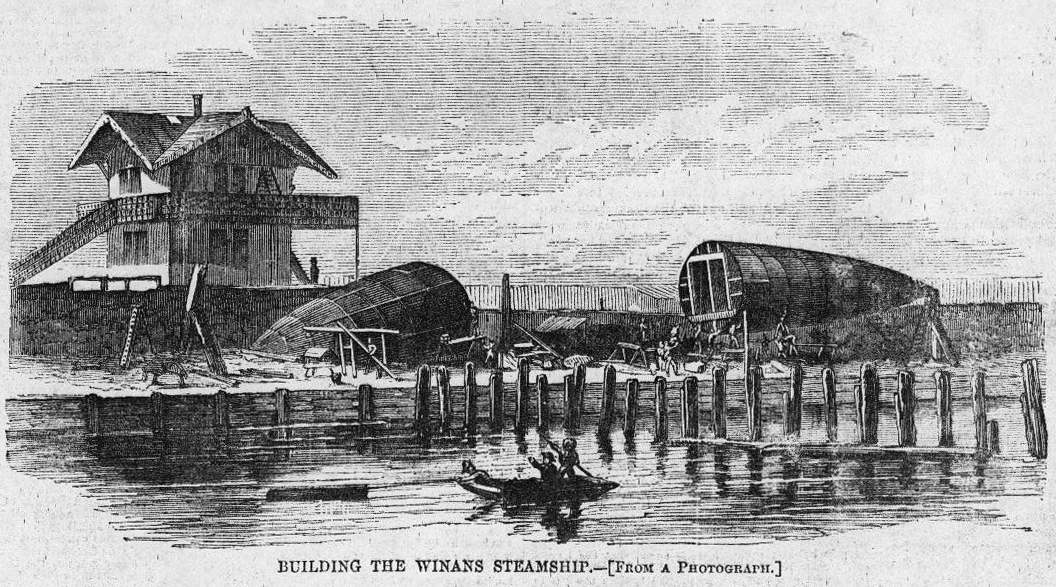 Enter the "roller ships" pictured at Ferry Bay, Baltimore, in 1858, built by American inventor Ross Winans. Newspapers of the time said it "will inaugurate a new era in naval architecture." There was nothing else like it. It had no keel, no masts, no rigging, it was even missing a deck, shaped instead like a streamlined cigar. It's ring-shaped propeller was in the middle of the vessel, circling the waist of the ship…



4. Before the Kindle and eBooks were threatening to make books obsolete…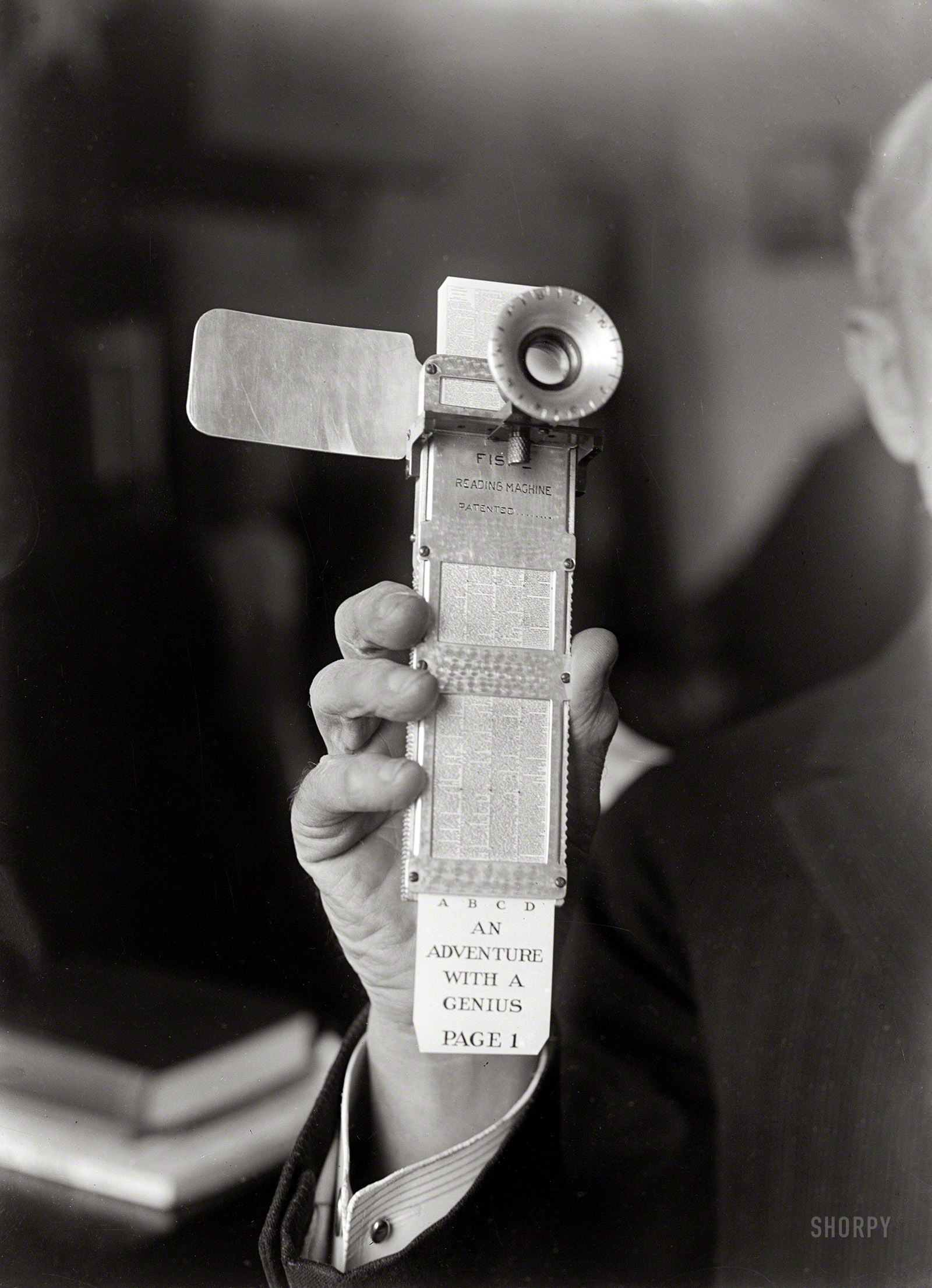 "The Fiske Reading Machine will make books obsolete!"
Circa 1922, this is a photograph of the Fiske Reading Machine in the hand of its inventor, Rear Admiral Bradley Fiske.
From The Miami News, March 30, 1926:
Reading Machine' invented to abolish bulky volumes
NEW YORK, March 30 — (AP) — A "reading machine" that folds into the size of a fountain pen and is designed to do away with bulky books has been invented by Rear Admiral Bradley A. Fiske, retired, the Herald-Tribune says today.
Admiral Fiske has completed a working model of the invention, which he describes as likely to render obsolete printing presses and typesetting machines and to revolutionize the publishing business. The device is also expected to make eyeglasses unncessary for many readers who now wear them.
The invention, which Admiral Fiske calls the "Fiske reading machine," consists of an apparratus, not unlike a lorgnette [eyeglasses with a handle], on which are mounted a magnifying lens for one eye, a shield for the other and a rack to hold the reading matter.
The reading matter for use with the machine is produced directly from typewritten manuscript by photography and is so microscoptic as to be undecipherable with the naked eye. The admiral has had the first volume of Mark Twain's "Innocents Abroad," a book of 93,000 words, prepared as an example, and it appears as a 13-page pamphlet three and three-quarters by five and three-quarters inches in size.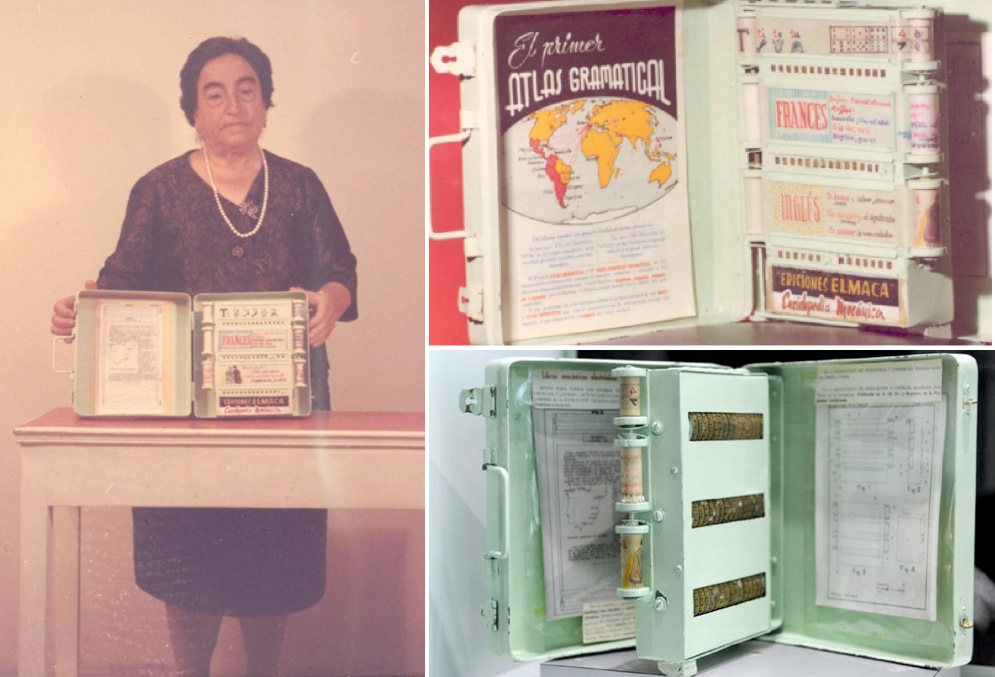 And here's another early form of the eReader, invented 65 years ago by a 54 year old teacher from Spain…
In 1949, Ángela Ruiz Robles created her prototype of what can only be described as the earliest primitive version of today's e-reader. It had a zoom function for readers to focus in on a particular area of the text and the device worked with pressurized air which allowed you to add different cables that "downloaded" the pre-loaded content.
It all sounds very advanced but in reality, as a teacher, Ruiz just wanted to created something for her students that would reduce the weight of books in their school bags. She believed the gadget would make reading more accessible to everyone however and called her device the Mechanical Encyclopedia. She applied for a patent at 54 years old but her request was denied and she was never able to secure enough funding to take the device into production. It was never mass-produced or made available to the public. The prototype is now in the National Museum of Science and Technology in La Coruña, Spain.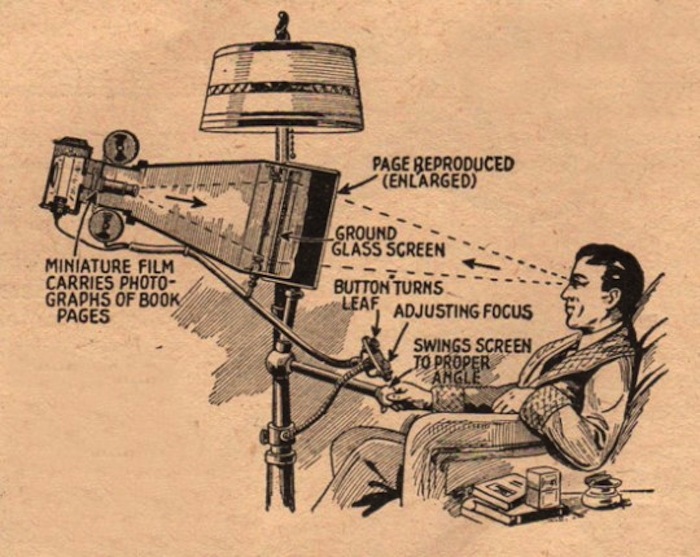 The Microfilm Book Reader, 1935
Here's an illustration from Everyday Science and Mechanics published in April, 1935, that predicted books would be stored on microfilm. The stand was therefore designed to hold a screen which displayed photographs of book pages. The description of the machine said "It has proved possible to photograph books, and throw them on a screen for examination, as illustrated long ago in this magazine. At the left is a device for applying this for home use and instruction; it is practically automatic." The display was mounted on a large adjustable pole. The stand included also a book lamp, and a special control panel to turn pages and adjust focus.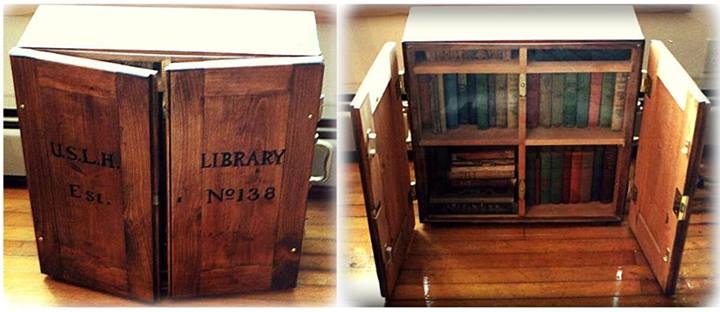 Also noteworthy: Before Amazon Books…
This is an example of a lighthouse traveling library that came on the scene in 1876. If you happened to be a lighthouse keeper you would get these treasure chests of books delivered to you, sent by ship from the United States Lighthouse Establishment. The sturdy wooden boxes were fitted strong brass hardware and stocked with carefully selected titles appropriate to the lighthouse tenders. Specific titles could be requested. via Secret Books.
5. ATM Machines for Sinners (and prostitutes)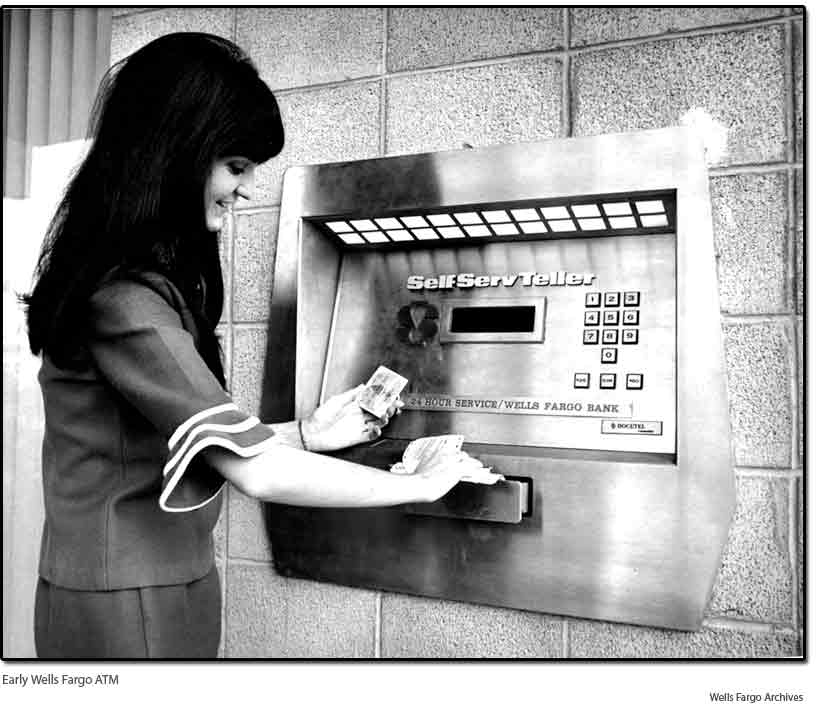 Just to be clear, we're not accusing the lovely young lady pictured above of being a hooker. But if you were caught using one of the early versions of an ATM, you might very well have been mistaken for one. In 1939, Amercan-Armenian inventor, Luther George Simjian initially came up with the idea of creating a hole-in-the-wall machine that would allow customers to make financial transactions, and registered 20 patents related to the device, persuading what is not Citicorp to give it a trial. After six months, the early ATM was deemed a failure, with Simjian himself citing, "It seems the only people using the machines were a small number of prostitutes and gamblers who didn't want to deal with tellers face to face."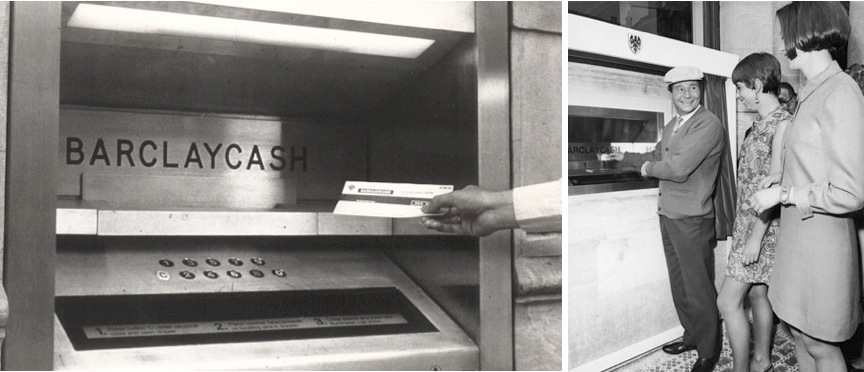 The first official machine dispensing cash money without operator involved – Automated Teller Machine (ATM, cash dispenser) was later installed in Enfield, north London, on July 27, 1967.
6. Early Nintendo Wii?!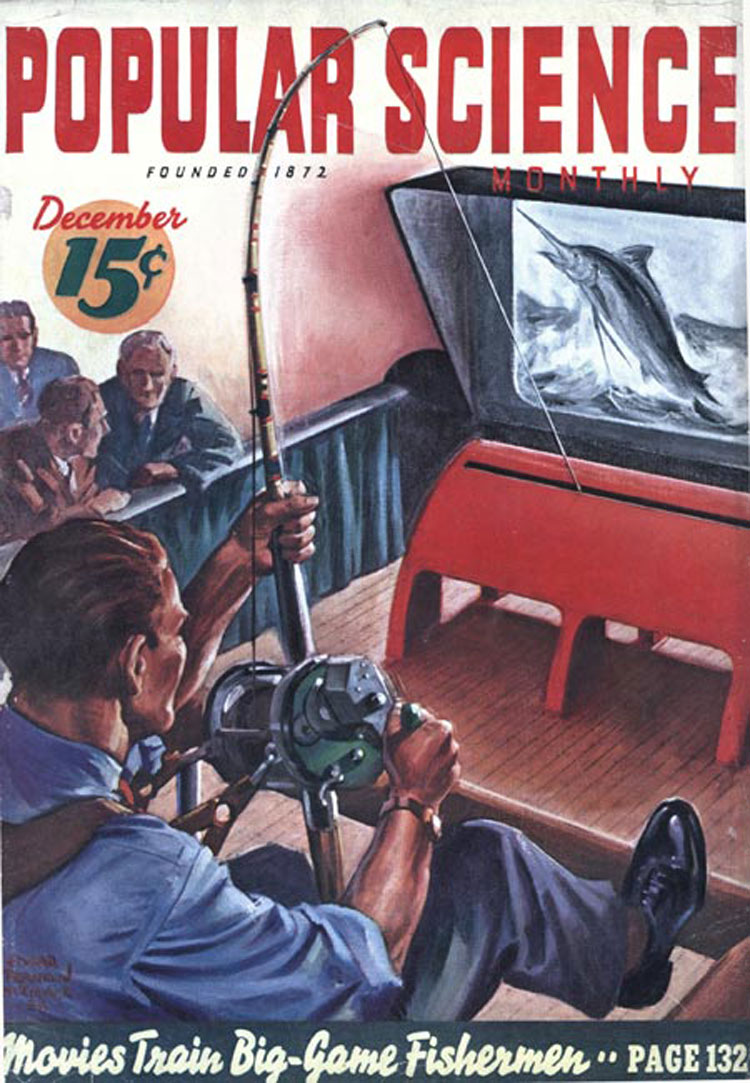 This vintage issue of Popular Science surely deserves a bit of credit for the Nintendo Wii! Found on X-Ray Delta.
7. Before Google Earth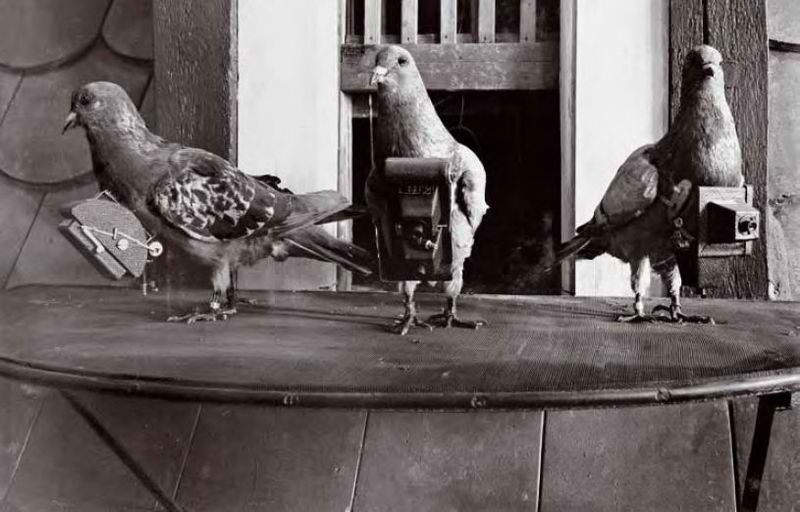 In 1908 Dr Julius Neubronner patented a miniature pigeon camera activated by a timing mechanism. The invention brought him international notability after he presented it at international expositions in Dresden, Frankfurt and Paris in 1909–1911. Spectators in Dresden could watch the arrival of the camera-equipped carrier pigeons, and the photos were immediately developed and turned into postcards which could be purchased.
Reports the Public Domain Review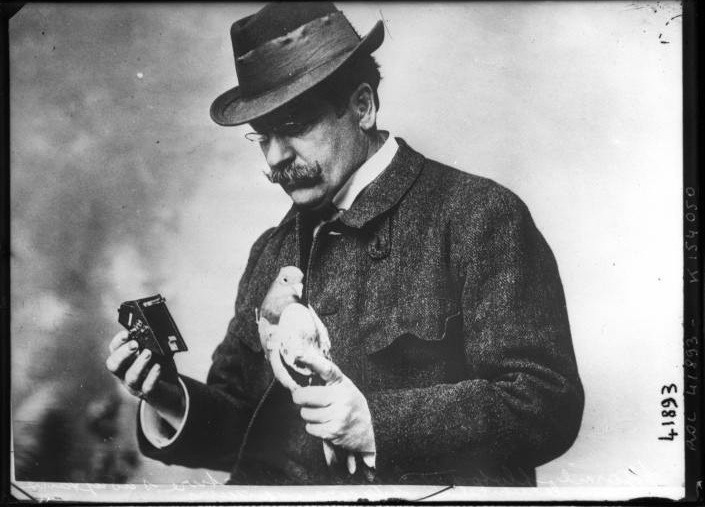 Okay, so it's not exactly satellite imagery, but it is a very early and innovative form of aerial photography that might have inspired our engineers over at Google to map the Earth by the superimposition of images obtained from both aerial photography and satellite imagery. Here are a few snaps taken by the pigeons…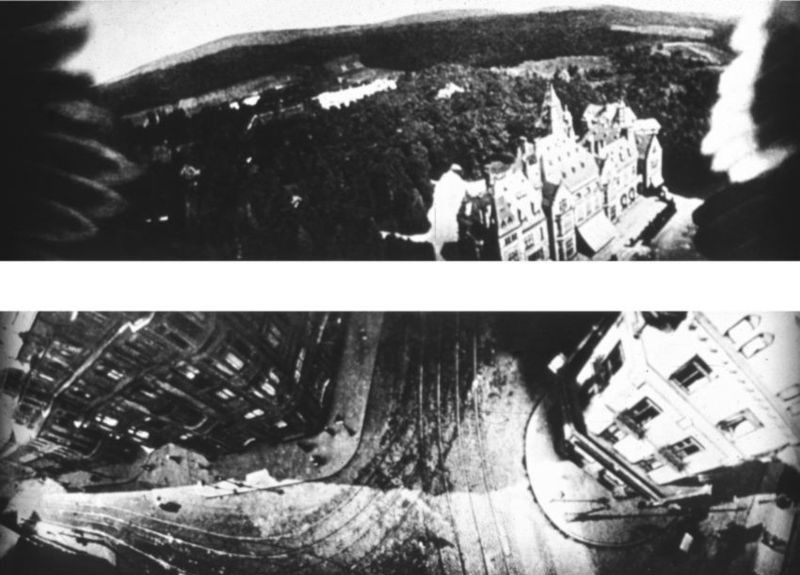 After some initial interest in the military potential of pigeon photography during World War I, the rapid advancement of aviation during the war saw interest quickly fade and Neubronner eventually abandoned his experiments. The United States Central Intelligence Agency (CIA) however, later developed a battery-powered camera designed for espionage pigeon photography. Details of its use remain classified.
8. The in-car Turntable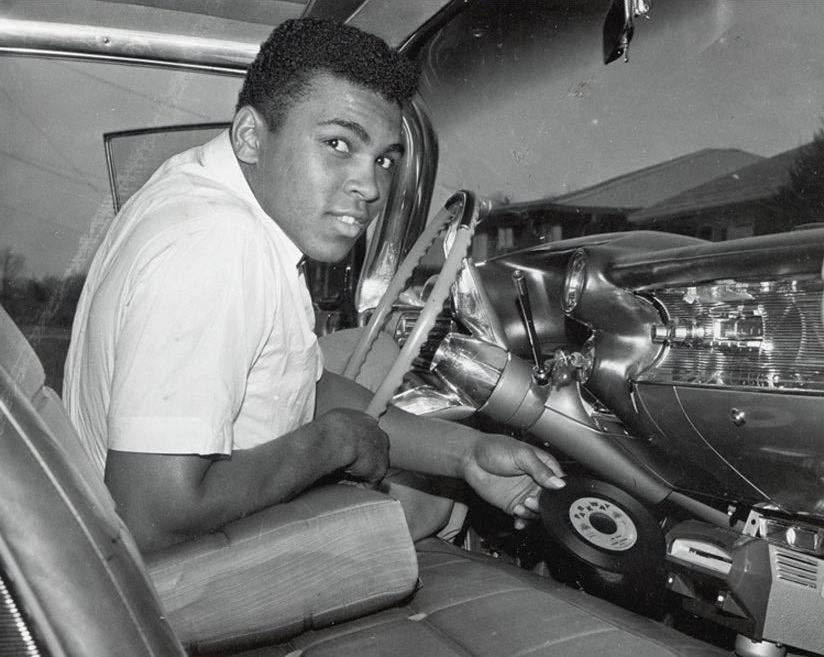 Yep, that's Mohammed Ali playing vinyl records on his car stereo. Before we could wirelessly connect our iPods and smartphones to the car stereo, there was the in-car phonograph! Made by Columbia, they were offered as extra options on the 1956 Chrysler, DeSoto, Dodge, and Plymouth models and could handle 45-speed records as well as 7-inch records in the latest 16-2/3 format. The players were installed on a slide-out turntable beneath the dashboard and hidden behind a drop-down compartment that could be opened at the touch of a button. Long before they were raving about multimedia convergence, drivers could switch between the radio tuner and the phonograph with the flip of a switch and use the same volume and equalizer controls for both sources.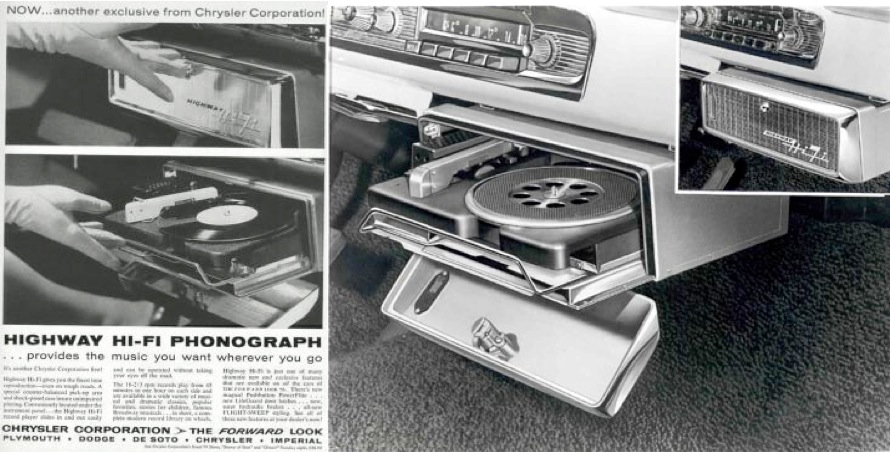 But of course, this didn't change the fact that it was a turntable and the records skipped as soon as the car encountered uneven surfaces. Another downer about the gadget was that it had an exclusive content contract with Columbia, which supposedly gave them the right to tell the driver that they could only listen to artists signed to Columbia Records in their car. The in-car phonograph last for one model year, came back a few years later on another Chrysler model and eventually disappeared from the industry altogether.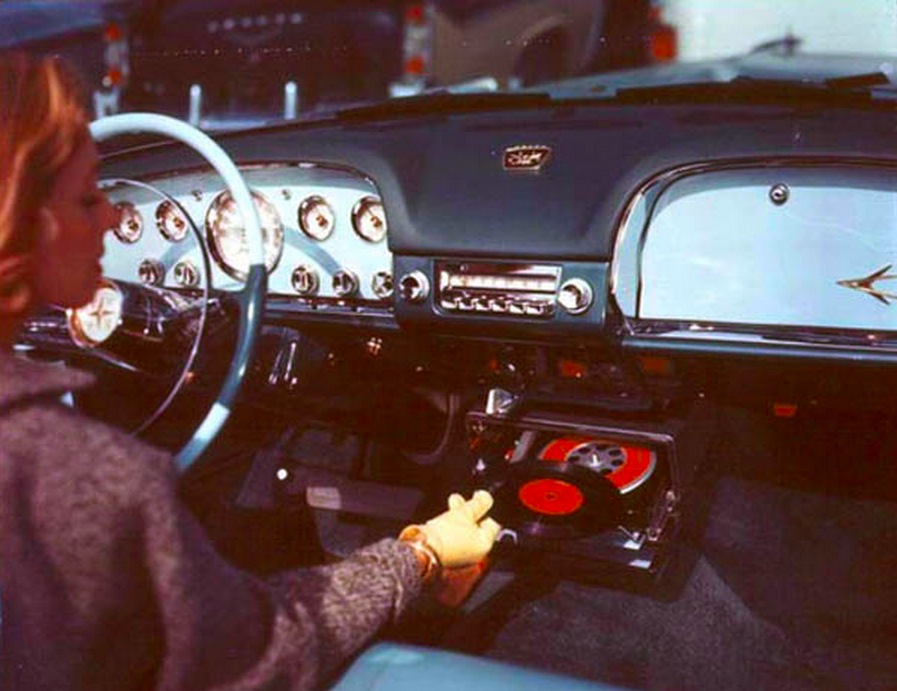 9. The 1950s Flat Screen Televisions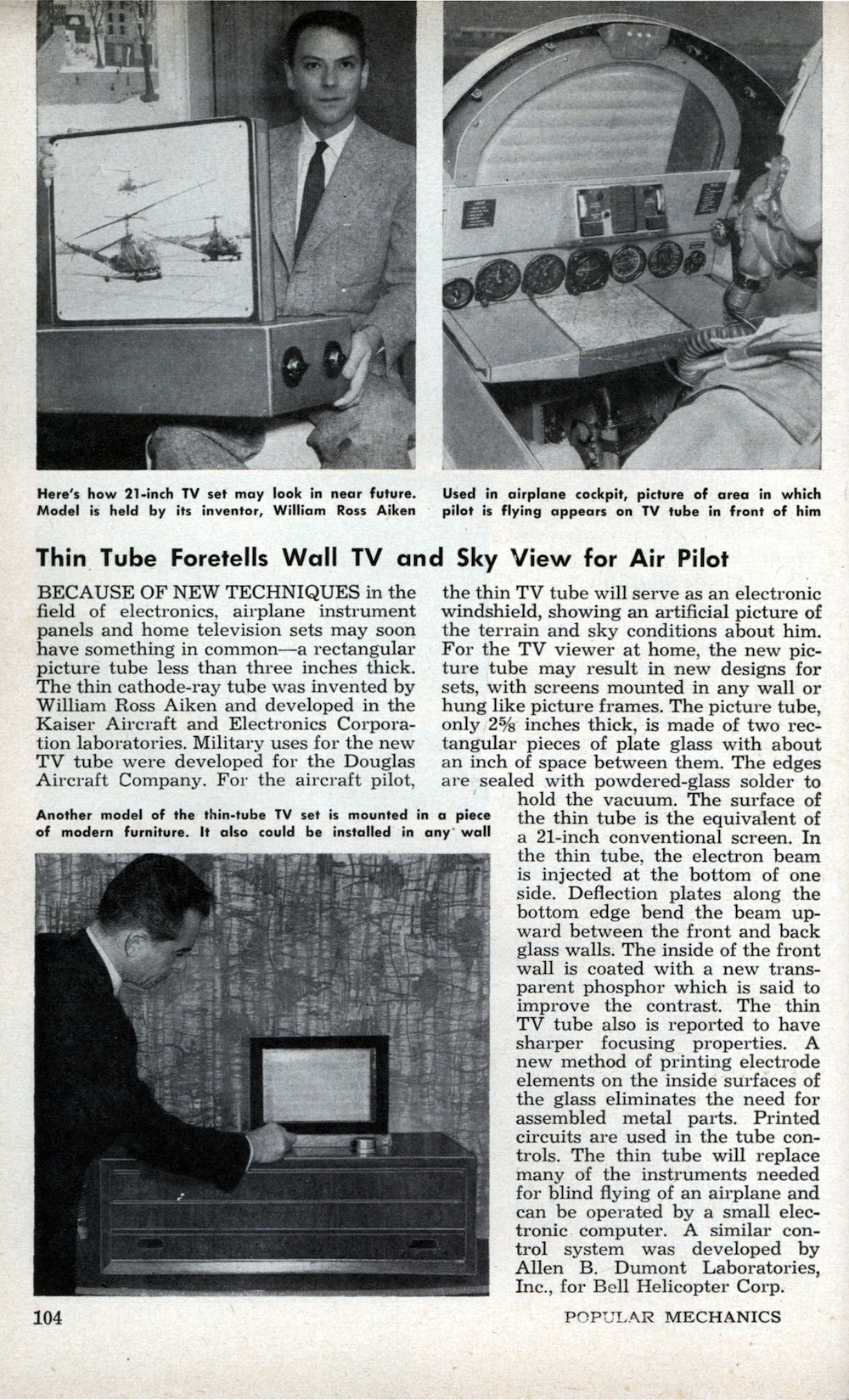 Why do I feel like we only threw out our bulky box televisions just yesterday? According to the inventor William Ross Aiken in an interview from 1996, this is the reason we weren't all watching flat-screen televisions by the 1960s…
AIKEN: "They finally agreed to a license. But, at the last minute, I guess at a Board of Directors Meeting of RCA for the final approval, somebody said, "Wait a minute, we've forgotten something. How are we going to explain to our stockholders that we wasted millions of dollars on the wrong tube?" And there was silence. And that did it. They said, "No, we will not take a license."
Doh!
And just a reminder of what the first televisions looked like…
You're looking at an "Image Dissector", the first complete television system, invented in 1927 by Philo Farnsworth. Philo also happened to develop a prototype of his image dissector camera tube for transmitting images when he was just 15 years old.
Several decades later, but still ahead of its time came the start of cable television…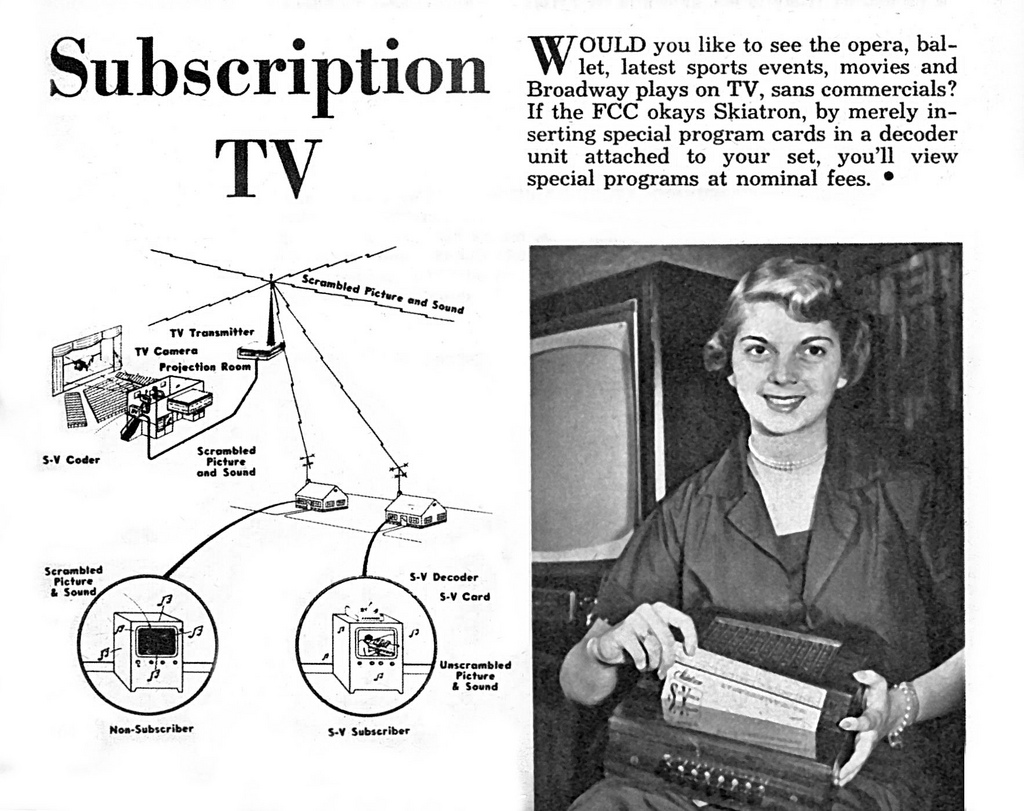 Found via here.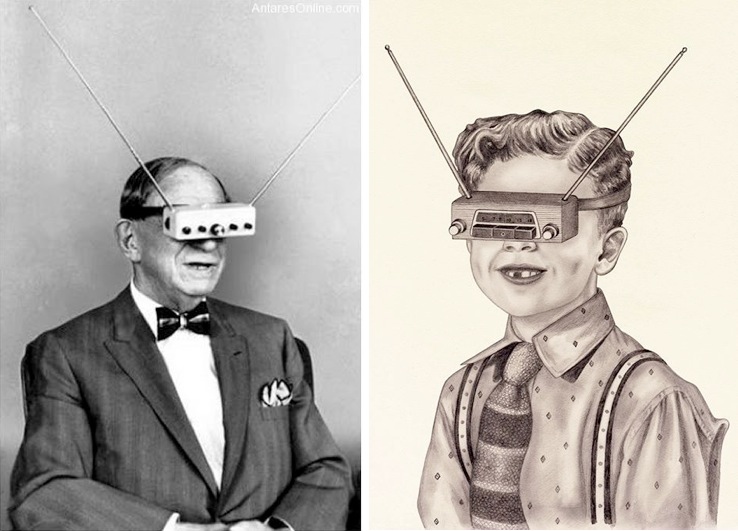 Oh and there was also these television glasses invented in 1963– looking just about as silly as the Google glasses!
10. Vintage Blogging?!
Somewhere between the modern fax machine and your favourite blog, was the cutting edge radio-delivered newspaper machine of 1938. In the early 1930's, radio was the newspaper's worst enemy. Radio competed for advertising bucks and offered a free news alternative to a penny-pinching public during the depression. It also offered instant updates that the newspapers couldn't. The newspapers fought against the radio industry in the 1930's attempted to gag stations and prevent them from broadcasting the news.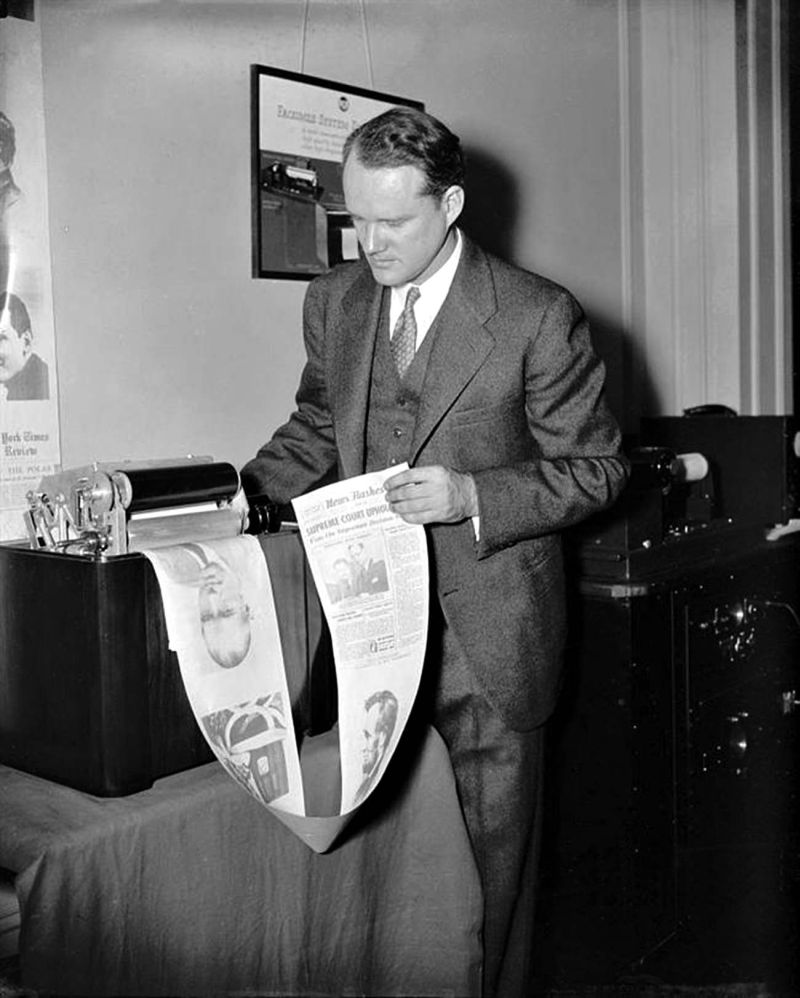 Much like today, the print newspapers were losing the war and resorted to the good old saying "if you can't beat 'em, join 'em!"
And so began the use of a new technology called Radio Facsimile.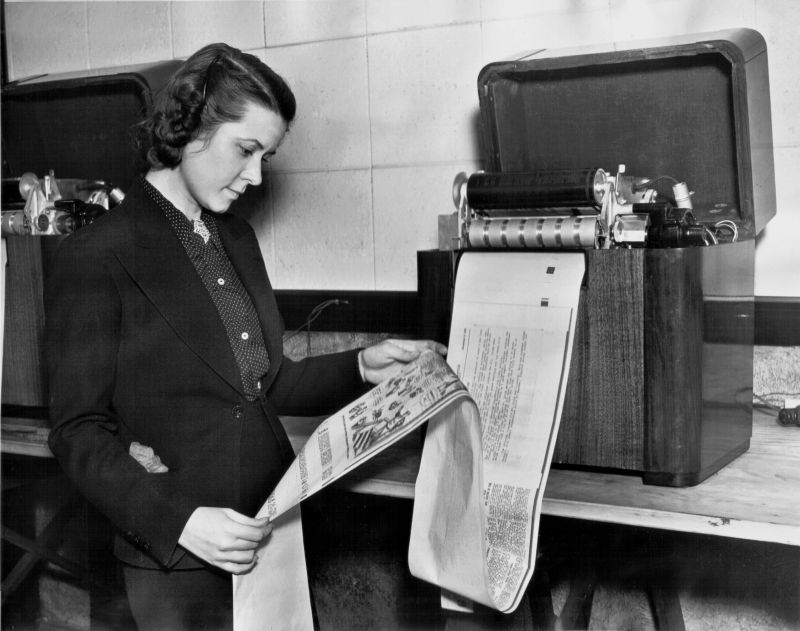 The concept of sending images by wire certainly wasn't new but it had never before been applied to radio. The first basic fax patent was registered in Paris in 1843 and used a swinging pendulum to print the image. By the early 1920s, Western Union and AT&T both were both transmitting photos via wire and the technology was quickly accepted by the press as a way to send newspaper photos instantly to cities around the country. RCA was the first company to adapt facsimile to radio, and sent a transoceanic image of President Calvin Coolidge from New York to London on November 29, 1924.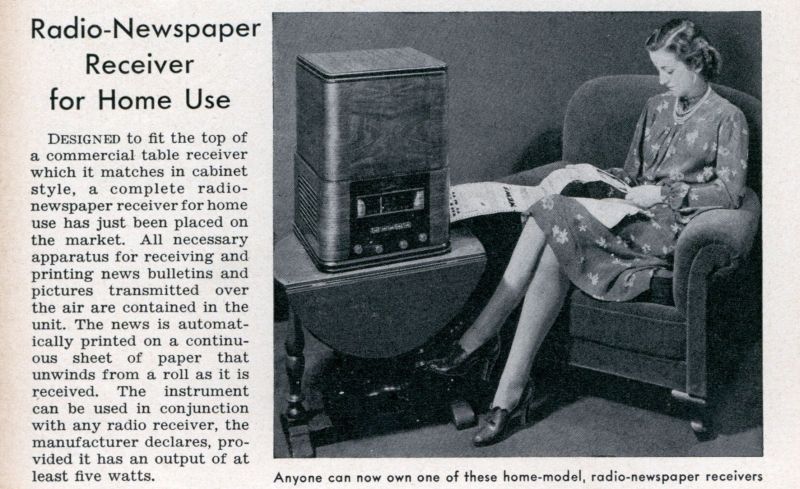 But the radio facsimile didn't exactly get the sort of warm reception that oh say, Steve Jobs received when he unveiled the iPod. Facsimile printers didn't really interest the general public, despite what all these promotional photographs for the product might suggest. It was available for domestic use but it was a technology the public had never asked for and didn't really find any use for in the home. They were an expensive luxury during the Great Depression while newspapers came cheaply to your doorstep every morning.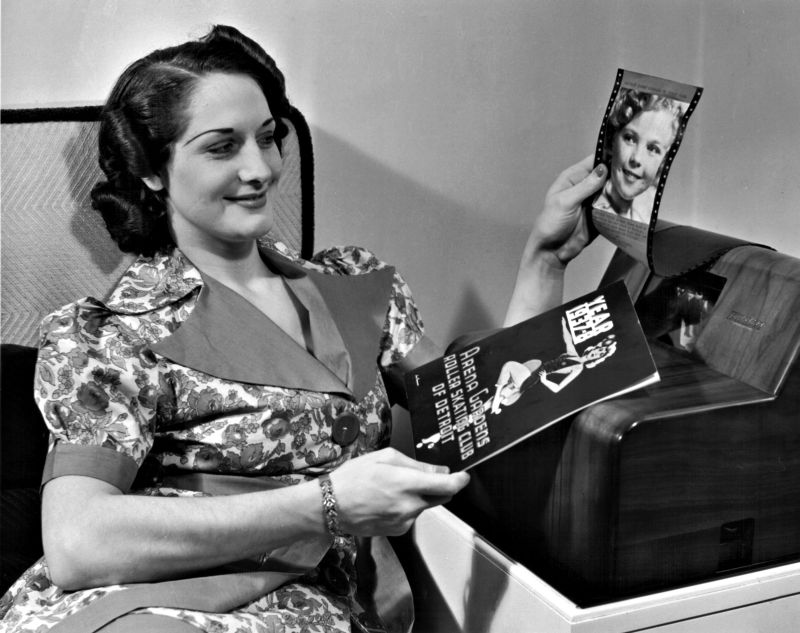 To all you crazy inventors out there– keep innovating!