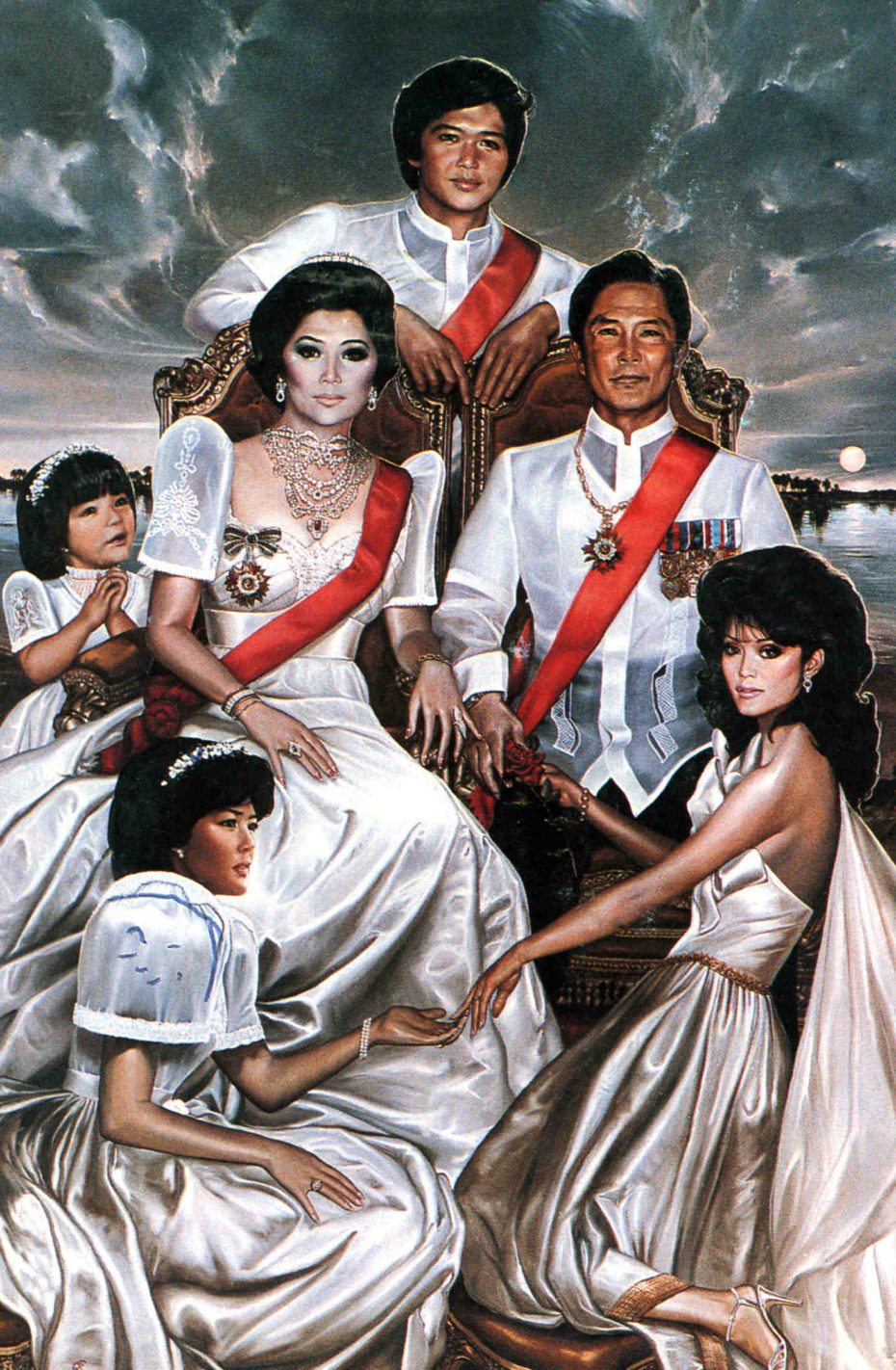 When a former beauty queen-turned-dictator's wife commissions you to paint her family portrait, you know you'd better do it– and make them all look as fabulous as they did on last week's episode of Dynasty. The year was 1982 when Imelda Marcos, the First Lady of the Philippines with the world's largest-known shoe collection, first called upon the unique artistry of Ralph Cowan. You could call him the "Picasso" of vanity art, an American painter to the international jet set and virtuoso of 1980s glamorous kitsch. He's the unexpected link between the likes of Donald Trump, Elvis Presley, Michael Jackson and Grace Kelly to name a few– and you can be sure he's got some pretty good stories to tell.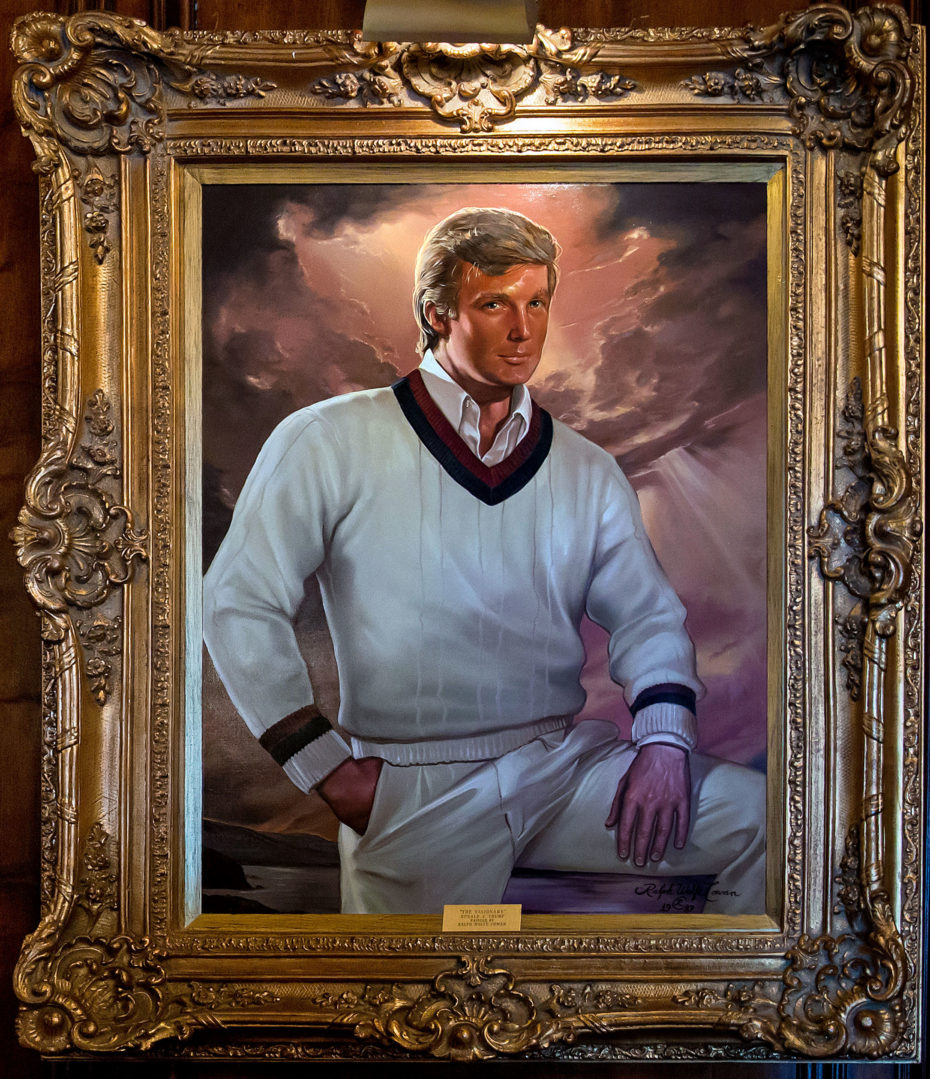 This 1989 portrait of a pre-White House Donald Trump, entitled "The Visionaire", hangs in the President's Palm Beach residence of Mar-a-Lago. In a 1997 Playboy article, journalist Mark Bowden compared the portrait to a "Sun God" and Trump's glowing face to "the top floors of Trump Tower at sunset, the color of warm bullion." Originally, the painting was made in an oil sketch style, with Trump's hand left intentionally unpainted, but the Donald didn't quite get the underpainting of his hand and repeatedly requested Cowan "finish" the painting. More than a decade later in 2002, Cowan agreed to forgo his artistic vision and paint the future President's left hand in exchange for an additional fee (and regular access to the Mar-a-Lago private members club). 
A Palm Beach resident since the 1980s, Ralph Cowan was raised in a modest home in small-town America during The Great Depression, and often described as a true child prodigy. He describes his style as "romantic realism", and says that part of "the Ralph Cowan magic" is to take 10 pounds off his client and "give them a strong neck". In a profile of Cowan for Oxford American, the artist's subjects are described as "twenty pounds thinner and twenty years younger, often surrounded by heavenly light, riding exotic animals, or framed by mountain ranges".
In the late 1960s, he had a studio Las Vegas' Caesar's Palace, where Elvis used to call him up in the middle of the night, and according to Cowan, request a full-length nude portrait of himself. Initially, the painter believed he was speaking to a King impersonator, but sure enough, you can find Cowan's portrait still hanging at the Graceland mansion, the only one ever commissioned by the King. (In the end, it would seem Elvis got cold feet about being painted in the buff). 
According to his bio, Cowan has painted more reigning monarchs, Kings, Queens, Presidents, Sultans and Popes, than any other artist in history. One of his portraits of Princess Grace Kelly and her kin was even used for Monaco's official royal Christmas card. But the royal families haven't always been his easiest clients…
"The rich are very lazy," he told My Palm Beach Post in an interview, noting that royalty doesn't just mail a check– you have to spend weeks pinning them down to signed contracts. He also learned never to accept an offer to stay at his client's homes on a job. Cowan was quoted saying, "You have no idea who was going to be knocking on the bedroom door at 1 in the morning — the husband or the wife."
When he painted Michael Jackson's portrait, Ralph visited the Neverland ranch and was invited up to the singer's treehouse, where he allegedly saw "disturbing things". Upon finishing the painting of Jackson, dressed in metal armour and surrounded by animals, the King of Pop called him up requesting a change: "Mr. Cowan, I don't like dogs, I like monkeys." He swapped out the dog, but was never asked to paint Michael's portrait again.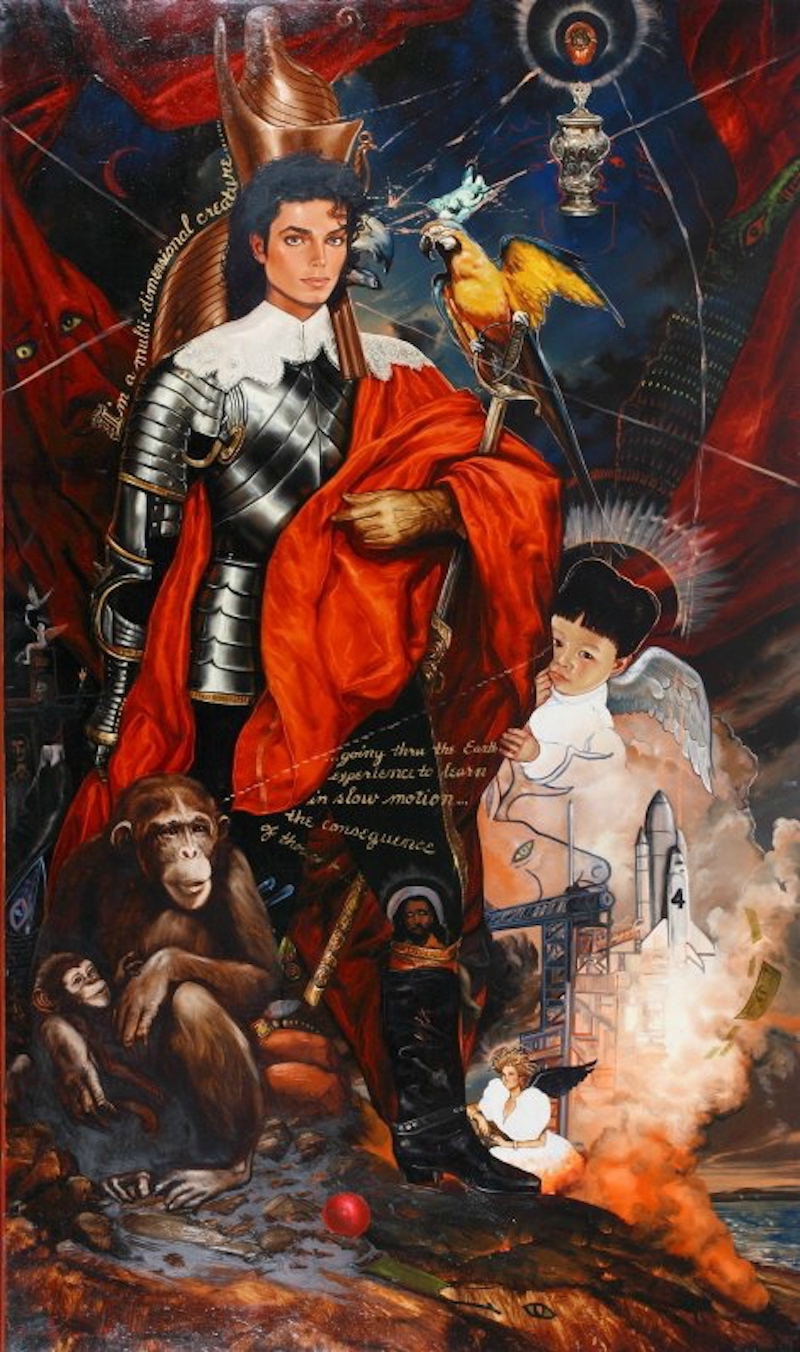 In addition to painting the beautiful people, Mr. Cowan has also been in the business of judging them. No doubt thanks to his connections with clients like Donald Trump, Ralph has appeared on the judges panel of both the Miss Universe pageant and Miss Hawaiian Tropic. 
"I hate old age," he told My Palm Beach Post. "I hate everything about it. I've become a recluse. I've got Netflix and I revisit old friends."
In 2013, Ralph suffered a stroke and re-taught himself to paint at the age of 83. According to some, he is currently doing the best work of his life.
Ralph Cowan lives in a different world (or planet) perhaps, from the one you and I live in, but nonetheless, one that's full of fascinating anecdotes. A former apprentice is working to raise money to complete a film documentary of Cowan's life called, "The Last Old Master." Personally, that's one documentary I'm rather curious to see come to life. In the meantime, here is is reminiscing about painting Donald Trump:
We say his talent is right up there with the man who dressed Dolly Parton or the designers behind the Madonna Inn.