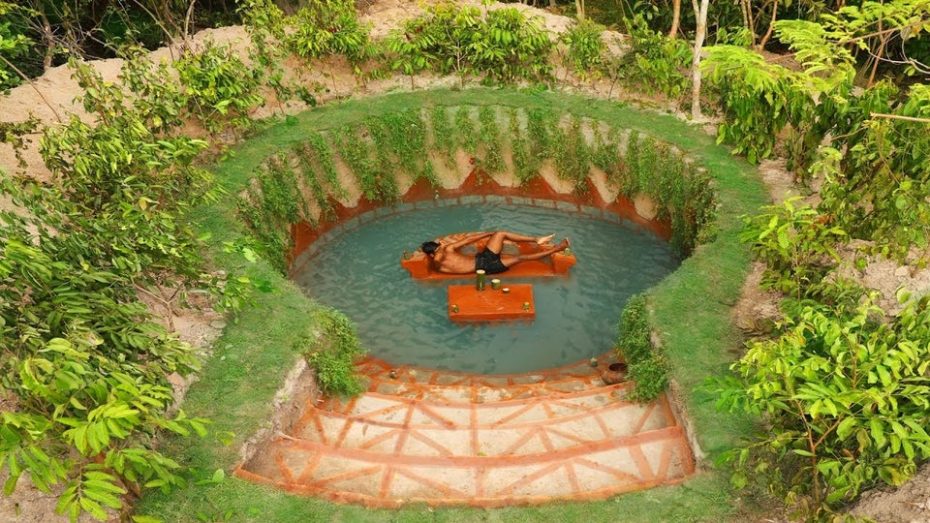 Youtube can be a weird and wonderful place. Let's see, there's the Oposom lady (the undisputed queen of Youtube in our opinion), the folk singing Kardashians of Eastern Europe and a guy who takes us around dead malls and motels on our lunch break – although perhaps you'd be more into watching Italian grandmothers making the world's rarest pasta. So there's something for everyone. But then there's something called "primitive technology", an entire genre of content creation on the video platform that will take you down one heck of a rabbit hole…
Let's just start by saying that underground candlelit swimming pools are just the tip of the iceberg. There are hundreds videos and dozens upon dozens of competing channels across Youtube (honestly, we lost count), seemingly trying to one-up each other with even more outlandish "handmade" builds. The 15-minute time lapses typically feature one or two shirtless and shoeless builders in the wild, chipping away at the earth until they've created an impossibly elaborate miniature water park, maze or paradise villa. The Youtube thumbnails are pure clickbait, usually photoshopped to kingdom come but the finished result really is quite astounding. Just how much of it is actually handmade is another story, but we'll get to that in a moment…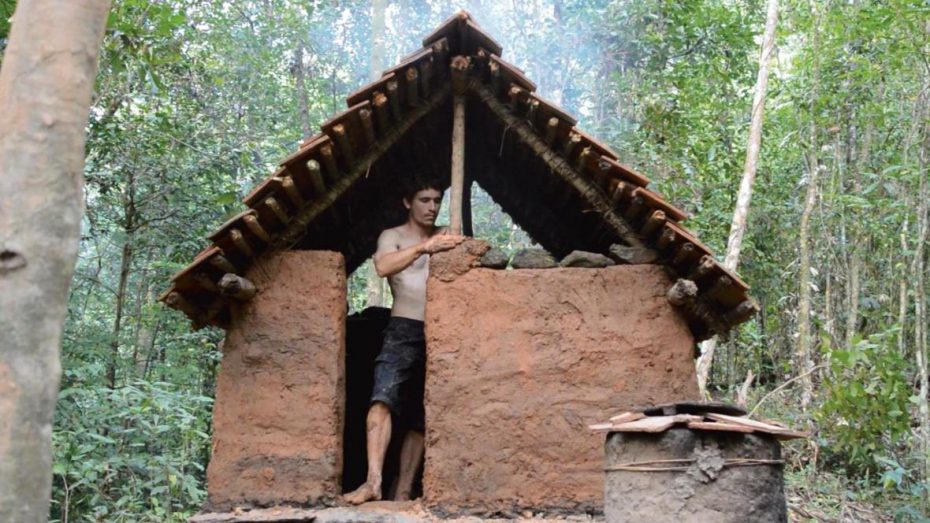 So it all started with one (shirtless) man, John Plant (above), also known as "the man" to his fans, with a channel called Primitive Technology. Based in Far North Queensland, Australia, John had been uploading videos since 2015, demonstrating his impressive skills for making survival tools and handmade dwellings using only materials found in the wild – à la Robinson Crusoe. Wearing nothing but a pair of blue shorts, he became somewhat of an internet guru on "stone age" living, racking up over 950 million views and making upwards of 500,000 USD a year in advertising revenue before landing his own book deal. But you won't find John making any of the elaborate fantasy pools or mud mansions – his channel is without gimmicks and bells & whistles. His meticulous process is visibly authentic, transparent and the results, while impressive, are far less elaborate. The success of John's formula on his "Primitive Technology" channel however, has spawned more than just a few copycats…
Today, the depths of Youtube is home to all kinds of accounts with names like "Primitive Skills", "Primitive Building", "Primitive Survival Tool" or "Primitive Technology Idea", piggy-backing on the success of John's original channel, but taking it to new heights – and depths. Type in words like "underground swimming pool temple" on Youtube and you'll find a whole slew of videos shot from what we can only assume is the middle of the jungle, also earning millions of views, sometimes a million a day and making hundreds of thousands of dollars a month in ad revenue. The popular southeast asian website Coconuts.com has already done some digging into this new internet phenomenon in an attempt to find out just who is behind the channels, but were left with a few more questions than answers. While they've managed to ascertain that most of the accounts are coming out of Cambodia and started gaining traction in 2018, it's been virtually impossible to contact any of the creators.
"Doubt has been cast on how authentic those videos are, incidentally, with some alleging that they're deceptively edited to hide the fact that most of the actual building was taking place off-camera using power tools".
There's also a theory that most of the accounts may actually be owned by the same creator; possibly an entire studio somewhere in the Cambodian jungle, churning out these viral videos across various channels in order to maximise ad revenue. The idea of an elusive content studio behind the cameras opens up further questions as to who exactly are the barefoot builders featured on camera. Go deep enough into the genre, and you'll encounter some eyebrow-raising "creative direction", such as participants making ape-like noises as they build, as if directed to perform like stereotypes of "Mowgli" jungle boys. Coconuts.com also published an exposé on a sub-genre they found, which features young barefooted boys devouring exotic animals in the wild while making monkey noises. In response to complaints files, Youtube since blocked several of those accounts.
With so little behind-the-scenes transparency, even on the channels that seemingly just create fun content building wacky water features in the middle of the jungle, it's hard for the mind not to wander to a darker place. Are the builders even being properly compensated for carving out these incredible structures supposedly by hand? Is this some kind of Youtube mafia operation exploiting people for profit?
"The rest of us", writes Coconuts.com, "will simply be left trying to figure out what the hell is going on".
And of course, we have so many more questions. Like, do they keep the swimming pools and mud mansions after they've shot the videos? What happened to the crocodile they left in the temple pond? How do they get the water to look so blue? Do they offer their creative building services to luxury eco resorts? Because they probably should right?! If only they could be contacted. And what's up with those crazy Photoshopped thumbnails?!
If you too decide to dive down this Youtube rabbit hole, maybe you'll find us some answers.