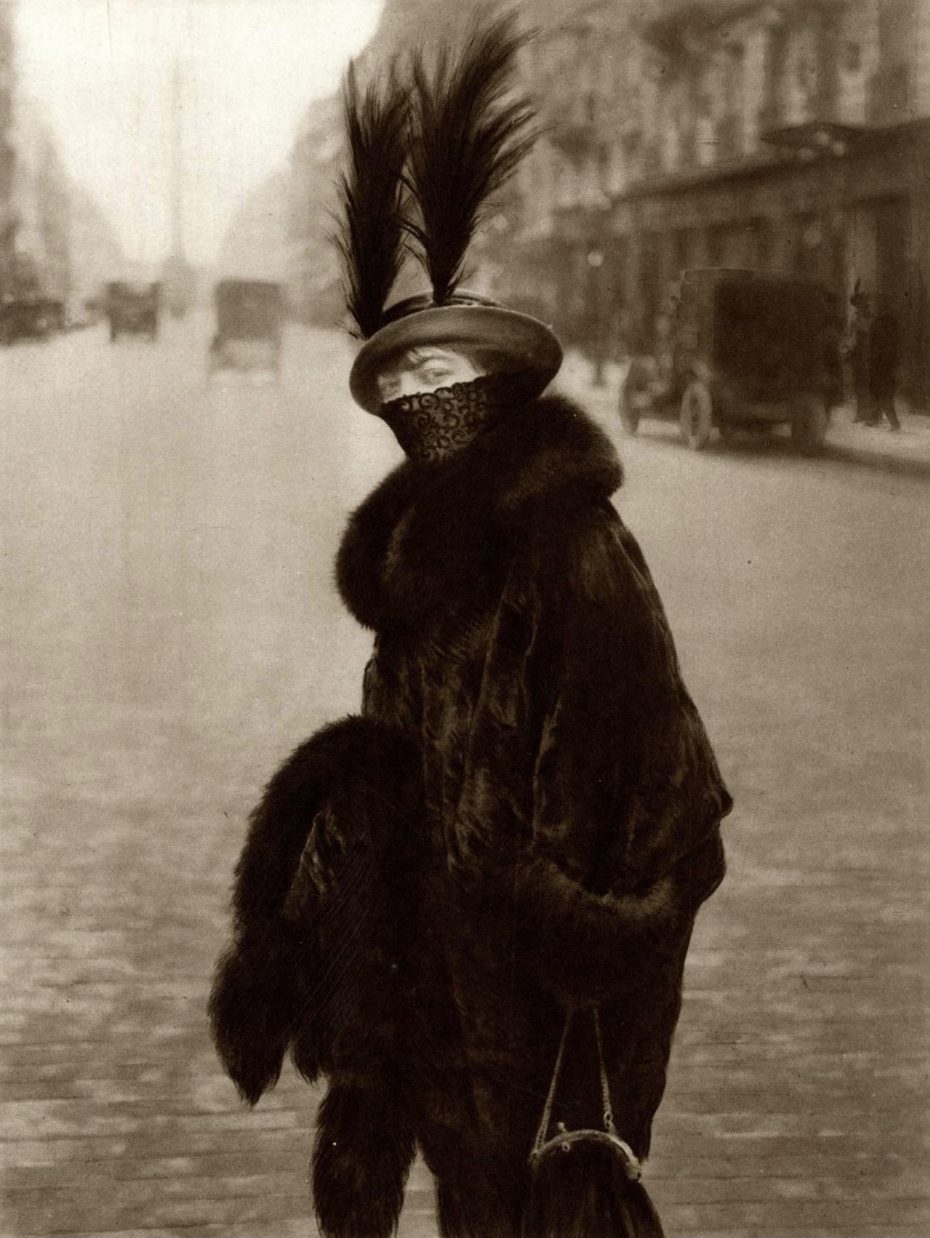 It's amazing to see how our minds can wander in different ways; how many variations of a story can come from a single picture. We recently proposed a new challenge for our readers to become the storyteller, prompted by a historical found photograph with a brief caption as the only clue: "Parisian woman with Turkish veil, seen on Rue de la Paix, 1914". It was an invitation to step into the writer's seat, stretch those creative muscles, follow a few clues and imagine the rest. And now without further ado, it's time to gather round the fireplace as we share the short stories (and a few poems) that transported us behind the mysterious camera lens…
The lady in the dark mink coat on the Rue de la Paix is my paternal great grandmother Alvine Piget…
Alvine is about to meet her husband, my great grandfather Hubert Piget, a French Huguenot, who had left L'Hotel two hours earlier to meet with his business partners. What she does not yet know is that she is aboutto meet another man, a young man. And that this evening will mark the beginning of the end of her calm, safe and protected life in the splendid family villa in Geneva … Continue reading the full story by Dagmar Nordbert.
Hailing a taxi in Place Vendome, she headed for Montparnasse, clutching a package on her knees, and staring distractedly out the window. Stepping onto the boulevard, she tucked her scarf around her chin, concealing her nose and mouth. She dared not lift her eyes to the figures passing in the street, though it was unlikely anyone here might recognise her. Her husband and his friends did not frequent Montparnasse – and as for his mistress, presumably she stayed in bed all day, writing notes to her admirers... Continue reading the full story by Linda Lappin.
Jeanne spotted him as she crossed the rue de la Paix on the way to her rendez-vous. It was unmistakably him. He had changed a little, silver strands above his ears, but his tall frame was upright albeit with a hint of a limp, and she still wanted to run her fingers through his hair. She almost stumbled with the shock but knew she couldn't risk being found, especially here and even more so by him … Continue reading the full story by Janet Stewart Goatly.
We walked to an apartment just a short distance from Rue de la Paix, where a young woman opened the door. She welcomed Marie-Jeanne into her dull, half-empty apartment along with me, the unexpected visitor. As we entered, Marie-Jeanne softly whispered something to the woman, and only then she offer me a welcoming smile into her home. Continue reading the full story by Divya Nahata.
A female figure emerges from the corner of Rue de la Paix, her shadowy figure escaping the morning fog. She is already turning heads as she gracefully slips between the passers-by. The heels of her little boots break the wadded atmosphere with every tap on her path.

"Who is that?" says a loudly whisperer. "Could it be the widow Bellecour?"
"No, you are mistaken. It is Madame de Courcel! But where is she going ? What a beauty!"
Continue reading the full story by Diane Flahault.
Bartholomew's blood coursed with wit, testosterone and double helixes of strength and streetwise prosperity. He was there to manage a sophisticated ring of pickpockets who operated most effectively at the Palais des Illusions – a grand show of mirrors, electric lighting and illusions of the optical variety. So mesmerised were the attendees that they did not notice silent little fingers slipping into silk lined pockets and scaled skin purses ... Read the full story by Jennifer L Cross.
That evening the women left their homes after preparing early dinners. The pretences were mundane, mostly dutiful fretting about going to the newly opened market before they closed for the night. A way to get ahead for the chores to come tomorrow. Shopping for provisions is a practical cover. So to the market I went. Now, there are limits to how much we could communicate without a plan. We knew it was the night to meet, the moon told us so, but we didn't know where we were meeting or how many of us were left. How would we find each other? … Continue reading the full story by Roxanna Sarmiento.
Jeanne L'Allamant peeked through the red velvet curtains and looked down into Rue de la Paix. The man with the pipe was back; leaning against the same lamppost. Biting her lip, she continued to pace back and forth in front of the covered window in her hotel suite ... Continue reading the full story by Victoria Trott.
Kazim refused Gulnur's request to travel to Paris, threatening to disown her if she left Istanbul. Feeling trapped in a life she hasn't chosen, Gulnur sent a letter to her uncle Charles, her mother's brother, asking him for help. They'd never met, but knew from her mother that she would always be welcomed by Charles. A few months later, Gulnur received a ticket for the Orient Express leaving Istanbul for Paris in one week's time… Continue reading the full story by Racha Nadim.
I notice each piercing glance as you walk on by,
Too afraid you are to look me in the eye.
I dress with flair to shock and amuse,
So powerful these accoutrements are that I choose.
Why do you judge by what only you see?
Especially when you know not a thing about me…
Read the full poem by Heather Bender here.
"I was one of the few female street photographers at the time," Edwina told me, "and I was paid handsomely for that picture, but capturing it was not my favourite experience. Nor was photography in general." She took another nibble of the biscuit she'd been pushing around on her plate in a vain attempt to hide the shaking of her perfectly-manicured hand. "I'd have preferred to have been a lawyer, but in those days…" Continue reading the full story by Norma Hillyer Shephard
I'm sitting out on the terrace of the cafe and there she is again. I don't recognize her, per se, but it's what she's wearing. I'd seen her walking along the Rue de la Paix the day before, wearing the exact same thing: an oversized dark brown fur coat, a stylish hat with two tall feathers pointed to the sky, and most mysterious of all, the lacy veil that covers the lower half of her face. It was her style that had my attention first. It caught my photographer's attention too and he snapped a photo of her on the spot. But now, sitting just two tables down from her in the evening light, it is her eyes that I cannot look away from. They carry in them what seems a mischievous smile and it's like they already know what I'm thinking... Continue reading the full story by Tal James
Pictured here is Amélie Marriam, a woman of gentle birth whose husband, André, an officer in the French Army, was one of 27 000 men killed at the Battle of Charleroi on August 22. Fifty-two percent of those mobilised were killed or wounded that day. This photograph was taken by a society photographer, while she was still mourning his passing, a few months later. With the war claiming the lives of so many, it was not long before women were called upon, or volunteered, to serve in any way possible. Some began teaching, or became ticket clerks on the métro and the tramways. Others entered factory work.… Continue reading the full story by Gordon Hall here.
Madame Joséphine Dupont wasn't really a Madame, but a Mademoiselle. Or at least a girl at heart, in love with the much younger Charles Duval, a Professor of Archaeology who had been sent to war only a couple of years after they had met. A couturier by trade, Joséphine filled her days immersed in her craft, creating fashionably flowing garments, styled to facilitate free movement for a handful of women who were plotting to ditch the corset… Continue reading the full story by Malobi Dasgupta

She knew that attempting a new feat in her trapeze act at the Cirque d'Hiver was a mistake. She regretted letting Thierry talk her into that crazy idea. His lover, and Raven's nemesis Céline most assuredly planted that seed in his ear after one of their heated love-making sessions. Why anyone thought the combination of flames, a small monkey and an ostrich at great heights was a good idea was beyond her... Continue reading the full story by Cheryl Meyer.
For several years she ran her hat business with success until customers returning from New York, Chicago and Boston began reporting that wearing Chevalier's hats has caused them to become the mockery of every party. Soon enough, customers stayed away and Primrose eventually had to close her shop … Continue reading the story by Gottfried Mueller here.
The cyclops' eye of my camera rose,
in rhyme she turned, they met, hypnose.
A carnival cobra and squeamish lens of glass
A furtive glance, pillars of salt,
C'est fait, osmose.
Read the full poem by Xavier Van Buggenhout
So much of our depiction of a person is in the sum of their parts, their eyes, their nose, their mouth, the crinkle of their mouth exposing a smile or a grimace of disgust, their mannerisms. And yet her eyes eclipsed all those things. They spoke for themselves, they spoke words that one could not verbalise, they spoke words that one could not be put on paper, they spoke words that only the soul could comprehend. They say the eyes are the windows to the soul... Continue reading this short story by Kaladaya Rubie.
I followed this woman with my eye, without leaving her for a moment. She did not go unnoticed, that's for sure. Her Turkish veil covering her face, only her green eyes could be seen, shining like emeralds. She took the time to look at me as she crossed the street, oblivious to the traffic threatening her with every step... Continue reading the story by Amandine.
She walks proudly,
like a tigress searching for prey,
she is not at all the girl she used to be.
Continue reading the full poem by Edith Malmberg.
There was an Italian lady
now known as the Marchesa
but Man Ray and Augustus John
addressed her as "Luisa".